Are you looking for free stock videos to lighten up your video content?
Well, you have come to the right place then. As creatives and videographers, we all need free stock videos to bring life to any project. You can use it as transitions or as filler content between the actual content. In fact, you can even use it to merge in presentations, a video portfolio, or your company's original content. In any case, they'd definitely amp up your video production.
However, finding the right free stock videos can be a daunting task. That's because a lot of websites charge subscription fees for premium content. But to help you out, we've done some research.
We've put together the 12 best websites for free stock images.
Hint: They're completely free to use and fabulous! Let's check them out.
1. Pixabay
Pixabay has a massive collection of videos and images that are royalty-free present on it. You can access it and check from their bank of countless photos and videos before stopping on anyone. 
Unlike other websites, Pixabay is free from all these because it's the content is released under Creative Commons Zero to avoid copyright issues. So, now you do not need permission of any sort while editing them according to your requirement. 

So, if you are looking for visual content for any event, you will be able to find it with ease on Pixabay without the issue of quality or copywriting. 
Features
All the videos are free stock and do not require permission for editing.

No risk of infringing copyright issues. 

The videos can be downloaded in any format for commercial or non-commercial purposes. 

The length of the videos is usually under a minute. 

The library has motion graphics, HD, and 4K videos. 
Best For:
If you are looking for unique and useful stock videos, then Pixabay should be your go-to website. 
2. Videvo
Videvo is another platform where you can find videos of your choice. There are numerous videos to choose from, and download them for your use. The library is vast, filled with HD videos and a small variety of 4K videos, but these videos' quality is commendable. 
Some are made professionally, which means the shooting and editing are flawless, and if you choose one of them, you won't have to put in a lot of effort to edit them. However, some videos are uploaded in MP4 and QuickTime Format.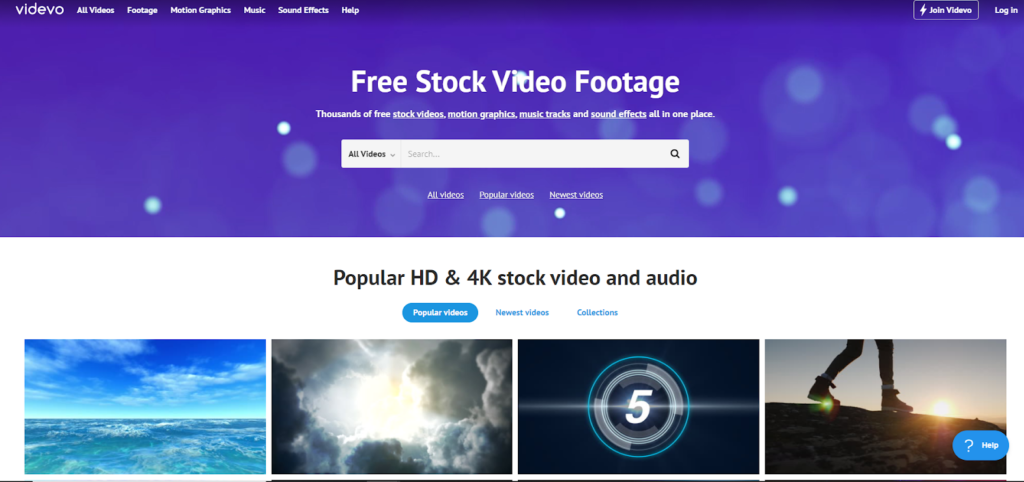 However, on Videvo, you have to check the "Licenses and usage" section before deciding to download a video because all the videos are not free. There are three types of licenses applied, and they differ from each other. The three types of licenses include
The Royalty-Free Experience
Maximum videos will have a royalty-free license, and this license allows the user to use the clip without crediting the original creator. Moreover, you can use the video anywhere you like, but it should be edited slightly either by adding a title, background music, or anything of the sort. 
The Videvo Attribution
The videos with this license indicate that you can use the videos for free, but you have to credit the video's creator. You can credit the author by adding the name in the video or writing about the author in the details accompanying the video. Learn more about credit the creator by reading the section "How Do I Credit the Author?"
This license also prohibits you from sharing the clip in its original format on any platform whatsoever. 
The Creative Commons 3.0 Unported
You can distribute the video clips in their original form according to this license without editing, even unlike the Videvo Attribution license. Still, you cannot sell the clip at all, and you have to credit the creator as well. 
This license allows you to use the videos for commercial purposes, but there should be no brands, persons, or any property involved or others in the video. In that case, you should take proper permission and then go ahead. 
Features
Videvo has free stock video and motion graphics footage. 

Several videos are professionally shot and edited. 

It has a library full of HD videos.

The royalty-free videos can be easily edited without any issues. 
Best For:
If you are looking for unique videos and don't have a 4K condition, this is the best website. 
3. Motion Elements
Motion Elements offer royalty-free video footage that can be used for multiple purposes. It is one of Asia's leading stock video marketplace. Apart from videos, you can also download free music, 3D models, after effects, and even Apple templates.
The entire platform is royalty-free! All you need to do is follow a 3-step sign-up to get free footage.
First, sign-up for a free account (no hidden charges or credit card required).  You can download up to 5 free stock videos every week. And if you invite more friends to the platform, you receive more downloads.

Features
It has 4000+ stock videos of high-quality.
New video content every week.
After Effects templates are available as well.
The videos are royalty-free. This means that you can freely use them across different media types.
It has Lotte images too.
Has a repository of top downloads every week.
Compatible with video editing software like Sony Vegas Pro, Adobe Premiere, and Final Cut Pro X.
Best For:
Creatives and videomakers looking for free HD videos. Preferably people who use Final Cut Pro X or Adobe Premier.
4. Pexels
Launched initially as a free stock pictures website, Pexels later added a huge stock of free stock videos.  
Pexels has all the videos with the Creative Commons Zero (CC0) license, so the significant part about it that you can use all the videos for commercial or non-commercial purposes and the way you want without having to credit the original creator at all. 

Although the videos present are of mixed quality, including 4K and MP4, they are limited to a minute and have a massive range of niches from which you can choose any video. It has a separate range of time-lapse videos, clips from GoPro-users, which are very impressive. 
You can find videos that feature a green screen and later replace it using a chroma keying technique. 
Features
The videos are short.

Free for commercial and non-commercial use without having to credit the author. 

The videos belong from a huge number of niches.

There are a lot of mockup green screen videos. 
Best For:
Stock images, stock videos, and green screen videos. 
5. Videezy
Like the above websites, Videezy is another website with various clips, but what makes it different from other websites is that it has many fantastic aerial drone videos of nature. 
The videos' quality is mixed; it has videos in 4K, HD, and MP4 quality, it is easier to check the quality of videos by looking at the details. 
However, all the videos present on Videezy are not free. Many videos are free and open for commercial and personal use, but some videos have a green "Pro" tag on them. This means that they are premium clips and will be available once you pay for them. If you want to download and use these videos without giving credit, you have to become a Videezy premium member.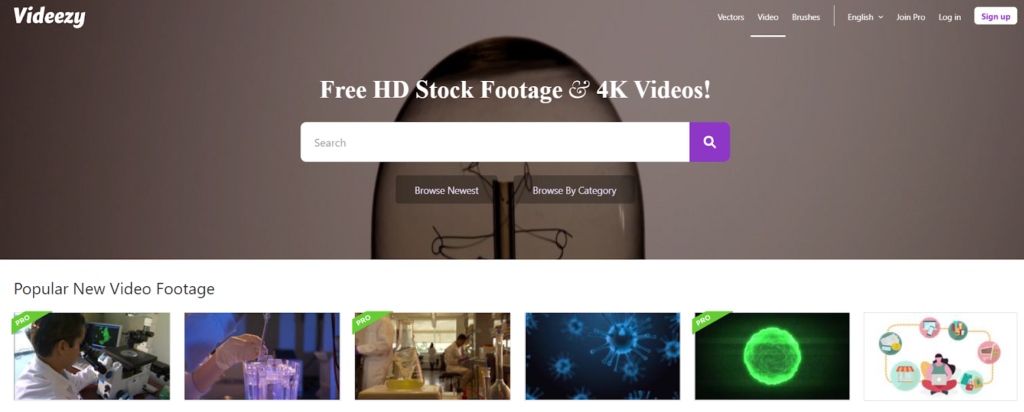 Even when you are using free videos, it is essential to give credit to the creator, and there are two ways to do it. One is either you write "Videezy.com" in the credits or add the following code on the webpage. 
Features
It has some fantastic aerial and drone clips. 

Videos are in HD, 4K, and MP4. 

It has some fantastic professional clips as well. 
Best For:
Aerial and drone clips covering nature. 
6. Life Of Vids
Owned by the Canadian marketing agency Leeroy, Life of Vids provides free stock videos, clips, and loops. There are not many videos present on the website, but the ones present are of high quality. 
The clips can be easily used for personal and commercial purposes, but the redistribution is limited to only 10 videos.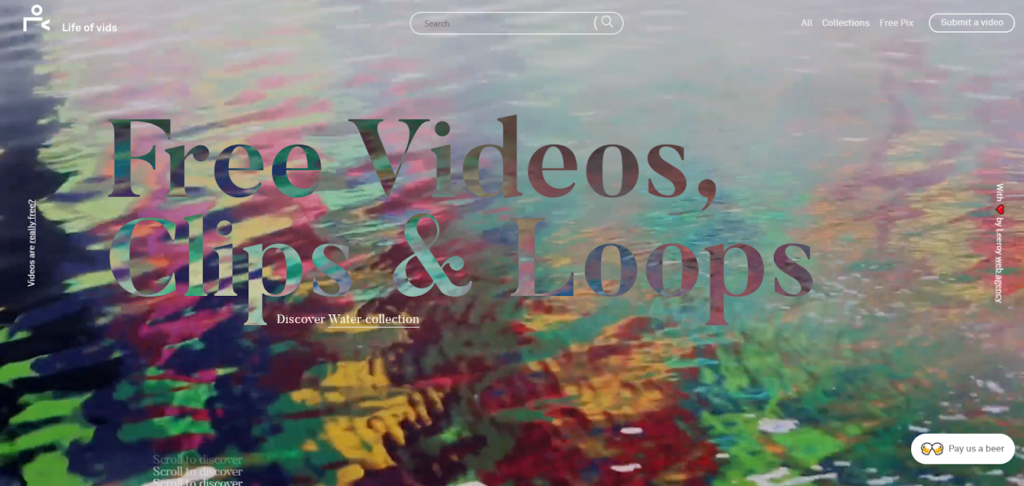 Life of Vids has videos in MP4 and HD format, and they are related to different topics. Moreover, it lets you choose the resolution you want to download and have a selection of stock images available for download. 
Features
They regularly add new videos. 

The videos are of high quality.

They have videos related to different topics.

All clips can be used for commercial and personal use. 

Provides you with the options of resolution that you would prefer to download. 

It has a selection of stock images as well. 
Best For:
High-quality videos related to different topics that can be further used for marketing purposes. 
7. Motion Array
Motion Array is an all-in-one video platform for filmmakers and video production teams. It has a free version that should be great for normal creative work and small projects.
The platform also has paid versions for bigger teams and productions. Those include unlimited asset downloads, exclusive plugins, and video collaboration tools.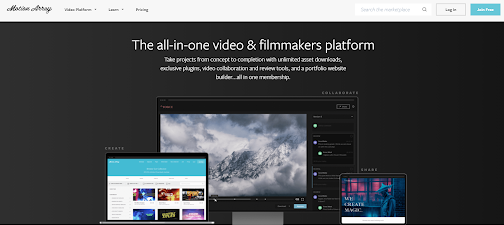 Features
It has a portfolio website builder, which would work great for aspiring designers or creative agencies.
Has a 1GB review and upload storage per month.
It also has 2 paid subscriptions for agencies or videomakers with unlimited download needs.
Motion Array is also compatible with Adobe Premiere and Final Cut Pro X.
It has exclusive plugins and time-saving integrations.
It also allows virtual collaboration and online reviewing.
Best For: 
Filmmakers and production teams looking to fulfill all video-related needs in one platform.
8. Coverr
If you are looking to embed videos on your website or movie, Coverr is the best solution. Coverr has some fantastic stock videos, and the videos can easily be embedded into the destination with just one click. The user does not have to pay, sign-up, or credit the creator. 

Coverr has several videos that consist of aerial shots. These time-lapse and cinematic videos can be used for various projects and are perfect to be used as virtual backgrounds for your video conferencing. Moreover, there are many instructional videos and code snippets to help people understand how to use them. 
Features
It contains a mix of aerial, time-lapse, and cinematic videos for various projects. 

The videos can be used for video conferencing backgrounds. 

The chosen video can be easily embedded with just one click.

The website has instructional videos and code snippets. 
Best For:
Stock videos for various websites and backgrounds for video conferences. 
9. Splitshire
Splitshire is a website that was created by Daniel Nanescu who is a web designer. He created this website to provide his stock pictures and videos and make them available for personal and commercial use completely free. 
The video clips are mostly focused on nature and the outdoor and are unique and different from those you would find on other websites providing a new and different style to the videos.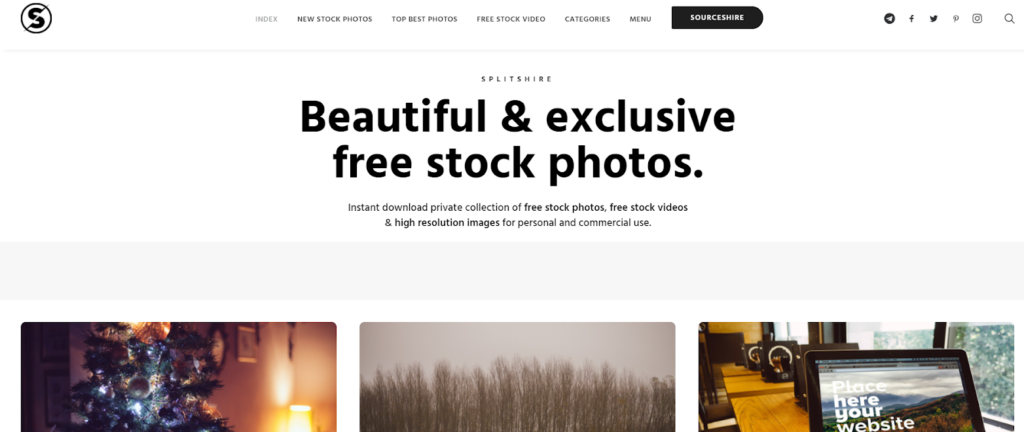 The videos and pictures have been downloaded countless times, but since they are all created by one person, there is not much stock of photographs and videos.
Features
The videos and pictures are mostly of nature and outdoor. 

They are unique. 

Free for commercial and personal use. 
Best For:
Videos of outdoor and nature with a distinctive style. 
10. Clipstill
Clipstill is a library that does not contain free videos; but instead, it has high-quality cinemagraphs.  
Don't know what a cinemagraph is? A cinemagraph is like a GIF, but only some parts of the image are animated while the other parts remain still. Cinemagraphs tend to have a different effect than videos and help you make sure your social media posts stand out.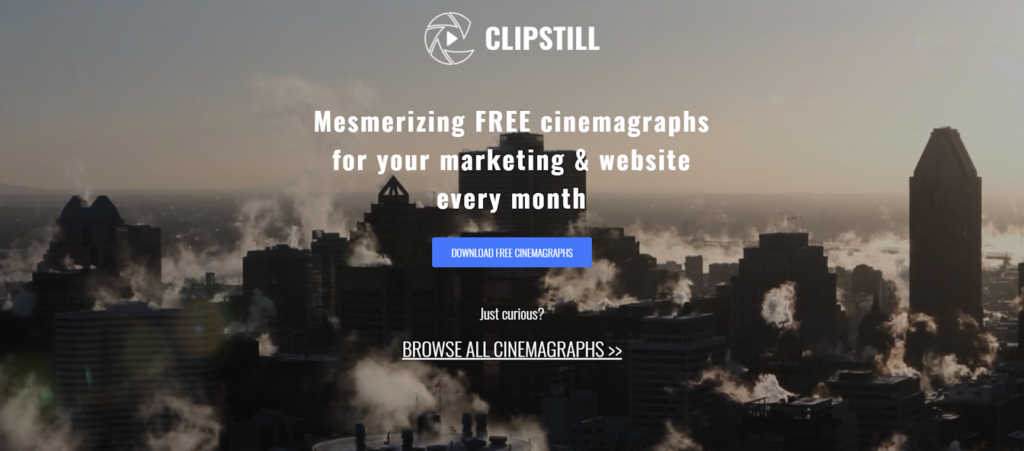 There is only a small collection of cinemagraphs free for download while you have to pay for the others. So you can keep checking for different and fantastic cinemagraphs. 
The cinemagraphs are available in MP4 format and can be used for commercial and personal use. 
Features
It has a vast collection of cinemagraphs. 

The free cinemagraphs are available for free personal and commercial use. 

New cinemagraphs are added each month when the website is updated. 
Best For:
Unique and fantastic cinemagraphs. 
11. Dareful
Previously known as Stock Footage 4 Free, Dareful has an excellent quality of 4K stock videos. Joel Holland shot all the footage on the site; creator of stock images and videos platform Storyblocks. 
Dareful pays more attention to quality over quantity but has a fantastic collection of 4k videos of the different landscapes and looping backgrounds. The landscape videos include lakes, beaches, mountains, summer, aerial views, and much more. There are descriptions of every video as well, and you have to provide attribution as well. 
Unlike the other websites, you have to create an account for Dareful to download videos. There are two ways to do that; either you can make an account with your email address or with your Facebook account.
Features
There is a library full of 4K stock videos. 

The quality is fantastic and extremely professional.

The videos are related to landscapes and looping backgrounds. 

The videos can be easily downloaded and used. 
Best For:
Extremely high-quality 4K stock videos. 
12. Vidsplay
If you are looking for a website with a large stock of new and free videos every week, Vidsplay is the best website. The library is updated every week of the website, and new videos are simultaneously added. 
The videos' quality differs, but there are many professional videos, and they are available for personal or commercial use for free. Still, they want the user to add a visible credit link to vidsplay.com either on the website, end credits of the video, or social media platforms' details. 

There is no requirement to create an account to download the videos, they are accessible to all, and most of the videos are present in the MP4 format. There are descriptions current under each video that contains all the essential details of each video, including resolution, frame rate, and duration. Just beware of clicking on the advertisements.
Features
The library is updated every week, and new videos are added. 

All the stock videos are available for personal and commercial use for free. 

All the important details of the videos are available, including resolution, frame rate, and duration.

There is no need to create a separate account to download videos from the website. 
Best For:
Free stock professional videos. 
Final Word
Free stock videos are a great resource to create high-quality and HD video content. They can be used for several purposes – marketing, commercial use, advertisements, personal portfolios, or simply as social media posts.
So do check out any of these websites the next you're looking for great video content (that's free!)