As creatives, writers, and filmmakers, we understand that you're always looking for the best screenwriting software to assist your process.
That's because, with the right screenwriting tool at your disposal, you don't need to wander around with your raw script to get approvals. You need to be skilled, know your target audience, and rely on the screenwriting software to assist with the structure and formatting. 
That's how individuals make big hits with premium music videos and series without any support from top-notch agencies and producers—all with the help of screenwriting softwares.
However, the same task of finding the perfect screenwriting software can become daunting and time-consuming. Especially considering that there are a plethora of options to select from.
And that is why today, we'll discuss the top 10 screenwriting tools. Let's start!
Cut design & video review time in half
GoVisually is the #1 online proofing software to get visual feedback on Designs, PDFs & Video content.
Try GoVisually free today!
What is Screenwriting Software?
Screenwriting software is a guiding tool for screenwriters of all sorts. The screenwriting software tools aim to help you edit the texts to correct errors like grammar and formatting. You only need to be creative with your narrative thought process, and the tool wipes out any imperfections to bring your accurate concepts to life. 
Using a screenwriting software tool has become crucial for screenwriters because writing scripts manually has become outdated and discarded since no one will invest in your amateur written scripts. Your contribution counts in plotting the robust content and writing it roughly. 
The software tool will enhance the quality and create a remarkable piece eventually. So, to swerve towards professionalism, you ought to embrace intelligent practices.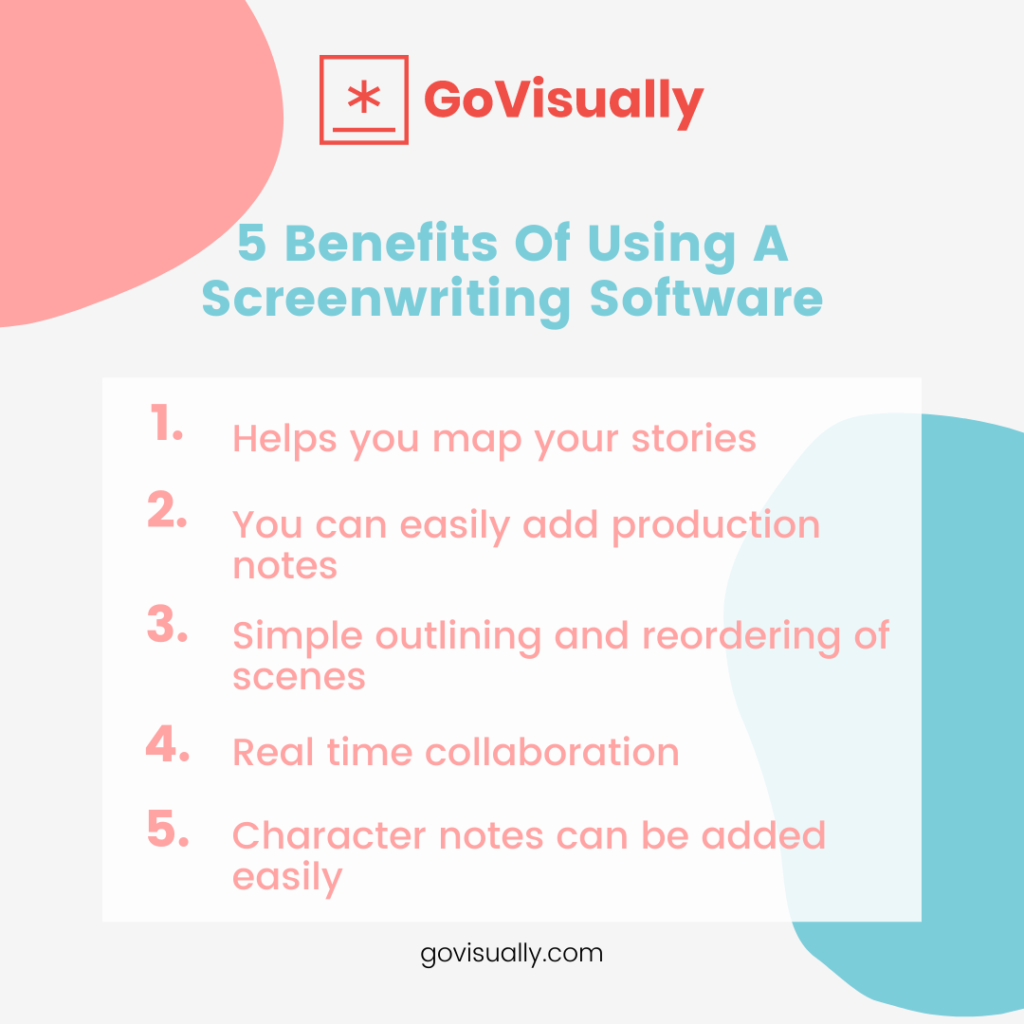 Review Screenwriting and Scripts with GoVisually
Before we start listing our top 10 screenwriting tools and software,  we'll acquaint you with the secret ingredient to making the best scripts ever.
The secret doesn't lie in some cheat sheet to writing a script. Rather, you'll find it in error-free and quality scripts. And one of the best ways to ensure great script quality as well as content is to review it before you upload.
There's always something that you may miss out on while production. And this could be especially true if you're a team. So to ensure that your videos are actually good to go, you need to review them using the #1 video review software – GoVisually!
GoVisually is fast, reliable, and easy to use. All you have to do is upload videos, invite reviewers to get feedback online in real-time (Yesss, this is true!), and simply revise the video. Tada, you'll be done.
Plus it has so many other powerful annotation and review tools like version compares to make your life easier.
Trust me, with GoVisually, you'll have one less thing to worry about as a YouTuber!
Speak of adding an award-winning ingredient to your success formula; the Final draft is an outstanding choice. This screenwriting software tool was first launched in the'90s and has been used by 95% of the film and television industry like Netflix, ABC, Pixar, NBCUniversal, and Paramount ever since its development. The Final Draft is known to be the first-ever software developed for screenwriting. In the 2013 Emmys awards, Final Draft was awarded the Primetime Emmy Engineering Award.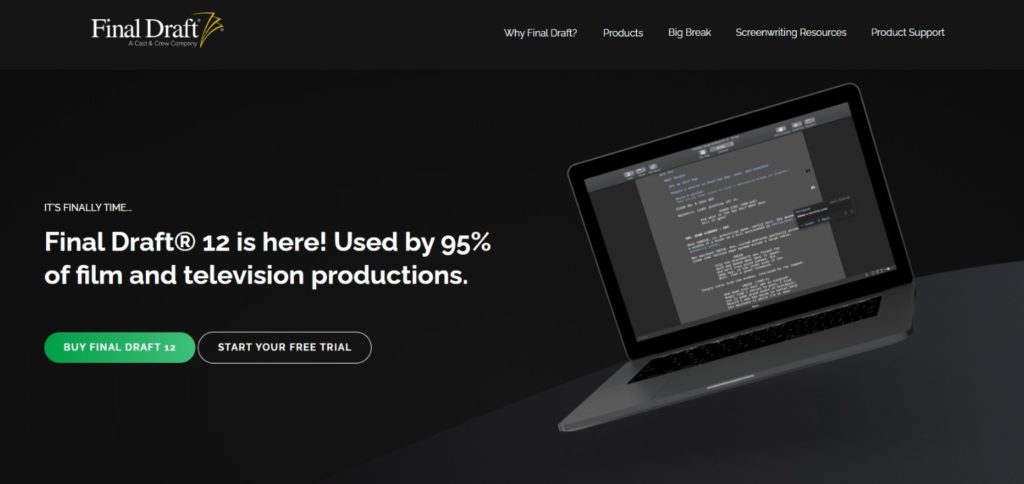 Features:
It sets paging and formatting of the scripts according to the standards.

The software tool includes fonts in over 97 languages.

Arranges and modifies "beats," such as character arcs, story milestones, destination ideas, etc.

Allows you to link your story outline with visuals and beat boards to your scripts,

Includes upgraded brainstorming and visualization tools to work collectively with your writing team. 

Allows you to instantly toggle between speech and action using shortcut keys like Tab and Enter.

Has over a hundred distinct templates you can select designs from.

Compatible with Windows, OSX, and iOS.
Pros:
Primarily used by leading film companies.

An award-winning screenwriting software.

Includes 97 languages to help you write in your preferred language.
Cons:
It's expensive to afford for small-scale businesses.

It requires enough experience to be operated correctly.
Pricing:
The software is currently offering 20% to buy a full license for $199.99 and originally the price of its $249.99. The screenwriting software allows you to start your trial for 30 days for free. 
Celtx is one of the best screenwriting software available in the market. It maintains your script's quality from writing your storyline to its implementation on the shoot with its cross-platform and cloud-based features. The cross-platform function allows you t use this screenwriting software from anywhere at any time as it is quick and straightforward to access. Moreover, this screenwriting software is also used for media production, with overall 6 million users worldwide.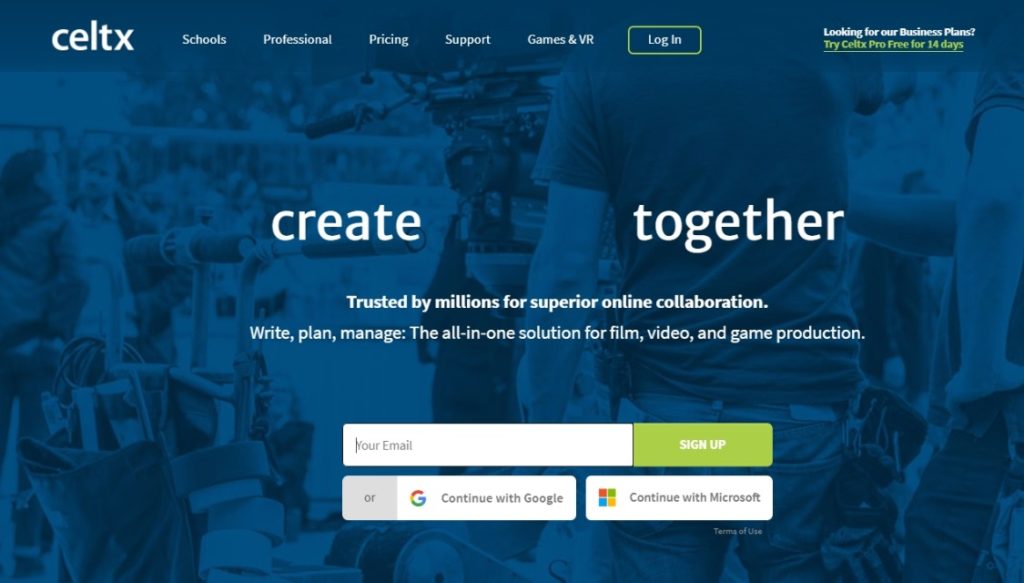 Features:
Manages all of your pre-production activities.

Allows you access from any computing device through its apps on iPhone, Android, and IPad with offline and online mobility.

Enables screenwriters and directors to assign tags to certain parts in each screenplay.

Includes comprehensive UI features.

Includes a text editor for writing extensive scripts.

Allows you to collaborate in real-team with your team.
Pros:
Easily accessible

Best for novelists and playwrights.

Converts raw ideas into full-fledged plans.
Cons:
Not suitable for in-depth screenwriting and merely emphasizes pre-production plans.

It needs to improvise in copy and paste options.

It does not include any free trial for beginners.

PDF files cannot be downloaded without OCR software.
Pricing:
Celtx includes three pricing packages for various uses: scriptwriting, video production, and game production. The scriptwriting plan is $20 per month and is paid annually. The video production pricing package is $30 per month and is paid annually. Lastly, the game production pricing costs you $30 per month billed similarly to previous ones. 
StudioBinder is a widely used modern-day screenwriting software used by leading companies like Spotify. The screenwriting software offers production companies a single platform to edit media files with its comprehensive UI features.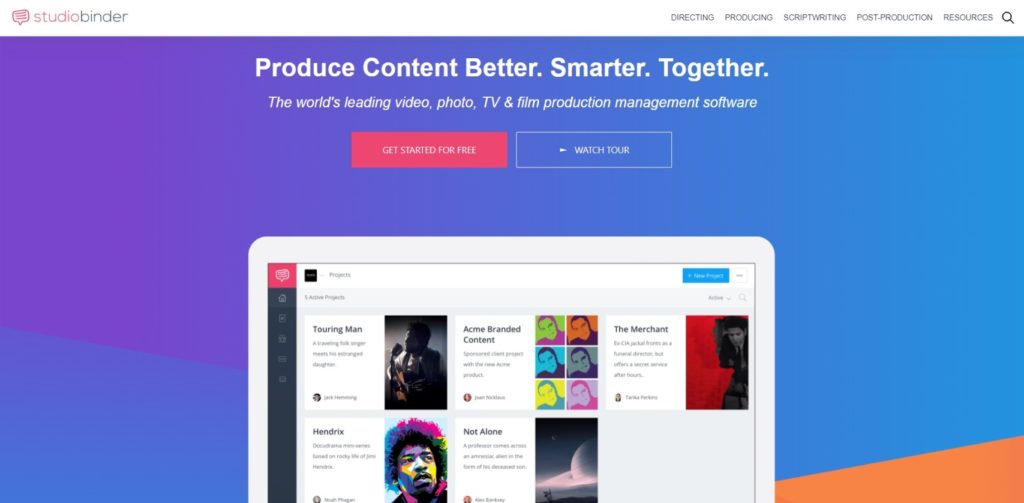 Features:
Produce and deliver scheduled and customized call sheets along with monitoring responses.

Collect and transmit instructions to the staff, contractors, and customers simultaneously.

Allows you to use the free version for an indefinite period.

It allows you to import scripts and attach tag elements to them.

Aids in enlisting screen shooting schedules along with sequencing storyboards.
Pros:
It provides free access for learning purposes.

Ideal for big organizations for professional and expert screenwriting. 

Aims to offer services to high-motion films and series on television.
Cons:
Not suitable for beginners.

A bit overpriced, making it difficult for small firms to afford it.

Only experts can handle it since it provides a wide range of confusing features.
Pricing:
StudioBinder offers you to use the tool for educational use with limited features for an indefinite period. However, the pricing package for using complete features includes two packages;
Individual pricing package with the starting price of $29, which can go up to $99 per month. Although if you choose to pay it annually, you can get a discount of 15%.

The business pricing package starts from $249 and can go up to $1499 per month, which can be paid monthly or annually similarly with a 15% in annual payments.
WriterDuet is an exceptional screenwriting software tool for multiple media purposes, such as customizing screenplays and much more. The software tool tends to provide services for editing script text and customizing games and videos. 
You can access it from any device from anywhere with the USP of the software. Moreover, it allows you to overlook three free scripts after signing up with the tool.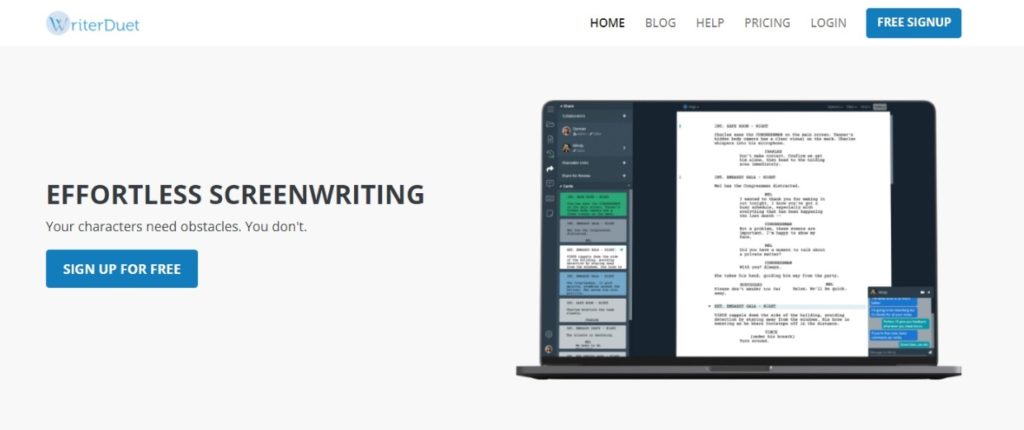 Features:
Allows you a free sign-up option with free tutorials.

Easily accessible from browsers and various devices.

It offers a wide variety of formats, including customization of script templates.

User requests and permitted guest codes are the only ways scripts are shared.

It enables you to have backup plans with cloud storage like GoogleDrive, Dropbox, and iCloud. 

Enables you to monitor and control any changes.
Pros:
It is helpful for beginners to learn through the free tutorials.

Best for professional screenwriters.

It allows offline and online access from any device or browser.

Easy to monitor and control.
Cons:
You can only access three scripts for free.

It offers you access to the tool offline but does not allow you to collaborate offline.

The Pro plan entails comparatively more features as it's expensive.
Pricing:
WriterDuet offers you free sign-up along with free tutorials with three scripts for a definite period. After that, you need to subscribe to avail of the first pricing plan, "Pro," which costs $11.49 per month, but you can get a discount of $79 if you intend to pay annually. The second plan includes unlimited updates for a lifetime with an on-time payment of $199. 
Trelby is an ideal software for screenwriters and developers to utilize their capabilities by working collectively with its free and open-access screenwriting option. The screenwriting tool was labeled as Blyte previously, and it can run on computing devices such as Windows and Linux, and the software is available on Github. In addition, Trelby includes an incorporated service of self-generating PDF files.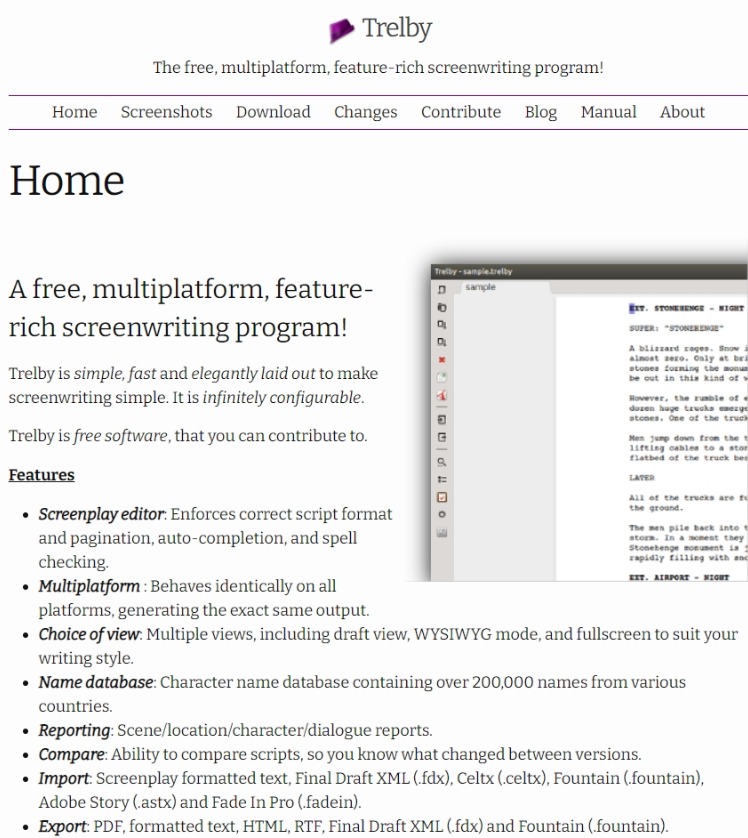 Features:
Allows you with an infinite configuration.

Helps you to customize the script text accordingly by correcting spelling, paging, and formats.

Easy compatibility with various platforms. 

Includes options for reporting locations, dialogues, and scenes.

Offers you to compare and make changes to your scripts.

Allows you to generate PDF files with watermarks.

Involves a flexible system, which aids in efficiently operating it in old systems.
Pros:
Best for beginners and individuals with low budgets as it's free and open to use.

Allows you to learn through its demos and tutorials.

Helps self-learners to start up their career.
Cons:
Requires improvisation in its revision tracking option.

Has limited compatibility with only Windows and Linux. 

There is no option to bold, italic, and underline fonts.

Only supports the English language.
Pricing:
Trelby is completely open and free to use with codes available on Github. 
This screenwriting software tool is considered one of the best for authors and novelists, and on top of that, it has dual features to also work as project management software. This tool was launched in 2007 and has upgraded the elements ever since, offering several services with Windows, Mac, IOS, and Linux compatibility. Moreover, Scrivener can impersonate a typewriter, ring-binder, and scrapbook.
Features:
Allows you to customize a section and the complete document simultaneously.

Allows you to import files from various Word processors. 

There's a built-in 'Corkboard' that lets you reorganize files with a simple drag-and-drop method.

Offers you easy and quick compiling of various documents into a single one.

Lets you choose your preferable fonts.

Allows you to overlook demos before beginning.
Pros:
Preferably ideal for authors writing non-fiction, fiction, and historical scripts.

Includes footnote support.

Refers you to research libraries.

Includes Mathtype integration.

Includes paid updates.
Cons:
Not suitable for beginners as it takes time to learn the features.

Do not allow multiple devices to use the same license.
Pricing:
The pricing plans differentiate with uses and platforms. For example, Mac and Windows devices can cost you $45, whereas the iOS version will cost $19.99. Moreover, you can avail some educational discounts as students.
Fade In is becoming the most used screenwriting software tool by the film industry as a direct competitor of Final Draft. It specializes in supporting several languages with an option of action-to dialogue generator. Fade In allows you to rewrite and revise the script text with flexible editing and formatting features. Moreover, it has increased compatibility with various Mac, Windows, Android, Linux, and iOS.  

Features:
Includes universal UI.

Allows you to format scripts automatically.

Suggests you better synonymize and corrects spellings as you type.

Enables you to work collectively with your team at any time from anywhere.

Includes free updates.

Lets you import pictures to insert directly into the document.
Pros:
An ideal option for screenwriters to bring their raw thoughts to life.

Primarily used by screenwriters working on high-motion pictures.
Cons:
May cause compatibility issues.

The free version comes with a watermark.
Pricing:
The software is free to use for a definite period; afterward, it requires a paid subscription which can cost $79.95  relatively inexpensive rate with free updates for the future.
KIT Scenarist is claimed to be one of the special screenwriting software tools in the market. The screenwriting tool allows you to use it as open-writing and free software with an expanded option to customize your scripts. It is considered the most up-to-date software used by over 3000 global writers and novelists.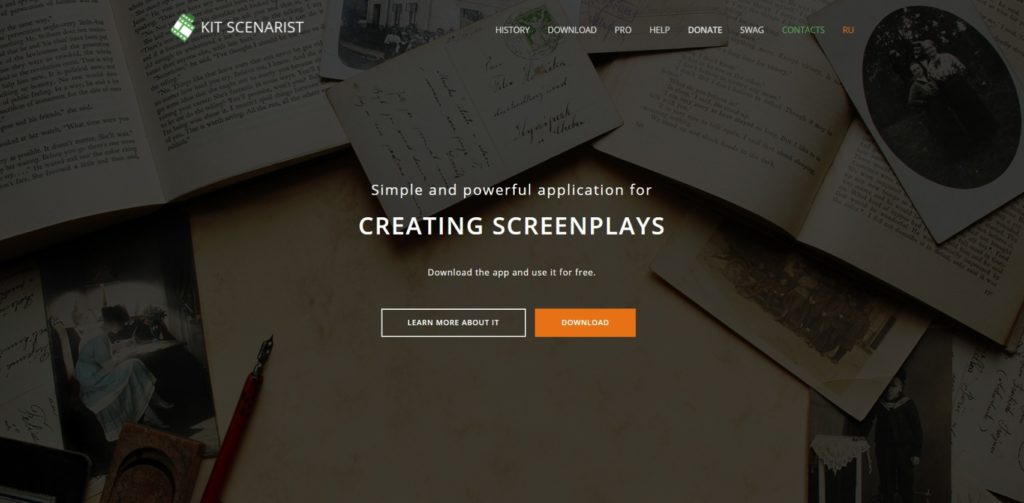 Features:
Allows you to assemble essential data, keep track of the cast, and preserve a range of resources.

Allows you to write scripts in various languages.

Lets you choose preferable themes in dark and light mode.

Enables you to focus on your writing by eliminating errors in formatting.

Integrated with set management.

Provides auto-generated statistical tools.
Pros:
Best for statistical analysis.

Primarily used for high-motion film and television series.
Cons:
It doesn't allow online collaboration with several users without a subscription fee.

The cloud storage is paid for after a free trial.

Regardless of its compatibility, it charges a fee to run on various platforms.
Pricing:
KIT Scenarist is a free screenwriting tool. However, it charges a fee more exaggerated compatibility and cloud storage after a free trial for 30 days.
Movie Magic Screenwriter is the best among all screenwriters as it's an award-winning screenwriting software tool. The tool has also been used in Hollywood blockbusters like Pirates of the Caribbean. Movie Magic Screenwriter is favorable for all sorts of uses, such as playwriting, comic book writing, lyrics, and so on. 
On top of that, it allows users to export the demos for instructions to use the software and will enable beginners to download trial videos to comprehend the tool's usage.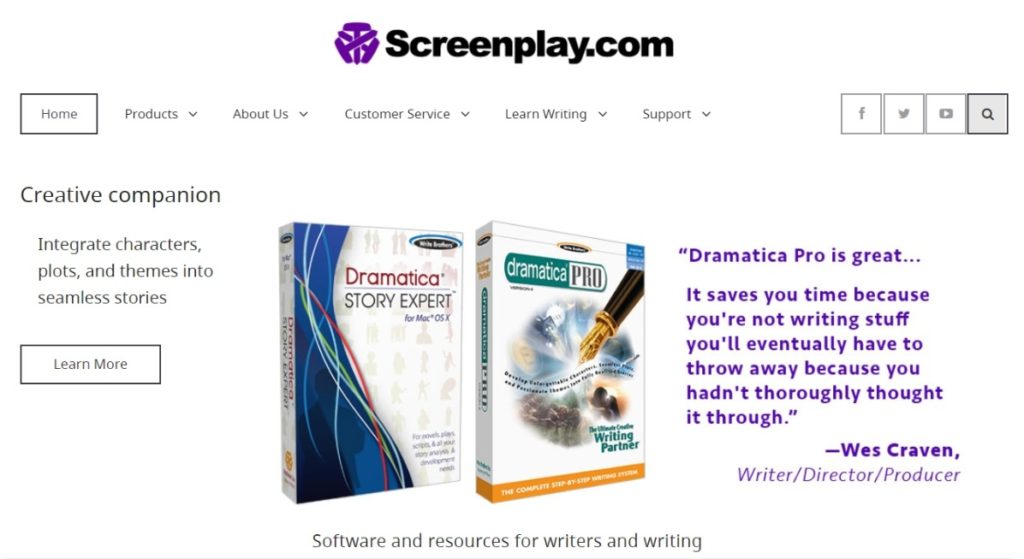 Features:
Allows you to format the document standardized by the company automatically.

Includes color-coding for sequencing.

Includes collaboration tools.

Enables you to choose from professionally gathered templates.

Lets you tag shoot venues and characters.

Converts texts into audio.
Pros:
Allows student users to write research papers and submits them.

Works dually for academic and film industry purposes.

An award-winning software.
Cons:
Expensive for small-scale businesses.
Pricing:
Movie Magic Screenwriter offers various pricing packaging, including Movie Magic 6, starting from $169 with its upgraded price of $89.95 for Windows and Mac users. The Movie Magic 6.5 is for $69.95 ONLY for Mac users. The pricing packages of Movie Magic come with three activations on every purchase. However, for academic uses, it comes with two activations costing $99.95. 
Highland 2 is currently supporting diverse teams and individuals with diversified needs. The screenwriting software is only compatible with Mac but involves a simple user interface to help you concentrate on your writings. Highland is the first screenwriting tool to have introduced a gender analysis feature. However, the parts are limited for free users since it requires a paid subscription to use more features. 

Features:
Corrects your formatting and texts automatically.

Includes "Sprint" features that will allow you to monitor your progress.

Includes gender analysis features to cater to diverse requirements.

Allows you to design your themes with Pro features.

Provides you with regular updates.
Pros:
One of the first screenwriting tools to come with a gender analysis feature.

Caters to the diversified needs of teams and individuals.

Ideal for beginner screenwriters and bloggers.

Allows you multiple keyboard shortcut options.
Cons:
Only compatible with Mac.

Includes watermarks on PDFs for the free option.

Users have complained about bugs in the Playscript mode.
Pricing:
Highland 2 offers you limited features with the free option, but you can avail of advanced features by paying $49.99. 
Share Creative Assets & PDFs with GoVisually Share
Have a new script that you need to share with your editor, filmmaking team or literary agent? You can do that freely now with GoVisually Share. Simply upload your script in a PDF form and share it with anyone and everyone you want!