The evolution of technology, trends, and consumer needs has turned UX design into an ever-evolving and demanding domain. The creative needs of digital assets have also changed. And that means, to become a better UX designer (and perhaps even the best one in your circle!), you need more than just technical skills.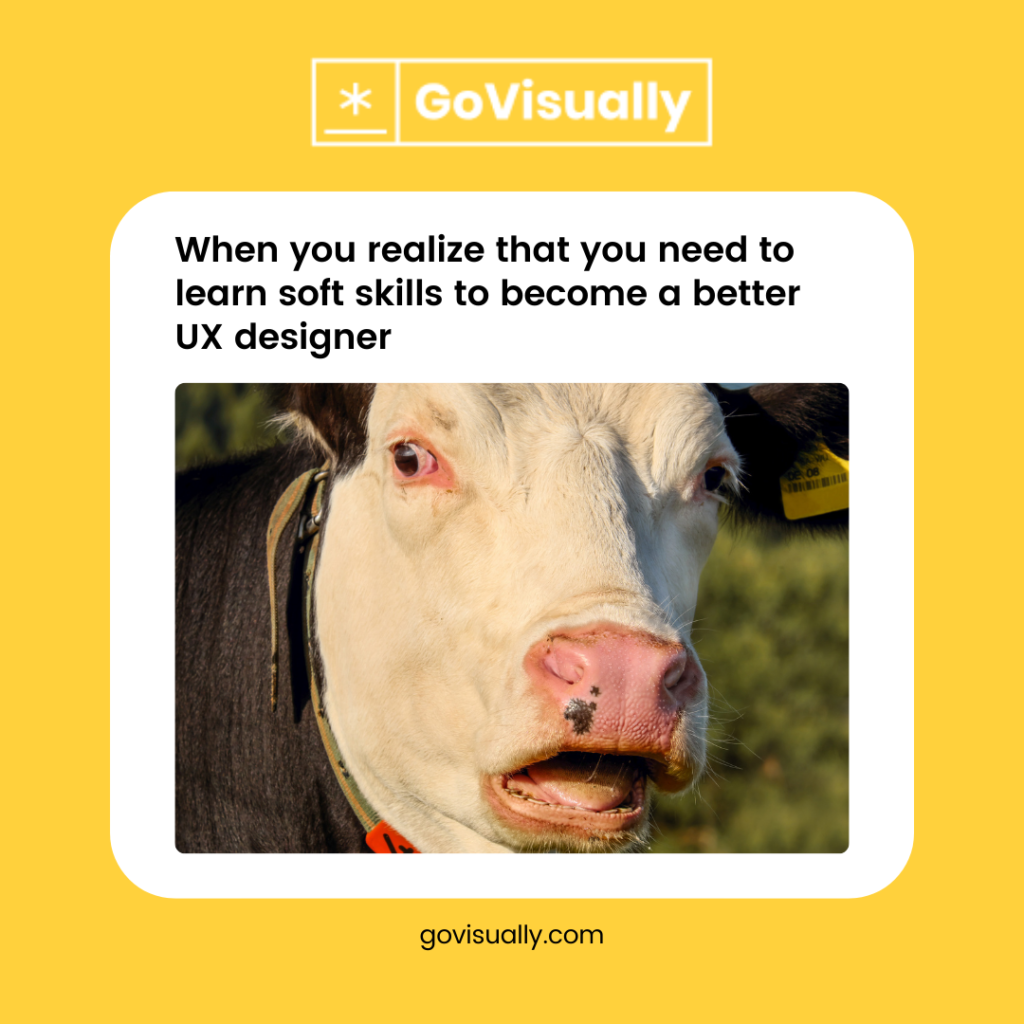 Tech companies are trying to cater to UX design dynamics by looking for the right UX talent to hire. As a User Experience designer, you must know the skills that make you the right fit for the role. Apart from the typical tech knowledge and UX designing skills, you must constantly strive to learn new skills to meet the growing demand. Your personality traits and mindset also play a role in succeeding as a better UX designer.
UX design is all about meeting users' expectations. As a better UX designer, your goal is to improve UX by creating an engaging and enjoyable experience or solving a problem. Everything you do contributes to a larger goal: increasing customer loyalty satisfaction through utility.
It would help if you had more than hard skills to succeed as a better UX designer. UX soft skills are equally crucial to producing deliverables. These skills are much more than add-ons to improve your resume. They complement your daily design activities.
In this article, we'll go through the 6 essentials UX soft skills you need to become a better UX designer.
Let's start!
Cut design & video review time in half
GoVisually is the #1 online proofing software to get visual feedback on Designs, PDFs & Video content.
Try GoVisually free today!
Why are soft skills important for UX designers?
Hiring managers must look for three main skills when hiring better UX designers. Stats show that around 73% of recruiters consider problem-solving and communication top requirements while hiring UX designers. Around 61% voted for design principles, whereas 13% of the respondents chose design tools proficiency, the top skill a UX design candidate must possess.
UX designers often overlook UX soft skills. The reason is the tangibility of design deliverables. Soft skills seemingly bridge the gap and bind a range of disconnected UX activities. Soft skills make the design process a lot easier and stress-free. Good communication ensures that deliverables meet users' expectations and needs. The best part is that these skills are easy to learn yet make you a hot commodity for UX recruiters. 
Scroll down to learn which UX design recruiters value soft skills for graphic designers.
6 highly demanded soft skills for a UX designer
As mentioned earlier, you must have certain soft skills for a graphic designer to pursue or excel in the UX design domain. The following soft skills will make you an ideal candidate for a UX designer role: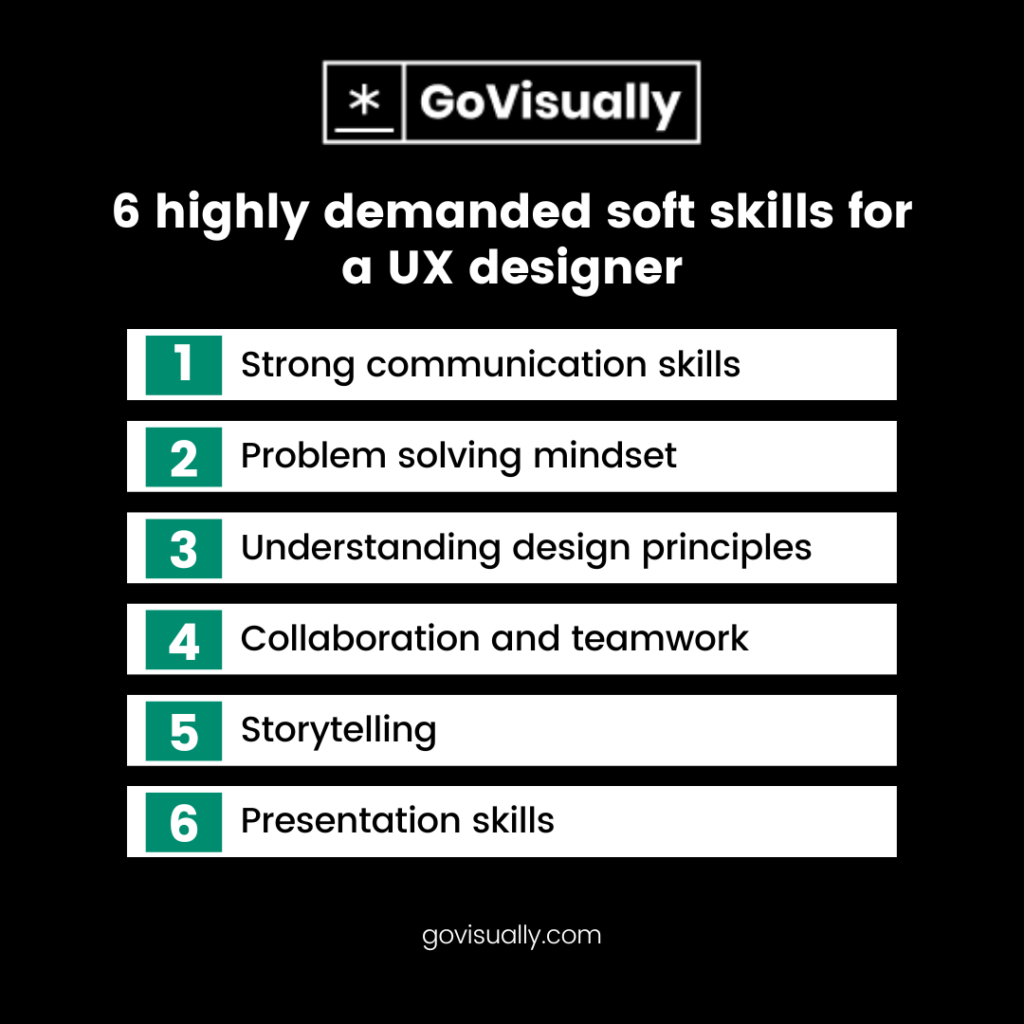 1. Strong communication skills
Good communication is the solution to every problem. UX designing, at the core, is all about satisfying users by offering them utility. This means it is pertinent for UX designers to know how to communicate with and comprehend the client's instructions and what he wants out of a design project. Other soft skills, such as presentation, also heavily rely on communication. There are various scenarios where good communication is a lifesaver for a better UX designer, including:
Building a good rapport with clients

Pitching creative ideas to business stakeholders

Collaborating with other team members to churn out creative designs

Selling UX design value to clients or the management

To get the best out of a brainstorming session 
2. Problem solving mindset
Problem-solving is at the core of UX designing. The job of a better UX designer is to identify and solve users' pain points. Therefore, you must learn how to identify users' problems before you try to resolve them.
Critical thinking and problem-solving are two soft skills every recruiter looks for in a UX design candidate. The best types of UX designer always looks at the bigger picture before making a major decision. They pay attention to finer details and inspect a problem from every possible perspective.
In most cases, prospective employers often ask candidates to work on a problem statement as a part of the evaluation process. Various recruiters ask candidates for UX-related roles to complete design challenges during the hiring process. 
3. Understanding basic design and aesthetic principles
Staying true to the design process is as important as design tool proficiency for different types of UX designers. A skilled UX designer not only knows how to best use UX-specific software programs but is also familiar with design principles. They know where, when, and how to apply these principles in the design process.
The hallmark of a good designer is his strong commitment to research. They create, test, and iterate prototypes to produce the best deliverable possible within their capacity. They believe in evidence-based critique and are open to changing their designs accordingly. Questioning assumptions and steering clear of biases other positive attributes of the best types of UX designer's soft skill set.
Strong research is the foundation of a good UX design. To succeed as a UX designer, you should be adept at using mental shortcuts to quickly judge a situation and use the most relevant problem-solving approach. You can create stunning interfaces by applying the gestalt law and visual design principles to your design project.
It becomes easier to understand why certain designs work better than others if you have a sound grasp of the underlying design principles. This knowledge makes it easier to understand what your competitors are doing right. As a result, you can make better design choices that improve user experience. A sound understanding of design principles is crucial to making informed choices rather than jumping on the bandwagon and blindly following the trends. 
4. Prone to collaboration and teamwork
Designers work in teams. Therefore, the ability to collaborate is important to produce eye-catching UX designs. Previously, the design process only involved one person who would code and design the User Experience. It still happens in some startups. However, with the evolution of creative needs, an entire team works towards creating an engaging and enjoyable user experience. In most cases, UX designers need to work with people from diverse backgrounds and with varied expertise. This makes the soft skill of collaboration crucial to succeed as a UX designer.
Working in cross-functional team results in an exceptional product design. It offers multiple perspectives and a well-rounded view of the issue at hand. It enriches the brainstorming process and makes it quick and easy to come up with a solution. The ideal UX design candidate is open to critique.
Most hiring managers prefer humility and coordination over most hard skills while hiring for design-related roles. They assess individuals' ability to deal with a conflict in a project or a team. Candidates with a wide perspective and immaculate decision-making soft skills as graphic designers often get hired.
5. Storytelling
People tend to remember stories more than facts and figures. Great marketers know how good storytelling can do wonders for their business. They know how to capitalize on their audiences' emotions and make them reach out for their wallets.
A good storyteller looks at things from the user's perspective and steps into his audience's shoes. He tries to understand users' emotions and engages them through creative storytelling. A good UX designer narrates a character's story through personas and storyboards. His designs tell a story that prompts his choice of users' emotions.
You can also listen to podcasts or read books to understand how other designers leverage storytelling.
6. Presentation skills
As a UX designer, you will need good presentation skills to present a design, research insight, creative solutions, an idea, or even yourself at some point in your career. No matter what your goal is, there is nothing a good presentation can't help you achieve. The presenter tries to convince or leads the audience toward a decision.
UX designers create experiences. Preparing and delivering a presentation are the same. You must understand your audiences' expectations and needs and communicate how your idea can solve their problems. An ideal presentation addresses an issue and presents a case that aligns with the audience's goals. Whether building or pitching your idea or convincing recruiters to hire you as a designer, you can get it all with a well-crafted presentation. 
Key takeaway 
Remember, a UX designer with a healthy balance of hard and soft skills is a hot commodity for tech recruiters.
While many think the design tool proficiency gets you a job, hiring managers to focus more on the latter. They look for strong communication and problem-solving skills while recruiting candidates for design-related roles. So, ensure soft skills are not just an add-on to your resume but you actually value and practice them.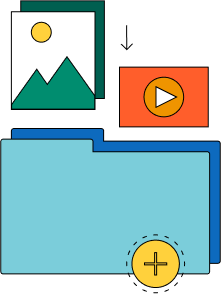 Need a quick way to share large files and creative assets?
With GoVisually Share, it's absolutely free! Try today.