The combination every creative team needs is here. GoVisually and Adobe Creative Cloud integration make an impeccable duo of productivity, proofing, and planning.
With a simple drag-and-drop feature, the Adobe CC libraries will allow you to utilize visual assets like illustrations, icons, and images in GoVisually. On the other side of the spectrum, you can send new proofs and versions and let your teams review them while you work on Adobe Creative Cloud apps in real-time.
We'll walk you through this groundbreaking alliance of the two leading creative software to help you understand what it does, how it works, and why this will revolution for your creative teams.
Excited?
Let's start!
The impact we make together
Adobe Creative Cloud gives you instant access to many of its widely used platforms, such as InDesign, PhotoShop, and Illustrator. 
You can avail a broad range of resources from your CC libraries to create all sorts of visuals. You name it; whether it's photography, video editing, graphic design, UX design, digital art, social media designs, or frameworks.
GoVisually is an online proofing and collaboration software for creators who love to work on all things visual. From hassle-free reviews, visual annotations, and cloud-based storage to endless tools and possibilities for collaboration and a room for every creative project. This is the perfect place for everything.
Now imagine the impact if we bring them together. Or don't imagine, since we already have! The Adobe CC integration with GoVisually is a realm of innovation itself.
So let's see how you can use this integration to become a part of this realm.
GoVisually and Adobe CC – integrated to inspire 
The GoVisually team encourages businesses to grow beyond the scope of their challenges by catering to them with advanced solutions. This integration is an initiative to make creation and collaboration a lot more effective than we did before.
We're talking about hundreds of tools for creative designing in Illustrator, InDesign, and Photoshop, combined with a hundred more for proofing and collaborating in GoVisually.
Here's how you can access all these tools in three easy steps:
Install the extension via the

Adobe Creative Cloud Exchange

.  

After installation, the Creative Cloud desktop app will sync the extension to your computer. 

Once the sync is complete, open a new project and then go to Window > Extensions > GoVisually.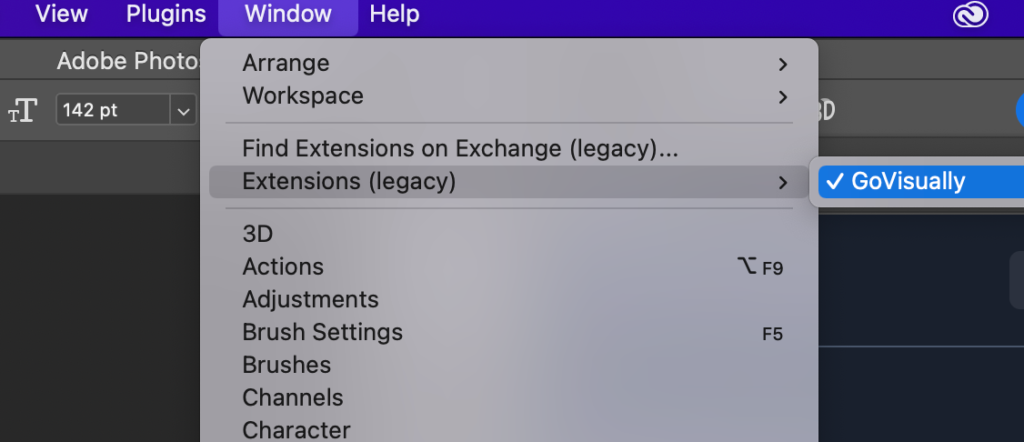 Voilà! You have successfully become a part of the realm of innovation.
The GoVisually extension to Adobe CC will work on any project you open in Illustrator, InDesign, or Photoshop. You can access all features on the sidebar and keep track of your work without leaving the app.
These features include:
Project explorer
The project explorer is a list of all your ongoing projects. From the list, you can click on any project, and it will lead you to the project page, where you can add proof, review feedback, and upload a revision.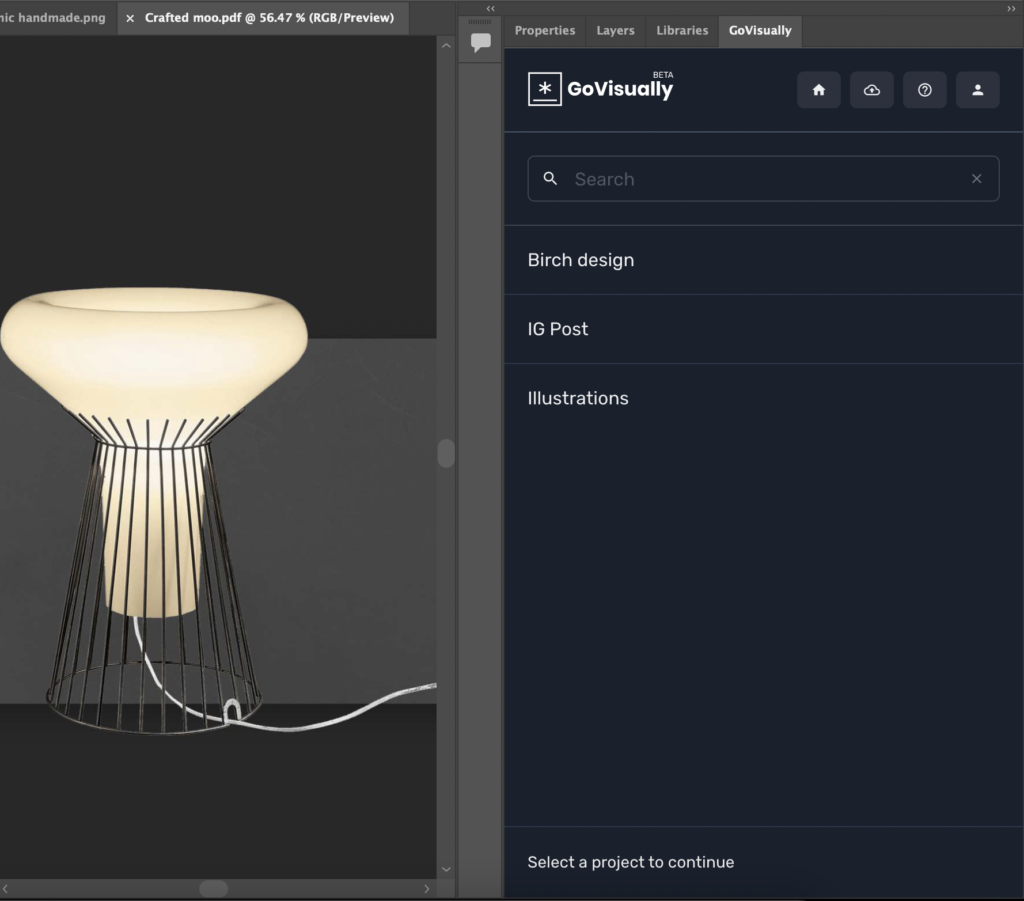 Project page
The project page will show you all the proofs for that project. This is where you can review a thread of all previous proofs and upload revisions to them.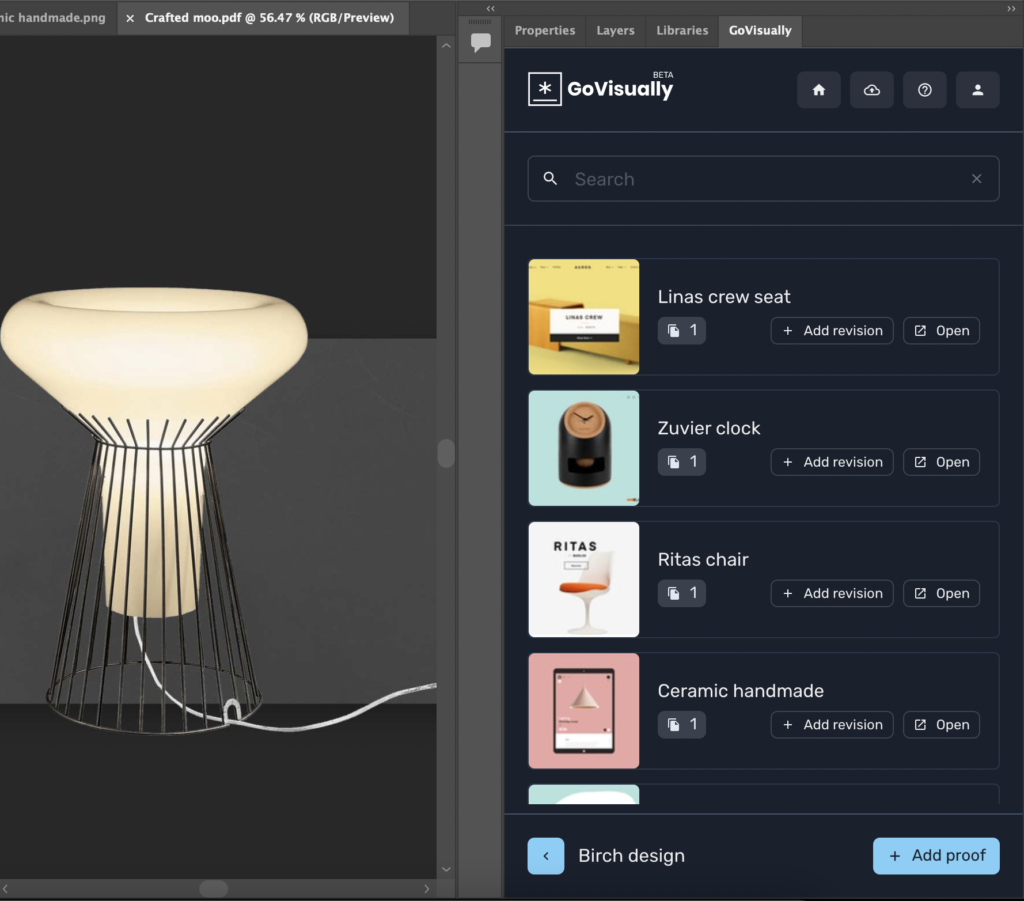 Add a new proof 
You can find the 'Add Proof' button at the bottom of your project page to upload a new proof. You can upload your file here and send the proof to GoVisually for your teams to see.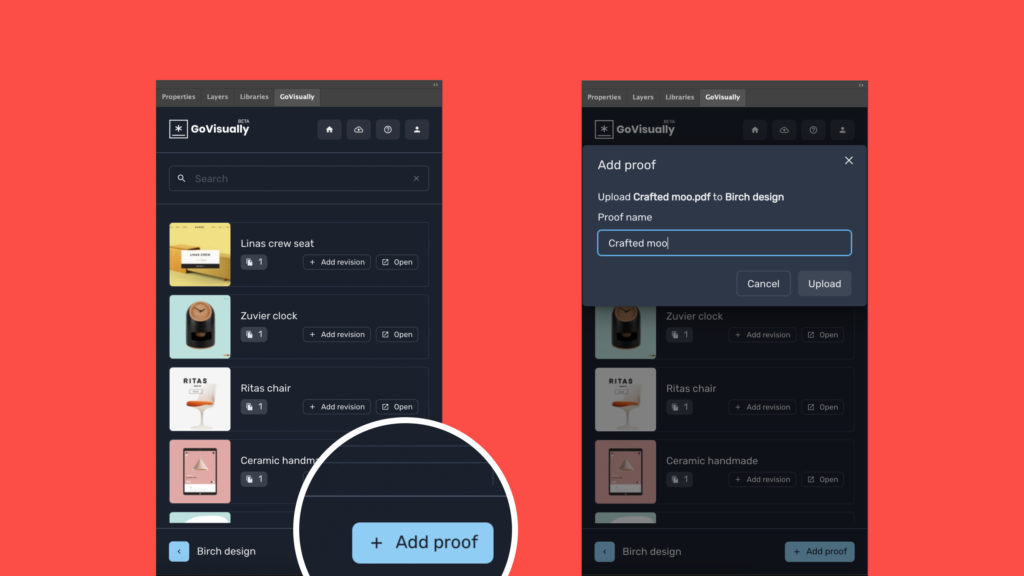 Upload a new version 
Each design card on your project page supports an 'Add Version' button. You can upload a revised version of your design here, and it will automatically update from V1 to V2 on GoVisually.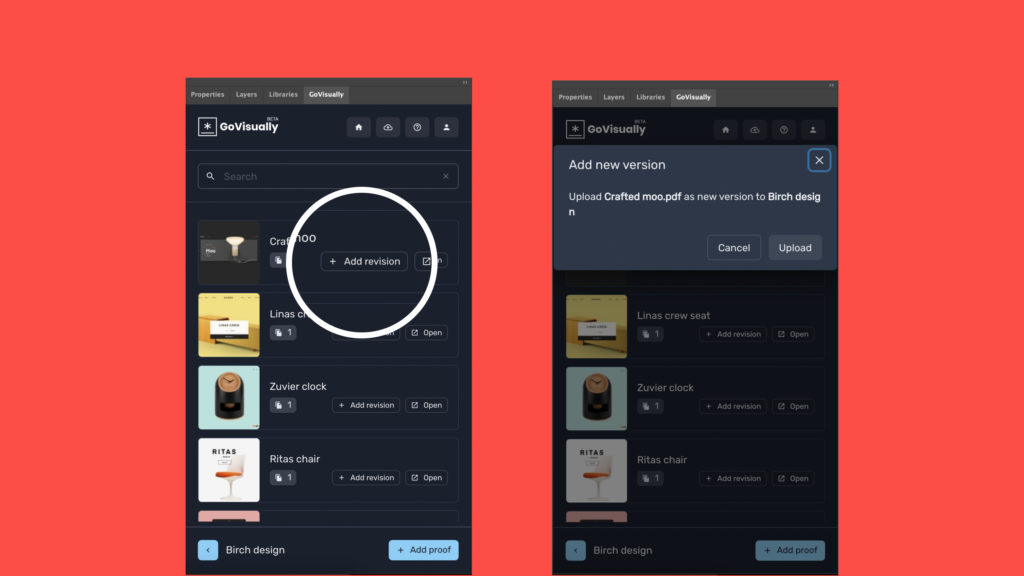 Upload manager 
The upload manager lets you keep track of your files and manage them accordingly. You can see a list of completed uploads and a progress bar for each during the process. You can also choose to cancel or stop the upload during its progress.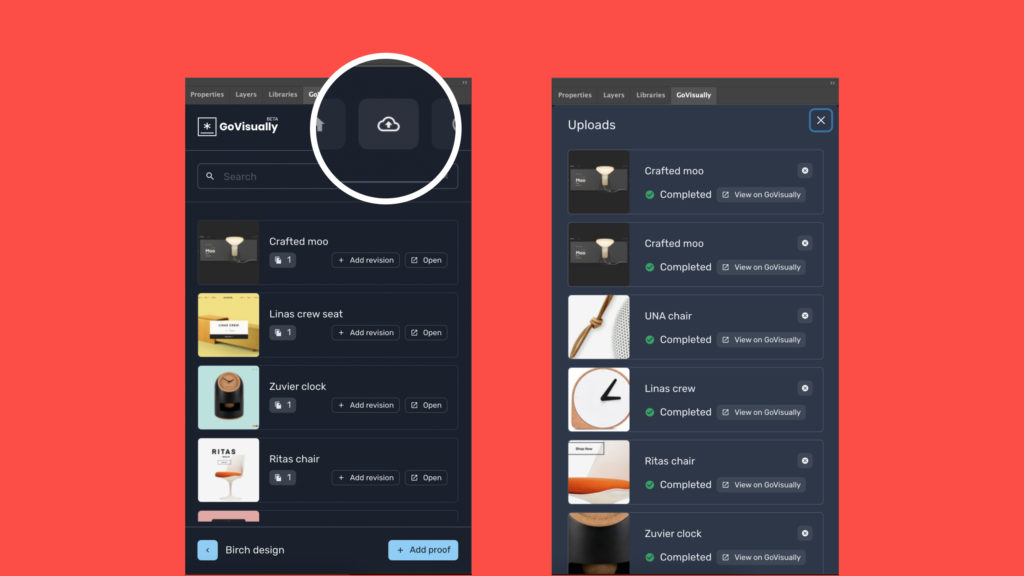 A duo to make visual collaboration effective and effortless 
With two creative platforms in one place and each bringing immense value to your designs, you're in for a series of countless successful projects and real-time benefits. To highlight some of the advantages this integration will bring to you, we are going to list them here.
Complete virtual access 
You're free to access a range of online proofing and feedback tools with GoVisually in the same space where you're working on the project. This wide access will help you make changes on time and keep your teams updated with the progress without going back and forth between different platforms.
Live feedback 
With GoVisually complete access also means that your team, creative directors, and clients can review your designs in one place and stay on the same page as you. This saves you the hassle of sending multiple emails explaining one aspect of artistic value you wish to add and seeking approval in a rather ineffective way.
Cross-team collaboration 
You might be collaborating with several individuals or teams in-charge of different areas in your creative project. The Adobe CC integration with GoVisually will make collaboration a smooth sailing experience and make communication easier within teams.
Faster project completion 
With design software that also functions as proofing software, you can bet to meet all your deadlines. This is the most efficient upgrade you can ever have in your career as a creator. Less confusion and more productivity are waiting for you.
Easy to share assets  
Have we reached the best part yet? Yes! With cloud-based storage, you can rest assured that your designs are saved and shared across the Adobe CC platform. These designs also become available for review to everyone on your team as soon as you upload them.
Get the GoVisually extension for your Adobe Creative Cloud.
Now is the time for every professional video maker, marketer, and graphic designer to get ahead. With the rise of evolutionary technologies, GoVisually is here to assist you in finding the most affordable and convenient solutions to your creative collaboration needs.
Don't just take our word for it. Take a free demo!