The business world is thriving more than ever! Every day business owners and marketers are innovating newer, more efficient ways to get their jobs done. Ideally, the best strategy for any business or marketing venture achieves results while efficiently using resources like time and money. 
Speaking of being efficient, let's talk about agile marketing.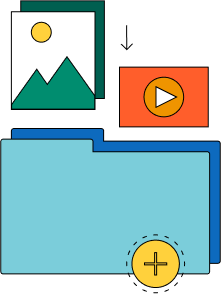 Need a quick way to share large files and creative assets?
With GoVisually Share, it's absolutely free! Try today.
What is agile marketing?
In June 2012, a group of expert marketers came together to develop the Agile Marketing Manifesto, and the rest is history!
Agile marketing works on the same principles as agile technology, taking a strategic, iterative approach to development, devising, and executing solutions through collaboration. Agile marketers borrowed the idea from agile software development methodology and molded it to marketing frameworks. 
In agile marketing, teams can better develop marketing strategies and see them through execution. 
Cut design & video review time in half
GoVisually is the #1 online proofing software to get visual feedback on Designs, PDFs & Video content.
Try GoVisually free today!
How does agile marketing work?
You might be wondering, "how exactly?" here's how; 
The priority for agile marketers is streamlining workflows to be as resource-efficient as possible without a dent in quality. This means employing the help of task management software and tools that help teams manage their time and stick to task deadlines consistently. 
Secondly, agile marketing encourages marketers to constantly churn out frequent releases that conduct 'experiments' to improvise and improve their strategies and marketing campaigns. 
Agile marketing doesn't look at marketing campaigns as plans that are defined from start to finish, but an ever-evolving process that gets defined through different iterations of the process. You start with an idea and shape it with cross-functional team collaboration as you move through the phases of development.  
Alright, hopefully, you get the idea of what agile marketing is. Agile methodologies are also referred to as lean methodologies because they are hyper-focused on eliminating waste and streamlining processes. 
Since their advent in the '90s, agile methodologies quickly took the business world by storm, replacing the previous fan-favorite waterfall methodology.  
Waterfall methodology vs. agile methodology 
The waterfall business methodology commands a sequential process. Tasks are broken into linear sequences of tasks; you move through them one by one, and you can't move on to the next without finishing the previous one. 
Think of it like constructing a building; you create the frame, lay the brick foundation, begin building walls before adding finishing touches and adornments. Much like constructing a building, you can't move on to the next step before finishing the one before. 
And similar to building construction, you can't move back a step. Therefore there is no room for mistakes!
While moving through the stages, teams usually evaluate the progress and productivity seen in completing the last step.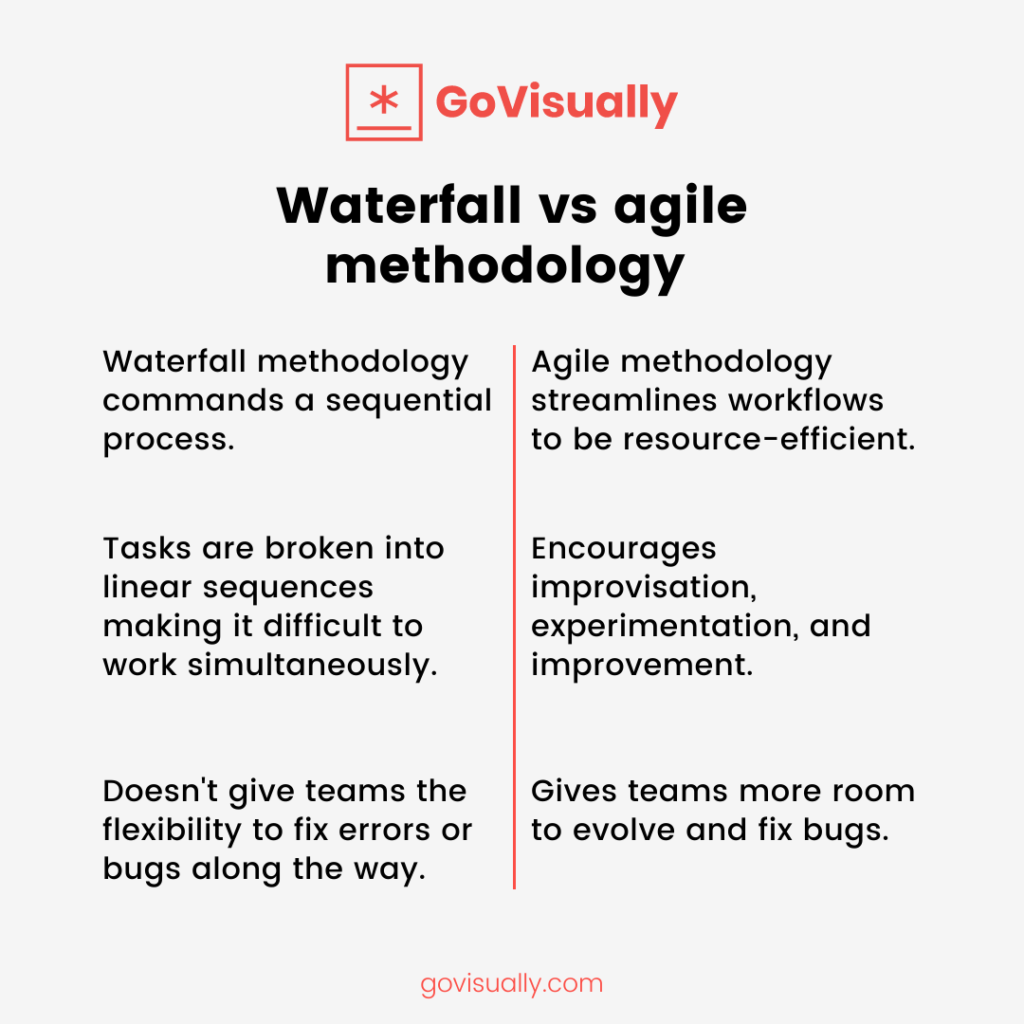 The drawbacks of the waterfall methodology 
And this is where this methodology falls short since you can't go back to a phase; it doesn't give teams the flexibility to make mistakes and fix them retroactively. Plus, how the project comes together is tested after it's finished. This means that any errors or bugs in the development phase are only uncovered later; fixing bugs at the last stage typically costs more. 
Of course, no method is perfect; the waterfall methodology can work excellently if you have a clear vision for your end-product and are mindful that only a handful of changes can be made earlier and later. 
Now that we've discussed the pros and cons of the waterfall methodology let's take a look at why Agile methodology is preferred by business owners and marketers in comparison. 
Why is agile methodology better?
Agile methodology is better first and foremost because it is iterative instead of sequential. Each phase of a task or project is seen as a project in itself, complete with execution, review, feedback, and edits. This gives teams more room to evolve and fix bugs along the way. Agile methodology almost ensures that there won't be any need to go back and fix errors later in the development stage. 
Agile methodology is also a more collaborative process, with every iteration going through multiple teams towards review and approval. The cross-team review is sought after the sequence is complete, leaving room for miscommunication and errors with the waterfall methodology. 
When it comes to agile marketing, campaigns are run frequently over shorter periods. This helps brands conduct necessary customer research to evaluate and better tailor their campaigns to their customers' needs. 
Every marketing campaign is treated as an experiment; this risk-taking, more often than not, pays off because you can gauge how your campaigns resonate with your customers and can consistently evolve accordingly. For marketing purposes, agile methodologies are excellent project frameworks to use. 
Quick stats on agile marketing
To sum up here's why agile marketing is quickly becoming a marketers' favorite worldwide; 
According to research, 53% of marketing teams reported seeing faster release times with agile marketing. 

98% of businesses reported seeing success with Agile projects. 

51% of marketing teams using

Agile methodologies

stated having no problem improvising on a project on short notice based on cross-team and customer feedback. 

Agile marketing is more efficient, with quicker campaign releases. 

Agile marketing allows teams to collaborate and work together to bring a project to completion. 
2022 is going to be another year full of possibilities and, ideally, business innovation. If your business doesn't catch up to others in your field, it might get left behind.
How to get started with agile marketing for your brand in 2022?
Firstly, since no business is the same, no business uses agile marketing the same way. While many brands take the traditional route, others choose to improvise upon the basic principles of the methodology and mold them to fit their organization's needs. This is called using the hybrid method. 
Typically, the methodology you adopt depends on your business' long-term and short-term goals, resources, teams, and organizational hierarchy. Let's talk about the two primary Agile methodologies employed by marketers around the globe.
What is scrum? 
With the scrum method, each phase of your project is divided into "sprints" that last a few weeks (typically four to six weeks). If you have a particularly long-drawn project at hand, you'll need to divide the sprints further so you can attend to each phase carefully. 
Each sprint develops and works like a mini individual project. The sprints altogether accumulate into the more significant project, with every detail being carefully gone over, reviewed, and improvised throughout the stages. 
The best way to ensure your sprints and final project is successful is to have regular meetings across the teams involved. The team members all have milestones to meet with strict deadlines to ensure task efficiency. 
Another crucial aspect of the scrum methodology is clearly defining roles, so everyone knows what they have to accomplish individually and as a team.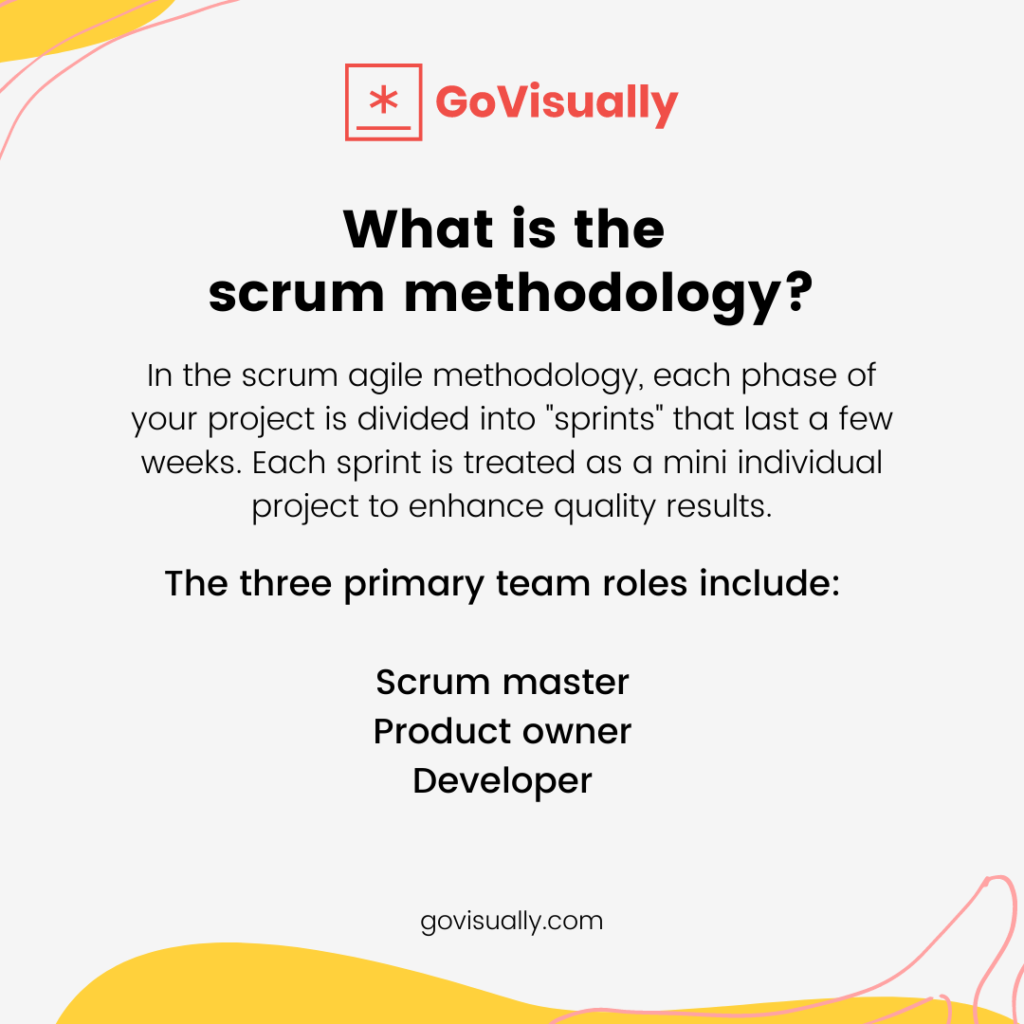 Here's a quick breakdown of the team roles. 
1. Scrum master
The scrum master oversees the entire project from start to finish. Please think of the scrum master as a project manager; they make sure everyone involved is doing their job and doing it right! 
2. Product owner
The product owner is the bridge between the team and the customers. The product owner understands the campaign and product the best, makes sure every team member stays on track and does both the stakeholders and customers justice. 
3.
Developer 
The developer is everyone else on the team. Typically, a few people from multiple teams or departments work together and provide their unique insights to a project. 
What is kanban?
If scrum doesn't sound like the right choice for your business, don't worry, there's always option number two; Kanban! 
Kanban methodology works best if your team has a better time learning visually. It's also not as strict as scrum, so a team full of creatives that tend to be a bit flaky can probably thrive with this.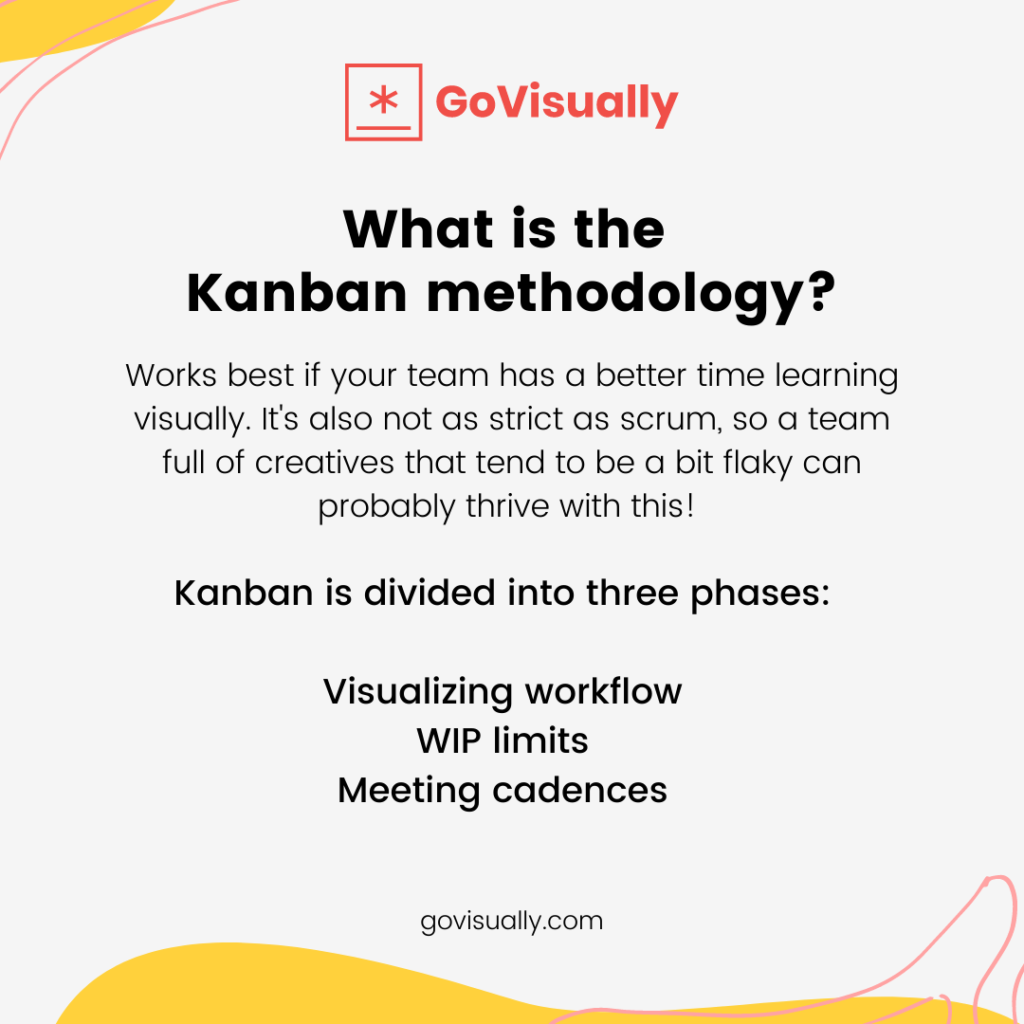 Kanban methodology generally has three phases; visualizing workflow, WIP limits, and meeting cadences. Let's talk about them in a bit more detail. 
1. Visualizing Workflow 
Teams typically visualize the workflow for a project on a board or something similar. Teams use cues like "to be done", "in progress," and "done" to track iterations of a project. 
Visualizing workflows helps you get a clear picture of the next few weeks or months of project management. Team members are assigned their roles beforehand, so there's no unnecessary back and forth during the work process. 
2. WIP limits
Work in progress limits the maximum time frame for a task or iteration. This helps teams stay on track so everything is accomplished at the end of each stage. This also permits team members to manage their tasks better, only focusing on completing one before moving on to another. 
3. Meeting cadences
Since Agile is all about promoting cross-team collaborations, kanban also encourages teams to have regular meetings to discuss the progress of ongoing projects. Regular meetings help everyone stay on the same page and bounce ideas off each other on improvising and changing a task according to mutual feedback. 
Review and approve your marketing assets with GoVisually!
If you're in the marketing field and have been looking for ways to optimize workflows and streamline processes, agile marketing is for you!
And you can make the most of this methodology by having an online proofing software like GoVisually by your side. You can leverage GoVisually to streamline your review process and get feedback as well as approval on all marketing and creative assets.
This would help streamline your project progress and align all stakeholders within one centralized platform for the review and approval process.
Try today! You will be thanking us later.