Arguably, one of the best things that Instagram has produced is to provide a platform for the best illustrators. You may ask, why is that important?
Well, the fact that social media can be an agent of toxicity is a no-brainer. Our timelines and feeds are full of content that induces general despair. Most of it has to do with the kind of accounts we follow and keep up with.
Yes, staying updated with everything around the globe can be a fun thing to do. However, doing too much of that is unhealthy. Every once in a while, we need to step away from mainstream outlets and utilize social media to gain exposure to things that provide peace. 
And what can give you more peace than art? 
So today, we are going to introduce you to the ten best illustrators on Instagram. If you like beautifully intricate digital art pieces, you're just going to want to follow these creative geniuses!
Most of the individuals on our list today are criminally underrated. So without further ado, let's give them the recognition that they deserve.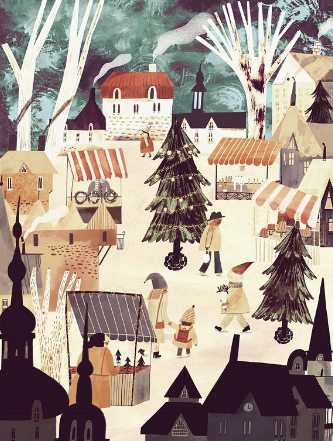 The first on our list is Adelina Lirius. Hailing from Stockholm, Sweden, Adelina is an impeccable illustrator and artist. On her website, Adelina gives her a more in-depth insight into her work. 
"Ever since I can remember, I have loved drawing and painting. Today I am happy to be working with something I truly enjoy doing. I spend a lot of time in my studio working on different ideas. I often like to paint imaginary scenes, portraying nature and illustrating the different cultures I grew up with. My art is often detailed, playful, imaginary with storytelling."  
Adelina has considerable experience in picture book illustrations, design and pattern, editorial illustrations, and much more. 
Her work depicts a soulful quality; it is likely to resonate with kids and adults who appreciate warm tones and powerful images. All in all, Adelina's work makes us swoon, so we're definitely going to keep in touch with all the beautiful pieces she creates in the future!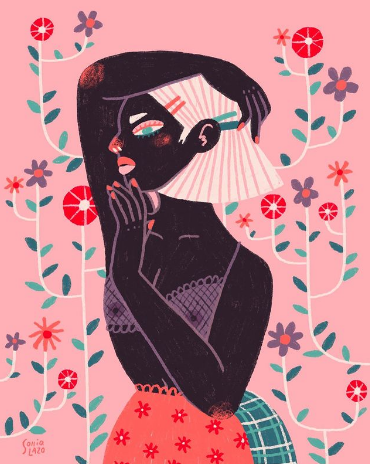 Sonia Lazo is an illustrator and tattoo artist based in El Salvador. If you're interested in their tattoo art, head over to @valhallatattoostudiosv!
Sonia also designs what they describe as "silly clothes." Their Etsy shop, where they sell designed outfits and her art, has had over 7,000 sales! Clearly, her work is a crowd-pleaser.
We're not surprised. Sonia's work is mostly grounded in themes of women empowerment and feminism. Their work is essentially a statement from them on social issues; it reflects their values in the most heartwarming way possible! 
To be real with you, we are obsessed with their work! Everything, and we mean EVERYTHING she creates, has a beautiful, feminine feel to it. If you're a fan of pinks, Sonia feed is going to be your new sanctuary. Their art is more likely to sit well with people who feel strongly about social issues – and well, those who like pretty pink stuff! 
Sanier's art speaks louder than any words could. Literally. 
He creates realistic pieces that are bound to leave anybody awe-struck. Whether you are an avid art lover or not, one look at this artist's work is enough to make you appreciate it all.
The best part? He often uses large buildings as his canvases. How cool is that? Moreover, this man is singlehandedly, creating stunning, larger-than-life art.
Sadly, Sainer is not very active on Instagram – he posts now and then. However, considering the work he blesses us with every time he does post, we strongly recommend you follow him!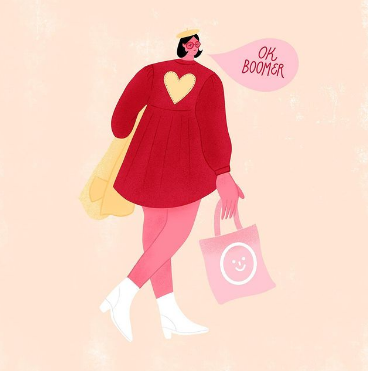 Next up is Camila Ortega, an illustrator from Chile. Her art is quirky, feminine, and infused with millennial humor. Everything about her work is adorable, from complex ideas such as what it means to be a woman to women's solidarity. What more can one ask for?
Her work reflects Chilean culture; she often uses Spanish phrases and bases her pieces on similar themes. Quite honestly, we love that!
If you're a fan of diversity in art and want to experience something different than you usually see on your feeds, head over to Camila's profile now.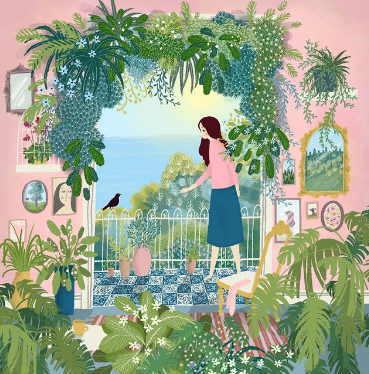 Jane Newland is an illustrator based in Norwich, United Kingdom. The Bright Agency represents her.
Her work is quite frankly the epitome of creative talent. Seriously, going through her feed is like stepping into a portal to some other dimension.
The rich pinks and green she uses give her painting an unparalleled depth, leaving the rest of us altogether in love with the world she showcases in her work.
If you're a fan of digital art that is truly beautiful and hard to look away from – you know where to head.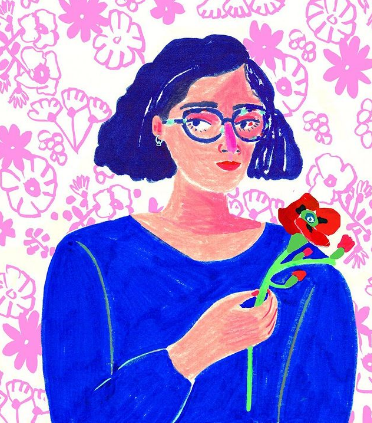 Maria Luque is an artist from Argentina. She has been creating art since 2005. Moreover, she has also exhibited her work in museums and galleries in her native country and Chile, Peru, Mexico, and Spain.
She focuses her expertise on capturing the essence of female identity. To do that, she has created countless portraits of female characters conveying a strong message!
Her content is also relatable and light-hearted – so follow her and do yourself a favor.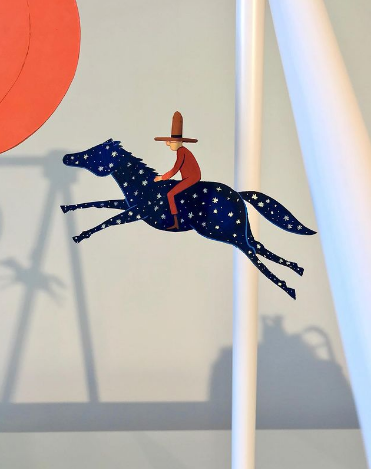 Daniel Frost is one of the best illustrators who has left us spellbound with his work quality.  Most of the work visible on his Instagram feed is picture book illustrations. These pictures have wonderfully drawn characters that are likely to amuse children.
Primarily created for children, his work depicts the typical storytelling persona characteristic of children's novels.
His work's themes are also very heart-warming, often displaying a close bond between children and adults. In short, his work is awe-worthy, which makes him a strong contender on our list.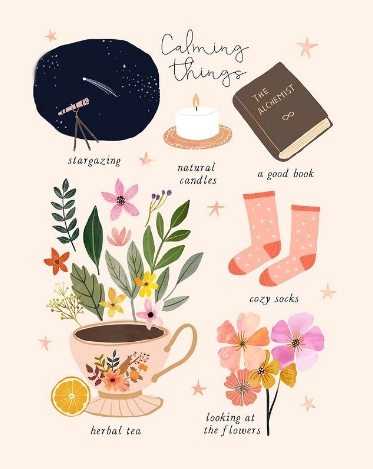 Mia Choro is an illustrator and a surface pattern designer. She describes herself as a "nature and yoga lover," so you already know what kind of themes she follows! 
Her work infuses nature and the female body to create pieces that are not even beautiful but are also inexplicably powerful. I think that her art is often multi-colored, joyful, and representative of positive vibes.
Cute and quirky – Mia Charro has both these aspects covered pretty well. So what are you waiting for? Follow her!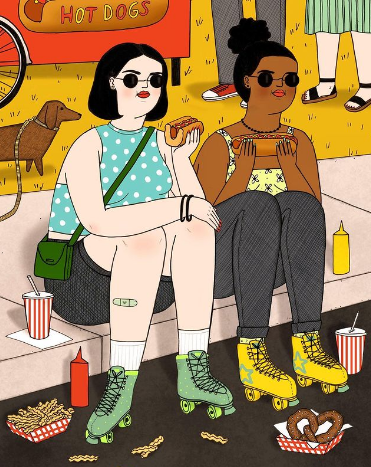 Mai Ly Degnan is Baltimore based illustrator, card maker, & "pug enthusiast." She is also an illustration professor. If you ask us, she deserves to be on our list of the best illustrators!
I mean, look at her work portfolio! It consists of humorous illustrations that incorporate tedious linework, pattern making, and bright colors. "Some of Mai Ly's favorite things include greeting cards, pattern making, and pugs," as stated on her artist profile.
Her clients include Boston Globe, Bust Magazine, Baltimore City Paper, VICE Magazine, NPR, Frankie Magazine, The Bark Magazine, Tigress For Girls, and The Oyster Review.
Her work has a comedic undertone to it, so if you're looking for art that makes you smile, head over to her pages without further ado.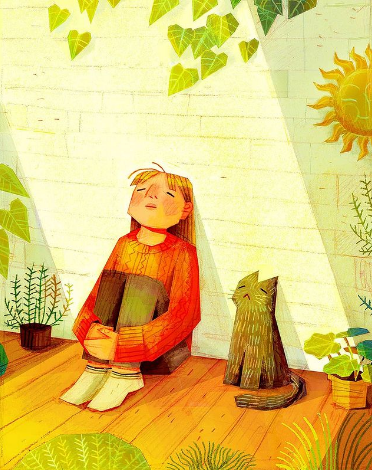 Carlotta Notaro is an artist who is based in Italy. She describes herself as fond of illustrations, animations, dogs. 
And she isn't lying! Most of her work depicts animals. Not only that, but it also speaks for the close relationships humans form with animals. Genuinely heartwarming, no? 
Moreover, the soft colors she uses to execute her creativity resonates with people who love artistic techniques. If you are fond of animals, visit Carlotta, and treat yourself to some real magic! 
And this is just the start…
Remember: This is not an exhaustive list of the best illustrators by any means! Instagram is full of some of the very best illustrators that may not be a part of this list. However, they do deserve recognition for all the wonders they are doing. All you have to do to find them is do a little digging.
So go and check out the profiles of our handpick of the best illustrators. And once you're done, don't mind looking for others too. You may be pleasantly surprised by what you find.