Do you remember the countless times your meeting rooms were painted with sticky notes? We're talking about those inevitable project management meetings where everything would go haywire because there was always so much to do. And now that we've moved towards using to-do list apps, somehow the problem remains.
Most creative teams still find themselves stuck in limbo using the right project management tool but not knowing which one is it. And there's a reason behind that. In a digital world, where you have 17 million project management apps and software, it can become overwhelming to choose the best one.
More importantly, how do you even decide the best to-do list application in this case?
To give you a headstart, we've researched for you and boiled it down to 14 best online to-do list apps that you should use for creative teams and enhance their productivity.
Why Do Creative Teams Need To-Do List Apps?
Before we enlist the to-do list apps for you, you should know why creative teams even need one.
Collaborative Approach
One of the best aspects of using these apps is that it brings your team on one page. This way, they know exactly what has been assigned to whom and the timeline to complete it. It takes away the effort of approaching individuals and telling them the instructions one by one. Instead, you can enhance your productivity by enlisting everything on the same platform where everyone can access it.
Organization and Tracking Progress
Secondly, it helps you stay organized and keep track of your progress easily. That's because when you're working on multiple projects, it's likely to lose track of one or the other. Sometimes it can skip your mind to complete a specific project or meet a deadline. But using these to-do list apps help you stay on track.
Makes You Feel That You're Accomplishing More
Lastly, it is the perfect medicine for procrastination. As a creative person, you're more inclined to procrastinate if you feel that the work is more. What happens when you don't have an organized list of things to do. But with these apps, you can clearly navigate between things to do, which helps you remain focused and motivated.
What Should You Look for in To-Do List Apps?
Now that you know why your creative team needs a to-do list application, its time to see what features you should be looking for in the ideal project management application.
Again, we've shortlisted the five crucial elements that all the best project management apps must-have. Let's have a look at them.
Ease of Use or User Interface
You need a project management app to ensure that your workload is organized and managed properly. And if the application itself is complicated and requires effort to use, it's probably not worth it.
That is why its essential to pick ana application with a user-friendly interface. It should have intuitive navigational features that would be easy to use for your creative team.
Useability
The second element to consider is your useability. Do you need an application for a small team or a big team? Do you need it for multiple projects or one project? Asking these questions will help you identify the right application.
To make it easier for your creative team, pick an application with templates for categories you wish to use. This way, you wouldn't need to create a template from scratch.
Features and Functionalities of the App
Ideally, you should choose the application that has the most diverse range of features and functionalities to offer.
Remember, the idea behind using these to-do list apps is to streamline your work process, and you can do that with enhanced use of features that makes work easier. So when making a decision, look for the presence of these four key features:
Collaborative approach for feedbacks and reviews
Budget management
Customizable work management tools as per your needs and requirements
Easy to use user interface
Integrations of Other Software
One of the most important aspects to consider is whether the application allows other functionaries to be integrated. For instance, if you're using Google Drive to store your data, you'd probably want an application that allows you to integrate your Google Drive work within the application.
Value for Money
And finally, you need an application that offers great value for your hard-earned money.
You shouldn't be investing too much money in an application that might not be the right fit for you. So decide what does your creative team needs at the moment and make a decision accordingly.
14 Best Online To-Do List Apps for Creative Teams
Finally, we're on the most important part; the best online to-do list apps for your creative team! Let's dig in.
1. GoVisually
Designs and visuals are a crucial side of any creative team's work. You need design approvals from clients, you need internal reviewing, and even within your designer's team. That is why you need GoVisually to streamline your reviewing process and eliminate the chaos.
It is the simplest online proofing tool built with the sole purpose of enhancing your creative team's work efficiency.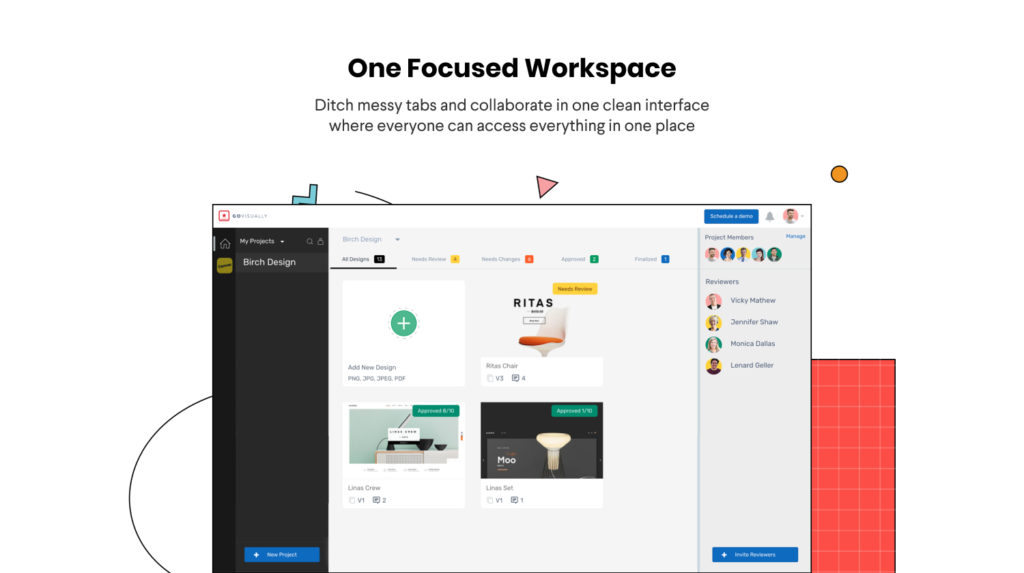 Key Features
Upload and annotate multiple file types
Share with your clients (They don't need an account, only you do)
Invite as many reviewers on the project as you want
Keep all your revisions and feedback organized in one place
Mobile optimized so you can manage and review your projects even on the go
Can be integrated with Slack and Zapier
Outstanding customer service available 24/7
Pricing
$50 per month for a team of 5 members (billed annually)
If you have more than 5 users, you can add them as well for $10 per user
2. Trello
If you're looking for a fun, collaborative tool for project management, then Trello should be your go-to choice. The visual workflow is laid out quite impressively, which makes it a great application for creative teams.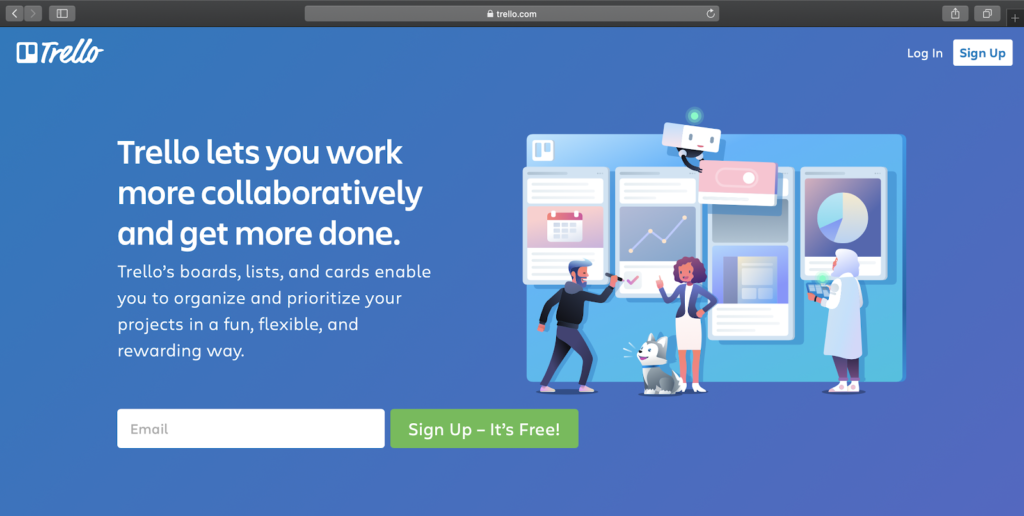 Key Features
Kanban boards to easily organize your work
Schedule your tasks using labels and stickers
Add a description to each task
Collaboration tools for project management
Option to integrate other applications and software (premium version)
Create as many boards as you want for effective management
Use the free templates available to create your own boards for your creative team
Pricing
Starting from $9.99/month per user
3. Notion
If you're looking for an all-in-one platform to organize your work and plan projects, choose Notion. It's a one-stop solution to keep your work together without the hassle of juggling multiple applications.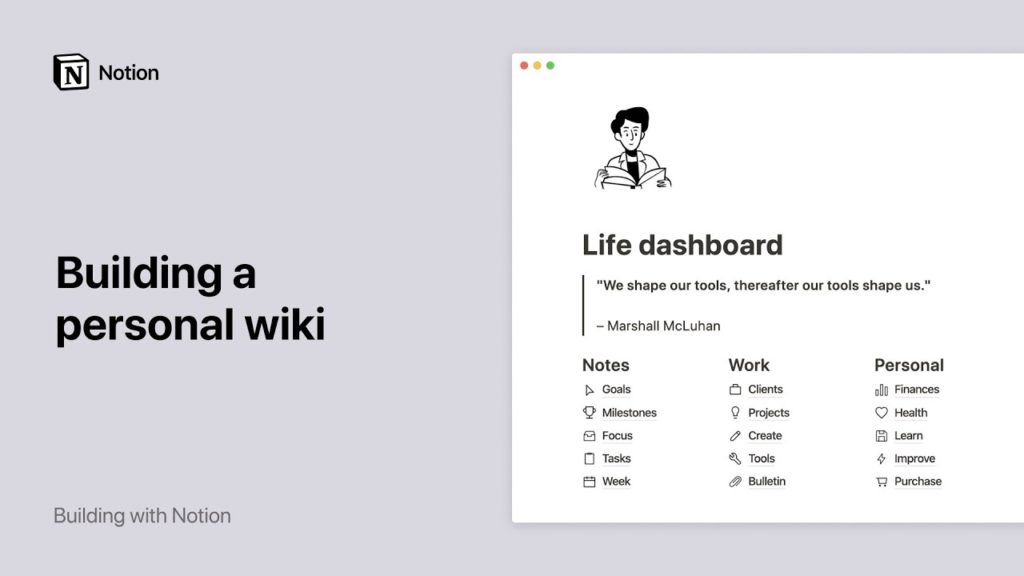 Key Features
Drag and drop functionality that makes your work easier
Calendar view for an easy listing of tasks
Integration of other software and applications
Kanban boards that are easy and fun to use
Option to customize your dashboards as per your requirements
Checklist management
Pricing
Basic: Free
Premium: $4/month per user
4. Google Tasks
Google Tasks is Google's latest innovation to help you with your project management. The best part about using Google Tasks is that it can be fully integrated with Google's other services.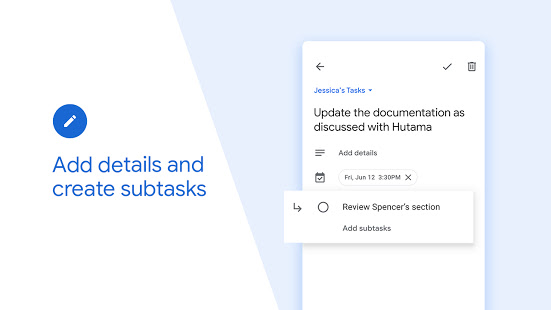 Key Features
Create and organize your to-do lists easily
Option to categorize the tasks into lists of works that can be divided into different project setups
Drag and drop tasks to keep them more organized and structured
Option to integrate Gmail emails into Google Tasks that'll help you streamline your mails too
Calendar view
User-friendly interface that allows the creative team to make intuitive decisions
Pricing
Free to use.
5. Evernote
Evernote will help you keep all your notes and to-do lists in one place. With Evernote, you can finally bid farewell to scattered elements and prioritize work on your ideas while managing them efficiently.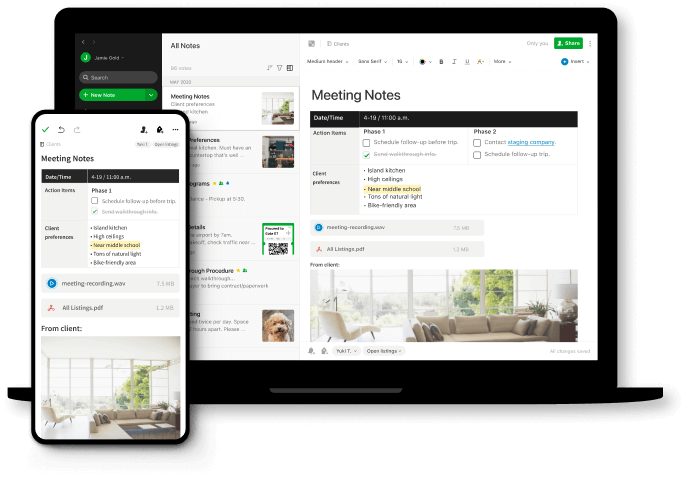 Key Features
Comprehensive task management solutions for your creative team
Options to keep a record of tasks and create tasks even when you're offline
Web clipping
Sync and organize your notes in one place, so you know what needs to be done
Option to integrate with other applications and software
Option to search handwriting within the notes
Go paperless with the document scanning option
Pricing
Basic: Free
Premium: $69.99/year
Business: 14.99/month per user
6. 2Do
If one of the primary reasons why you need a to-do list app is because you need faster results, then you should go for 2Do. You can download it on iOS or Android and easily use it while you're on the go, so all your tasks and project are properly managed.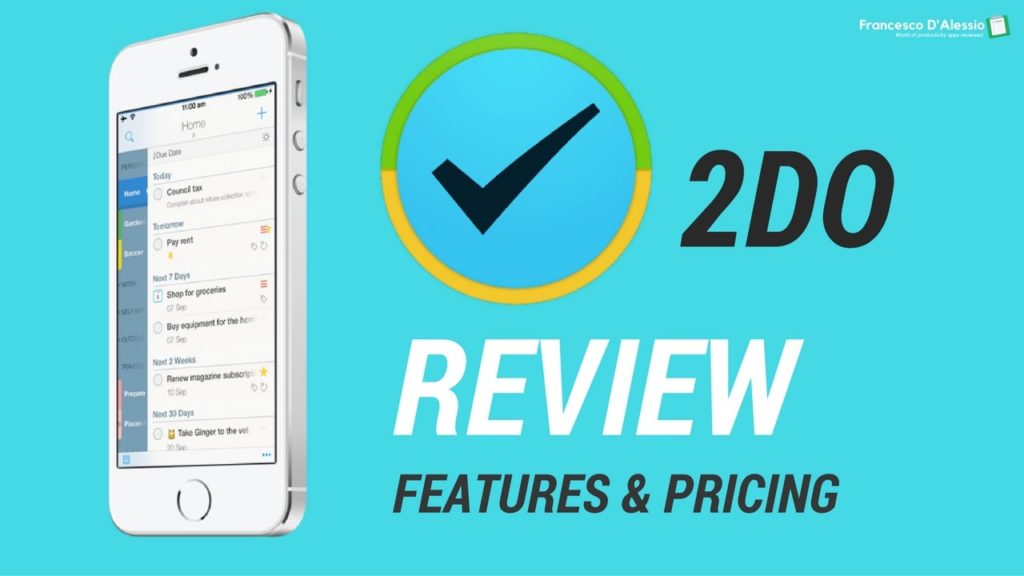 Key Features
Task editor offering a full range of features so your team can create and edit tasks as per their requirement
Options to apply sorting filters that will help your creative team remain more organized
Option to integrate other software and platforms
Option to create smart lists that can be optimized for individual use as well
Geographical location-based reminders for the team members (Excellent for remote teams)
Notification center layout so you never miss out on an important update
Backups for your data so you never lose out on important work
Pricing
$14.99 for iOS
Available on Android as well
7. Microsoft OneNote
Microsoft OneNote is like your digital notepad for creating the to-do lists. You can then share and collaborate on the lists with your teammates and clients. The biggest advantage of using OneNote is it's easy to use interface. You can rely on the site to keep things in the same order that you leave them.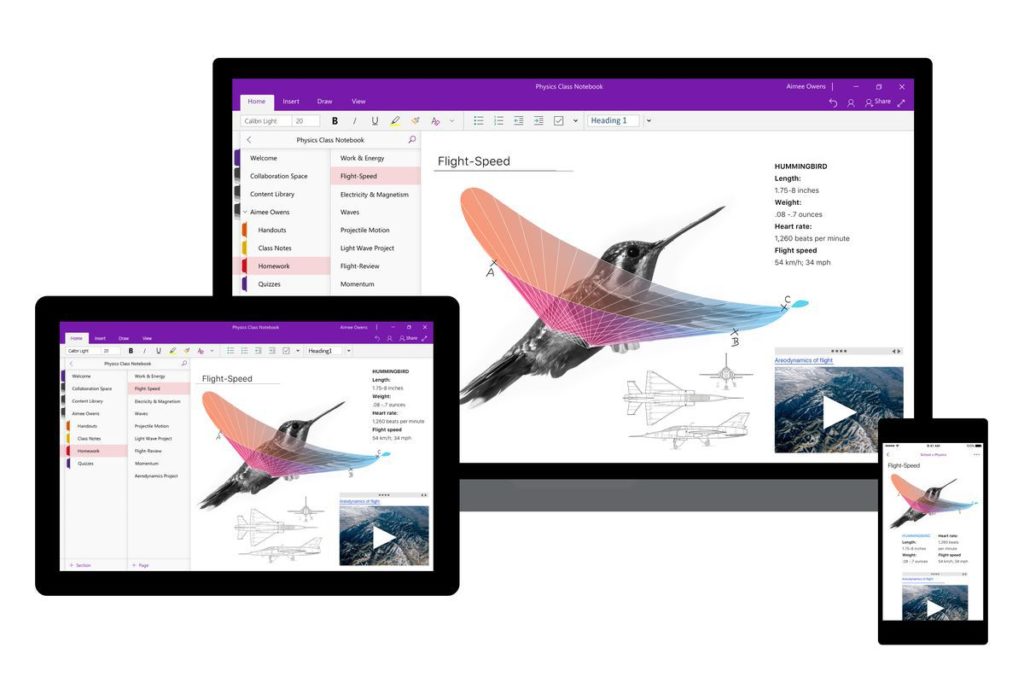 Key Features
Option to categorize and divide the work among different pages and sections
Revise and edit your work using different highlighting annotations
Insert recordings, online files, and videos
Share your notebooks easily with your colleagues, clients, and friends
Pricing
You can request the pricing on the website.
8. nTask
nTask is an excellent and one-stop to-do list application for creative teams. It is designed to cater to both a remote team and a team working from the office.
The application is built for small and big businesses alike. In fact, if you're starting your business journey, it will help you set up your team properly without prompting you to sign up for any premium plans.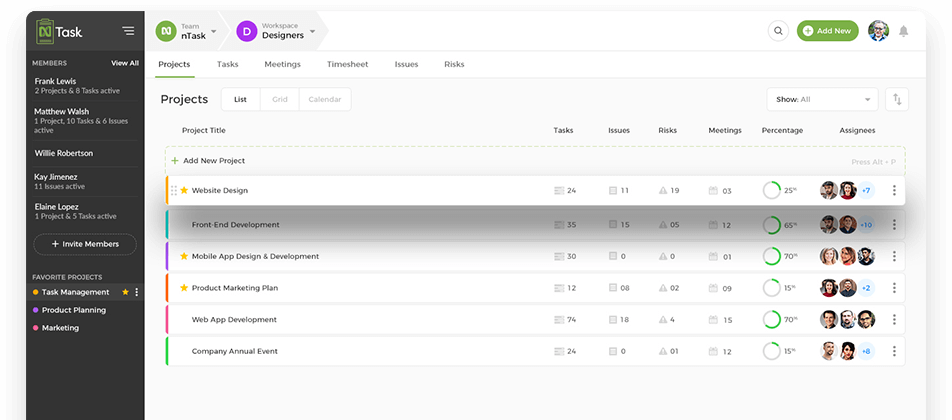 Key Features
Timesheets to help you stay organized
Gantt Charts
Issue tracking for all your projects
Option to set up meetings (remotely and in-person)
Advanced data sorting for all your projects
Option for multiple board views to categorize your teams or projects
Activity management so you can know what your creative team is onto
Customer support available to help you throughout
1000+ integrations including Google Drive, Zapier, and Slack
Pricing
Basic: Free
Premium: $1/month per user for up to 3 users. If you have more than 3 users, they can still be added but will be charged at $2.99/month
Business: $7.99/month per user
9. Quire
Quire's minimalist design is what sets it apart from the rest. It has intuitive features and navigation tools that make project management easy. As a team, you can also prioritize the tasks and update their deadlines on the boards.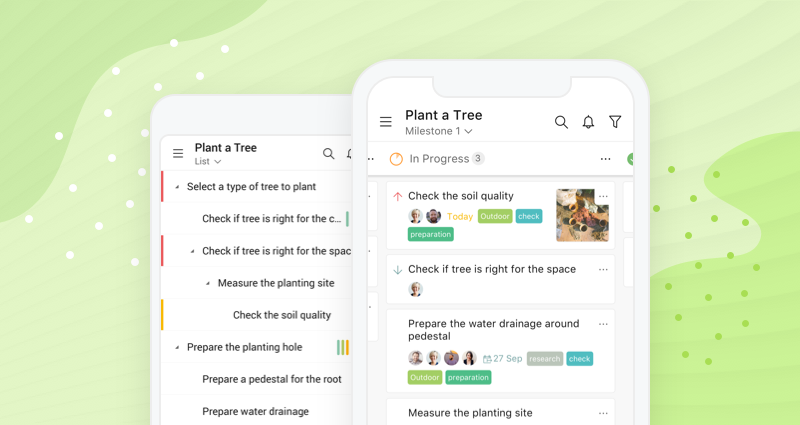 Key Features
Real-time updates on your work progress and project management
Already made templates that you can customize according to your needs
Visual management of all the projects that makes them easy to handle
Share files and documents via 3rd party app integration
Option to manage work timelines individually across all the projects
Allows you to invite collaborators and reviewers (clients, or someone who's not part of your creative team)
Pricing
Free to use
10. Monday
Monday is an impressive application that your creative team would really love using. It has a wide range of easy to use tools and features that let you organize your work properly. These include integration with other software like Google Drive and the option to quickly create tasks, assign or re-assign, and update progress as you go along.
We'd recommend using Monday for medium-sized teams.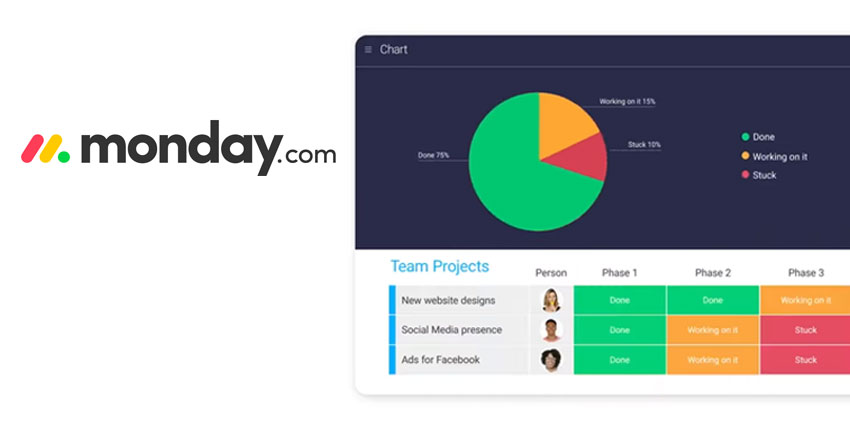 Key Features
Project management tools based on a priority model
Workload management that includes easy to create tasks and assigning options
Option to change the view of your timelines as charts or sheets (whatever you like more)
Integration with other platforms
Time tracking
File sharing
Organized notification bar so you never miss out on important updates from your team
Pricing
Free Trial Available
Basic: $8/month per user (billed annually)
Standard: $10/month per user (billed annually)
Pro: $16/month per user (billed annually)
11. Basecamp
What differentiates Basecamp from other project management applications is the client portal. Your creative team can invite the clients directly on the board to review the work and fasten the approval process.
Apart from that, Basecamp combines the usual features of group chat, file storage, and to-do lists into an easy to navigate interface.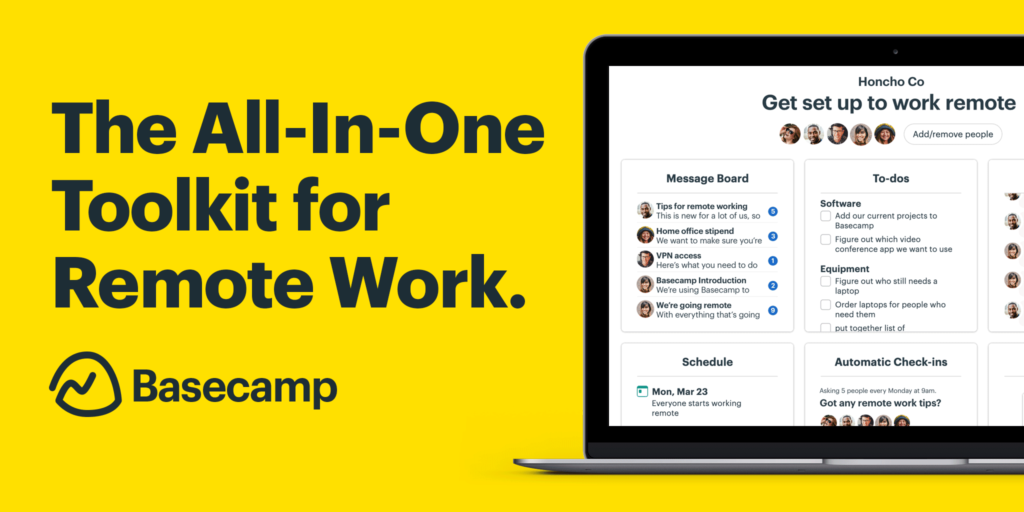 Key Features
Calendar management options to manage your tasks and projects
Discussion boards for your creative teams
Group chat where your creative team can discuss different projects and their timelines or share important updates
Client portal for your clients to review the work and approve
Cloud-based activity and task management system
24/7 online customer support to help you throughout
Pricing
Starting from $99/month
12. Clarizen
Clarizen is one of the most impressive project management application that offers everything. From your data security and protection to an easy to use interface, this might be the heaven for your creative team.
The features are easy to navigate, and you can integrate several other applications within the app.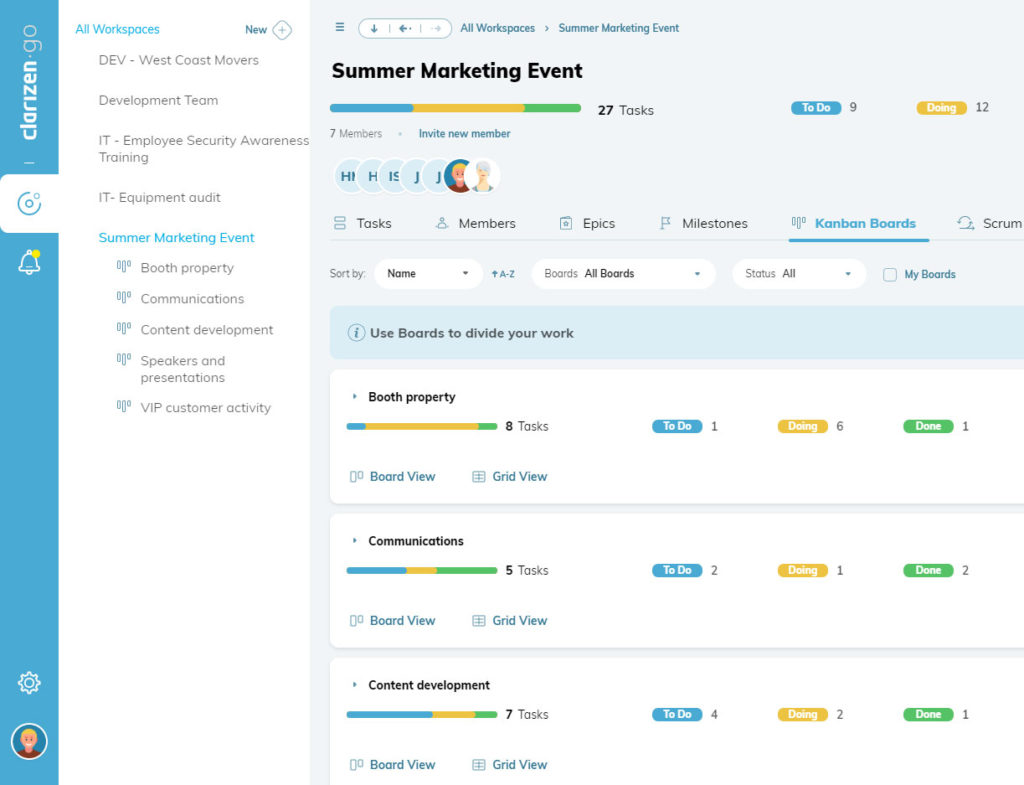 Key Features
Time tracking and timesheet management available so you can keep a check on the logged hours by your team members
Multi-tiered network security to protect your data and valuable assets
Billable & non-billable work items available along with budget tracking, so you never run out of your budget
Multiple dashboards to organize projects and teams
SSP & LDAP integration
Progress and work scope management
Document review and feedbacks available so you can streamline the editing process
Gantt Chart
Issue tracking
Real-time analytics and data available to assess your progress
Third-party integration
Risk assessment and security encryption
Task scheduling and activity tracking
Option to create project hierarchy, so your team knows what to prioritize first
Pricing
Free trial available
You can also request the pricing based on your needs from their site. But it usually starts from $45/month per user.
13. Asana
Work on making your big ideas translate to reality with Asana. It offers a wide range of useful features and tools that your creative team can employ to streamline their work progress. You can keep track of their progress in real-time and reduce errors because of the user-friendly interface.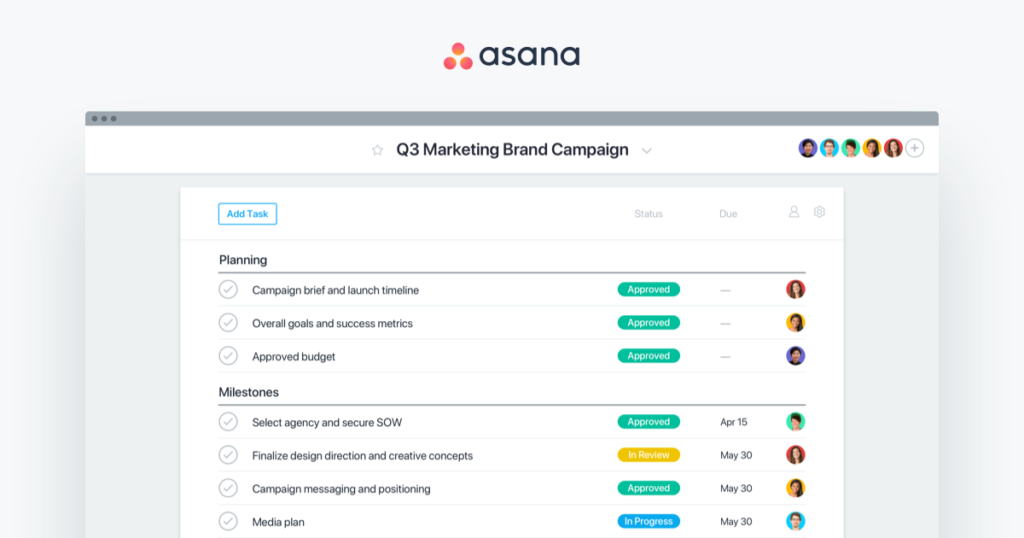 Key Features
Set daily, weekly, or monthly strategic goals for your teams
Submit forms and manage all your work
Gantt chart
Monitor the progress of activities in real-time
Automate your workflow using forms and tables to reduce room for error
Option to check the workload of individual users as well as teams
Pricing
Basic: Free
Premium: $10.99/month per user
Business: $24.99/month per user
14. Todoist
Free up your mental space with the Todoist to-do list app. The application is a project management base for over 10 million happy users who rely on Todoist to get their daily work done.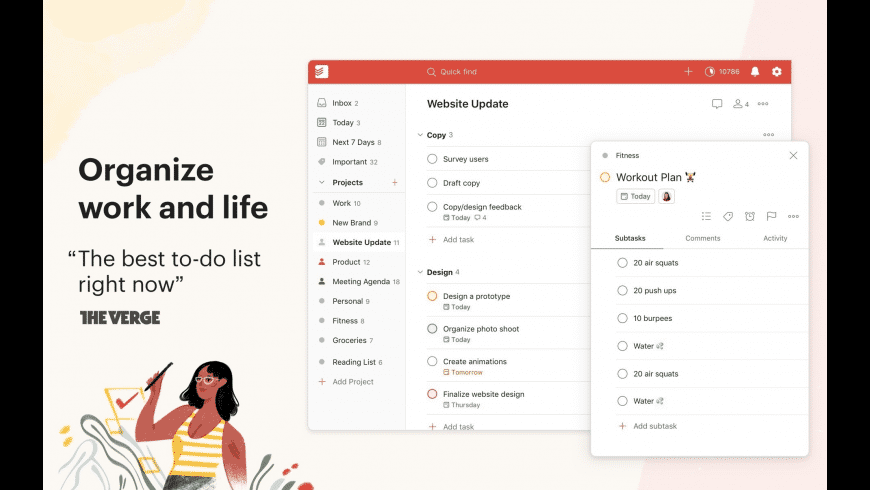 Key Features
Create tasks easily and organize them on a priority-basis
You can label tasks according to their priority or due date to be completed
Option to receive email and SMS reminder for pending tasks and activities
A plethora of project templates that you can use to create your own
Option to integrate other applications and software to streamline work process
Minimalist and easy to use interface that'd help your creative team get used to the app easily
Pricing
Basic: Free
Premium: Starting from tod$29/year
Final Word
So these were the best online to-do list apps that your creative team needs to streamline and boost their work process. Now, based on your requirements and business needs at the moment, you can pick one of these and tada! You'd be on your happy route to an enhanced and collaborative work process.