The online proofing game keeps leveling up, and so does the proofing software. Prepare to find out what makes GoVisually the better alternative to ProofHQ.
ProofHQ by Workfront was one of the very first online proofing platforms and held its reputation as one of the best since. But that doesn't mean there aren't better alternatives for ProofHQ.
Like any other online platform, ProofHQ has its fair share of drawbacks. While most of these might not make a difference for reviewers, they make a huge difference for creative professionals working on these projects.
We're about to dive deeply into the features offered by both platforms, so if you're looking for ProofHQ alternatives, make sure you're sticking with us till the end.
Now, without further ado, let's begin!
Cut design & video review time in half
GoVisually is the #1 online proofing software to get visual feedback on Designs, PDFs & Video content.
Try GoVisually free today!
What makes ProofHQ a good proofing software? 
ProofHQ, in simpler words, is yet another proofing software that helps automate reviews and approvals for creative teams and serves as a project management tool to organize team progress and improve communication.
ProofHQ provides online proofing solutions relating to the review and quality assurance of the processes involved in the marketing procedure. With the help of ProofHQ, you can expand the horizons of your business to a new level without compromising on the quality of your work or the fear of any editing errors.
As one of the earliest platforms, the software has grown greatly regarding features and accessibility, especially after its merger with Workfront. However, the flexibility of these features is very limited for creators and small-scale teams to collaborate effectively.
This is where GoVisually comes in as the go-to ProofHQ alternative for creative teams!
GoVisually as the best ProofHQ alternative 
GoVisually is also an online proofing, collaboration, and project management software that serves users with video and document annotations. 
Its easy-to-use interface allows users to annotate documents, videos, presentations, and images. And guess what, there's still more to the platform regarding advanced tools and features. Users can also collaborate on files and work together in real-time through chat rooms and automate collaboration for remote teams. 
GoVisually offers multiple integrations and powerful features within the same affordable packages for individual users and businesses alike, so you know you're never being left out regardless of the scale of your project.
Well, that's enough introduction. Let's move straight to the comparison between ProofHQ and GoVisually regarding features. 
GoVisually vs ProofHQ – where the features meet 
Since both are visual feedback and online proofing platforms, it is no surprise that there are similarities in how each software functions. However, there are several differences in the way these features perform.
GoVisually makes feedback and approvals easier!
Both tools allow users to notify other team members about a draft document as soon as they open it in an editing session so they can address any issues immediately without waiting until the next meeting. 
Users can also easily track changes to documents and get notified whenever any person makes edits to them. While the process of approval and feedback through comments and annotations is fundamentally the same, GoVisually makes it more advanced with its tools and user-friendly with one-click comments, requests for changes, and immediate approvals.
GoVisually allows collaboration through multiple collaborative tools
Streamline your proofing and review process with one place for writers, designers, and editors to collaborate. ProofHQ gives you everything you need for successful collaboration, including comment tracking, change management, and customizable workflows.
Similarly, GoVisually allows time-stamped comments, file uploads, and complete version control for teams to collaborate better and more efficiently. Both platforms allow you to invite managers, stakeholders, and other team members to leave feedback. With GoVisually, inviting someone from the outside is as simple as pasting a link.
GoVisually supports diverse file types.
File sharing is the core of creative collaboration, which is why a key feature for all proofing platforms is to support all sorts of file formats to make them accessible through one channel. ProofHQ can support images, documents, and audio files.
On the other side, GoVisually supports various file formats, including all media files like JPG, PNG, Video, PDF, WebM, WebP, and PSD. You can also add these files through comments or drop them on the project screen and annotate them. This accessibility is hard to find in most proofing platforms like ProofHQ.
GoVisually streamlines workflow management. 
The digital era is evolving rapidly and pushing conventional work models out of the picture. When most of our work is digitized, using task management platforms is essential case for everyone. 
With ProofHQ and GoVisually, creative teams can track their projects from ideation to completion and suggest changes in real-time to ensure faster progress. While both platforms serve as project management tools, GoVisually offers more than simple tools with its remarkable integrations to other helpful platforms like Trello.
What makes GoVisually an even better option as a ProofHQ alternative?  
It's not hard to tell why GoVisually has the competitive edge already. The platform was created with teams and projects, especially for everything visual. Yet there are still features unique to the platform that makes it stand out as the better alternative to ProofHQ.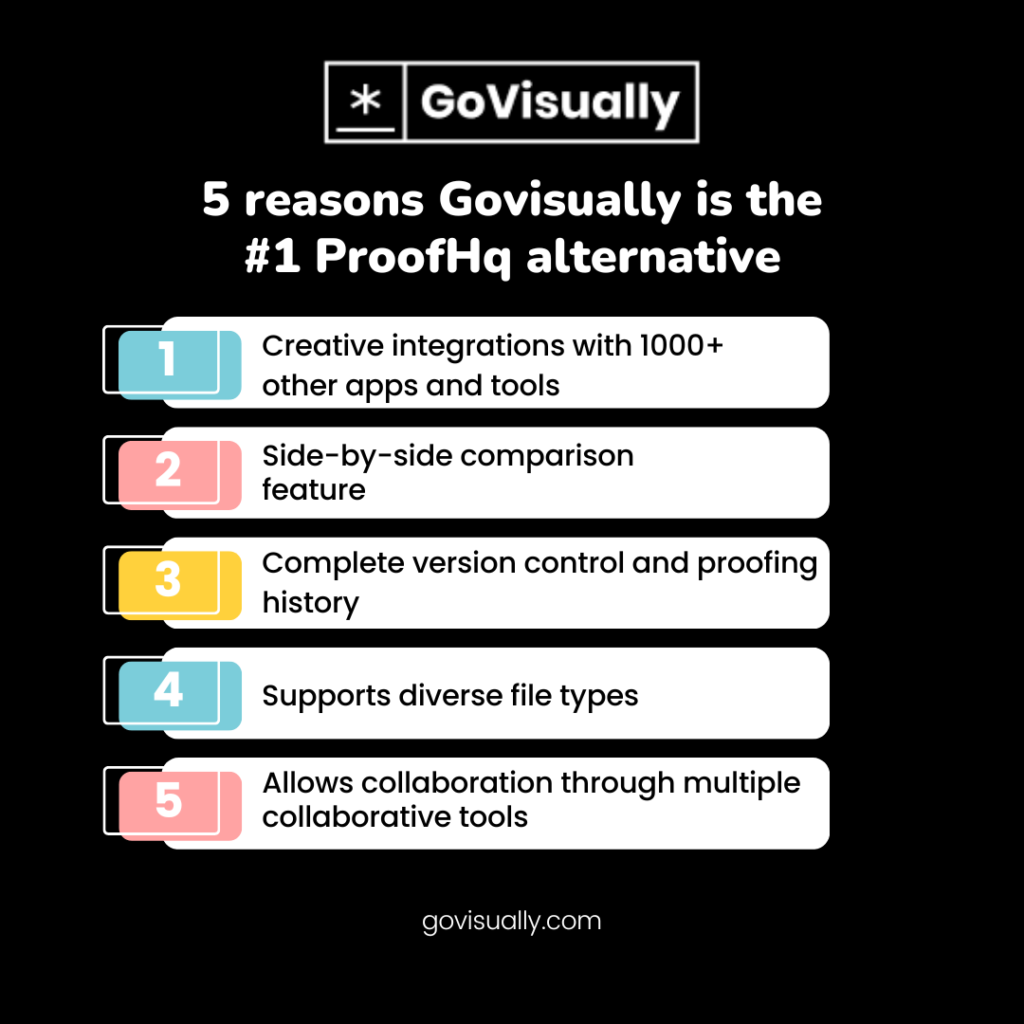 Creative integrations with 1000+ other apps and tools
GoVisually integrates with popular tools like Slack and Trello, allowing users to access their projects through your favorite app. You can also connect apps like Asana, Zapier, Dropbox, and other channels to make the most of communication and collaboration.
The most useful of all is GoVisually's Adobe Creative Cloud integration. You can directly connect your projects on Adobe Illustrator, Photoshop, or InDesign through Adobe CC for approvals and feedback with GoVisually, so progress and editing run simultaneously for all.
Side-by-side comparison 
Clients and reviewers have often said, "I can't see anything wrong with my design; it looks the same as the original. What's the difference?" 
Here's where GoVisually's side-by-side comparison comes into play. When you make changes to one element, the side-by-side comparison will show how those changes affect every other aspect of the design. You can easily spot differences in fonts, colors, spacing, images, etc.
While ProofHQ offers a similar feature, the file quality and usability are much more efficient with GoVisually, allowing a range of other options during comparison.
Complete version control and proofing history
GoVisually helps users retain all the previous information uploaded, including all the files, the first drafts, edited, and the finalized version. They can also view the older versions and check if the intended changes have occurred. Feedback and chat logs are also essential to refer to throughout the project.
Unlike other proofing software, GoVisually gives you full version control and keeps several versions of your project stored in your timeline and the cloud-based system of the platform so you can access them anywhere, anytime.
Direct annotations 
GoVisually is perfectly visual in everything it does. The case also stands for videos and all other file types it supports. While ProofHQ only allows you to annotate image-based files or documents, GoVisually is also the perfect solution for video proofing projects.
You can leave comments, attach files, add shapes or objects, and even draw over your PDFs, image files, and Videos frame-by-frame.
Sounds exciting.
It also saves you a lot of time and effort going back and forth between several apps trying to make things work.
Final takeaway 
ProofHQ and GoVisually platforms offer the basics you need to help your customers. However, GoVisually was created with growing businesses and creative teams regardless of what industry they come from.
GoVisually and ProofHQ are both growing platforms, and while both have unique features, it certainly depends on your needs to choose between them. So let's assist you in making a decision right here! Book a demo with an expert for GoVisually.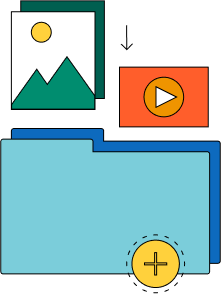 Need a quick way to share large files and creative assets?
With GoVisually Share, it's absolutely free! Try today.