Remote work has become the safest and newest work option. But it comes with its own problems and challenges. The biggest of all being, how do you effectively manage and train a remote team?  The answer lies in training video software.
Yes, many companies rely on pictures and graphics like charts to illustrate data. However, video recordings are unbeatable. And to create a good one, you need training video software. Even though there are several great training video software available, it all comes down to the ones that fulfill what you need of them.
So the big question is; how do you find the best one for your team? To help you out, we've researched the best ones.
Here's a list of the best training video software that ranges from compressing, editing, and converting videos. We've divided them into different categories so you can jump to the one you need. Let's get started!
Category #1: Interactive Training Video Software
One of the most common ways of delivering and consuming content is through video. The video consumer ship trend isn't going away anytime shortly. And one of the easiest ways to exchange technical information or knowledge is through training videos.
For 'know how's, step by step learning and instruction, video is the ideal medium as the user can demonstrate and teach people what they ought to learn. Furthermore, video is significantly more stimulating than approaches that are text-based only.
You had the option to learn by either reading 10 mundane and boring text pages explaining to you how to do something or by watching a video explaining and demonstrating precisely the measures that need to be taken; which one would you choose? The answer is the latter. This method of learning is quick, fun, and a lot more engaging.
1. LearnWorlds
LearnWorlds is a stage that empowers its customers to make, advance, and sell your online courses, offering a high-level and easy-to-use editor that makes your recordings intuitive. With an assortment of features accessible, you can enlarge your recording, and in a couple of clicks, you can also arrange these features in the way you want and as per your requirement.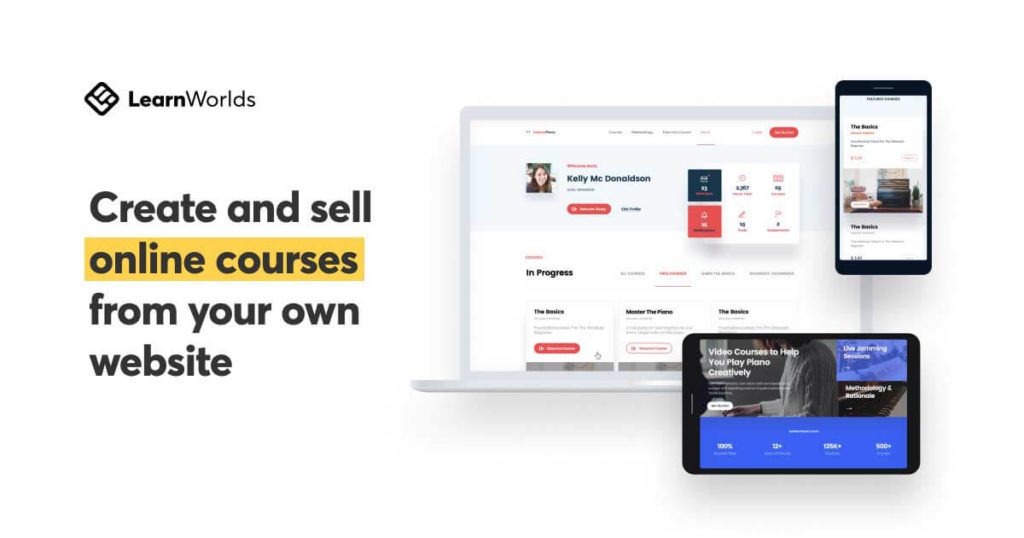 It also enables its users to track and record student progress, interact in different languages, add different interactive tools, and use different currencies. 
Features:
Helps build effective courses. A user's content is their basic resource as well as their greatest asset. LearnWorlds helps captivate attention, maximize engagement as well as improve learning while ensuring satisfaction.

Create school websites.

This feature helps transform websites through widgets and tools that help create a website worthwhile. 

Increase your audience.

LearnWorlds, enables its users to track their performance, host courses, pay through different currencies, and reach their maximum audience. 

An efficient customer support team.

It also provides a highly efficient support system with 24/7 customer support, various languages, migration services, and concierge onboarding. 
2. TouchCast
The end-products of TouchCast are smart videos, which are becoming imperative to training.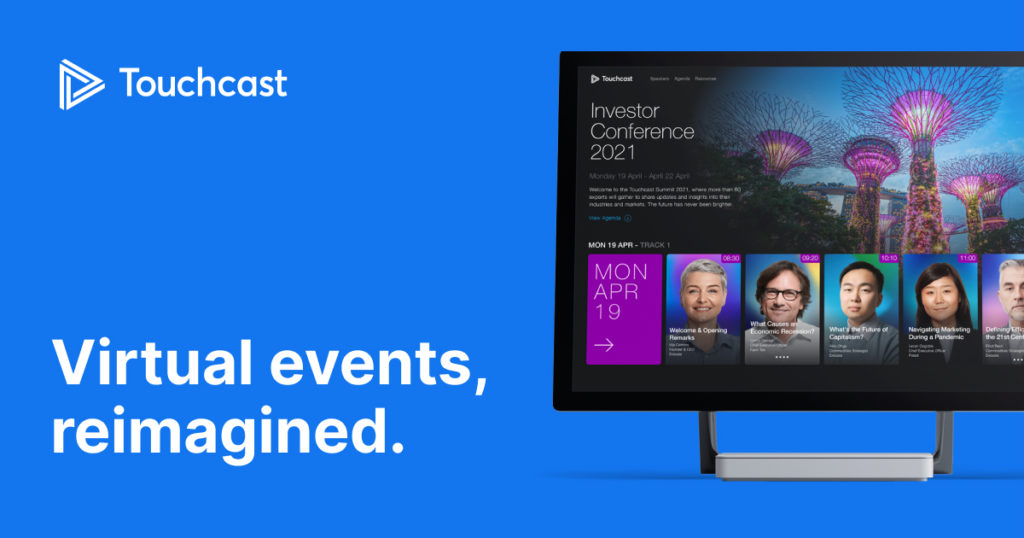 They are characterized by highly advanced features and provide their consumers with a green screen that enables them to remove objects from their natural placing and customize their backgrounds while recording the object. 
Features:
The software also enables its users to use several interactive elements, more commonly known as video applications or vApps.

It includes image vApps, videos within another, PDF vApps, Dropbox vApps, Video vApps, Hotspot vApps, YouTube vApps, Photo, and Map vApps, Google Drive vApps, etc.

Before commencing with the project, users are initially prepared and edited and recorded during the interaction to save it.
3. WIREWAX
Wirewax is another interactive video software that provides access to its users from all over the world.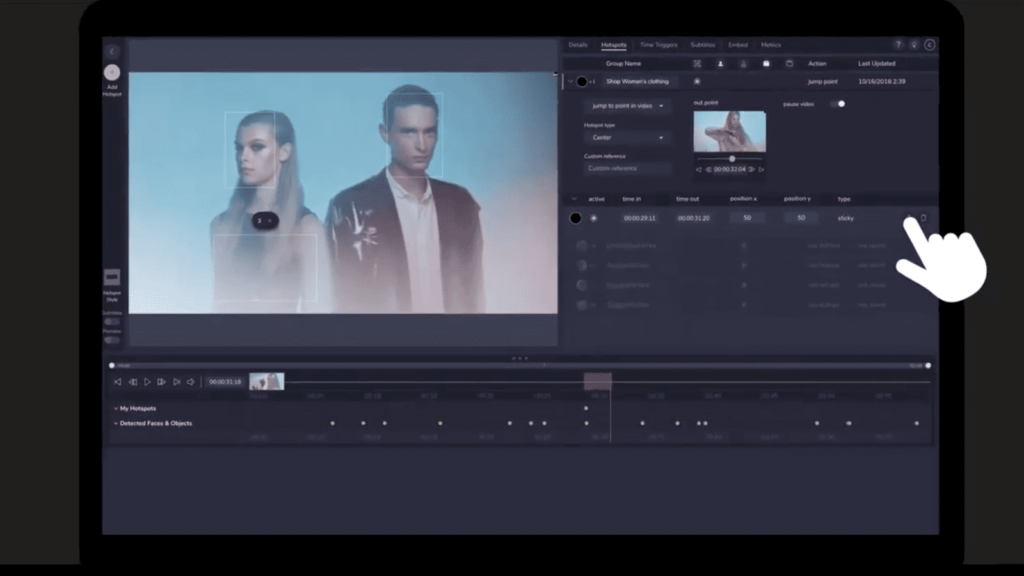 With more than 40,000 users, WireWax is one of the leading software when it comes to interactive video.
Features:
Enables its users to access several interactive elements. This includes automated hotspots, which can conveniently identify people, objects, and products.

It can also track the motion of an object during the video.

Used across the fields of commerce, education, entertainment, etc.

Another feature is the static hotspot, enabling the users to facilitate and encourage interaction through buttons that enable the viewers to interact with the item associated.

WireWax also allows its viewers to choose the path they want, including switching camera views, switching between scenes, etc.

 

4. HapYak
HapYak is interactive video software that enables its users to layer interactivity in their videos, and this cloud-based software includes features such as adding quizzes, links, etc.
Features:
It comes with a range of features and analytical tools. For example, you can track your video metrics, engage better with your audience, keep track of the engagement and maximize it.

Includes an intuitive visual editor, enhancing interactive sessions through personalization.

It also helps cash brand interactions by creating impressive narratives.

Increases the cart value through add-ons and suggested products.

Using an open API integration system to comply with any eCommerce platforms.


 
Category #2: Screencast & Screen Capture Software
 A digital video recording of a user's computer screen is a screencast, and it typically requires voice commentary or an audiotape. Screencasts come under the category of instructional video training and are another form of training video. There are a lot of advantages of screencasting. It is user-friendly and helps users save time asking the same questions repeatedly, but 80 percent of the people can remember a video they have watched in the last 30 days.
A big advantage of screencasting is that when it's convenient for them, the audience can access the screencast. Their learning does not necessarily take place in an institutional classroom environment, giving users the ability to learn wherever they want to. Also, by pausing and going over the excerpts again, the audience can freely process the material at their rate. Other tools obviously cannot. Screencasts add a personalized dimension to one's work and help simplify things further for users.
5. Screencast-O-Matic
Screencast-o-Matic is software that enables its consumers to access free screen-recording. It also provides them with an option for screencast recordings as well as webcam recordings. Also, it enables them to use a microphone to record dialogue.
Furthermore, users may be able to edit and customize their sessions according to their requirements. For example, they may draw on a screen, script recordings, zoom in or out, share content, etc. 
Features:
Screen recording

Video editing

Capture screenshots 

Host and share content,

videos, images, and music tracks avail
6. Camtasia
Camtasia is another screencasting and screen capture software that helps create long videos as well as add overlays. It has strong interaction and editing features and is extremely flexible and simple.
It enables its users to customize backgrounds, add special effects, and upload their videos directly to social media sites, such as Facebook, Youtube, Vimeo, etc. 
Features:
Pre-built templates that can be frequently used help decrease editing time. 

Camtasia Packages.

Enable you to share templates, themes, favorites, etc., in a single file. 

Favorites and presets.

Provides instant access to frequently used tools.

Enables users to record all on-screen operations, including video calls, presentations, etc. 

Facilitates adding, removing, and trimming moving sections.

Provides users with a library of free music and sound effects.

Enables users to import slides through PowerPoint integration.
7. Loom
Loom enables its users to record their screen and their camera with audio and download it. It also allows them to share the video via a URL instantly. 
Features:
It is an efficient and expressive way to communicate. 

Fast Recording
Instant Sharing
Easy Editing
Rich Reactions
Controlled Viewing
Category #3: Animated Training Video Software
Animation videos are a gateway in establishing an emotional connection with their audience and keeping them engaged. They also help capture the audience's attention most effectively out of all the video platforms available.
Training videos that take on an animated style are the perfect medium to shed light on a product. With a compelling script and some great graphics and animation, the user can effectively get across directions/instructions. These videos are extremely user-friendly and appropriate for all age groups. Many people might say that animated video tech is very limited to particular age ranges.
With the exponential rise of animation in content creation and innovative technologies, it has become a medium of expression for all age groups on its own. People widely use it for both educational and marketing purposes. For all age classes, including teenagers, animation has often been used repeatedly for instructional purposes. The results have been gratifying and the most effective out of all mediums of graphic multimedia in terms of outcomes.   
8. Animaker
Animaker is a video-making software that allows its consumers to produce animations by choosing from various provided characters. It also helps them associate a specific movement with the character and a facial expression, and these can also be changed as per requirement.
Animaker also allows consumers to use pop-up effects as well as add various scene transitions. It facilitates its users in creating handcraft animations, whiteboard animations, and even infographic videos. It also provides multi-camera possibilities, as well as various angles to the characters. 
Features:
Character builder

Extensive facial expressions

Auto Lip-Sync

Smart moves 
9. Moovly
In case you are searching for a simple method to make an interactive presentation that isn't really composed of footage, at that point, Moovly is your go-to software.
Moovly Studio comprises a  library, which contains items and clips to form your video content, as well as a timeline, which enables you to time the appearance and animation of the components and articles that form your video.
It also enables its users to access a  property zone to change the insights regarding their items. The items in the library may include pictures, sounds, and even recordings.
Features:
Create and edit your videos

Share, download, and publish

Use preset templates.

Users and groups. Manage users in a group.

Integrations and customizations. Ensure brand compliance in video creation.
10. Wideo
Wideo is an online video stage that permits clients to make captivating presentations in a basic manner. The software gives various templates that can be used to make various presentations according to your requirements, including e-commerce, company rules, and institutional explainers.
The templates are designed to assist you in creating stories based on animations. The software also allows you to download and share your productions.
Features:
The software enables its users to animate objects with ease, customize animations using keyframes, and set the frames precisely according to the beginning and end of your beginning.

It also enables its users to animate scene transitions, create videos from templates, and add videos.

Enables people to create slideshow presentations and square and vertical videos.

Includes scene templates as well as graphic and soundtrack libraries.

Facilitates comprehensive text editing, uploading images and logos, and changing scene length.

Enables instant video preview and the export of videos and URL sharing and sharing folders.
Category #4: Video Editing Software
There are versatile editors, either downloadable or online, that can help you get over with the given task in minutes and transfer the video in a format that is perfect for sharing online or playing on any laptop or handheld device depending entirely on your device; whether or not its a pc or a phone. If you're a novice, a YouTuber, or a competent video editor, discovering the right video editing tools is critical.
However, it can be tricky to figure out the right purchase for such a variety of confusingly named apps out there, with the extensive range of software developed (both amateur and professional) to help you get your desired results. Be it a professional work-related video or just a video for your youtube channel, using video editing and reviewing software adds just the flair your video needs. Let's go over some easy-to-use, fool-proof software that will make your life a whole lot easier and get your work done in minutes.  
11. Filmora
Filmora is another advanced video editing software that helps its users maintain an interactive and straightforward approach towards video production and editing. It helps create professional videos by using a simple interface, enabling you to add and edit videos, text, filters, and music.
The software also facilitates a  vast range of video formats and upload files from social media. It also includes speaker control, camera shake, and several blending modes. 
Features:
Audio Equalizer.
4K Resolution Editing Support.
GIF Support.
Split Screen.
Video And Audio Controls.
Layer Multiple Video Clips.
Video Stabilization.
Color Grading Presets.
12. OpenShot
OpenShot is a high-level and straightforward utilization of downloadable programming. It gives bend-based key Frame movements, limitless tracks, layers, and 3D energized titles and impacts. It has a high-level course of events that empowers clients to relocate pictures and sound help into the editorial manager. 
Altering permits cut resizing, scaling, managing, snapping, and turn. OpenShot additionally gives outline precision (venture through each casing of video), Time-planning speed changes on clasps (moderate/quick, forward/in reverse), and advanced video impacts.
Features:
Provides support for various audio, video, and image formats.

Provides access to powerful curve-based frame animations and desktop integration.

Enables users to resize, scale, trim, rotate and cut clips.

Facilitates video transitions with real-time previews and enables composting, adding watermarks, and image overlays.

Enables users to add titles and subtitles.

Provides them with an advanced timeline and frame accuracy.
13. Corel VideoStudio
Corel VideoStudio is honor-winning programming. It includes a multi-track video altering choice, a focal point remedy apparatus, 3D video altering, split-screen highlight, a stop movement include, and numerous others.
These highlights make Corel VideoStudio a standout amongst other video-altering programming for YouTubers. Likewise, the product permits us to send out undertakings straightforwardly to YouTube, Flickr, or Vimeo, to save time.
Features:
The software provides its users with a wide set of fun-creation tools, a clear and basic interface, fast rendering,

Support for 360-degree VR, 4K Ultra HD, 3D media and Multipoint motion tracking, Multicam editing, and a stop-motion tool. 
14. Final Cut Pro
Final Cut Pro is renowned for its top-of-the-line video altering abilities. In fact, it is the most widely used and recommended software for editing. Check out the complete guide to acing Final Cut Pro.
The finished product Pro offers instruments that make working with many videos, sound, and picture documents simpler. The new forms of the product offer help for 4K, 5K recordings, and 360-degree video. The only limitation is that it is just accessible for Mac.
Features:
It enables its users to access non-destructive and non-linear video editing.

Utilizes metal for improved performance

Edit HD, 4K, 8K, and 360-degree video.

The additional programs it offers include compressor and motion.
Category # 5: Video Converter Software
There is a big market for video editing software, but finding ones that excel in converting videos is cumbersome. If you're a videomaker or a part of the production team, you must know the hassle of converting video recordings. 
Video converters can likewise be valuable when modifying or re-locating videos to a different location without changing their format. Or they can assist you with changing the format of the videos to your liking. Fortunately, there's a big market of video converting software out there, but below are the best of the best.  
Here are the top 3 video converter software we'd suggest using.
15. Freemake Video Converter
Looking for a free yet the best video converting software? Freemake is the one for you.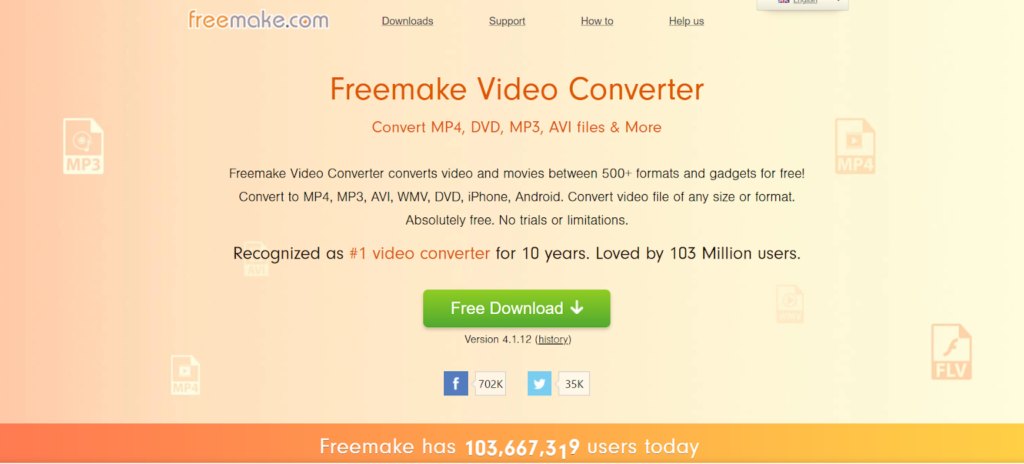 While it is free, you will end up with videos bearing their logo. This video converting software excels when it comes to different video formats. This software upholds up to 17 video format designs, ranging from MOV, AVI, and MP4. 
Features:
The customization of your video cut length and even the codec settings are up to the user. 

Quick and hassle-free converting process.

It can take up to massive video sizes and convert them in no time.

If you usually work with large video recordings, Freemake can convert them in no time into any format.
16. VideoProc
If you are a windows user, you may end up with limited choices of video converting software. But do not worry, because VideoProc is a top-pick video converting software for Windows. This video converting software gives you all the highlights and features of great editing software. 
This software can restrict the video recordings' length and convert them in less than five minutes. VideoProc is simple and fast to use with little to no lagging. You can also choose from flipping videos, combing them, trimming or looping them, and stabilizing them. 
Features:
Can adjust video speed up to choice. 

Has the option to split/merge videos. 

Can support HD resolution. 

Converts videos with no lag or glitches.

VideoProc is best for looking for an all-in-one video editing software while it is a good video converter.
17. Wondershare UniCoverter
If you are a professional who works with large video recordings, you can spend all your time converting their formats and waiting for a long time while you are at it.  That's why Wondershare UniConverter is a great choice for video converting software if you are looking for speed and quality. 
While Wondershare is free, to achieve its full features, you must buy them. When you access its premium features, you get the options to choose from 35 video designs and formats, with it supporting up to 4K video resolution. It converts mega-sized videos in no time.
Features:
Converts videos at 30X quicker speed than most video editing software. 

Downloads, converts, and edits videos.

Converts any video/sound file to MP4, MOV, and AVI.

Extracts soundtrack from video recordings in high constancy. 

Converts HD videos while maintaining their quality.
Category # 6: Video Compression Software
As creatives, if you've ever worked with large video files, you'd know the trouble of the memory intake they come with. However, to solve this problem, video compressing software exist. A video compressing software minimizes the size of a video file without changing its quality, so it doesn't take up the memory it was in its original size.
This software helps you modify the video files to your ideal file size, so they are easy to store. While the simple ones only compress videos, the great ones do that while offering additional features such as maintaining video resolution, simple editing, and more. 
These are the top 2 video compression software that we'd suggest using!
18. Handbrake
HandBrake is an open-source video compressing software that is free and allows users to compress and convert their video files at the same time while maintaining their quality and resolution. This software also comes with various presets that make it work easily on portable stages. 
While it fulfills its main goal, it is a prime option for video compressing software because it gives you a choice to pick a video size, awards you the option to add captions, and modifies video and sound codecs. With HandBrake, your video files are covered in almost every way. 
Features:
Compresses video and sound codecs. 

Converts videos into  MKV, AVI, MP4, MPG, WMV, and WebM formats.

Supports numerous yield designs. 

Add captions to videos.

HandBrake is for people who look for video compressing software but with added features to save the extra hassle.
19. MPEG Streamclip
Gone are the days when a simple video compression software with its only feature being video compressing was acceptable. Now video compressing software like MPEG Streamclip are available to compress videos and save you the trouble of changing video editing software for different features.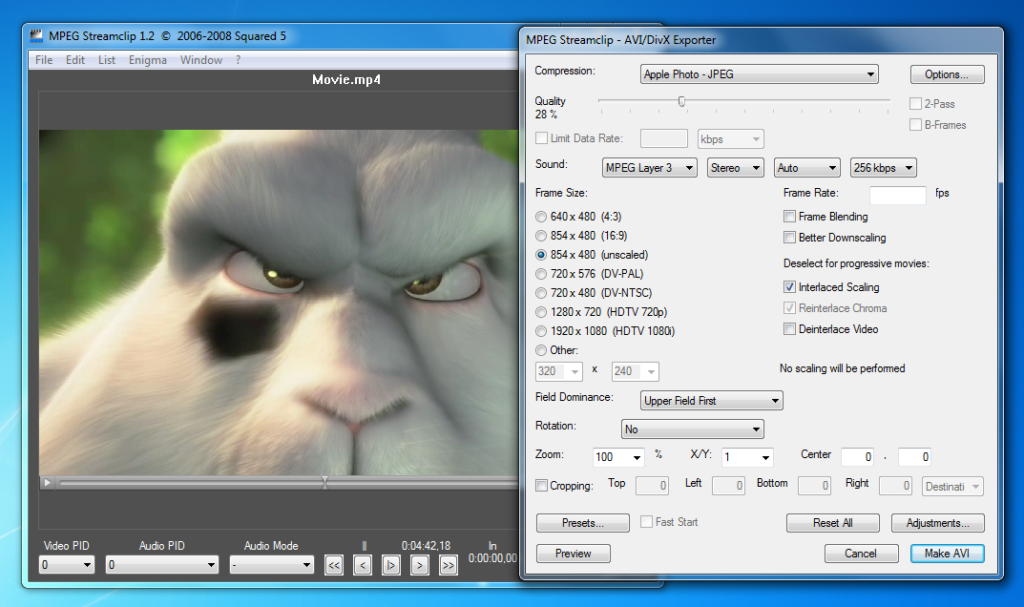 MPEG offers all of the features you need from a video compressor. Perhaps the most valuable feature of MPEG is its compressing abilities. When you need to forward a video to a using Dropbox, but the video is too large in size, MPEG Streamclip allows you to change the codec, outline rate, bitrate, and viewpoint ratio accordingly. MPEG Streamclip is a free program and is viable with both Mac and Windows.
Features: 
Can handle high-sized video files and compress them in no time.

Perfect for both Windows and Mac users.

MPEG is best for users who often shift from Windows to Mac.
Category # 7: Video Editing Software for Smartphones
Nowadays, perhaps the most prominent feature a smartphone can have aside from its operating system is its camera quality. The smartphone market is full of smartphones with video and camera quality better than ever. That's why video editing software for smartphones now has to keep up with.
With the high resolution of their smartphones, you need video editing software that matches them and can turn your already clear videos into professional-looking works of art. An enormous array of video editing software for smartphones is now accessible, making the process of editing smartphone videos simple and easy. 
20. Magisto
There aren't many smartphone video editing software that lives up to expectations. However, Magisto may prove you wrong with that. This is a certified AI-supported video editing software that can give your videos the professional touch you want. 
Because this is AI-supported, you won't have to do much but upload your videos and select what you want to do with them. Magisto does all of it for you. Not only that, but it also comes with a soundtrack gallery to turn your videos into next-level pieces of art. Magisto is also great for making Instagram posts if you choose the premium features with a monthly fee. 
Features:
Impressive auto-altering capacity.

Improved video editing features.

AI-supported system for simple edits

Magisto is best for creatives who want quick and professional video edits for Instagram or Facebook.
21. Videoshop
Videoshop is an incredible iOS and Android supported video editing software fit for all purposes. You can efficiently manage your video editing process by just choosing what you want and watching the magic happen. With Videoshop, you can add filters, trim, crop, blend and merge your videos. 
You can also add captions and sound effects as well. This is a simple, no-brainer smartphone video editing software that you can use whether you are an iOS or Android user. With Videoshop, you end up with professional-looking videos that will take you less than minutes to edit.
Features:
Combines various clips into one.

It has a soundtrack gallery.

Offers various high-quality filters. 
22. Animoto
Google Play is filled with video editing apps that claim to be the best but are lackluster when installed or downloaded. It is doubtful that you can end up with a video editing app that will support your passion for making professional videos with your smartphone. But Animoto s one of the few software that does accomplish that. 
With using Animoto, all you have to do is decide three things. The length of your video, the music you wish you choose, and the clips or pictures you want to include. That's all. The rest, Animoto does for you. From hundreds of filters, various soundtracks, and editing features, Animoto is the software that will turn your videos into professional portfolio-worthy video clips. You also make business slideshows with Animoto.
Features:
Has the option of Getty Images stock library for video cuts. 

Share your pictures and video cuts effortlessly. 

Accessible from a Mac or PC.

Animoto is best for people who wish to create portfolios or business slideshows effortlessly on their smartphones.
Review Your Videos With GoVisually!
After so much hard work and effort, you don't want a training video that people won't like. So make sure that you review the video you've created for training among your coworkers. You can even share it with the leads of the relevant departments before sending it to employees.
And all of this can be done in 3 simple steps with GoVisually – the #1 video proofing software!
Upload your video assets.
Invite reviewers and get your video files approved.
Deliver the final video and share it with your employees.
Features:
You can visually annotate and comment on video files.
Supports MP4, MOV, GIF, PNG, JPG, PSD, and PDF files.
Comment anywhere on the video and make revisions quick and precisely.
Tag people to let them know about specific changes.
Attach files to the comments to make it even easier.
Encrypted media files and protected content.
Download GoVisually's mobile application to work on the go.
Control who views and downloads your video files.
Key Takeaway
Training video software has revolutionized the art of video creation and video sharing remotely. The best part? Impressive techniques that were once only accessible for professional video makers are now available to beginners with these video editing programs. This software is affordable and easy-to-use that allow their users to unleash their creativity and share it with the world.
So, even if you're not a production team, you can easily manage your training online!