Building a sales funnel with a tailored video marketing strategy should be your priority if you want to make your marketing dollars work in today's digital scene. 
Online audiences spend an average of 19 hours a week watching videos online, and brands use videos in their marketing plan to increase their reach for ages.
Businesses that want to be successful in the video marketing space must consider the importance of video content, not just at the top of the funnel to engage more leads but also at the bottom to increase their conversions.
If you're wondering how to successfully use videos for the bottom of the funnel marketing, this comprehensive guide is just for you.
So let's jump right in! 
What is a video marketing funnel? 
A video marketing funnel is just like your content funnel and often uses the same marketing goals. It helps your target audience move through the buyer's journey from first interest to purchase using videos as the main resource.
An effective video funnel is designed to help you attract, educate, convert, and keep buyers interested in your products by using videos at each stage. However, your video content plays out differently based on the audience you're targeting.
There are numerous free video resources for marketers to create content to fit all stages of their marketing plan and implement a winning strategy.
But how do video funnels work?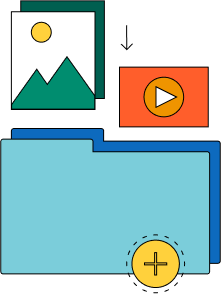 Need a quick way to share large files and creative assets?
With GoVisually Share, it's absolutely free! Try today.
The key areas of a business funnel for video marketing  
Many marketers understand the theory of a marketing funnel but often need help understanding how video marketing funnels practically work. We'll dig deeper into the two key areas of a marketing funnel where videos are essential.
ToFu: Top of the funnel 
The top of your funnel is where you create content that solves buyer problems or challenges. By providing top-of-funnel content, your site can help potential buyers become interested in your product or service from the beginning. 
These people are often problem-aware but need more information to figure out what they're going through. Focus on key metrics such as video view count and engagement to grow your video viewership and engagement. 
BoFu: Bottom of the funnel  
Bottom of the funnel videos is created to convert ready-to-commit audiences. At this point in the buyer's journey, they understand the problems and challenges they face, know about your solution, and likely have a few options. 
They are now weighing up their options. Your goal at the bottom of your funnel is to help buyers overcome objections to your solution. Your key metric is how many sign-ups, leads, and sales you generate.
Now that you understand a video marketing funnel, the type of audience, and the key metrics you should be looking for, you must have realized that top of the funnel videos has already become a mainstream marketing tool. 
Then what about the bottom of the funnel video marketing?
Why use videos for bottom-of-funnel marketing? 
While 80% of marketing professionals see a substantial increase in ROI using video marketing campaigns, many brands only use videos for the top of the funnel marketing and face low ROI.
In case your video campaign is bringing a lot of unqualified leads. Still, not enough sales and conversions, you might be overlooking the importance of videos for the bottom of the funnel video marketing.
The top and middle funnel educate your audience about your product and its use, but if you depend solely on how-to content, your audience will feel lost and bounce back in the middle of their customer journey.
Bottom of the funnel video marketing is all about converting and closing your leads, and it's also what makes your marketing campaign successful.
Now that we've set the stage for a great video marketing plan for the bottom of the funnel, here are 5 ways you can use videos to target the right audience!
Cut design & video review time in half
GoVisually is the #1 online proofing software to get visual feedback on Designs, PDFs & Video content.
Try GoVisually free today!
5 ways to use videos at the bottom of your marketing funnel 
Your final destination for sales is now a small number of potential customers who know about your product and the value proposition you are offering. These 5 BoFu video ideas will help you increase engagement and convert customers through the sales funnel.
1. Demo 
Demos can give viewers' bottom of the funnel an immersive experience that lets them see exactly how your product works and what to expect. This format highlights the features of your product and how they work to solve problems. 
Demos are also the best way to engage your prospects during their active phase when considering your brand. A product demo video can also be an educational video about your brand. This means your demo video doesn't only help in conversion but also attracts more leads.
For example, our GoVisually demo video shows how the platform eliminates using different services for file sharing, video review, and communication to close deals with new customers.
2. Testimonials 
What is more convincing than people telling people how great your brand is?
Over 72% of consumers say that positive testimonials help them trust businesses more. This is evident by the fact that people tend to trust businesses more when they have positive feedback.
Video testimonials perform better than written reviews as we tend not only to trust other people's positive experiences but also to put ourselves in the shoes of happy customers and share their experiences through visual and auditory cues.
Omada Health is a great example of how powerful and authentic video testimonials can showcase how much your customers trust your organization, regardless of its small or large scale.
3. Webinar 
Webinars are becoming more popular for brands to serve as educational content. To succeed in webinars, it's important to focus on the product or service initially and avoid talking about other topics. 
With a longer run time, you can explore all the features and benefits of this move for your viewers. When teaching someone how to use your software, it's a good idea to talk about the different features and how they can be used. 
While this is the only long-form video you can use at the bottom of the funnel, it can work wonders depending on the type of product or service you offer. According to a study, webinars convert 4x more than email campaigns at the bottom of the customer funnel.
4. Tutorials 
Suppose your buyer is one click away from making the purchase but is worried about whether the product will work the way it wants. Now, if they have a video tutorial on how to use the product, it leaves them with no objections. The sale is closed on the spot.
This is why video tutorials can be so effective for consumers at the bottom of the sales funnel. Covering your products' different use cases in short tutorials will help your prospect find the features they need and learn how they work while also giving them a nudge into conversion.
This works well for SaaS platforms just as much as it works for e-commerce products. The most inspirational example here is Canva's tutorial videos on creating designs using different tools and functions offered by the platform. Even their logo design tutorial has over 2K views.
5. Case studies
People like to see how you've helped previous customers. And that's what makes case study videos so effective. Not only can they show customers' emotions, but they can also provide evidence of potential use cases that build trust. 
If you want to connect with your audience in a way that builds trust and credibility beyond a doubt, case study videos are the way to go. They show viewers they're not alone in their problem and help reinforce the idea that your product or service works. 
Even brands like Nike invest in creating impactful case studies that gain recognition and trust, and we know they are doing just that. 
GoVisually – the ultimate video proofing tool for marketing teams 
If you've made up your mind to use one of these video formats for your bottom of the funnel marketing strategy, you'll need the right team and platform to effectively implement your plan and put the best video out there for your audience.
A part of this process is creating an effective video review and approval cycle for your team to collaborate without friction. Video review platforms can help reduce revisions by 54% and make your video production workflow efficient.
This is your sign to start using a video proofing platform and an advanced cloud-based collaboration tool like GoVisually. You can leave comments on separate video frames, use visual annotations for clear feedback, and create a one-click approval process to make life easier for you and your creative team.
Start your free trial and experience the GoVisually power unleash.
Final takeaway 
Optimizing video for your video marketing strategy is an art that takes time to master. 
The abovementioned videos can help people move through your sales funnel more effectively. So figure out what works for your business and revolutionize how your creative video and marketing teams work to achieve faster and high-quality outcomes.