Business process management, or BPM, is one of the most instrumental parts of any company's operations. That's because it effectively coordinates various business functions to increase productivity. So, to drive your business to its full potential, you need to employ BPM tools.
You might wonder if training your team to use a new tool would be worth it. Or, if you're a startup, the added cost of software might seem like a stretch to your financial limits.
However, without BPM tools, processes become unmanageable and cost you more time and resources.
So to help you out, we will discuss the top business process management tools and their benefits for your business.
Let's start!
Cut design & video review time in half
GoVisually is the #1 online proofing software to get visual feedback on Designs, PDFs & Video content.
Try GoVisually free today!
What are business process management tools?
BPM tools are software applications especially tailored to assist users in coordinating business processes by analyzing, optimizing, improving the process, and regulating the improvements.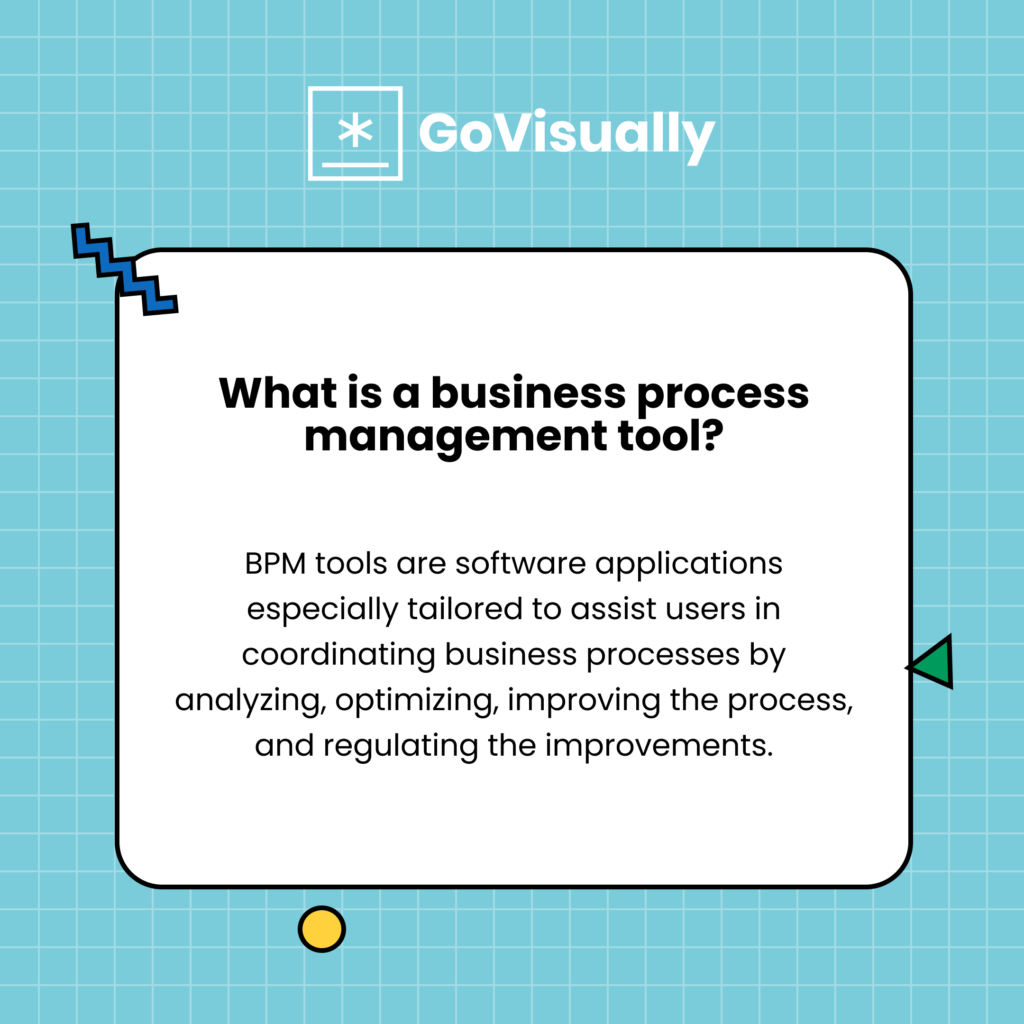 BPM tools simplify business processes by breaking them down into simple steps and monitoring them efficiently. For example, managing feedback, shipping orders, and stock information. 
Companies – big or small – use tools for business process management to efficiently manage their business and keep tabs on its steady growth. 
How does BPM work?
Let's look at the various categories of BPM tools divided based on their organizational purpose. 
People are executing human-centric support processes.

BPM tools focus on employee workflow, such as customer service, onboarding new hires, and opening a new customer account.

System-centric BPM focuses on software solutions such as online banking.

Digital-centric centers around physical and digital media. 
Importance of business process management software tools
You might be wondering why you should opt for a BPM tool. 
Running a business without a structured approach can lead to problems such as poor time management, unnecessary cost, and negative feedback. Without a BPM tool, it might be hard to monitor all business processes simultaneously. 
So, to stay relevant in your niche, you will need the assistance of tools that will manage your costs and improve the company's productivity.
Compare your business to a simple machine. The gears will not be able to work without proper lubrication. In the context of business, BPM provides the necessary lubrication for your company to prosper.
4 benefits of using BPM tools
Still on the fence about using tools for business process management?
Well, here are some ways it can facilitate your business.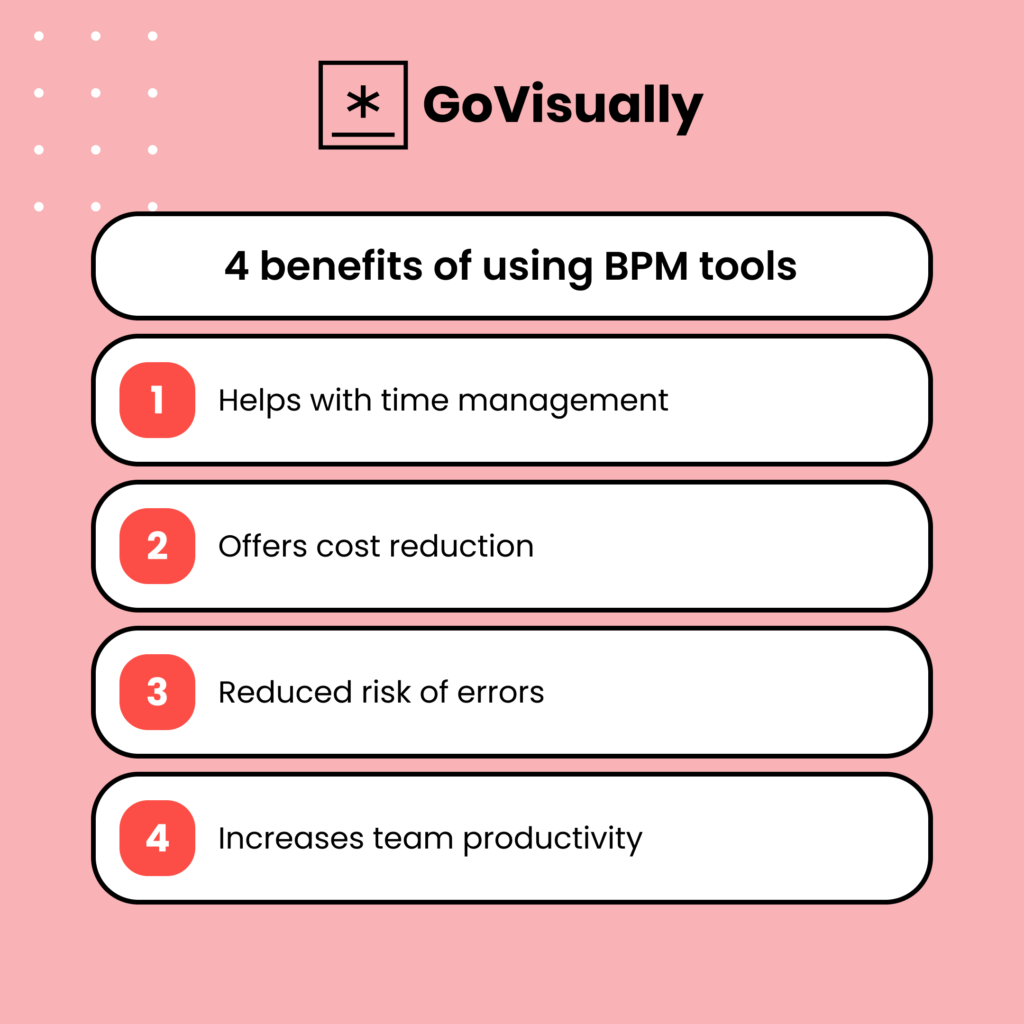 1. Helps with time management
Time is the most valuable asset of any organization. Whenever your workflow is interrupted, your brain takes a while to regain momentum and focus on the work. 
Without business process management tools, it will take a long while to get back to your workflow, which affects your time and productivity. By implementing proper BPM tools in an organization, you can save ample time that would've been wasted otherwise.
2. Offers cost reduction
BPM tools effectively coordinate, monitor, and optimize the process by constructing a solid framework for each process. Thus, any possibility of unnecessary cost is greatly reduced. 
3. Reduced risk of errors
While regulating various processes at once, errors are mostly overlooked. This can lead to problems for the stakeholders later on. However, with the right BPM tool, you can track any errors and trace them back to their respective sources. 
4. Increases team productivity
If you want to increase the productivity of your business and improve the workflow, BPM tools are the solution. The automation features allow humans to focus on the more important tasks that require human knowledge.
Selecting the right BPM tool 
Now that you have acquired the necessary information what the tools used in business processes, you might be facing another roadblock:
Which BPM tool is the one for me?
Determining the right one from a list of 20+ software can be quite a mental challenge for you. That's why we have enlisted a few steps to make it easier for you to  
1. Ask yourself, what are my goals?
Before you start, list your business process's goals and objectives. Every organization has specific needs that can be fulfilled by a particular BPM tool. 
 You must know the processes you're focusing on, the improvements you look forward to, and the changes the improvements would bring. 
Once you get a full picture of your goals, it will help you decide on the perfect BPM tool.
2. Involve the team
Or, as we like to call it at GoVisually, be one with the team.
Your team will be an active part of the collaborative process, so you should ask for their opinions and feedback on the BPM tool and ensure they are aware of all the changes and implementations. 
Moreover, involving your team members in the process can create a bond and connection between the people and the organization.
3. Consult the customer service departments.
After the long process, you might be able to narrow down your options.
The next step would be to contact the customer service of the candidates and get in-depth information about the app. Register for a free trial to test the waters before diving deep into it if it meets all the criteria. 
24 business process management tools to revolutionize your workflow
Here are the best BPM tools we have highlighted for you.
1. GoVisually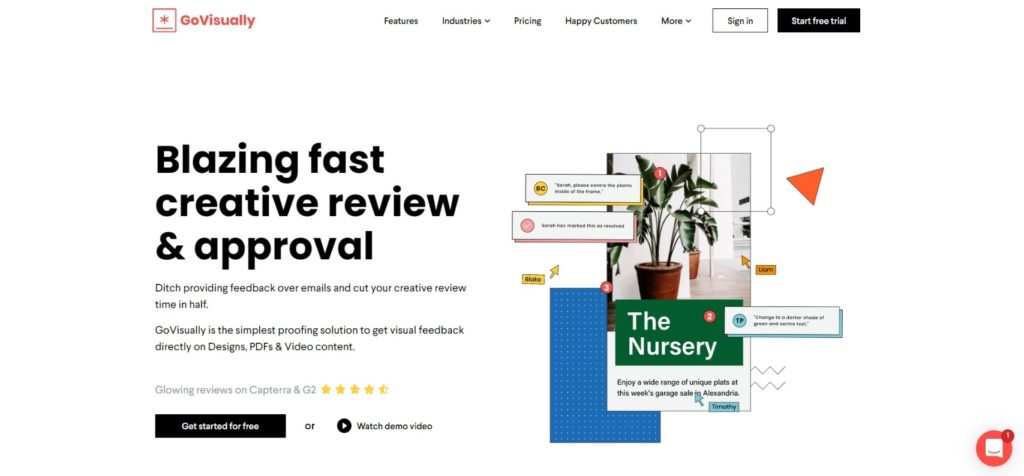 GoVisually is the #1 proofing software enabling users to share their digital assets with the team and clients. It is an online platform that allows team members to share real-time feedback and the clients. 
It is an ideal software that eliminates the hassle of long email threads and unnecessary errors.
Want to annotate PDFs and videos? Or share files with the team members for creative review? 
Whatever it is, GoVisually is the perfect tool to manage your business's process effectively to deliver high-quality content. 
Sign up for a  free trial to take GoVisually for a test drive today! 
2. BPMApp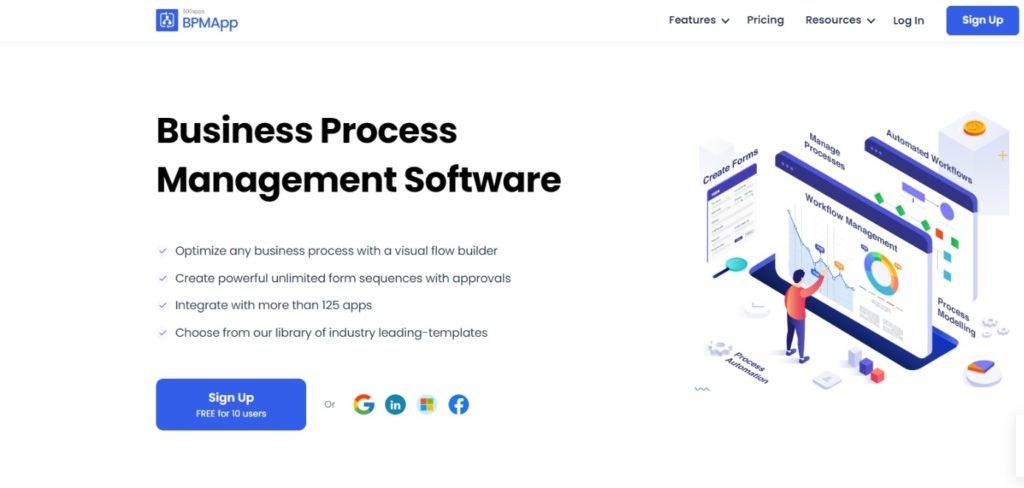 BPMApp by 500qpps is a business process management software tool that manages your workflow with its automation abilities. Whether your business is small, medium, or large, BPMApp is your loyal companion to optimize productivity. 
BPMApp facilitates your businesses by keeping track of your tasks, managing your contacts, and customizing responsive forms. 
It does not have a free version. However, it offers a free trial. 
3. Comindware Tracker

Established in 2010, Comindware Tracker is an excellent no-code workflow automation tool allowing organizations to manage tasks cheaply. 
Structured with an easy-to-use interface, Comindware Tracker uses an Excel-like drag-and-drop configuration option. It enables you to add multiple teams and tracks real-time work progress. 
You can begin your free trial or contact Comindware Tracker's customer service for a demo. 
4. Kissflow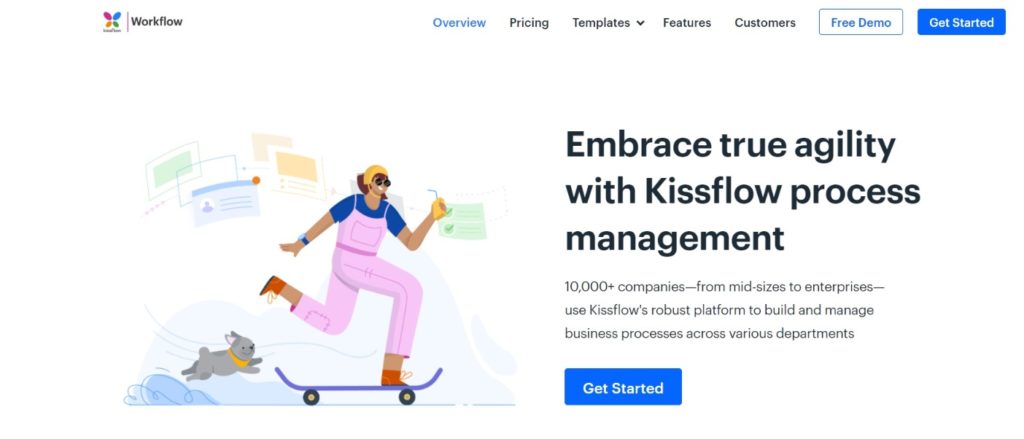 Does the idea of complex technology prevent you from using business process management software tools? 
Kissflow is the perfect all-in-one cloud-based BPM tool.
Kissflow enables non-tech users to create multiple workflow automation on their easy-to-use interface. It is used by various departments, such as marketing, accounts, and human resources, to organize certain processes and streamline functions. 
What makes Kissflow even better is that it offers a free trial of every plan. So, you can test each plan with various costs and see which suits you most without any risks.
5. Zoho Creator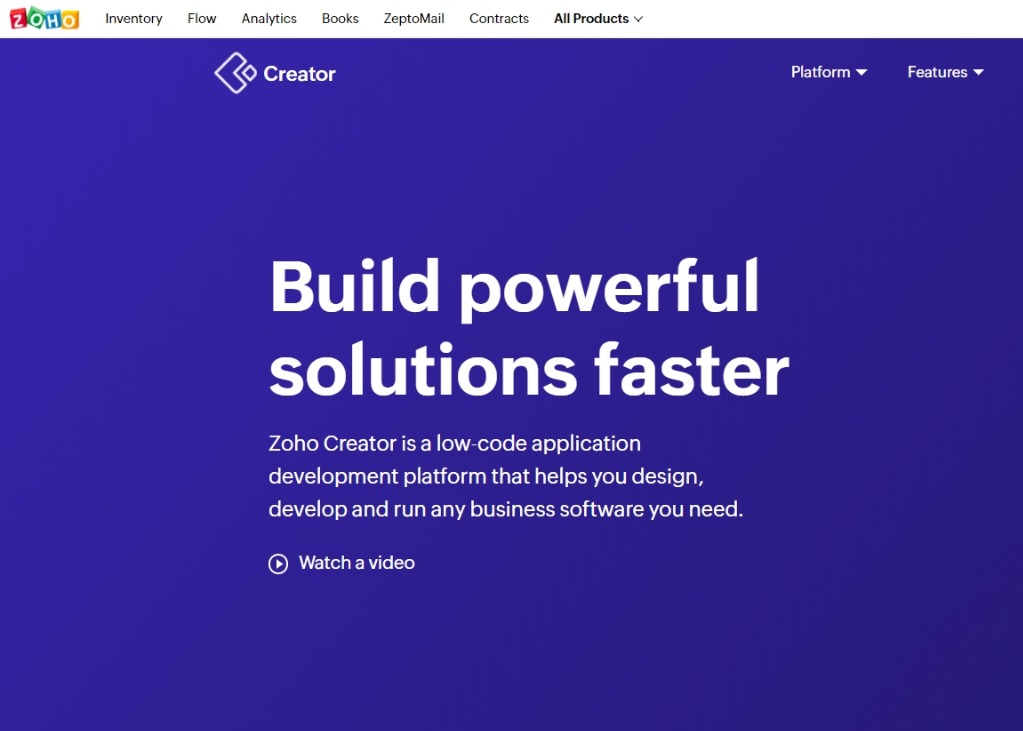 Zoho Creator is a price-friendly option that enables you to create custom applications to facilitate and boost your business processes. You don't need sophisticated knowledge of the technology to use this software.
Whether you're a part of education, non-profit, manufacturing, or working remotely, the application offers industry-specific solutions to all global industries. 
You can create a free account that offers only one application to test the application. Or you can select one of the four paid plans.  
6. Nintex Process Platform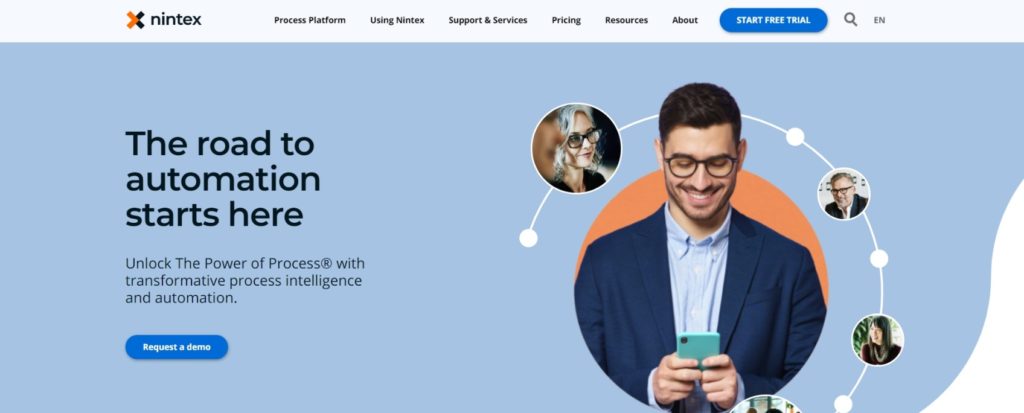 Nintex Process is a leading business process management software tool that automates workflow for business optimization. 
By implementing Nintex Process, you can digitize your physical and redundant tasks. It integrates third-party software, including Microsoft Office 365, Adobe, ServiceMax, and Salesforce. Many famous corporations, such as Amazon, have used Nintex Workflow. 
Standard Nintex Workflow starts at $910 per month. The package includes unlimited users for 10 workflows. Nintex offers a trial version.
7. Appian

If your organization lacks an IT department, Appian is here to your rescue. 
Appian is a unique software that combines low-code solutions and full-stack automation to streamline complicated business processes. Appian easily looks over daily operations and day-to-day tasks. 
Appian's free trial is available. You can also contact their customer service to register for the appropriate plans. 
8. iGrafx
iGrafx is a BPM tool that utilizes graphical workflow and supports robotic process automation (RPA). This reduces any possibility of human error, as most of the redundant tasks are committed by bots.
The software has top-notch features, including compliance tracking, design analysis, third-party integrations, and document management. 
You can sign up for the free trial of iGrafx or contact customer service for a demo. 
9. Kintone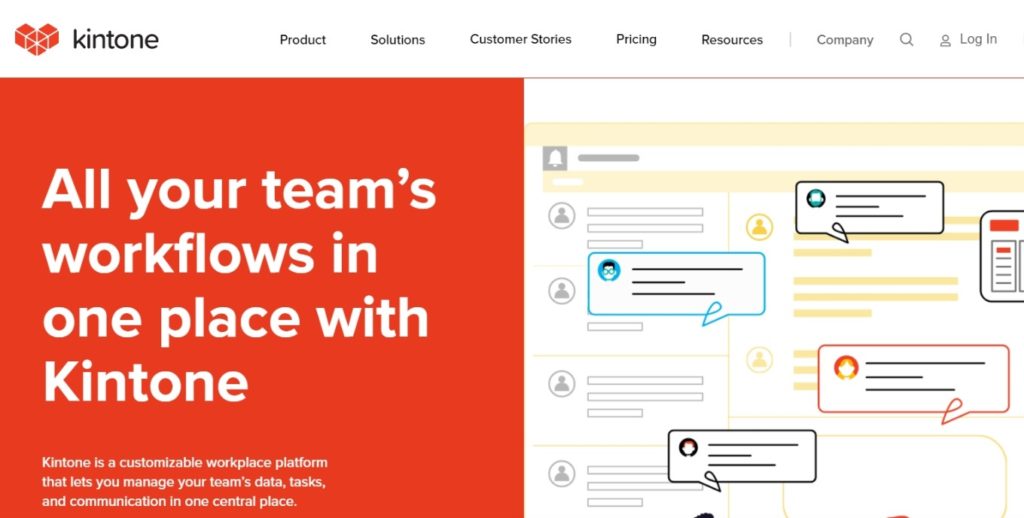 Kintone is an all-in-one BPM program that assists you in performing a task effectively. It empowers the teams to collaborate, share and create customized workflows. 
Like other tools, Kintone does not require expertise in technical knowledge. Its features include project management, photo records, expense reporting, etc. 
Equipped with built-in conversation and collaboration tools, Kintone is an ideal tool for a non-profit organization. A bonus point is that it has an interface specially designed for non-profit organizations. 
It does not have a free plan. But it offers a trial version that you can test before deciding.
10. Bizagi
Bizagi is a leading business process management software tool that seamlessly connects users, robots, applications, and data on a united platform.
The solution comprises Bizagi Modeler, Bizagi Solution, and Bizagi Engine. Each component serves various purposes to give the organization agility and streamline its operations. 
The software lets users map the business process, while Bizagi Studio lets them build the apps. The third component: Bizagi Engine, is the one that executes these processes. 
11. Processmaker

Processmaker is an open-source business and workflow management platform that empowers enterprises to analyze and deploy solutions to business problems in a few hours. The solution helps organizations devise, automate, and streamline business processes of various scales. 
The solution features a document builder to create electronic receipts, notes, configuration forms, and contracts. Processmaker utilizes a drag-and-drop interface to sustain top-level function and exceptional customer experience.
12. Tallyfy 

With Tallyfy, you can create, record, and measure any repeatable tasks without the hassle of flowcharts, coding, and other complexities. Tallyfy is an open platform that digitalizes your business process and automates the workflow for maximum productivity. 
It simplifies your processes and lets you monitor real-time operations on an easy, visual dashboard. Tallyfy functions across various industries, including advertising, finance, HR, IT, sales, and procedures. 
You can start your free 14-day trial of Tallyfy or select one of the pricing plans. 
13. Adonis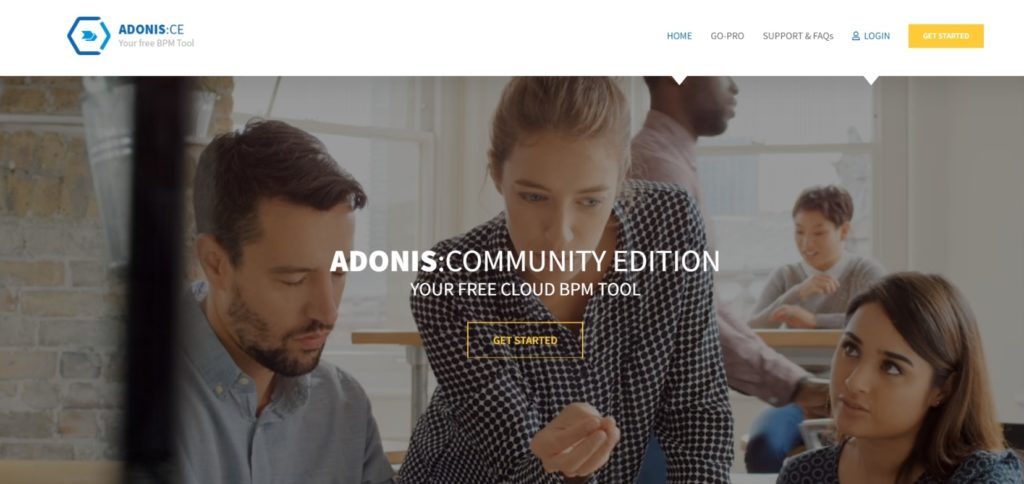 Adonis enables users to migrate their data from other platforms to Adonis easily. It has several features to facilitate your business processes, whether project management, optimization, documentation, or execution. Plus, the interface empowers collaboration between teams and customers in a seamless flow. 
What's better is that Adonis is completely free!
14. Signavio

Signavio is one of the web-based tools for business process management that enables the business to optimize quickly and keep up with the change. 
It is an all-in-one integrated platform that ensures intuitive. It includes numerous features such as analysis and documentation of the process while simultaneously notifying you in real time if any problem occurs. 
More than a thousand customers worldwide have integrated Signavio into their business processes. Please register for a free trial or request Signavio for their pricing plans. 
15. Creatio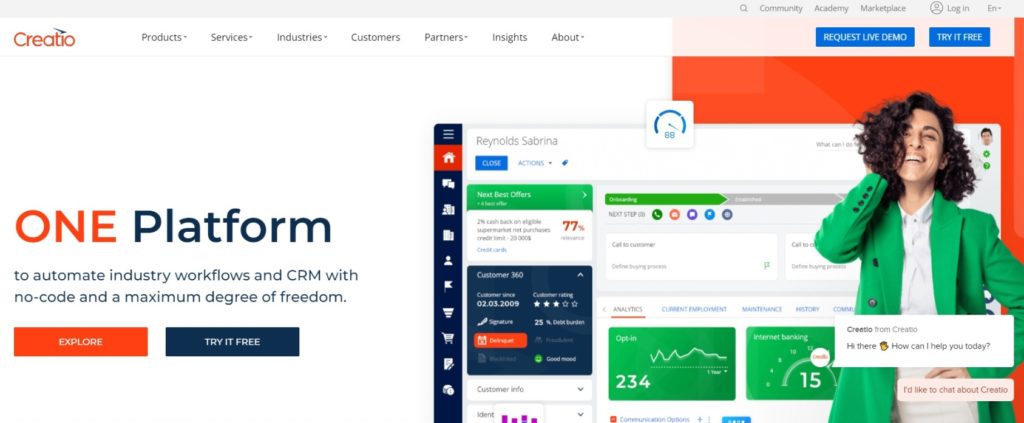 Creatio is a low-code software that automates workflow processes and supports CRM (customer service management). It is a cloud-based platform incorporating CRM and a strong BPM in a single solution to generate more sales and accelerate company operations. 
Whether sales, advertising, education, retail, financial or legal, Creatio has paved its way in every enterprise. 
Creatio is recognized as one of the leading platforms in the industry, operating in 110 countries worldwide. 
Creatio is offered in three uniquely designed pricing plans; Team, Commerce, and Enterprise. The pricing is based on a per-user and per-month basis. You can contact Creatio for an in-depth plan. 
16. ProWorkflow

Founded in 2002, ProWorkflow is an easy-to-use cloud-based BPM software that effectively regulates processes, including design, planning, project monitoring, etc. 
ProWorkflow saves you plenty of time by making it easy to assign tasks to the staff, track the time, and schedule the projects. 
Moreover, it caters to team members and allows quick communication through chats. ProWorkflow currently has two packages: the professional and the advanced. 
17. FlowWright

Flowright is a tool for business process management and workflow automation through routing compliance and creating custom forms. 
It can be used as a cloud-based solution, .NET hosted environment, or on-premise. Some features include reporting, dashboards, archival, business analytics, synchronizing, etc.
FlowWright is available on devices as well as browsers. The cost of FlowWright starts at $14/user/month. A free trial of FlowWright is available. 
18. IBM Blueworks Live

IBM Blueworks Live is one of the tools for business process management that provides an environment to improve business processes through process mapping. 
It empowers the organization by analyzing the performance of the process, identifying the inefficiencies, and regulating the improvements with process simulation. 
It also enables users to design existing or new processes. Moreover, it allows users to send and receive feedback responses on a single dashboard. You can request IBM for a free trial and inquire about the pricing plans. 
19. Qntrl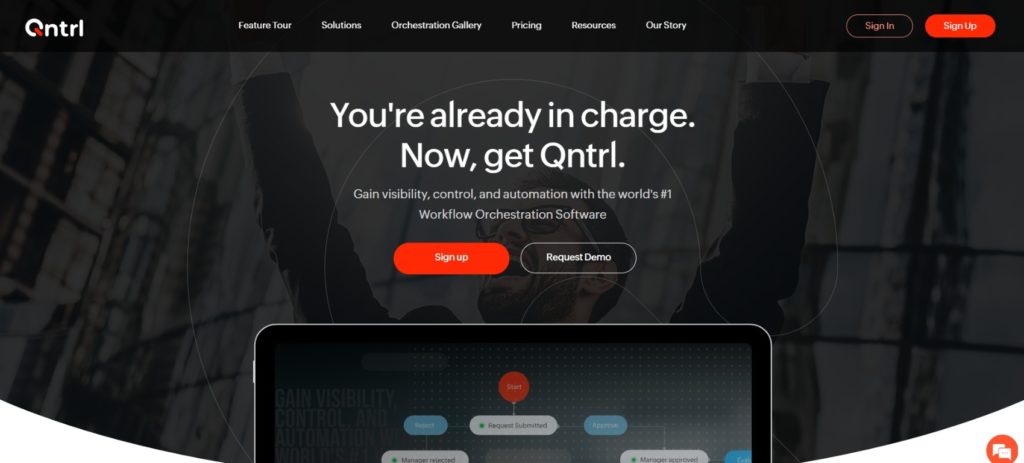 If you're a department manager looking to gain more visibility and automation in your area, you might want to try Qntrl. 
Qntrl is an award-winning BPM platform that provides a 4-step wizard known as Orchestration. Qntrl is an ideal tool to automate, manage, and streamline your procedures. 
For price inquiries, you can contact Qntrl's customer service. 
20. Pega Platform

Pega Platform is a low-code software that automates intelligently and simplifies the complexities of the work. It helps businesses improve employee productivity and deliver rapid, personalized service to customers. 
Structured with a low-code approach, Pega weaves through scalable CRM, BPM, Robotic Process Automation (RPA), project management, and AI apps on one platform. Pega Platform integrates applications for domains across industries, including banking, insurance, and finance. 
Pega provides a simple, easy-to-use toolset to construct applications and build enterprise-grade CRM. 
The pricing starts at $90/month. 
21. OnBase by Hyland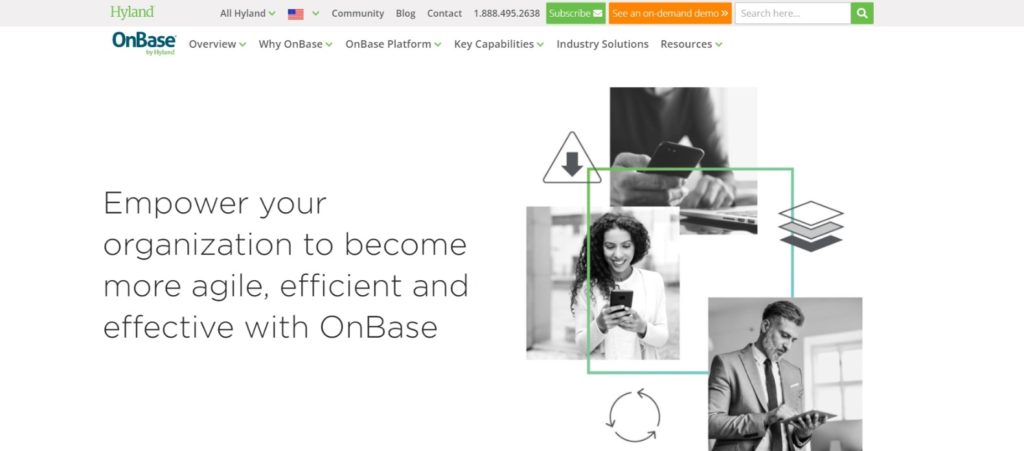 With OnBase by Hyland, you can manage content, processes, and cases throughout an enterprise. OnBase is an ideal repository for recording your business's digital documents and case information. 
The program has centralized platforms that house your documents in one secure domain. If required, OnBase retrieves the pertinent data and delivers it to the targetted user no matter where they are. 
The software is used in many industries, including health, pharmaceuticals, insurance, finance, government, education, etc. 
For more information, contact OnBase through Hyland's customer service. 
22. Sensus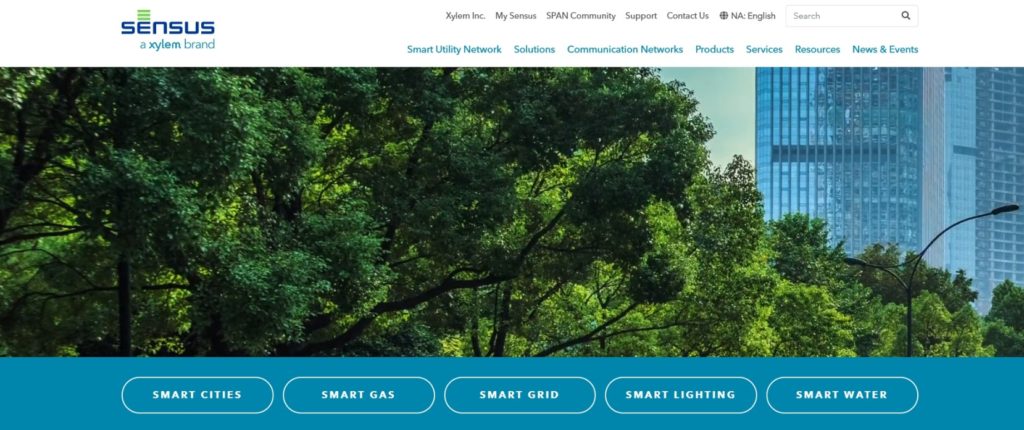 While most applications try to be an all-in-one program, Sensus is a unique platform that caters to a wide range of public service providers through its integrated intelligent workflow technologies.
Besides being a cloud-based toolset, Sensus comprises the BPM program that constructs a physical network. It collaborates with customers to deliver efficiency and intuitively. 
Moreover, the program shows the customers their real consumption transparently. This builds trust between the customer and the user and leads to responsiveness from the customer's side. 
Contact Sensus to get more information about the pricing structure and service solutions.
23. Bitrix24
Bitrix24 is an all-in-one platform that provides various solutions to accelerate the growth of your enterprise. Functional on both cloud and on-premise, Bitrix24 enables more sales, generates profits, and accelerates your team's productivity. 
It integrates various tools, including CRM, strategy management, and productive team cooperation.
Plus, If you are an owner of a small business, Bitrix24 might come in handy. This is because it's the only free BPM tool that supports CRM equipped with all the characteristics your small business needs to strive for. 
Bitrix24 also has paid versions divided into basic, standard, and professional. You can contact their customer service for more information. 
24. Integrify

Integrify is a web-based workflow automation software employed across some of the largest companies in the world. It lets the customers create and execute automated workflows with a drag-and-drop interface. 
It is a smart and flexible BPM platform available in the cloud, private cloud, or on-premise. Integrify promises great customer service, transparency, and visibility. 
Workflows can be easy or extremely complicated. This is where Integrity comes to the rescue, as its management solution focuses on easy use, immediate deployment, and useful features. 
Integrate GoVisually in your workflow to simplify your creative process!
Whether running a small, mid, or large enterprise, finding the right BPM tools can help you in the long run. 
And that is why we suggest incorporating GoVisually in your creative review process. People who use GoVisually report increased their productivity by 10x by eliminating time on chasing, giving, and reviewing feedback.
Sign up for a free trial today!