What do you want your customer to think of when they think of your brand?
Surely you want them to associate your brand with positive things. For example, if you're a clothing brand, you want them to perceive you as trendy, versatile, and comfortable consistently. If you're a diner, you want your patrons to associate with intense flavors, unbeatable ambiance, and friendly servers. 
Regardless of what your brand is, your ultimate goal is to instill a positive image surrounding your brand in your customer's mind. 
How do you make that happen for your brand?
Let's look at a big brand like Apple. When you think of Apple, you instantly think of advanced technology, a sleek design, and a simple interface. It's a little like magic. How does Apple do it? More importantly, how can you do it? 
Creating and engraving a positive image of your brand is directly linked to displaying your brand values clearly, consistently, and in a way, that's true to business ethos. And you can do that for your brand by applying the Brand Identity Prism. 
Never heard of it? Well, it's time to learn more! 
What is Brand Identity?
"Branding is what people say about you when you're not in the room." – Jeff Bezos
But before we get into that, let's first touch on the basics. What is brand identity to begin with? Well, in simple words, brand identity is the consistent visual projection of your business, products, and services. It is essentially how we put our brand out to the world and how we want the world to perceive it. 
Establishing a clear and persistent brand identity is essential for the overall success of your business. The more effort you put into creating your brand identity, the more authentically you will reach out to your customers.
Kapferer's Brand Identity Prism
Although marketing students worldwide have this term inscribed in their memory, if you're not one, you might be hearing about Prism for the first time.
The Brand Identity Prism was first an idea introduced by J. Kapferer in 1986. Today, it is a well-known marketing model that describes a brand's identity through its characteristics. It is a hexagonal prism that reflects the six key elements that makeup brand identity. 
Kapferer's concept conveyed that a brand has specific characteristics that define it. These characteristics go beyond its logo and other aspects. According to his ideology, the brands that can unite and represent all six elements simultaneously have a distinctive brand identity. 
This model has helped countless businesses improve their branding for years and continues to do so! It assists brands in reinforcing their origins, core values, and message. The purpose of the Prism is to help brands become more attuned to their image and then work on reflecting that image in the best possible way to their audience.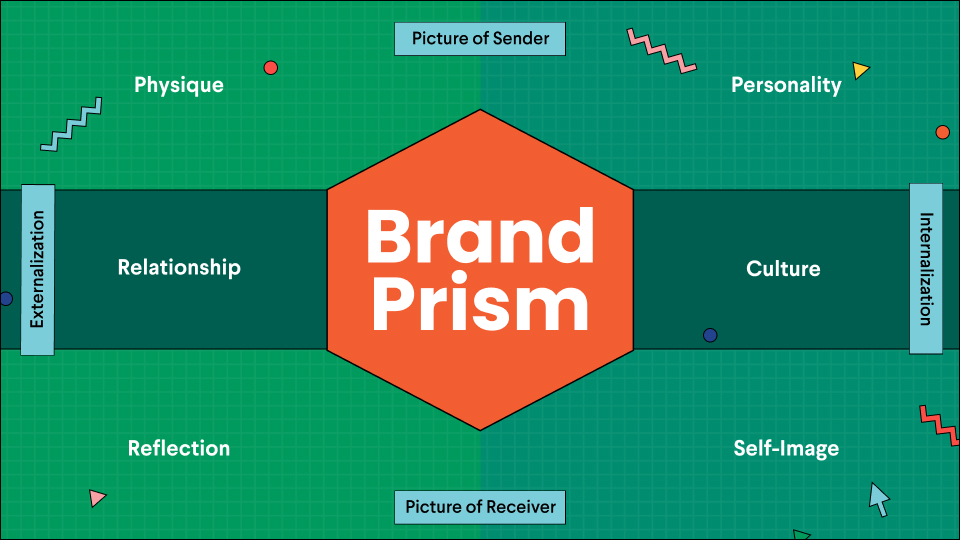 Brand Identity Prism; Explained
In this section, we will look at each of the six parts of the Prism individually. This is important since it will help us understand the Brand Identity Prism holistically. 
According to the Brand Identity Prism, a brand's physique relates to the physical aspects it provides. So everything that your customers can visually grasp about the brand falls under this element. This includes logos, style guides, iconography, color palette, and how the product is presented. 
While physique is easy to determine for businesses that offer a physical product, it becomes slightly more complex to achieve when it comes to brands that provide services. Where brands that offer products can easily convey their physique through a visual of their products, brands that offer services have to convey the benefit their service brings instead visually.
Apple, for example, conveys its physique through high-definition photos of phones. Airbnb, on the other hand, conveys its physique by showing people staying in comfortable places. Their means are different, but the representation is the same. 
Brand personality is the voice of your brand. It relates to what you say, how you say it, and everything in between. However, it is not limited to verbal communication – it also encaptures things like font choices, text size, and color. 
A brand's personality is essential. In fact, a brand's personality is often described as the "human" aspect of the brand. Why? Because this is the part that calls out to your customers the most. This helps your customers resonate with you and enable you to really grasp who you are as a brand. 
Think of brands that mainly cater to children; Disney, Hallmark, Cadbury. What is the one common thing between all these? It is their personality. They are all very cheerful, honest, down-to-earth, and wholesome – and these are the characteristics that speak out to children and compel them into engaging with the brand. 
Every brand culture and matters. Your brand's origin falls under this category. To decipher it, you must ask yourself questions like Where was my brand born? Where does it live? What is the belief system and values it ascribes to, and why? 
In recent times, culture is one of the most definitive aspects of a brand. By conveying your culture correctly, you can tell your audience that you actually believe in the values you're selling and incorporate them into your operation as a company. 
By bringing culture into your branding strategy, you will bring a tangible purpose to your brand that goes beyond just sales. 
As a brand, you already know that your interaction with your customers matters a lot. Did you know that it matters a lot in terms of branding as well? According to Prism, it does.
Your relationship as a brand is essentially the engagement between you and your customers. And no, it's not limited to just monetary engagement. In fact, it goes way beyond that. Your relationship also consists of the effort you put into maintaining a healthy relationship with your customers. 
You can create your relationship with your customers through various means. From social media engagement to prompt customer support, you can convey your efforts into the relationship in many ways. 
Apple, for example, overtly nurtures its relationship with its customers. Not only do they provide prompt online assistance, but the in-store help for their customers is also top-notch and recognized as such all over the world. The point is to put noticeable effort towards building a relationship with your customers. 
This one has more to do with your customer than you. Reflection relates to who you want your customer to be. Think of your product, and think about who you really want to sell it to. Who do you think can bring your brand the most benefit? 
For Disney, it's definitely kids, whereas it's young and middle-aged women for MAC. For Gilette, it's young, middle-aged, and older men. 
Once you find your ideal customer, you will make your brand the perfect fit for that person. Any improvements that you make to your brand should ultimately work towards gratifying this particular persona. 
This element of the Brand Identity Prism is connected to how your customers visualize their ideal selves. Zooming in on this will allow you as a brand to cater to your customers better. Essentially, you will be coming to terms with what they want from you as a brand and how you can help them achieve those things. 
This element serves both you and your customers. The ideal way the customer wants to be is what the brand serves to provide. Burberry, for example, understands that its customers want to maintain their elite status, confidence, and understated success. Their brand message, therefore, conveys that it can help them with that.
How to Use the Brand Identity Prism 
To use the Brand Identity Prism, you have to put together the six elements. Although they are of importance individually, they come together to form a bigger picture. This picture can further be categorized into larger categories that contain these facets. 
Picture of Sender includes physique and personality and refers to the way the brand presents itself. 
Picture of Receiver includes reflection and self-image and refers to how customers see the brand.
Externalization includes relationships and refers to the output by the brand visible to customers.
Internalization includes culture and refers to values, human resources policies, management.
Once you've put it all together, you should ask yourself questions that allow you to track your progress across different facets of the Brand Identity Prism. So things like: What is my mission statement? Who would I pick to represent my brand? What impressions do I want people to leave my store with? Are beneficial to ask in terms of establishing your brand image.
Once you have considerable information for all the elements listed above, you must tie all of it into a single unifying brand concept. The guideline for your brand concept will come from all the points you have gathered during the construction of your prism, and hence it is essentially the summary of your prism. 
Key Takeaway
Whether you are an established brand or a new start-up, your brand image is essential. Now and then, it will need improvements and reforms that make it a better fit for the culture it exists in and the audience it aims to serve. 
For this reason, it is important to make using the Brand Identity Prism a habit. Incorporating it into your branding strategy more often will realize that it is beneficial and can do wonders for your brand. 
Good luck, and happy branding!