Brand management has become essential to the growth and scalability of your brand.
Brand management requires skill and art, from planning new brand campaigns to handling existing ones. It requires a creative knack, a streamlined review process, and tools to create, assign, manage, and distribute the brand material.
But doing this with multiple tools can often overwhelm you and your team. This is why having the right tools to manage your brand effectively is essential. 
At the same time, choosing the best software for your company might be difficult because so many options exist. In this guide, I'll let you know the best brand management tools to help you manage your brand assets. 
Let's begin!
What are brand management tools?
Brand management tools are software that helps business owners and brand managers create, manage, and distribute the overall brand messaging.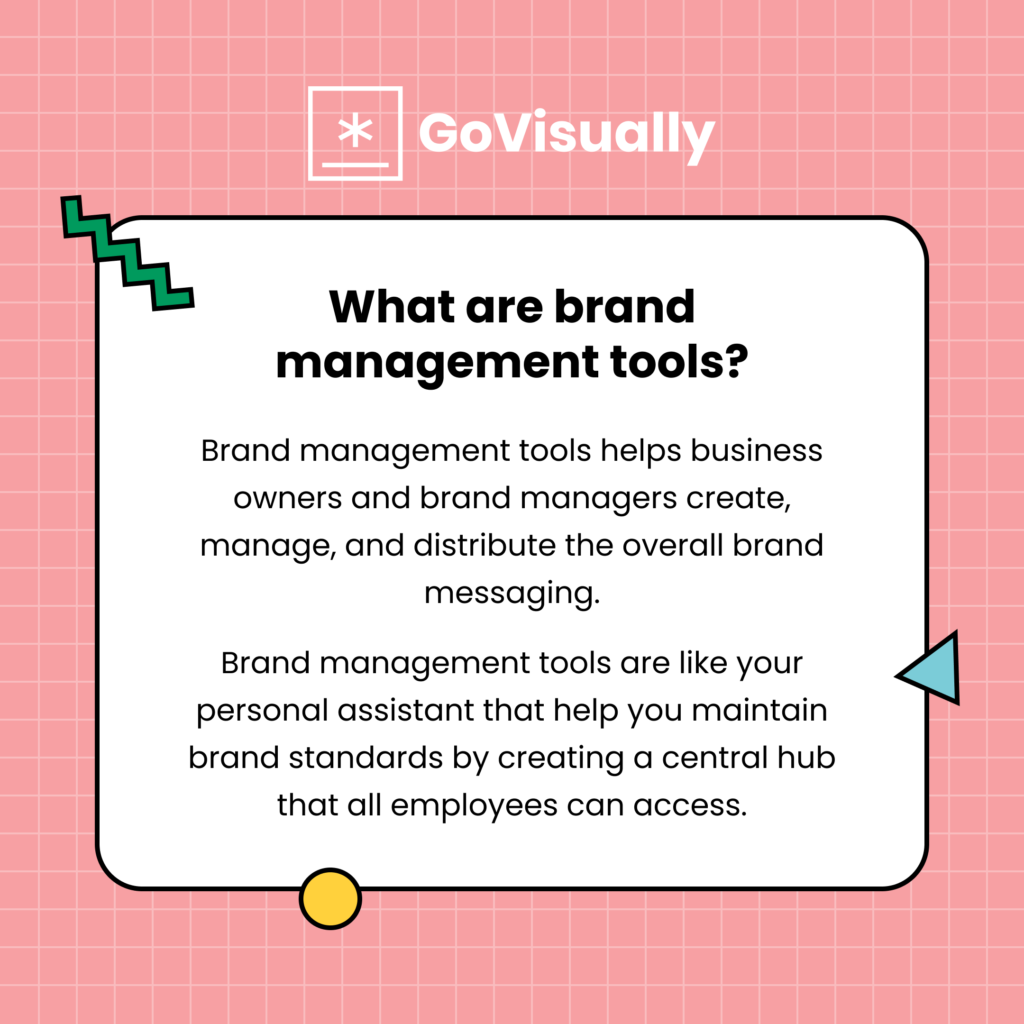 Ever wondered how big companies manage to keep their brand looking so put-together and cohesive?
Well, most of them use brand management software! 
Brand management tools are like your personal assistant that help you maintain brand standards and control by creating a central hub that all employees can access.
This software is highly organized and keeps track of all the:
Brand identity documents,

Brand templates,

Digital imagery,

Brand guidelines

Social media guide

And any other brand collateral that a company needs to keep its personality and identity consistent across all channels and platforms.
It's like a one-stop shop for all things brand-related, ensuring everything from the company's logo to its social media posts looks polished and professional.
With brand management software, companies don't have to worry about keeping up with an ever-growing collection of brand materials. Instead, they can rest easy knowing everything is in one place and easily accessible for all employees.
7 features that make a great brand management software
Here are some of the most important features you should look for in brand management software.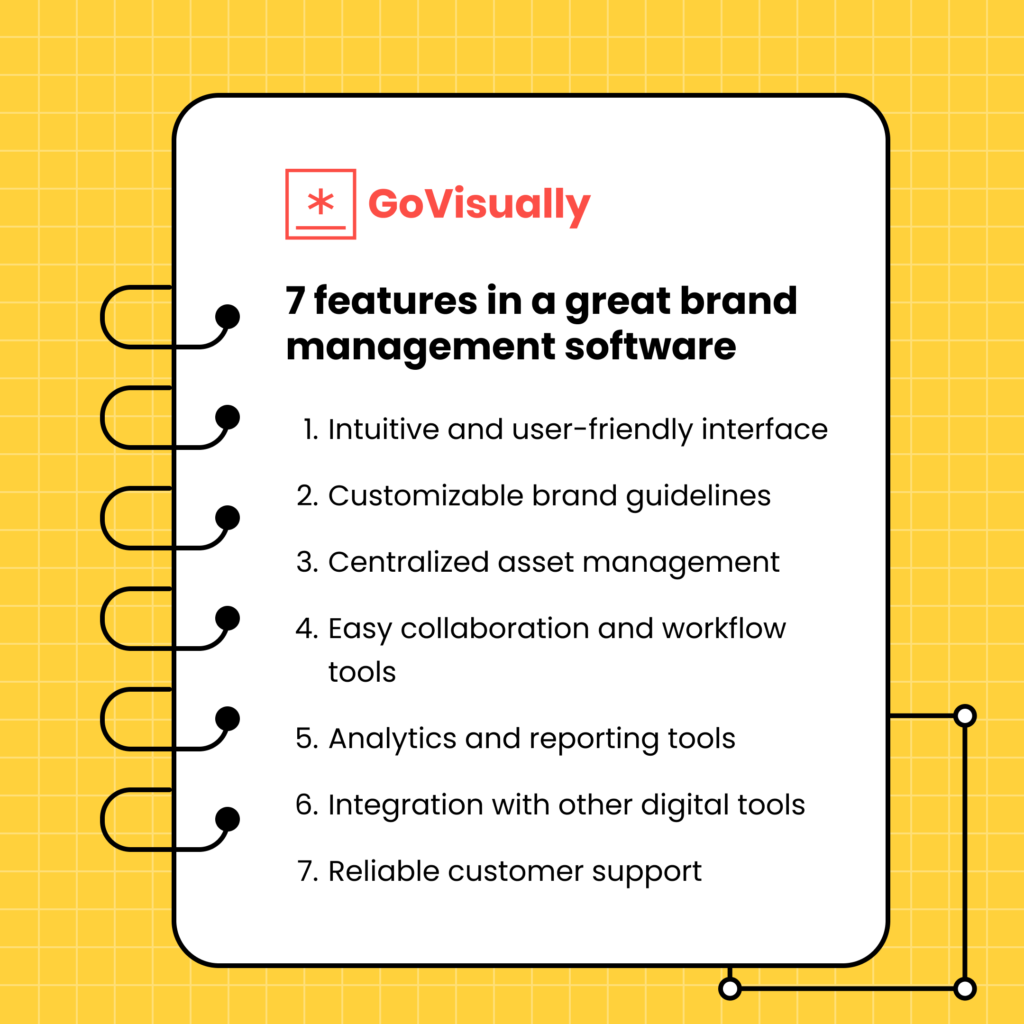 1. Intuitive and user-friendly interface
This is perhaps the most important thing to look for.
Remember, a poorly designed interface or complex one will stress you and your team more.
So, when looking for brand management software, finding one with a user-friendly interface that's easy to navigate, even for those who aren't tech-savvy, is essential.
The software should be designed with the end user in mind, prioritizing usability.
2. Customizable brand guidelines
The second feature would be to explore customization options and to what extent they are available.
Yes, the primary purpose of a brand management tool is to automate your workflow. If you do that, it'll take longer to customize it later. But that shouldn't come at the expense of content that can't be customized to your brand guidelines within the software.
Remember, consistency across all brand assets is one of the most critical functions of brand management software. And that is why good brand software should enable you to create and adjust brand guidelines to ensure everyone on your team adheres to the same brand identity principles.
3. Centralized asset management
If you're a brand manager, you can probably relate to the struggle of asset management.
I can bet one of your recurring nightmares will be losing track of brand assets or not being able to file them properly.
This is why you need software with a centralized asset management hub to store and categorize all your material in one easily accessible place.
A good brand management software should offer a central location to store your brand assets, such as logos, photos, videos, and other documents. This allows team members to easily access the necessary purchases without searching across various files or platforms.
4. Easy collaboration and workflow tools
Brand management involves multiple teams and often requires working directly with clients. It calls for coordination across many team members and departments.
So it would be best to prioritize brand management software incorporating collaboration and workflow tools to make it easier for team members to collaborate and stay organized.
5. Analytics and reporting tools
Analytics and reporting are critical for determining the effectiveness of your branding efforts. They can help you track your campaigns' results and predict the next one's performance based on internal data.
Analytics also aligns your overall brand goals by establishing clear metrics for growth.
That is why good brand management software should have analytics and reporting tools to help you track your brand's performance across various channels.
6. Integration with other digital tools
Even though brand management software would eliminate a lot of other apps from your digital map, you'll still need some online tools for project management or company-wide communication. And it'll be great to select a brand management tool that can easily be integrated with the other digital tools your team uses.
An intelligent brand management software should integrate with other platforms you use to operate your business, such as social media, marketing automation, and project management tools. This allows you to streamline your workflow while maintaining consistency across all platforms.
7. Reliable customer support
Finally, you'll need to check if your chosen software has a good reputation for timely customer support.
Reliable customer assistance should be provided by excellent brand management software. This includes responsive and helpful customer care as well as extensive documentation and training materials to assist you in getting the most out of the product.
5 benefits of using a brand management tool
Brand management revolves around a lot of things. It's not just campaign planning but also includes other marketing initiatives and even a company's customer support. Essentially, it governs the overall messaging and positioning of a brand.
So using a brand management tool helps brand managers and their teams in the following ways.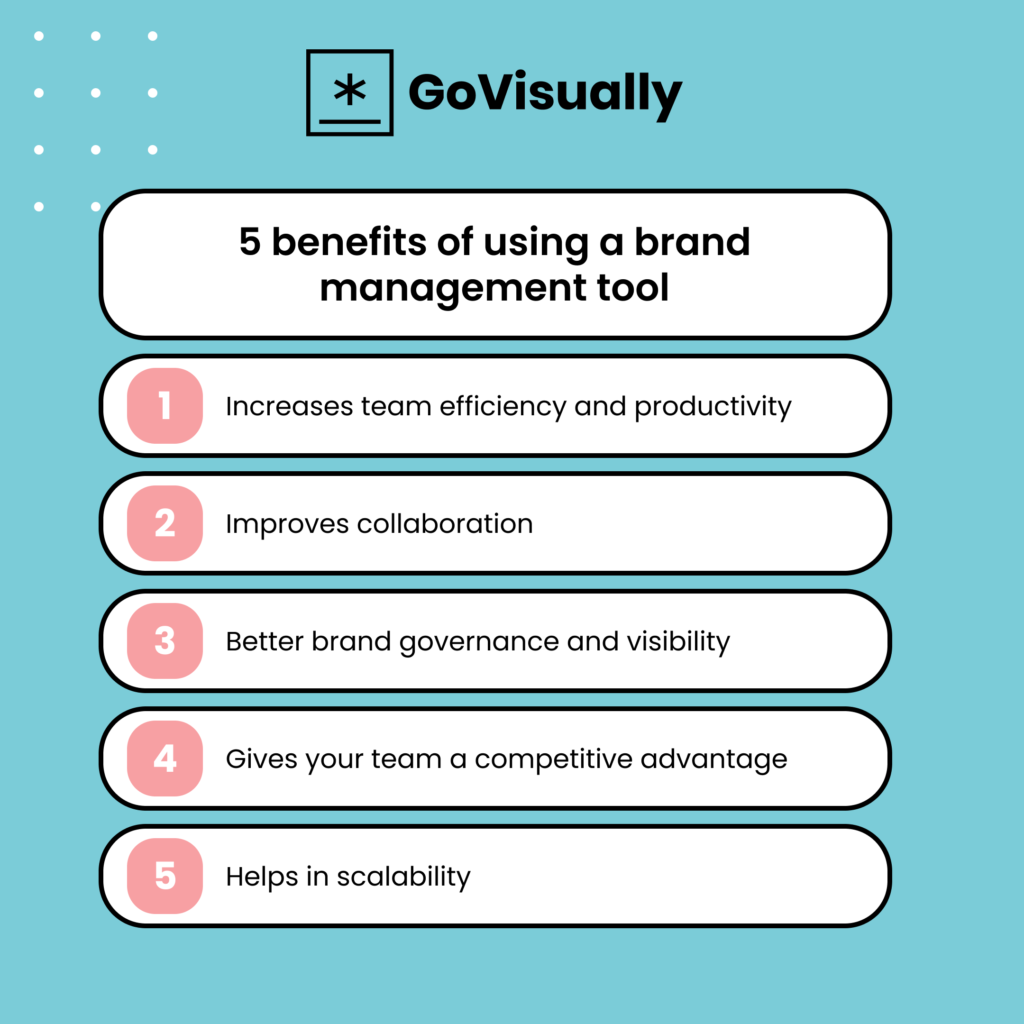 1. Increases team efficiency and productivity
Great brand management software can help your team work more efficiently by automating repetitive processes and optimizing workflows. This way, your team may spend less time on administrative activities and more on strategic projects.
2. Improves collaboration
Great brand management software makes it easy for teams to collaborate on branding initiatives. This allows designers, marketers, and other stakeholders to collaborate seamlessly on projects. This can ensure consistency in your brand messaging and visual identity across all media.
3. Better brand governance and visibility 
Brand governance is essential for maintaining a strong and consistent brand. You can set up workflows and approval processes with brand management software to evaluate and approve all brand assets before they are sent for publication.
Moreover, a well-managed brand can enhance market awareness and recognition. You can use brand management software to guarantee that your brand is consistent across all media and that your messaging is straightforward and successful.
A strong and consistent brand can develop brand loyalty among your clients. With brand management software, you can ensure that your brand is presented positively and engagingly. It can also help you build a loyal consumer base that trusts and values your brand.
4. Gives your team a competitive advantage
A well-managed brand can give you an edge over the competitors. Brand management software ensures your brand is consistent, identifiable, and engaging. This can help you stand out from your competition and attract more customers.
5. Helps in scalability
Finally, brand management software can assist you in scaling your brand while your company grows. You can expand your brand with the ability to develop and manage additional marketing materials quickly.
Top 8 brand management software 
Wondering what is the best brand management software? Here's a list of the best ones for your business. 
1. GoVisually
If you're looking for a way to streamline your brand management process, GoVisually is the perfect solution!
GoVisually is an excellent online proofing software and design review tool that streamlines your workflow. Its several advanced features allow you to collaborate with your team members and work seamlessly on strategic projects and initiatives. Most importantly, it makes reviewing brand collateral easy and super fast.
With GoVisually, you'll have a simple workflow for approval processes which is a significant part of brand management.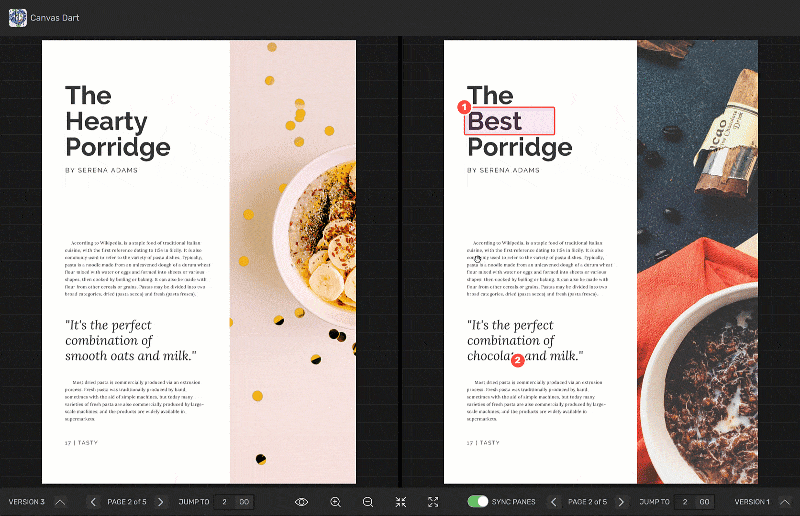 Top features of GoVisually
Supports all media files like PDFs, videos, GIFs, PNG, JPEG, etc.

Multiple annotation tools to annotate designs with comments, highlight areas that need attention and even draw directly on the design itself. 

The version control system allows you to keep track of all design versions and changes made by team members. 

Collaboration and feedback tools

Seamless integration with 1000+ other tools like Asana, Adobe, etc.

User-friendly interface

Custom branding options

Mobile app for on-the-go collaboration
2. ClickUp
Are you looking for an all-in-one solution for brand management? Look no further than ClickUp! 
This powerful software is designed to help teams across departments and industries manage any work, enhance team collaboration, and simplify their workflow.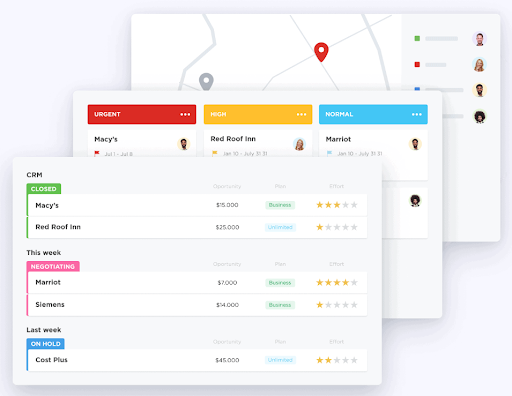 Top features
Here are some of ClickUp's top features that make it one of the best brand management software options on the market:
15+ customizable views, including Timeline, Board, and Chat, to manage your team's workload and see your work your way

Custom fields and statuses to give your team and stakeholders the context they need to get on the same page

ClickUp Calendar view to quickly create a campaign calendar and link important tasks together in one high-level view

Collaborative Whiteboards for brainstorming and creating visual roadmaps of your campaigns and projects

ClickUp Docs to help efficiently plan out your business messaging strategy
Pricing
ClickUp offers a free forever plan with feature-rich options and affordable pricing for paid plans, including an unlimited plan that costs $5/month per user. Similarly, Business plan costs $12/month per user, while Business Plus plans cost $19/month per user. Contact the sales team for pricing of the Enterprise plan. 
Best for
ClickUp is especially beneficial for marketing agencies, design firms, and any company that needs to maintain its brand identity across several channels and platforms.
3. Brandfolder
Brandfolder is one of the top brand management software solutions available. It is a cloud-based asset management solution that helps users organize, store and retrieve media assets while managing digital rights and permissions.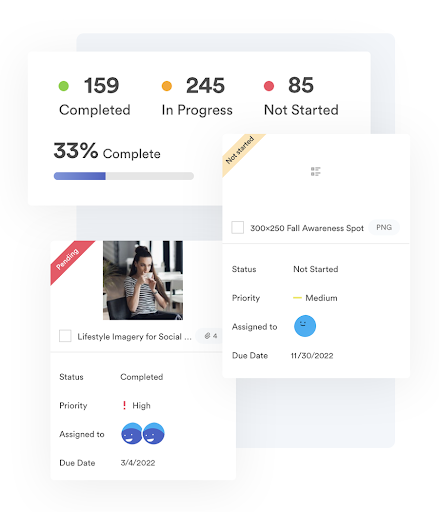 Top features
Brandfolder allows users to manage and update their media assets in a centralized location, including logos, videos, audio, press releases, etc.

It auto-tags images, converts image copy to text, thumbnails videos, and supports in-document search, which helps users search for specific assets.

Users can easily share and distribute assets with their colleagues by providing access via embedded APIs, single shared links, collections, groups, or a saved search.

Brandfolder has a powerful reporting engine allows users to generate custom reports, spot trends, and make informed business decisions.
Pricing
Premium Plan: Designed for organizations looking to accelerate on-brand content creation and distribution, get insight into asset usage and manage asset availability.

Enterprise Plan: Designed for enterprise organizations that need to automate workflows at scale, have greater control and governance or require specialized creative requirements.
Best for
Brandfolder is an excellent solution for sports, retail, technology, breweries, and more businesses that must manage and distribute their digital assets effectively. It's particularly well-suited for organizations with large digital assets that must be organized and distributed efficiently.
4. Wrike
Wrike is a cloud-based project management platform designed for teams of 20+, suitable for large enterprises and SMBs. It is one of the most powerful work management platforms available.
It brings all work and team collaboration into one place to remove complexity, increase productivity, and free people up to focus on their most purposeful work.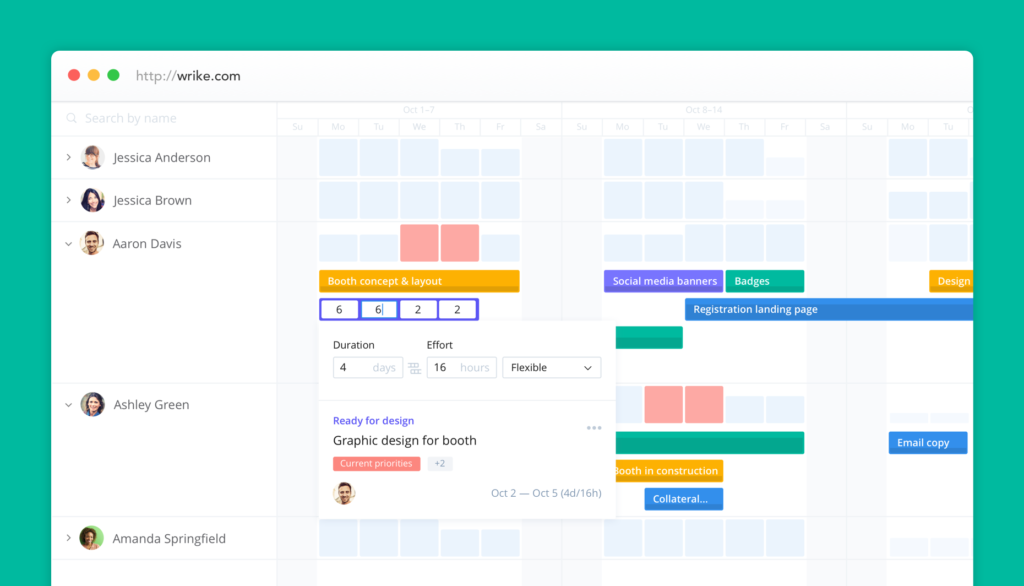 Top features
Customizable workflows that allow teams to tailor their processes to fit their unique needs.

Interactive Gantt charts and calendars that help teams track their progress and stay on schedule.

Kanban boards that make it easy to visualize workflows and keep team members informed.

Real-time updates keep everyone on the same page, no matter where they are.

Task management features include creation, assignment, due dates, prioritization, dependencies, and more.

Project monitoring dashboards that help teams stay informed about project progress and performance.

Wrike suits marketing, operations, and creativity, which is significant to midsize IT teams. It integrates with various tools, including SalesForce, Dropbox, Slack, and Adobe Creative Cloud, and offers an open API.
Pricing
Wrike offers a free basic plan for unlimited users, and pricing for its paid plans starts at $9.80 per user/month for the Team plan and $24.80 per user per month for the Business plan. The pricing goes up to the Enterprise and Pinnacle plans, which require contacting Wrike directly for accurate pricing.
Best for
Wrike is the best project management software for team communication and workflow automation.
5. HubSpot 
Are you tired of juggling various marketing tools or using software that's powerful but difficult to use?
HubSpot's Marketing Hub has got you covered. 
It's an all-in-one brand management platform that's one of the best tools compared to brand management software. It helps businesses attract and convert customers, nurture relationships, and analyze marketing ROI.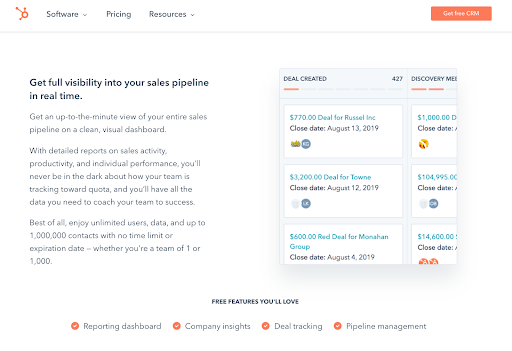 Top features
All your marketing tools and data are on one platform.

Personalized customer experience through behavioral targeting.

Live chat to connect with visitors and close deals.

Website builder with a drag-and-drop interface.

Built-in analytics, reports, and dashboard for measuring campaign performance.

Free CRM to help grow your business.

Reputation management by tracking conversations about your brand and responding to negative feedback.
Pricing
HubSpot offers free and paid plans. The pricing range of the paid plans begins at $50/month for Starter, $800/month for the Professional plan, and the Enterprise plan starts at $3,600/month. 
Best for
HubSpot's Marketing Hub is built to serve B2B and B2C customers in various industries, including software, technology, accounting, construction, retail, and real estate. It's perfect for marketers who want to scale their company without adding complexity.
6. Frontify
Frontify is a cloud-based platform that helps centralize your brand assets and streamline team collaboration. If you're looking for an all-in-one solution for brand management, Frontify is worth checking out.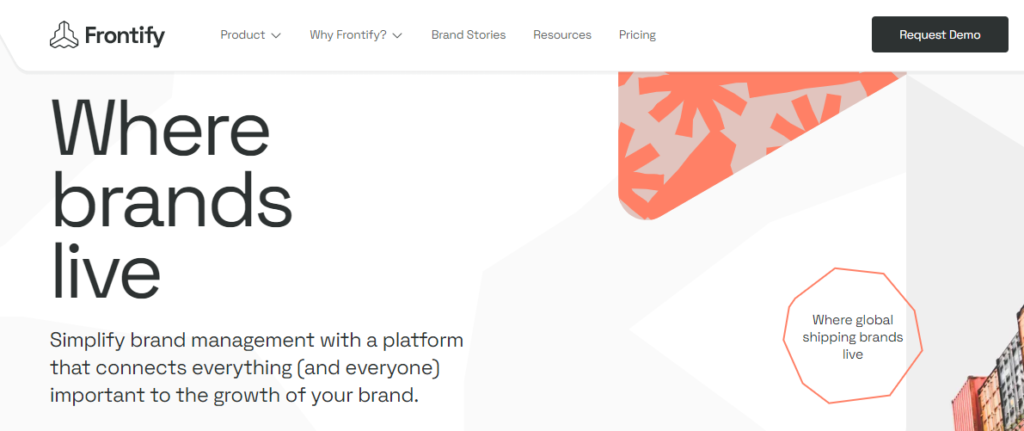 Let's take a closer look at some of its top features. 
Top features
Frontify allows you to centralize every image, video, logo, icon, or brand asset in one place. You can organize your assets with metadata, versioning, and expiration dates.

Create and customize your digital brand guidelines to showcase your brand in a visually appealing way.

Streamline team collaboration with project workflows, design templates, and real-time feedback.

Create reusable templates for print and digital materials to save time and ensure brand consistency.

Get insights on your brand's performance across every channel.
Pricing
Frontify offers free and paid plans. You can also sign up for a free trial. The paid plans include Starter, which begins at $79/month, and Team, which costs around $279/month. You can book a demo for the pricing of the Enterprise plan. 
Best for
Frontify is ideal for designers, marketers, and brand managers who want to simplify workflow and enhance team collaboration. It's an excellent tool for teams working on branding projects, creating marketing materials, and managing brand assets.
7. Uptempo
If you're a business owner or marketing manager, you know how challenging it can be to keep your brand assets organized and consistent across all channels. That's where Uptempo comes in, previously Brandmaker.
It's a powerful brand management tool can help you streamline your workflows, collaborate with team members, and maintain brand consistency.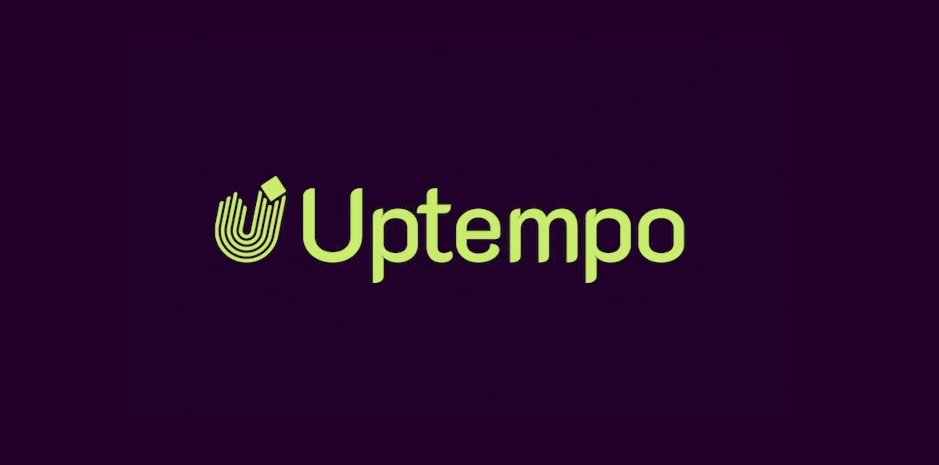 Top features
With Uptempo, you can store all your brand assets (logos, images, videos, etc.) in one centralized location. 

Uptempo allows you to create automated workflows for everyday brand management tasks, such as approvals and content creation. 

Uptempo makes it easy to collaborate with team members, whether they're in the same office or working remotely. You can assign tasks, track progress, and communicate in real time.

Uptempo allows you to create and share brand guidelines, ensuring that everyone on your team is on the same page regarding your brand identity.
Pricing
Uptempo offers a range of pricing plans to fit different budgets and needs. The basic program starts at $29 per user per month and includes features such as asset management and collaboration tools. The premium schedule, which provides workflow automation and brand guidelines, costs $59 per monthly user.
Best for
Uptempo is an excellent choice for businesses of all sizes that want to streamline their brand management workflows and maintain brand consistency. It's beneficial for marketing teams that work on multiple projects simultaneously and need to collaborate with team members in different locations.
8. Canva
If you're looking for free, user-friendly, and versatile brand management software, look no further than Canva! 
This free brand management software for creatives is a game-changer for small and medium-sized businesses that want to create stunning content that stays on-brand.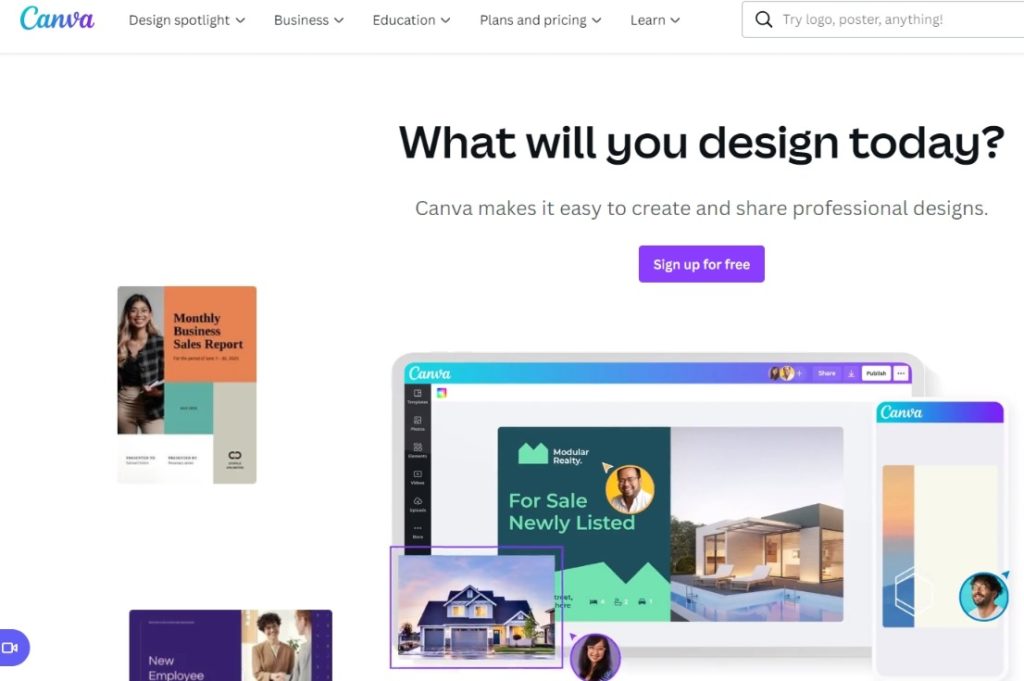 Top features
Here's what makes Canva one of the best brand management tools out there:
User-friendly interface with drag-and-drop editing and a vast library of templates, illustrations, fonts, and stock photography

Access to thousands of pre-licensed photos, videos, soundtracks, and more

Customizable data visualizations such as charts and diagrams

Collaboration features that allow teams to work on projects together in real-time and share completed visuals with others.

Templates for social media graphics, posters, presentations, infographics, newsletters, and more

Performance tracking and analytics to help you understand how your content is performing
Pricing
Canva offers free as well as paid plans. Canva Pro starts at USD 12.99 per month for the first user and $6.99 per month for each additional user, billed annually, while Canva Enterprise begins at $30 per month. The free version has 5GB of online storage for digital assets. 
Best for
Canva is ideal for small and medium-sized businesses that want to create professional-looking content without overspending their budget. 
Key takeaway
Brand management software is a valuable tool for businesses of all sizes looking to improve their online presence and connect with their audience. However, choosing the right brand management software for your business depends on your needs, budget, and goals.
But in any case, we'd advise you to invest in brand management software that can save your business time, money, and resources while improving your online reputation and increasing your customer base.
And before we log off this guide, don't forget to sign up for a free GoVisually trial today!