Successful creative teams know that to become a great brand, they need more than just a logo, color palettes, and typeface. They understand that the brand cannot build trust, gather loyalty, and project revenue without a vision guiding these. This is why great brands invest in brand management.
You need to understand that to manage a brand, you should have a critical strategy that reinforces the company's vision and keep all marketing strategies aligned with it.
Today, consumers have a thousand options to choose from. In fact, among many other factors, 51% of global consumers cut ties with brands over poor customer service. And that is just one of the many reasons that impact your brand image.
So how do you ensure that your brand stays at the top?
The answer lies in maintaining a consistently great brand image.
There are numerous ways to maintain consistency, and having a strategy in place is just the beginning. You need to have an equally impactful execution system in place too.
This is where brand management software can help you put at least 85% of your troubles to sleep.
In this guide, we'll cover the following:
Identify what brand management software is
Discuss why every business needs a brand management process
Explore the benefits brand management software brings to your business
Discuss the essential features a great brand management tool should have
8 best management software that can help you execute brand management 100%

3 key ways to select the best brand management software for your brand
What is brand management software?
Brand management software is a tool that helps brands formulate, execute and track brand campaigns.
It is a specialized digital software designed to help brand managers keep their marketing material on-brand and consistent. Your brand management process can be made unbelievably more accessible by using the right brand management software.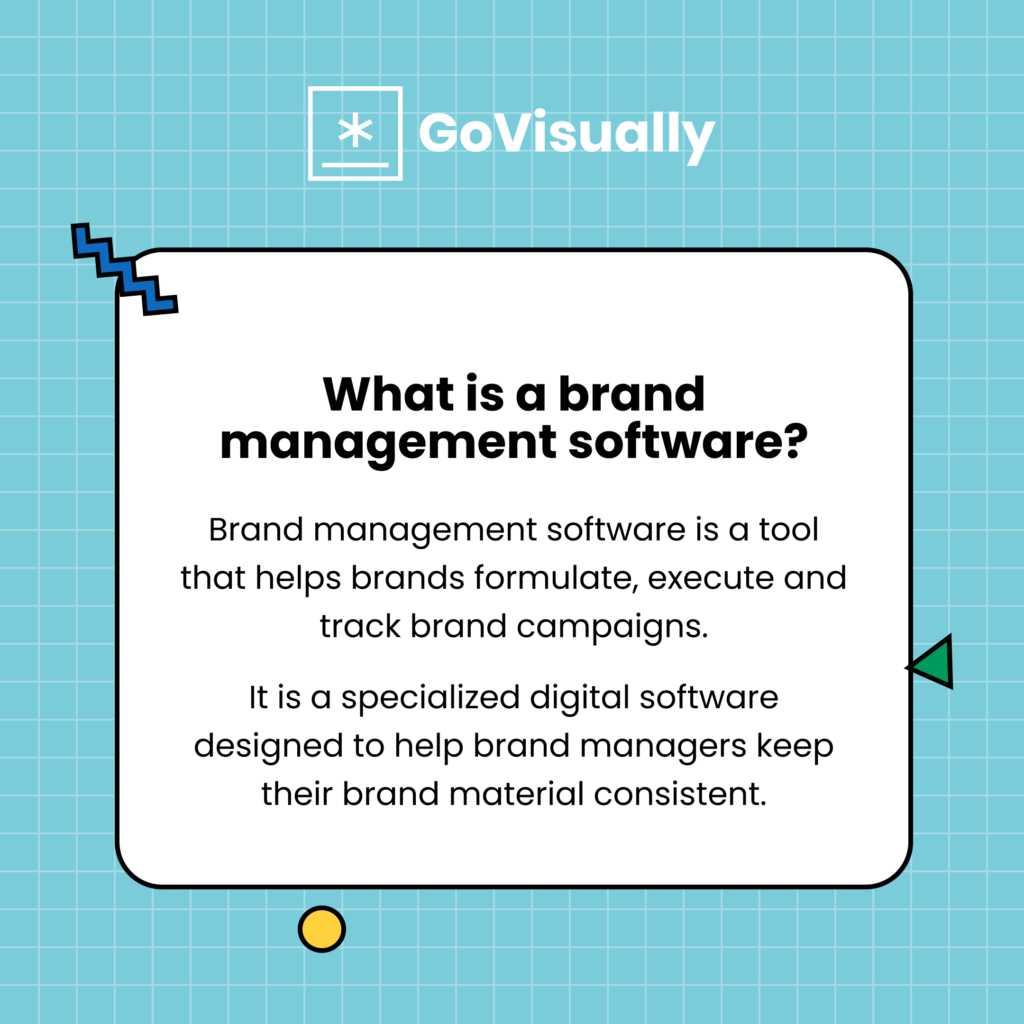 If you want to successfully gain the attention of your target audience and make sure they resonate with your brand, brand management software will help you do so.
This software allows you to build your brand's reputation and success and enables you to maintain it. It ensures that all your future emails, social media posts, commercials, or any new text are consistent with your brand image and just as effective. 
How is a brand management process essential for your business growth?
A company consists of various moving parts, and to keep all these moving parts in check, you need brand management of the highest quality. 
Here are the top 3 reasons every business should invest in brand management: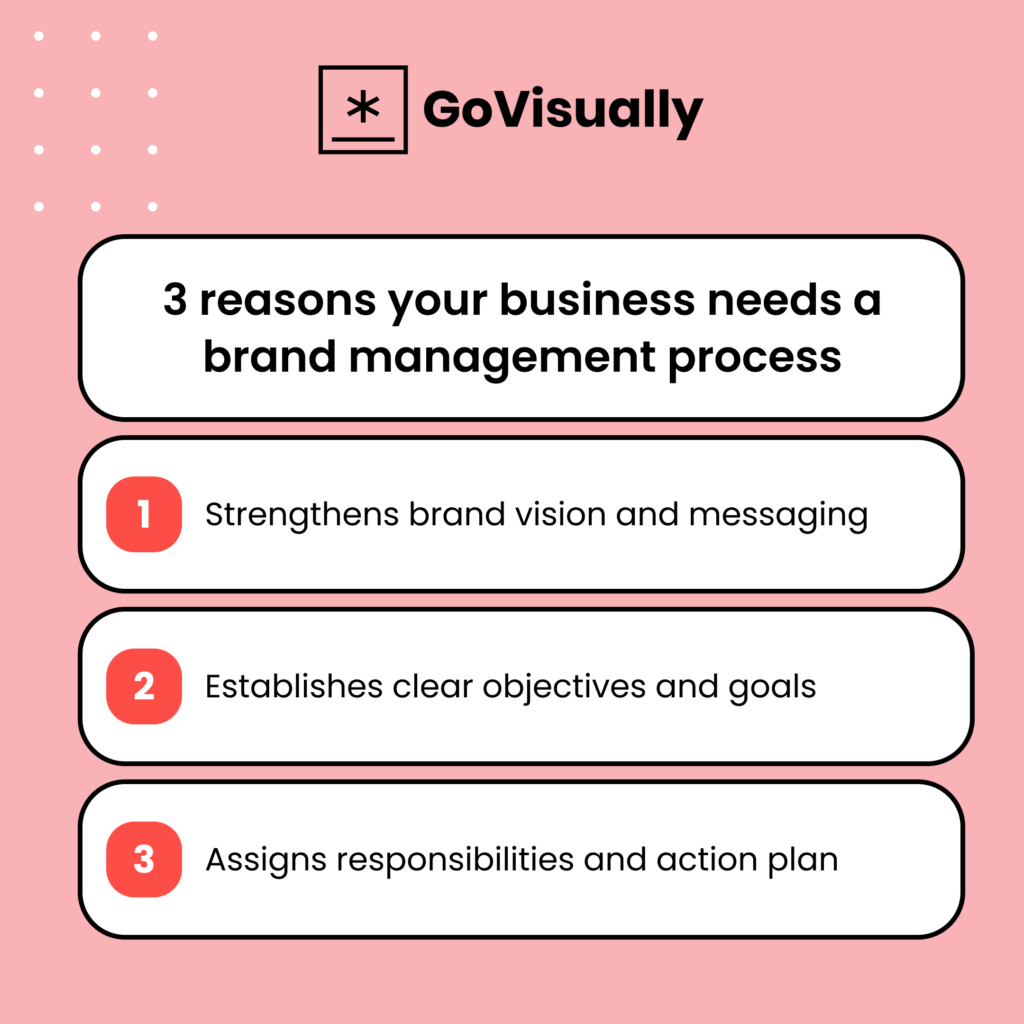 1. It strengthens your brand vision and messaging
I mentioned earlier how your brand strategy should be aligned with your brand vision. This is what an active brand management process ensures.
It aligns all creative strategies with the company's mission and vision, prompting decision-makers to ask themselves, how does it align with our brand vision?
With a clear direction, your creative teams will more likely produce strategies and content that project clear messaging.
2. It establishes clear objectives and goals
The #1 problem of failed campaigns is that it doesn't have an objective.
Having a brand management process in place ensures that your campaigns have clearly defined objectives in place.
You should set goals that align with your brand.
3.
It assigns responsibilities and an action plan
And lastly, a brand management process helps assign team responsibilities and follow an action plan. Doing so eliminates confusion and utilizes the potential of all team members.
8 benefits of using a brand management software
To keep your brand's image spotless, you must keep in mind the industry's regulations and the needs and wants of the consumer. And brand management software can help you streamline how you present information to the world. 
Here are the top 8 benefits that you immediately start seeing when you start using a brand management tool:
Enhances remote collaboration and teamwork between different departments.
It helps you improve the content review process and makes it easy by bringing stakeholders together.
Ensures brand consistency across marketing and creative collateral.
Helps you stick to deadlines.
Keeps all the brand assets organized in a centralized place.
Provides security and privacy for your important documents.
Easier feedback capture leads to minimal revisions.
Ensures high-quality output.
4 features that make a brand management software great
Different brand management software has distinct features and tools. The software that you need for your brand and business can depend on the industry you are in. 
To give you a headstart, here are the 4 key features to look for in the best brand management software.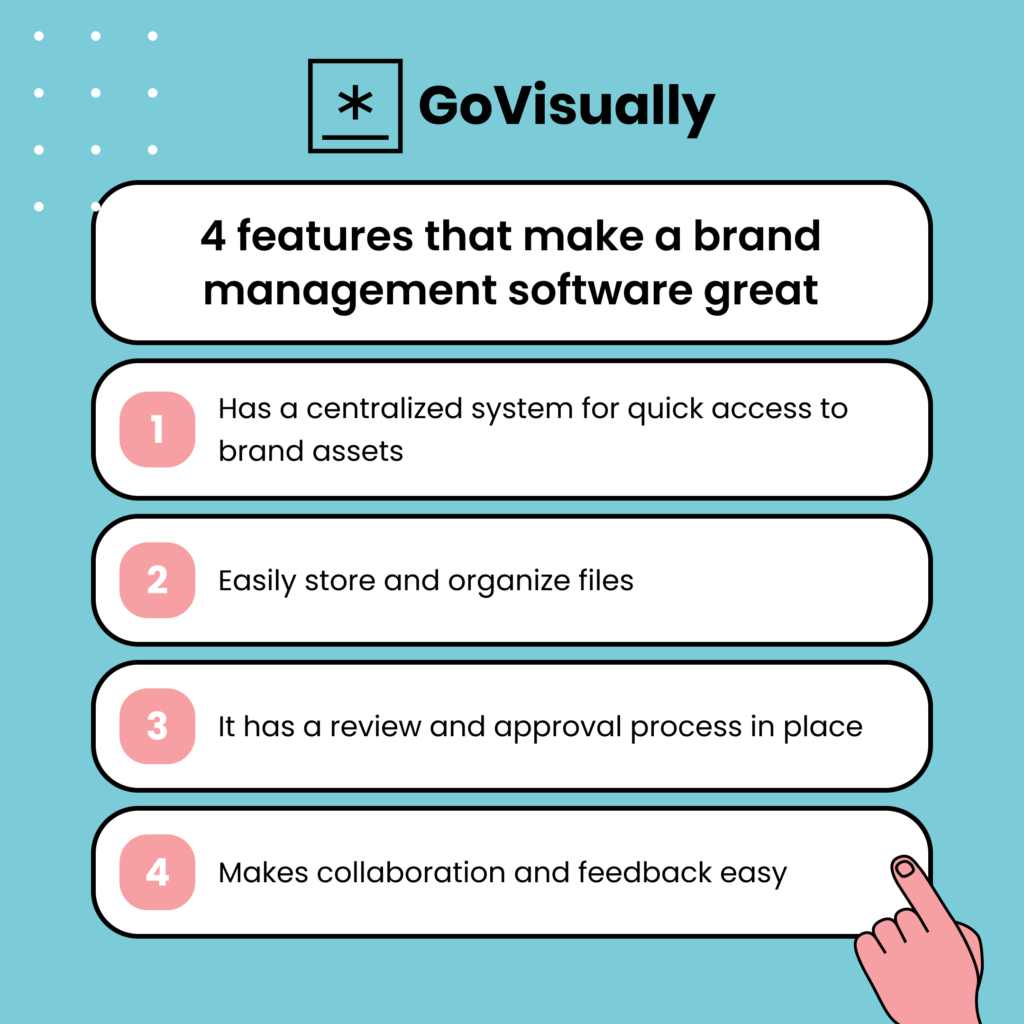 1. Has a centralized system for quick access to brand assets
A key feature to look for in brand management software is having all the brand assets in one place and being easily accessible. This feature allows all brand stakeholders to get the information they need and share it instantly.
Brand management software containing pinned searches, suggested searches, auto-tagging, and filtering is good for quick access to brand assets. 
2. Easily store and organize files
Uploading files to the software without any categorization system defeats brand management software's purpose as it can be time-consuming and hectic. It would help if you looked for tools that allow the automated upload of the brand files you save without having to number or name them. 
3. It has a review and approval process in place
The brand management software you use must allow you to change your brand files inside the software. This feature is crucial as it will save you a lot of time as you will not have to re-download and re-upload files to the software. Your software should allow resizing, adobe integration, video editing, etc. 
4. Makes collaboration and feedback easy
It will help if you are looking for brand management software that allows you to collaborate with external and internal stakeholders. This feature can help you seamlessly receive feedback on your project and edit simultaneously. 
Software such as GoVisually excels in this.
GoVisually enables you to change your work as soon as you receive feedback. This software also cuts down the excessive email chains between collaborators. It allows you to carry out the editing process inside the software while keeping the other components intact. 
8 best brand management software 
This section contains an extensive list of the 8 best brand management software.
1. GoVisually – the #1 brand management software
GoVisually is one of the leading online proofing tools best suited for brand management. It immensely improves collaboration with other parties and eliminates the countless email chains. GoVisually allows you to receive reviews and feedback on the project and edit it in real-time, saving you a lot of time and making the process easier.
It also helps increase the company's productivity by allowing you to track your progress and reviews as they happen. GoVisually lets you work smarter with all its different features.
With its impressive roster of clients like Coca-Cola, Fuji Film, Mazda, and Dolby Digital, GoVisually is one of the most credible online proofing tools.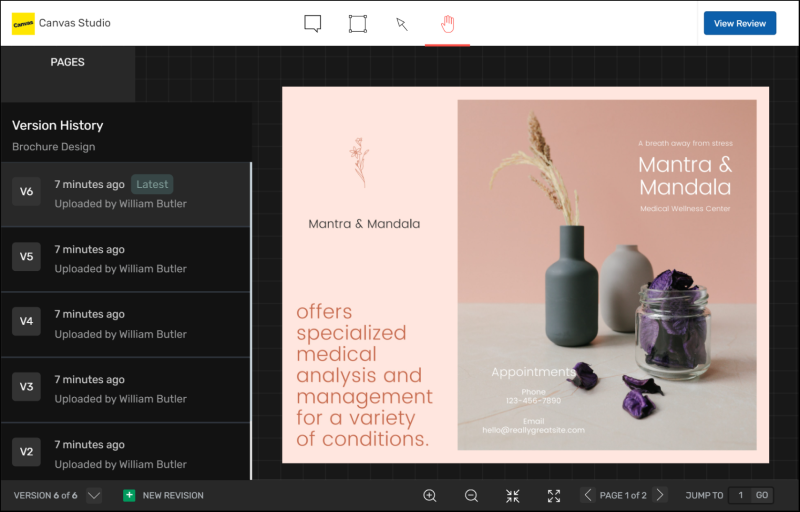 You can upload new projects and delete old ones, and request feedback. You can also enable private comments to have team discussions while working on the project. With GoVisually, you can upload attachments and control who can download brand files. 
If you are looking for an easy-to-use online proofing tool for brand management, GoVisually is the perfect match. It allows you to integrate with thousands of apps to optimize workflow.
2. IntelligenceBank 
IntelligenceBank is a BrandHub tool that provides you with all-in-one digital asset management. It helps brand managers ensure that each asset complies with the brand image by delivering efficient solutions to brand marketing operations. 

IntelligenceBank provides a single-cloud-based system that teams over different platforms and locations can easily access. It makes collaborating with external parties or groups invested in your company promotes flexibility. 
With its advanced search and AI tagging features, his tool makes all brand files easily accessible. This allows files to be located and used for the benefit of the brand and saves time searching for all the various files. 
3. Extensis Portfolio 
Extensis Portfolio is an incredible tool for companies managing many files for their social media updates. This tool lets you get a grip on the content you need and provides a central cloud-based portal to manage all your brand files and assets. 

This brand management tool allows you to streamline all your digital assets and make them accessible to everyone who needs them for work. Extensis Portfolio has a state-of-the-art image measuring system and a library of numerous fonts. 
Extensis Portfolio lets you organize your brand management and marketing projects using one tool. This tool can be beneficial if you have different teams working from separate locations. Using Extensis Portfolio improves your time management and increases the company's productivity rate. It allows you to update your brand image consistently and lets your brand maintain its success. 
4. Bynder 
Bynder is considered one of the best brand management software globally. This software is central-cloud-based and allows your company to host all its files in one place. It grants easy and quick access to all your brand files and helps you manage your brand's marketing strategy.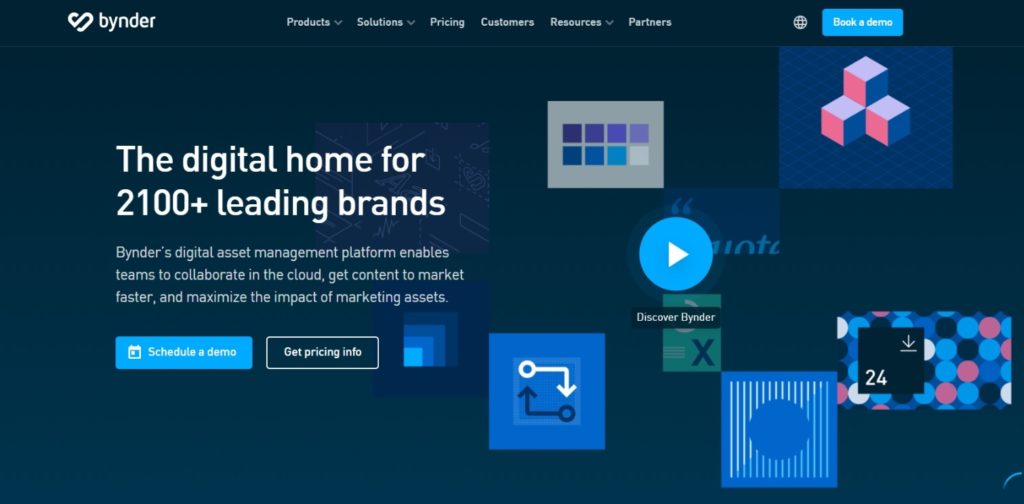 Bynder has some of the best features, making this tool an excellent choice for your company, regardless of what industry you are in. This tool lets you manage your brand from anywhere in the world, anytime. Bynder also helps with managing projects between different teams and promotes easy collaborations. 
Bynder is known for its impeccable customer service, and it will also put you and your company first. This brand management tool promotes teamwork and allows your company to thrive and achieve everything you have set out to achieve. 
5. Brand24 
Brand24 is a game-changing tool for social media management. This tool allows you to receive real-time feedback and comments on your company. With the help of Brand24, you can edit and improve your brand files and product as soon as you receive feedback.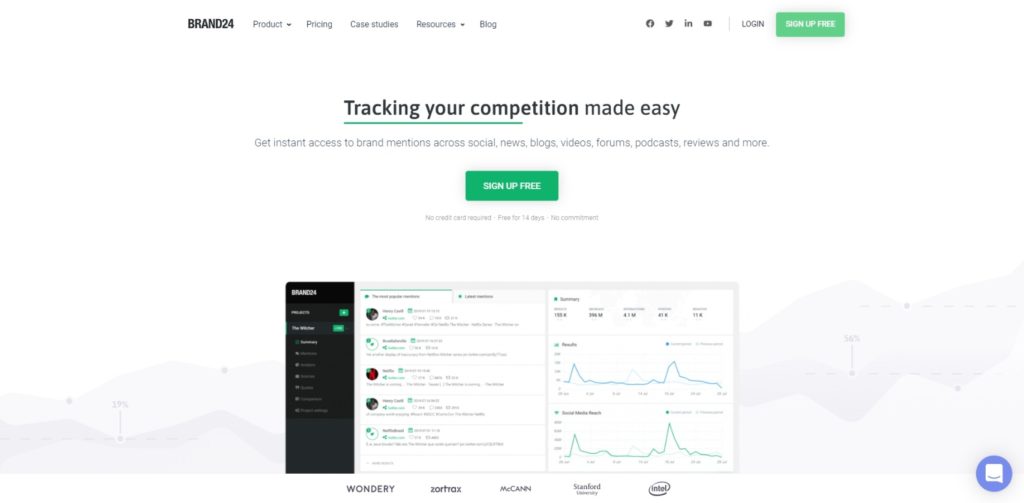 The goal of Brand24 is to make your brand seem more approachable. It lets you view and reply to social media posts about your brand anytime from anywhere. It makes your company and your brand more accessible to people globally. 
Brand24 helps your brand become more engaging. You can review all the comments about your brand with one click and stay on top of your game. These days, social media posts can control the entire narrative about your brand, and Brand24 lets you stay one step ahead at all times. 
6. Wedia 
Wedia is an excellent brand management tool for marketing a brand. This tool allows you to manage multiple media and files you need for your brand's content creation. The cloud-based server of Wedia lets you access all your brand files from any location at any moment.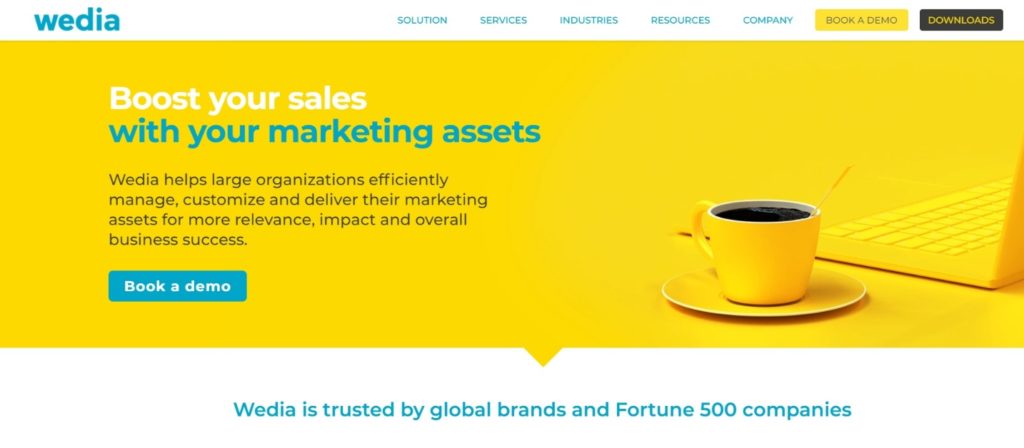 Wedia improves not only the process of content creation for your brand but also the overall marketing experience. This brand management software helps you streamline the entire marketing process of your company.
From the imagination to the final product's delivery, Wedia ensures the process is as easy for you as possible. 
This brand management tool is one of the best options available for marketers. Wedia helps you understand what your consumers want and allows you to deliver a more personalized experience.  
7. BrandMaster 
BrandMaster is an excellent brand management tool for managing your company's digital assets. The cloud-based software lets you access all your brand files in one place. Accessing all your company's content accessible leads to more productivity and creative content. 

This tool offers you marketing-focused solutions. 
Brandmaster lets you control your marketing team's workflow and manages your company's marketing strategy. From the first step of conceiving the idea to the final production, BrandMaster covers everything. After you launch a product, this management tool analyzes and evaluates your product's success. 
8. Brandfolder 
Brandfolder helps you create a unique image for your brand and promotes consistency while maintaining this image for you. This brand management software hosts all of the young's digital assets on one cloud-based portal, making it accessible.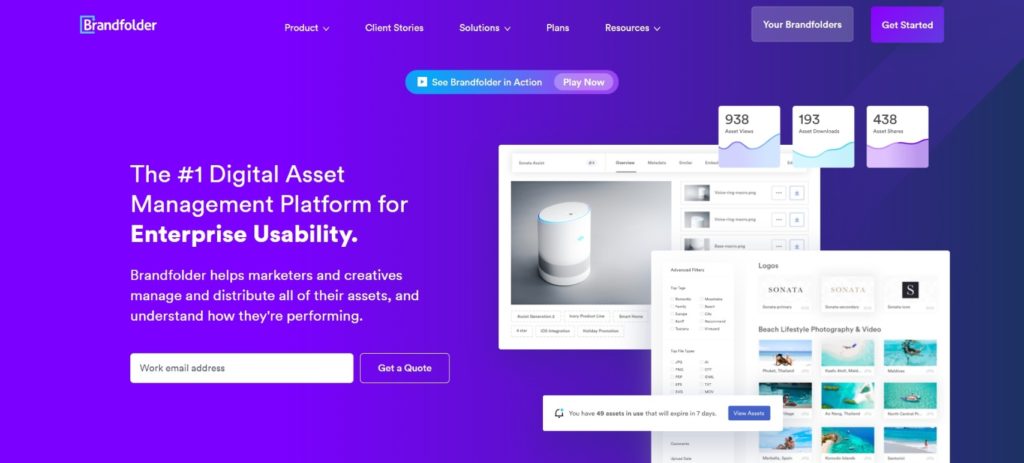 Brandfolder is exceptionally user-friendly and straightforward to learn and use. This incredible tool supports all audio, video, image, and document formats. Using Brandfolder, you allow your brand to grow and improve every step of the way. 
With the help of Brandfolder, all your brand files are within reach, and you can access them from any location. It lets you control the approval process and manage your artwork. This brand management software empowers your brand to become more organized and consistent. 
3 key ways to select the best brand management software for your brand
Every company has different needs for managing its brand. As you have seen above, each software comes with various features. Before investing in brand management software, you must know all the different aspects. 
To make your decision even easier, here are some things you should remember that will help you find the best brand management software.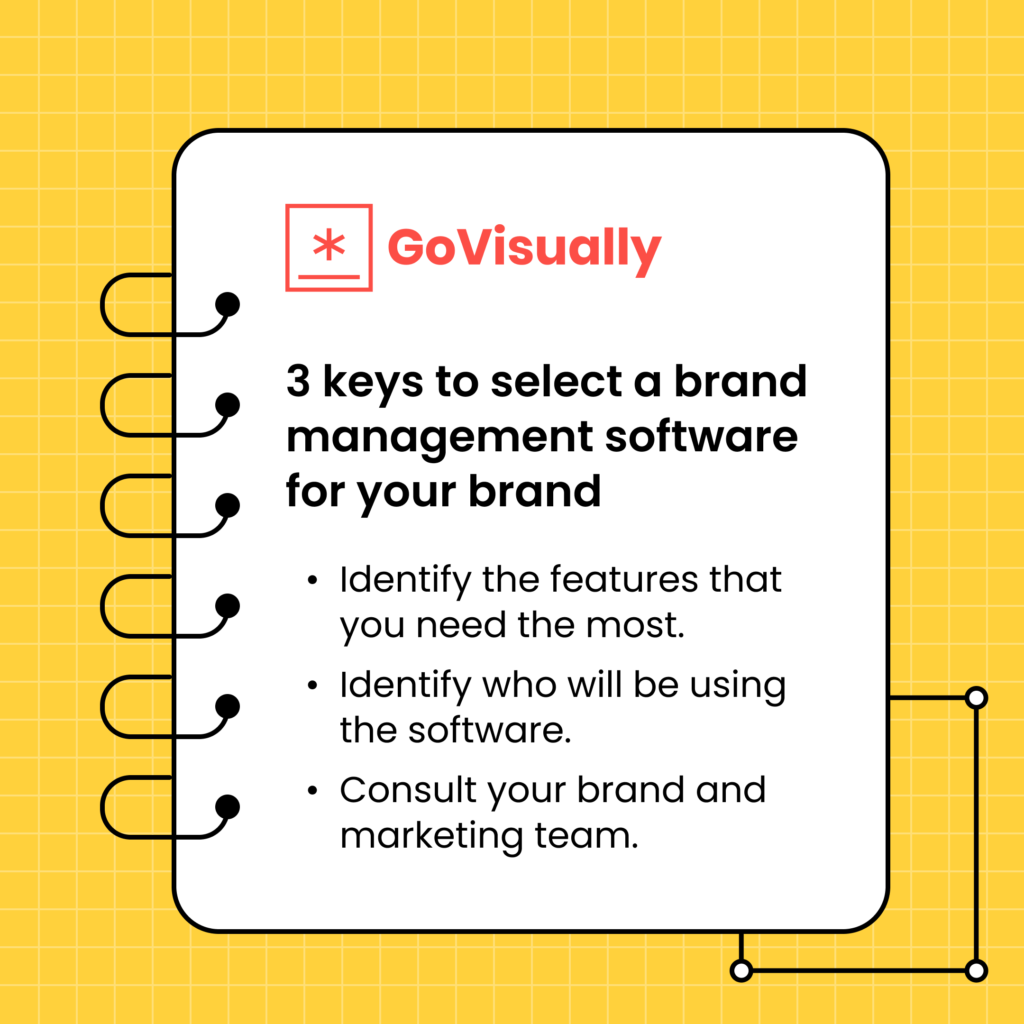 Identify the features that you need the most.
You need to analyze your team's performance and decide which area lacks the most and needs improvement. Doing this will help you choose which features you need for your company to help achieve the best results. Think about which processes are undertaken each day and what you need to improve the efficiency of these processes. 
Identify who will be using the software.  
A clear idea of who will use this brand management software will help you identify the key features you need for your company. For example, if the software will be used to get constant feedback from external stakeholders or for collaborations, then online proofing software like GoVisually would best suit your needs. 
Consult your brand and marketing team.
Using brand management software can be challenging for anyone if you are unfamiliar with its features. It is best to have your marketing, and IT team walk you through their needs and software interface.
However, if you don't have an IT team to rely on, you should choose a highly user-friendly brand management software with a simple interface.
Final thoughts
Brand management is essential for your business's long-term success and growth. And you need good brand management software to ensure that you can execute your brand management strategy effectively and consistently.
So if you're looking for the ideal brand management software, sign up for a free trial with GoVisually to unlock your brand's full potential.
Do share your thoughts with me!
And if you have a secret brand management strategy – don't gatekeep.