No matter what profession you belong to, creativity and dedication lie at the heart of your work. But often, work stress can become so overwhelming that not only do your creative efforts die out, but you feel exhausted and tired. This is a call for help, and we're here to help you out.
To beat your burnout and remain focused, you need the following calming apps that will help you beat stress and stay motivated. After all, if you don't invest in yourself, you wouldn't be able to invest properly in your work too.
So let's begin your journey of wholesome work practices with these 10 calming apps.
1. Headspace
Headspace is one of the leading meditation and calming apps that emphasizes on the importance of daily meditation. They believe that a few minutes to yourself daily can bring an unmatched calm and confidence in you that'd also help you exude it in the workplace.
More importantly, using Headspace is fairly simple. The meditations are short, usually lasting between five to ten minutes. So you can even practice them during short breaks at work if things start to become too much for you.
Free | Available for iOS and Android

2. 10% Happier
Do you ever tell yourself that you'd be happy or feel better if you can cross off that one thing from the checklist? We understand you, and so does this application that operates in a similar model.
10% Happier understands the struggle of finding happiness within mundane tasks. It allows you to connect with expert teachers who can guide you with meditation and equip you with the practical art of finding happiness within the normal and the boring.
You can use it as your daily dose of finding happiness!
Free | Available for iOS and Android

3. Sanvello
Used by 37 million Americans, Sanvello is rising as the go-to application for finding calm in your life. The application offers four kinds of support to help you reclaim your lost sense of peace. They include the following:
Self Care

Peer Support

Coaching

Therapy
You can opt for the right support that you need and voila! Let the application perform wonders on you, and you'd start to notice visible differences in your mindset and how you tackle problems at work.
Free | Available for iOS and Android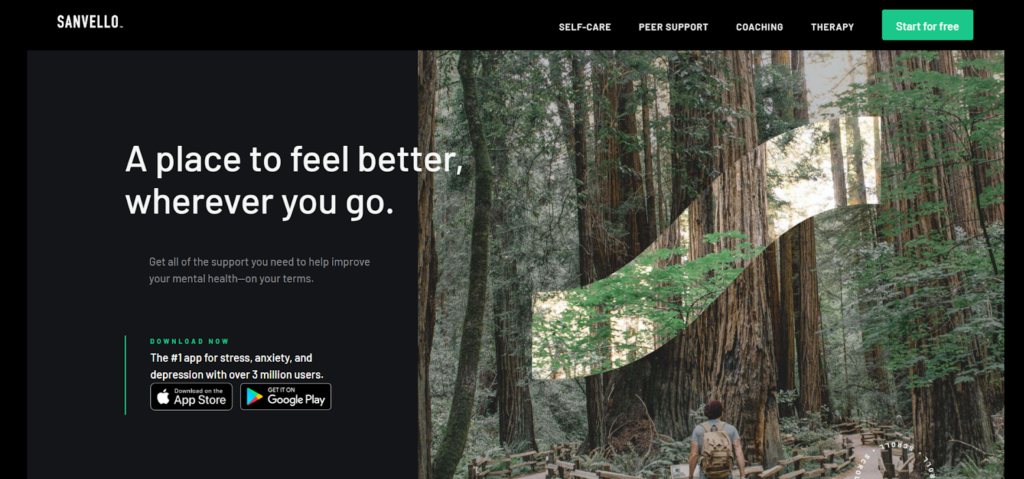 4. Breathe2Relax
Have you ever thought of how important breathing is? Of course, it's a natural process; otherwise, you wouldn't be alive. Practicing breathing exercises can help you restore balance to your mind and bring an end to your anxiety.
That's because when you consciously breathe to exhale and inhale longer with guided meditation, it allows your mind to free itself of thoughts that might be caging you.
So download the Breathe2Relax app and manage your stress at work in a better way.
Free | Available for iOS and Android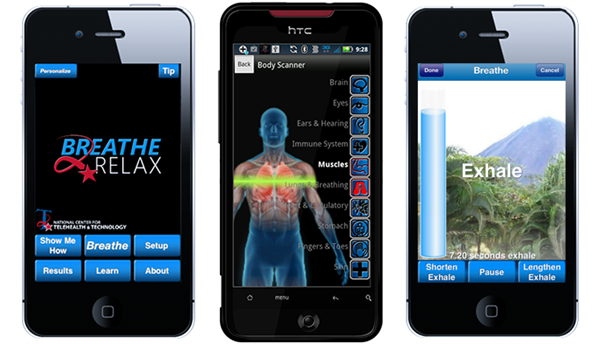 5. Calm
Calm is your ultimate application to start a wholesome lifestyle. It's not only a stress management application but has much more to offer than that.
Many people who use the application call it a way of lifestyle, and that's because the application helps you maintain that in a healthier way that would restore calm in your life.
Its key features include anxiety management, stress management, fixing sleep routine, and building your self-esteem. So if you feel that your work has you cluttered and you can't seem to bring an end to the prolonging burnout, try Calm to find your inner calm.
Free | Available for iOS and Android

6. Colorfy
Who doesn't like coloring for fun? As a child, almost all of us loved the art class, and there's a reason for that. Its because coloring allows us to be creative and unleash our imaginative powers. If you think of it, many professions like designing, writing, or even marketing have a lot to do with your creative side, and that's why it'd be a good idea to color now and then.
Colorfy application is your solution to that. It has hundreds of free designs that you can color online from your smartphone or tablet. All you have to do is download the application and tada! You'd have your own digital coloring book to release stress.
Free | Available for iOS and Android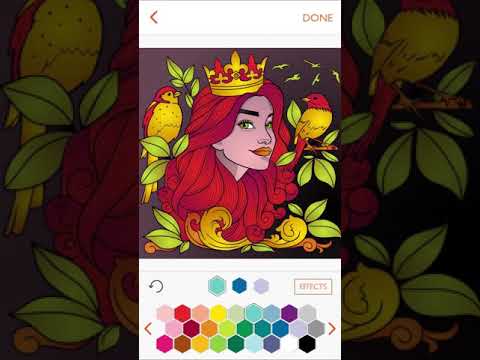 7. Aura
As humans, we function on the vibes and the energy that we receive from one another. That is why you'd often find yourself charged around certain people while around others, you'd feel depressed, or perhaps intimidated. That's because our internal calmness or lack thereof motivates the energy around us.
So if you want to cleanse your energy and create a better aura for yourself, start using the Aura app. This application is the solution for your everyday troubles, from gratitude journals to setting your sleep routine and guided meditation.
Free | Available for iOS and Android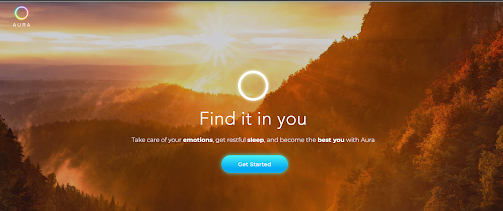 8. Happify
Happiness doesn't come easily or naturally to many of us. Often we find ourselves so consumed by our work commitments or a toxic environment that we forget what happiness means, let alone how to be happy.
If that is you, we hear you, and we have a solution for you; the Happify application. Used by millions of happy customers, this application is a one-stop solution to your everyday troubles.
The best part? It works on science-based activities to promote positive thinking in you.
Free | Available for iOS and Android

9. Relax Melodies
Who doesn't like tuning in to relaxing music? We'd take a wild guess and say that we all do, and that is why you need to download the Relax Melodies application on your smartphone.
It is one of the best calming apps and has a wide collection of meditative music and relaxing tunes that you can listen to. These are specifically designed to promote good sleep that can help you in all facets of life. And oh, it will help you fix your sleep routine, which is an ideal prospect.
What's even better is that you can create your own tunes as per your liking. Create a mix of your choice and listen to it every night when you retire. Believe us; you'd be on your way to a happy life!
Free | Available for iOS and Android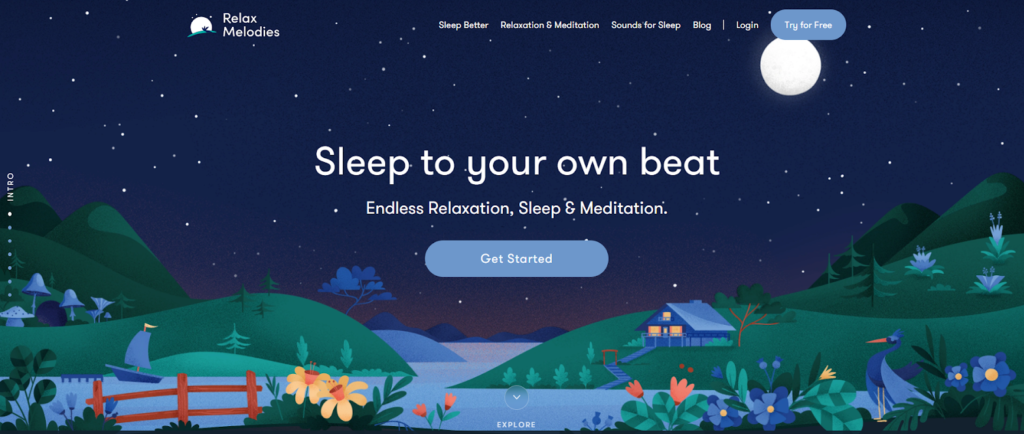 10. Yoga Studio
How many times have you promised yourself that you'd join that yoga class? And how many times have you broken that promise? It'd be safe to assume that this must have happened a thousand times. And there's a reason behind that because you can't find the time or commitment to join a yoga class and go there regularly.
But Yoga Studio resolves that problem for you. It is a paid application that has virtual yoga training classes by yoga experts. So for all those who want to engage in a healthy lifestyle, this application is a must to have on your phone.
You can even try it out for free for the first seven days and see if they're actually as good as they promise to be.
Paid | Available for iOS and Android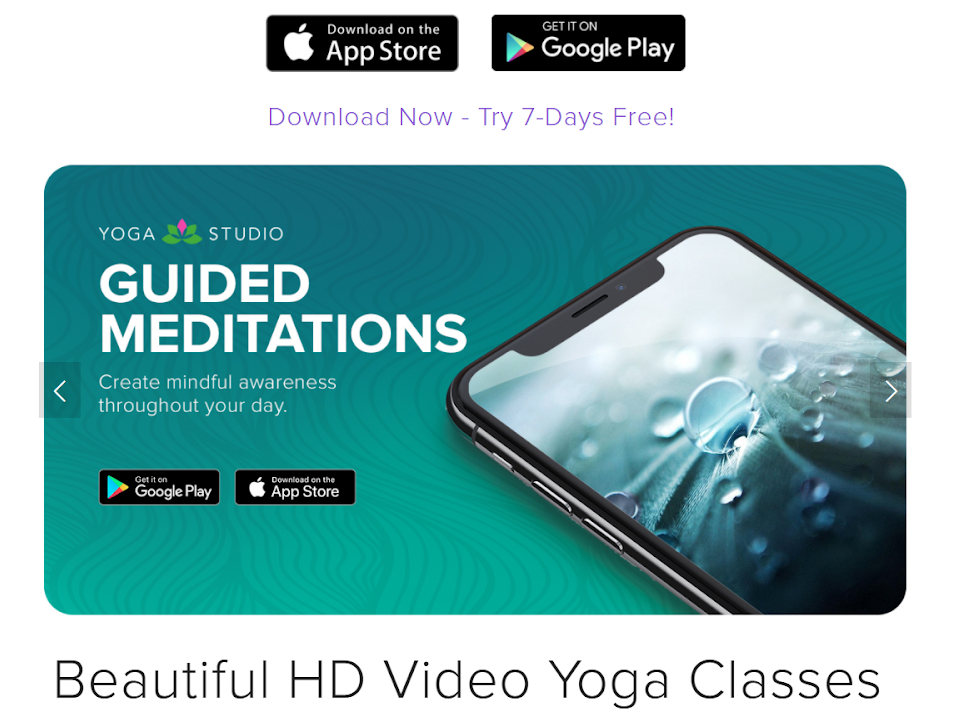 Our Advice
Following your dreams isn't an easy process, especially when you live in a chaotic world. But if you know how to juggle balance in your life, you'd be a step closer to actualizing your dreams. And these calming apps can help you restore the calmness and balance in your life.
So our advice would be to try them out – they're worth a shot!