No – product catalogs are not a thing of the past.
Product catalogs are a beneficial marketing/sales tool. Using a product catalog, you can easily improve conversion rates – it allows you to have a to-the-point, contextual conversation with your customer instead of wasting time on problem discovery and solutions. To put it simply, a product catalog lays out all the information your prospective and existing clients would need, and hence, saves you from having to relay that information through other methods. 
However, making product catalogs is a demanding art that many businesses fail to execute with perfection. 
What if I told you your business doesn't have to be one of those?
By picking the best catalog software for your needs, you can easily streamline the product catalog production process – and in this article, we will show you how!
The Importance of a Product Catalog
To truly understand the need for catalog software, let's take a closer look at what a product catalog is, to begin with.
Technically, a product catalog is considered marketing collateral containing all the pertinent product information and details. It helps influence the buyer's ability to make purchase decisions. Usually, a product catalog will include a comprehensive overview of product features, descriptions, price, weight, availability, color, dimensions, customer reviews, and other important aspects that are likely to impact the buying journey in one way or the other. 
A product catalog will help you with the following:
Improved conversion rate
Through a product catalog, you can boost your conversion rates as it is easier for you to present your product as something useful and indispensable to the customer's life. When the customers have this sort of overview at hand, they are more likely to understand the essence of the product and gravitate towards buying it. A product catalog also makes it easier to seek approvals and make other decisions regarding the product, making it the right fit for increasing conversion rates. 
Enhanced branding
Product catalogs, as well as other product information, are great in terms of boosting brand awareness. This benefit of the product catalog is contingent on how well they are created and how well they incorporate the important elements of a brand.
If you use distinct colors, graphics, images, font families, and formats on the product catalog, you are likely to associate those elements with the brand in your customer's mind. This way, you build a proper position for your brand, establish a connection, and ensure that the brand information is retained throughout. 
Better presentation of information
Through a product catalog, it is easier to streamline the flow of information between the customer and the brand and internal and external stakeholders. So, members of the organization responsible for product catalogs, such as product marketing teams, can put information on content management systems for sales and customer success teams. 
In short, product catalogs can act as a centralized document that helps the brand preset just the right information to customers. 
Get sales offline
The buying journey of a customer in 2021 starts online but is likely to end offline. Consumers research products online and make their purchases offline. For example, before investing in a new phone, I'll make sure to get to know any options I may have beforehand. To do this, I will naturally go through product catalogs online. However, to actually purchase the phone, I'll go to the store to buy it. 
The beneficial thing about this is that you don't have to put in any effort offline to get the conversion! Your customers will already have their research done, and all you have to do is provide them with what they want. As you can see, this takes a considerable load of work off the sales team. 
Elevated user experience
User experience is one of the most important aspects of the business in 2021. 88% of online shoppers say they wouldn't return to a website after having a bad user experience. The overall interaction your customer has with your products and brand is important in shaping their buying decisions.
A product catalog created with the relevant images, links, reviews, prices, and other interactive elements is likely to elevate the entire user experience and create a better place for your brand in the customer's head. 
Better training for employees
In addition to being great for customers, a product catalog is good for your sales team, retailers, and partners as well. When they have access to all the information in one document, it becomes easier for them to grasp what the brand is and what it stands for. A product catalog also eradicates the need for team members to memorize things by heart – all they need to do is refer to the product catalog.
So, you can shrink the learning curve since it needs next to no manual input.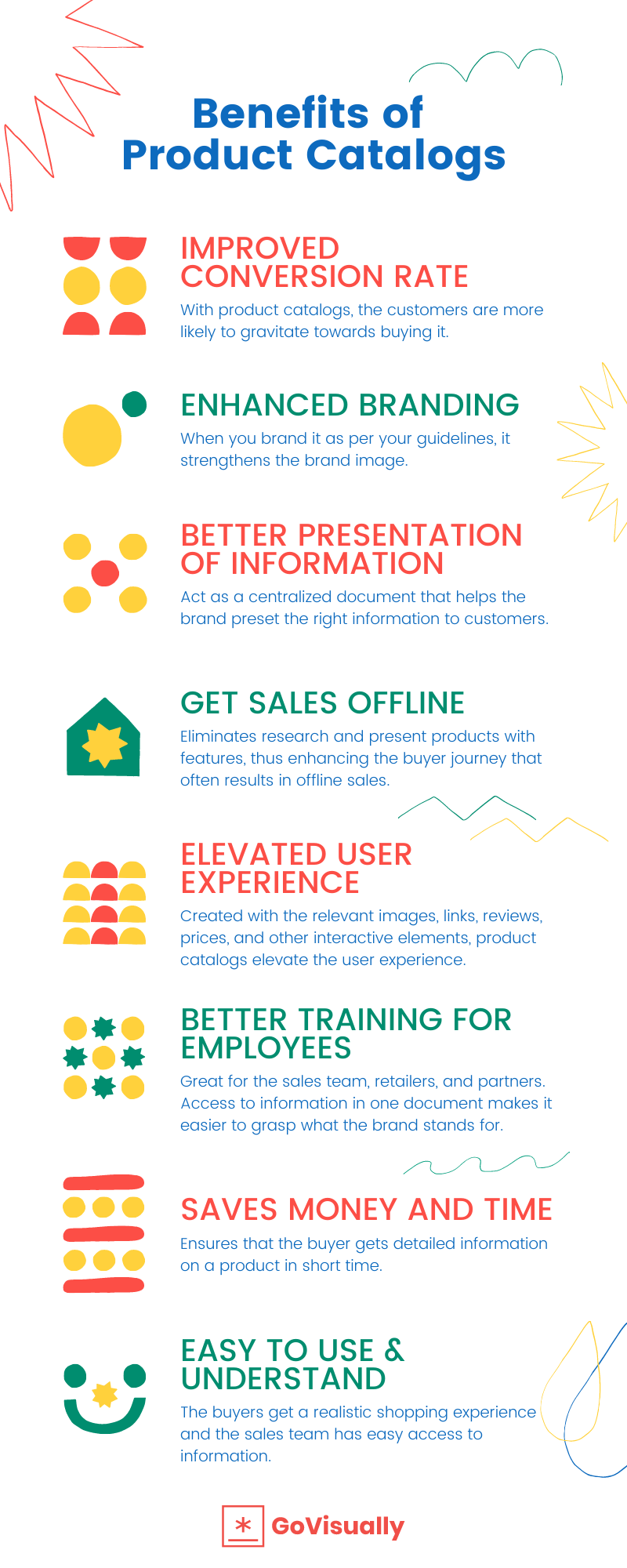 What Makes a Good Product Catalog?
Now that we know the importance of a product catalog, the next thing that needs to be established is the essence of a good product catalog. What are the elements that make a good product catalog? Let's have a look at all the things that can be added to a product catalog to make the perfect fit for your brand!
Call to Action
The first thing that a product catalog should have is a call to action. Think of the action you want the consumer to take after going through the catalog. It can be anything from reaching out to you to sharing the catalog on social media. Once you have figured that out, you can add it to the catalog. 
Certifications
The next thing that can add an extra flair to your product catalog is certifications. If your products have any certifications associated with them, you can add them to the product catalog. Not only does this provide the client with the necessary information, but it also creates a better reputation for your brand.
Customer reviews
Of course, customer reviews are important! They act as extra credentials in the product catalog and will set a better idea for prospects for your brand. It will also reform a positive image of your brand on the customer's end. The average consumer reads 10 online reviews before making a purchase decision.
Description
Of course, your product catalog will include a compelling, well-written description that represents it not only in a positive light but also accurately. Descriptions are essential for a product catalog since the entire point of the catalog is to present your products to the customer. 
Dimensions
Where applicable, mention the length, height, breadth, weight, the volume of the product. Basically, the more details you add to your work, the better. 
Discounts
Since you want to attract the customer as much as possible using your product catalog, it is crucial to add anything that acts as an incentive to contribute to your brand. If there are any discounts that you are offering them, make sure you specify them on the product catalog to compel them to engage with your brand further.
Features
Again, it is important to share as much information about the product as possible. Therefore, it is significant for a good product catalog to list down all the important features of a product to give the customer a better idea of whether or not the product is a good fit. 
Pictures
A product catalog without pictures is not only dull, but it is also counterintuitive! The primary purpose of the catalog is to show the product. While words are also an important part of that equation, adding pictures to your product catalog is of the essence. In fact, the more pictures you add, the better chances you have of creating a product catalog that converts.
Pricing details
It is also significant to add any pricing details. This will include the price and all the available methods that the users can pay through. You can also include the currency and geography if applicable. 
Return/refund
Not all product catalogs have this information included, yet it is the one thing that many customers are looking for. Therefore, if you want your product catalog to sit right with your customers, ensure it includes such information that the customers are naturally looking for. 
Examples of Good Product Catalogs
Discussing the elements of a good product catalog can only help us so much! Looking at these elements in action will be even better in gauging what the perfect product catalog is supposed to be like. 
Here are a few examples of product catalogs that are sure to leave any prospective customers astonished.
Bellroy
The product page for Bellroy is an incredible example of a product catalog. Not only does it include the right information, but it is also interactive, minimalistic, and works on resolving the problem for the customer. You can take inspiration from them and model your product catalog with these elements.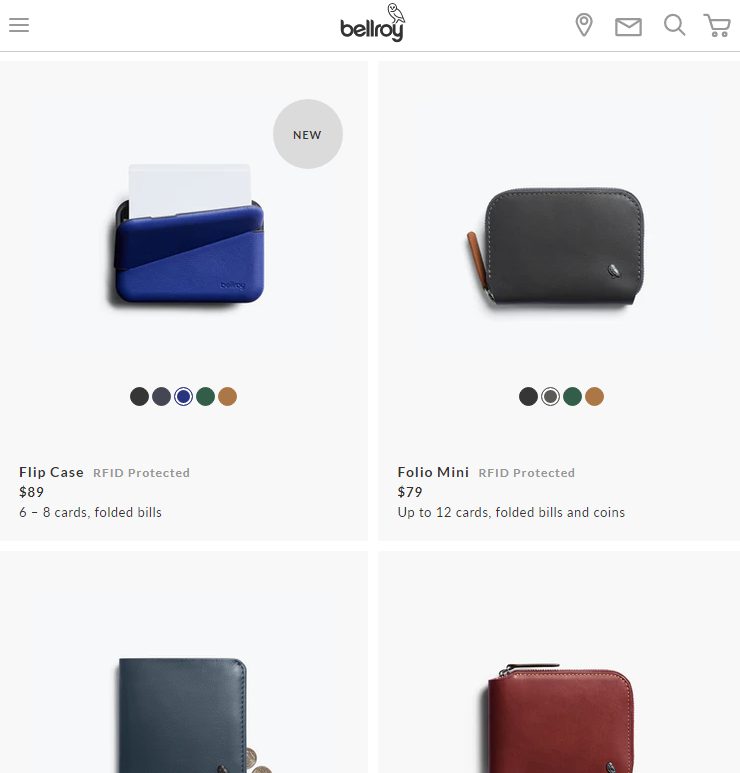 Wistia
The product page Wistia offers is also awe-worthy. It incorporates a bunch of color graphics that play very well into the overall feel of the brand. There is a video that contains any important information the customer would want to find out. There is also a very compelling call to action involved.
Again, the page ticks off some of the most important pointers of a good catalog and is a good inspiration for you and your brand.
Oreo
Another website that includes a brilliant catalog is Oreo's! Yes, your beloved cookies also give us one of the best product catalogs out there. It has a bold approach, amalgamates the ideals of marketing with loads of creativity. This product page can also be used as a template for your product catalog.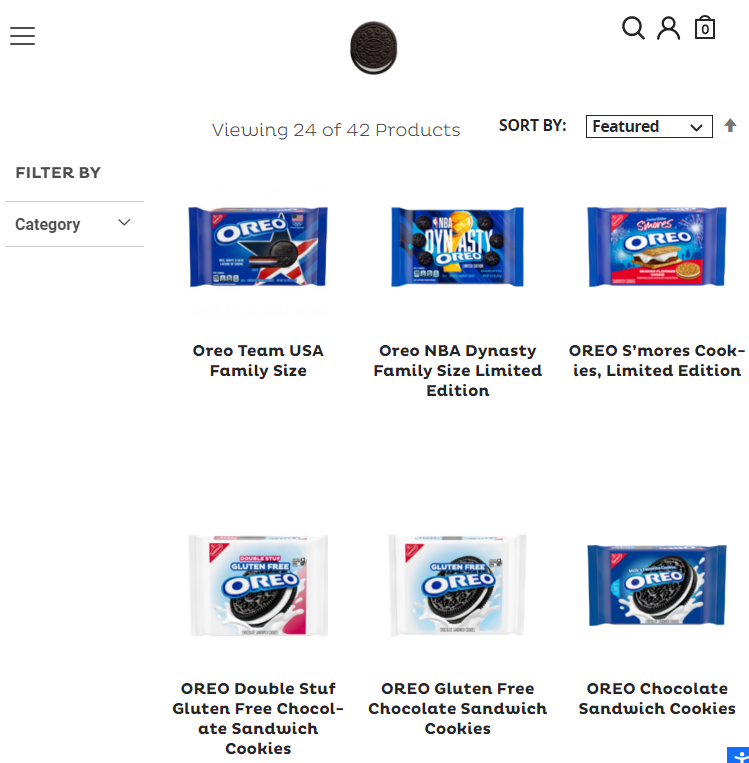 At this point, you should have a better idea of what a product catalog does and what are the key elements that go into making a product catalog better than others.
How to Pick the Right Software for Your Product Catalog?
Naturally, the best way to pick the right software for your product catalog is to get the one that helps you add the aforementioned elements into your catalog. In addition, you also have to look at whether or not the software aligns with your sales and marketing goals. 
Best Catalog Building Software
If you want to create a catalog, the following applications can be of help:
Publitas

Prisync 

LucidPress

FlippingBook

Catalog Machine

Akeneo

Flipsnack
Best Catalog Management Software
For catalog management, some of the apps mentioned above can be used. In addition, the following software is a good option if you're looking to manage your catalog digital:
ServiceNow IT Service Management

Syndigo Content Experience Hub

Salsify Commerce Experience Management Platform

Plytix

SellerCloud

inRiver PIM
Best Catalog Review Software
How GoVisually Can Help You with Product Catalog Creation
So, how does GoVisually make itself a part of the whole catalog creation process?
Well, here's the thing: catalog creation, even with the best apps at hand, is not a one-man's job. You will need all the members of your creative team to get together if you want to put out the best product. Not only that, but you will also have to get some feedback and suggestion from the marketing, sales, and customer success teams. 
Without review and feedback software, it can be tough for you to centralize all your efforts in place. It can also be hard to get feedback on time and manage reviews and approvals from different stakeholders in one place. In short, without an online proofing app, the entire catalog process will be haphazard and ineffective.
That's where GoVisually comes to play!
It streamlines the proofing process for your catalog and allows you to get real-time feedback from just about anyone. Reviewers don't even need to sign in or have an account to give feedback. Not only that, but you can also manage multiple versions of a file within the app easily. 
So, no matter how extensive your product catalog is, editing, reviewing, and approving can be made easy just by getting GoVisually!
Key Takeaway
If you're looking to make some worthy changes to your marketing and sales outcomes, a product catalog can be your saving grace. 
However, to ensure that it is effective and executed perfectly, you need to incorporate the right elements and use the right tools. So, go ahead and bookmark this article, for it will help you create a stellar product catalog, which GoVisually can then help you make even better!