Knowing something you are a part of will work out and make the journey so much more enjoyable in the long run. There is no pressure to work extra hard or put in unnecessary effort. 
Running a business that provides professional services to others is challenging. Knowing the clients you get will stay with you for a long time can make the process much easier. Having a robust client onboarding process can help your business reach new heights. 
Not everything is bound to work out in the end, even in business. Often, there are instances where the clients you pursue are not in the best interest of the company or industry. Knowing which clients are the best fit for your company and which ones won't be suitable before you commit to working with them can be a helpful tool. 
A client intake form can help you stay one step ahead at all times. It can enable you to understand your potential clients better and provide all the information you need whether or not they will be a good match for the services you provide. 
With this post, you can learn more about a client intake form, what a new client intake form template looks like, whether your industry needs it, and all the related information. 
Let's start!
Cut design & video review time in half
GoVisually is the #1 online proofing software to get visual feedback on Designs, PDFs & Video content.
Try GoVisually free today!
What is a client intake form? 
It is a questionnaire provided by a company to its potential clients. It is an essential part of the onboarding process. The client intake form contains questions that enable the company to discover more about the client and determine whether their services will be a good fit for the client. 
The client intake form also serves to provide all the necessary information to the company that can help them devise a strategy for the client. The company uses all the knowledge gathered from the client intake form to deduce which methods will help the client solve their problems more efficiently. 
Which industries use client intake forms?
A wide variety of industries and organizations use client intake forms. These documents can be used by any professional or service provider that deals with clients. From doctors to law firms to estheticians, everyone can use client intake forms for their business.
Some examples of company types/industries that use client intake forms include:
Accounting firms

Law firms

Advertising agencies

Event planners

Medical doctor's offices

Real estate agencies

Tax preparers

Construction companies

Caterers

Videographers and photographers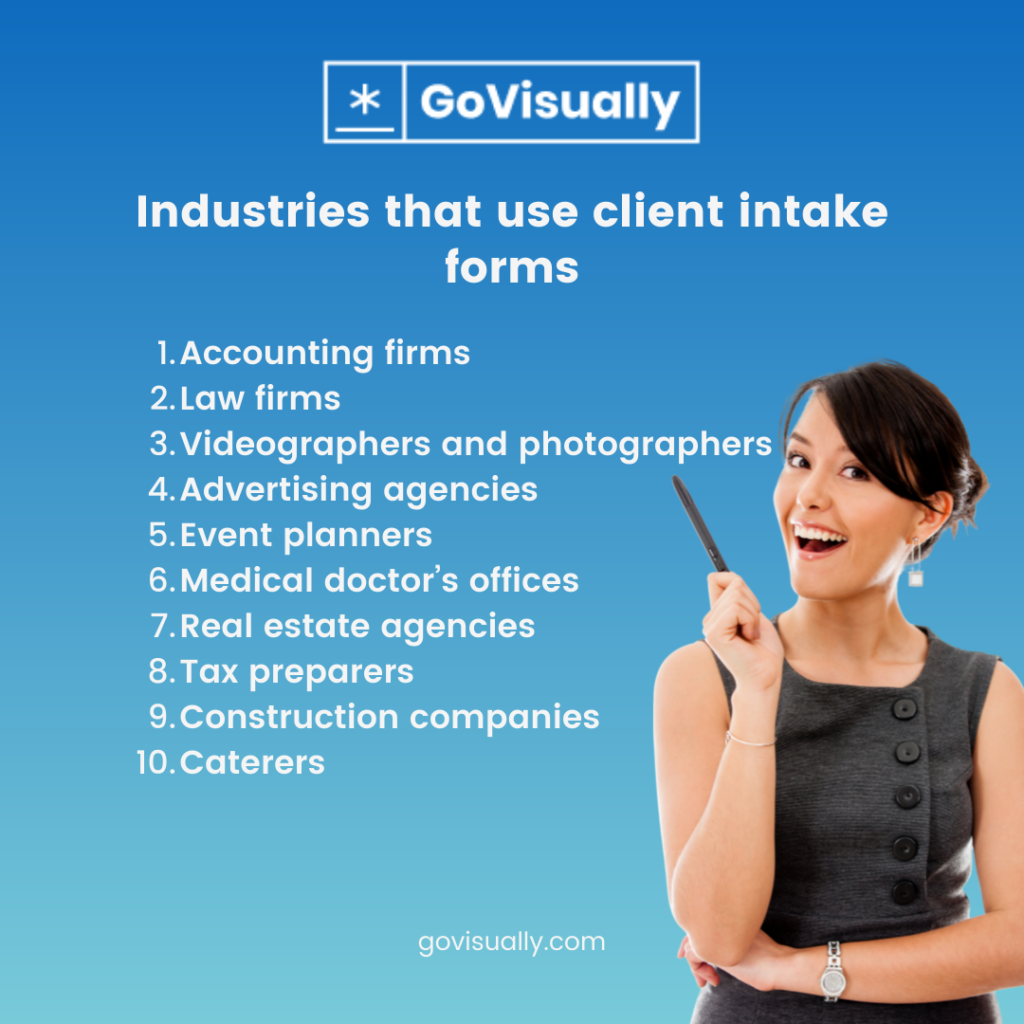 Client intake forms are also crucial for B2B agencies that provide other businesses with SEO expertise, web designing, digital marketing, sales, or other services. Everyone who works in this industry knows that all the companies you come across are not viable as clients. 
Deciding on your own whether the potential business client will be productive in the long run or they will leave you hanging can be overwhelming. Having the correct information to help you make your decision clearly can be beneficial. 
Tips for your client intake form
Gathering all the background information about a potential new client yourself. You have to go through various platforms to find everything you need to know about them. You can also end up spending extra energy trying to track and reach a client who has no interest in you. 
Make it as easy as possible. 
An excellent client intake form should not turn your potential client away from your business. Instead, it should get them excited to be working with you. To make it as painless as possible, you should develop a client intake form that does not take a lot of time to fill out. Keep the questions less and direct. 
Learn how to ask the right questions to obtain all the essential information you need from your client. You should also keep your questions open-ended. Such questions prompt potential clients to give more details, and you can have better discussions with them in person. 
Give a personalized response
Providing an incentive to potential clients for filling out your client intake form can prompt a better and quicker response. You can use the services your business offers and let your clients know that you will give them expert advice or feedback after filling out the client intake form. 
For example, if the potential client is filling out your esthetician client intake form, you can let them know that you will be giving them an in-depth response personalized to their skin needs. After they have filled out the client intake form, you can tell them about the products they should be using or avoiding. 
Understand the purpose of a client intake form 
To come up with the best possible questions for your company's client intake form, you must understand the purpose of the form. You mustn't confuse it with a lead capture form. A lead capture form usually only asks for the potential client's name and email address, whereas a client intake form has more detailed questions. 
Both forms fulfill the purpose of adding potential clients to your list, but a client intake form needs to have questions that give you a detailed overview of who the client is. Once you understand the purpose, you can add questions that can help you know how interested the client is in working with you and availing of your services. 
Don't overwhelm potential clients
The goal of your client intake form is to help you gain information that can enable you to solve your client's problems. You should ask questions to help you achieve your potential client's trust without crossing personal boundaries. The questions you ask should allow your client to feel like you want to help them. 
Always prioritize your potential clients. Asking questions that are not relevant to the services you provide or what they need from you can erode the trust they have in you. Your client intake form is an opportunity to establish yourself as a trustworthy business partner while also finding out important information about your client. 
Benefits of a client intake form
The client intake form can help you weed out the best from the worst and make a more informed decision. There are numerous benefits of having a client intake form for your business. Let's have a look at what some of these benefits are. 
Enables you to show your professionalism 

Lets your clients know about your high-quality service 

It helps you find clients who are a good fit for you 

Saves time on background research on potential clients 

Let's you know precisely what your clients want from you 

It helps you plan your work according to your client's needs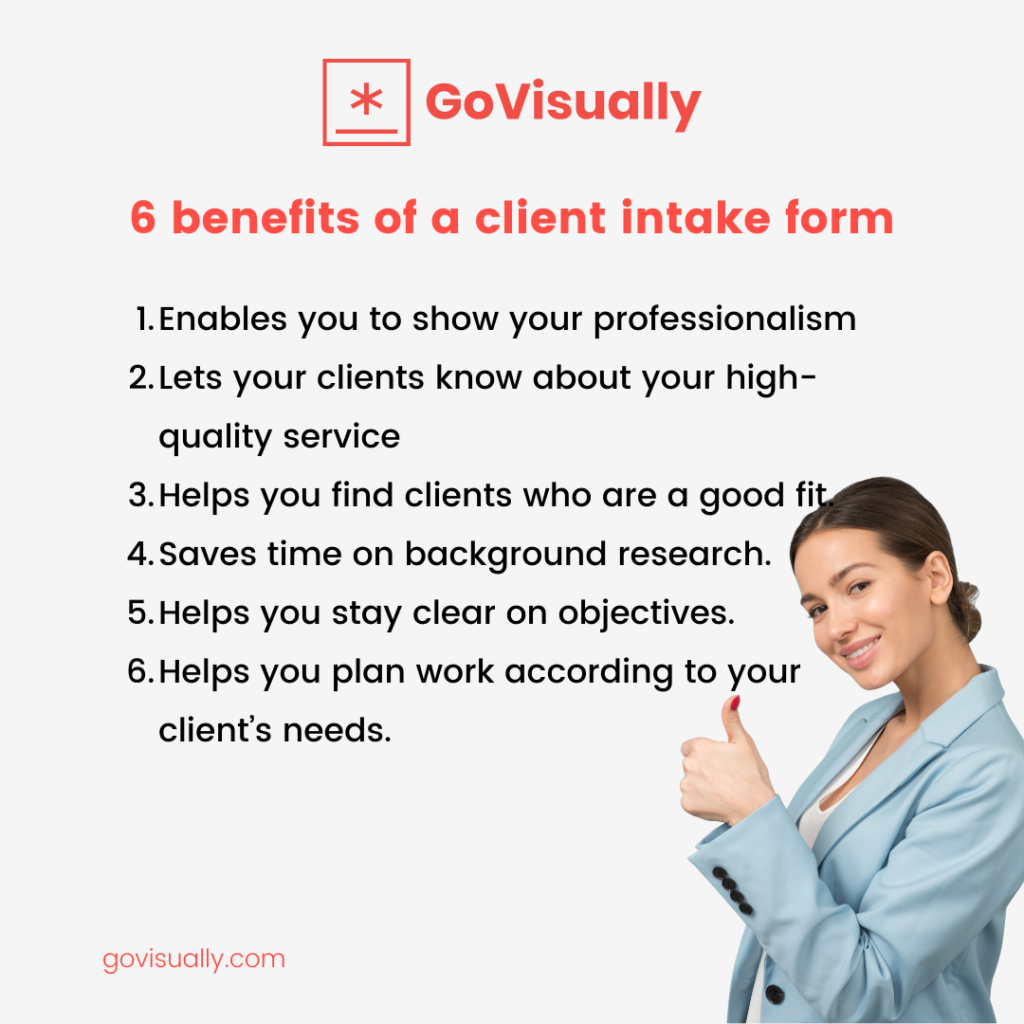 How to create a client intake form for your business?
Creating a new client intake form that suits the services you provide can be a tough challenge. An esthetician client intake form will be different from a medical clinic's client intake form. 
However, the outline can be similar, and you have to keep some points in mind when creating the new client intake form. Here are some things you should include in the client intake form for your business. 
1. Fundamental company and contact information
The essential information about your company and contact is the basics for any client intake form. This information is significant for keeping records and referencing these documents. The client intake form aims to help you and your potential client. Providing the basic details of your company on the form can be helpful for the clients. 
Some basic information to add:
The primary contact at the company

Company's name

The size of the company

The preferred contact methods for the company 
You can also include any other logistical fundamentals that can help provide the clients with a better overview of your company and your services.  
2. Details about the client 
Once you have gone over the basics of your company or business, it is time to get into the more serious things: information you need about your client. If your services are business to consumer (B2C), you can ask for their basic information like name, location, age, etc. 
You need more in-depth information about your potential clients for the business-to-business (B2B) service providers like content marketing agencies. You must ask them what they do and what their business is about. Ask them about the primary services or products they have to offer. This information can help you judge whether they are a good fit for your company to work with or not. 
You can ask them about how they view their company and the values their brand believes in. Having this information can help you approach them and interact with them going forward. 
3. Challenges faced by the client
You can finally start to see what your potential client needs and how you can help them through this section of the client intake form. Allow them to explain what issues they are facing currently. These issues can be anything. You can understand better how you can provide solutions for these problems once you have clarity about the situation. 
For example, an esthetician form can enable the client to tell your agency about all the issues they might be facing with their skin and the products they are using. You can use this information to figure out a skincare regime that will be best for them. 
Similarly, a massage therapy form can ask the clients about any pain or tension they feel in their bodies. This information can be used to develop a therapy session with them, and you can focus on the areas that are troubling the client. 
4. The client's goals
Like the section above, this section can also help you figure out what your client is expecting from your company. It can be helpful for you to determine whether your company and services can provide the client with what they are looking for. The client's goals offer a clear picture of what their expectations from you are. 
This section can help you understand better how well the working relationship with your potential client will be. For B2B companies and agencies, knowing about the client's expectations and goals is even more crucial. 
If the client for your B2B company has expectations too high or out there, you will know that you cannot meet these expectations, and the working partnership will not be viable. After going through this section, you can have an honest conversation with the potential client and tell them if you can or cannot provide them with what they want.  
5. Information about the budget and project cost
Information about your client's budget or how much they are willing to spend is one of the most crucial parts. It can help you decide if it is feasible for you to work with them or if their budget is too low. 
For B2B service providers, you must ask potential clients for their budget information so you can keep it in mind when developing a strategy for them. Knowing how much they are willing to spend on your services will ensure you don't go over the top and use more resources to provide any extra services that they are not paying you for.  
For B2C and B2B service providers, you can also provide your potential clients with packages with varying prices. Let the client choose which package they want to sign up for, and you can provide your services based on how much they are willing to spend. 
The next step…
1. Proofread
The most crucial next step is rechecking and proofreading the form. You must get insights and feedback from other people on your team. 
You can use online proofing software like GoVisually to share the client intake form with team members. Using GoVisually for this task will help you eliminate long email chains and the hassle of going back and forth with your coworkers. You can get feedback directly on the document and make all the edits and changes in real-time.  
2. Sharing the form
After proofreading and finalizing the client intake form, you need to determine how you will be sharing it with your potential clients. You can upload the client intake form on your website and direct potential clients to the page through your marketing. 
Another way to share the form with your potential clients is by sending it to them directly. This option enables you to customize the form for each client and make them feel like you pay special attention to each potential client. It will take more time, but starting with your business can help you create a better relationship with clients.  
You can also use GoVisually share to share the form with your clients from anywhere. It's absolutely free and easy to use!
Client intake form templates 
1. Esthetician client intake form template
2. Massage therapy client intake form template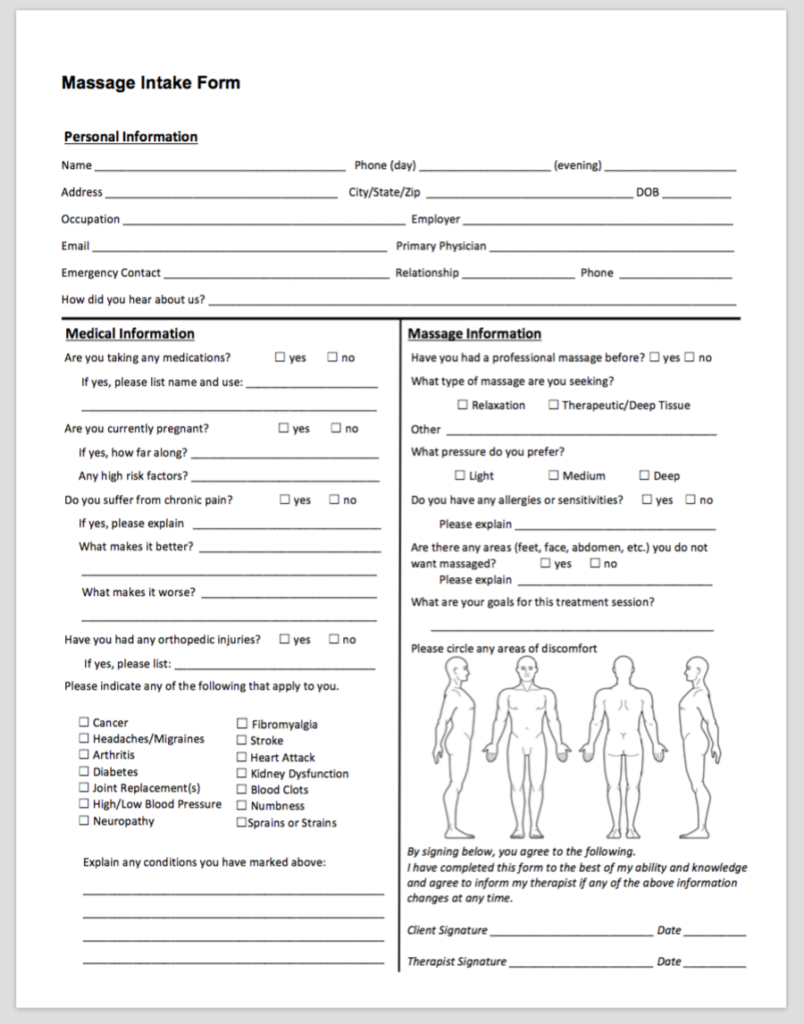 3. Law firm client intake form template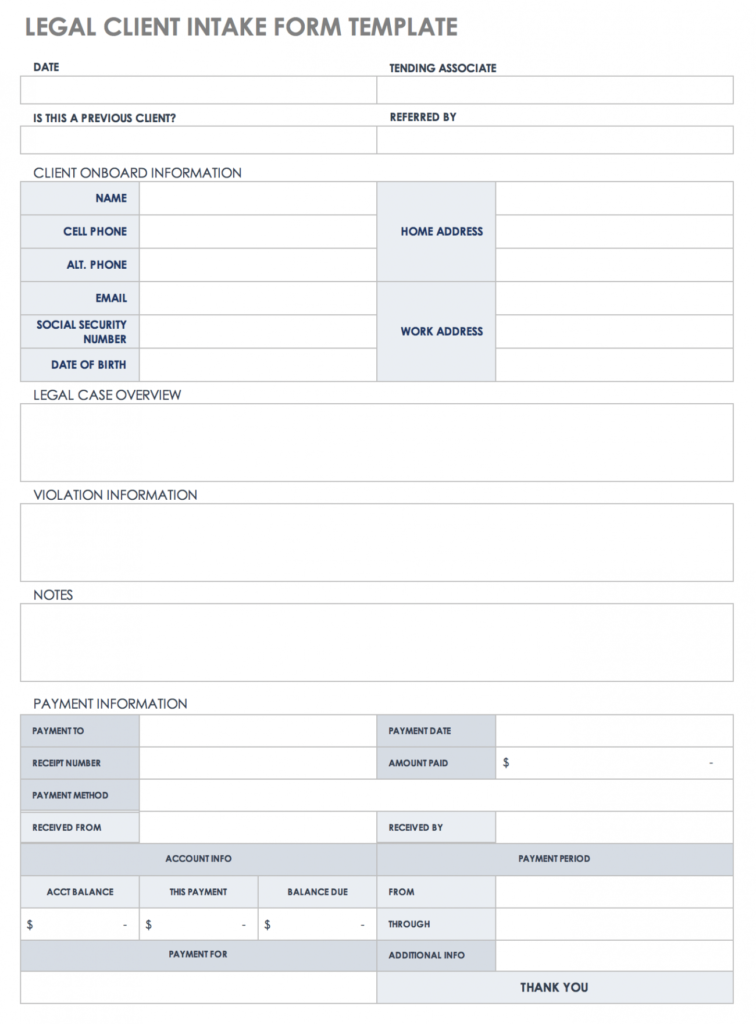 4. Small business client intake form template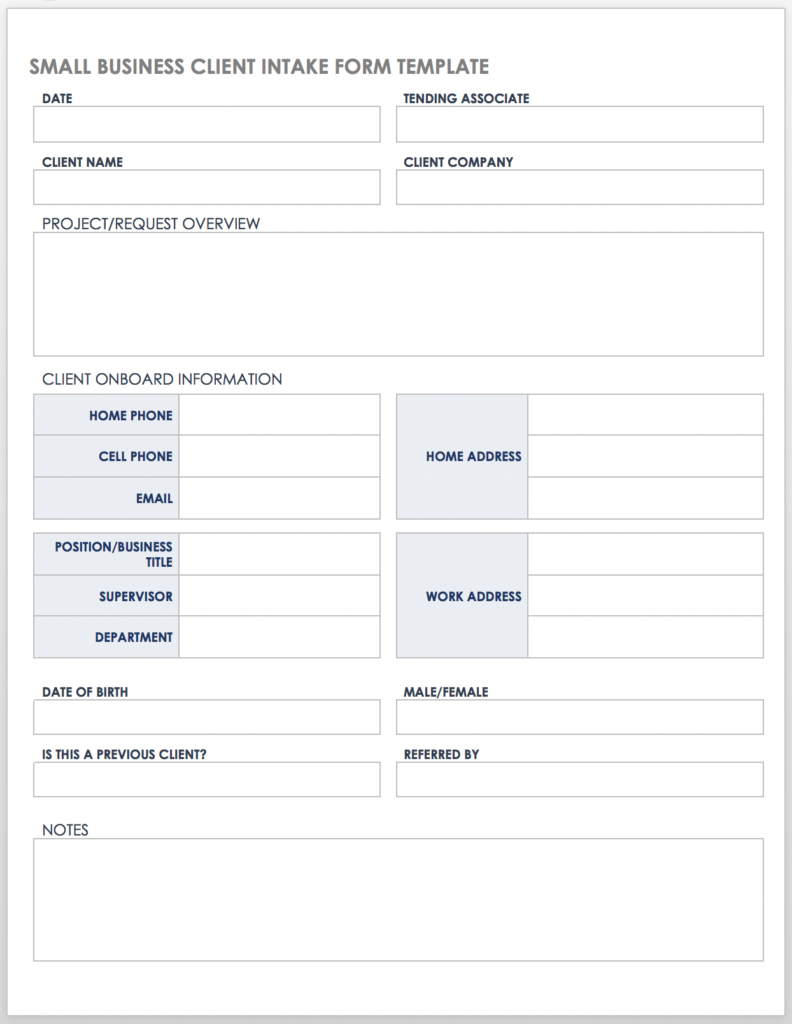 Final thoughts 
Intake forms are one of the most potent weapons in your arsenal. It is essential that you use them for your client onboarding process. These forms can help you determine whether the potential client will be a good match for your company and the services you provide.
They can help you understand what your clients want and provide personalized solutions for them. This is what every client really needs – dedicated and personalized solutions!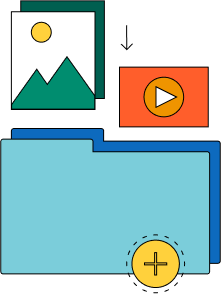 Need a quick way to share large files and creative assets?
With GoVisually Share, it's absolutely free! Try today.