Lack of seamless collaboration is a recurring problem in marketing agencies. 
In fact, as much as 71% of employees worldwide report that staying well connected with their colleagues boosts their productivity. This is because collaboration is an essential part of any successful marketing team.
Now, there are several great collaboration software and platforms for marketing teams. But choosing the best ones becomes a problem. This is why, in this article, I'm going to walk you through the 6 essential collaboration software for marketing teams.
These are the 6 that you'll swear by in 2023.
5 features of the ideal collaboration software for marketing teams
Before I spill my favorite pick of collaboration tools for marketing teams, let's look at the 5 essential features that make great software!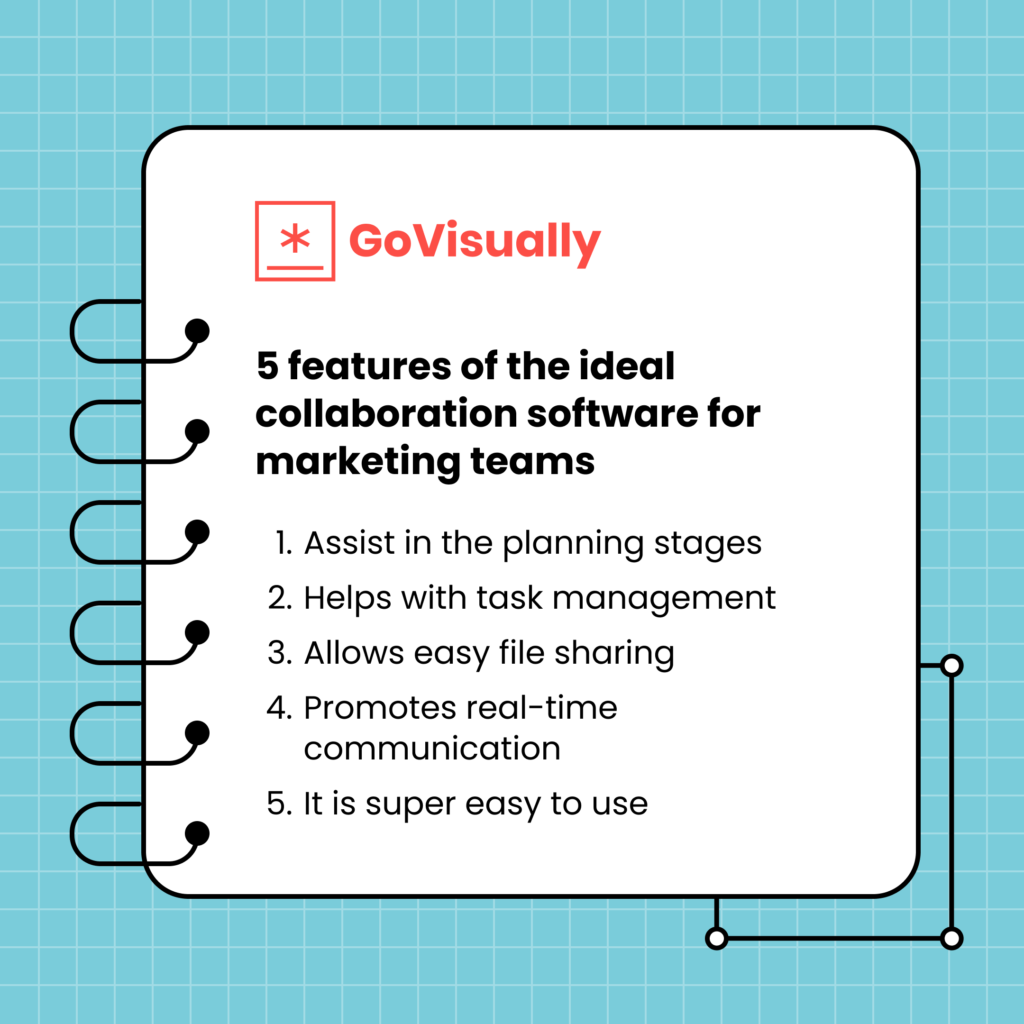 1. Assist in the planning stages
While you may find a plethora of collaboration software for marketing, there's a scarcity of tools that assist marketers with the planning and strategizing stage for campaigns. 
This phase of marketing projects often requires a lot of collaboration and can be very time-consuming unless the team can generate successful marketing ideas quickly. This can be particularly hard if an effective collaboration tool is lacking.  
In particular, marketing teams need tools that allow them to generate ideas quickly, prioritize their best ideas, and help them allocate resources to the specific campaigns and strategies expected to bring the desired results. 
Collaboration features streamline the planning process and data-driven insights that enable teams to make more informed decisions about which ideas to pursue and optimize campaigns once they are underway. 
2. Helps with task management
Once you're done with the arduous planning stage, it's time for the marketing managers to create a task timeline for the event. 
This timeline outlines the tasks and activities that need to be completed and the workloads of each team member to achieve the campaign's goals on time. The purpose of an effective timeline is to distribute the tasks and resources appropriately, ensuring that every task is allocated sufficient time and that resources are readily available when needed. It also ensures that the workload of each team member is manageable. This can effectively streamline the workflow and bring significant results. 
Effective task management requires clear communication and collaboration within a team. It is important to establish clear roles and responsibilities among the team and to ensure that team members have the resources they need to complete their tasks. 
Regularly reviewing and adjusting priorities is also important to ensure that the most important tasks are carried out first.
3. Allows easy file sharing
The file-sharing feature in collaboration software for marketing allows team members to share documents, files, and clients easily. In addition, the feature can give access to other members and clients to your documents, images, graphics, and other files with permission. This is particularly important in the marketing industry, where teams often need to share and collaborate on various types of content.
The file-sharing feature provides a central location for storing and sharing files. Consequently, this can help streamline the collaboration process and reduce the risk of lost or outdated documents. It can also make it easier for team members to access and work on files from any location, which is especially useful for remote teams.
4. Promotes real-time communication
Effective communication is key to successful marketing among team members or clients. This is because real-time communication allows team members to communicate with each other. This can be done via video conferencing or instant messaging. 
This is particularly important in the marketing industry, where teams often need to work quickly and make decisions on the fly. Interestingly, 80% of businesses utilize social collaboration tools to improve their operations.
Real-time communication can help teams stay up-to-date on the latest developments in the project. Plus, this also ensures that everyone is on the same page. It can also reduce the need for lengthy email chains or in-person meetings, which can be time-consuming and disruptive to workflows.
5. It is super easy to use
Marketing teams already have a lot on their plate and don't typically have much time to learn the complicated software's ins and outs.
Marketers and their teams need an intuitive tool that is easy to use so they can start using it immediately without a lot of training or onboarding.
An easy-to-use collaboration tool can help teams get up and running quickly. This is essential to ensure that projects stay on track and are completed efficiently. It can also reduce the time and effort required to complete tasks, which helps improve productivity.
Top 6 collaboration software for marketing teams to sign up for today!
Several tools available can amp up communication and creative collaboration among your marketing teams. Here are seven of the software: 
1. The best software for creative review and approval – GoVisually
Looking for the best collaboration software for marketing teams?
GoVisually is your solution!
GoVisually is a proofing software developed for marketing teams. It offers a wide range of features that make it easy for teams to collaborate and work on marketing projects, including task management, file sharing, real-time communication, and project management.
One of the key benefits of GoVisually is that the leading software directs its focus on visual collaboration. GoVisually includes various tools that make it easy for teams to share and work on visual assets, such as images, graphics, and designs. This can help streamline the collaboration process and make it easier for teams to create and refine marketing materials.
Key features
GoVisually is a unique software popular for creative asset management due to its advanced proofing features, such as:
Leave comments directly on videos and PDF annotation features make it a strong option for creators. 

The software's collaborative user interface, which includes a sidebar showing comments, conversations, and design revisions, makes it easy for teams to collaborate on creative assets with team members and clients. 

GoVisually supports various file types, including image and video formats, making it a useful tool for marketing agencies and other creative professionals.
Security
GoVisually has incorporated several features that protect your data from the risks of theft. 
The workflow management tool complies with the General Data Protection Regulation (GDPR), which helps ensure user data privacy and security.

GoVisually utilizes a highly-rated data center with multiple industry-recognized certifications, including SAE16 SOC-1 Type II PCI. These servers are designed to maintain the highest level of security and privacy for users.
Pricing
GoVisually offers two pricing plans:
Solo – ideal for individuals/freelancers

Team – ideal for teams and agencies
While Solo is $20 per month, Team costs $50 per month. Both are billed annually. 
The Solo plan is targeted to only 1 user and has limited features, like, 10 Projects, email support, smart compare revisions, and @mention reviews. On the other hand, Team provides a wide range of features, including 1000 projects, unlimited revisions, Adobe extension, and automated reminders, to name a few. 
2. Software for project management – Trello
Trello is an easy-to-use project management tool and collaboration platform for marketing that allows teams to collaborate and track the progress of tasks in real-time. It uses a visual Kantan board with interfaces with boards, lists, and cards to help users organize and prioritize their work.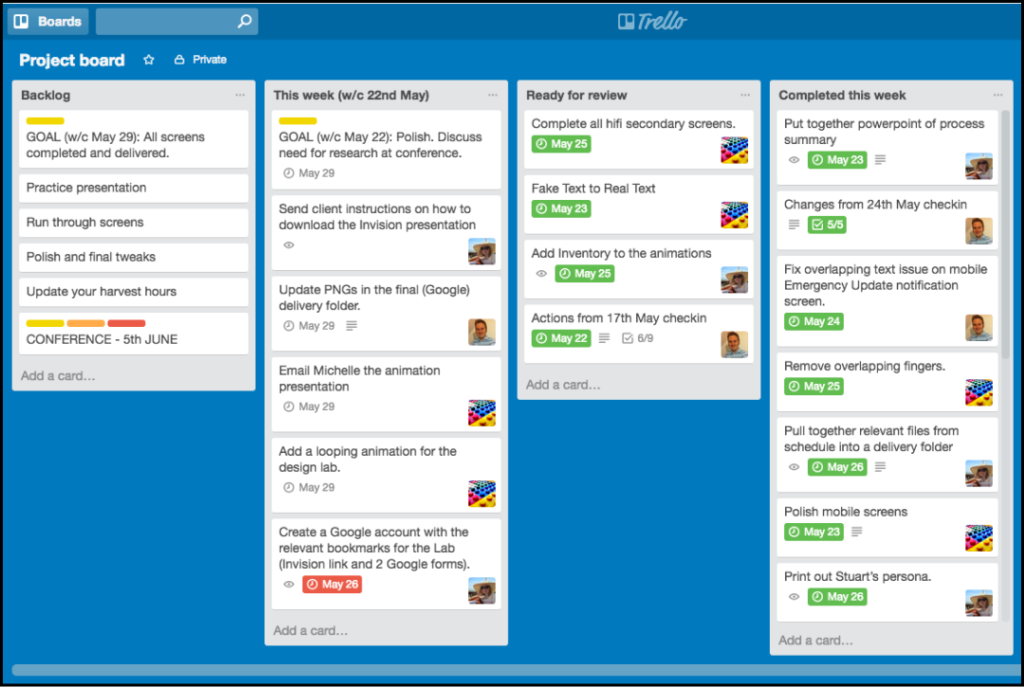 Key features
Here are some of the most popular features of Trello: 
Trello allows you to categorize projects with specific labels such as completed, in progress, or need to be done, which helps keep the dashboard clear and organized. This feature also allows users to adjust the tasks as per priority. 

With Trello, users can create teams and add new members to projects at any time, create new task cards, attach files, add checklists, and create project descriptions. 

The collaboration tools also integrate with other collaboration software for marketing. This allows users to set deadlines and due dates. These deadlines can be easily accessed remotely via any device. 
These features make Trello one of the best collaboration software for small teams. 
Security
Trello is certified as Level 1 PCI DSS compliant, meaning it meets all six categories of PCI standards. These categories include:
Building and maintaining a secure network

Protecting cardholder data

Maintaining a vulnerability management program

Implementing strong access control measures

Regularly monitoring and testing networks

Maintaining an information security policy.
Pricing 
Trello offers the following plans:
Free plan

The standard plan costs $5/per user/month if billed annually

Premium plan $10/per user/month if billed annually

Enterprise plan that costs $17.50 per user/month if billed annually
3. Software for project and task management – Asana
Asana is a tool that helps marketing teams organize, track, and manage their projects and tasks. It allows users to plan workflows and projects with clear deadlines and assign tasks and subtasks to team members. This helps teams stay on schedule and ensures that projects are completed efficiently.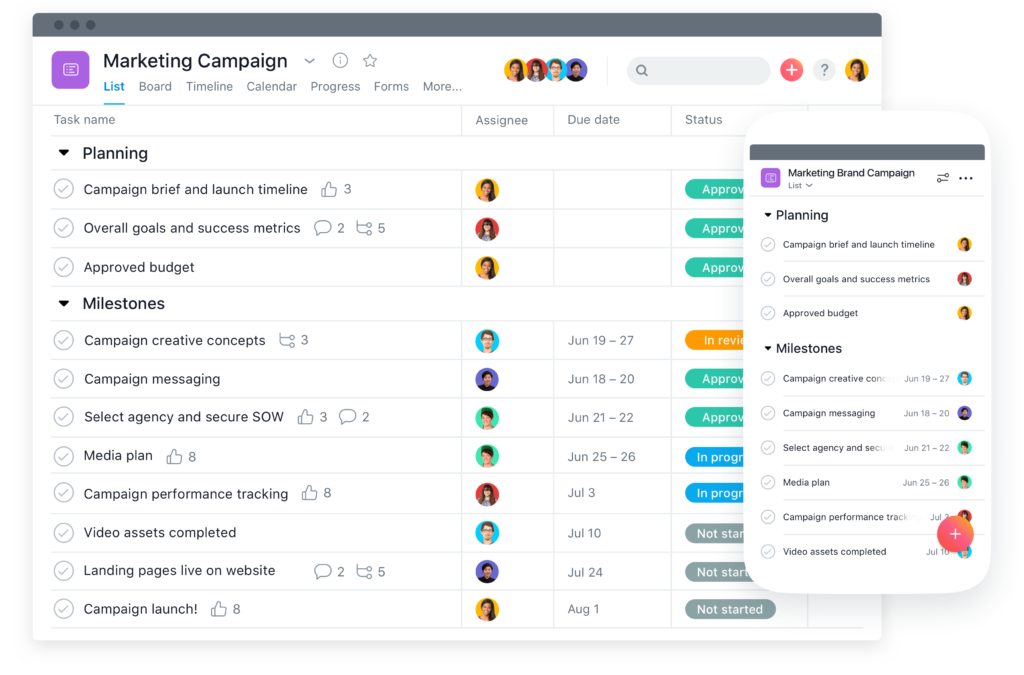 Asana offers customization options to help users structure their projects in a way that works best for them and allows users to track the progress of their projects and tasks to completion.
Key features
Asana offers a range of features that make it well-suited for marketing projects, including:
Asana integrates with various other tools, including Google Drive, Slack, and Salesforce, making it easy to use alongside other software that teams may already use.

It includes various file-sharing options, including attaching files to tasks and collaborating on documents in real-time using the built-in Google Drive integration.

It has a mobile app that allows users to access their tasks and collaborate.
Security
Asana undergoes regular audits and holds SOC 2 Type I and II certificates.

Data is encrypted with TLS when in transit for added security

Asana stores data on Amazon servers.
Pricing
Asana offers the following plans: 
Free basic plan.

The premium plan costs $10.99/per user/month and is billed annually.

Business plan costs around $24.99/per user/per month billed annually.
4. The best software for company-wide communication – Slack
Slack is a widely used marketing collaboration software that aims to facilitate team communication and coordination among various team members. 
It is undoubtedly one of the best collaboration software for small teams. Users can create message groups for different divisions, subjects, projects, or other needs. The user can choose which team members to include in each group.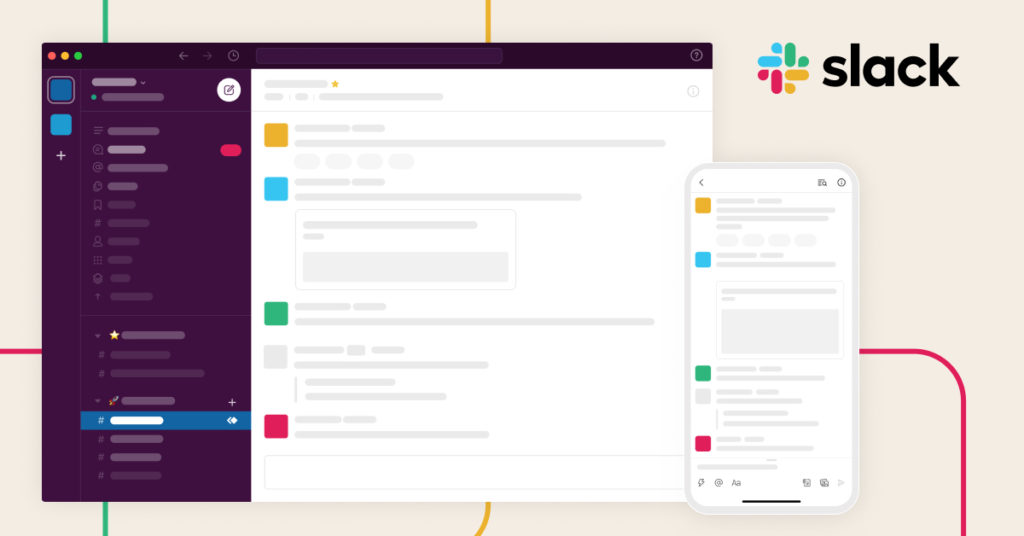 In addition to messaging, Slack also offers video calling, making it easy to hold meetings, communicate with remote team members, or connect with clients.
Key features
Some of the major benefits of using Slack for marketing projects include the following:
Slack allows real-time communication among team members and accesses a chat-like history of messages, which can help improve the flow of communication and make it easier for team members to stay up-to-date on projects and tasks. This also allows team members to contact each other in case of confusion and doubts effectively. 

Slack can help teams work more efficiently and get more done by streamlining communication and collaboration.

Slack allows users to customize their messaging and communication settings, including notification preferences and integrations with other tools, to suit their workflow.

Slack has a mobile app that allows users to access their messages and collaborate on the go. 
Security
Slack introduced "enterprise key management" in 2019, allowing administrators to track who shares what and to revoke access permissions for specific users.

Slack is certified by various compliance organizations, including Cloud Security Alliance and ISO/IEC.

The standard versions of Slack (Free, Standard, Plus) are not compliant with HIPAA regulations.
Pricing
Following are the pricing plans of Slack:
Free plan.

Pro plan that costs around USD 7.25/month per user.

The business+ plan costs around USD 12.50/month per user.

Enterprise Grid. Contact the

sales team

to get a quotation. 
5. A quick fix for all marketing and design collateral – Canva
Canva is a popular graphic design platform. But, the application is often used by marketing teams to create and share visual content such as social media posts, banners, brochures, ads, and other marketing materials.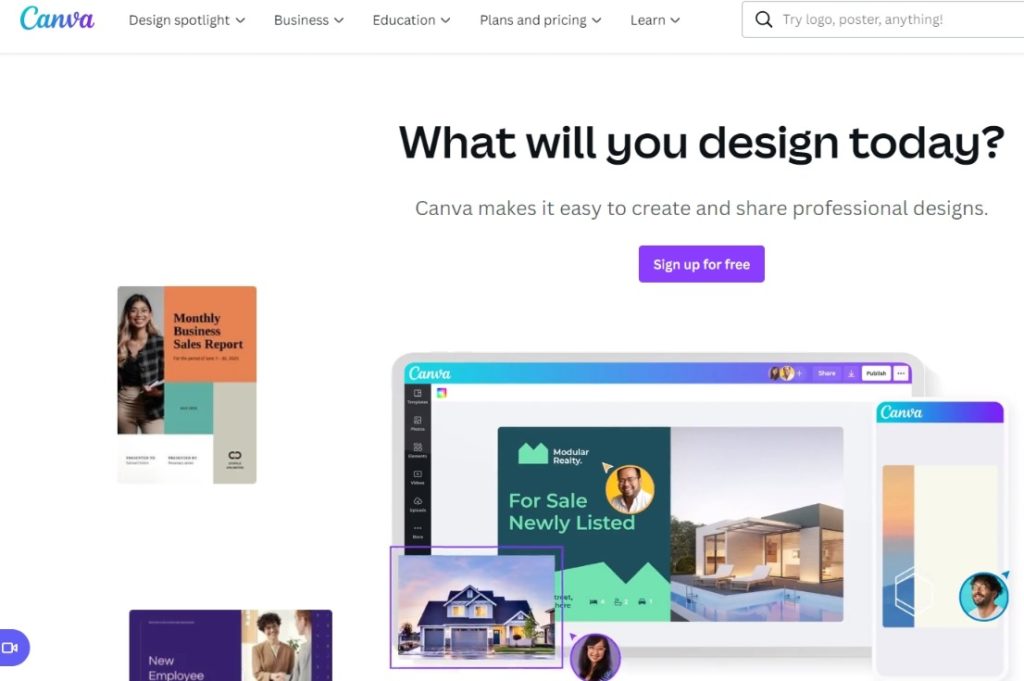 Key features
Canva is a flexible collaboration software for marketing that offers a range of features, making it well-suited for marketing collaboration, including:
Canva has a user-friendly interface that any nomad can easily use to create creative and artistic designs.

Canva offers a large library of templates and design resources, including photos, illustrations, fonts, and more, that users can customize to create professional graphics for their brands.

Canva integrates with other third-party websites, including social media platforms, email marketing tools, and more. This can result in seamless

collaboration among the teams

. 
To create a successful marketing campaign, Canva allows users to invite team members to collaborate on projects, allocate tasks, and publish or share designs from a single platform. Additionally, Canva includes a real-time comments and reactions feature that allows team members to leave feedback on designs.
Canva's insights function also helps the teams track progress and see how their designs perform.
Security
Here are some security features of Canva:
The software uses bank-level encryption to protect user data and information

Canva is compliant with industry-standard privacy regulations, including GDPR and HIPAA

Canva offers protected file-sharing and collaboration features to ensure the safety of shared content and data

Canva allows users to specify permissions and control who has access to their content and data within the platform
Pricing
Canva offers the following plans:
Canva Free

Canva Pro costs around $54.99 per year for one person only. 

Canva for Teams costs around $84.90 per year for the first 5 people. 
Integrate collaboration software with GoVisually to achieve your marketing goals faster!
With the above 5 top collaboration software, you can beat all your deadlines easily! More importantly, you can integrate all of therewith GoVisually to double your efficiency.
With GoVisually's integration with your favorite collaboration tools, you can join forces to meet all marketing goals and KPIs faster and better.
Happy collaboration!