We have all heard the saying "teamwork makes the dream work," and it is indeed true for all teams.
Collaborative working has become essential for companies in every industry. When people come together to work on something, productivity and efficiency go to another level.  
Although bringing all departments of a company together to work and collaborate is never an easy task, once you do, you can see clearly how much it benefits everyone on the team. There is a chance one team does not want to work with the others. Maybe there are too many remote workers in your workforce, or perhaps every meeting seems draining and unproductive. 
Using the correct collaborative working tools can help you create an excellent collaborative working environment. Everyone on the team can understand what other team members are doing, and there can be a sense of appreciation and teamwork amongst your crew.  
So, let's get into what collaborative working is and why it is essential for internal growth. 
What is collaborative working? 
Collaboration is when a group of people comes together to work and make decisions as one. When it comes to collaborative working teams in the workplace, it means when employees from various departments come together as collaborative working teams and make decisions that help with the internal progress of each other and the company as a whole.  
Collaborative working spaces in the workplace enable all workforce members to understand problems and share their ideas to develop innovative solutions for various issues a company faces. Whether a team is working remotely or from an office space, collaborative working occurs everywhere. 
6 reasons why collaborative working helps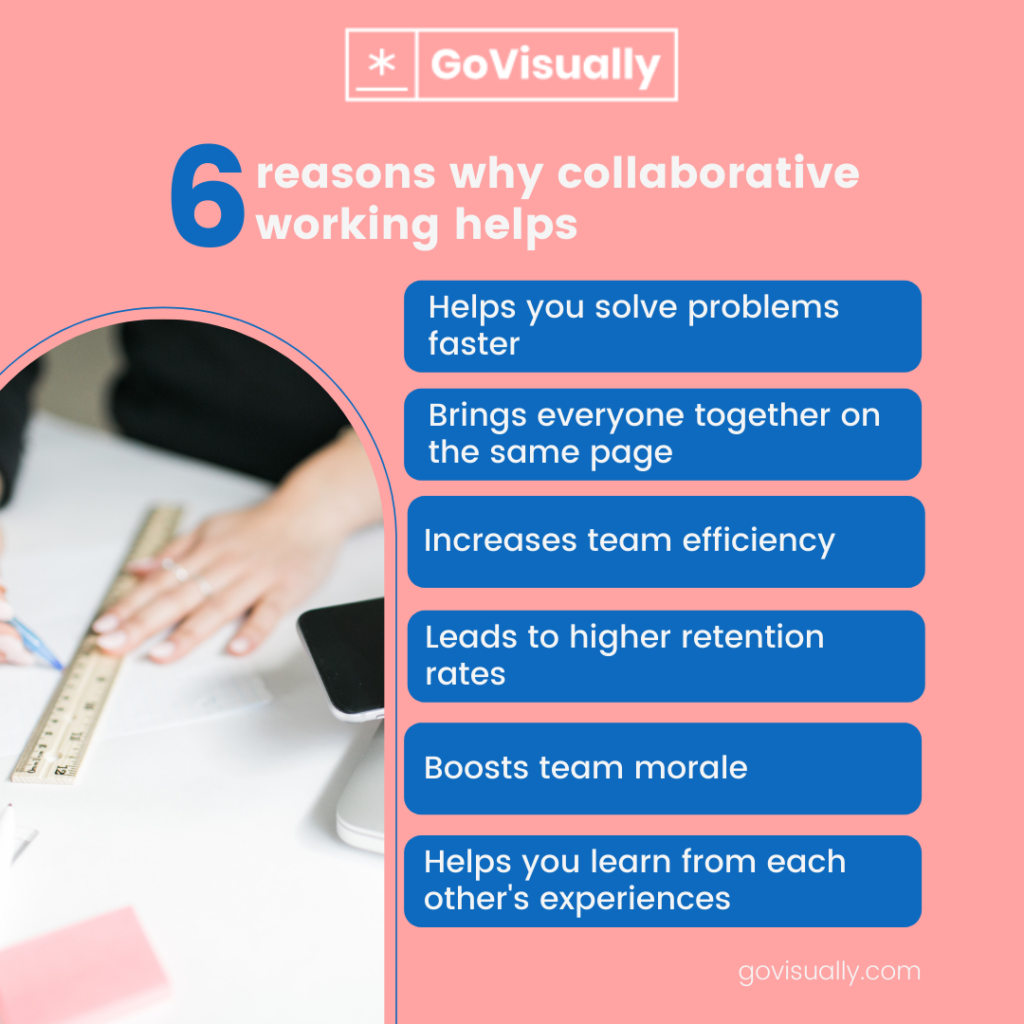 1. It helps you solve problems 
Let's say you've made great strides on your project, but you've encountered an obstacle that seems to oppose anything you throw at it. You have no ideas, progress has stalled, and your deadline is getting closer. What do you do when you are at a standstill? Will you give up? 
No, of course not; you will ask for help or find another perspective. You can schedule a brainstorming or whiteboarding session with your team or ask a colleague for their opinion. In short, you work with your team to solve the problem at hand. 
If a group of people pool their knowledge, skills, and experience, then talk about the problems and discuss possible solutions, the stalled projects will move forward again. But collaboration doesn't have to be the last resort. Collaboration should influence the way your team works. The more eyes on a particular project from the start, the easier it is to spot and provide solutions to the problems. 
2. Brings everyone together 
When you are a part of an organization, you can often notice how certain people don't interact with others in the workplace or stay closed-off. If every department is working in isolation, creating a collaborative working environment can help you bridge the gaps between the teams and create a mixed-skills team. 
For example, you can create a collaborative working team with a user experience designer, web designer, content writer, and product designer. Putting people from diverse departments in the same group can help them get to know each other better and come together to provide creative and innovative solutions. 
Collaborative working spaces enable you to break down walls between all the departments of an organization and help them understand each other more. It is a crucial step in ensuring that people working for the same company get along and build strong connections amongst all departments. 
3. Learning from each other 
One of the most effective things regarding collaborative working teams is that everyone brings different ability sets and backgrounds to the table, and all workers are learning from their experience. Collaborating with team members or other groups should be considered a learning experience, and you ought to attempt to build the most out of it.
Learning from a collaborative working environment isn't just a good thing; It's the primary step towards building a workplace culture focused on learning and development. This implies posing for feedback and opinions, sharing knowledge, looking for however your collaborators approach their facet of the project, and gain a far better sense of how they work.
People who work in collaborative spaces don't just have a chance to be informed from other team members—their mistakes, successes, failures, workflow, etc.—they'll also understand the opposite team's perspective. You get an opportunity to listen to their facet of things: their pain points, priorities, even the manner they think, which may be very valuable for your internal growth. 
4. It leads to higher rates of retention 
Collaborative working spaces create an environment that is connected, open, and engaged. The employees become part of collaborative working teams and enjoy their time at the workplace. It helps you create a workplace environment that is appealing to all employees, whether current or future. 
Compared to other workplaces and organizations where all departments are disconnected and work in isolation, you can create a company culture that most people want to be a part of through collaborative working. When collaboration between all teams and members is front and center for your organization, it will prevent your employees searching for jobs elsewhere. 
A collaborative working environment increases the trust between all workers and creates a place to feel empowered. When your employees have a workplace where they feel understood by all their peers and respected, it is bound to increase your retention rates and keep your employees around for a long time. 
5. Boosts everyone's morale 
When working in collaborative teams, people are more likely to form strong bonds and trusting relationships with everyone, boosting their morale and motivating them to work even more challenging. Your organization will reach new heights with a higher sense of trust and constant morale boost. 
When you get your employees to work with people from various departments regularly and collaborate with them, you allow them to build relationships that will last a long time. Collaborative working empowers everyone to understand each other's problems and work together to get solutions. It is the best way to build trust in the company. 
Getting a morale boost is crucial for everyone working in an organization or company. It helps you stay motivated and achieve your full potential. The results you can gain from collaborative work show everyone that working together can help everyone achieve success.  
6. Increases efficiency for everyone 
Working on your own has its advantages. You can focus entirely on one project while not having to consider what amount of hours you tend to lose if you get distracted or how to put together the perfect team and check on them to ensure they meet the deadline. If the task you are working on needs independence, then, by all means, choose it. 
Except for many sorts of projects, collaborative working is more efficient. When the project you are working on is complicated and demanding, you have got to be able to admit to yourself that you would like help. 
And that's wherever collaborative working comes in. It helps us divide up a significant workload, realize inventive solutions to problems, and wrap our heads around the big picture. Companies that recognize collaboration as an enormous part of their culture are the pioneers of normalizing this kind of work, creating an appealing, fun, and efficient environment for everyone. 
Tips for collaborative working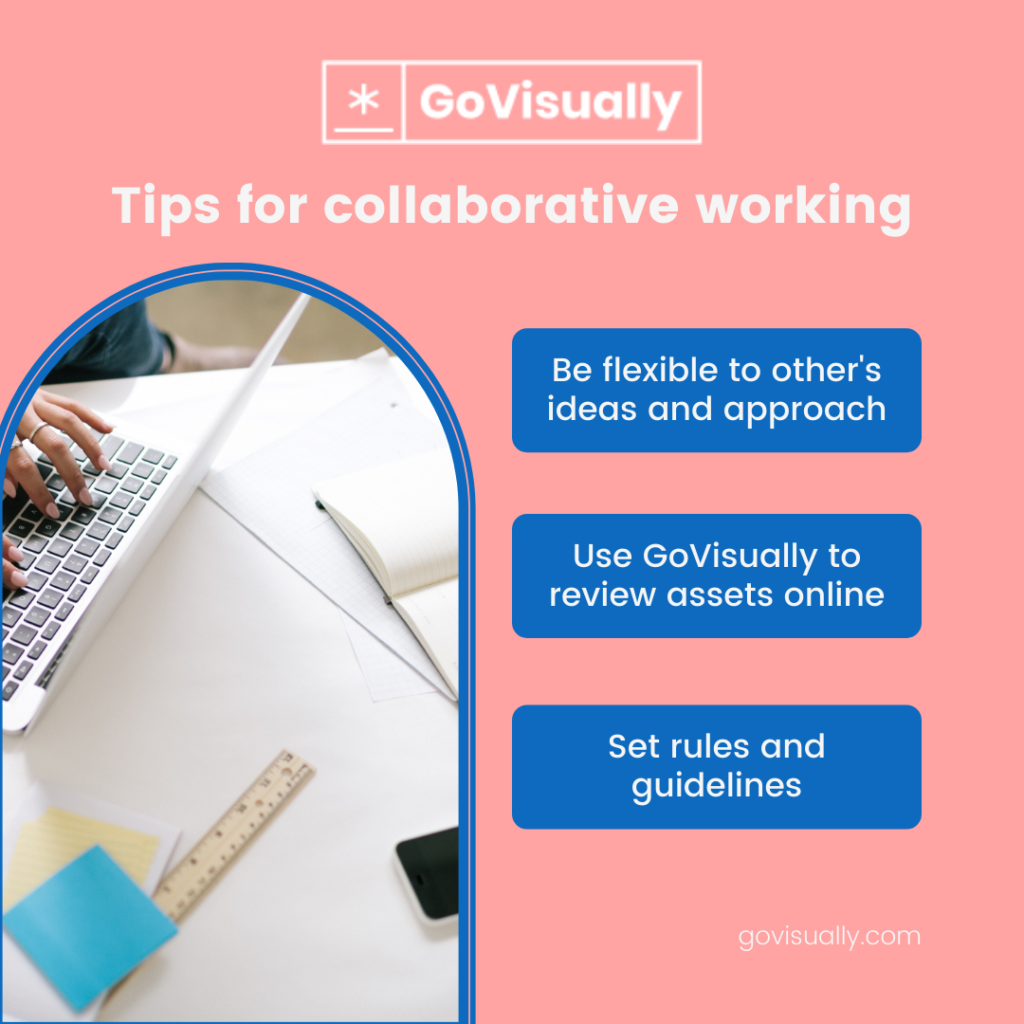 Be flexible 
When creating a collaborative working environment in the workplace, you have to keep in mind that you are mixing various personalities, and everyone is different. To ensure that everything goes as smoothly as possible, you have to be flexible towards the needs of all your employees and team members.  
Use online proofing tools like
GoVisually
If you want to make the collaborative working process as seamless as possible, you must use tools like GoVisually. With the help of GoVisually, you can let team members work together on a project and simply review the process. You can also invite external reviewers to comment and give feedback.
GoVisually effectively cuts down the need for extensive email chains. And you can receive feedback and make edits on any project in real-time, making the process more efficient. 
Set rules and guidelines
Collaborative working means you have a huge number of people working together. If you fail to set some ground rules, there is a significant chance of chaos in the collaborative working space. You must also set goals for all projects and ensure everyone knows what they are working towards. 
Final Takeaway 
Collaborative working is crucial for internal growth and creating a healthy company culture. It is the key to building trusting relationships. When people from different departments come together to work on projects, it creates an environment where everyone feels comfortable working.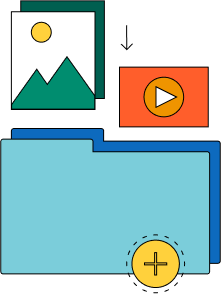 Need a quick way to share large files and creative assets?
With GoVisually Share, it's absolutely free! Try today.