How much can some common content mistakes possibly cost you?
Well, one typo is all it took for a Japanese firm to lose $225 million in seconds.
Indeed, that was years before the era of technology, but such mistakes are still rampant in the current content marketing scenario. And it's not simply typos but also a content strategy loophole that is often overlooked.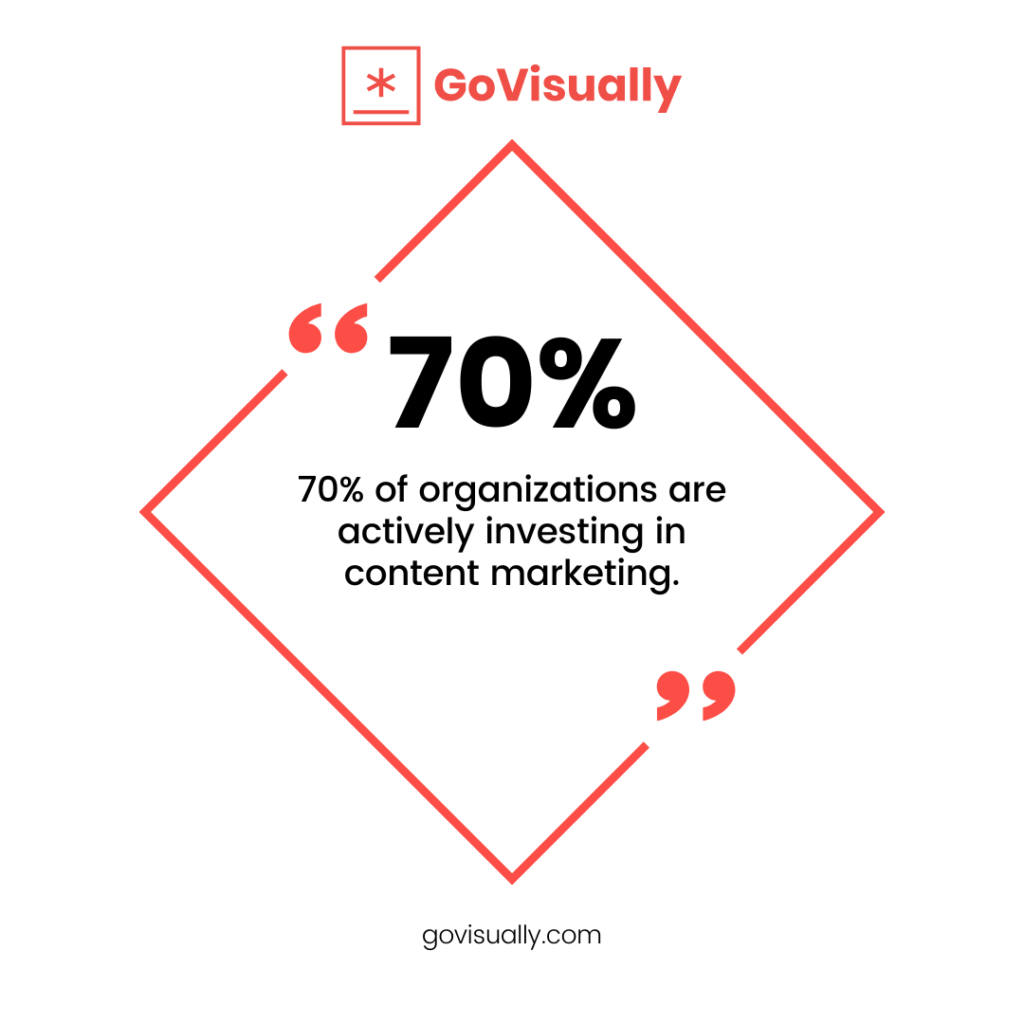 Daily, we consume heaps of visual and written content, and the bar is set higher every minute. However, mistakes in content strategies and the creative collaboration process can cause great damage to your brand's reputation.
In this guide, we will be saving you from falling victim to the disasters of ineffective proofing with examples and solutions.
So let's begin! 
What are content and content marketing?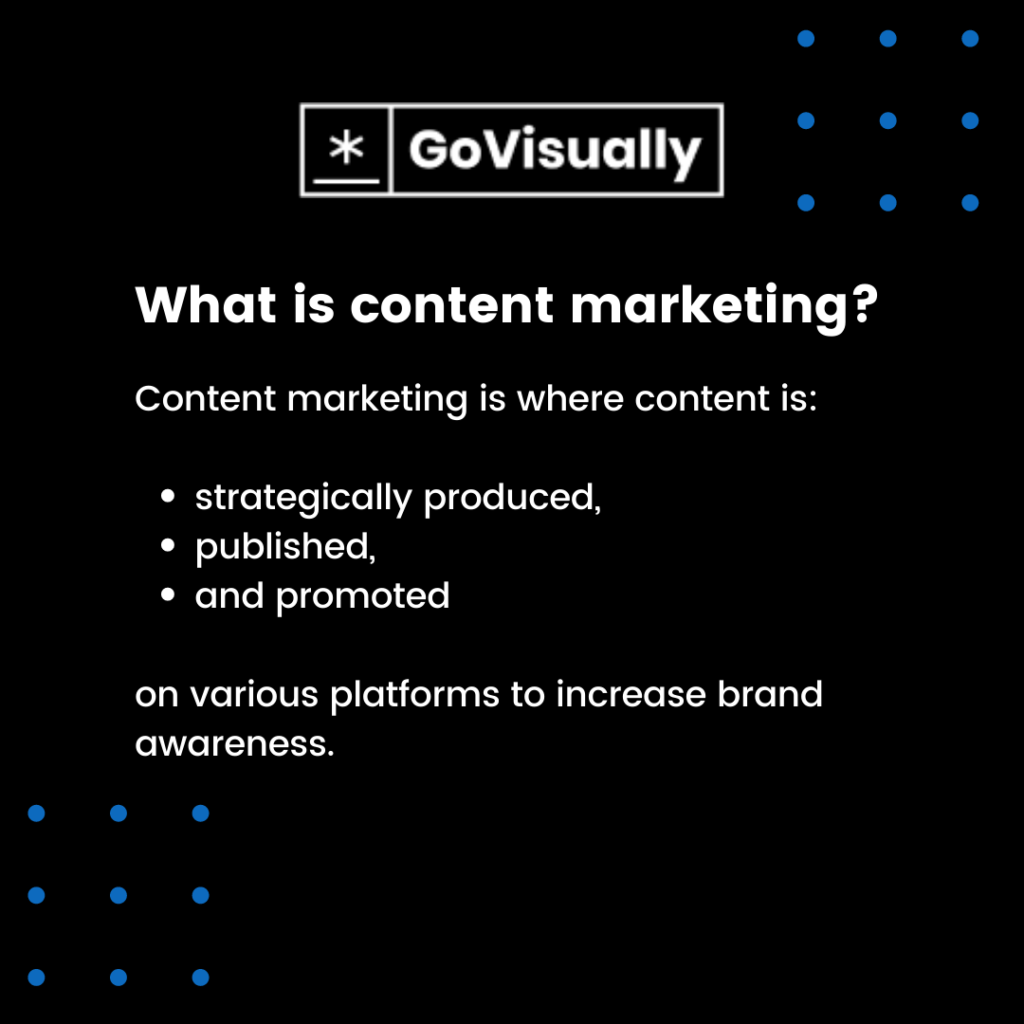 Content is all sorts of information contained within communication media. Everything around us is a form of content, from books, physical art, audio, and visuals to movies, series, and live events. 
Content marketing is where content is strategically produced, published, and promoted on various platforms to increase your brand awareness.
For creators, the audience is their muse. Whether our day-to-day interactions with media online or in person, we are surrounded by an abundance of content all the time. Regardless of their niche, thousands of organizations create and share content globally.
With so many viewers sharing your content, even the most common content mistakes can cause a downward spiral for your brand image, lead to serious investment loss, and, yes, it's embarrassing.
What are the 5 types of content used in marketing?
With the trend toward digital marketing and the development of advanced online platforms, content creation evolved considerably in the past few years.
So look at the 5 main types of content used in marketing today.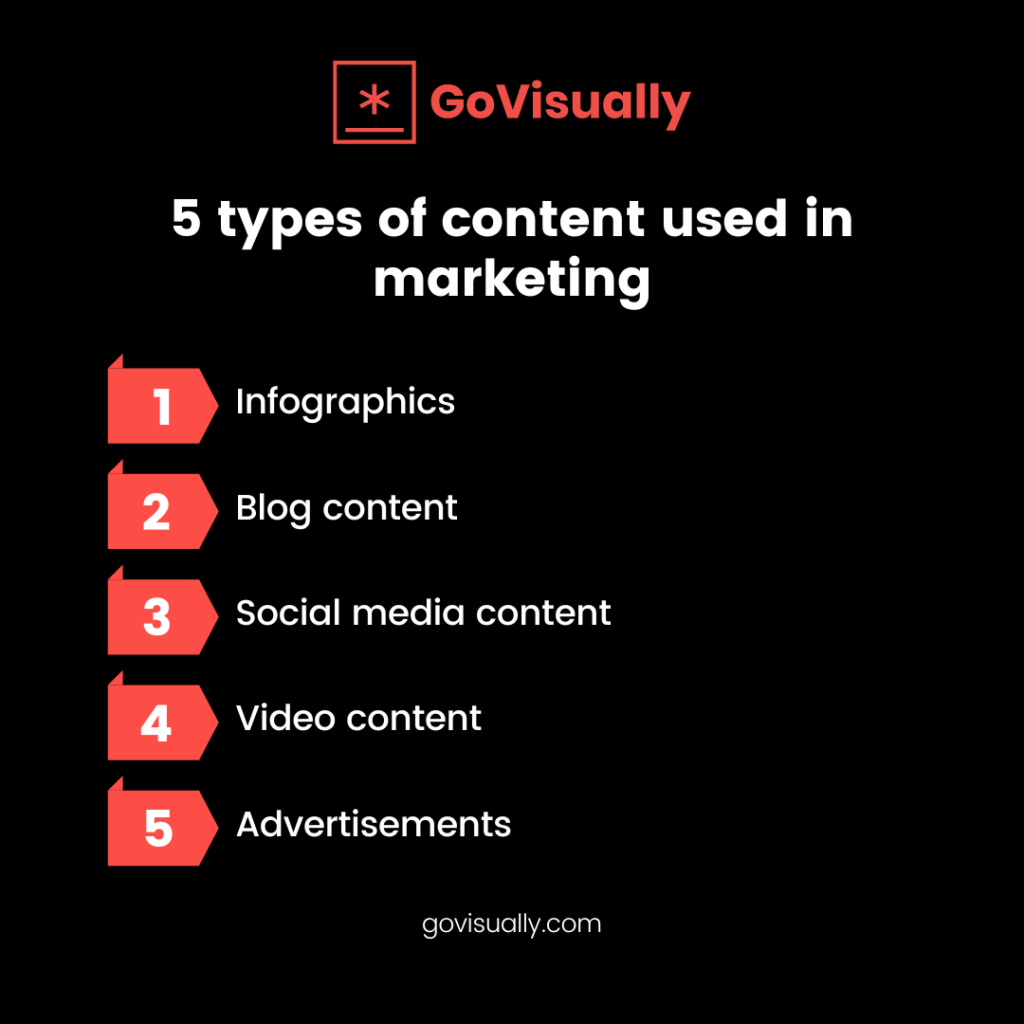 Infographics 
Out of all other content, infographics are the most impactful and, unfortunately, the least used by marketers. They are more intently used by business forecasts, research forums, and the healthcare industry.
Of course, infographics can't be used everywhere, and you shouldn't be squeezing them into your content. But choosing the right graphics and the right strategy can elevate this content format to its true potential.
Blog content 
Blogs still account for the greatest source of online content. Today, brands and organizations are more eager to provide value through their content than as a marketing tool. The speed of knowledge exchange beyond the physical realm and worldwide is a mere second.
Even now, you're reading this blog aimed at providing guidance for marketers and helping them equip their work models with the right resources.
Social media content
Social media never fails to hit us with an influx of content every moment of our day. It's competitive and packed with all types of content, like images, texts, videos, and more. Businesses today use social media as they once used billboards for large-scale advertisements.
Social media plays a significant role in segregating conventional marketing means from digital ones. It's cost-effective, user-friendly, and expands beyond geographical limitations.
Video content
Platforms like YouTube and Instagram have redefined how we use videos in marketing. Not only that, but videos have also become an integral part of website content and even live content. Aren't we all blown away by the visuals of 3D commercial billboards at the NY Times Square?
Advertisements 
Content advertising and content marketing are essentially two different domains. Content marketing brings you organic leads and brand awareness. Meanwhile, content advertising is a paid method of doing so. It's closer to how we did Ads campaigns before the digital revolution.
Although, ads-based content is still content. And it continues to remain dominant in the marketing business, albeit done differently. From Google Ads, Social media Ads to Video commercials on YouTube and, as mentioned above, live advertisements, all of them remain as relevant as ever. 
14 common content mistakes you should avoid – Image
Your infographics might be eye-catching, the blogs and e-books might be educational, and your visuals and videos might blow everyone away. But if your graphic design process isn't smooth, your team is having difficulty collaborating, and your content is filled with errors and lackluster ideas, your content strategy isn't working.
Here are some common content mistakes, why they occur, and how to avoid them to help you rise above the mediocre creative fallacies and run your content marketing campaigns more effectively.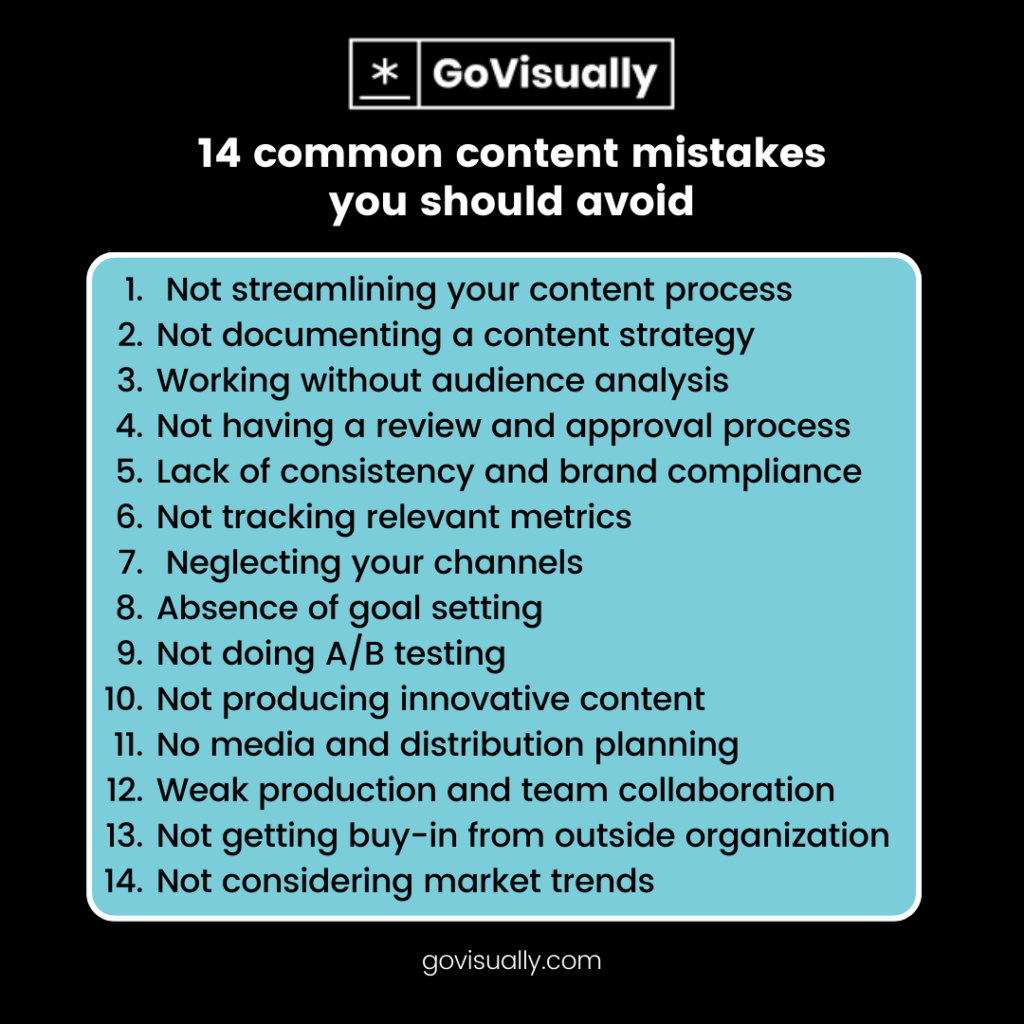 1. Not streamlining your content process 
Setting up guidelines, crafting a project timeline, and utilizing the right business management tools is necessary for any creative workflow in this era. Your team might be working remotely or in the office. Either way, a streamlined content creation process ensures that everyone remains updated and productive.
A major mistake that arises from not having a well-structured creative process is running late on deadlines and making last moment adjustments that eventually lead to many errors and typos in the final draft.
You can avoid being caught in tandem by setting strict instructions and timelines and ensuring the workflow is smooth for everyone on your team.
2. Not documenting your content strategy
With a million other tasks to carry out, this must seem unimportant. However, having a documented content strategy will help you check those boxes as you progress and keep everyone under your direction on the same page.
Humans are forgetful creatures, so don't just keep it in your head. We have documents for a reason, right? Use business management tools to keep yourself and your team in check.
3. Working without audience analysis
If you don't understand your audience, your content will be of no value. The greatest misconception of content marketing is that you already know your audience from the last month's research.
That's not it.
Quality content requires consistent research and audience analysis to ensure you're putting the right words out there at the right time. You can start using user-oriented analytics software and tracking audience behaviors on your and your competitor's content to get started.
4. Not having a review and approval process
This will turn into an endless sermon. So let's keep it short. Every error in content creation is natural from the creator's standpoint. It's not a one-man show. Establishing a review and approval process for creative teams is crucial.
It's even better to bring all your team members and stakeholders on the same platform and go through a review cycle every time a milestone is achieved. It will improve workflow, ensure brand compliance and make projects clear deadlines faster.
5. Lack of consistency and brand compliance
You should know that this is bound to happen when you don't have a content strategy or a streamlined feedback process. The competition for releasing more content and the scattershot approach to creating content will lead to inconsistency and a lack of brand compliance. 
Your strategists won't know what they should include in the blueprint. The writers and editors won't know if it fits the brand image. Most importantly, your audience will remain confused about your brand identity.
Use convenient communication channels and collaboration tools to help you ensure brand compliance for your business content strategy.
6. Not tracking relevant metrics
From key progress indicators (KPIs) tracking to content audits, ensure you stay on top of the chain by collecting relevant data about your content's performance.
We suggest you do content audits at least twice a year, depending on your yearly strategies. It will help you reform your approach to content when needed.
7. Neglecting your channels 
A lot is going on everywhere online. If your organization handles multiple marketing channels and social media platforms, it's common to neglect a few low-performing or less populated platforms and produce low-quality content for them.
This is the worst thing you can do to your business. It will harm your brand image and diminish your authority. Rather than taking over as many platforms as possible, we suggest businesses focus on the platforms most relevant to their niche and the type of content they produce.
8. Absence of goal setting
Art without purpose is no art at all. Similarly, content creation without goal setting is pointless. You have to determine what you want this one content piece to achieve.
Who should it reach? 

What will it do, inform or inspire?

What type of response are you looking for?
These questions are essential before you embark on your content creation journey. They also help you lay down the basis of your content strategy. Once the purpose of your content becomes clear, the chances of errors will reduce.
9. Not doing A/B testing
This mistake is in line with ineffectively measuring metrics and the absence of goals. If you know what you want to achieve, the second step is to test how different variants will perform. This can be done by doing test runs or small-scale publishing for instant results before going large-scale with your content project.
Look for opportunities to use your team as participants and ask for their feedback; at the end of the day, we are all consumers of different forms of content, so their insight will matter as much as the general audience.
10. Not producing innovative content
When creative teams cannot collaborate effectively, they usually burn out faster. Many organizations fall into the black hole of outdated ideas and reduced productivity in content creators.
All solutions mentioned here will definitely improve your team's productivity and help them break out of the generic content bubble.
11.No media and distribution planning 
The creators and distributors usually work separately with no real-time contact whatsoever. This can lead to misinterpretation of the intent behind any content and misplaced exposure.
As we said before, the best way to minimize this drawback is to bring all sorts of professionals on your team on one platform to discuss matters related to each project in real-time and get everyone's feedback on the spot.
12. Weak production and team collaboration
If your teams work remotely or your stakeholders communicate from far away, it becomes difficult to maintain good communication and collaboration. Your team members will likely miss out on essential cues and instructions.
Good collaboration is also important for effective feedback and approval processes. Using management and collaborative software will improve communication within the team and strengthen the production process.
13. Not getting buy-in from people outside your organization
When presenting a new notion for the next big content project, your team will feel pressured to agree with you. Most of the time, it's not even intentional. Working for the same organization with the same goals in mind can lead to a conformity bias among group individuals.
To give yourself and your creators a reality check before potentially making a very poor decision, you need to reach out to people outside of your organization or the project and ask them for their objective feedback. Sometimes what seems like a great idea is really not that great.
14. Not considering market trends
Employees, managers, and marketers forget to consider outside trends when working in closely-knit groups. It's part of the manager's and analyst's job to keep everyone updated with the latest competitors' movements and popular market trends throughout the project duration.
Sometimes a coincidental event can turn into an opportunity for you to expand your content and brand voice outreach. Staying on the lookout will help you avail such opportunities as soon as they arise.
Some examples of common content mistakes (yes, they were memed!) 
Trying to understand this is truly a contradiction.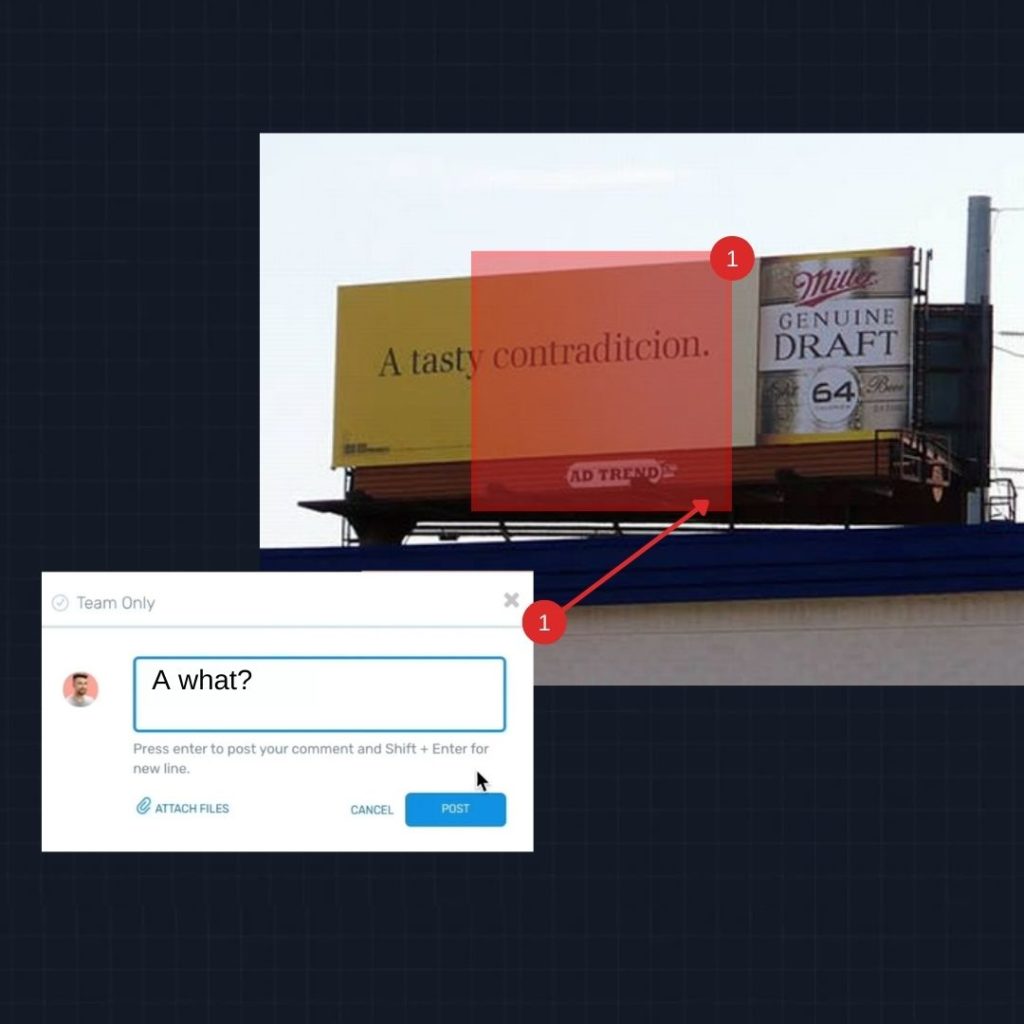 A prime example of using the wrong distribution channels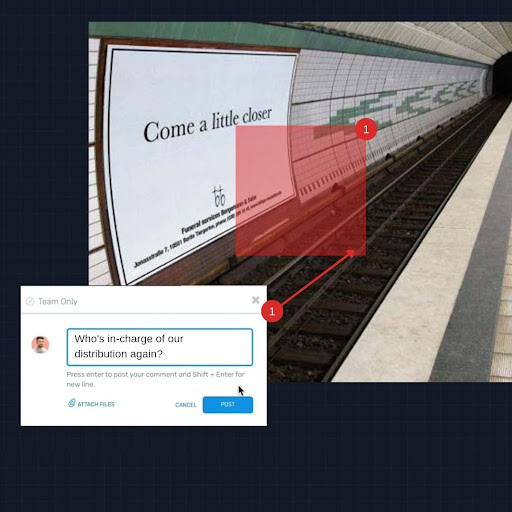 Google says 'severed' means slicing off?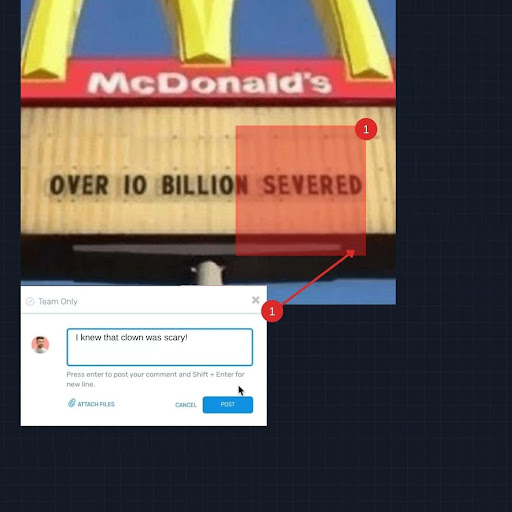 Everybody hates the gym, literally.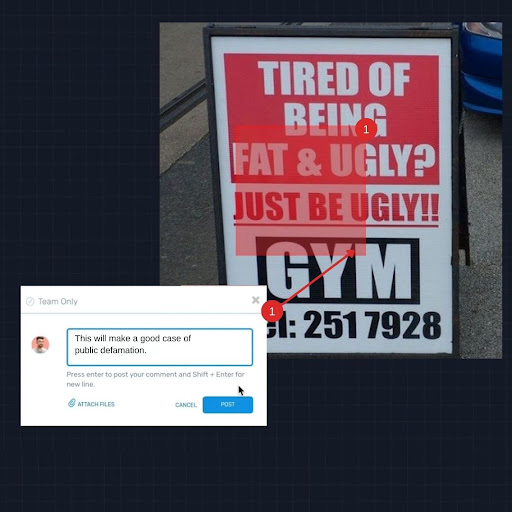 Platinum jubilee who?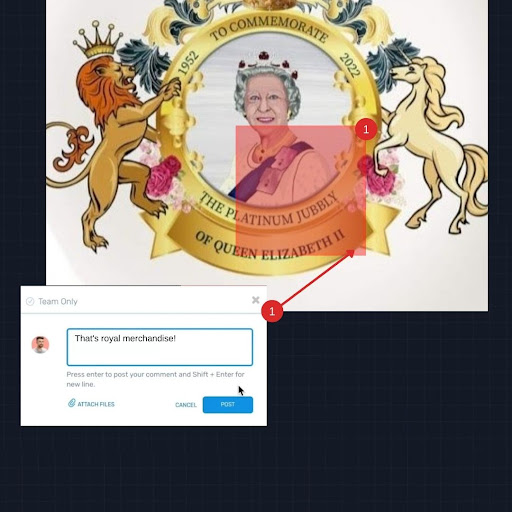 I said, you really lose money over a typo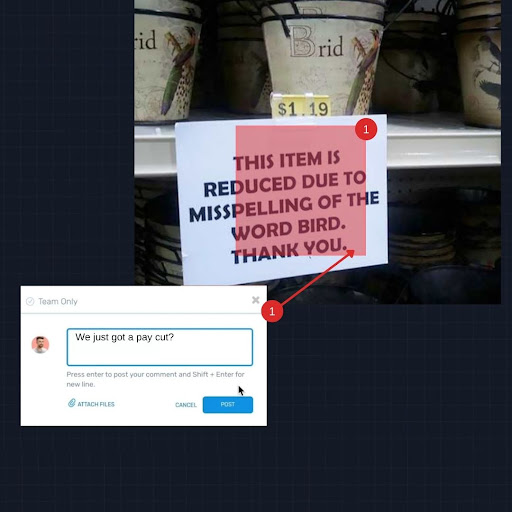 GoVisually – the ultimate band-aid for all common content mistakes
The three main causes of content mistakes do not have an actionable strategy, not using the right management tools, and not bringing your team together for effective collaboration on one platform.
GoVisually is a proofing software you need to alleviate all these pain points. Designed for visuals-based feedback, streamlined workflow, and organized communication, GoVisually offers a range of tools to make your content creation process easier and error-free.
Cut design & video review time in half
GoVisually is the #1 online proofing software to get visual feedback on Designs, PDFs & Video content.
Try GoVisually free today!
With GoVisually, you can create project timelines, assign tasks, add all team members on the same platform and even send guest links to people outside for feedback. It helps align your strategy and the results and makes the review and approval cycle fast and productive.
A one-stop platform for all creative content projects, GoVisually supports videos, PDFs, images, and audio formats and makes them accessible to everyone. 
Watch GoVisually in action and note how it tackles all of the aforementioned content mistakes like a pro!