Have you clocked the recent content marketing statistics yet?
You might need to if you want increased conversions in 2022!
As marketers, we know how puzzling it is to cope with unfolding content marketing trends provoked by content marketing statistics. That's why going over recent content marketing statistics gives you hints to revamp your content strategy by synching in with trends.
However, you don't need to scratch your head if you haven't done it yet.
You can check our mini-guide on the top 10 content marketing statistics and trends to plan a solid content strategy for 2022. 
Let's begin!
Cut design & video review time in half
GoVisually is the #1 online proofing software to get visual feedback on Designs, PDFs & Video content.
Try GoVisually free today!
What is content marketing?
Before we start, let's do a quick rewind of what content marketing is.
It is a technique or a subset of online marketing where content creators come up with different content in video, audio/podcasts, blogs, articles, emails, and social media posts. The content strategy is endorsed to attract a substantive amount of relevant target audiences.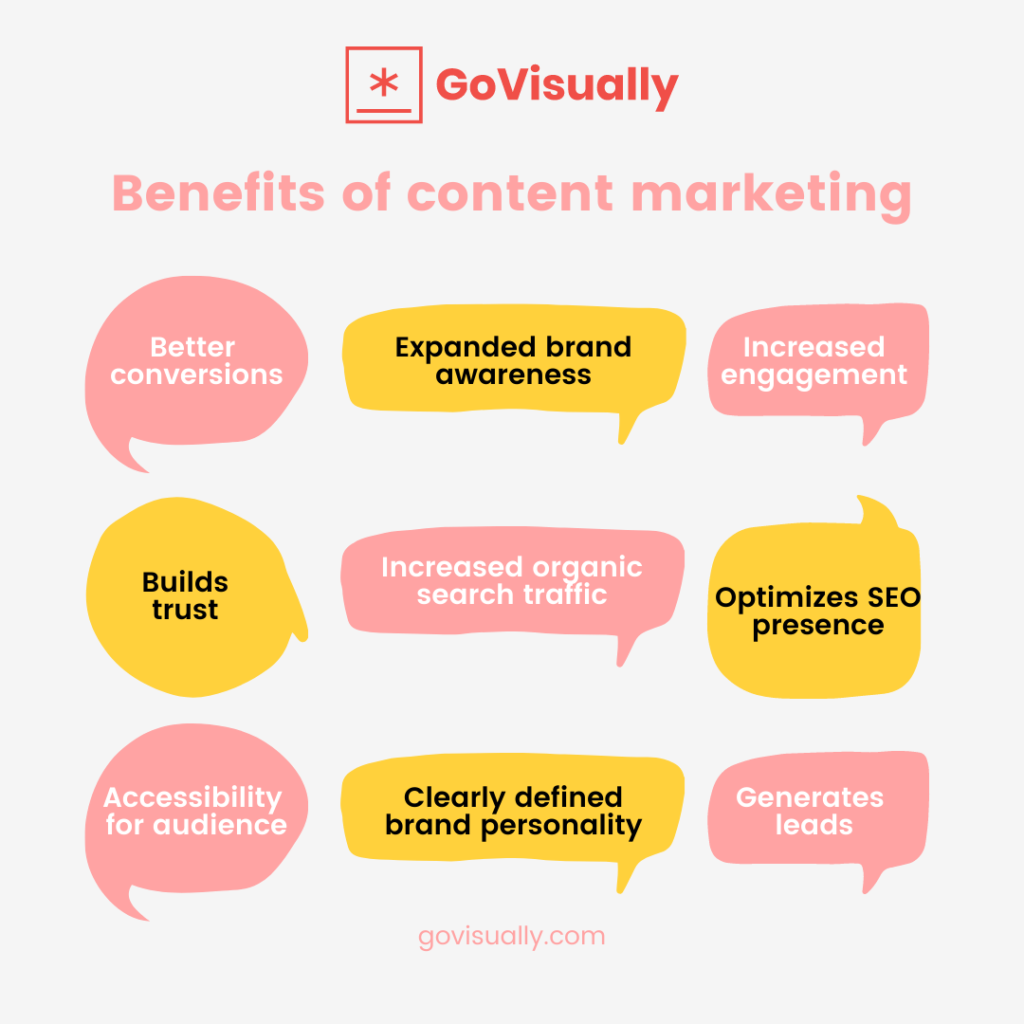 Trends and statistics to look out for in 2022!
There's no need to rethink when it comes to keeping up with the emerging trends since everyone in the business market is well aware of the fact that you get left behind if you still haven't managed to revolutionize your strategies with trends. 
The same goes for content marketing strategies. As of now, here are some trends that are making rounds in the content market.
1. Upscale customer retention
The primary sources of customer retention are 58% email marketing, 37% social media marketing, 32% content marketing. (Invesp, 2020)
When dealing with content marketing, the shooting edge primarily attracts the target market by increasing traffic. However, securing your existing customers for a long shot is way more bounteous than you think, even for grabbing more target market's attention. 
Curious to know how? 
One way would be through word of mouth, and the other would be sharing the links; nevertheless, both are interlinked. These could be possible through email marketing, which aims to drop reminders and promotional messages to existing customers to alarm them by informing them of relevant products and services. 
Moreover, if your services are up to the mark, your customers will be loyal to you and become your promoters by spreading word of mouth through link sharing.
According to statistics, around 87% of content marketing is done through email marketing. That's because customer retention is promising in email marketing. For example, the recent numerals dropped a light on increasing email marketing as 4.03 billion emails users signed up in 2020, and the number is expected to pace up to 4.48 billion by 2024. In that case, even if you send the promotional message to half or a tenth of a percentage, you can get a substantive amount of conversions. 
On top of that, social media and content marketing can be redirected from email marketing as the links attached to the promotional emails indirectly bring the users to the social media platform or land on your blog, promotional videos, and podcasts. 
2. Content marketing through Augmented Reality (AR)
Content marketing usage through Augmented Reality is expected to increase since 67% of marketing agencies have started leveraging the practice. (Vibrant Media, 2017)
Showing off your offerings through visuals to your target audience will likely increase the clicks than making them read about them. It means that visuals will speak for your brand more than the typed content because people will be able to see what you offer and relate to it. It can also stick to their minds for future preferences; this milestone is achieved through augmented reality content marketing. 
Augmented Reality holds together the enhanced image of your offerings to be conveyed to your target audience. In this sense, various ad agencies bring in AR marketing tactics to promote the products and services. 
Advertising through Augmented Reality involves the visual promotion of your products and services, for example, LOreal's Makeup app, IKEA's mobile app, Nintendo's Pokemon Go, etc. These examples of Augmented Reality have further enhanced the usage by integrating with various marketing platforms.
With that being said, have you come across an advertisement on social media offering makeovers, home renovation games?
That's one way of AR marketing. In this regard, the recent statistics, around 83.1 million in 2020 used AR in the USA, almost 15% of the population. So, that sums up the value of content marketing with AR, where your promotional picture will pass on the message to the user's eye and save the reflection in mind.
3. AI content marketing
Customer experience has been enhanced for 40% of businesses through AI marketing, and personalized content is being endorsed by 71% of marketers using AI. (Semrush, 2021)
Well, it wouldn't be justice to the readers without mentioning AI in this section. That's because AI is firmly integrated with digital marketing since almost every tool used for content marketing has been held up by AI, be it image enhancer tools, AI blog writers, etc. However, directly using AI for upfront content marketing has also become a trend.
Have you noticed that you type something on Google which later on pops up on your social media as a sponsored ad?
That's not a coincidence or magic; that's AI tracking your keywords you typed on the search engines through which the content anchored by AI on the web is presented to you by calculating the relevancy of the content.  
4. Hold on to podcasts
Listening to podcasts among US citizens has gone up to 56% in 2021, as at least one podcast pricks up their ears monthly. (Convince&Convert, 2021)
The content delivered in a speech to catch the target audience's attention is more prominent than the text. The encouraging tone inclines the audience to be curious about the products and services. That's one of the reasons why podcasts are becoming a "thing" in content marketing. 
Moreover, the content strategy is ideal for older people to grab their attention. In recent statistics, podcast listening has paced up by 18% in the US precisely because older people prefer a human voice indicating the content than reading blogs and articles. 
The Podcast Insights states that over two million podcasts with 48 million episodes resulted in April 2021. In this sense, businesses, entrepreneurs, and educational institutes are onboarding this practice as their content strategy by 2022. 
5. Go premium with SEO strategy
SEO content marketing strategy has been preferred by over 75% of digital marketers. (Semrush, 2020)
Content marketing with SEO is a primary option for marketers since it's the most available technique to optimize the traffic for your web-based content. However, to grab the competitive edge in 2022, you need to up your game in terms of dealing with SEO.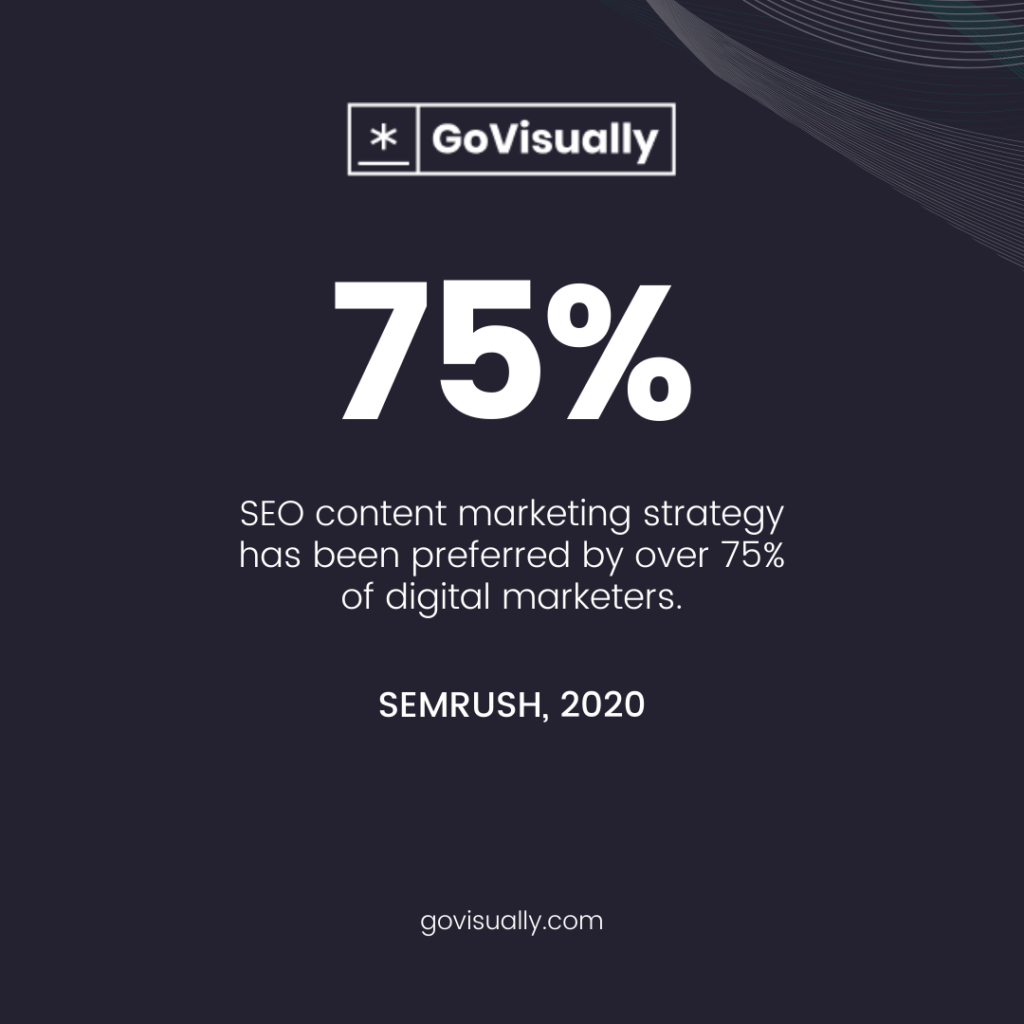 If you want to call dibs, then make your content, such as blog, article, web page, etc., as unique as possible because the web is not backing up anyone until it gets the divergent piece to prioritize it for the visitors. 
6. Organizing content strategy with documentation
69% of Marketers planning out a content strategy opt for documenting it to organize, whereas 41% restain. (SmartInsights, 2020)
Marketers abruptly putting together content strategies results in vagueness and unorganized tactics. That's because pillaring a content strategy indolently means you are giving a free hand to your competitors to secure the edge. That's why to be ahead of your competition effectively is to anchor your strategy substratum to move forward swiftly. 
In addition, around 76% of the successful entities intend to rely their strategic content management on documentation to organize, manage, and record the process. 
7. Endeavor for unique content
The significance of creating unique content overshadows competitors, said 58% of marketers. (Social Media Examiner)
There's no room for repetitive and dull content since the web is a house for similar content. That's because search engines actively seek and qualify unique and original content.
On top of that, as the content marketer, the brand that appoints you seeks to increase its recognition by streamlining the content strategy among target audiences. That's one way the brands get the awareness they lookout for. 
Moreover, the more your content is rare, the further it caters to your target audience's needs. So, to secure the competitive edge in 2022, develop as more specified content as possible. 
8. Keep the half-pie of your marketing budget for content marketing
Marketers believe that around 25% to 30% of your marketing budget should be spent on content marketing (Forbes, 2021)
While incorporating an adequate content strategy in 2022, we know that it's a considerable aspect to set a budget for your content marketing, but how much to invest, that's a question. 
You cannot go all-in while planning out your content. That's why you initially need to figure out your actual budget; for example, your actual marketing budget is $1000. Now, you need to cinch how much you want to devote to your content marketing, not to drain your expenses. 
In addition, you must plan out your budget for content marketing by analyzing the past and current trends. That's because a good thumb rule to precap is to go over the recap, to not make the same mistakes over again. 
9. Pitch in with big data and analytics
58% of Chief Marketing Officers believe that Big Data is engraved in SEO and email marketing. While 54% of marketers reckon to take in Big Data and Analytics into their content strategy for upcoming times. (Forbes, 2016)
Big Data is holding the reins of providing relevant data and information to keep up with accuracy. It plays a significant role in the marketing aspect or, more specifically, in online marketing.
Take this for an example; several conspicuous organizations like Netflix tend to save up around $1billion every year on customer retention using Big Data. In this regard, Big Data and Analytics are a helping hand, especially for marketers to be more relevant to their target audience by focusing on their primary needs and providing solutions in real-time. 
10. Account-based content strategy
70% of marketers believe in wielding ABM to develop a content strategy (Hubspot, 2021)
In contrast to reaching out to a big target audience, ABM or Account-Based marketing focuses on grabbing the attention of the specific, influential target audience. It focuses on conveying the promotional message to the specified group instead of divergent individuals.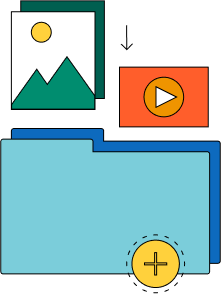 Need a quick way to share large files and creative assets?
With GoVisually Share, it's absolutely free! Try today.
Share, review and approve your content marketing assets with GoVisually!
Do you know that with GoVisually Share, you can now share content marketing assets with anyone? And that too for absolutely free!
So if you want to share content marketing assets like newsletters or email templates, you can do so easily. And you can make the most of your strategy review process by having an online proofing software like GoVisually by your side. You can leverage GoVisually to streamline your review process and get feedback and approval on all content marketing assets.