Deciding on the best corporate style text templates final cut pro for a video is every designer's most dreadful task.
When you create videos for marketing and branding, the text that appears on-screen can greatly impact how people perceive your work. Text is often the design element for corporate videos that gains more attention than other visuals.
The importance of text design and placement makes it difficult to choose the perfect font, effects, and overlays to make your video stand out to viewers. Templates make it easy to design your corporate video with the final visual product in mind.
Some great ready-to-use text options help you make the most of this dreadful task without going through hundreds of different text styles and edits. 
So here are the top 10 free final cut pro templates to get you started! 
Top 13 corporate style text templates for Final Cut Pro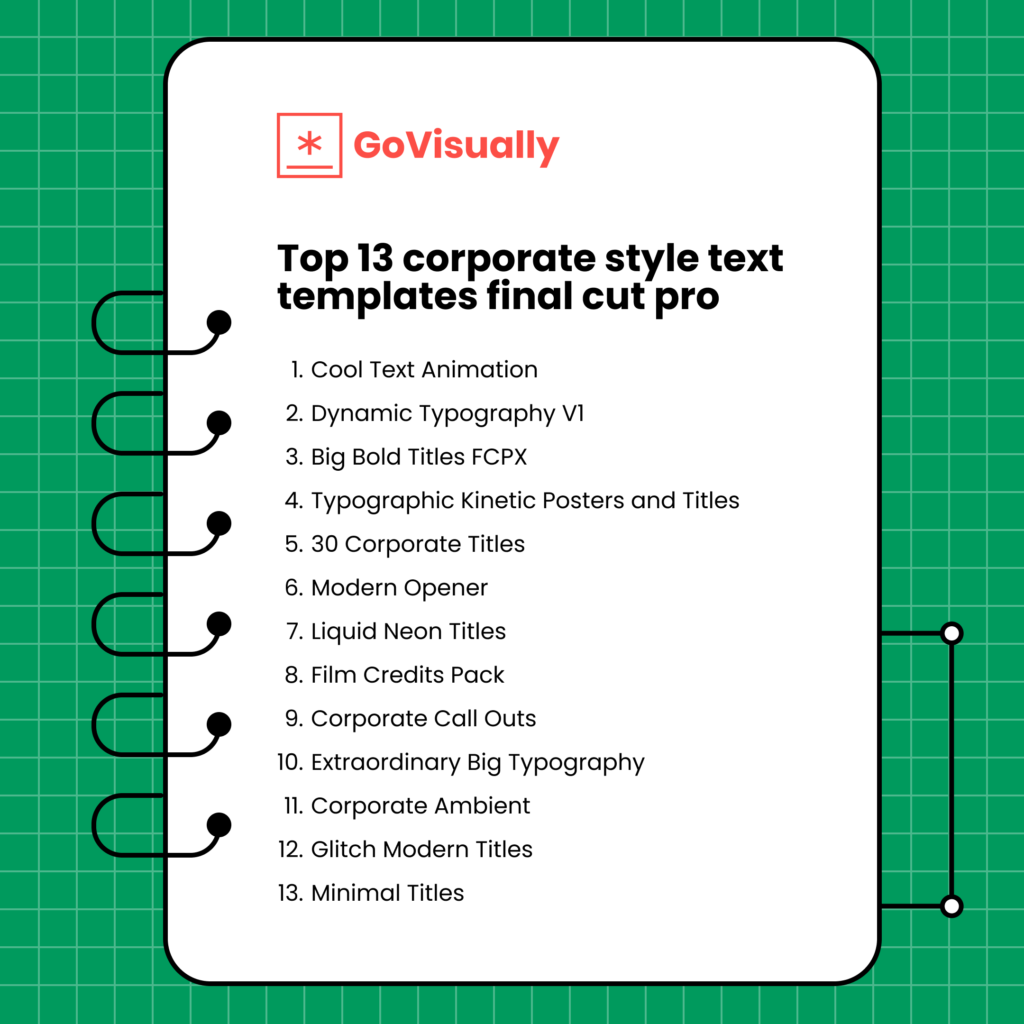 Cool Text Animations has a lot of different animated titles to choose from, so you can customize your project to look exactly the way you want. This pack makes your work easier, so you can get the most out of creative ideas.
The final cut pro text effects in this template look high-end and make your overall video more playful and catchy. Text transitions like Twist and Liquid can make your video stand out among the common lower-third Fcp text styles.
Do you ever wonder how brands like Nike and Coca-cola get their video typography on point?
It's all about using dynamic fonts. This is one of the most professional-looking free final cut pro templates because it offers a range of font styles that look dynamic and impact viewers.
It offers 4k and HD resolution text templates that can be customized to fit your brand. Each text style is perfect for corporate use and makes a great visual element for advertisements or branding videos.
The Apple Motion Titles Template is one of the most popular free final cut pro titles. It was created specifically for customizable and easy-to-use text titles. There are 30 unique titles in this template, so you can get the titles you want quickly.
The template fully supports HD and 4k resolution. For editors, it offers color control and a range of other options to help you turn the template into design elements representing your brand image and preferences.
Kinetic text posters and titles are the new trends in creative design industries. Whether it's an advertisement video or a short intro clip for your webpage, you can never go wrong with the right kinetic text effects in your videos. 
You can customize and use 20+ mesmerizing text styles as your FCPX text plugins free template. If you're going for a text style that grabs attention while also being modern and sleek, this template will be the perfect starting point to make your brand stand out with visually appealing videos.
If you want to add a more sophisticated title or lower thirds to your corporate-style video, 30 Corporate Titles is a great template. It doesn't require any plugins and features minimalistic bold lines that look eye-catching yet elegant simultaneously.
There are so many amazing titles to choose from. If you're looking for a template on final cut pro, add a text overlay that focuses more on your video's text. It highlights the message you want to convey rather than the images and media running in the background. 
As the name suggests, this is the FCP text template you can use for introductory/opening videos. For video designers, more thoughtfulness and strategy go into opening videos than long-form videos. The reason is simple. You have a minute to win it!
Since introductory videos need bold text overlays and strong design elements, the Modern Opener template works wonders with its text styles that make great titles and lower thirds. 
The text doesn't blend into the visuals and doesn't feel tacky. It's the perfect balance of boldness and simplicity to make your video memorable for its content and visual appeal altogether.
Cut design & video review time in half
GoVisually is the #1 online proofing software to get visual feedback on Designs, PDFs & Video content.
Try GoVisually free today!
Neon is another popular element design trend that you should look out for. This brightly animated Final Cut Pro X template includes a great selection of neon titles and lower thirds. If your brand uses dark backgrounds often, neon can help your text stand out and make your videos more vibrant.
With 9 different designs in this template and a 4k supported resolution, you can customize the templates in various colors to fit your branding kit and make it a great asset for your videos.
If you prefer cinematographic videos, these film-inspired title templates will make your videos look professional. There are 35 templates with a clean, minimalist style that will help you create videos that look great.
From a corporate video Marketer's perspective, this pack is versatile and works effectively for all types of videos. Whether you're introducing a new product, your brand's value, customer testimonials, or an advertisement, using cinematic storytelling with the perfect fonts is always the best choice! 
Lower thirds, animations, and call-outs. This text template is the perfect blend of all three when you wish to add text that adds value to your videos. It doesn't require any plugins and is customizable with color control and various fonts.
The design elements are sleek, modern, and minimalist. However, the attention-catching, bold styles make it different from other modern text templates. This is the best corporate-style template when your video needs a call-out factor without being too flashy.
Talking about call-outs, Extraordinary Big Typography is a great text template for bold and clear titles. The fonts and animations offered in the free FCPX typography pack can help you form openings, CTAs, and outros that can't go unnoticed.
There are two different presets of the same template that also offers lower thirds and animations. You can choose the templates and customize them with colors and styles to make a statement. Big, clear, and loud.
The complete corporate text template for FCPX is Corporate Ambient. You can find a range of differently stylized text, from thin, small text to large, bold lower thirds. The templates support 4k resolutions and full-color control.
This text template covers everything for corporate videos, including text styles for presentations, broadcasts, promo videos, and more. If the word corporate were a text preset, it would be Corporate Ambient.
While every other minimalist text perfectly fits the corporate and business marketing image, the glitch is relatively new to the corporate world. However, the Glitch Modern Titles template could be perfect for videos targeting the young generation and going for an urban theme.
The template comes with 30 titles that are easy to customize and change in colors, size, and fonts. Since glitch effects are ruling all digital platforms, you should test how it works for your videos.
Minimal Titles give you more control over your titles in FCPX. An extended control panel lets you customize your titles to look exactly how you want them to. And there's a helpful video tutorial to help you get started. 
This is one of the most used free final cut pro titles because it allows you to use neutral text styles with a contemporary look and keep yourself away from a design rut. If you need help deciding on something overly bright and bold, it's better to keep it simple and make a statement.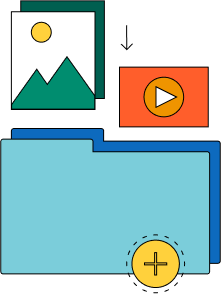 Need a quick way to share large files and creative assets?
With GoVisually Share, it's absolutely free! Try today.
GoVisually – #1 video review platform for creative teams 
Using templates is great. But collaborating with your creative video team and getting everyone's opinion to make the final design work and overflowing with creativity is even better!
Text styles, effects, fonts, and overlays, are all crucial design elements that make your brand different in the digital world. Going back and forth between different styles to find the perfect fit for your video can take ages if you fail to collaborate with your team and stakeholders in real-time.
GoVisually is the leading video editing, collaboration, and project management platform that brings all team members, creative teams, and stakeholders on a single platform. 
When everyone sends real-time feedback and suggestions, you'll find it easier to ensure brand compliance and get over this dreadful stage of video creation without changing 20 fonts over the week and still not feeling satisfied with the final design.
For high-quality videos representing your brand's visuals and making a great first impression on your viewers to keep them engaged, collaborative video editing and review is the revolution you need.
Start a free trial with GoVisually and experience the revolution in your video workflows!
Final takeaway 
With the best corporate style text templates Final Cut Pro in your hands and the perfect tool to get feedback and approval from your team and stakeholders, you're ready to create an impactful video for your next project.
We hope one of these corporate style text templates final cut pro helps you design a great video!