Need a social media style guide?
Say no more.
Social media is a hub where all the promotion magic happens nowadays. You probably don't need any other digital marketing channel if you have a robust social media presence. 
The best thing about social media is that it is not confined to anyone; brands, influencers, and smaller to larger businesses can use it for their benefit. In this scenario, you might start to ponder how you can make your profile more intriguing to get the most attention of all? That's what we are here for. 
In this social media style guide, we will share ten proven methods for you to create a winning social media to stand out from others. 
So, shall we begin?
What is a social media style guide?
A social media style guide gives a direction to kickstart your profile. A unique and well-thought social media style guideline can help you shape your brand profile. In short, a social media style guide is how brands present themselves virtually to the audience. 
For example, a social media style guide helps brands finalize everything on their brand page- from profile pictures to captions and how to present the content. 
Additionally, if you think that a social media style guide is similar to a social media strategy, it's not like that. A social media strategy is when you plan what type of content should be on your page and its purpose. However, a style guide is about how your content will be presented.
7 benefits of the social media style guide
You must have come across several brand posts sharing their products and updates.
Do you think the brand owner manages that?
No, there are social media experts behind every brand account, even for celebrities to post in a particular way on their social media. And these experts use social media style guides for the following reasons.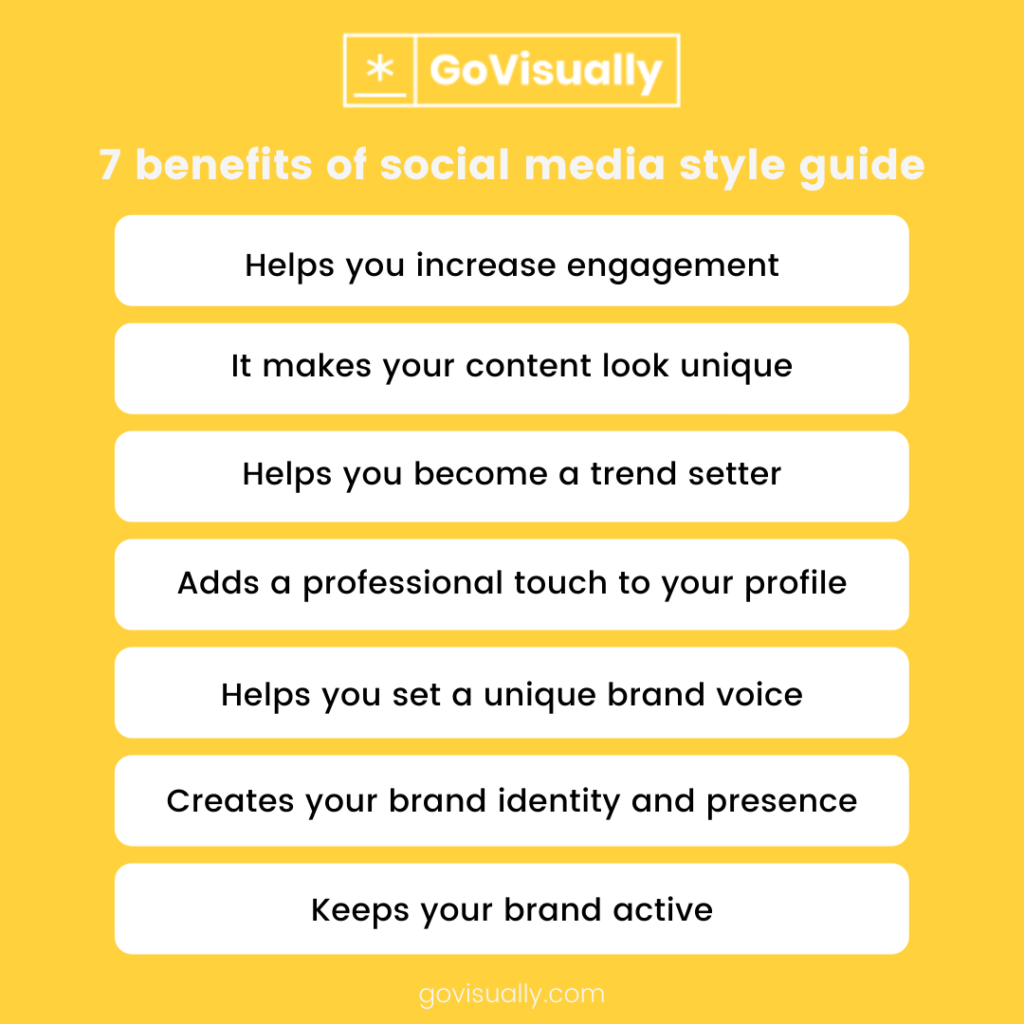 Increases engagement
One of the main purposes of using a style guide for social media is to increase engagement with a unique style of posting techniques. When you have something new to offer to the audience, more engagement increases on your profile.
For example, when you visit Nike's Instagram profile, you'll notice a lot of posts for females sports personalities to showcase that the brand endorses women empowerment. This is an essential part of their style guide, ensuring that more women will follow the brand profile, and the posts with powerful captions will incline them to comment, like, and share the post simultaneously. 
It makes your content look unique
As mentioned earlier, when your content is unique, you will be ahead of the competition. That's because your profile will offer what others don't.
For example, a common guy named Khaby from Italy became a social media star within a few weeks because he chose a different way to post the content. And with this strategy, whether your products/services are not popular, the followers will increase due to getting something interesting and unique. 
Trend-setter
When you see a repetitive social media posting style, you know it's become a trend. And by that means you need to go with it to stay in trend. When you don't upgrade or change by following the directions, your brand will attempt a mistake that Nokia made. 
Adds a professional touch to your profile
You can easily identify if the social media is run and planned by a professional or an amateur by looking at the everyday activity on a particular brand profile. Have you seen how Chanel's Instagram profile changes colors and posting techniques as they launch a product?
That's what's called professionalism.
If you handle it well, it will likely reflect on your profile. 
Sets a brand voice
How does a brand stay connected to its customers when it's not serving them?
Through their social media.
And when you want to be connected with your customers, you set a distinct brand voice to interact with them through your social media posts and captions.
So, a style guide for social media helps develop a certain brand voice to leave an impression on your existing and potential customers. 
Creates and establishes a brand identity
You create a profile on social media like Facebook or Twitter; now, how will people recognize that it's your brand? What makes it special?
This is when you choose a different style that reflects your brand. A food-based profile will need an identity to let the potential followers know what your brand offers.
For example, is it a catering page, franchise, or will you share your recipes?
Keeping this in mind, you will need a robust post style and technique to gather more attention and make it comprehensive enough so that your followers understand what the brand is about.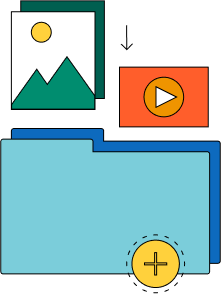 Need a quick way to share large files and creative assets?
With GoVisually Share, it's absolutely free! Try today.
Keeps your brand active
As we said before, that social media platform is where brands stay connected with customers when they are not serving. And the updates on your social media will keep them hooked to your brand posts and will likely share them with others who can become potential followers. 
10 proven methods of creating a winning social media style guide
If you are about to start your brand and need a direction to plan your social media presence, the following methods will surely help you. 
Step 1: Select a username for your social media channel(s)
The first step to starting with your social media style guide is to select a username. If your brand focuses on reaching out to an audience on multiple social media pages, you must plan a username that aligns with your other profile pages. For example, if you plan to create a brand profile on Facebook, Twitter, and Instagram, your username on these platforms must align with each other. 
Additionally, you have to develop a unique username specifically for brand profiles. Because while creating an account on social media, you are required to select a username that is not taken by anyone else. Also, you should not set the username with Latin alphabets and symbols (i.e., * _ #) since it will confuse the audience and make your brand profile hard to look up. 
So, your brand username should be persistent, consistent, and as simple as possible. 
Step 2: Set the brand tone for the platforms
When you finally decide on the username for all your profiles, the next step is to set a certain tone in which you will communicate with the audience. Do you want to write descriptive captions for products and services on social media? Or do you want to keep it concise? 
If you want to write descriptive captions on your brand portfolio for product and services posts, you should focus on Facebook, Instagram, and Linkedin brand profiles. These platforms allow more characters to while writing a post than Twitter. 
You can alter the tone of your brand as you post on different social media accounts. For example, on Twitter, you can post short messages using a friendly style about your product/services and attach a link to the detailed version of your post on other social media channels. 
Step 3: Check for errors before posting content
If you want to deliver and define your products/services, make sure your grammar is correct for each post. When we say keep the tone conversational and friendly, that does not mean making rookie mistakes like grammatical errors. That will show pure unprofessionalism.
This is more important for brands to write every sentence that is grammatical-free. To make sure this further, you can use tools like Grammarly.
Step 4: Jargon or no jargon?
It depends on whether brands use jargon or not. If your target audience is highly technical and professional people who have a good grasp of jargon, you can use it to define your purpose.
However, the consumer brands or B2C brands should avoid jargon since it will confuse the common audience. 
Step 5: Use trademarks
The next step is to showcase your trademark. Brands need to include their trademark in the social media style guide on all social media platforms. However, your digital trademark will be consistent, so keep it simple and avoid caps after the first letter.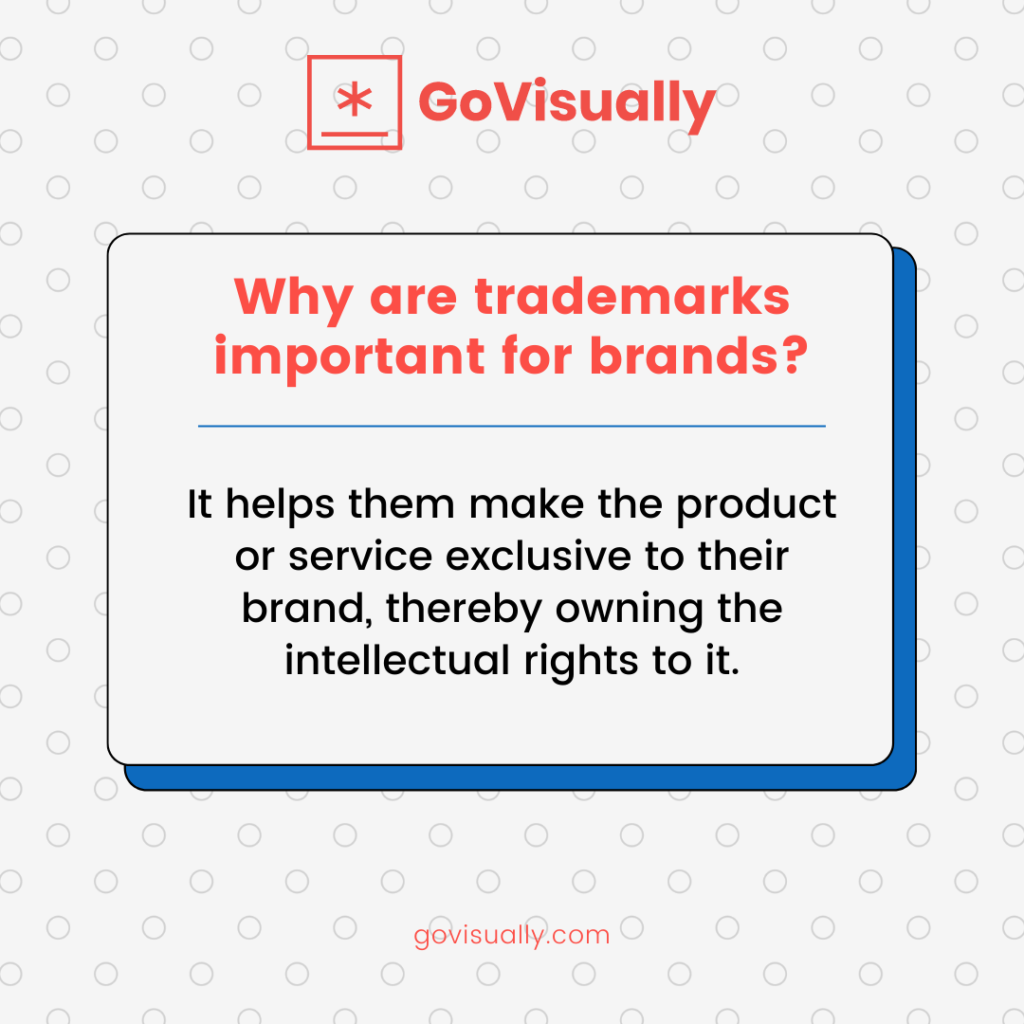 For example, don't use StarBucks instead, use Starbucks. However, if your brand trademark is all nouns like "Ellen DeGeneres, "it's an exception. The point is to put your trademark that your audience can easily recognize and lookup.
Step 6: Emojis and style
In this step, you will have to decide how to convey and present your message. Previously, we have talked about setting the tone and the message length. Now, you have to select the additional details implied in your statement. 
Try to keep the message on any platform as concise as possible and attach a link to your website or article for additional details and to increase CTR.
For example, Facebook does not have any characters count limit, but that does not mean writing long articles with captions or posts. Use a maximum of three to four lines and a minimum of one. And your message can include phrases like idioms and metaphors that will make it interesting to read. 
Additionally, do you want to add emojis? If yes, then how many?
As a suggestion, try to stick with one or two emojis to make it look unprofessional. Moreover, you can also use GIFs and stickers. 
Step 7: Brand language 
Famous brands create their language that becomes their identity. When you post something or use a specific word to identify your products or services, it becomes your brand language. For example, Subway offers sandwiches, but they have chosen to call their sandwiches subs to make them distinctive from other sandwiches and create an identity for their products. 
Also, whenever Subway posts about new products, they refer to the sandwiches as subs on social media. And that's how their products are famous by that name. So, you can also create synonyms of your own to develop a specific identity for your brand products. 
Step 8: How to use links?
Attaching links to your brand profile depends on what you offer. Your style guide will help you gauge where you need to connect links. For example, if you are a business-to-consumer brand, you can attach links to tag prices on the picture you post about the products. Or you can attach links to your stories. Either way, it will land the audience on the website landing page. You can use both UTM parameters and URLs. 
Step 9: Manage third-party credit style
If you are running a brand on social media, then at some point, you will have to associate or give credit to third parties.
But the question is how?
You can either use hashtags, tag them in the post, mention them in the caption, or use their URL. 
Step 10: Introduce your brand with "I" or "we"
Moreover, you should also ensure how you address your message to the audience. For example, if you run your brand individually and own the social media page, you can write "I" when introducing your brand products (i.e., I am happy to share). However, if there's a whole team behind the scene running errands to make your brand thrive, you should introduce your brand by writing "We" to introduce a product/service or break the news.
Review your social media style guide with GoVisually
The bottom line is that brands create and use social media styles to stand out from others. And the type they use for posting on social media becomes their identity. So, if you are starting your social media presence, make sure you set strong roots and carry on until you reach the desired brand reputation.
And one of the best ways to ensure that is by making sure that your brand assets are aligned with brand values.
So how can you easily and effectively review all social media content?
Easy – GoVisually!
With GoVisually, you can keep your internal and external marketing stakeholders aligned and get fast feedback on all social media assets. Online proofing and approval of these assets make it convenient to ensure that your posts align well with your brand.
And the best part? It cuts down your review and approval time by half!
So sign up today and see for yourself!
Cut design & video review time in half
GoVisually is the #1 online proofing software to get visual feedback on Designs, PDFs & Video content.
Try GoVisually free today!