Combining an advertising strategy with a creative plan for a successful marketing campaign is necessary for effective marketing. Without having one, it is as if you are going skydiving without first understanding how it works. The conversation you have with your audience plays a massive role in how successful your product or service will be.
Although it gets challenging to launch an advertising strategy without backing it up with a creative plan in today's hectic world, having one helps you in the long term. So let's understand the benefits a creative plan can provide you when combined with an advertising strategy.
Cut design & video review time in half
GoVisually is the #1 online proofing software to get visual feedback on Designs, PDFs & Video content.
Try GoVisually free today!
What is a creative advertising strategy?
Creative ad production enables you to create the components of marketing messages and help you set a target audience and what tone will best fit them. Creative strategy is similar to a blueprint or marketing outline that companies develop before marketing a project. It helps the ad production companies develop a strategic approach and take steps that help them with the growth of the business. 
This strategy can shape any file format and guide the design and production team in developing advertising materials for the campaign. This file contains essential details like research of the market, efficient delivery strategy, and an imaging plan. All these parts play a significant role in helping the company meet the set goals.
Importance of a creative advertising strategy
Coming up with creative briefs is time-consuming and often complicated as the deliverables must align with the goals of your project. However, defining definite objectives about your project can help you kick-start your advertising campaign and help ad production companies focus on what your company wants to achieve with the project. 
An accurate blueprint and outline of a creative brief can help you better understand your audience and the end goals of your project. This will help your team stay focused on the task and help ad video production teams develop the right advertisement strategy.
9 steps of creating an advertising strategy with a creative plan
A creative plan is a starting point for your advertising strategy and developing an initiative for your product. Your creative plan should be comprehensive and include all the details about how it will help the business grow.
Following are the key components to fit in a creative program that help ad production companies to develop a beneficial advertising strategy.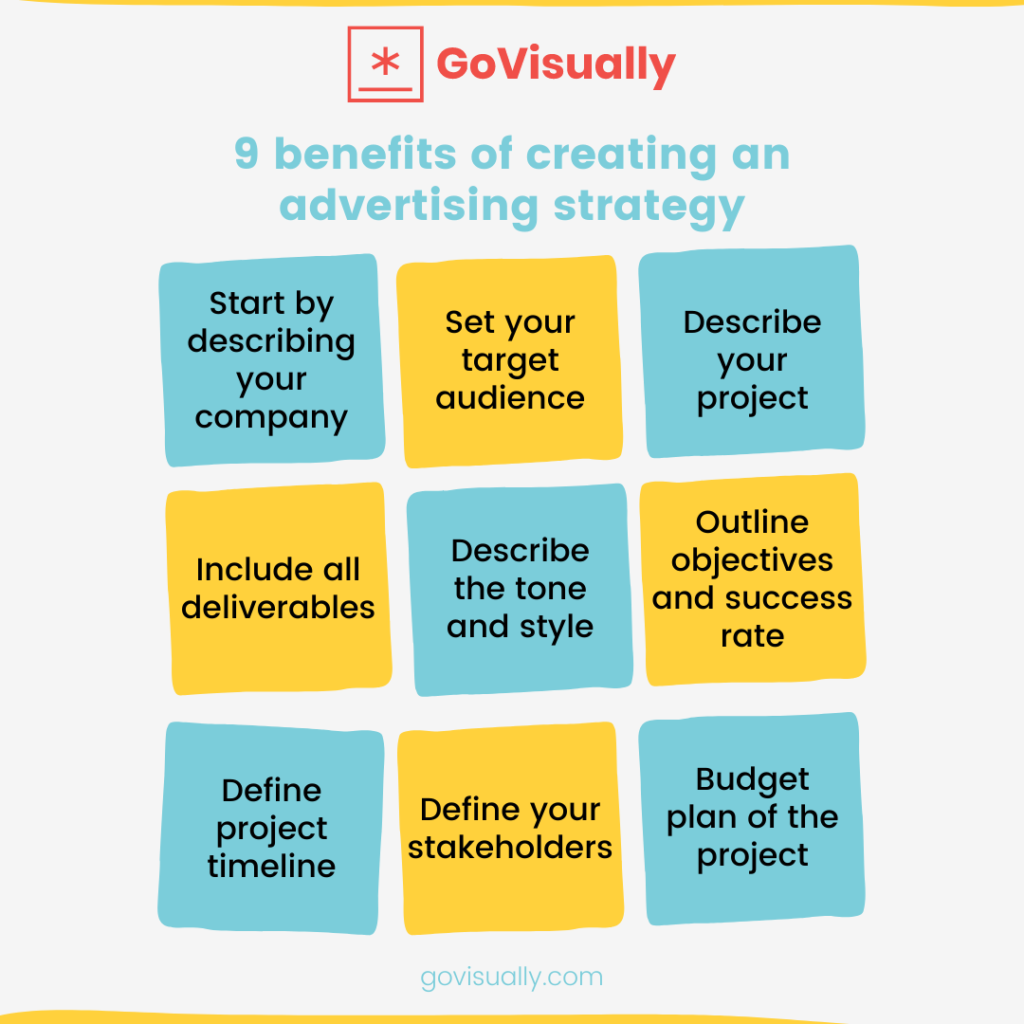 1. Start by describing your company
When you are marketing your product or service, it can be helpful to understand your audience, what your business is about, and what it represents. Providing your audience with a bit of background history of your company and what services you offer can help them understand its core values. 
2. Set your target audience
Defining your ideal target audience can help you better understand your customer wants and needs. You can understand your audience by sharing demographic information or behavioral insight that you collect. Determining who your product or service is for can help you reach your audience's mind. Eventually, help can help you with the advertising strategy. 
3. Describe your project
When you launch a new advertising strategy, it can be helpful to include a summary of the product or service you are offering. Describing its purpose and need can help you with a fresh start with your audience and help you reach out to a new audience.
4. Include all deliverables
It is necessary to include all the deliverables of your campaign in the file of your creative plan. Including all the crucial details about your project can help the design and production team develop advertising strategies that can help you grow your business.
The file should include all the correct information about the format, size, and other vital details for your project.
5. Describe the voice, tone, and style
The tone and style of your creative ad production must collide with your brand's purpose and the project that needs marketing. This is a sensitive part and requires a tactful approach by ad production companies.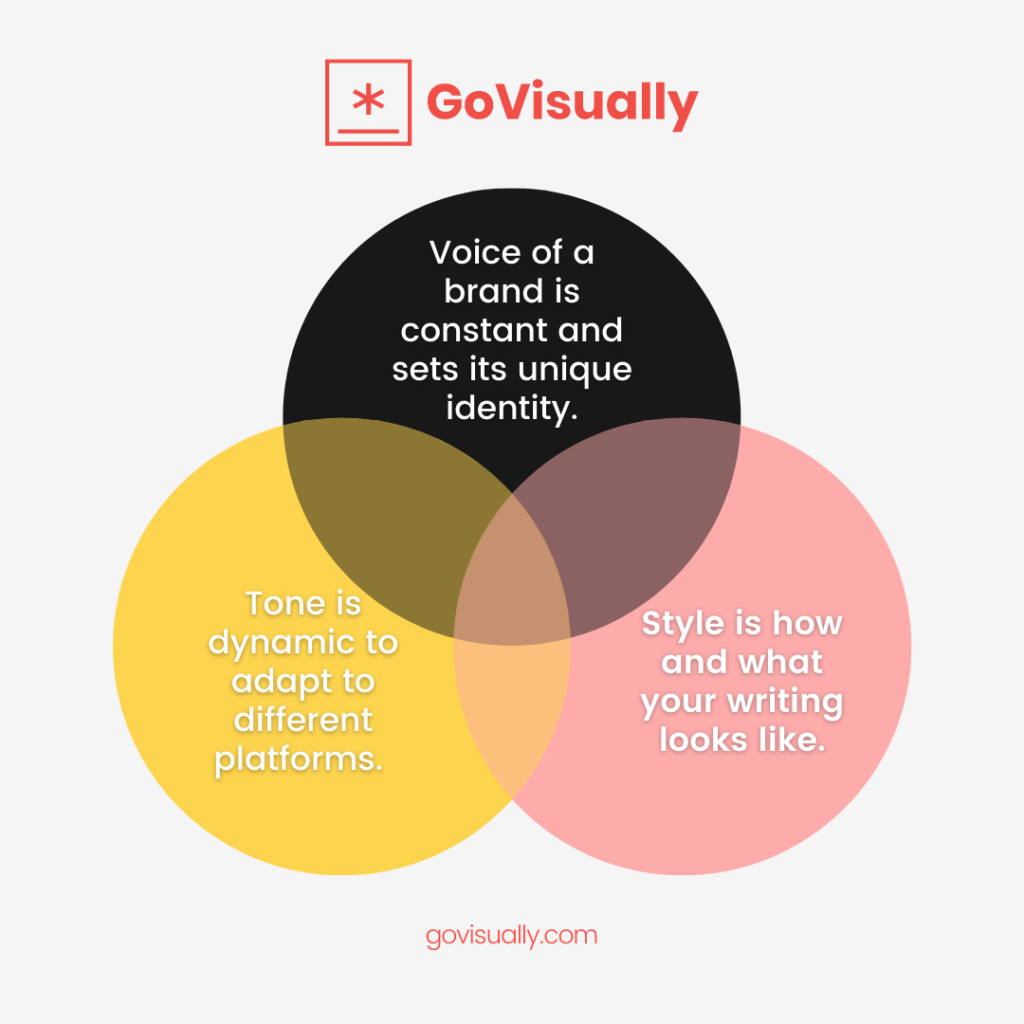 For example, if you are designing a brochure about your project, it is necessary to use the right voice and style to captivate your audience. Having a clear understanding of the purpose of your project and your target audience can help you carry out this step effectively.
6. Outline objectives and success rate
This might be the crucial reason why you need to develop a creative brief for your marketing strategy. Defining the goals and objectives can help you measure the success metric of your plan. You need to set a clear understanding of your project's goal, what your business hopes to achieve, and how it can help you with success.
7. Define project timeline 
Include all the deadlines for the edits, prints, creative proof, or any other necessary step for your project. Including the details about your project completion and the dates associated with the steps can help you carry out the project efficiently. It can help set a clear guideline for you and launch the project on time.
GoVisually is an effective platform that can help you bring your team on one page. It can also help you set deadlines and goals for your project. Moreover, it can also help you with the approval process of your ad campaign.
8. Define your stakeholders
Listing down all the teams involved in the review and approval of your project can help you with the smooth launch of the project. Include the contact information about the creative ad production teams and how and when they have to step in to approve the process. 
9. Budget plan of the project
Your creative plan should include a brief about your advertising strategy budget. It can help you prioritize the steps according to the budget and also help you set realistic goals. Before carrying out the process, it is helpful to consult the design and production team as they help you meet your expectations on budget.
4 tips to help with creative marketing
The goal is to understand how you want to introduce yourself to the world. How you want to present your brand to the market and what image you want to build helps you develop a creative marketing plan for your project. 
Developing a creative strategy can be time-consuming and might take up a portion of your budget. However, here we have budget-friendly tips for you that can help you efficiently advertise your product or service.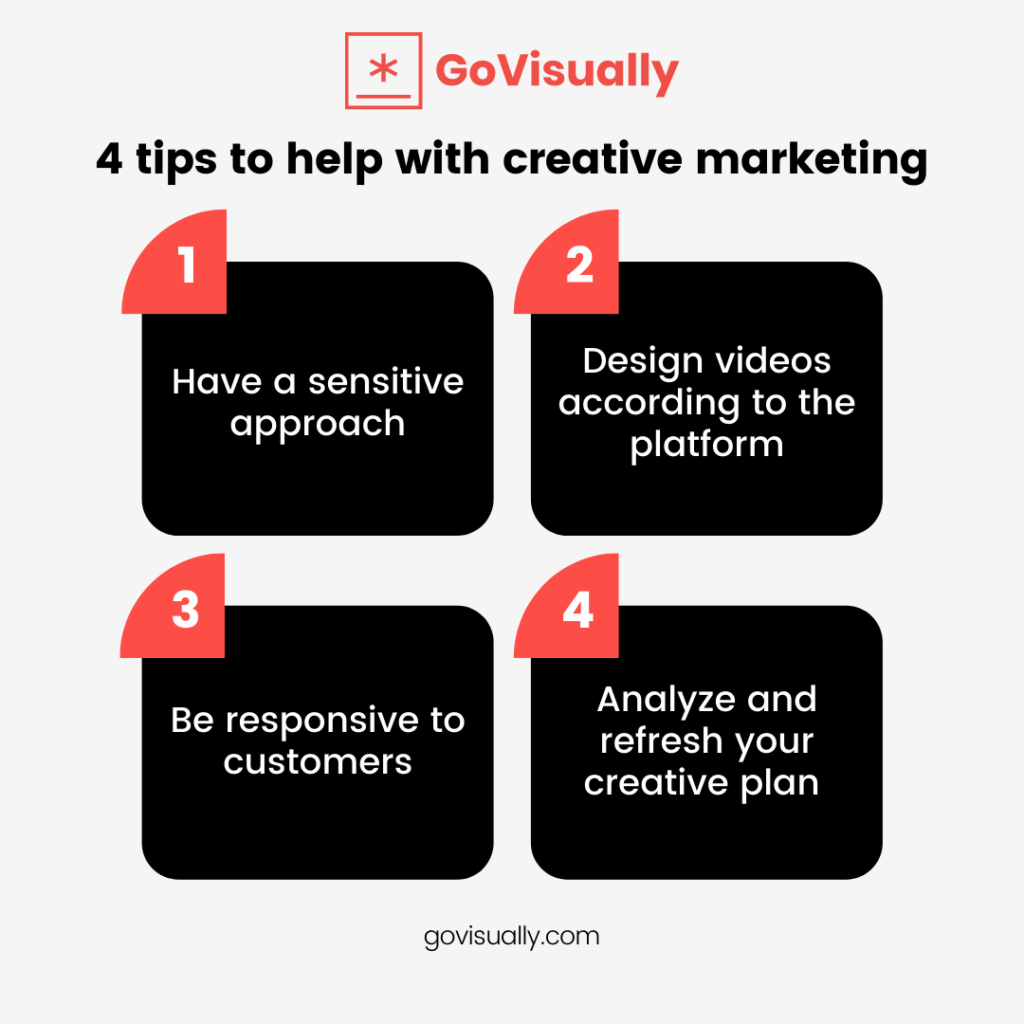 Have a sensitive approach
These days, people prefer to see authentic and carefully planned out content from the brand. Sharing your company's values and operations can help you build trust with your audience. Connecting with your audience is the primary goal of your creative plan, which is only possible if you keep a sensitive approach with your customer. 
Carefully thinking about individual customers and understanding their ideas can help you create a strong bond with your customers. Moreover, having a genuine approach towards your customers makes your company seem more humanized and helps you easily interact with the audience.
Design videos according to the platform
Your ad video production plays a crucial role in the advertising strategy of your project; hence it is necessary to understand the platform you are using for your advertisement video. Your audience expects to see different media based on the forum you are advertising. For example, it is best to use youtube videos in landscape orientation, while on the other hand, it is best to promote videos on Instagram in portrait mode.
While some media channels prefer a video consisting of audio, other platforms might not like a voiced video. All this needs to be efficiently planned out, which the ad video production team needs to do. Developing a plan can help with a consistent strategy for advertising your project. 
Be responsive to customers
Your customers want to be heard and given value only if you respond to their queries and are easily accessible to them through phone or the internet. The best way to be available to your users is by adding a chatbox to your website. It can help your customers easily reach out to you, and it will also help you solve their problems efficiently. 
Analyze and refresh your creative plan 
To keep your advertising strategy practical and up-to-date, it is necessary to refresh your creative plan every three months. The primary purpose of your advertising campaign is to drive the audience towards your project. And customers appreciate new marketing strategies. It is necessary to update your goals every once in a while to plan a better campaign for your project.
Moreover, it helps you refresh your goals and the company values. Which can help you change your ad production while keeping the same creative strategy. This also ensures that your message remains fresh to the target audience.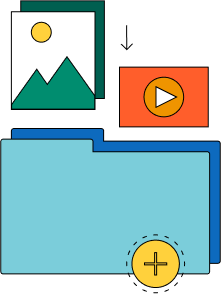 Need a quick way to share large files and creative assets?
With GoVisually Share, it's absolutely free! Try today.