Marketing is the backbone of any business or company. If your marketing ideas are creative and exciting, you can generate more leads and see visible growth. However, it is not always easy to come up with innovative marketing strategies.  
When developing marketing strategies, you have to create ideas that will keep the audience engaged and make them curious about your products. An excellent marketing technique can take you and your brand a long way. 
There are various aspects of marketing, and creative marketing ideas can help you stand out from the crowd on every platform. Having a brilliant marketing team can provide any company with a much-needed boost.  
Thinking outside the box when it comes to marketing is the key to success. You don't always have to invest a lot of money to bring creative marketing ideas to life. Having an exciting marketing and Ads strategy can help your business gain new customers and generate more business.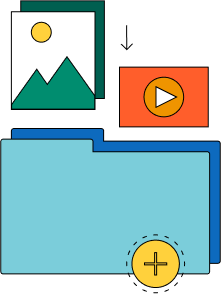 Need a quick way to share large files and creative assets?
With GoVisually Share, it's absolutely free! Try today.
Why Is Creativity Important In Marketing?
There are a lot of benefits of creative marketing ideas. Being innovative is crucial to creating a reputation for your brand online and in real life. Let's have a look at the importance of developing creative marketing ideas for your brand.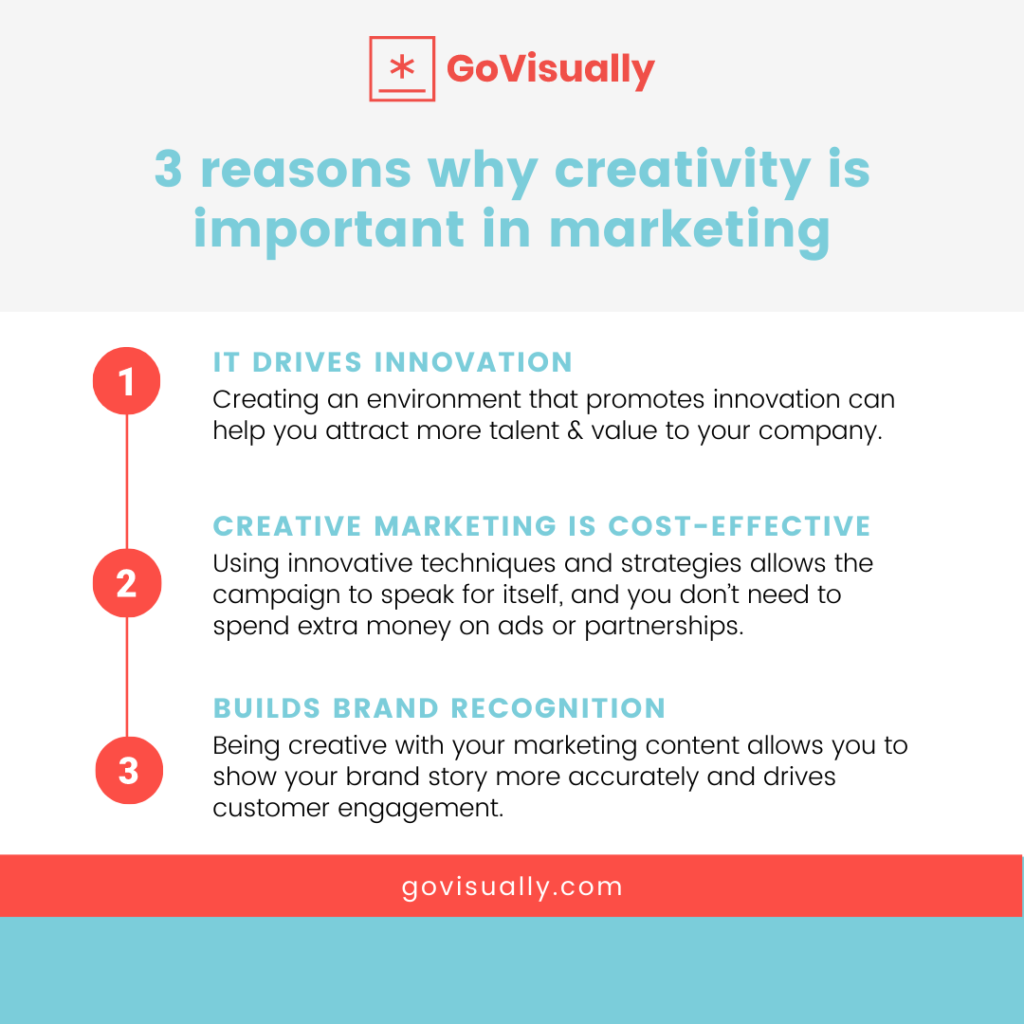 It Drives Innovation 
Having a creative environment when working, especially in marketing, can give rise to innovation. When people are surrounded by people who take the initiative to develop exciting ideas, it is a source of motivation. The best part about creativity is that it enables people to share ideas and start conversations without hesitating. 
Creating an environment that promotes innovation can help you attract more talent to your company. When people know their ideas will be accepted, they will have more incentive to work at your company. Creativity and innovation can also help with departments outside of marketing like product development and customer service. 
Creative Marketing Is Cost-Effective 
Bringing creative marketing ideas to life is more cost-effective, and you can save a lot of money. Using innovative techniques and strategies allows the campaign to speak for itself, and you don't need to spend extra money on ads or partnerships. 
These marketing campaigns are proven to have a higher return on investments. Using creative marketing can push you to create content that has the potential to go viral. If anything you release goes viral, it gains incredible popularity and brings in new customers. 
Builds Brand Recognition 
To grow your sales and customer base, you need to work on brand reputation and recognition. Using creative marketing techniques can help you find your place in the industry. It allows people to relate your brand to a particular style of content. 
Being creative with your marketing content allows you to show your brand story more accurately and enables your audience to discover your brand values. It can also make your customers feel like you pay attention to their interests, and you can gain their loyalty. 
7 Creative Marketing Ideas And Tips 
It is natural for marketers to feel like they have hit a brick wall at times. Coming up with new and creative marketing ideas for your company can become challenging. To help, here are some creative marketing ideas and tips that can help you improve your brand image and recognition.  
1. Personalize The Experience
When it comes to developing creative marketing ideas, you have to think about each customer individually. Giving all your potential clients special attention can help your brand stand out. Adding a personalized touch for everyone in marketing techniques makes them feel like you are paying particular attention to them and enables you to create a strong bond. 
Using data from your website and knowing which products and pages the visitor has viewed, you can customize their experience and show them things they are interested in. Having a personalized advertising strategy can help you bring customers back to your website and generate more traffic. 
The most common area of using personalized marketing is through emails. When you send emails, using people's first names is always a good idea. Paying attention to your customer's interests and likes can help them feel more unique, and you can gain their trust through it.  
2. Make Your Social Media Feel Authentic
These days, people want authentic content from brands. Suppose you share your company and business operations, your customers will have more trust in your brand. Social media marketing is the best platform for you to connect with your audience more authentically. 
Showing people all the behind-the-scenes of your company through posts and stories can add more personality to your brand. Using social media to communicate with your audience is an excellent marketing technique. You can reply to their comments and feedback in real-time and make them feel more connected with your company. 
When you have an authentic brand image, your audience does not feel like you are marketing to them. Instead, they feel like your company is more humanized, and they can relate to it. One of the best creative marketing ideas is enabling your customers to feel like interacting and buying from people instead of a business. 
3. Host More Giveaways 
If you want to generate more attention for your brand online, giveaways and contests are some of the best ways of doing it. It is an excellent technique to gain followers and potential clients. People are always interested in winning free products, and you can carry out low-cost giveaways regularly on your social media pages to keep the audience engaged. 
The method of participation in giveaways and contests plays a massive role in boosting your online presence and increasing your brand's popularity. Asking people to follow your page or getting their friends to follow can help you gain followers. It also gives you more exposure online, and your chances of getting new customers to increase. 
The best way to host giveaways regularly is by not having costly prizes. It would help if you always stayed within your budget. By having giveaways, you can create a lot of buzz around your products and brands. People are always excited about contests, and you can use this excitement to boost your engagements and sales. 
4. Introduce Guest Blogs 
Using guest posts for blogs to grow your brand image and popularity is a brilliant marketing technique. It is one of the best ways to have more people become familiar with your company. You can allow guests to post on your website's blog, or you can post on other company's blog to reach a wider audience.  
Allowing others to post on your blog lets you churn out more content without overworking your content writing team. It also enables you to provide a fresh outlook on topics, and your readers can enjoy a different writing style. Having more content on your blog also allows you to use more keywords on your website and generate more traffic. 
Writing guest posts for other blogs can also help you reach a new audience and gain new customers. When writing guest blogs, you can add links to your website and get more traffic for your blog. Reaching out to well-established blogs with the content ideas you have is an excellent creative marketing idea. People are interested in accepting guest blogs as it helps them release more content. 
5. Incorporate Urban Marketing Techniques 
In this day and age where online marketing has taken over, using urban marketing techniques in your strategy can help generate more excitement regarding your brand. Using old-school ways of gaining attention can be a breath of fresh air. If you are a locally-owned business, using flyers and posters can be extremely helpful to gain popularity. 
You can commission someone to paint a mural or graffiti to promote your brand when incorporating urban marketing techniques. Getting permission to decorate the side of a prominent building can enable your brand image to grow, and more people will become familiar with the name. 
Putting up chalkboards outside buildings and on sidewalks can also provide an opportunity for your brand to reach a broad audience. It also looks exciting, and you can make it more engaging by letting people contribute. You can ask questions and allow them to answer or ask for ideas and suggestions. 
6. Add Visuals To Your Content
Brands and companies often focus on written content that they can post to boost their online presence. However, a lot of the time, only text can become boring for the audience. People are more interested and engaged with the content when there is a visual aspect involved. You need to keep readers' preferences in mind, and if you want people to spend time on your blog, you need to add images to the posts. 
Infographics and videos are an excellent way of putting out written and visual content. You can use your writing team to develop brilliant text, and graphic designers can incorporate the text in graphics for your social media accounts. 
Even if you don't have a graphic designer on your team, you can create infographics using templates available on various tools. Before creating content for your brand's website and social media, you should learn what your audience is interested in and the type of content they want to see. 
7. Use Chatbots 
If people have any queries and want an answer, they prefer chatting on the website. Having chatbots on your website can help you reach your customers more efficiently and solve all their problems. 
People don't want to spend time searching for what they wish to all over the website. With the help of live chat, they can ask for any specific product they want to buy. If there is any information regarding an item not present on the website, chatting with customer support in real-time can help your audience. 
It is challenging to provide live chat support outside of office hours, but you can use a chatbot to respond to customers throughout the day. You can develop a chatbot that can provide all essential information regarding your brand and company. Chatbots can also have answers to frequently asked questions.
Key Takeaway 
When developing marketing strategies for your brand, you should always use creative ideas. Being innovative with your marketing style can help you stay within your budget and boost your brand image. You can use countless ideas to improve your brand's marketing techniques and incorporate innovative ideas to gain attention and increase your company's sales.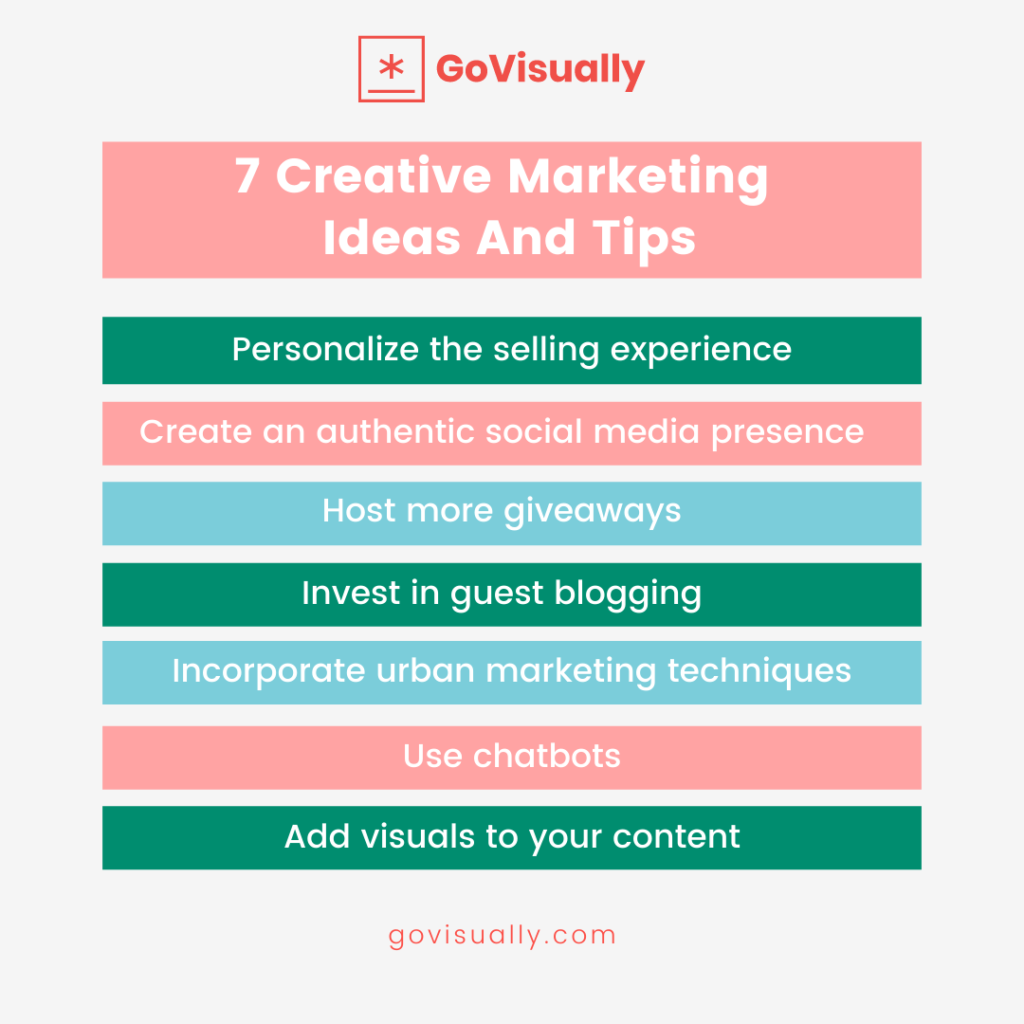 When creating written or visual content, you have to keep your audience in mind and post something they will enjoy. Creative marketing ideas can take your brand places. It helps you build a reputation for the company and gain your customer's trust.