Working remotely can be lackluster for maintaining creative productivity. That's because when you work with a team in an office-based environment, you get to share ideas, learn new things, and work actively and collaboratively. 
However, teams collaborating online can often fall apart because of differences in time zones, work habits, and no physical force to join them.
But with the changing times, does it matter? Especially in the wake of many businesses shifting to either hybrid or remote working models. It's time to master creative productivity among remote teams.
Want to know how?
Today, I'll share the ten most effective tips to bring your creative side out while working from home. 
Let's start!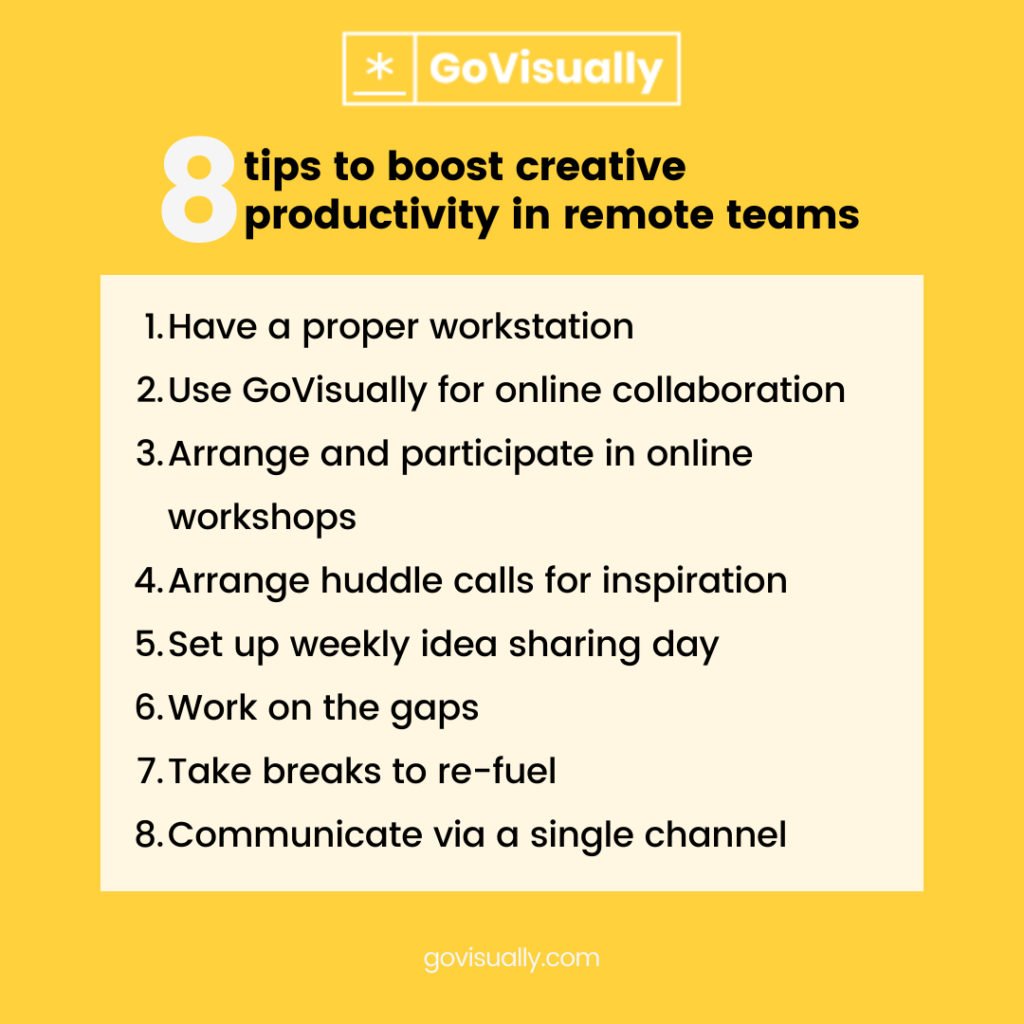 1. Have a proper workstation 
Working in a homely environment may downgrade your productivity because your overall productivity relies on the motivation to think out of the box, learn new things, work collaboratively, and more. And in a confined environment of your comfort zone, the only thing that matters is gathering details and finishing the task on time.
So, how can you bring in creativity in such a scenario? 
One of the ways is to have a separate environment in your home or elsewhere to make you feel like you are at a workplace. For example, you should set up a workstation in your house and start your day by going there and connecting with your team online. And that can include:
Live chats

Video calls

Active reporting

Simulative live tracking 

Sharing progress updates 
Moreover, suppose you don't own a prominent enough place to set up a workstation or experience disturbance at your house. In that case, you can step out of your home and work at a coworking space or some cafe.
In short, anything to keep you connected with your team members to know that you are all working parallelly to achieve your daily goals. 
2. Use online tools like GoVisually to collaborate
Speaking of connectivity, the best way to be connected is to choose a suitable online tool for collaboration and the review process.
First, you need to acknowledge what your team members need to be connected and productive. For example:
Do they need to monitor the progress?

Do they need to share ideas?

How will you incorporate editing and reviewing with your team?

Do they need consistent communication?

Does the team have to report live to be on the same track?

Do they need to stay connected throughout the day?

And lastly, do they need to see the prototype before the final stage?
After finalizing all the necessary aspects, you should invest in project management software with all the above features. You can benefit from a project tool like Trello since it offers everything to enhance team productivity and engagement.
As for feedback and the review process, use Govisually to refine your process and make it easier for everyone. With endless annotation tools and collaborative features, you can get online feedback on any design, PDF or video.
Cut design & video review time in half
GoVisually is the #1 online proofing software to get visual feedback on Designs, PDFs & Video content.
Try GoVisually free today!
3. Arrange & participate in online workshops
One of the ways to learn more and think out of the box is to participate in various activities like workshops. This may concern remote teams, but you can also dodge this hurdle through internet resources. You can arrange online workshops weekly to learn new things or work on an idea to expand, change or upgrade.
You can utilize online tools like Google Meet to bring your online team together on one platform and screen share to help them understand the concept. Moreover, allow them to participate with their presentations and point of view to know more ways of making things better than before. 
4. Arrange huddle calls for inspiration
Another way of fueling your creativity is through finding inspiration. That's because we get motivated when we see something that stimulates our drive to provide the best solution. You must have performed projects by following your clients' instructions but believe that it could be done better if you had done it in a certain way that you think would have been more promising. 
However, your hands are tied when it comes to clients' instructions. You can only suggest, and it's up to them to take the suggestion or not. But when the project is completed, you can try your creative idea to complete it again and see where it goes. Maybe you will find a better technique or come up with an innovation. 
Another way of seeking inspiration would be to arrange huddle calls with your teammates. Make sure that these calls are focused and short to keep it energetic and flowing!
5. Set up a weekly idea-sharing day
Like workshops, one more thing you can do is pose an idea at the end of every week to your team member to share. And those whose vision and ideas are promising, realistic, and creative, you can use them and give credit to that team member.
This will motivate other team members to present their ideas for getting recognition every week. This strategy is beneficial to boost team creativity, team motivation, and collaboration regardless of their location.
6. Find out the gaps and work on them
Finding out gaps is being creative, but as project managers, we know how tricky it can be to have enough time to be creative and find gaps in the market. And it becomes even more hectic when you are working by yourself with no physical team cooperation. 
You may often be overwhelmed with the workload and only seek to lessen the cards from your project board. However, you can plan and organize your editorial calendar or content strategy with your virtual content team to have enough time for your market research and finding gaps. 
Because as project teams, we should strive together for growth and not only confine ourselves to completing clients' projects. So to do that, you should plan out task deadlines to finish your projects effectively and go about finding gaps in the market.
You can find gaps by running weekly online surveys on social media platforms. And ask questions, for example, for content marketing like:
What is lacking in the content market?

How many of you read the written content?

What content marketing strategy do you mostly prefer to check? 

What makes you click on the link?

How many of you prefer video content?

Visual content vs. written content?

Do creative images contribute to generating leads?

Influencer marketing vs. direct marketing?
Through these types of questions in a survey, you open up the platform for your stakeholders like the target audience to contribute to your business growth. This way, you can connect directly with the brands and their target audience to help you improve and update your content strategy. Moreover, you can acknowledge more content trends with their statistics. 
7. Take breaks to re-fuel
No matter how dedicated you are to your work, the most important thing is to consider taking a pause. That's because you cannot be creative while working remotely when glued to your screen to perform the task. You need a break to pause, relax, think, and work productively. 
Otherwise, you will be elusively getting rid of every job by putting in little or no effort. And that also affects your overall work performance. Your clients will end up rejecting the work or suggest you redo it. This can even fill up the time you need to perform other tasks. So, don't rush and take a pause to be working creatively and effectively. 
Another more important thing while working remotely to ensure that your creative productivity is fueled is to dedicate your time and effort to your work. Although working apart from your team members in an isolated environment may wear down your motivation, you will ensure your work is completed properly and on time if you are dedicated to your work.
Being dedicated to the work enables you to perform, check details, and put in extra effort to achieve your team members' goals effectively. Moreover, you will bring more ideas and share them with your team members. 
8.
Communicate via a single channel
The lone wolf dies, but the pack survives!
However, that can only happen when your communication is aligned. And often, using a single channel can help streamline that. If you have multiple communication channels, it can end up disrupting your messages and for some, cause tab anxiety!
So, to ensure that you are parallel with your team members, opt for a communical channel and stay active on that while working. Moreover, through effective communication, you are united to plan, solve, organize, implement, share, express, and grow by dealing with all types of tall orders together with one word.
You can use any communication online tool like Slack to ensure that all team members can collaborate anytime from anywhere. 
Final Word
Lastly, but most importantly, you need to love your job and stay committed to your responsibilities. Because no matter how you work, the driving force for great work and collaboration comes from your dedication.
So, I hope that the tips we've been through today can help you boost and maintain your creativity productively while working remotely.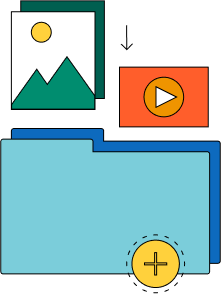 Need a quick way to share large files and creative assets?
With GoVisually Share, it's absolutely free! Try today.