Creative project management software can increase your team's creative thinking and helps make the process easy.
Fighting other creative agencies for clients, falling behind on deadlines, and struggling with administrative tasks are signs that you need more help than you are getting or are biting more than you can chew. 
Managing the creative workflow or the entire creative agency can become overwhelming for anyone to do manually. However, creative management software can help take the burden off of you.
You can use these tools to automate some administrative tasks, streamline work to meet deadlines, take the initiative to collaborate, impress clients, and do so much more.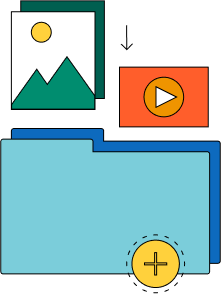 Need a quick way to share large files and creative assets?
With GoVisually Share, it's absolutely free! Try today.
What is creative project management?
It is the management of creative projects such as advertising campaigns, marketing campaigns, web design, video production, and more. Although some aspects of creative and traditional project management are similar, there is a lot to distinguish between the two.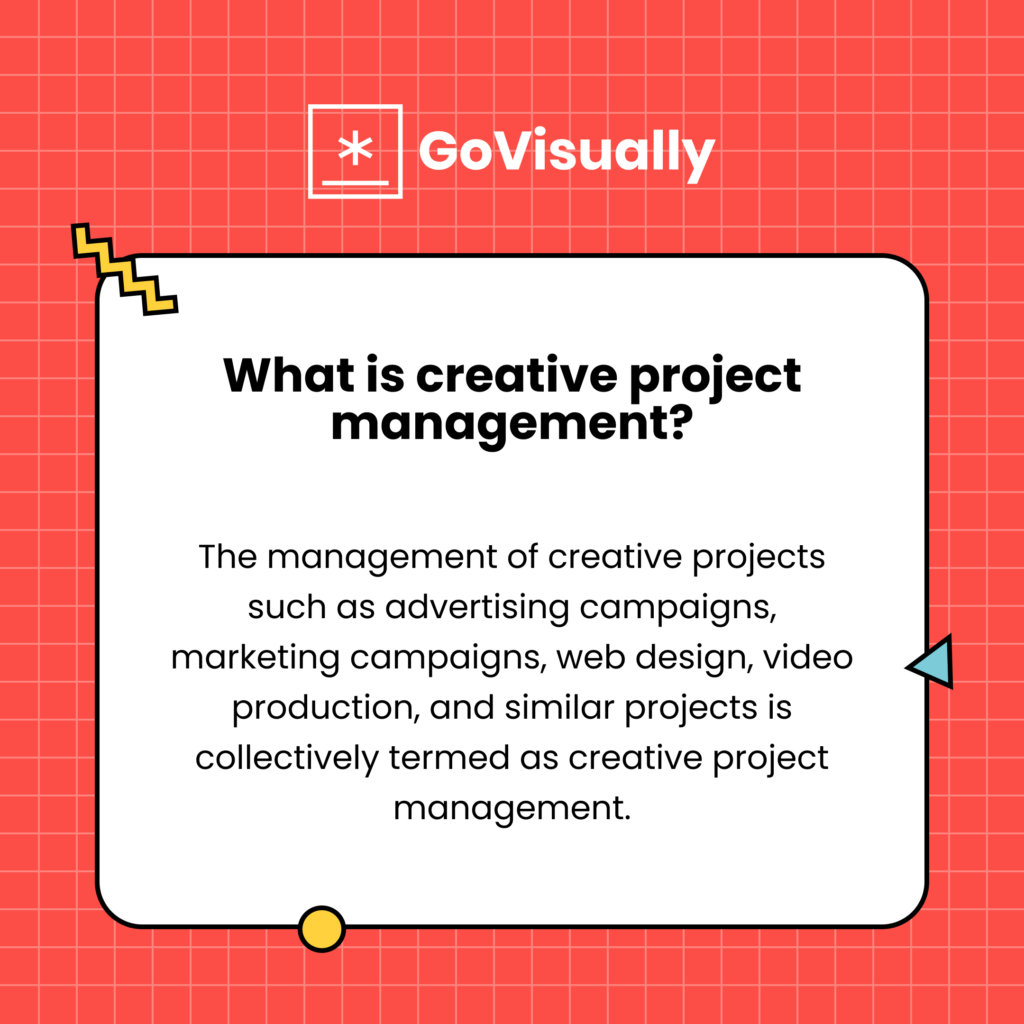 Creative project managers must ensure the innovation is allowed to flow while the brief is followed and delivered on time. Tracking the creative team's progress is more challenging than engineering or software development projects. 
If done perfectly, creative project management aligns the customer's needs with projects while allowing the team to develop new and exciting ideas and manage all the resources effectively. It is not easy to manage creative projects, even if you have an entire team for the job.
The need for creative project management software is growing with each passing day, and in 2023, we can only expect to see it become bigger. 
Cut design & video review time in half
GoVisually is the #1 online proofing software to get visual feedback on Designs, PDFs & Video content.
Try GoVisually free today!
How can creative project management software help creative work processes?
There are numerous ways creative project management software can help you manage the workflow and creative process at work.
Let's look at some of the uses of creative approval software.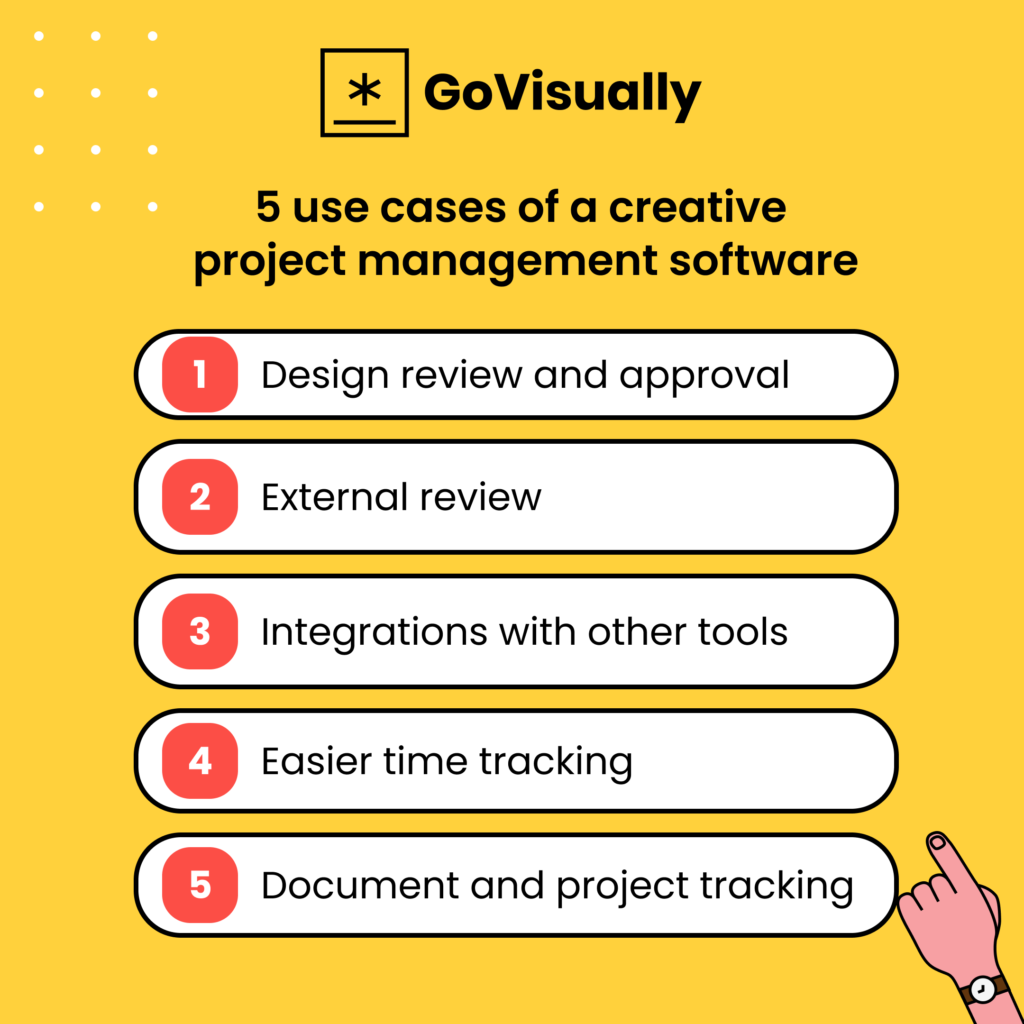 Design review, proofing, and approval
Any creative agency needs to track numerous documents, and having software that allows them to proof and approves files in one place is essential. Teams can send comments and make edits without sharing documents back and forth on email or Slack. 
External review
Creative teams must have a platform to get external users involved. For many projects, you need to get the approval and feedback of clients, and creative approval software can enable the external stakeholders to hop in and check the progress your team is making. 
Integrations with other creative software to streamline work
What sets creative project management software and tools apart from traditional PM tools is that they allow you to integrate other innovative software you need. Having integrations for Photoshop, Illustrator, InVision, and more can help your team immensely. 
Easier time and project tracking
Another important use of creative project management software is tracking your team's time and resources spent on a project. It gives you a better idea of which process is taking up the most time and how you can improve your team's efficiency. It is also vital to track your time on a project for clients paying you hourly. 
Document tracking
From conceptualization to the final approval, you can track the entire lifecycle of all your documents with creative project management tools. You can track all your documents and files through ads, website design, and marketing campaigns. 
5 major benefits of a creative project management software
Creative project management software and tools can provide countless opportunities to improve your results, making your task easier.
Here are some of the benefits of creative approval software.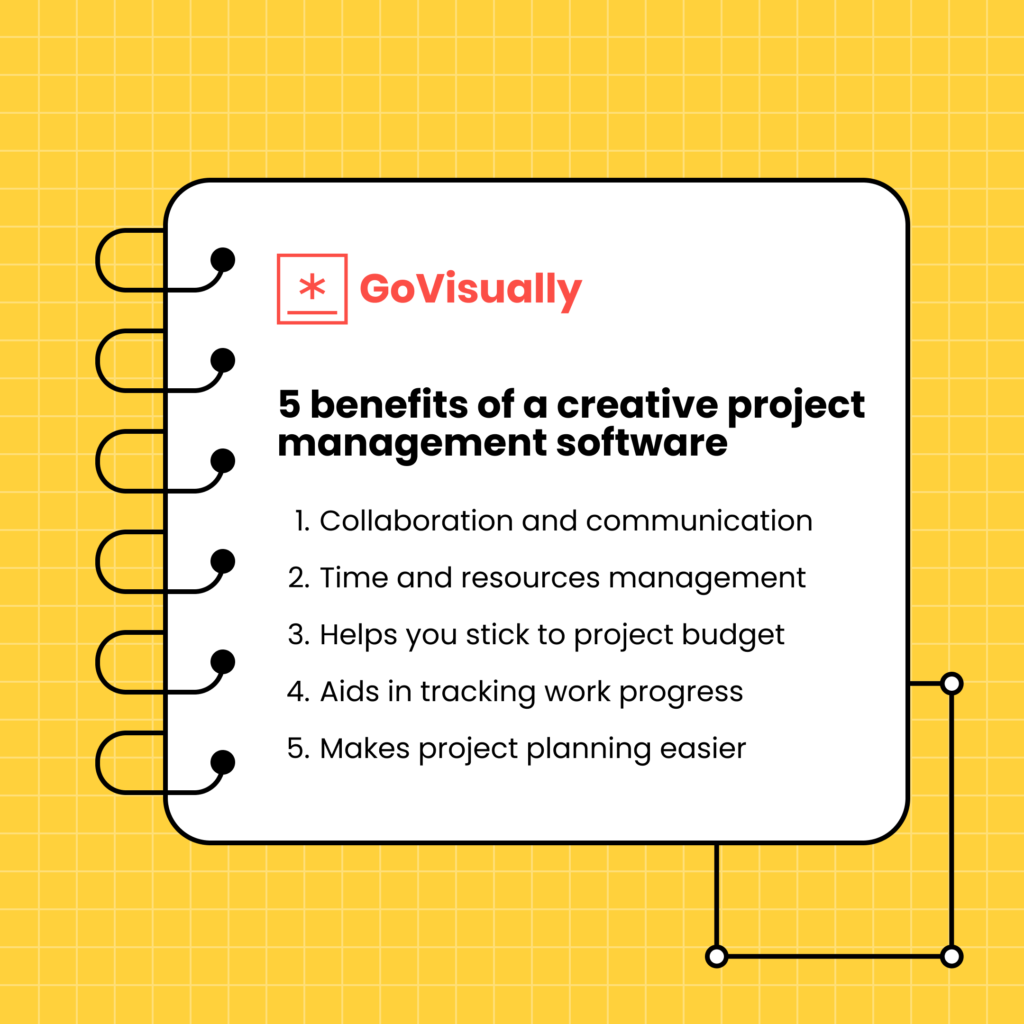 Collaboration and communication

enable you to communicate with all the team members more efficiently and reduce the long email chains between all the stakeholders. 

Time management

– You can save time and make the process more efficient by tracking your team's time on the project.

A project budget

allows you to check the project resources and where they are being spent, ensuring that your team is on track and that no resources are wasted. 

Tracking the progress

– You can see if anyone is off-track and warn them to ensure your team is productive and meeting deadlines. 

Planning projects

– With the help of creative project management software, you can plan new projects more quickly and easily. 
Top 15 creative management software and tools 
1.

GoVisually
– the #1 creative project management software
As one of the best creative approval software, GoVisually helps your team to collaborate and work effortlessly. You can use the tool to make your creative process more efficient and productive. With GoVisually, you can communicate with all the stakeholders on one platform and review and edit documents in real-time. 
It is an excellent tool to track your team's progress and the time they spend on all the various processes. It has a straightforward method for signing up, and you don't need to be extra tech-savvy to use it. With the countless features provided by GoVisually, you will never have to use any other tool or software for managing your projects. 
Key Features:
Direct comments on the platform

Efficient review process

Video review available

Option for private comments

Creative asset management 

Real-time updates and edits

Customizable dashboards
Pricing:
The solo option costs $20 per month, and the cost for a team account is $50 per month. If you add more than five people to your team, you must pay an additional $10 per person.  
Monday is a highly versatile creative project management software that can help creative teams collaborate.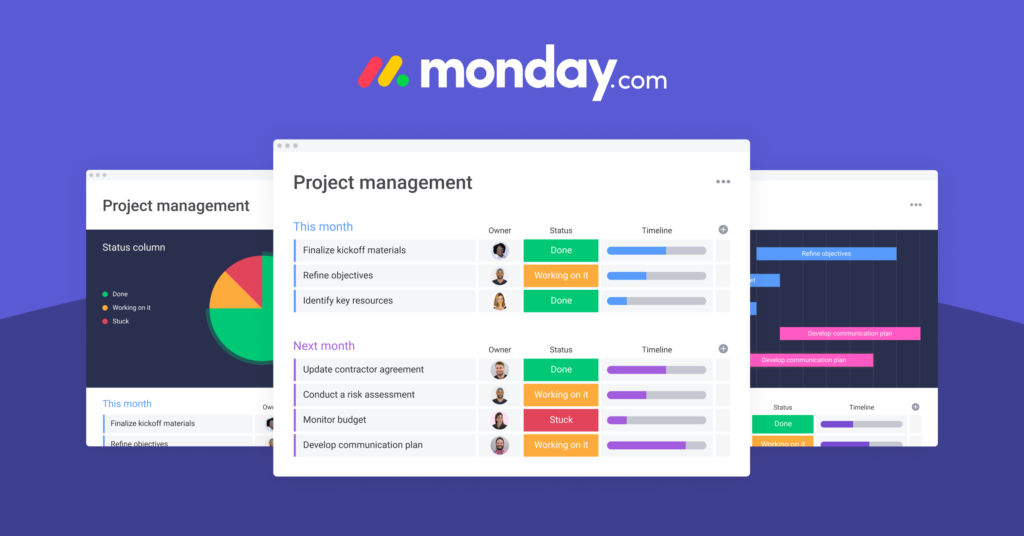 It enables you to manage tasks, creative assets, and workflow. You can use Monday to manage projects, track the time spent on various tasks, team collaboration, and much more. 
Key Features:
Drag and drop interface

Ready-made templates for creative agencies

Fast search engines

Offline mode 

Integration with other creative software and applications

Multiple viewing options
Pricing: 
If you are starting as a team, you can get the basic plan with limited features and $8 per month. There is another plan for $29 per month that offers numerous features fit for creative teams. 
nTask provides creative teams with a simple platform to work on various projects and communicate seamlessly. It is an excellent innovative project management software to organize all your assets and designs.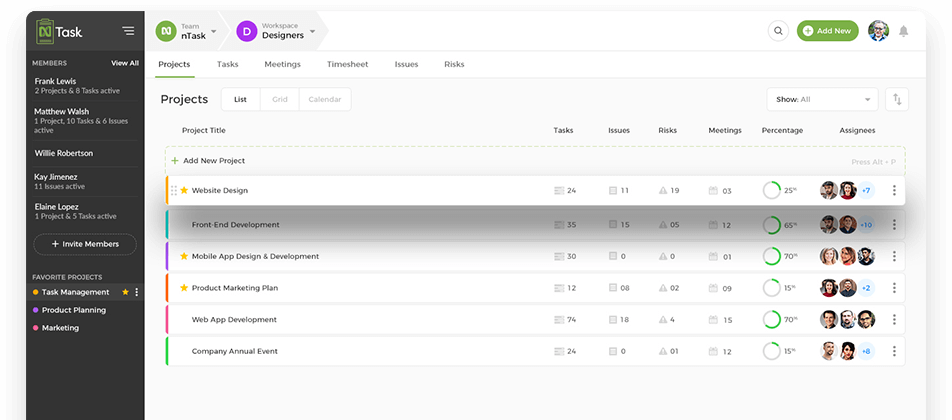 nTask enables you to communicate with external stakeholders and share your progress. It provides you with a host of different features that make the process of project management easier for creative teams. 
Key Features:
Risk management

Checklists

Sorting and filtering options for all your data

Time trackers and timesheets

Integration with 1000+ applications

Multiple-design workspaces 
Pricing:
nTask has free plans for teams with five or fewer members, individuals, and freelancers. It has three plans for larger teams, with the most basic plan starting at $2.99 per month.  
Infinity's unique structure makes it one of the best creative project management software for all teams. You can use it to manage a creative agency's workflow and organize the doctor market, making it easy to find them.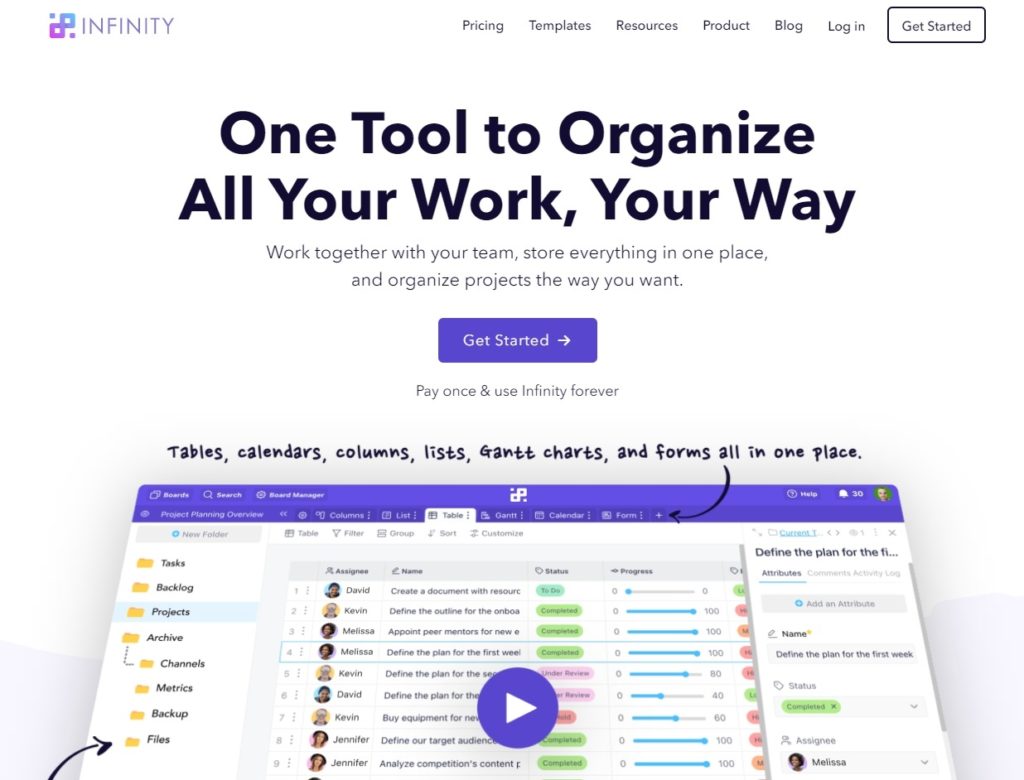 With Infinity, you can access all the different tasks of your project from one workplace and keep a check on everything. It is a brilliant tool to help you visualize all your creative work and bring exciting ideas to life. 
Key Features:
Customize attributes given to all tasks

Automate administrative tasks and reminders

Manage tasks by prioritizing

Track progress

Collaborate with external stakeholders

Numerous pre-made templates available for use
Pricing: 
Infinity offers different prices for plans with a varying number of people in a team. Their most basic plan for a five-person team allows you to pay $149 as a one-time payment instead of a yearly payment. 
With the help of Asana, you can be on top of all the creative projects and tasks. It enables you to manage your team, designs, and time, track progress, give feedback, review and edit documents, and much more.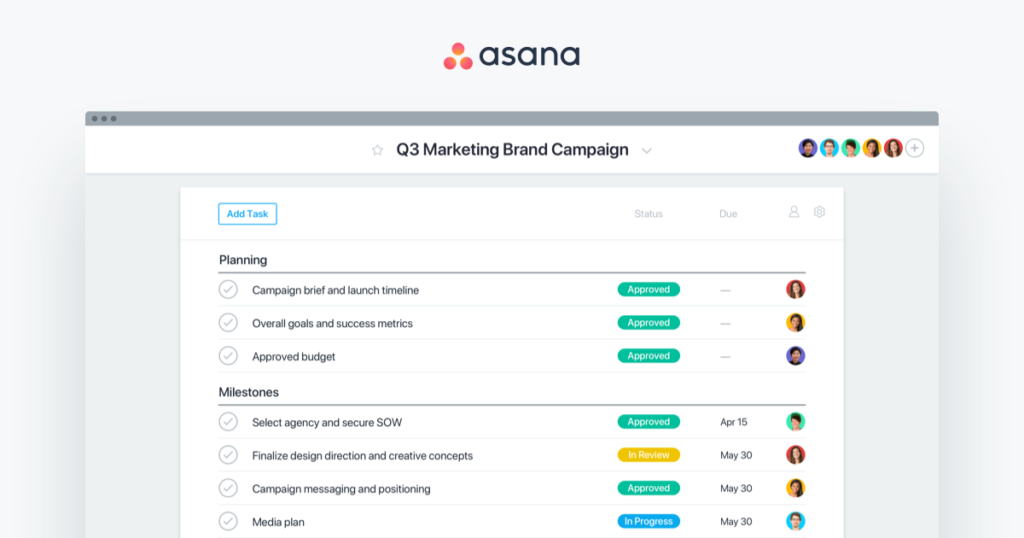 It is one of the best creative approval tools and is essential for creative teams. Asana can help you meet all your deadlines and achieve the best results. It is an excellent platform to carry out team discussions and receive feedback in one place. 
Key Features:
Automate your routine work

Advanced fast search

Export your designs

Integrate Adobe creative cloud and over 100 other tools and applications

Pre-made design templates

Task approval and admin control
Pricing: 
Asana offers free plans for small teams and individuals. For larger units, it has three different plans. The most basic plan for work teams starts at $10.99 per month when billed annually.  
If you are looking for creative project management software that enables you to handle every task, no matter how tiny, ClickUp is the perfect software for you. It has countless features that allow you to manage everything, from designs to approval.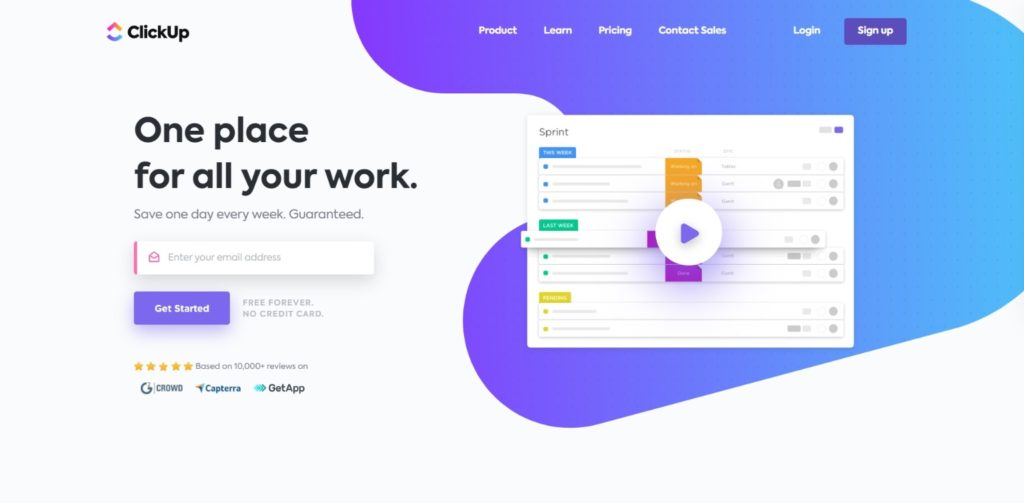 ClickUp integrates with some of the top design applications and tools, and you don't have to leave the platform for any task. You can leave comments and feedback for the team and invite all stakeholders to track the progress of any project. 
Key Features:
Automate trivial administrative tasks

Track time spent on all tasks

Image and design mockups

Track progress percentage

Multiple assignees

Pre-made design templates
Pricing: 
ClickUp offers two plans. The forever-free plan has limited features and no cost. The plan with unlimited features costs $5 per month per user. 
Hive is one of the best creative project management software and tools. It has a rich database of customizable templates and enables your workflow to be as flexible as possible.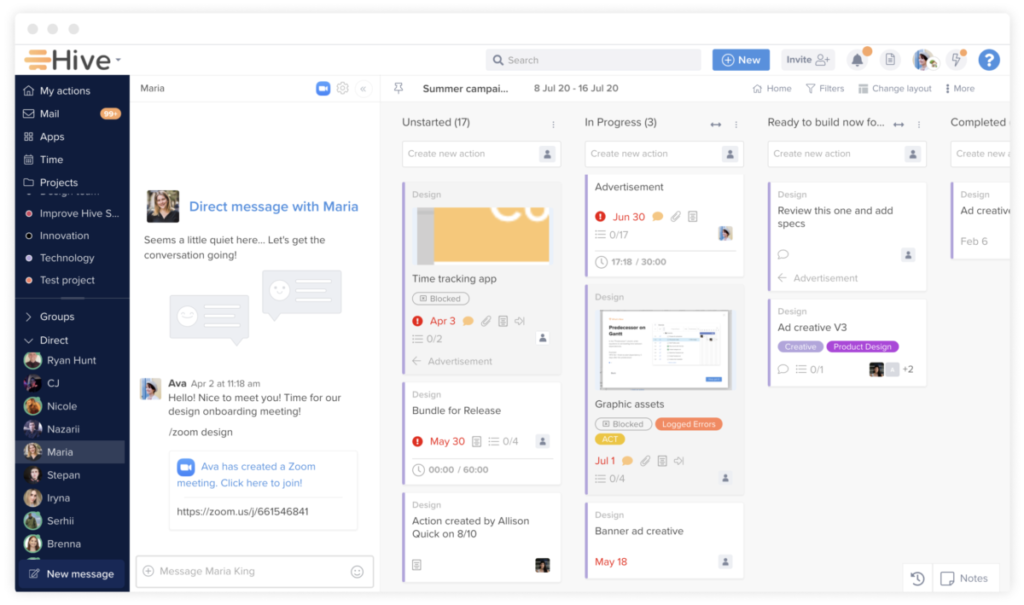 It is an excellent tool for revolutionizing the old-fashioned way of managing workflows and projects. Hive allows you to have your dashboard and track your tasks and projects with the entire team. It is one of the top platforms for creative collaborations and sharing documents. 
Key Features:
Integrate with creative software

Approvals and proofing

One place for all team communications

Invite external stakeholders

Ready-made templates that can be customized

Track your team's progress
Pricing: 
The base package offered by Hive starts at $13 per month for each person. You can also choose from other plans with more features and custom themes based on your needs. 
FunctionFox can help you manage all your creative projects and tasks. It is one of the best software for teams that are working on collaborations. It offers numerous features to help designers, marketing teams, and everyone working in the creative field.

You can analyze all the progress and complete tasks to stay ahead of the curve. As a project manager, FunctionFox allows you to have complete control over every job, and you can keep a check on your team and complete tasks more efficiently.
Key Features:
Stream of activities

Tracking time and progress

Graphical view of the dashboards

Boards for internal communications

Task prioritization

Resource and expense tracking
Pricing:
With FunctionFox, you get three paid plans:
The classic plan costs $5 per month per user

The premium plan costs $10 per month per user

The in-house plan costs $20 per month per user
You can get free demos for each plan before you make a decision. 
Flow is the best creative approval software that accommodates teams of all sizes. It is sleek and flexible enough to meet everyone's needs.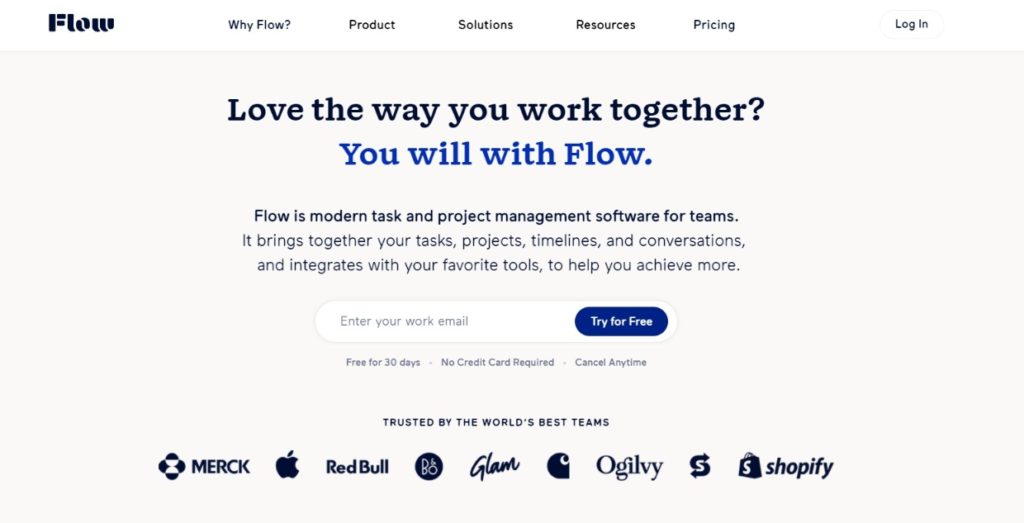 Flow is a brilliant tool for teams, creative content agencies, and studios. It enables you to visualize and plan every task and step involved with all projects. Flow allows you to check if anyone is overloaded with work. You can divide the load between other team members, making the process more efficient and boosting productivity. 
Key Features:
Calendar, list, and board view

Get notifications in real-time

Export projects

Focused mode

Drag-and-drop feature in the interface

Integrate 1000+ other tools
Pricing:
The basic plan offered by Flow has all the essential features and starts at $6 per month. The plus plan starts at $8 per month, and the premium plan costs $10 per month. The premium plan comes with all the advanced features. 
Wrike is a brilliant creative project management software that makes your work significantly more effortless and allows you to deliver extraordinary creative projects. It enables you to see every step and task being completed, and you can improve the entire team's performance.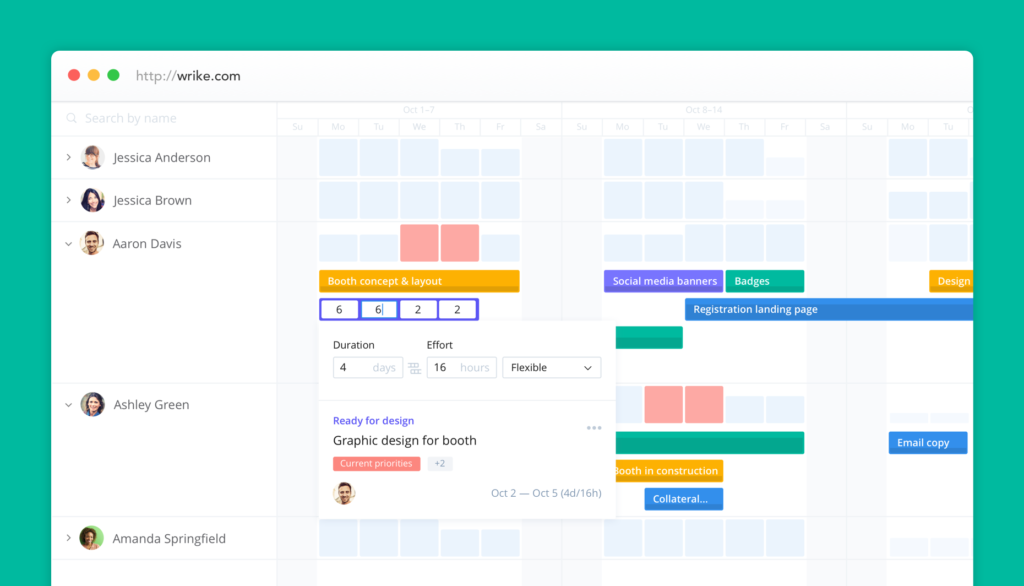 Wrike is the perfect platform to organize your work and provides a workplace where the whole team can fulfill all their tasks.  
Key Features:
Interactive Gantt charts and Kanban boards

Ready-made templates

Customize your dashboard

Automate your workflow

Track time

Visual proofing
Pricing:
If you have a small team, Wrike has a basic free plan for teams that have five or fewer five people. Paid plans for Wrike start at $9.80 per month for each user.  
Paymo is a fantastic creative project management software designed to handle any creative agency's workflow. It analyzes your projects and gives you an overview of all the tasks.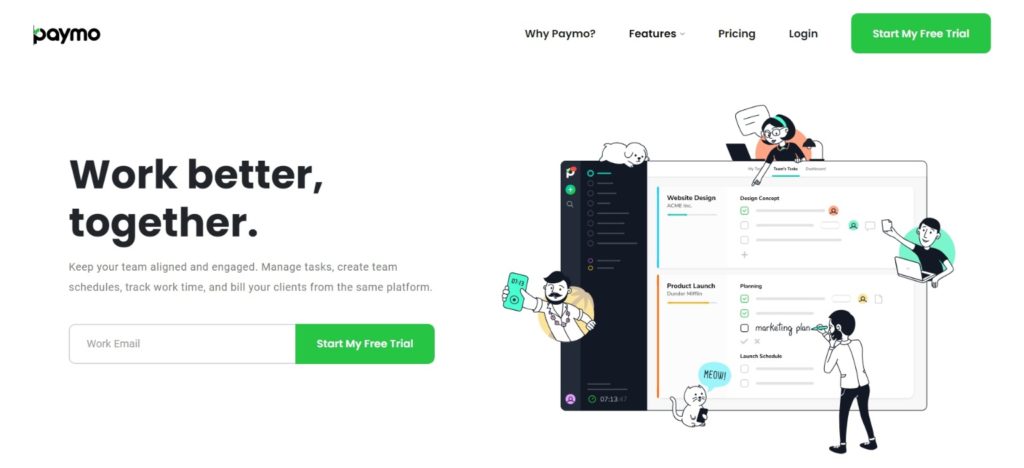 You can find out any project's scope through Paymo. It enables you to manage all activities and provides your team with a customizable workplace. Paymo is a brilliant tool to keep your creative team engaged and produce top-level content on time. 
Key Features:
Alerts for each task

User reports with time checks

Integrates with 1000+ apps, including Adobe creative cloud

Manage finances

Automated time tracker

Customizable dashboards and workplace templates
Pricing:
Paymo's small office plan starts at $9.95 per month, and the business package starts at $15.79 per month for each member. 
Scoro is one of the best creative project management software for you if you are a small to mid-sized business. It is built to help a creative agency's workflow by providing advanced planning, managing, and tracking features.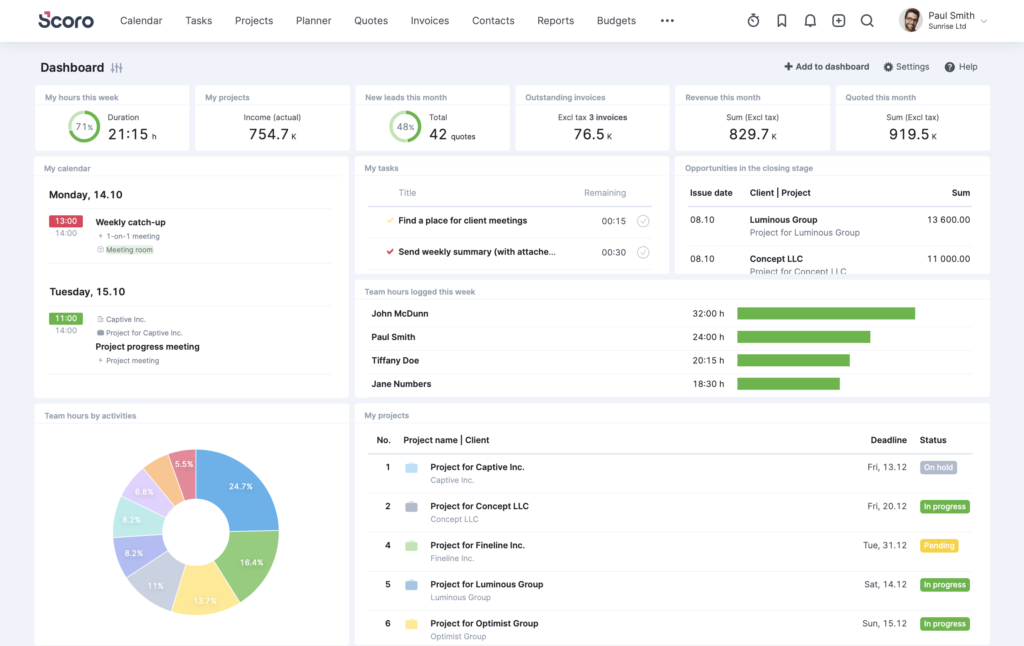 It automates administrative tasks and allows you to save a significant amount of time. 
Key Features:
Drag-and-drop interface

Automate tasks and receive reports

Share content with external stakeholders

Activity logs

Personally customized dashboards

Milestones and phases for all projects
Pricing:
It has an essential plan which has limited features. The basic plan starts at $26 per month. Advanced packages offered by Scoro begin at $37 per month. 
Smartsheet is the answer to every creative project manager's wishes. It is an incredibly user-friendly tool with numerous built-in features that help manage every project and keep a check on each task.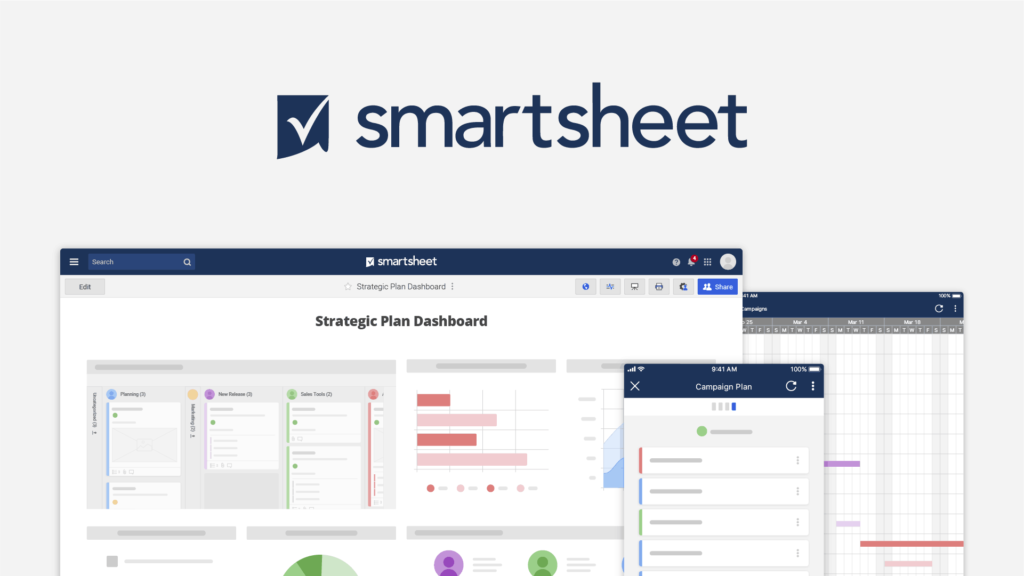 You can view your creative projects in various forms and look at each aspect in great detail. Smartsheet enables you to achieve the best results and meet all your deadlines. It encourages teamwork and collaboration, helping you out every step of the way. 
Key Features:
Manage resources

Activity logs

Advanced sharing and reporting features

Sync across numerous devices

Custom branding

Integration with many applications, including Adobe creative cloud
Pricing:
Smartsheet has four plans that come with different features. Their prices are kept secret, and you can contact Smartsheet for more information. 
Milanote is known for being one of the most visually appealing creative project management software. It can help you organize your ideas and files seamlessly, making it easier to find any document at any time.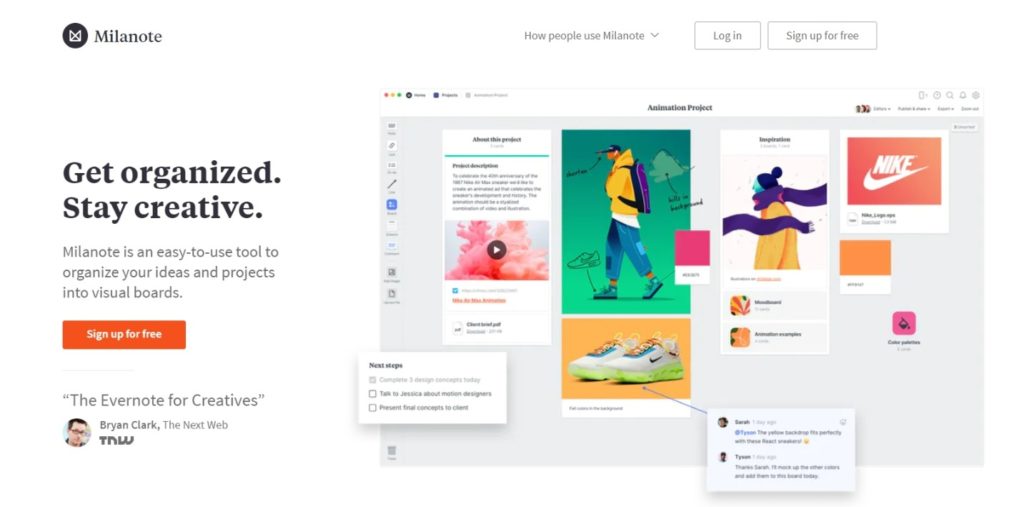 It is loaded with features that enable you to carry out various creative tasks on one platform. You can communicate effortlessly with all team members and keep a check on different tasks. 
Key Features:
Numerous ready-made templates

Built-in commenting between team members

External sharing of boards

Sync across various devices

Drag-and-drop interface

Make notes and checklists
Pricing:
Milanote is free for individuals. For advanced features, you can pay $9.99 per month, $49 per month for ten people, and $99 for a team of fifty people.  
The fantastic interface of ActiveCollab speaks volumes about the innovative team behind this creative project management software. It enables you and your team to focus on your work and provide better results than you imagined.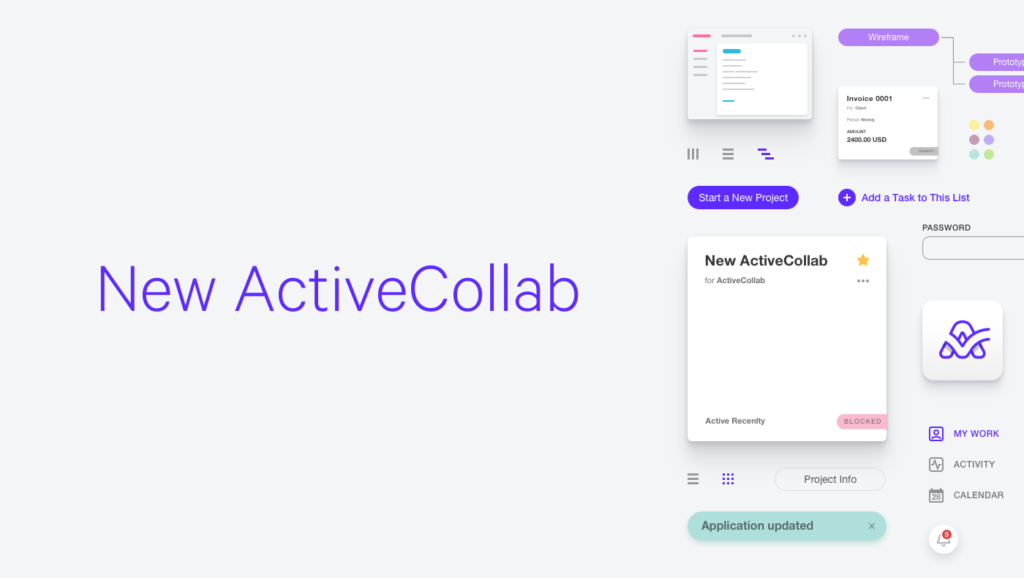 You can use ActiveCollab to schedule your work ideally and check every task by your creative team. 
Key Features:
Bird's eye view of all tasks

Batch edit and rearrange projects

History of all modifications and changes

Drag-and-drop file upload

Email notifications

Time and resource tracking 
Pricing:
ActiveCollab has one paid plan that includes all the features. The package costs $6.25 per month, and you can get a 14-day free trial.  
Key takeaway 
Traditional project management is challenging as it is; creative project management can be even more tricky. That is why you must use the best creative project management software to stay on top of all your projects and deadlines.
If you're still wondering how adding a creative review tool to your workflow can speed it up, book a demo with us today!