Ready to take your creative game to the next level in 2023 with crazy creative trends? 
Trends come and go.
But, as a content creator and marketer, keeping up with the ever-changing trends is crucial to keep the audience interested. 
Whether you're a small business owner, a social media influencer, or a marketer for a large corporation, keeping up with the latest creative trends can help you conduct a successful marketing campaign.
This article covers the five creative trends you should prioritize in 2023 to engage your audience, foster brand loyalty, and promote business growth. 
Let's begin!
Why must every marketer and creative head keep up with creative trends 2023?
Working in the marketing or content creation niche? You need to stay updated with the newest creative trends.
Here's why: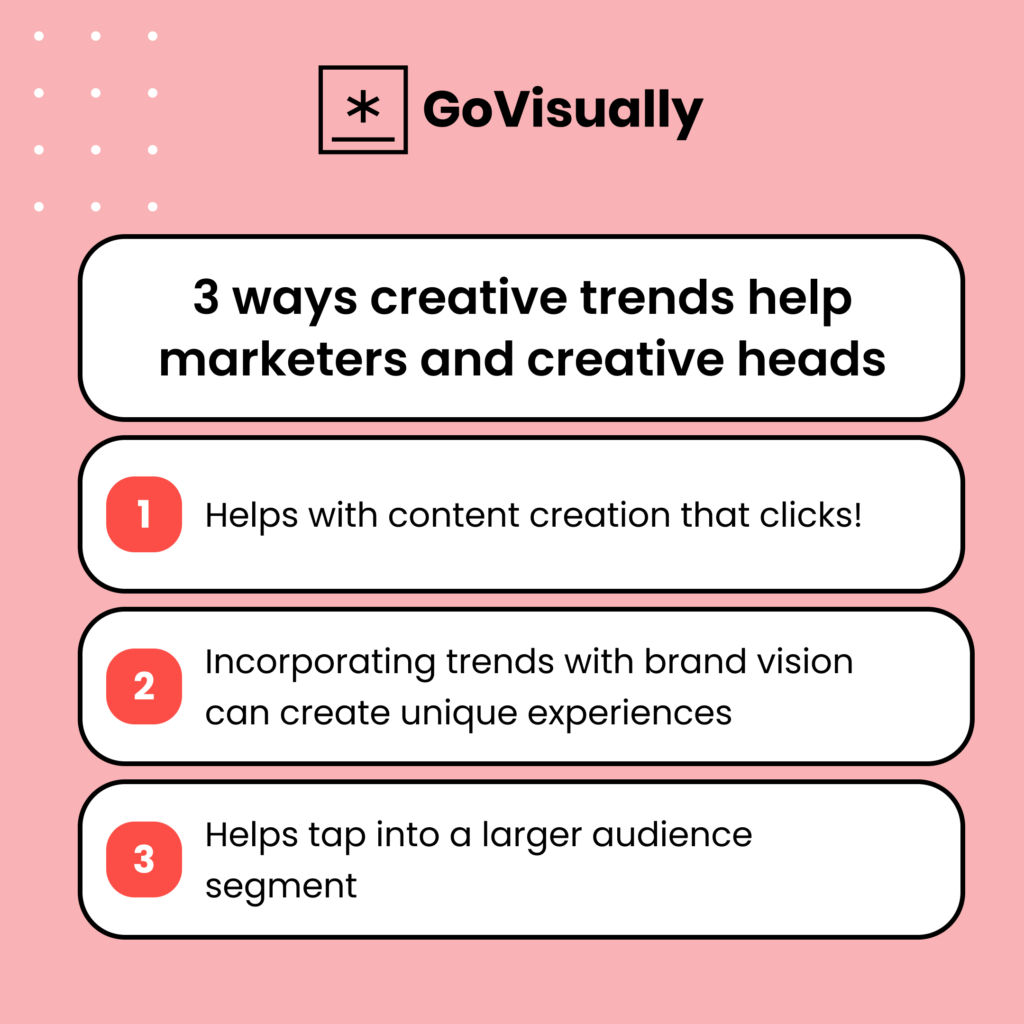 Helps with content creation that clicks!
Firstly, keeping up with the creative trends ensures that your brand remains interesting and current. This is because consumers are constantly being bombarded with content. So if your marketing comes off as outdated or boring, they will likely ignore it. 
By keeping up with the most recent creative trends in 2023, you can keep your content engaging and fresh. Plus, this will help you capture the attention of your target audience.
Incorporating trends with your brand vision can create unique experiences
Keeping up with modern trends can also make you stand out. You can stand out using original concepts and distinctive strategies when everyone uses tried-and-true strategies. Customers adore innovation, and keeping up with the latest trends keeps your brand exciting and relevant.
Keeping up with creative trends can be a lot of fun!
This allows your marketing team to stay engaged and motivated by experimenting with new concepts and ideas.
Helps you tap into a larger audience segment
Thirdly, staying current with the latest trends can help you understand your audience better. If you know the kind of content your audience prefers, your marketing efforts can be tailored to the interests and preferences of your audience. This can effectively increase brand loyalty, engagement rates, and sales.
5 creative trends to prioritize in 2023
Want to stay on top of things in 2023?
Here are five creative trends to prioritize that will help you stand out from the crowd.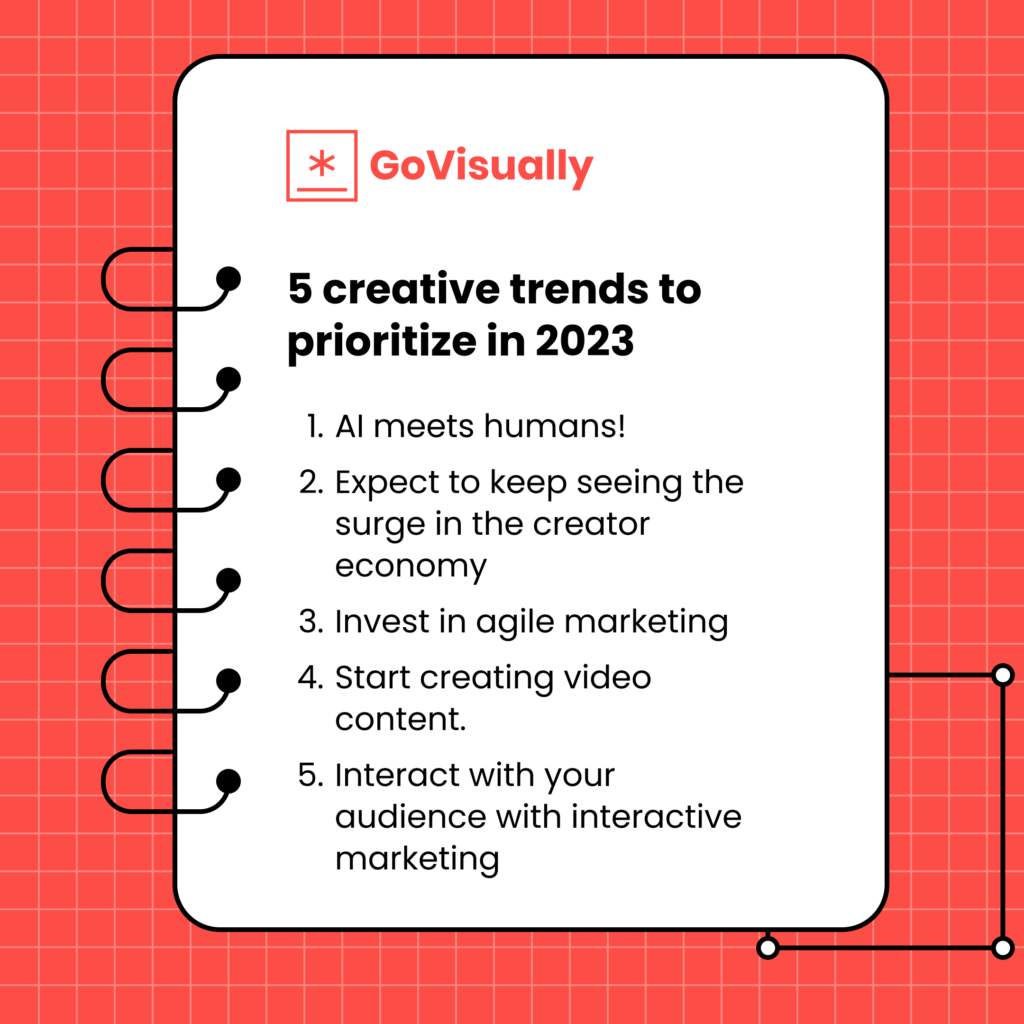 1. AI meets humans!
You probably already know all about AI rage.
AI tools are not your typical computer program. They are effective tools that enable you to unleash creativity and generate more ideas.
Simply put, generative AI is a technology that creates new content based on previously collected data using machine learning algorithms. It's like having a virtual assistant who can assist you with idea generation.
So, generative AI can give you new ideas and inspiration whether you're a writer, graphic designer, or musician.
Now, one thing that seems to scare creativity is that AI will make their jobs obsolete.
Well, no.
Generative AI is not replacing your skills or talent. It's to improve them.
It can save you time and menial effort and help create better, more effective, and aligned content.
I recently discussed this with Connor, a creative industry expert, and here's what he feels about it, couldn't agree more!
AI is #1 trend right now, in my opinion.

I compare ChatGPT and what OpenAI is creating to what happened when the Internet was first born, when Amazon first started growing as a company, and when Apple released its App store.

As ChatGPT and other AI tools evolve in the next 1-2 years, it's going to impact most online industries, especially creative related.  I project that it will become a world where the best creators become people that find the most creative ways to incorporate AI tooling into their processes.

People that ignore the AI advancements will be left behind.  Those that embrace it and find ways to marry human intelligence with AI tools will win the most.

–Connor Gillivan, Founder EcomBalance
AI is making headlines with Chat GPT.
You'll hardly find someone who hasn't heard of Chat GPT. 
Chat GPT is a name that stands out when using AI to create content. This incredible language model has been trained on enormous amounts of data to understand the human language fully. 
The best thing about Chat GPT is that the AI model does not spew out random gibberish but uses context and knowledge of the world to generate responses that make sense. Therefore,  you can rely on Chat GPT to produce high-quality content. 
Of course, Chat GPT is still a machine at its core and has many limitations. But who knows what incredible things Chat GPT and its fellow AI-powered tools will be able to accomplish in the future as AI develops and improves even more.
2. Expect to keep seeing the surge in the creator economy
In recent years, we've observed a significant majority of people turning their hobbies and passions into a source of income via social media platforms such as TikTok, Instagram, and YouTube. This trend – known as the creator economy – has grown to such proportions that for many people, their public profile is no longer a side hustle but now constitutes their primary source of income.
With the growth of the creator economy, user-generated content has grown in popularity and importance, especially for brands. Users' content, also known as user-generated content or UGC, is becoming increasingly valuable to brands and companies. 
Since the audience considers this content more real and relatable than traditional advertising, this kind of content has become an effective way for brands to engage their audience on a more personal level. This means that long-term relationships between influencers and brands are also expanding, with brands working continuously with influencers to produce content that appeals to their audience.
Platforms like TikTok have made creating and disseminating such content even easier. Due to the app's algorithm's focus on surfacing fresh and engaging content, even creators with modest followings have the potential to become viral sensations and gain a significant amount of attention.
Now that brands know the potential of these platforms; they are utilizing them to engage audiences more authentically.
3. Invest in agile marketing
What is the future of marketing? Well, agile marketing is sure to take center stage in 2023!
So, what is agile marketing? 
It is a flexible, iterative marketing strategy focusing on cooperation and adaptability. Agile marketing is about segmenting your efforts into smaller, more manageable campaigns. This way, they can be changed on a whim in response to client feedback, market shifts, and other factors.
Agile marketing has many advantages. One benefit is that you can adjust your campaigns in real time. This way, you can be more responsive to market changes and stay one step ahead of the competition. 
It promotes cooperation and communication among team members. This can effectively streamline your workflow and ensure everyone is on the same page. That's because agile marketing is more customer-focused, so you are providing actual value to your customers rather than just producing content for the sake of it.
Coca Cola doing agile right!
For instance, Coca-Cola is a company that understands the importance of staying current in its marketing efforts. When they launched their "Taste the Feeling" campaign, they knew they needed to be agile in their approach. 
So, they gathered a small team of marketing experts who worked collaboratively to create and test campaigns in real-time. Using data to inform their decisions, they could quickly make changes and iterate on their campaigns.
The result was a successful launch, with over 5 million impressions generated in just two months!
4. Start creating video content. Now!
Video-based content is extremely popular right now. More specifically, live streaming and short videos have recently gained popularity. 
Live to stream
Live streaming is an effective tool for attracting potential customers and increasing sales. 
In 2021, consumers streamed content on mobile devices for an estimated 548 billion hours. There's a lot of screen time there! 
Plus, combining influencer marketing with live streaming has the potential to be revolutionary. Customers can interact with products more easily, and brands can spread their messages more effectively when influencers can make purchases while streaming and chatting with viewers about them. 
Whether introducing a new product, hosting a Q&A session, or just sharing your opinions and experiences, live streaming is a fantastic way to interact with your audience in real-time. The best part? Live streaming doesn't have to be complicated. 
Plus, platforms like Facebook, Instagram, and YouTube have made it easier than ever to conduct a live stream. This allows you to interact with your audience in no time. 
Here are a few tips to keep in mind when using live streaming in your marketing strategy:
Choose the right platform for your audience:

Different platforms appeal to different audiences. So, choose the platform that most closely matches your target market to conduct a successful live stream. 

Promote your live stream in advance so

viewers can mark their calendars and tune in. This will help increase your viewership.

Be engaging and authentic:

Don't be afraid to show who you are and engage your audience personally. Request feedback from the audience and promptly address criticism.

Include a clear call to action:

Do you want your audience to buy a product, sign up for a newsletter, or follow you on social media? Ensure you include a clear CTA so your audience understands what to do after watching your live stream. 
Short-form video
Marketers utilize bite-sized videos like Instagram reels and TikToks to attract viewers and raise brand awareness among millennials and Gen Z. However, this is just the beginning of the trend!
It makes sense that all social media platforms highly prioritize video content. This is because video content is given priority even on platforms historically relying on text, like LinkedIn.
This means that 2023 will see even more short-form, immersive video experimentation.
But what makes a successful short-form video? 
First of all, keep it punchy! Successful videos are typically 15 to 30 seconds long. 

You can use several tricks, including a surprise twist at the conclusion—such as a revelation or transformation— to keep viewers interested and craving more. 

You can entice the watchers with intriguing captions like "Wait for what's next."

If you aim for virality, don't be afraid to jump on the latest bandwagon and try remixing other people's songs or videos.
So, browse what's trending on platforms like hashtags, topics, or music, and get creative with your short-form videos in 2023!
5. Interact with your audience with interactive marketing
Interactive marketing involves including interactive elements in your online content to draw readers in and keep them interested.
There are many different ways to incorporate interactive marketing into your marketing strategy. For instance, you could design a game for your brand, collaborate with an influencer to host a quiz or incorporate polling into the articles on your website.
Want to get the most out of interactive marketing?
Create engaging, high-quality content that your audience will find interesting. 
Test various campaign components to determine which best serve your unique goals and objectives. For instance, you could test your interactive marketing campaigns using an A/B comparison to see which brings in the most visitors to your website.
Here are the 3 best ways to implement interactive marketing campaigns.
Gamification is one form of interactive marketing that's taking off. Utilizing game-like elements will help you engage and entertain your audience. For instance, Sephora offers entertaining challenges and rewards customers with discounts and free samples as part of its rewards program. 
Plan a social media contest.
Another example of interactive marketing is a social media contest, where a brand asks followers to participate by submitting photos or videos related to a specific theme, hashtag, or product. The brand can then showcase the entries, engage with participants, and award prizes to winners.
Create interactive content
This content grabs your audience's attention and motivates them to interact with your brand more deeply. This includes tests, games, calculators, evaluations, maps, and videos.
Doing so has numerous advantages, including improved audience engagement, better customer learning, more leads and conversions, and increased brand loyalty. 
Final thoughts
If you want to keep your brand at the top with content that clicks, stay updated with trends, and stay relevant in the digital landscape.
But creating content is one part of your campaign. The other is getting feedback on it and quick approvals for timely scheduling. 
So if you're looking for a tool to help you collaborate and streamline your creative process, sign up for a free trial with GoVisually today. Its easy-to-use interface and collaboration features can reduce your review time by half.
Sign up for a free trial today and bring your creative ideas to life!