Inspiration is a hard thing to come by these days amidst the hustle and bustle of everyday life. A lot of times, you want to create something, but your ideas won't flow. Don't worry; much like everything else, the internet has a solution to your creative block and the solution lies in the best creative Twitter accounts. 
Twitter is one of the biggest social media platforms, standing just behind Facebook and Instagram with a whopping active user base of 206 million!
And while it may not be the topmost social media app, it is wholly unique; we bet you can't think of any other app like Twitter. If you're a creative working in social media or looking for inspiration, you probably frequent sites like Instagram or Pinterest.
Twitter is often overlooked as a creative platform, but you may be surprised to find out that thousands of creatives have an active presence on Twitter, and they're worth looking into! 
Twitter is full of creatives working to gain and provide other creatives with visibility within the digital community. There is tons of inspirational and helpful content on Twitter that you might be missing out on while scouring Instagram and Pinterest for ideas.
You won't have to search for inspiration any longer. We've got you covered.
Top 10 Creative Twitter Accounts Every Creative Should Follow
Here are our top picks for the best creative Twitter accounts every creative should follow.
GoVisually's Twitter account is a visual treat! You can't help but feel inspired by the daily dose of tips, recommendations, and ways to make online proofing easier and efficient.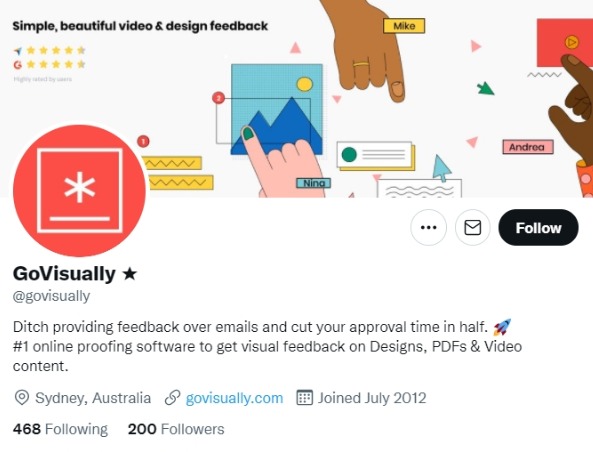 In fact, we often try to share our blog's content as short infographics so everyone can learn more!
The cool hunter is an aesthetic hub, full of design, photography, and overall creative inspiration. The cool hunter is your go-to Twitter account for creative inspiration around the globe.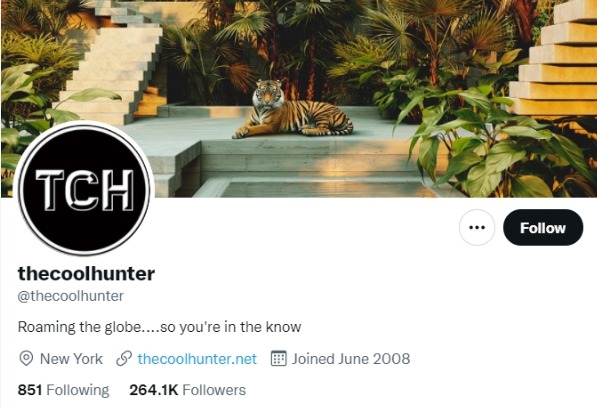 We highly recommend you check the page out! If you're a creator or designer, you definitely have tons of inspiration to gain from thecoolhunter's Twitter account. 
Chris Spooner is a design genius!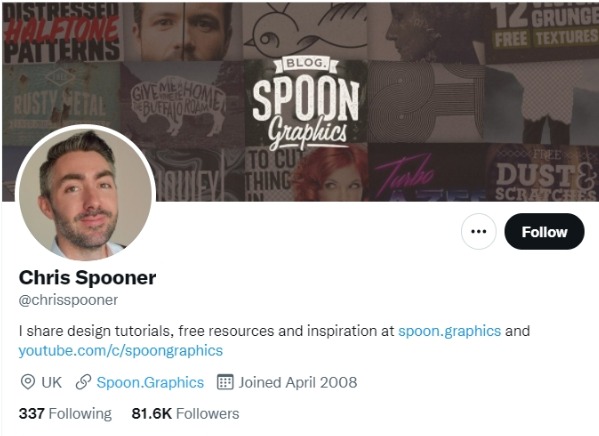 His Twitter feed is a helpful resource hub for design tutorials, free resources, and lots of inspirational content. If you're a beginner struggling to understand the intricacies of design work, Chris Spooner has you covered! His tutorials break the process down to the last detail, making it easy for beginners to grasp the concepts!
Behance is an online platform dedicated to showcasing the world's creative work to help give designers more visibility globally.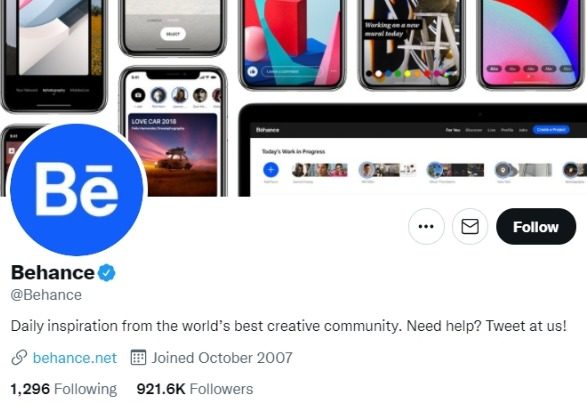 Adobe launched it in 2005 and has accumulated over 10 million active members from the global online community. Behance's Twitter feed serves the same purpose as the online platform, the account posts daily creative and design inspiration. 
If you're a creator or someone working in the design field, Behance is an excellent account to follow for your daily dose of inspiration! 
Fabio Sasso's Twitter account runs under the handle @abduzeedo. The account is a massive collection of graphic design and photography content that will inspire any creator through the feed!  The account regularly features different creators around the world to showcase their amazing work.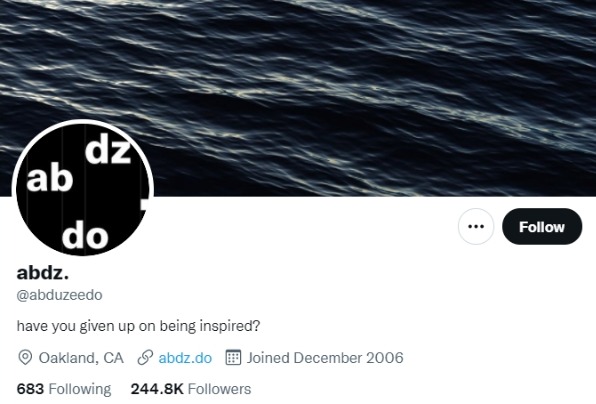 If you're an illustrator and hunt for design ideas, this is definitely the account for you! We highly recommend you check Fabio Sasso's account out for some daily inspiration! 
The name says it all! Design inspirations Twitter account is the Twitter account for design inspiration. This account has you covered whether you need inspiration for design, art, logos, UI designs, or photography!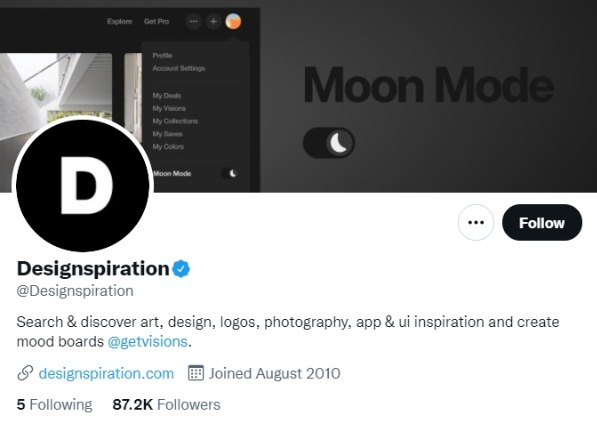 The account also links to @getvisions, another Twitter account with everything you need to create mood boards for your creative ideas. What's more? There's also an excellent website where you can look at creative content made by creators from around the world! We guarantee that even a few minutes scrolling through this feed will have you racing to pick yourself up and create!
Debbie Millman is an American author, educator, designer, and creator. Millman has a hit podcast called "Why Design Matters".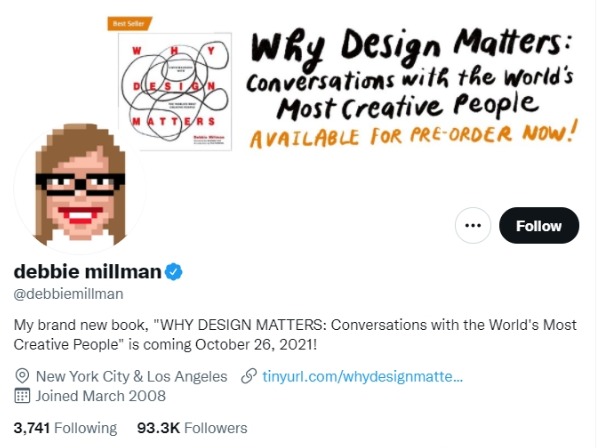 She also has had a few best-selling books such as "Brand Thinking and Other Noble Pursuits" and "How to Think Like a Great Graphic Designer". Needless to say, Debbie Millman knows what she's talking about when it comes to design! 
Her Twitter account is an impressive collection of design tips and creative inspiration. Every creative or designer reading this should definitely follow her account!  
Despite the name, this account works to combat your creative block actively! Creative Bloq is your go-to Twitter feed for creative inspiration. Not only is the Twitter account an amazing creative hub, but it's also linked to a blog by the same name.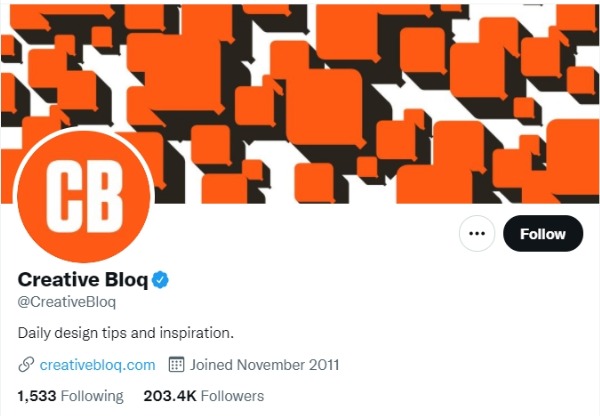 The blog is an excellent resource for art and creativity tips that every creator could greatly benefit from! We highly recommend you check them out and guarantee that you'll feel inspired to create your next masterpiece! 
Leta Sobierajski is a creator and graphic designer. She recently created her own pair of Adidas Superstars with LEGO and Adidas.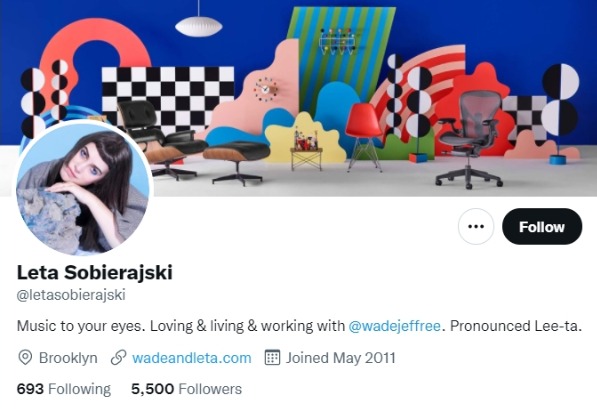 Needless to say, she's an expert in the field and has many helpful and unique insights to offer anyone that visits her Twitter account and website. 
Leta Sobierajski's Twitter is an aesthetically appealing blend of graphic design, art, and photography. She's got a little bit of everything for her large and diverse Twitter following. We promise you won't regret following this Twitter account. Your daily dose of design inspo is only a few short clicks away!
WebDesignerMag is a monthly magazine for creatives in the digital community. You can subscribe to the magazine virtually for your monthly dose of design tips, resources, insights, advice, and of course, lots and lots of inspiration.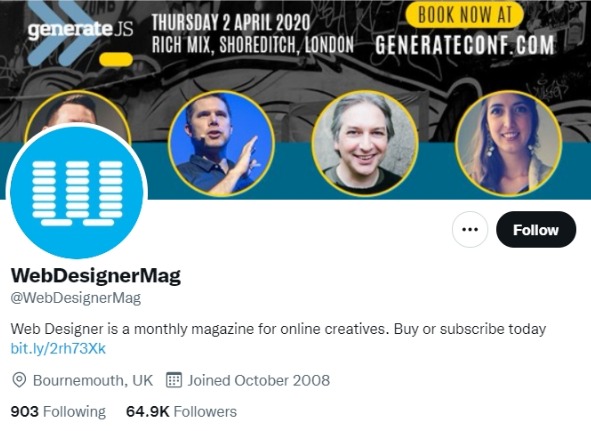 Not only does WebDesignerMag share inspirational creative content, but their Twitter account also shares helpful blog posts for creatives related to tech, gadgets, and other instruments that creatives use; they even have blogs on the best type of paintbrushes!
Not only is this your go-to hub for inspiration, but you'll also learn a little something too! We highly recommend you follow this excellent resource. You will surely learn something while being consistently inspired!
Bonuses:
Typographica is a review account for typography and fonts. How interesting!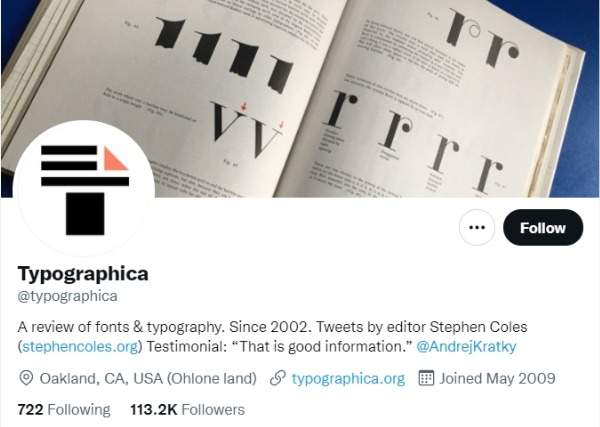 Typographica's account regularly shares useful resources and information regarding typography design and graphic design in general.
This account is an impressive repository of advice, tips, and inspirational content to get your creative juices flowing. You can also use this account to discover many fonts you probably had never seen or even heard of before! 
Key Takeaway
Even though Twitter is often overlooked as a booming creative space, it's got tons of helpful and insightful content that is guaranteed to help you get back on track with your creativity! Follow these amazing creative Twitter accounts for your regular boosts of inspiration and ideas.