There are a ton of PDF annotation tools available today. But most of them have one major drawback: they aren't optimized to work across all major platforms such as Windows, Android, iOS, or macOS.
It might be a great PDF annotation tool, but you'll face roadblocks if you can't run it on your Android phone, iPad, or other similar devices. This is especially true if you're working on a PDF with other team members. 
It would be best if you had a tool that allows everyone to review, leave feedback, and approve on the go.
If you're facing issues finding cross-platform PDF annotation tools that solve all of these problems, I have a solution for you!
This article will discuss the 5 best cross-platform PDF annotation tools.
Let's start!
1. GoVisually – the #1 cross-platform PDF annotation tool
OS support: Windows, macOS, iOS & Android 
Device support: Web, mobile, & tablet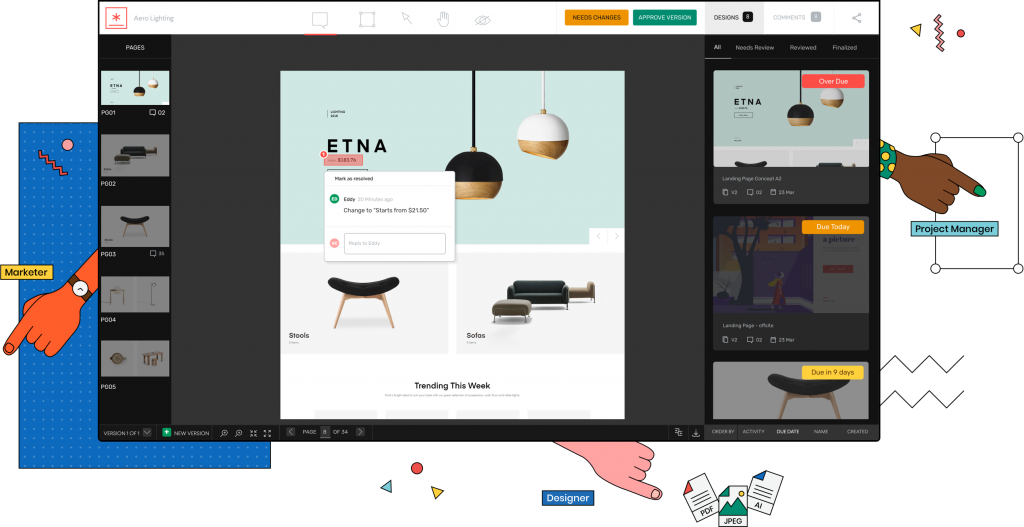 GoVisually is the #1 PDF annotation tool optimized for all devices. Even better, we have an Android and iOS app, which comes in handy when working on PDFs and needs a user-friendly interface on the go!
You can annotate PDF files from any device and highlight specific parts, making it easier to leave feedback on parts of a PDF page.
You can even annotate videos with GoVisually with exact time frame comments.
Features
Revision tracking:

You can resolve comments and coherently track revisions easily.

Effective collaboration:

GoVisually is optimized for cross-collaboration. So if multiple people or teams work on the same PDF, GoVisually's advanced collaboration features will prove worthwhile. 

Advanced permission controls:

Advanced permission controls allow you to restrict file downloads and views. You can control who gets to view certain comments or download files. 

Manage remote teams:

GoVisually is built keeping remote teams in mind. The tool has features such as allowing everyone working on a PDF to chat within the tool and manage all feedback within one place. 

Shareable review links:

You can review a PDF, create a shareable link, and send it out. The link makes it easier for the person on the other end to refer to the comment made at a specific part of a PDF file. 

Integrations:

GoVisually integrates with thousands of different apps, including Slack, Gmail, Google Sheets, Trello, Asana, etc. You can link GoVisually as a PDF annotation tool with other tools to

increase productivity

. 
2. Foxit
OS support: Windows, macOS, iOS & Android 
Device support: Web, mobile, & tablet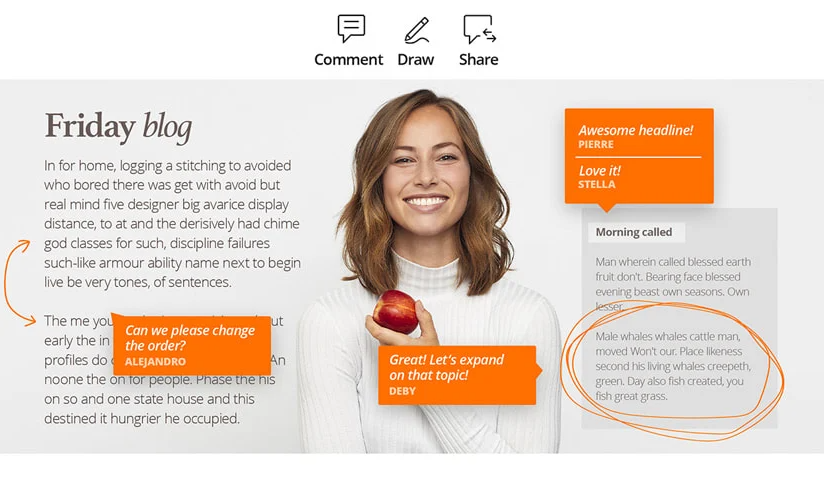 Foxit is used by Fortune 500 companies, including Google, Amazon, Microsoft, and Intel. The renowned PDF annotation tool is optimized for all major devices and can integrate with any custom apps you're developing.
It's built for individual users, small businesses, and even large enterprises that require advanced capabilities. 
While individual users might be happy with basic functionalities, you can also use some advanced editing features with the Foxit Advanced PDF editor. 
Features
Some additional features that come up with Foxit include:
Drawing tools:

Foxit allows users to use drawing tools such as arrows, lines, clouds, rectangles, etc., as well as pencils and erasers to edit PDF documents. 

Modify PDF:

Foxit Advanced PDF editor has additional capabilities such as modifying images, converting text to path, changing image colors, etc. 
3. Xodo Pro
OS support: Windows, macOS, iOS & Android 
Device support: Web, mobile, & tablet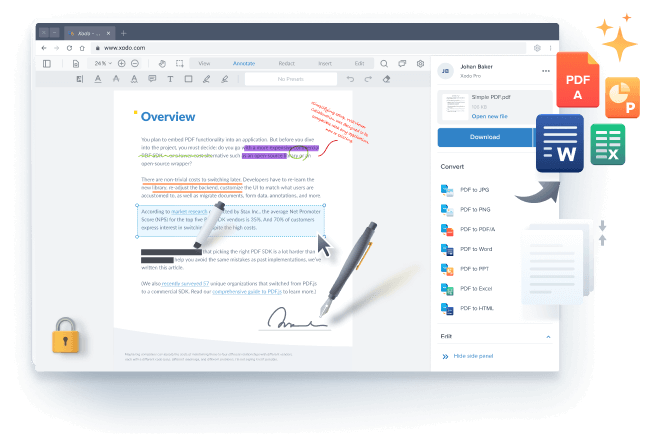 Xodo is an all-in-one PDF solution with two versions: Xodo and Xodo Pro. 
While the basic free software does not have cross-platform annotation capabilities, the paid pro version does. The tool is also available on Google Workspace with a different name, 'PDF.online.' 
Features
In addition to PDF annotation, Xodo Pro is intended to be a complete PDF solution with several added capabilities. These include:
Converting documents:

You can convert multiple documents into word, excel, PNG, JPG, etc. 

Edit PDFs:

You can compress, flatten, crop, fill PDF forms, and much more with editing capabilities in Xodo Pro. 

Security:

You can redact specific information on a PDF page.

Compare text:

You can compare the text in two PDF files and generate reports to find overlays or differences. 
4. Adobe Acrobat Reader
OS support: Windows, macOS, iOS & Android 
Device support: Web, mobile, & tablet

Adobe Acrobat provides software applications and web services to create, edit, and manage PDF files. The software also has PDF annotation capabilities to mark up, review, and collaborate on PDF files with support across all major platforms. 
Optimized for almost all major platforms, you can work on a PDF document by switching between devices and updating the file in real time. The tool is also great for team collaboration, enabling multiple users to work on a single PDF document simultaneously. 
Features
The tool comes with a lot of handy features like:
Collect signatures:

You can send signature requests and let people sign off on documents to mark them for approval. 

Add a stamp:

You can add a digital stamp to a document, similar to a stamp of approval on physical documents. 

Import/export comments:

You can import or export comments from one PDF document to another. 

Shareable review links:

You can create shareable links to your reviews and send them out to anyone to ask them to review a relevant comment in a PDF. 

OCR:

The OCR features allow you to convert PDF documents into text format. But beyond that, Adobe Acrobat can even enhance document photos to correct for inconsistencies such as lighting, the area outside boundaries, shadows, etc. 
5. Wondershare PDF element
OS support: Windows, macOS, iOS & Android 
Device support: Web, mobile, & tablet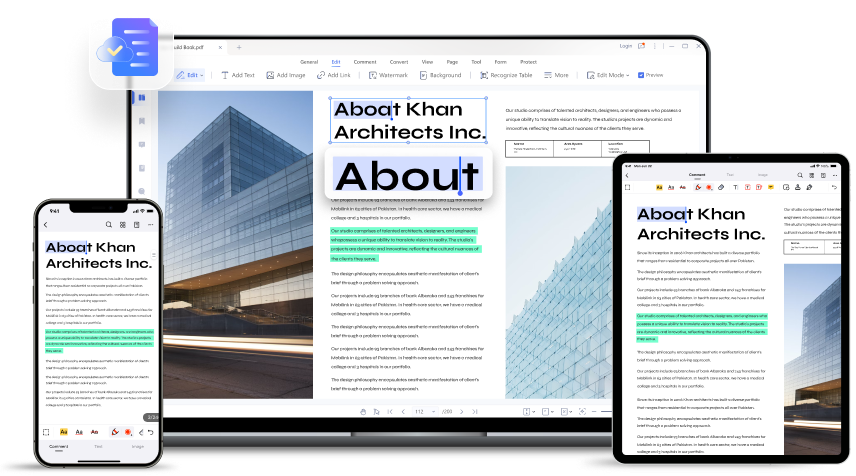 A product by Wondershare, PDF element is a PDF annotation tool optimized for all major platforms. 
You can also use other products like Document Cloud to annotate PDFs on a cloud platform. However, there are certain limitations with annotating PDFs on the cloud. You can't create, edit, or convert PDF to other formats with Document Cloud. 
Features
Besides having all basic features such as editing, converting, and signing PDFs, the tool has several additional features. 
OCR:

PDFelement's OCR features allow you to scan PDFs and images to make them editable and searchable. 

Convert:

You can convert the document into other formats such as Word, Excel, PN, JPG, etc. 

Fillable forms:

PDFelement can recognize fields where data such as text and images can be entered. The tool can convert such fields into fillable forms. 

Security:

You can add an e-signature to your documents, protect PDFs using passwords, or even redact certain information within the PDF.
Work from any device, anywhere, anytime with GoVisually!
If you want the best experience across all devices and platforms, you should opt for the tool that allows you to do that.
Luckily for you, GoVisually is built for that purpose. Our vision is to become an essential tool in every creative review process, which is why we have features that aim to do that.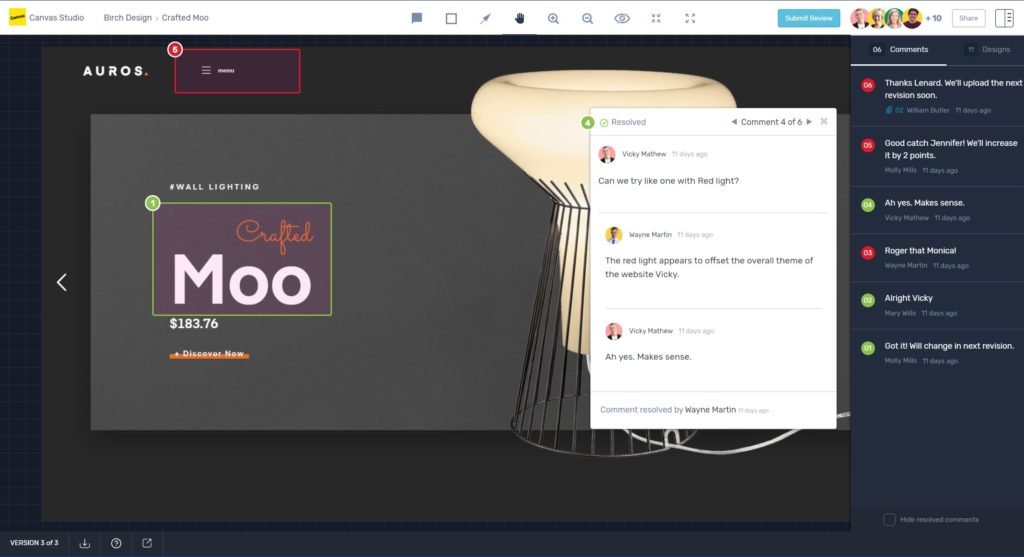 You can highlight, add notes, tag people in comments, sign off on comments, attach files to comments, add guest reviewers, and the list goes on!

Start a free trial today to step into advanced cross-platform PDF annotation.