You have the designs. Everything is ready, but now comes the most crucial and challenging part: getting design approval from clients! 
We've often seen designers complain about how difficult it is to get design approval. That's because various factors contribute to it and make the process trickier than it is supposed to be. If you don't have a strong design and review process, especially when you are a digital artist or work in web design, it can hinder your success as a designer. 
But here's the good news!
Countless methods can help you build a robust design approval process. And one of the best things you can do is use design approval software.
Enters GoVisually – the #1 design approval software.
With GoVisually, you can eliminate the need for long, unnecessary email chains. GoVisually helps you streamline the design approval process and make it more efficient. You can send and receive feedback on the content directly and make edits in real-time.
The best part? There is no back-and-forth between you and your clients, and you can save a lot of time as well.  
And in this article, we're going to discuss 9 other ways to get design approval from clients.
Let's start!
Why is a strong design approval process necessary?
As we have already discussed above, having a solid design approval process is always essential when creating content and designing. You can get your client where they need to be through your design approval process. 
Designers and agencies often talk about how beneficial it is to have a design approval process because it makes everything more straightforward for you and your client. If your client has good experience working with you and making the edits efficiently, they are likely to return with more work opportunities. 
Here are some other reasons why having a robust design approval process is essential:
It takes away the need to make changes after the final design is done 

Helps your clients understand your work process 

Clients increase their trust and faith in you 

Getting approval for the entire project in one go is unrealistic  
9 ways to get design approval from your clients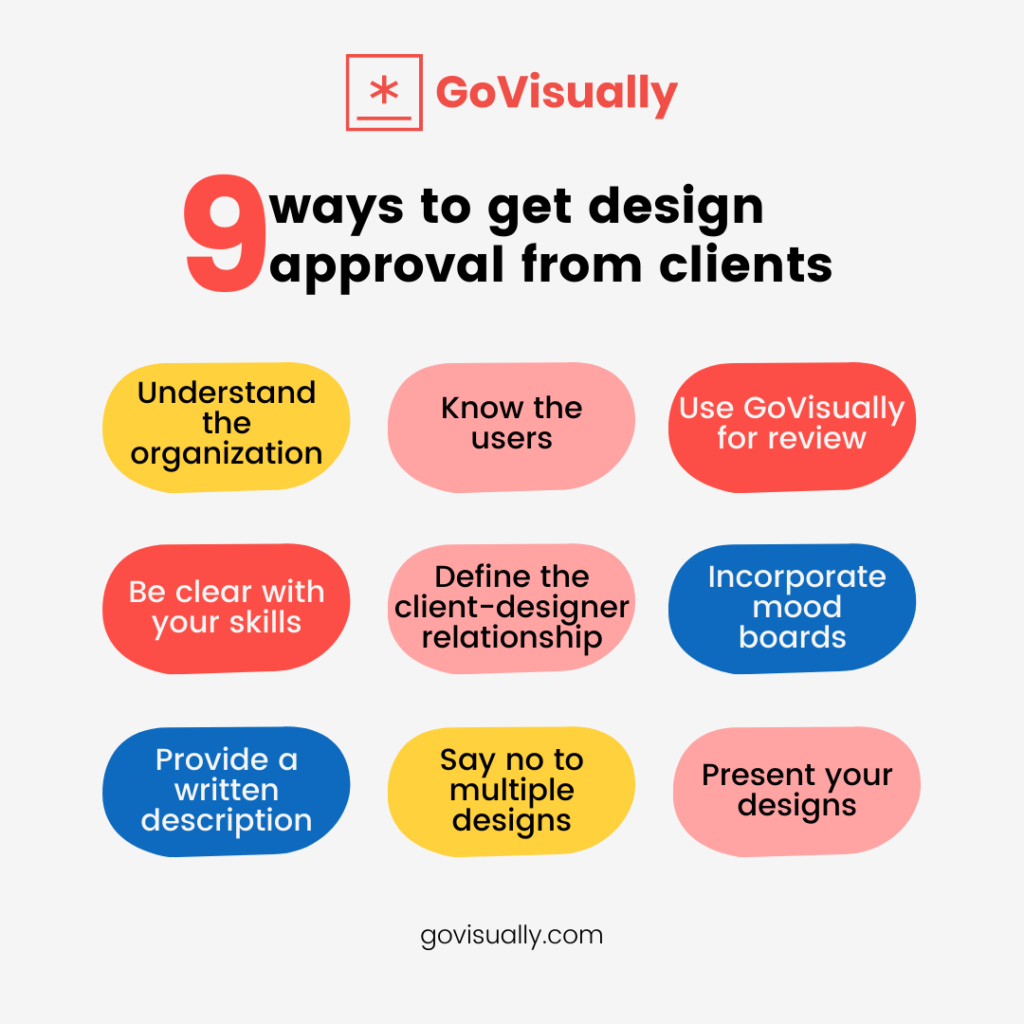 1. Understand the organization 
Before you start planning the design for the website, you should take your time and understand who you are working for. You should always spend time going through the brief your client has sent to you for the design. Understanding the business can help you create well-suited designs for the business and organization. 
However, just going through the design brief from the company will not be enough for you most of the time. You should always dig a little deeper and find out the organization's values and marketing strategies. Knowing these details about the business will help you make better design decisions, and you can also provide better justifications for the choices you make. 
2. Define the client-designer relationship 
When working as a professional designer, you will come across many people. Some clients may show little to no interest in your designing process, and the design approval might also not be as challenging. However, some clients cross all boundaries and try to insert themselves and ask for justifications regarding every design decision you make. 
Before starting the work, you should always establish the relationship between you and your client and how much involvement they will show during the design process. You should also let your client know what kind of feedback you want from them and which issues they should be focusing on. Doing this can also make the design approval process a lot more straightforward.  
3. Know the users
You should always know who you create the design for as a designer. No, we don't mean the client (which is also crucial), but we are talking about the people using the website or application you design. Designers always take pride in creating user-centric content and consider the users' needs when working on their projects. 
Before you start working on a project, you need to take some time and understand the users. You should try and interact with some of the people using your design and understand their needs and requirements. You can also ask your clients to provide you with their buyer/user personas, and you can use them to improve the quality of your work. 
4. Incorporate mood boards 
Mood boards can help your design approval process and your design process on the whole. Clients are often more keen on telling you what they want than talking about what they don't want from you. 
Mood boards can help your client visualize the design and understand how all the elements will come together for the final design. Your clients can also use the mood boards to point out the edits they want to see, and you can understand them better. 
5. Say no to multiple design concepts 
There are often clients that love the idea of having a choice between multiple design concepts. However, it can be extremely time-consuming and exhausting for you as a designer in the long run and should be avoided as much as possible. 
You are always working with a limited budget, and it is counterproductive to spend time and resources working on designs that will be thrown away in the end. Multiple design concepts can also complicate the design approval process because your client might like one element from one design and another element from another design, causing more confusion. 
6. Tell them what you can provide  
It is more common than you think for clients to tell you about sites that they like and show you designs that they want you to take inspiration from. However, it is unnecessary to like the same design, and you might not create the elements that these web designers use. 
You can show your client some other examples of designs that you can emulate. Doing this will ensure that your client is also aware of what they will be getting, and the design approval process will also be simple. This is why you should always be clear with your client regarding what you like and the design elements that you feel comfortable working with. 
7. Present your designs thoroughly 
When you create outstanding designs, they are bound to speak for themselves. However, you should still be open to presenting your designs and going over all your decisions when coming up with the design. It can help your client understand your reasoning and respect your choices. 
You should let your clients know why you made the design the way you did and how it meets all the needs of their users. You can also mention their business and organization aspects that you kept in mind and how these aspects influenced your design.  
8. Control the way you receive feedback 
One of the best things you can do for the design approval process is controlling the feedback and approval method. For example, instead of the client telling you what they think of the design and what changes they want, you should ask them to tell you what the users will feel about it and whether it meets the user's needs or not. You should also let the clients know the type of feedback you want. 
You can also provide them with a more streamlined and efficient platform for design approval. Tools like GoVisually can help your design approval process immensely and help you receive reviews and make edits more quickly and easily.  
Cut design & video review time in half
GoVisually is the #1 online proofing software to get visual feedback on Designs, PDFs & Video content.
Try GoVisually free today!
9. Provide a written description for your design 
Of course, you were there to give a detailed description of your design and all the decisions you made for your client. However, it is possible that the person you have spoken to needs to show the design to other stakeholders and explain it to them. You cannot expect them to repeat your exact words. 
Providing a written description and explanation of your design can help you put your thoughts forward and ensure that people understand your design decisions. It also helps because the clients will not have to return after the project has been completed and ask you to explain your designs and elements. 
Final Takeaway
Having a robust design approval process can be highly beneficial to you. And you can ease your design approval process by using design approval software like GoVisually. 
Not only it would make feedback more efficient but also helps with time management.
Don't believe us? Book a demo today and see for yourself.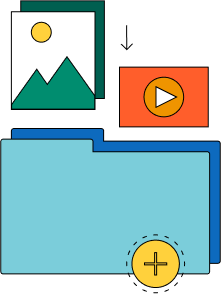 Need a quick way to share large files and creative assets?
With GoVisually Share, it's absolutely free! Try today.