Online visual tools and design collaboration software have become mainstream in remote and hybrid work models, especially for design professionals.
Collaboration can stimulate creativity, increase productivity, build community, improve problem-solving, and lead to groundbreaking innovations and ideas. While it was an underutilized tactic in the past, 80% of businesses today use collaborative tools to make their workflow effective.
If you're one of us looking for the best collaboration software designers use, you've found the perfect place. We have the top 12 design collaboration software prepared for you right here.
So let's jump in! 
What is design collaboration? 
First, let's define design collaboration and what sets them apart from other communication and collaborative tools used by non-design professionals.
Design collaboration involves a process where your team and stakeholders can give real-time feedback and perspectives during all stages of the design process. 
A collaborative design process involves the stages of ideation, creation, and revision. Collaboration between the client and the designer encourages buy-in from the client on the design during ideation and revision. On the other hand, it encourages effective teamwork by your design professionals during the creation stage. 
When we talk about design, we always talk about visual collaboration because creative teams must see what they make and leave feedback in real-time. And that's what makes remote design collaboration tools different from other run-of-the-mill software.
So here's the ultimate list of 10 leading software that will revolutionize how your design team collaborates! 
The collaboration revolution – 10 best collaboration tools for designers 
Undoubtedly, there's an array of tools out there. However, we hand-picked the most advanced online visual collaboration tools used by expert collaborative designers worldwide.
We'll discuss each tool's features and pricing while highlighting the product design collaboration scenario they fit best.
The criteria of choice for our top 10 were simple. 
The more useful features for designers and visual collaboration, the better! 
Cut design & video review time in half
GoVisually is the #1 online proofing software to get visual feedback on Designs, PDFs & Video content.
Try GoVisually free today!
1. GoVisually 
GoVisually is the most advanced collaborative tool for designers. It allows for annotating factors visually and adding comments to the project. The platform offers a one-click approval workflow for the client and designer to streamline the request for revision on specific design aspects.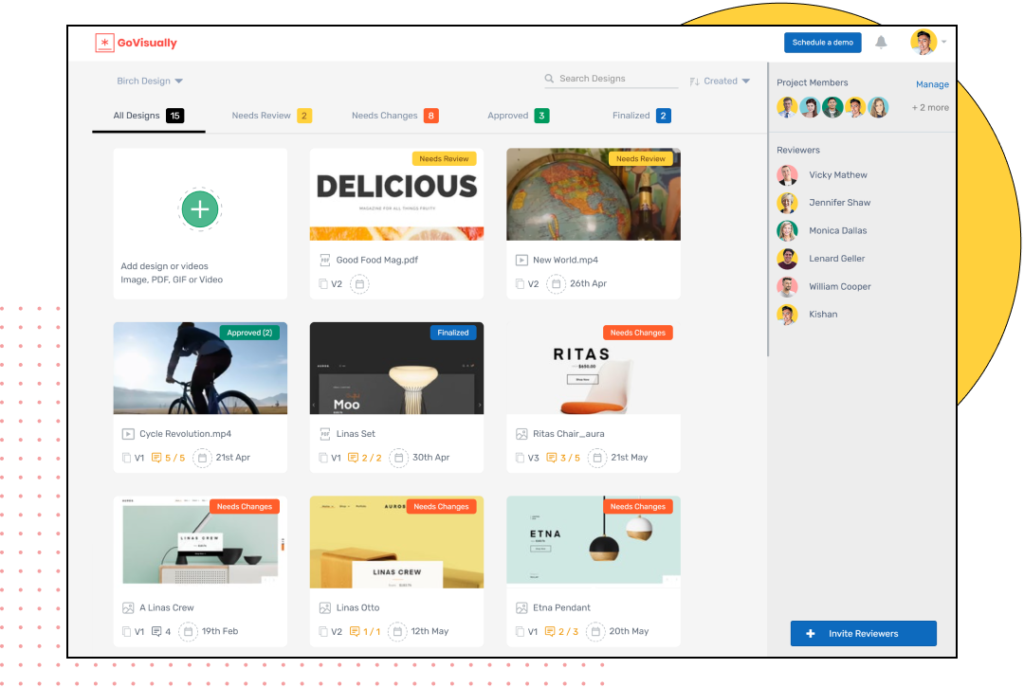 GoVisually allows creative professionals to work with multiple teams and clients simultaneously, creating a layer for each user on the page. This results in smooth communication and teamwork between different teams and departments.
Features: 
Supports

all

file formats, including PNG, JPG, PDF, PSD, WebP, WebM, and Videos.

Visual annotation with boxes, arrows, comment points, and attachments.

One-click approval workflow with a shareable link.

Optimized for multiple platforms and devices.

Integrations with 1000+ software, including Adobe CC.

Side-by-side comparison, watermark, and rotation tools.

Team-only comments and full version control.

Watermark features to protect your assets.
Rotate feature to ensure pixel perfect proofing.
Pricing: 
Free 7-day Trial.
Solo package for $20/ month.
Team package for $50/ month.
Best for: 
All types of creative agencies, designers, video creators, marketers and any business looking to streamline their creative review process. 
2. InVision  
InVision is one of the leading UX collaboration tools that help designers create prototypes quickly and get real-time feedback from other team members. The tool is well-known for streamlining the flow of feedback, approving an idea, and finalizing a graphic design.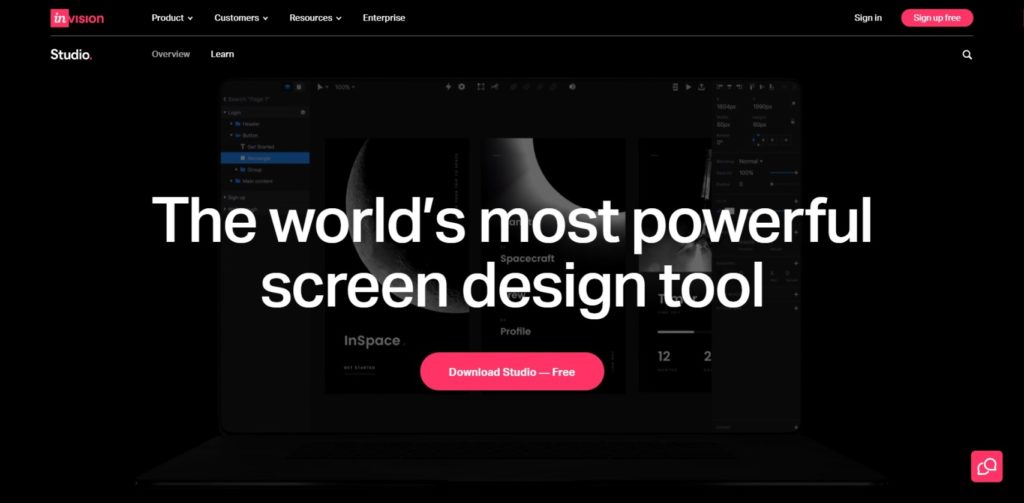 InVision is a platform that helps creatives to manage every step of the design process, from kickoff to handoff. You can use this tool to centralize all your work so that you and your team can collaborate in one place at every step.
Features: 
Code-free UI prototyping tools.

Whiteboarding.

Pre-made templates.

Integrations with collaboration apps like MS Teams, Google Docs, and Zoom.
Pricing: 
Free plan with limited features.
Pro plan for $4 per user/ month.
Best for: 
Small-scale UX/UI design teams and freelancers.
3. FIGJAM
FigJam is another popular UX collaboration tool for helping you and your team get ideas and work together. This Figma's spin-off creative collaboration software helps you keep all your ideas in one place so you can design them quickly and easily. 

FIGJAM provides a new level of collaboration, from brainstorming, research workshops, and moodboarding during team meetings. The platform works with Figma to communicate your ideas effectively before bringing them to life. 
Features: 
Freehand drawing tools on the whiteboard.

User-flow and brainstorming diagrams.

Integrates with Figma and works asynchronously for collaboration.

Tools to add stamps, stickers, and comments.

Pre-made templates.
Pricing:  
Free plan for 3 FIGJAM files and limited features.
Pro plan for $3 per user/ month.
Organization plan for $5 per user/ month.
Best for:
Figma users, online workshopping ideas, and creative team meetings.
4. Mockplus  
Mockplus is an interactive prototyping collaboration tool for designers that allows you to create designs for web and mobile apps. Various ready-made components can help you get work done quickly.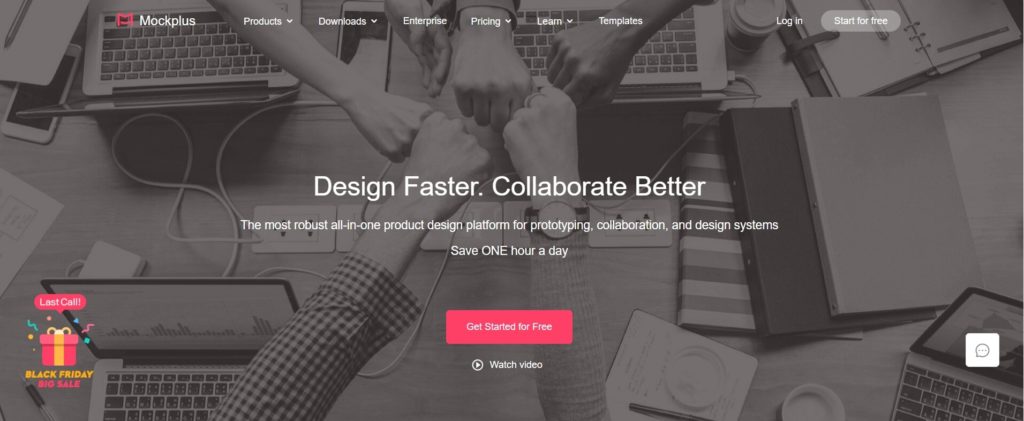 As a bonus, Mockplus Cloud is a collaboration platform for product managers, designers, and developers who want to collaborate.
You can combine both platforms to make a complete design and art collaboration software for UI prototyping and designs.
Features:  
Shareable links for reviews.

Tools for comments and simple visual annotation using shapes.

Version control and comparison.

Integration with other prototyping platforms like Figma.
Pricing: 
Free plan with limited features.
Pro plan for $5 per user/ month.
Best for: 
Reviewing design components and UI prototypes.
5. Asana  
Asana is a popular collaboration tool for designers and creative teams to manage their work. It makes it easy to plan and manage workflows and projects, and you can set deadlines to help keep your team on track. 
While you can't provide feedback or approvals using Asana, the platform is widely known as a project management software for timely collaboration.
Asana is available as an integration to several platforms on this list, like GoVisually. While it isn't a one-stop solution to your design collaboration needs, the platform can supplement the process in several ways.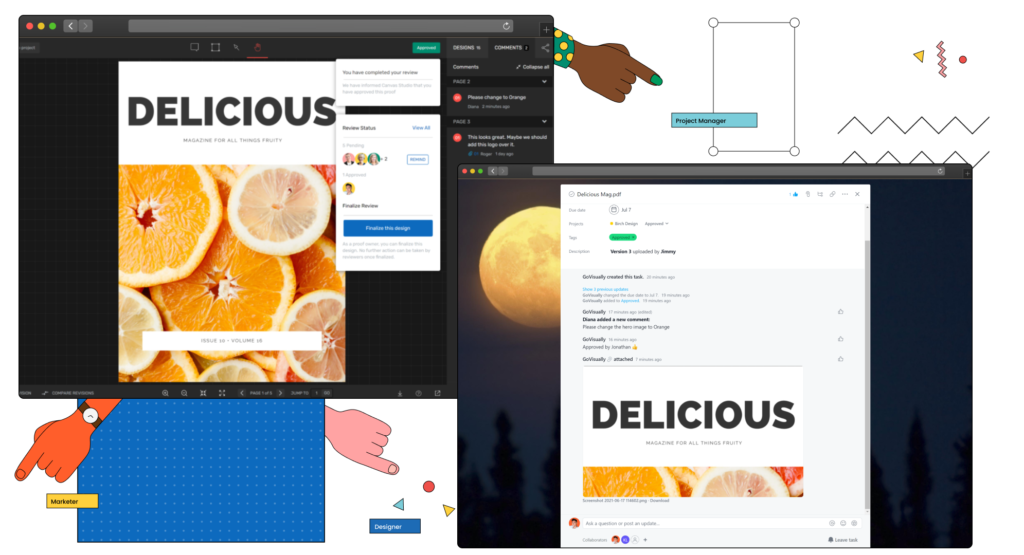 Features: 
Colour-coded progress tags.

Customized workflow timelines.

Task lists and assignments to teammates.

Goal-setting and reporting progress.

Integrations to 40+ business platforms. 
Pricing: 
A free basic plan with limited features.
A premium plan for $11 per user/ month.
Business plan for $25 per user/ month.
Best for:  
Task and project management. Integration with other feedback/review platforms.
6. Miro  
Miro is a product design collaboration software offering vast room for creativity and problem-solving. It can be used to brainstorm, plan, design, teach, and run team meetings and provides templates for many different use cases, so there's no need to design everything from scratch. 

You can use Miro's whiteboard in real-time and asynchronously for visual brainstorming sessions and leaving feedback on designs.
Features: 
100+ integrations to other project management and proofing platforms like GoVisually, Google Sheets/Docs, Dropbox, and more.

Tools for visual collaboration using freehand drawings and shapes.

Diagrams for timelines, workflow, and brainstorming.
Pricing: 
Free plan with limited features.
Starts at $8 per user/ month.
Best for: 
Real-time, live whiteboarding sessions and collaborative workshops.
7. Webflow
Webflow is a no-code website design platform that now allows users to collaborate while creating designs. They have introduced a team collaboration feature with two modes: Design Mode and Team Mode.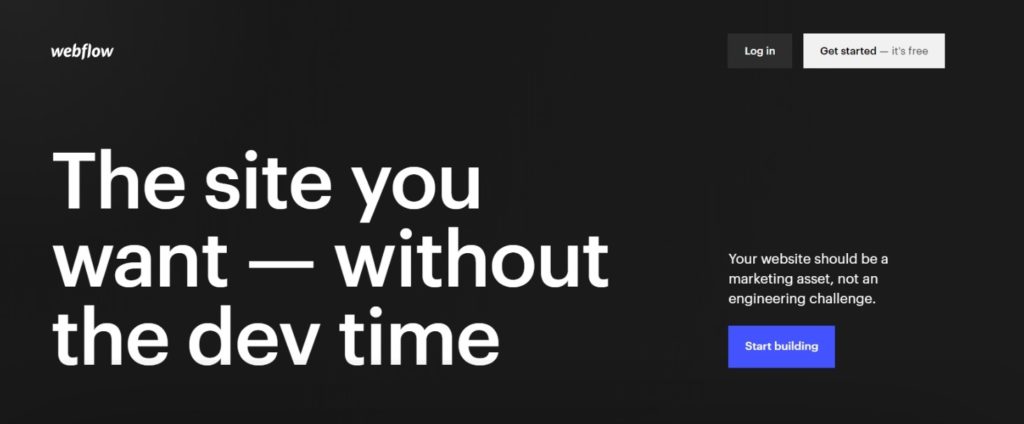 In Design Mode, you can create your website's structure and design. In Team Mode, you can collaborate with other team members to create a collaborative project. You can edit the content of your website in this mode. 
In Webflow, only one person can be in the Design mode at any given time, and they have complete design control. You can see what other team members are working on and give real-time feedback.
Features: 
Content management system with design tools.

Design and Team mode for collaborators.

Real-time feedback and teamwork on website designs.

Request for design control.
Pricing: 
Free plan with limited features.
Starts at $14/month.
Best for: 
Website developers and website UX designers.
8. Visme  
Visme is different from other project management tools because it runs in a browser and is designed to help designers and non-designers create visual content. This tool collects all the tasks and activities of a team and displays them in a centralized control panel. 

The users can access a collaborative platform to create amazing visual projects with other users. The built-in analytics for teamwork make it easy to track and analyze team performance. This tool allows the project managers to monitor the project's progress and know each user's workload, progress, and activity.
Features:  
Customizable branding kit.

Brand repository of templates, icons, and visual assets.

Simple visual annotations and comments for feedback.

Analytics to track team progress.
Pricing: 
Free basic plans with limited features.
Starts at $12/ month.
Best for: 
Design and marketing teams to store and share branding tools.
9. Slack
Slack is a great tool for easing communication with on-site or remote workers. If strictly speaking, Slack can be categorized into something other than the tools that are dedicatedly developed for design collaboration.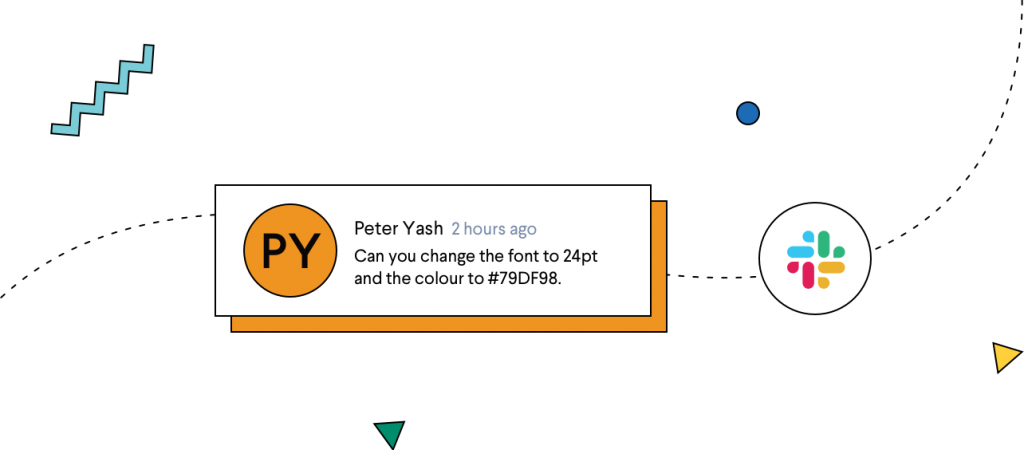 However, the popularity of this tool among designers makes it a common topic of discussion. This platform helps you create rooms for private chats, upload files for peer reviews, and refer to the conversation preserved forever in the platform. 
Slack makes in-group communication much smoother and more effective for projects when integrated with other design collaboration platforms.
Features: 
Create channels for different topics and projects.

Messaging with teammates and outside professionals using Slack.

Send voice notes, images, and other media files.

Integrates with several popular management, design, and productivity software.
Pricing: 
Free plan with limited features.
Pro plan for $7.25/ month.
Business plan for $12.50/ month.
Best for: 
Sharing design resources and team communication. 
10. Red Pen  
Red Pen is a collaborative tool for designers to showcase their projects and invite constructive feedback. It's a simple tool with only one feature, comment for feedback.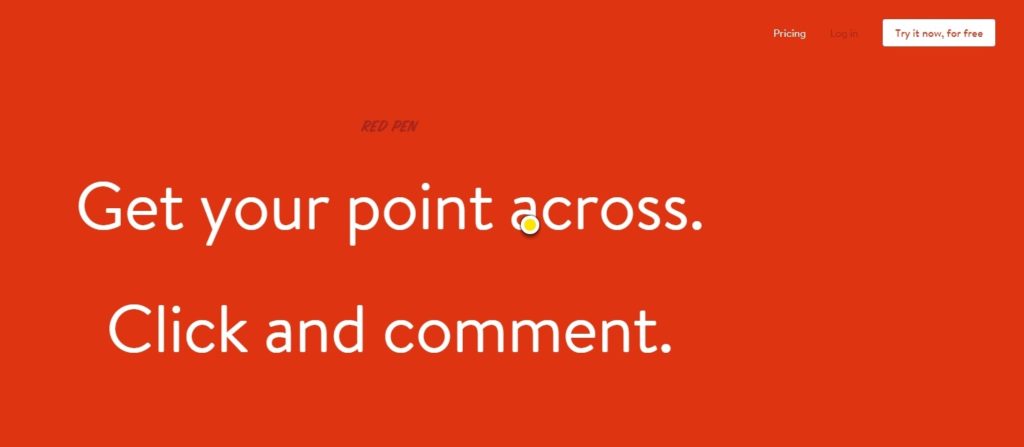 The platform allows you to drag and drop a project to the dashboard and invite colleagues, friends, and clients to leave suggestions. The interactive feature of the Red pen that needs to be mentioned here is the track of multiple versions so you can go back and find your project.
Features:  
Drag and drop a file.

Leave specific comments.

Invite reviewers through email.

Track versions.
Pricing: 
Free 14-day Trial.
Starts at $20/ month.
Best for:  
Small design teams that are looking for a simple feedback process.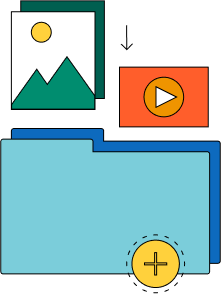 Need a quick way to share large files and creative assets?
With GoVisually Share, it's absolutely free! Try today.
Final word
Remote design collaboration tools can help increase your team's productivity, but only if they offer the most advanced features in today's competitive digital landscape.
GoVisually is a one-stop solution for design professionals with advanced visual feedback, management, and communication tools available across all devices and digital platforms.
If you want to minimize the hassle and the cost and maximize your design potential, Start your Free Trial with GoVisually and experience the real collaboration revolution!