Different digital artists look for various features in the software they'd prefer to use. With so many options available, it becomes hard to make a choice that would best suit the kind of art you want to make, whether you're just starting as a beginner or are a professional. 
What you'd generally want is a digital art software that is compatible with the device you're using, supports the kinds of tools you need for the art you create, the cost, and any additional features that a creative can play around with. 
Some digital art software may even be outdated, while others keep experimenting and keep further development at the forefront. When you work digitally, this becomes an asset worth investing in. 
You wouldn't want something static but rather a platform that evolves as much as you do as a creator. The price point is always something to consider, but not to worry, there are just as many free alternatives to good quality software as paid ones. 
Considering all of this, here's a comprehensive list of the digital art software that has the potential to be the right fit for you this year in 2022. 
GoVisually is one online proofing software you need if you're creative in any professional sphere. It's the best digital software to use if you want to organize and simplify your online video and design collaborations so that you can complete projects faster.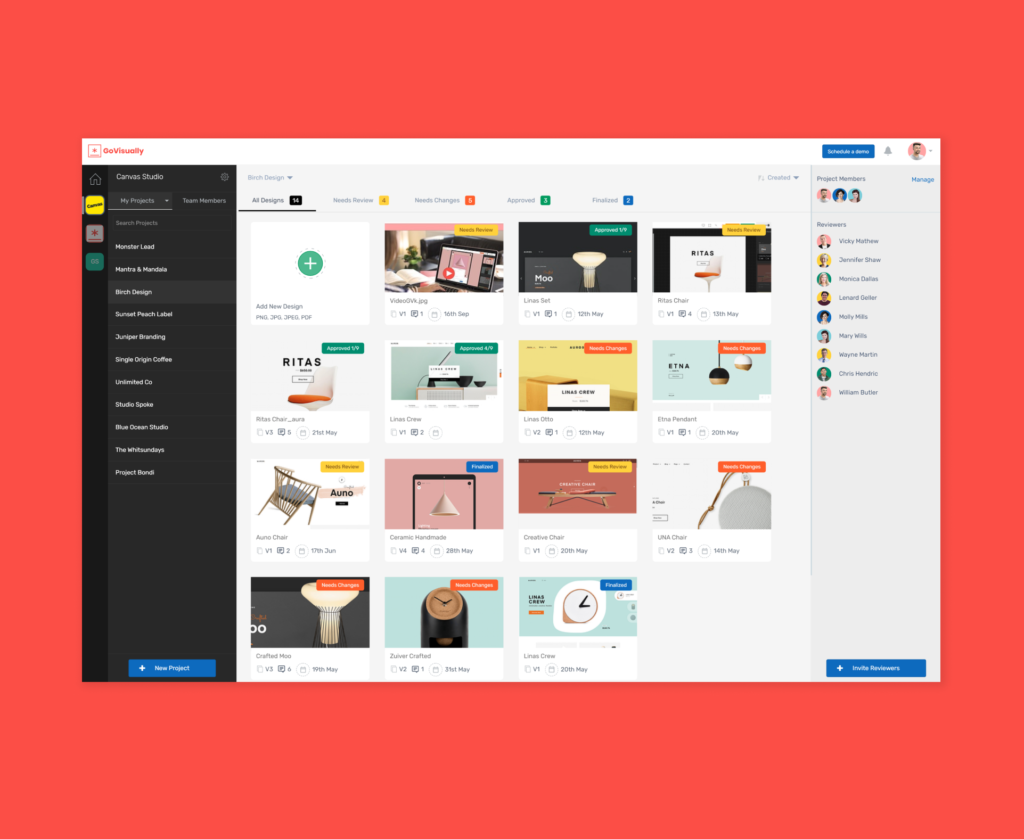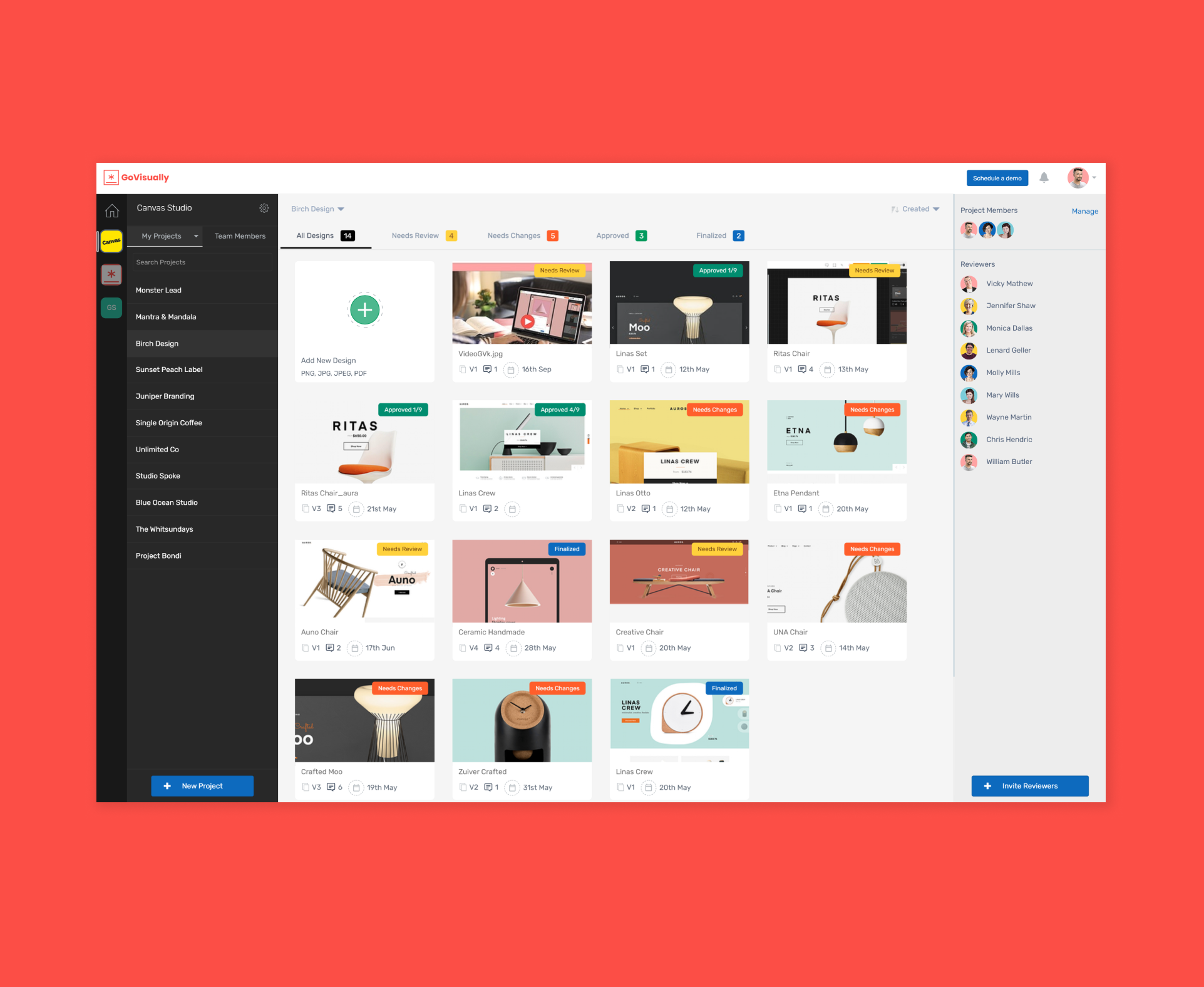 You get to take advantage of many features, such as uploading and annotating different types of files regardless of the format (PNG, JPG PSD, PDF, and Video files). This way, you can point and leave markups on any part of your projects. 
Other than that, you can also share your work with multiple reviewers, which makes it easy to get feedback (something vital for every artist out there). At the same time, you can keep all your revisions organized in one place, categorized, and labeled. 
You'll be able to organize all your clients and feedback with a click of a button instead of spending hours trying to track them all. This way, you'll have more time to do the creating part of your job, and if you're a freelancer, that's even more valuable. 
Clip Studio Paint is a digital software application developed by Japanese graphics software company Celsys. It's a popular favorite among artists specializing in the comic, webtoon, and manga creation since the software features a comic frame-making tool. 

You also get a reference layers option, and a colorize tool which helps speed things up with coloring when you're working on backgrounds on your comics in particular.  Overall, Clip Studio is raved to be multiplatform and does not strip features if you move from a desktop to a tablet. 
For artists, flexibility is always a big deal breaker. With Clip Studio, you'll find this digital software to be super customizable and something you can carry around on any device wherever you go. 
3D objects are another essential feature that Clip Studio supports, providing all kinds of references for artists who want to create dynamic character poses for their art. 
This is particularly helpful for comic and manga artists with deadlines to catch and not enough time to build every character design panel from scratch. There are also vectors, perspective grids, and animations, which further elevate and bring your art to life.
Adobe Photoshop has been a digital staple software for all kinds of creatives for years, and for a good reason too. In 2022, it's no surprise that it ranks as the top preference in the digital art world, especially with newly added features such as object finder, object masking, neural harmonization filter, landscape mixer, and more.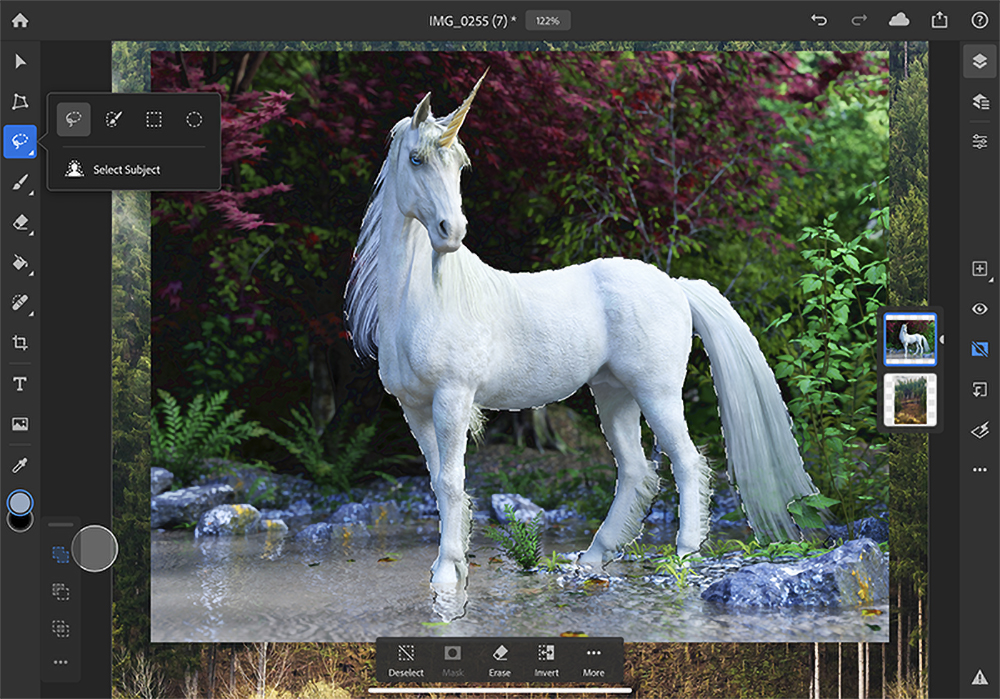 All that might sound a little overwhelming for beginners, so let's get to the basics first. With Adobe Photoshop, you can do anything from photo editing, digital painting, graphic designing, video editing to web designing and pattern/texture designs. 
Although it sounds a bit advanced, Adobe Photoshop is one of the best digital art software for beginners. It includes tools that will allow you to create your art with precision and ease, such as blending modes, textures, layer masks, different selection tools, and brushes.
One of the software's central selling points is their brushes; there's a wide variety to choose from depending on the kind of texture and object you want to go for. To top it off, the versatility that Photoshop brings can allow you to further enhance your art in more ways than one. 
Sketchbook is one of the best free digital art software and an excellent alternative for popular paid software like Procreate. This digital software is easily a fan favorite for creators who like to create product sketching and other detailed drawings.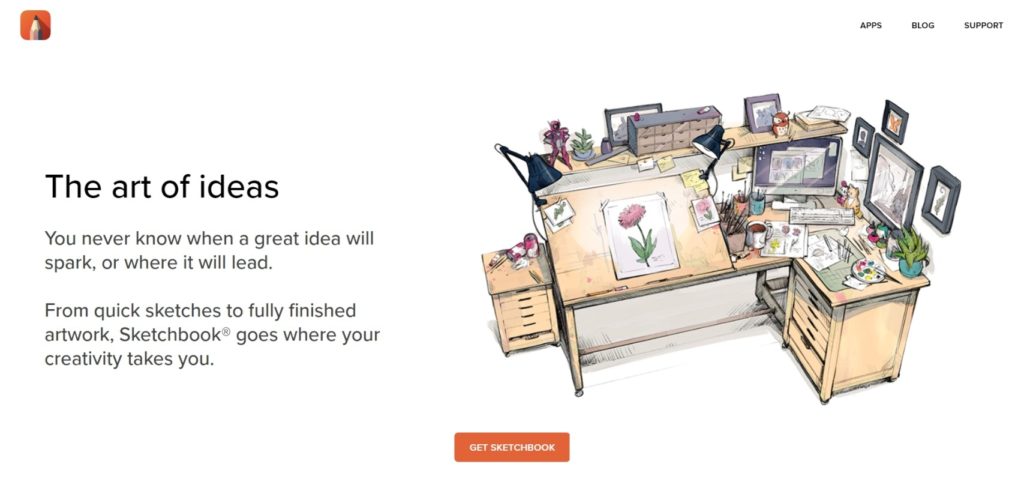 It comes with multiple brushes to adjust the size, opacity level, and writing pressure. Sketchbook lets you create designs or illustrations using gradients, symmetry tools, shape, and text tools, predictive tools, and there's more where that came from, all free with no catch.
You can insert images and take advantage of the in-built perspective guide, which is a massive help to beginners still learning the basics. It also has a layer panel and double puck feature, enhancing functionality and making your drawing experience smoother.  
Huion is a company that leans more towards hardware products such as drawing tablets and the like. However, they've dipped their toes into creating Huion Sketch, a free digital art software that's surpassed expectations.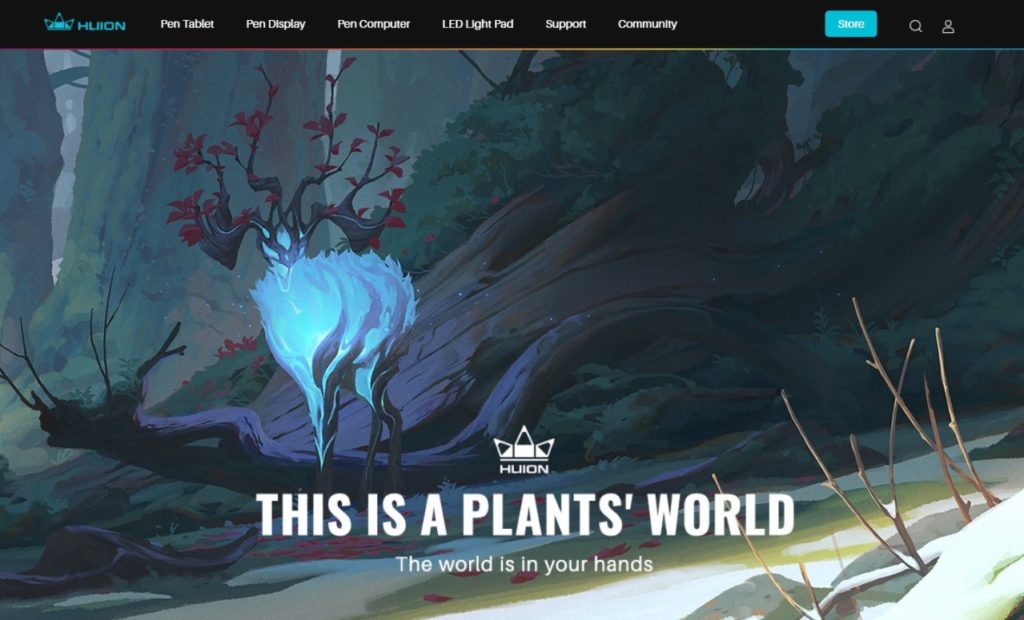 It can very well replace Procreate if you're a beginner artist and don't want to break the bank on paid software just yet and has many of the same basic features. 
You can also use multiple brushes with different texture and size options, along with hand gesture support, so that you can move around the screen freely. It supports different blending modes has a toolbar with a lasso (selection) tool, picture tool, shape tools, and more.  
You're able to change the hue, saturation, brightness, contrast, and all the other edit features you'd need to enhance your digital artwork. 
The entire layout and functions are fairly simple to use and understand, and if you're an Android user, Huion Sketch can be one of the best digital art software. 
Krita is a free, open-source digital art software that works on all kinds of operating systems such as Windows, Mac, and Linux. Since Krita is open-source, it's developed by a dedicated team who are often not working for a lot of money but choose to pour in their skills for a pretty solid end-product that creatives can use. 

It's easily one of the best free digital art software available and the best digital art software for beginners overall. And in 2022, their new version comes with all sorts of enhanced adjustments and features. 
Besides enjoying their sleek layout with all the different tools you need to create your masterpieces, Krita has added functionality aspects previously missing. You can now drag and drop colors to fill, just like on Procreate, add docker locks, and more. 
The Krita 5.0 version could support more resource libraries, build a brand new resource manager, etc. The brushes, gradients, pallets, and tagging have been completely revamped to perform much more efficiently, using less memory, and are generally more stable.
There have also been significant updates to how you can implement the animation. Thanks to interface improvements, new features such as cloning frames, animating transforming masks, and other existing ones have been moved directly into the timeline area. 
The overall navigation has been upgraded for a better user experience, and they've even added a built-in storyboard editor. And new export options are just the cherry on top. Overall, Krita is a great free digital art software to check out this year. 
Medibang is a free digital art software packed with various tools and other cool features that artists can use. You'll find the interface to be uncluttered and sleek, making even working on your smartphone a breeze.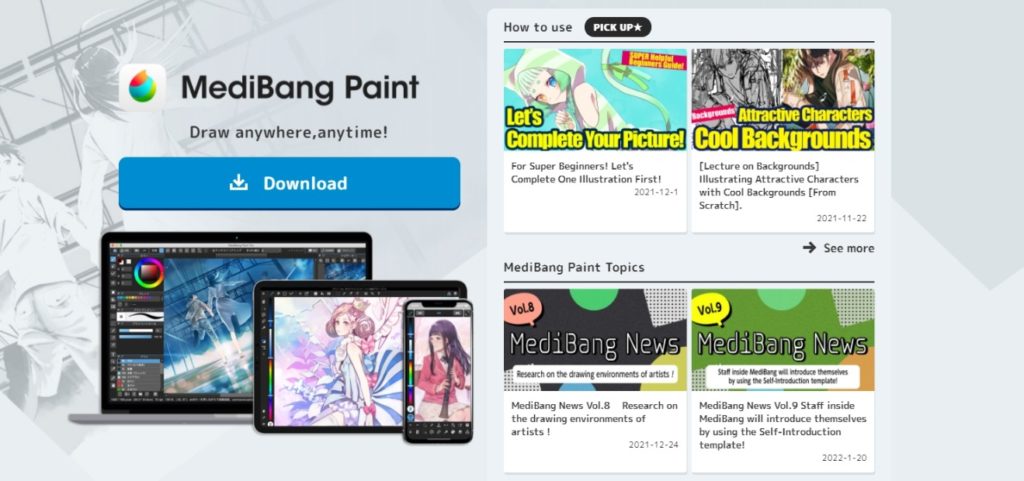 It has all the essentials such as adding and manipulating layers, multiple options of different brushes, and controlling the consistency of color regarding its hue, saturation, contrast, etc., and more. 
Despite this being free software, you'll hardly experience any lag or bugs, and if you sign up for their account, you can cloud-save your art to the internet, which makes transferring files to different devices easier. 
If you're familiar with Photoshop, you'll find most of the keyboard shortcuts on Medibang to be the same. They also support an extensive resource library to download multiple references for background images, fonts, patterns, manga/comic action lines, and more.
Infinite Painter, created by Infinite Studios, is an advanced digital art software that fits creatives regardless of their background. Whether you're doing art for fun, as a passion, or for a career, this is one software that welcomes you regardless.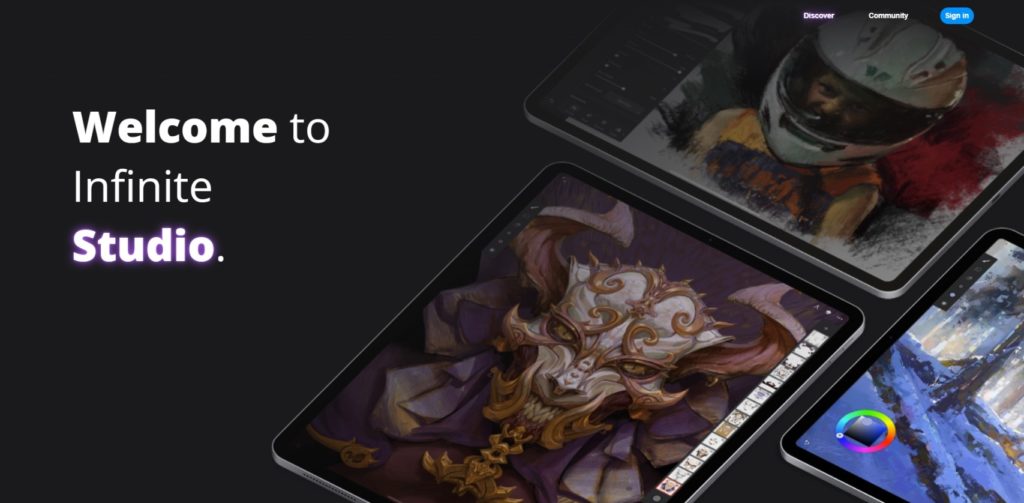 You'll find all the necessary and standard features such as layers, shapes, and selection tools at your fingertips. Some of its features that are particularly raved on by artists are the liquify tool, which makes bending and breaking your drawing a piece of cake. 
Other than that, the perspective tool available on the mobile app and the gradient tool make getting values and transitions exactly where you want them to be. Their brushes are also some of the best that you can find. 
Overall it's effortless to work with software, whether you're sketching ideas on the go or making a detailed masterpiece. The interface is also clutter-free, and being a highly customizable software is also one of its perks. 
Procreate is a leading digital art software that continues to make waves in the digital art industry up to this day. For most artists, it's their first choice and also their only choice.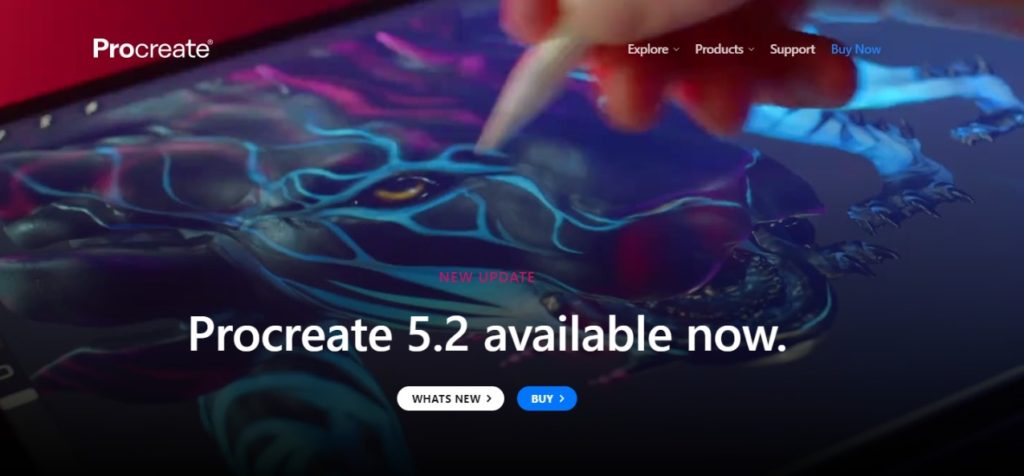 But what makes it so great? 
It has numerous features that will appeal to everyone. You can import brushes and create your own, and it has a simple interface to boot. 
For beginner artists especially, if you are hesitating to dive into the digital art sphere because the layouts of the software look too complicated, you might have less of that problem with Procreate. 
Moreover, even though other software like Adobe Illustrator would be better for more complex illustrations, Procreate is amazing at sketches, flat illustrations, and just anything that you have the urge to create on the go. 
It also has a smooth workflow. You can rotate your canvas every which way without experiencing any lags or hiccups during the process, something that advanced artists are also sure to appreciate. 
This software also works with multiple formats such as PSD, TIFF, PNG, PDF, and JPEG files making moving around to different devices very flexible and exporting your work becomes a breeze. 
ArtStudio Pro is more or less your Photoshop/Procreate on a budget. That doesn't mean it's not good. It is a digital art software with the same smooth interface and all the cool features you love on other applications. 

The software is ideal for complex work, and it does a marvelous job with the brushes. There's a significant advantage where you can import your favorite brushes from Photoshop onto the Art Studio Pro program with the same size, flow, and opacity settings. 
There are all the rulers and guides you'll need along with extra features like the text tool, a more robust selection tool with feathering, opacity, and flow control for the brushes. 
Overall, you'll find ArtStudio Pro to be much more than just a drawing software, as it is also capable of being a great photo modification tool offering an impressive variety of filters, effects, blend modes, and more. 
Wrapping Up
At the end of it all, you have to jump right in and let your creativity flow no matter what tools you use. There is much digital art software nowadays to choose from for digital creators. 
And if you're stuck for ideas, there are plenty of creative accounts you can follow online for some inspiration. 
Suppose you're already a professional creator working under another company or even as a freelancer. In that case, you can also look to brush up on the creative skills that will only help you out in the professional sphere.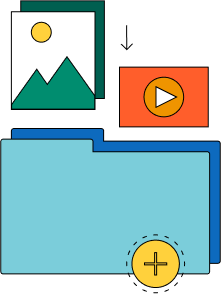 Need a quick way to share large files and creative assets?
With GoVisually Share, it's absolutely free! Try today.