Asset management is necessary for businesses of all scales. However, it's even more crucial for creative teams to keep tabs on their brand kits, design products, images, and videos. And that is why you need a great digital asset management software to ensure all of it.
Do you know that 80% of employees spend 30+ minutes each day to find digital assets manually?
Imagine your whole team hunting down one file for hours. That's peak unproductivity and disorganized work.
If you're already looking for digital asset management software for video and other file types, you're on the right track.
To help you make an informed decision, we're here with the 13 best video asset management software to manage your creative assets without hassle.
So let's get into it!
What does VAM software do, and is it worth it? 
A Video Asset Management system (VAM) is a Digital Asset Management platform (DAM) that helps organizations store and manage many video content on a centralized video hosting platform. This makes it easier to find, search, and use the videos in your organization.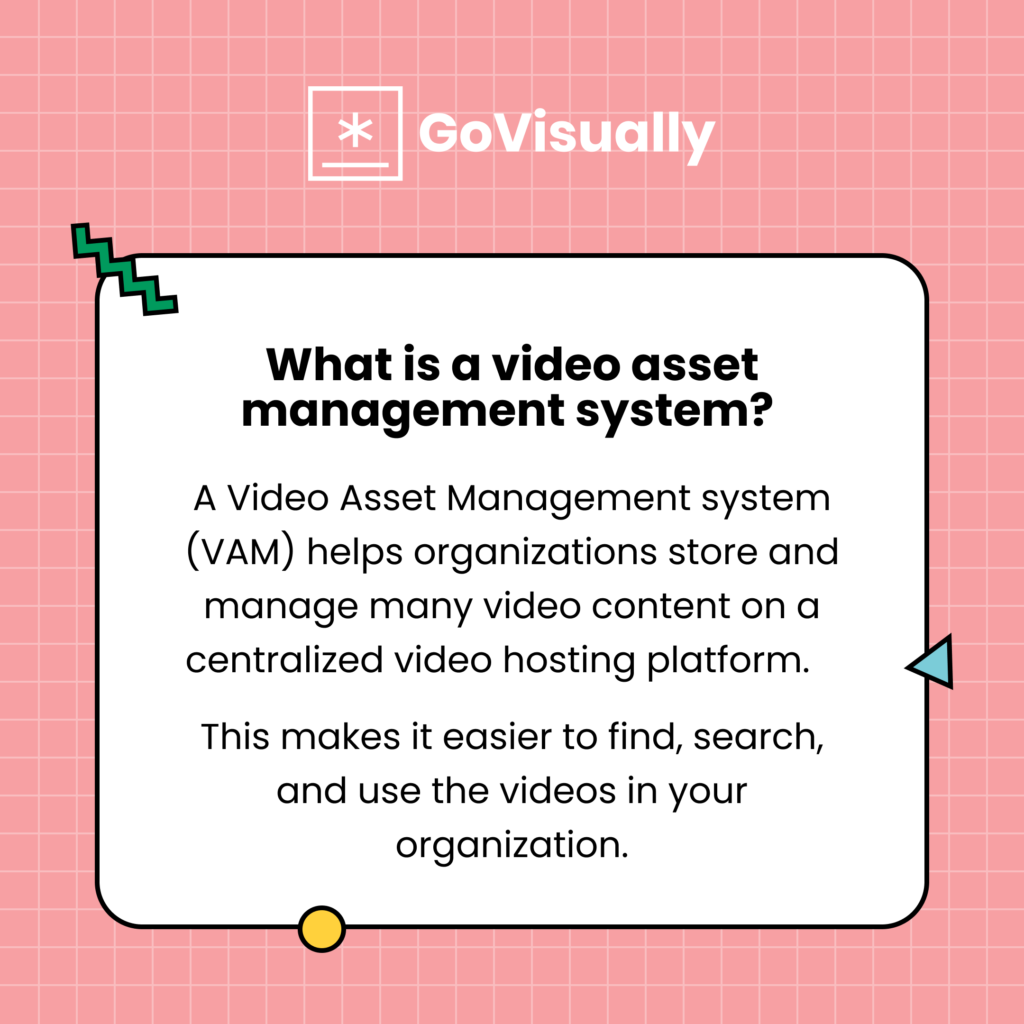 An automated video asset manager also adds metadata like keywords, auto-tags, and categories to the videos. This makes it easier for employees to find, edit, and work on all the video content in the organization. 
This ease of locating and accessing your assets is one of the many reasons you should invest in video asset management software. 
An organization can achieve a greater ROI from its video assets by using video asset management solutions. It saves time and money, increasing efficiency and consistency in marketing activities.
In the digital landscape, videos are a valuable asset for marketing. Videos for bottom-of-the-funnel marketing and top are used by brands daily.
The best VAM Software in the market  
Now that you know the basics let's get straight to our list of leading VAM platforms!
1. Adobe Experience Manager Assets 
Adobe Experience Manager Assets lets you manage your digital assets quickly and easily. It can help you get insights into how your assets perform and support various file types, including VR, AR, and 3D. The platform also uses AI technology to automatically tag files and documents, crop images, and share assets.

It also has features like file version history and asset management in different languages. While this digital asset management software offers many advanced features, it requires some technical expertise and needs to be more intuitive.
Best for:
Large creative organizations and advanced users.
2. Box 
Box works as a great DAM marketing tool and a digital library that lets you store and manage your rich media assets centrally. The platform also offers collaborative features that make it easy to search, tag, share assets, and leave comments.

From asset management to the automated approval workflows of your organization, Box helps you manage your creative assets easily and efficiently. With an array of tools, the only downside of using Box is the rigid pricing plan and lack of functionality for large-scale use.
Best for
 Small creative teams who need a one-stop management platform.
3. Widen 
The Widen digital asset management platform is a cloud-based software perfect for managing assets at scale. It has a modern dashboard that makes it easy to manage the entire lifecycle of your assets.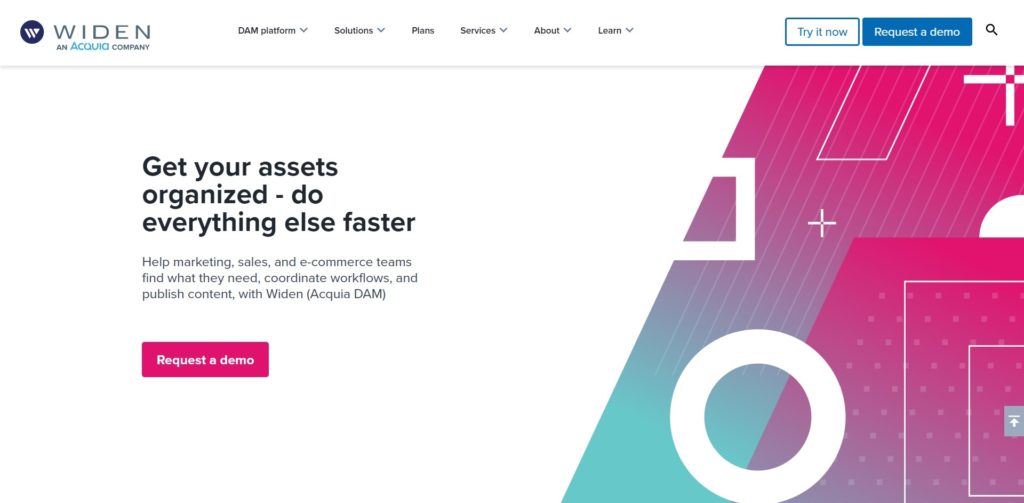 Some of the top features of the Widen Dam include enterprise-grade security, asset rights management, file conversions, code embeds, link sharing, and asset analytics. You can also assign roles and manage permissions. 
Best for:
Large enterprises with complex assets and databases.
4. Filecamp 
Filecamp is a digital asset management platform where you can store all your images, videos, creative files, and documents and easily find them using its powerful tagging functionality. It also functions as a brand manual to help employees comply with brand regulations.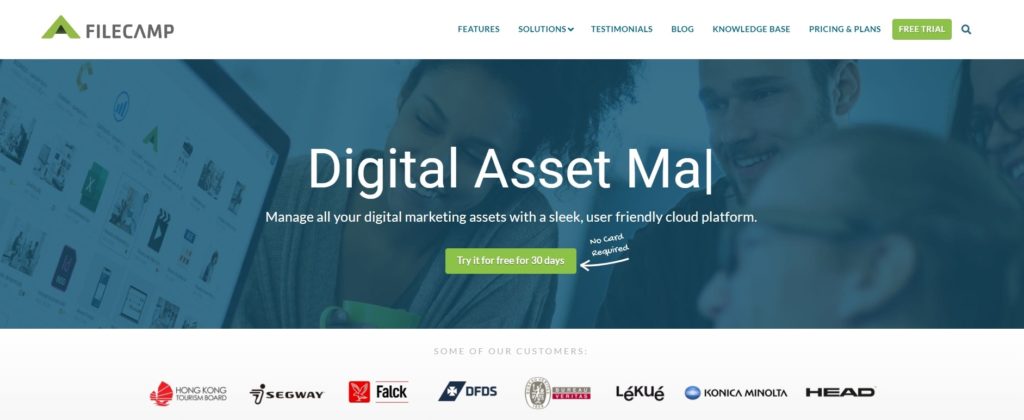 Suppose you want your team to collaborate on creative assets. In that case, Filecamp also includes a proofing module where your team can engage in conversations around deliverables, suggest changes and go through approval workflows in one place.
Best for:
Cloud-based asset management and collaboration.
5. Bynder 
If you're looking for video asset management software to help ensure creative compliance, Bynder is a good choice. It has a customizable portal that businesses can use to manage documents, photos, audio files, and videos.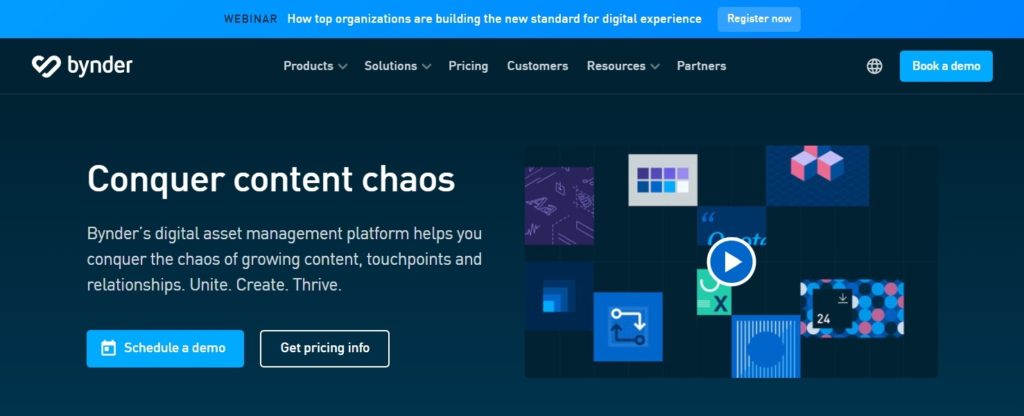 You can share files internally and externally from Bynder, check the sharing record, and set the permission expiration dates to protect control access. The platform is known for its ability to download assets in channel-specific formats across all touchpoints to ensure brand consistency.
Best for:
Ensuring brand compliance along with asset management. 
6. Canto 
Canto is our top choice for large creative organizations regardless of their niche. The platform has been around for over two decades and was able to keep up with the ever-changing needs of its customers.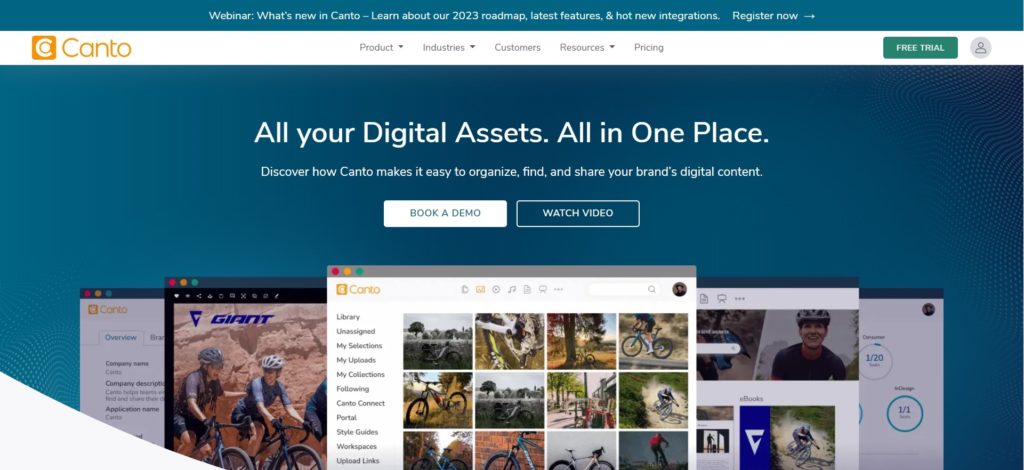 Canto has a lot of integrations with different software, so it can work with large organizations where different departments use different tools. This makes it easy to add digital assets to folders, albums, or smart albums that automatically organize files by asset types, such as images, videos, documents, presentations, and more.
Best for:
Large-scale organizations that need a fully-automated DAM marketing tool.
7. Brand folder 
Brandfolder is a user-friendly digital asset management software for video and other media file types. The biggest advantage of this platform is that it allows you to manage and analyze assets across hundreds of formats with little to no training.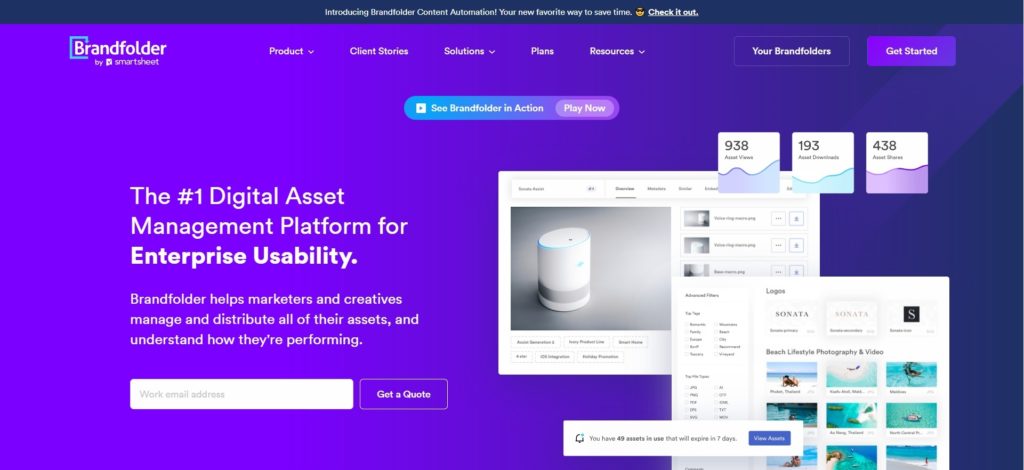 Brandfolder also provides robust features to empower key stakeholders with SmartCDN, collaborative workspaces, and self-serve asset templates. You can also access AI/ML and analytics technology to detect duplicate assets, extract brand-specific metadata, and auto-tag images for more powerful search capabilities.
Best for:
User-friendly and advanced asset management features.
8. Cloudinary 
Cloudinary offers video asset management solutions that are designed for use by individual users, small businesses, and small teams. It is a great option if you need a tool that can handle your digital media quickly and easily.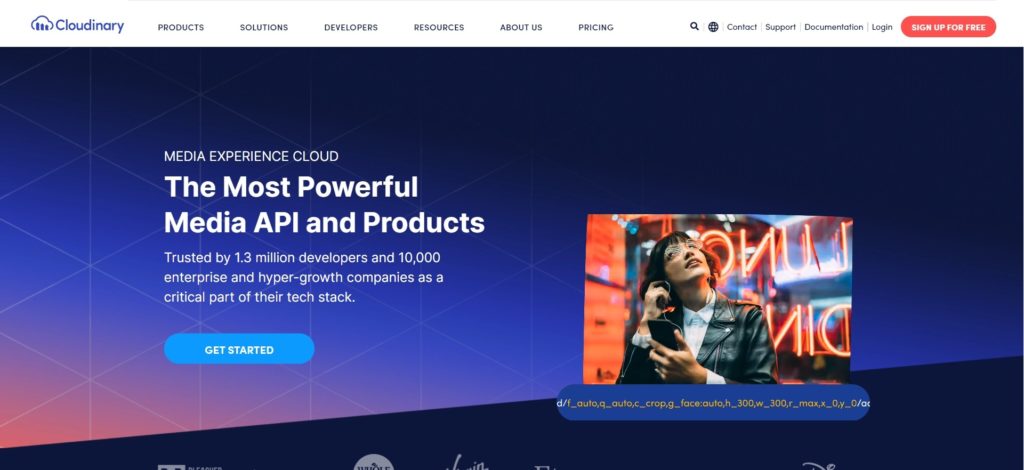 Cloudinary's powerful editing tools and personalization features make it easy to publish and use your assets efficiently. The platform also offers collaboration tools to make cross-team tasks easier. Cloudinary's advanced dashboard provides online reports, automatic backup, and revision tracking features to keep your media safe.
Best for:
Freelancers, small creative teams, and start-ups for free use. 
9. NetX 
NetX is another great cloud-based video asset manager that helps you manage your digital assets. You can easily store files in its library and manage them with minimal effort. It comes with a user-friendly interface and is ideal for all organizations.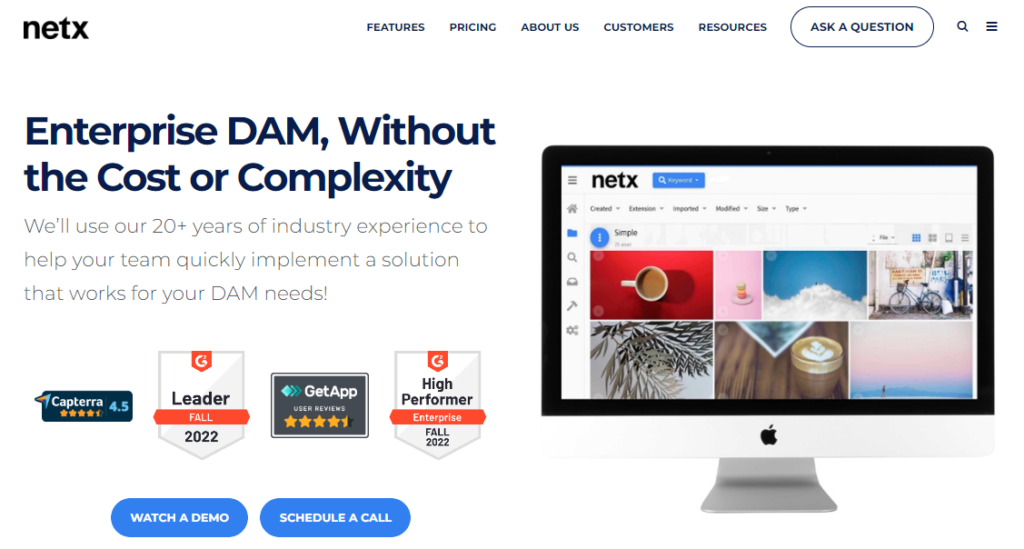 You can create multiple Portals on NetX and store customized content for specific audiences. You also get to control who can access your media files and record the changes made on a file along with the time and date stamp.
Best for:
Simple and affordable use for small creative teams.
10. Filerobot 
Filerobot is a digital asset management software that helps you manage and optimize media performance across several channels. It also streamlines your work by allowing you to manage your assets in the same system with design tools to optimize, tag, or resize images.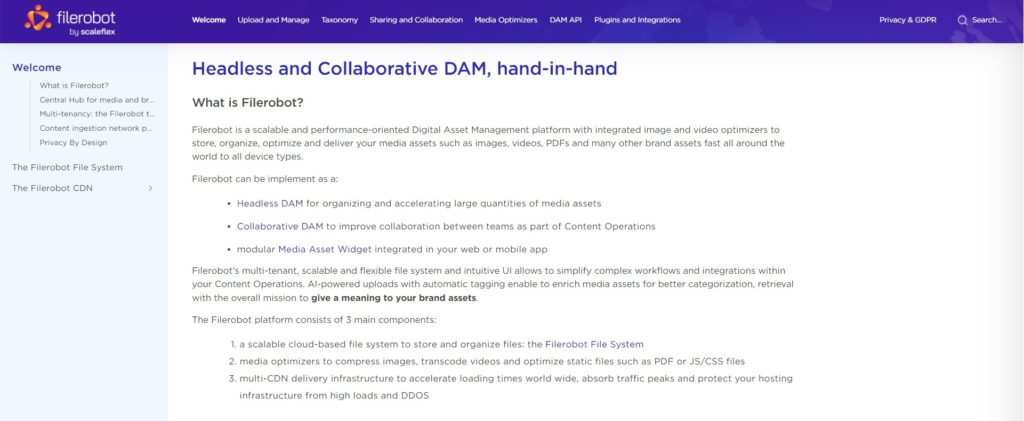 Businesses with many media assets can find it easier to stay organized and track what's happening with those assets. It's also easier to make changes and secure your assets in one platform.
Best for:
E-commerce platforms with a huge asset base across different channels.
11. MediaValet 
MediaValet helps you store, organize, and search through your video assets more efficiently. The software uses a cloud-based, centralized interface. Uploading and downloading is easy, even if your assets are large or spread out.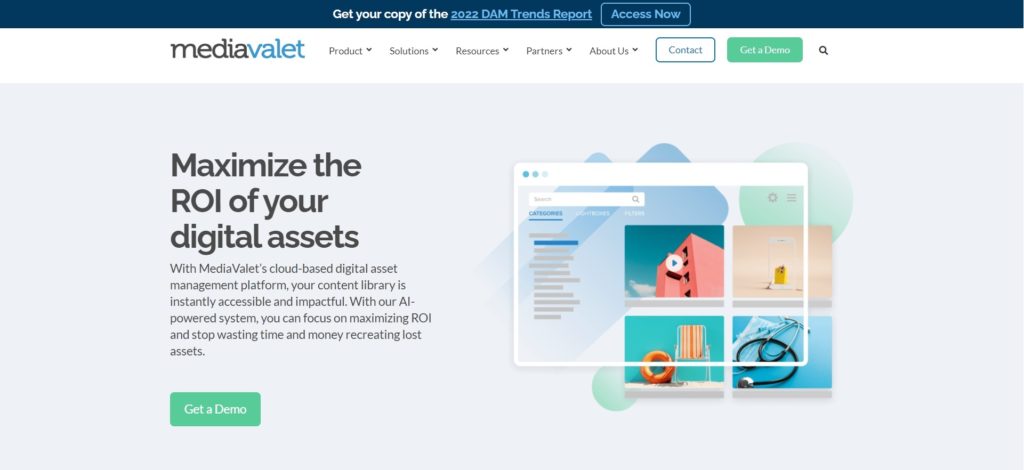 MediaValet allows unlimited users, so everyone in your team can quickly use and access your new assets. Plus, it can automatically tag your assets with details like color, objects shown, people, and more. Their AI helps you with transcription, and the software can be translated into other languages.
Best for:
Organizing large video asset libraries with AI features.
12. CoSchedule Asset Organizer 
CoSchedule Asset Organizer is one of five products in the CoSchedule Marketing Suite. The Marketing Suite is a project management ecosystem that includes tools for organizing your content, managing your marketing calendar, and more.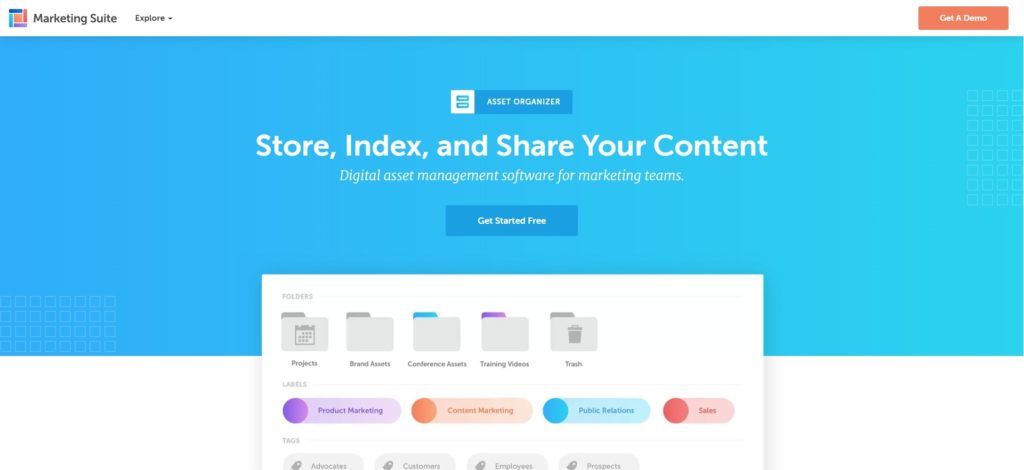 The Asset Organizer is only available with the entire suite, but it's worth it because it makes it easy to store, index, and share digital content. However, it can be pricey for smaller teams to afford a full-fledged marketing management system.
Best for:
 Large marketing organizations.
13. Extensis Portfolio 
Extensis Portfolio is a tool that helps you easily manage your digital assets. It's a popular choice for content creators and has many great features. With their keyword tagging and file-sharing tools, you'll be able to upload and share files easily.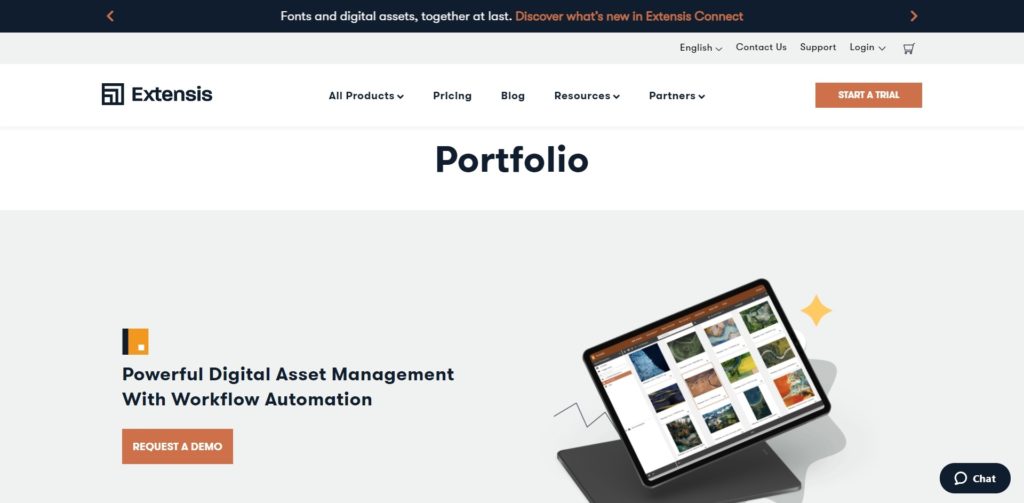 This asset management software can manage content across multiple brands, projects, or clients. Whether you're a large agency, a small team, or an individual freelancer, this platform will help you save time and make your life easier.
Best for
Content creators, influencers, or social media marketing teams.
GoVisually – asset management, collaboration, and compliance in one frame 
GoVisually is a digital asset management, collaboration, and compliance software for all creative production teams.
On top of everything, the platform gives you advanced tools for video reviews, feedback and approval, and real-time communication with your team members and stakeholders. 
To choose the right VAM platform, you must consider your business' DAM category, asset types, user types, and scale. GoVisually is the only platform that excels in every category and lives up to its reputation as the revolution in creative management.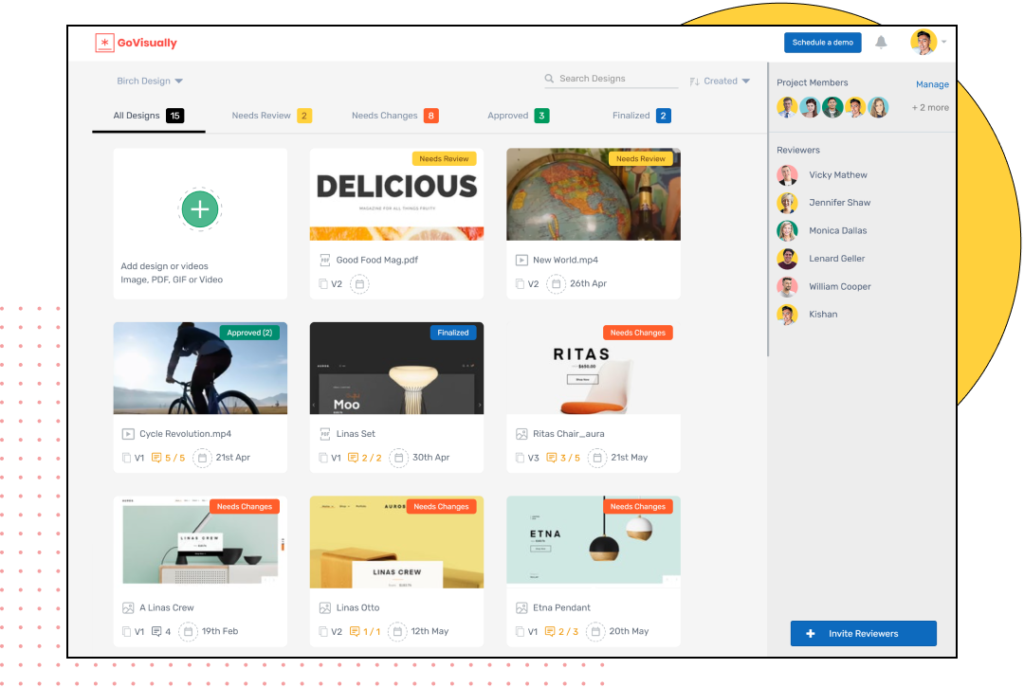 Want to take a revolutionary approach to digital asset management? 
Book a demo with our experts and experience the world of GoVisually!