Looking for the best direct mail automation software?
In this guide, we'll explore the 5 best direct mail automation software and learn why direct mail automation is necessary for businesses.
Let's get a little context.
Efficiency is everything.
And in today's creative times, efficiency has become a byproduct of automation and skill.
Automation is becoming popular among businesses for many reasons, mainly because it optimizes workflows and boosts processing efficiency. And it's also becoming a part of the direct mail marketing campaigns.
Think of it this way – the more automated your campaigns are, the more time you'll be able to spend on polishing them and creating even better campaigns next time.
By the end of this guide, you'll have the following at your fingertips:
What is automated direct mail?
4 benefits of direct mail automation
5 direct mail automation software to automate your email campaigns
Let's start!
What is automated direct mail?
Automated direct mail removes the manual processes of mailing out packages, gifts, coupons, etc. They are usually routed via a sending platform and integrate direct mail into the rest of your automation tools to create, optimize, and send campaigns.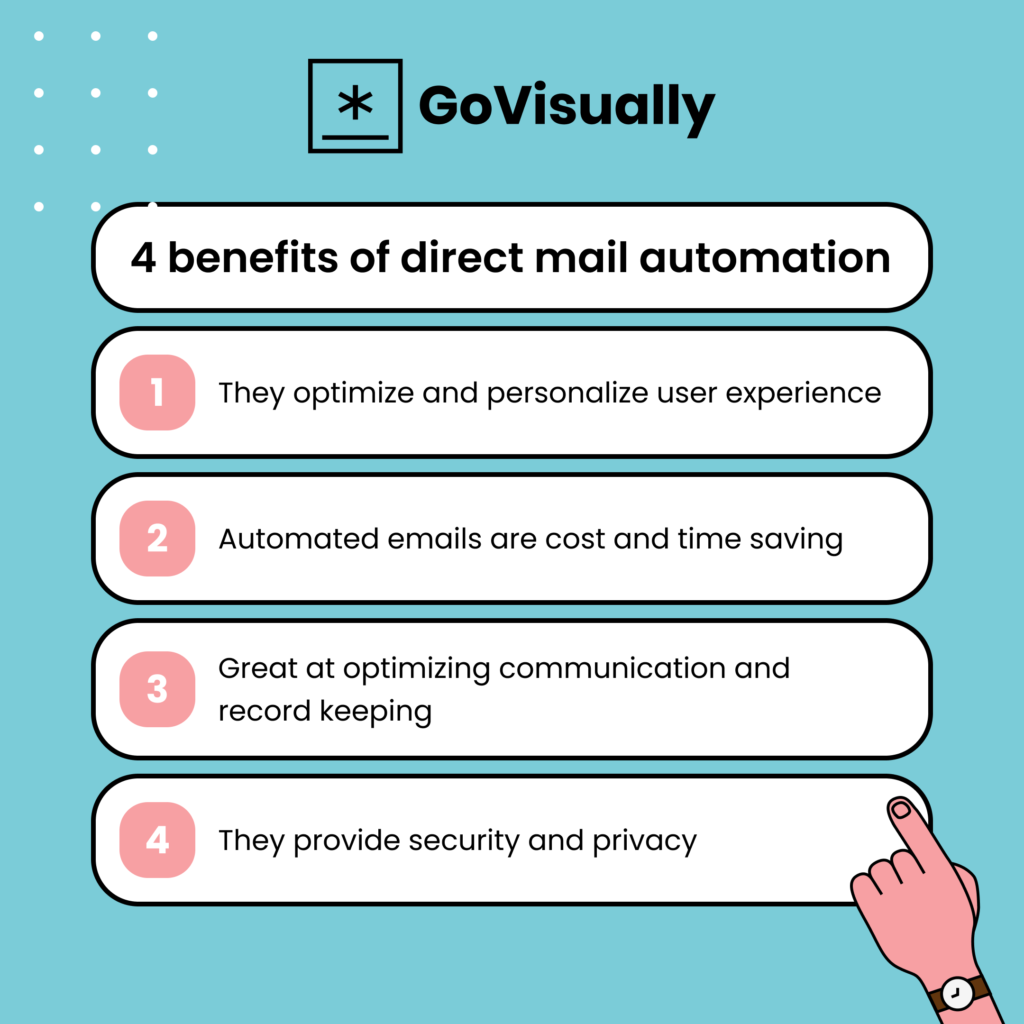 4 benefits of direct mail automation
These are some of the reasons and benefits why companies opt for automation in their digital processes. 
1. They optimize and personalize user experience
When processes at the back end are automated, developers have more time and resources to focus on the end-user experience of their brand. Boosting user experience should be a top priority for brands, but it often slips through the cracks. 
When human error is wholly or partially eliminated from the mix, and companies can save time, they can direct their attention to optimizing the user experience. At the end of the day, customer satisfaction will boost customer retention and loyalty. 
2. Automated emails are cost and time saving
Automation is cost-effective and saves companies a lot of time and resources. While human labor is expensive, automation is significantly cost-saving. It's not entirely free, but compared to employing and paying a whole team of workers to do something. 
3. Great at optimizing communication and record keeping
Automated processes involve digital processes that mainly take human error out of the equation (mainly). Automating data storage and filing eliminates the need for employees to update data on paper manually. Similarly, having an online archive of communication, feedback, and records streamlines collaborations and gives the parties more clarity. Employees can be updated on changes, eliminating excessive back-and-forth and team miscommunication.
4. They provide security and privacy 
Digital automation also offers security to any information you upload on the internet regarding your brand. Unlike papers and filing cabinets that can easily be accessed, online platforms provide tighter security for your valuable data.
Some common examples of digital and business automation are applications like Trello, Grammarly, Hemingway Editor, GoVisually, etc. Applications and software such as these are created to automate and streamline business processes within an organization.
You probably clicked on this article because you're searching for handy direct mail automation software that will significantly optimize operations in your organization. If you work in marketing fields, you probably constantly compete with other brands in the race to have the best, most profitable marketing campaigns.
This can be daunting, given how fast-paced the marketing world has become. Many tools, plug-ins, and software are out there to help you up to your direct mail marketing game and optimize your marketing campaigns.
Best direct mail automation software to use in 2023
So, here are the five best direct mail automation software without further delay.
Earth Class Mail, founded in 2004, is a direct mail automation software. It enables you to manage and deliver your mail remotely. It works as a virtual mailbox that allows you to sit back and let the computers handle the grunt work of opening, sorting, and packing mail.
Earth Class Mail also receives your postal mail at a secure mailbox, scans it, and sends it to your virtual mailbox.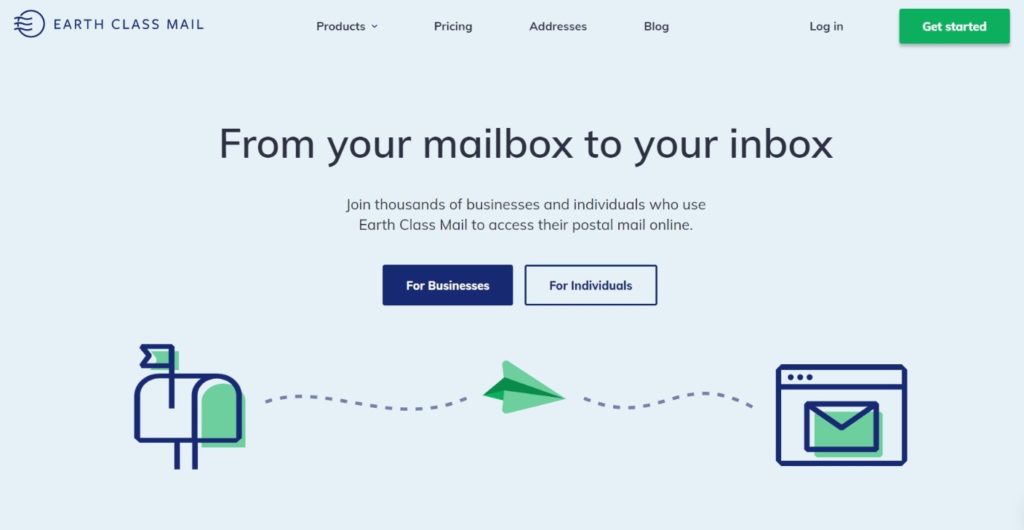 This takes out the effort of checking your mailbox and sorting through the mail for valuable and useless mail. It also dramatically removes human error from the picture; your bills, important letters, invoices, and documents are stored online in PDF form, so you don't lose valuable information. 
Earth Class Mail will deliver or forward your direct mail and store copies online. The service also lets you destroy physical documents through its "secure shredding" feature. Earth Class Mail also has an API that allows you to integrate the service with different apps such as Google Drive, DropBox, Bill.com, etc.
Earth Class Mail is not a free service but offers a free trial! Their Personal mailbox plan costs $19/month, while the Premium mailbox, suitable for organizations, costs $79/month. 
Reachdesk is another excellent direct mail automation service. It allows you to send out mail and packages to their customers. You can automate and preset the direct mail a customer receives through Reachdesk, eliminating extra labor.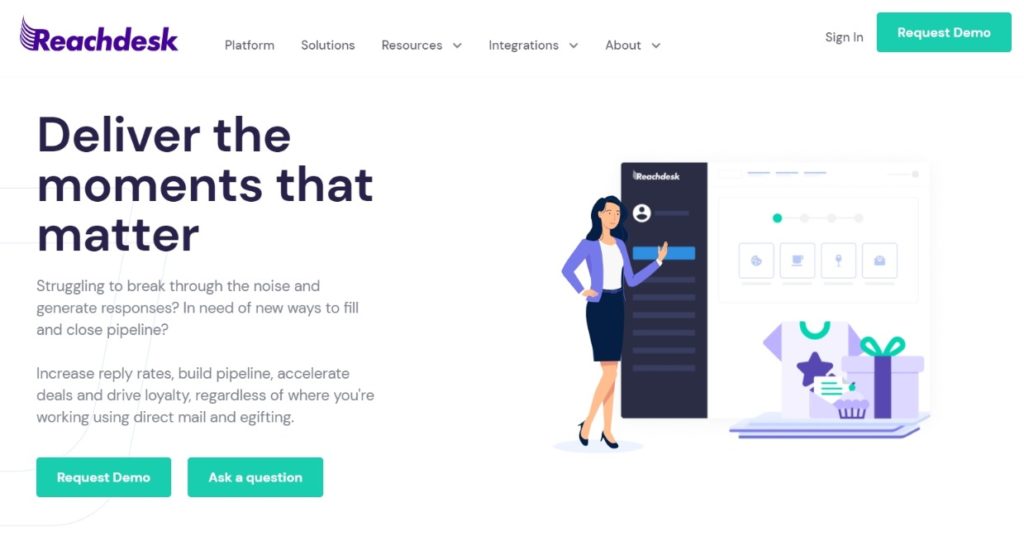 Like Earth Class Mail, Reachdesk automatically processes sorts, and securely stores mail for you. Their software also offers integrations with your other favorite integration tools like Hubspot, Zapier, Marketo, Salesforce, etc. 
The subscription plans differ in pricing, but we would say it might be worth it for the quality and rave reviews we're seeing. Their pricing varies for each organization's needs and requirements. 
You might be wondering; What does online proofing do with direct mail?
And we say, everything.
Your direct mail will not generate leads without compelling content to make customers want to purchase your products or services.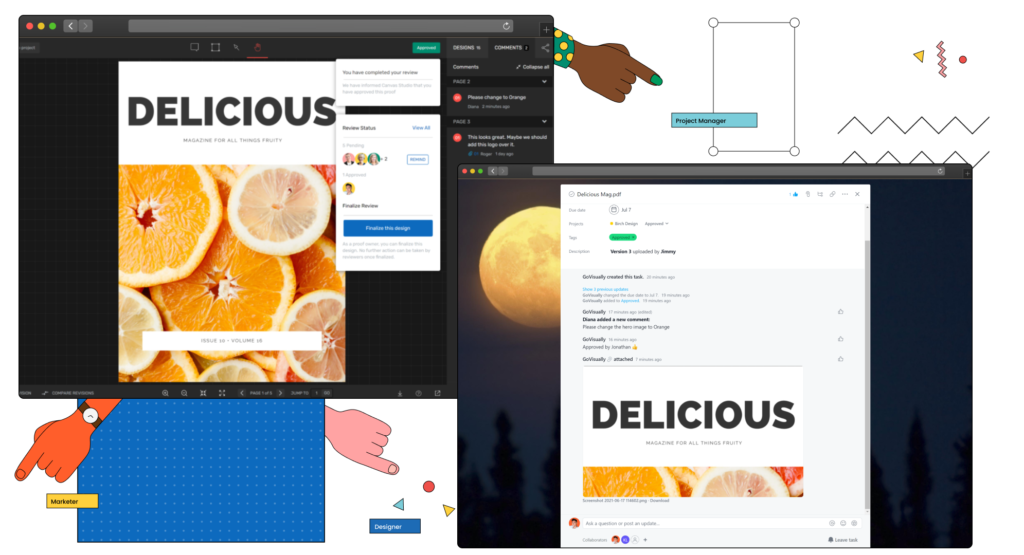 When you're finalizing content for your mail, you need software that helps make proofing easier for your organization. Edits, revisions, updates, comments, and approvals can all be done on GoVisually.
Every change and revision made to a document or piece of media can be viewed by everyone involved in the process. This makes workflow more efficient, saves time, and optimizes organizational communication, minimizing miscommunication, confusion, and errors.

GoVisually is not free software. However, it does have a free trial so that you can check out its services. The software costs $20/month for a personal plan and $50/month for a team plan. 
Adobe Spark is design software that is perhaps one of the best available on the market. You can create designs, ads, and presentations and edit photos and videos for your marketing campaigns.
Your direct mail needs to look aesthetically pleasing and compelling for the customer. This requires design work that makes it stand out from all the other piles of ads and promotional offers your customer gets from other brands.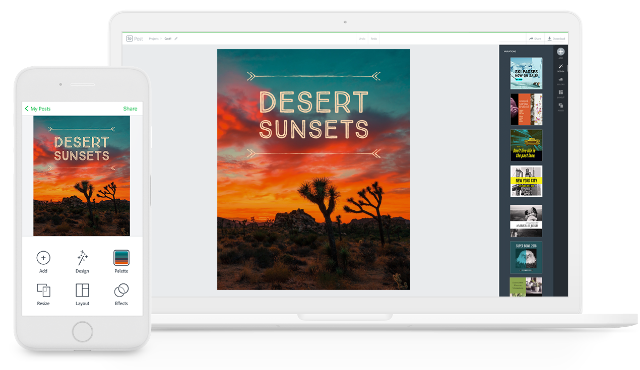 You can also proof designs with your team on Adobe Spark with a shareable, editable link. This eliminates back-and-forth between your design team and optimizes edits and approvals. 
Blueshift is an excellent marketing automation tool that significantly saves you time and resources. It helps you create omnichannel experiences with their software.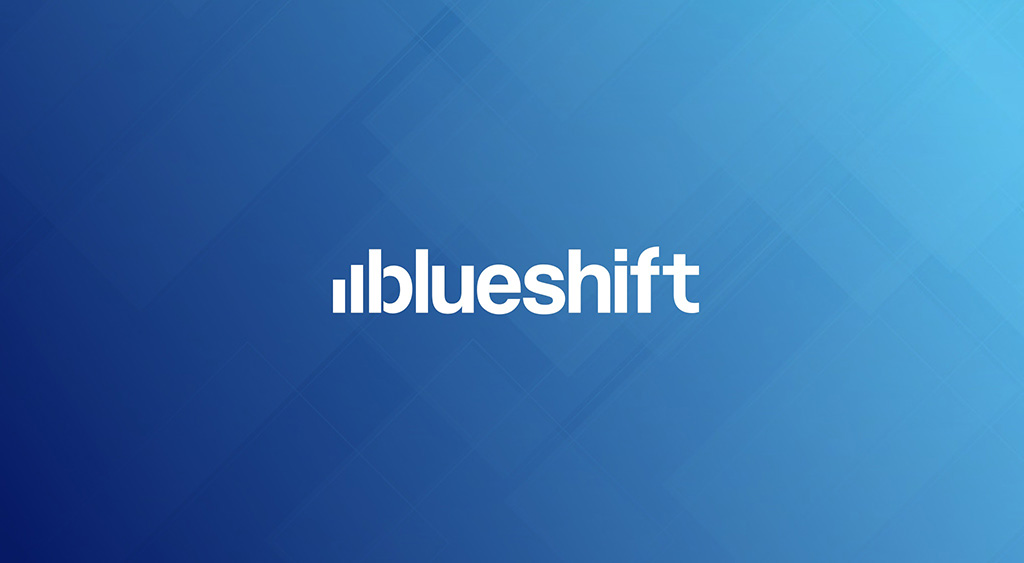 Blueshift has many features, such as predictive intelligence, omnichannel orchestration, single customer view, audience segmentation, mobile marketing, contextual chat, website personalization, email automation, technology integrations, documentation, support plans, etc. 
The pricing differs according to the features of each plan, so we're sure you'll be able to find a plan that suits your organization's needs.
Key Takeaway
Direct mail marketing can exponentially boost your lead generation and results from email campaigns.
However, to have a successful, profitable direct mail marketing campaign, you need automation tools to significantly optimize your workflows and eliminate errors from the marketing processes.
So select the one that works best for your campaign objectives.
P.S. Which of these are you most likely to use for direct mail automation? Let us know in the comments.