Let's face it. There are lots of stuff online. And they're all starting to look the same.
It's like all of these businesses use the same resources for their graphics!
Honestly, it gets to a point where it's just visually exhausting.
To stand out, you need to build your own brand, and you need the CUSTOM made assets that go with it.
Visuals are visceral. Their effect is instantaneous. And the signals they send to your brain are lightning-fast, requiring little to no thinking.
So if you've got great visuals, all it takes is one look, and the viewer can immediately "feel" whether they'll like you or not. It could instantly repel them, or it could get your foot in the door.
It's like direct response copywriting, but in visual format. And to hire talent with the level of skill that can deliver that kind of persuasive imagery, you need Dribbble designers.
So what's Dribbble? And how awesome are these Dribbble designers you speak of?
For the uninitiated, NO, Dribbble is not an agency.
Dribbble is an online platform. Kind of like Behance. Essentially, it's like a Pinterest or Facebook for visual creative talents.
Think of it as an online catalog or black book of artists who can create the beautiful stuff that people will associate with your brand.
So, if you want to find a curated (invite-only!) collective of these top-notch designers with ready-to-view portfolios, then the fastest way to go is to find them on Dribbble.
And to make it even easier for you. Here's a list of Dribbble designers that we've collected, just so you can get a quick view of the kind of talent that's on there.
Check it out. And, if any designer stands out to you, then head over to Dribbble and reach out.
Behold, GoVisually's shortlist of Dribbble Designers with awesome portfolios like you won't believe!
(Excuse the hype, but beautiful things make me happy and a bit hyper.) #sorrynotsorry 😉
Dribbble Designers Roundup by GoVisually
Dribbble Designer #1. Christopher Reath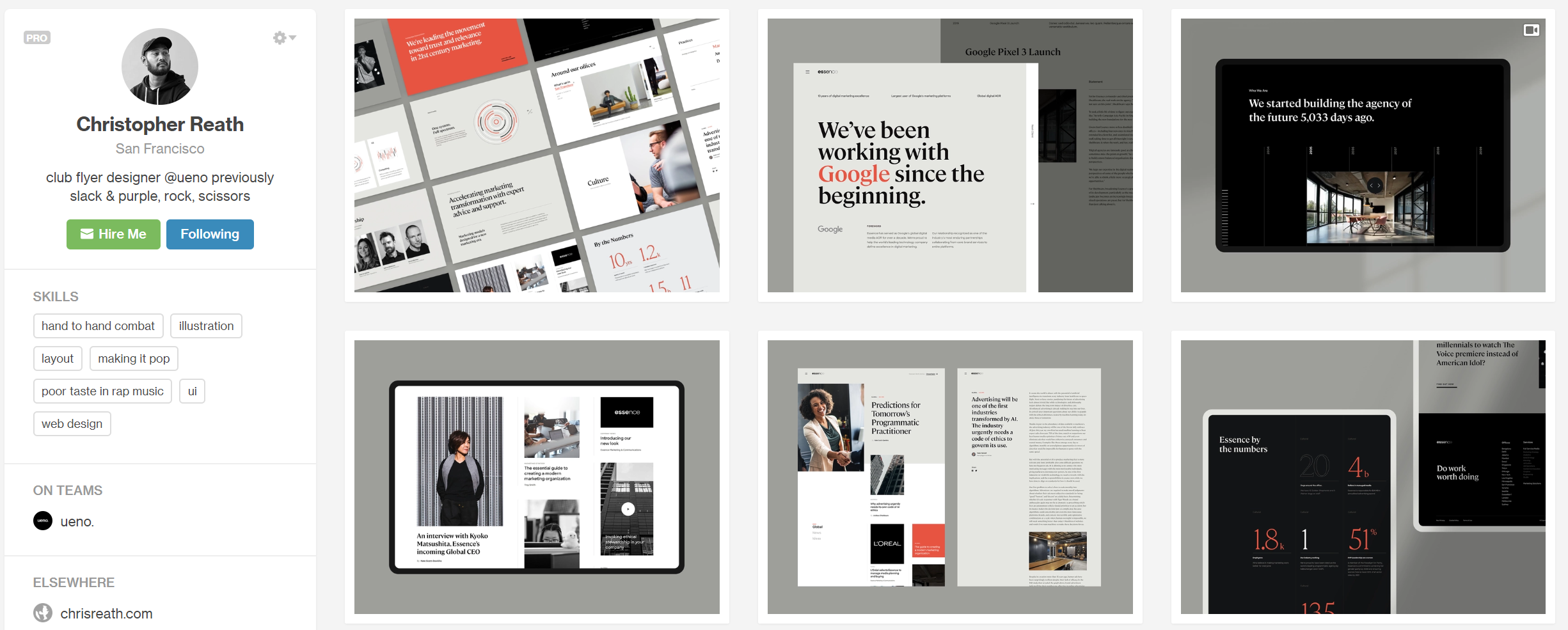 Specialties:
Web design
Layout
User Interface
Illustration
This guy has a pretty spanking portfolio. He's currently part of the hip agency, ueno and has worked with top brands like Slack, Facebook, LinkedIn, & Lux Capital.
But take heed: Chris says he's got hand to hand combat skills and bad taste in rap music. So it might be best to just hire him remotely for your safety (and sanity). 😀
See Christopher's full design portfolio on Dribbble here: https://dribbble.com/chrisreath
Dribbble Designer #2. Zuairia Zaman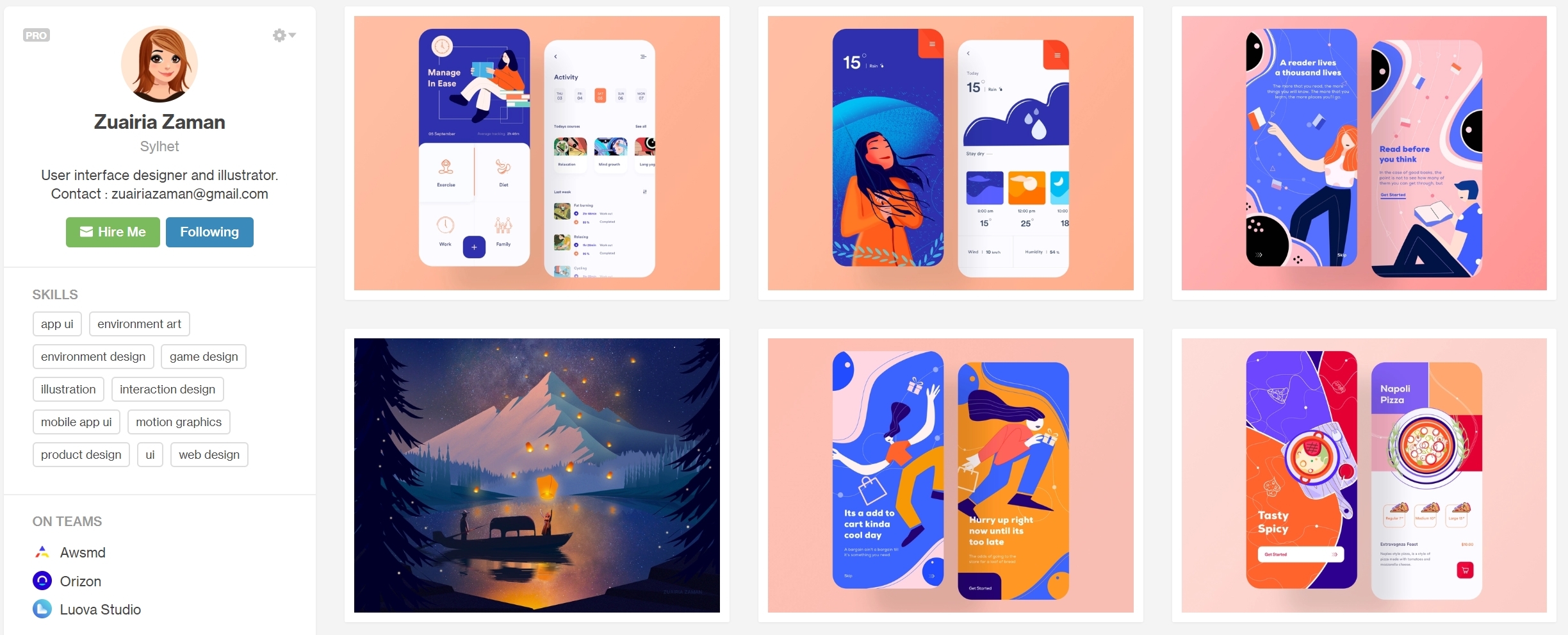 Specialties:
User interface
Illustration
Web design
Motion graphics
Product design
Game design
Environment design
Bangladesh-based user interface designer and illustrator Zuairia Zaman showcases work that is a delight to the eyes and, may I say, a pleasure to the young-at-heart soul.
No wonder she was snatched up by multiple agencies such as Awsmd (Awesomed), Orizon, and Luova Studio.
If visually delightful games like Child of Light or Ori and the Blind Forest appeal to your aesthetic, then you'll love the bold colors and whimsical illustrations that make up Zuairia's style.
See Zuairia's full design portfolio on Dribbble here: https://dribbble.com/zuairia
Dribbble Designer #3. Daniel Tan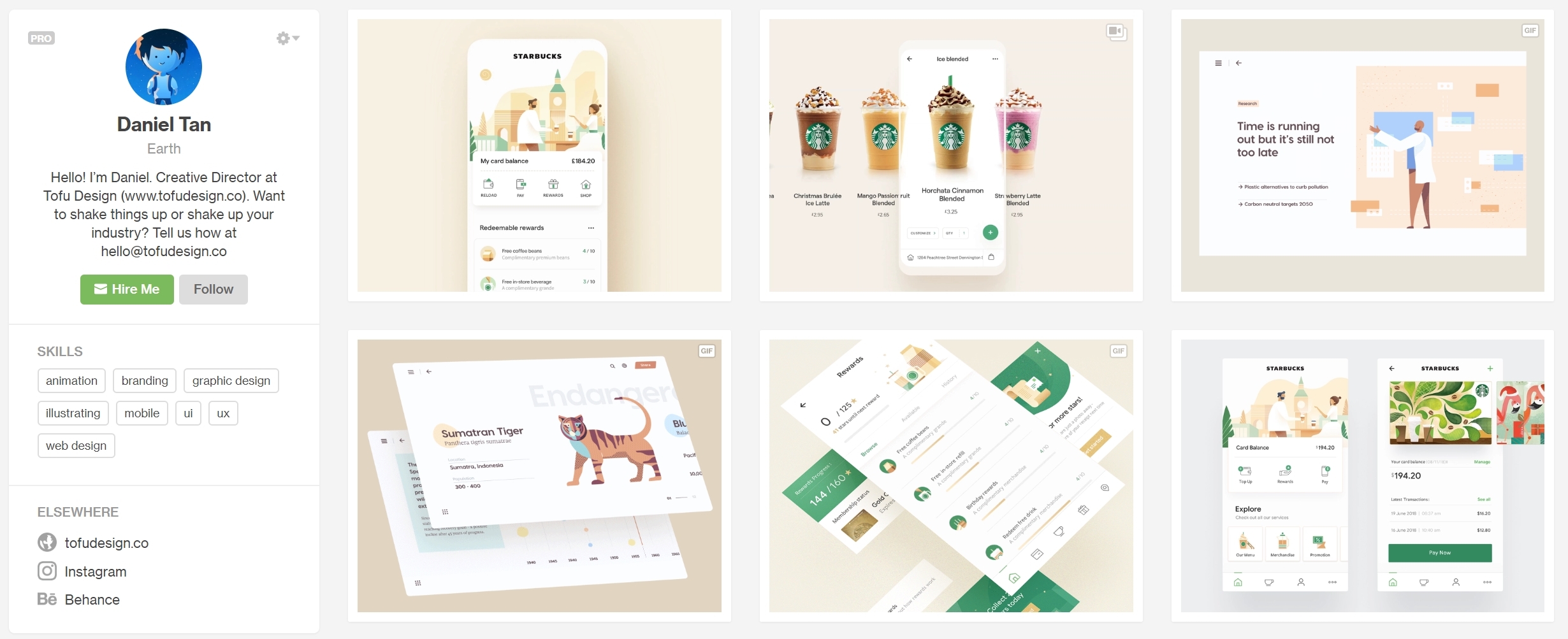 Specialties:
Branding
Graphic Design
Illustration
Animation
UX/UI
Web Design
Fresh, sleek, relaxing, refined. Daniel's designs will make Apple proud.
From his published work all the way to his creative studio's website, Tofu Design, you'll see the consistency in Daniel's style: minimalist with just the right pops of color tastefully sprinkled here and there.
So if you like your design to be beautiful and so refreshingly clean that it showers zen all over your soul, then Daniel is your guy.
See Daniel's full design portfolio on Dribbble here: https://dribbble.com/humpdebump
Dribbble Designer #4. James Daly

Specialties:
Illustration
Graphic Design
Animation
Lettering
James Daly. I don't know about you, but to me, the name just sounds so… artist-like, eh?
Anyway, James is based in Australia and manages drawkit.io — his website/newsletter where he publishes his hand-drawn illustrations that are free for personal or commercial reuse. Yay!
If you're looking for on-trend illustrations for your SaaS or company websites, then check out James's work.
See James's full design portfolio on Dribbble here: https://dribbble.com/jamesdaly
Dribbble Designer #5. IIsixo_O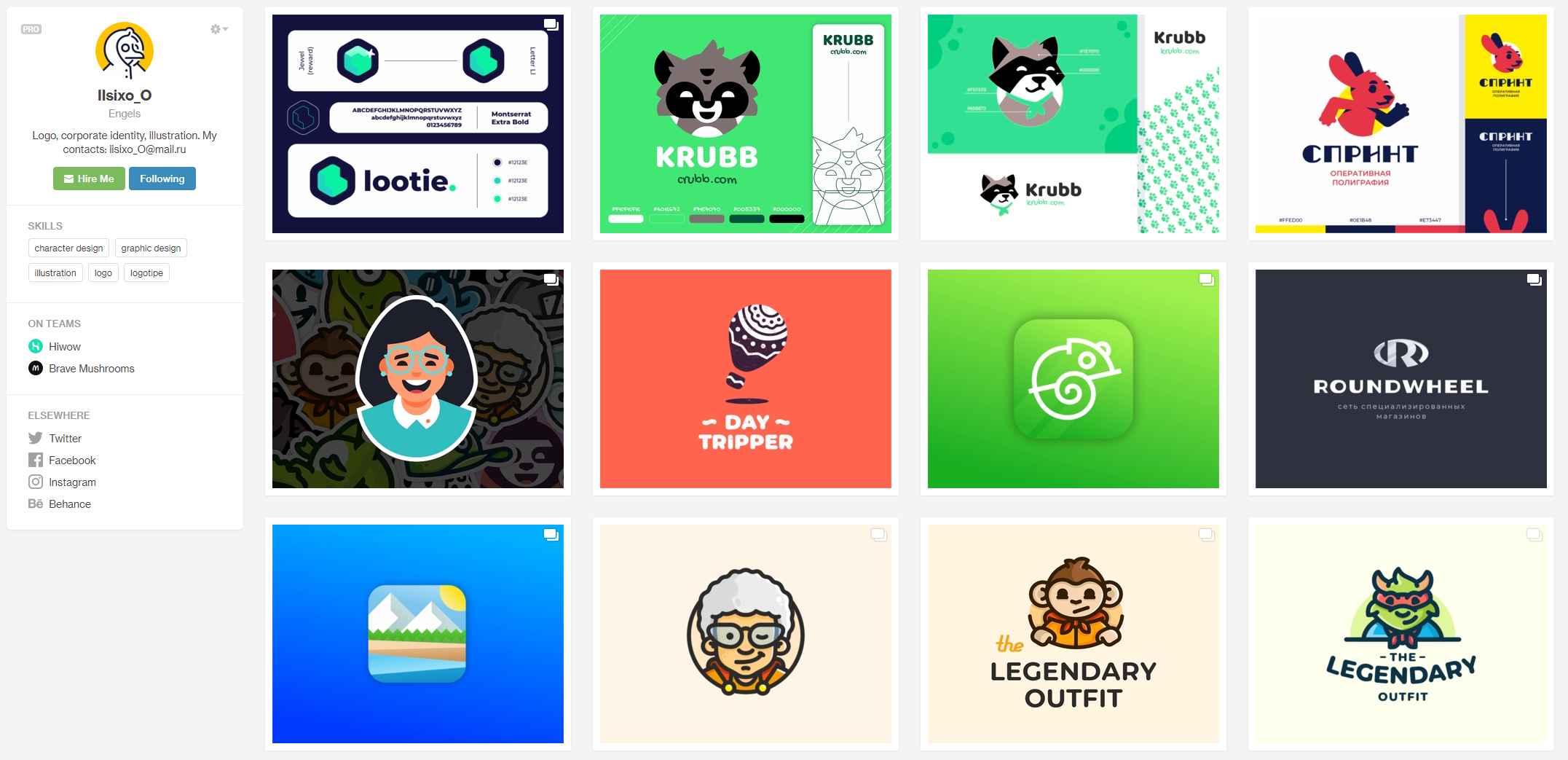 Specialties:
Logo Design
Logotype
Illustration
Graphic Design
Character Design
Well, I'm not sure what to call him/her. I tried following the links to this designer's social profiles, but I can't read Russian either (poor me). So for the purposes of this article, I shall refer to this mysterious artist as "Six".
Six belongs to two creative teams on Dribbble, namely: Hiwow from China, and Prague-based Brave Mushrooms.
As you'll see, Six's designs use striking colors, thick bold lines, and quirky cartoon character illustrations.
So if you're looking for some catchy vector designs for your brand logo and mascot, go ahead and let Six know.
See Six's full Dribbble profile here: https://dribbble.com/IIsixo_O
Dribbble Designer #6. Sencer Bugrahan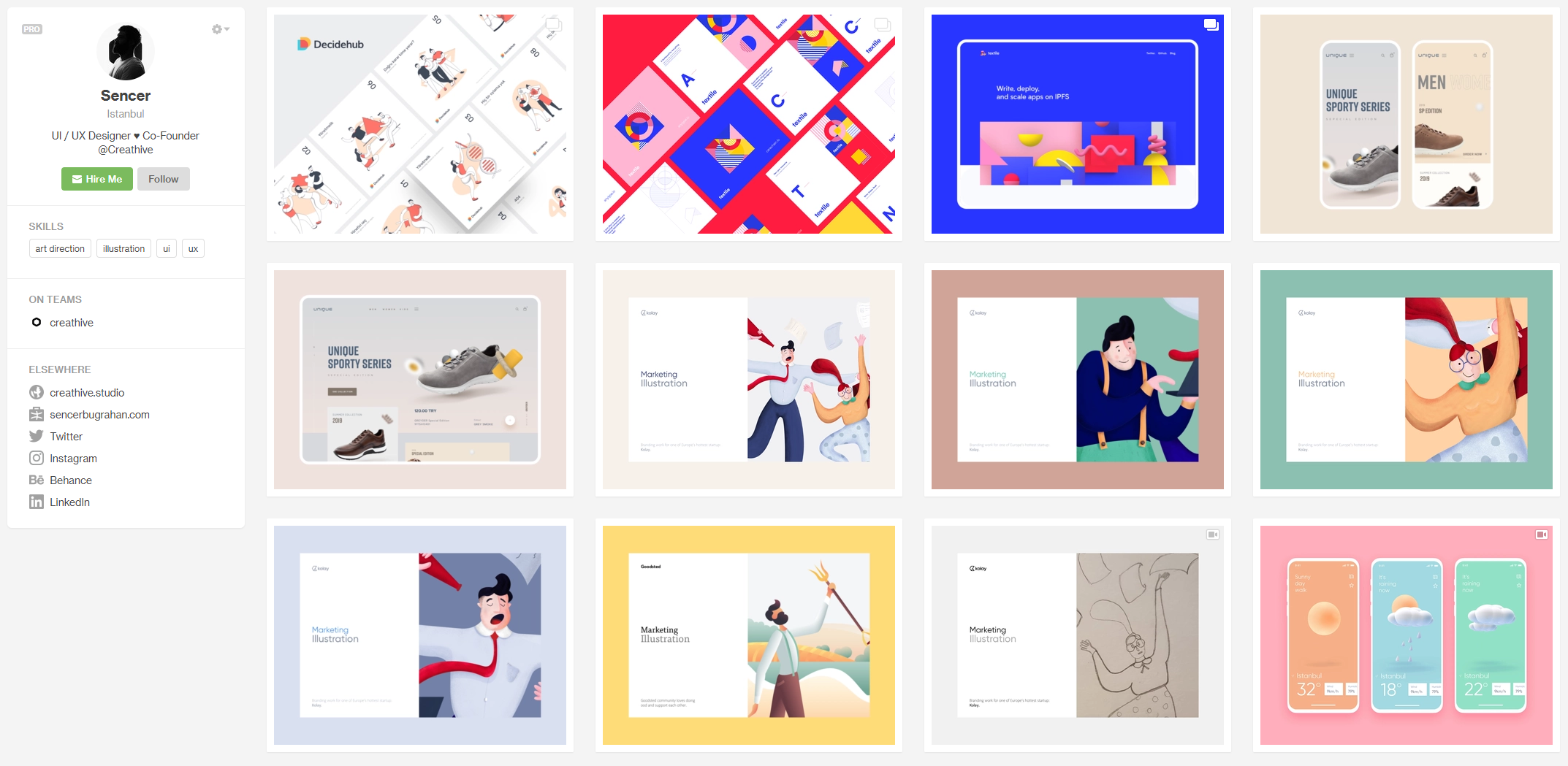 Specialties:
Art Direction
Branding
UX/UI Design
Illustration
Experience Design
Istanbul-based Sencer is the Senior Art Director & Co-Founder of Creathive Studio.
His work is versatile, and he can create a whole branding strategy and guideline that can fit any business, from SaaS, to finance, e-commerce, or fitness.
And if you're looking to break into Augmented Reality marketing, then Sencer is one of the guys who offer experience design as part of his services too. Pretty cool!
Check out Sencer's full design portfolio on Dribbble here: https://dribbble.com/sencerbugrahan
Dribbble Designer #7. Arek Kajda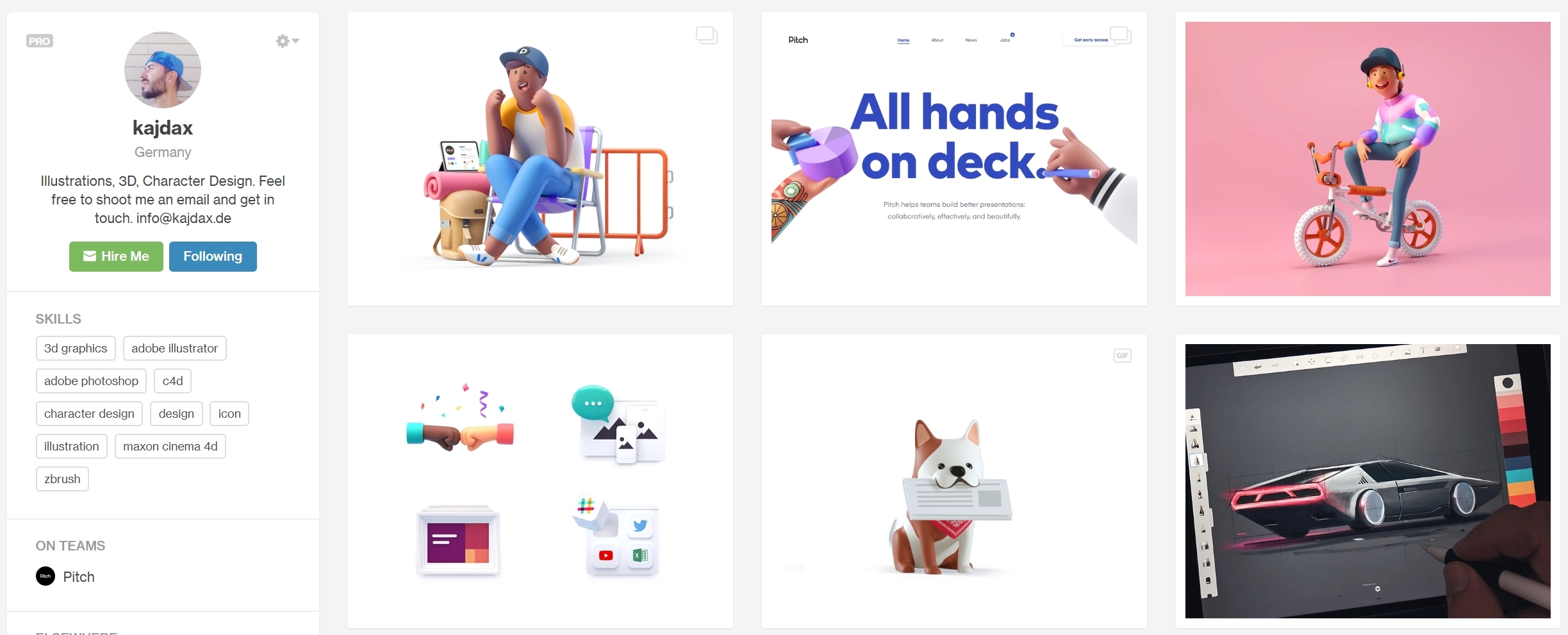 Specialties:
3D Graphics
Character Design
Illustration
Based in Germany, 3D Illustrator Arek Kajda, "eats Pixels for breakfast" and prefers to refer to himself with his infamous moniker, "Hannibal Vector".
So what makes him special? Well, check out his portfolio to see the candy-colored 3D characters he makes. Worthy enough to star on the next Pixar movie, maybe?
He also creates 3D designs for mobile apps, products, and print.
Check out Arek's full design portfolio on Dribbble here: https://dribbble.com/kajdax
Dribbble Designer #8. Lay
Specialties:
Web Design
Mobile App Design
UX/UI
Well, here's another mysterious designer from the same Hiwow team that #5 (Remember Six?) is part of.
He/she/it might be a Gorillaz fan, this much I can tell. (Ya think?)
Sporting 2D's head for a profile avatar, hailing from the land of the free and the city that never sleeps (that's New York, USA, peeps) — he, she, or it prefers to be called, Lay.
Lay specializes in designing for websites and mobile apps in the SaaS and Fintech space.
If you want to find out who the lovely person is behind that 2D avatar, head on over to Lay's full design portfolio on Dribbble.
Dribbble Designer #9. Martin Štrba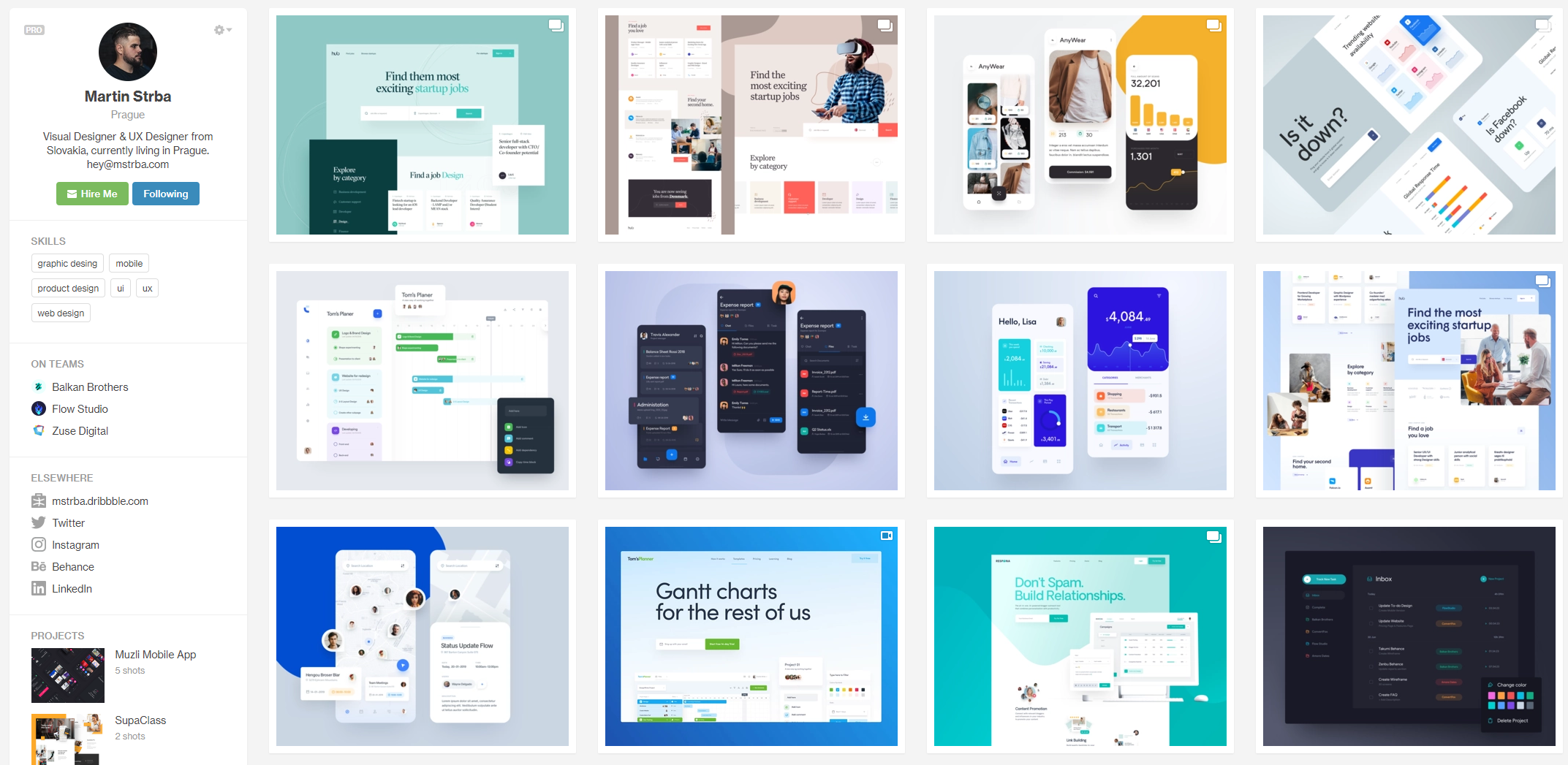 Web Design
App Design
UX/UI Design
Graphic Design
Martin is a prolific freelance UX/UI designer based in Prague. He has designed for businesses such as Maserati, Convertfox (now Gist), and Respona.
If you're looking for someone that knows how to combine cool, edgy colors with clean, structured lines, then Martin's your guy.
Check out his full design portfolio on Dribbble here: https://dribbble.com/mstrba
Dribbble Designer #10. Laisy Wang

Specialty:
This next designer is based in the heart of the world's sleeping giant — Beijing, China.
Laisy Wang is part of the Uran Arts creative studio and she creates fun and stylish illustrations for web and mobile apps interfaces.
Her stylish, colorful and pretty art style would be a perfect fit for lifestyle brands such as fashion, beauty, fitness, travel, or shopping.
Check out the rest of Lay's design portfolio on Dribbble here:  https://dribbble.com/LaisyWang0912
Wrapping Up (for now)
Whew! And that's our roundup of Dribbble designers for now.
I say "for now," because we'll keep adding to this list any time we spot any new designer we think would be a dream to work with!
Think we missed anyone? Let us know by Tweeting @govisually and @MissPanWriter
Catch you again soon!