Emails are something that is a part of everyone's daily life. An average person checks their email multiple times during a single day! 
Using email marketing is always a good idea. Whether you are already using it or have just started incorporating it into your strategy, it can be highly beneficial to you and your brand. Having a spectacular email design can help you get people's attention and help your business grow. 
Having an email newsletter can help you provide all the crucial information to reach the maximum amount of people. 
So, what is an email newsletter? Let's find out!
What is an email newsletter? 
An email newsletter is sent out to list potential or existing customers. You should always have the consent of these people, and they need to be okay with you sending them digital marketing communications and emails. 
Email newsletters are sent out regularly, and you can schedule them. These email newsletters can contain any recent updates regarding your company, all the valuable content you want people to know, shopping guides, product reviews, blog posts, tips, announcements, and much more. 
Newsletters have always been a crucial element of email marketing. They are an excellent way to reach out to your customers and build solid relationships. They can make your customers feel like they are part of your community. Email newsletters also help you highlight your latest products and services and drive traffic to your website, granted the email design is outstanding, of course! 
Benefits of email newsletters 
There are countless benefits of creating and sending newsletters as a part of your email marketing strategy. Let's look at some of these benefits and how they help.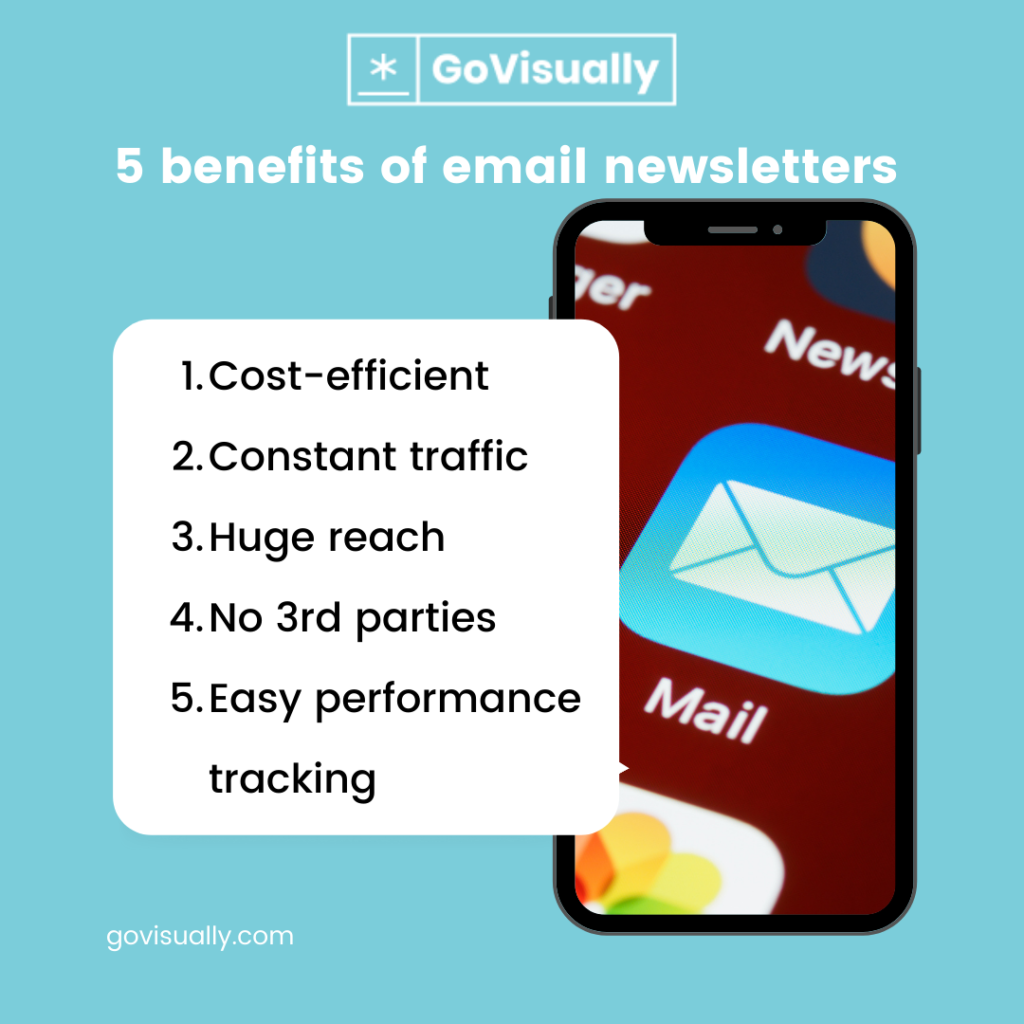 1. More cost-efficient
As a marketer, you have to always keep the budget in mind. Excellent email design and newsletters can be cheaper than most digital marketing channels. Other methods like paid advertisements on Facebook, Instagram, etc., can be a lot more expensive and drain your budget. 
2. It gets you constant traffic 
One of the essential benefits of sending email newsletters is the constant traffic for your website. You should have an appealing subject line so that people click your email once it reaches their inbox. Having attention-grabbing and practical CTAs can also help you get organic traffic for your website. 
3. Huge reach 
Email newsletters can easily be connected with other social media channels and integrated with other platforms. It has a massive reach and will get to people anywhere in the world. Whether sitting in their office or lounging around on their couch, they will see your email in their inbox.  
4. No need for third parties 
Your email newsletter is independent of all third parties. You don't need a unique tool to show your email to your customer or client. You don't need a publisher or an influencer to get your message across, none of that. Your email newsletter will reach your customers directly through their email address, and they will see it in their inbox. 
5. Easy to track the performance 
Your email statistics are elementary to track, and you can find all the information you need. Through your email statistics, you can find out how many people clicked the email, how many people went to the website from the email, how many people unsubscribed from the email list, and much more.
You can use this data to improve your email newsletters further.  
How to create newsletters 
Creating email newsletters is not always easy. However, you can find various email design templates and layouts for email newsletter design that can help you. You should know some basic steps when going through your newsletter's email design.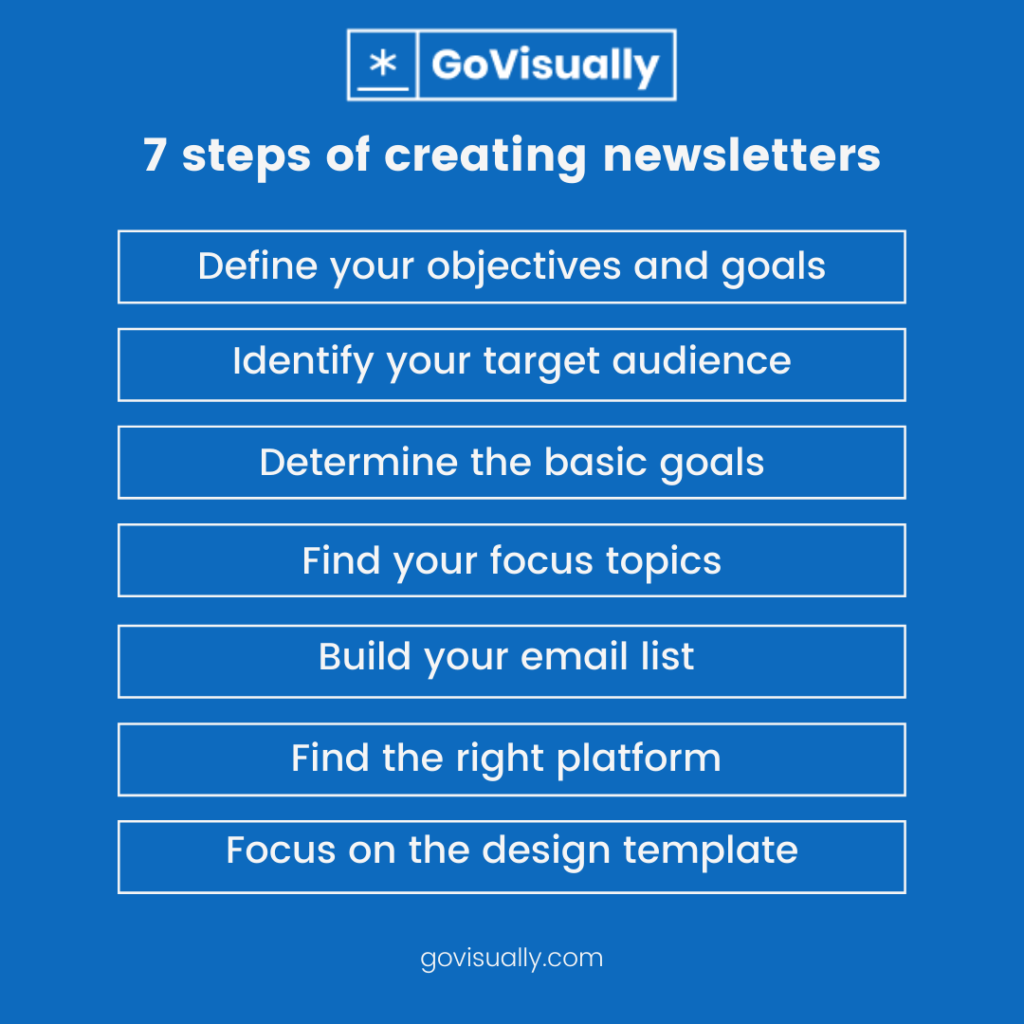 Step 1: Define your objectives and goals 
Before planning out your email newsletter design, you should know what you want to achieve. It would help if you thought about why you have even chosen to start an email newsletter and considered all the pros and cons.
Once you are sure that it will only help your brand grow and provide you with what you want, you should start creating the email design template. 
Step 2: Identify your target audience
Of course, you cannot move ahead with your email newsletter design without defining your target audience and knowing who you are creating the newsletter for. Knowing and understanding your target audience is crucial to successful your email newsletter campaign. 
When creating the email newsletter, you have to consider who will be receiving the newsletter and what they want to read. You should know their needs and which content will be valuable for your target audience. 
Step 3: Determine the primary goals 
If you are starting an email newsletter and are in the process of developing the email design, you should know what you aim to achieve with your campaign. Some brands want to introduce new products with the email newsletter. Some are trying to drive traffic to their website, other companies want more people to shop at their online store. 
Every company should have a purpose behind its email newsletter design. Without a clear objective, the campaign will not be cohesive, and it will never look put together. When you set clear goals for the campaign, it is easier for you to track the success and find out if it is doing well or not. 
Step 4: Find your focus topics. 
Once you have determined the goals and objectives of your email newsletter, you can go ahead with the email design and find topics that will help you achieve the goals you set for the campaign. You can analyze the email newsletters your competitors are creating and find inspiration from other brands for the topics you want to focus on. 
It can also help you carry out a few surveys before starting your email newsletter. You can ask you target audience what they want to know and the topics and products they would like to find out about through your email newsletter.
Some of the topics you can focus on include: 
Latest blog posts on your website 

New product launches 

Latest industry news 

Customer reviews and stories 

Upcoming events and launches 

Stories regarding your brand culture and new job openings 
Step 5: Find the right platform for your email newsletter 
Before you start sending out your email newsletter, you should find a platform that enables you with all the features you need. It would help if you used a tool to create the email newsletters, send them to the mailing list, and analyze the performance. 
There are countless email design and campaign tools out there. Choosing the right one can be an overwhelming challenge for some people. However, you should keep your brand's needs and budget in mind to decide. 
You can also use GoVisually to provide creative feedback for the email design and email template. The leading online proofing tool enables you to collaborate internally and externally.
Step 6: Build your email list and get their consent 
Of course, there is no email newsletter if you don't have people to send the newsletter to. You must go through your customers and ask them if they would like to receive emails from your brand. When they sign up for your website or purchase from you, you can ask this.  
Step 7: Focus on the email design template 
One of the most important things about your newsletter is the email design. You can find email design templates and make edits to help you put your brand at the center of it. Also, you should ensure that your email newsletter design and email header design match and show your brand aesthetics. 
You can also upload an HTML email design template and use it. However, you have to ensure that the email design HTML you use is responsive to all devices and people don't face trouble opening the email.  
Things to consider for your email design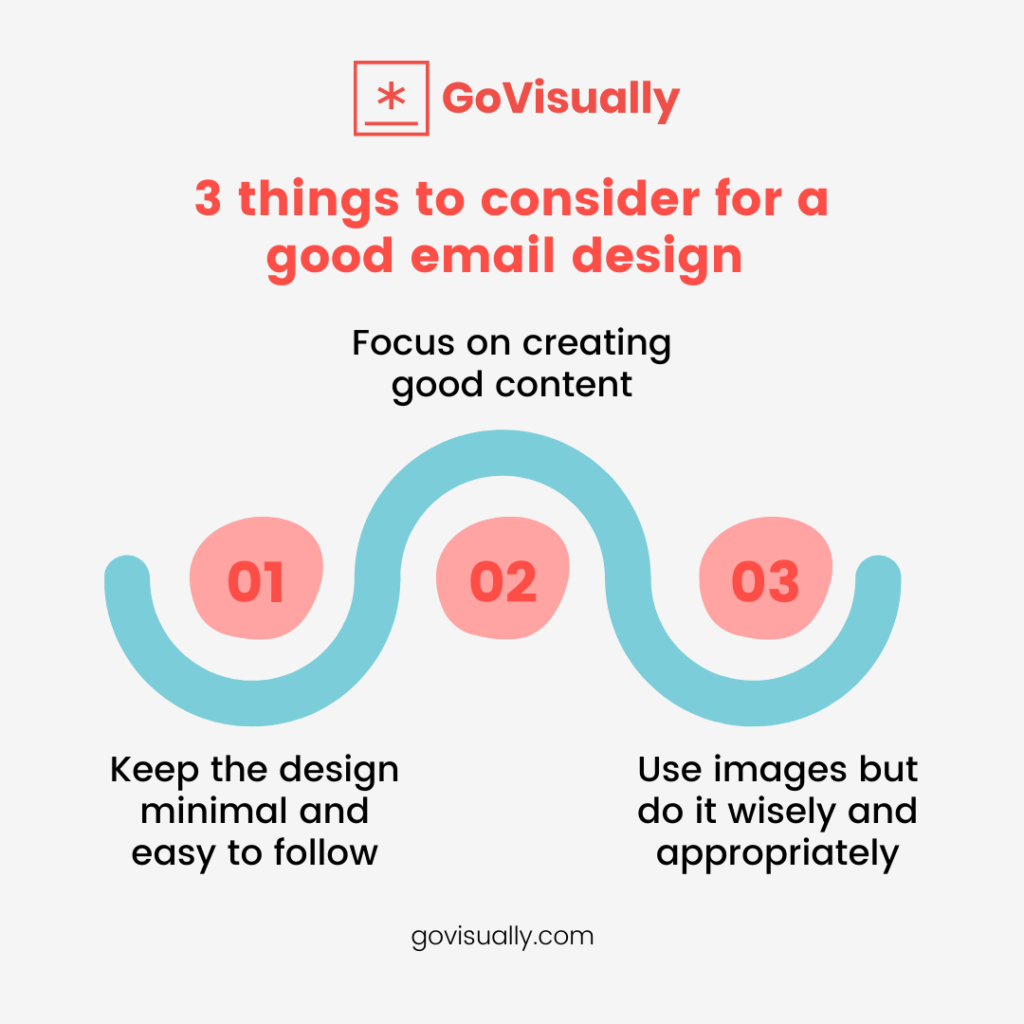 The content 
You should always decide the content before you build the template. It should be engaging and grab the attention of all readers. You should always ensure that your content is brief and gets the message across in simple words. It is also essential that your content is informative and valuable. 
Keep it simple 
Your email newsletter should not be too complicated. You should stay consistent with your design, incorporate your brand elements, and ensure that the email newsletter is not crammed with unnecessary content. Make sure that your email newsletter has a clear structure that is easy to follow. 
Use images but wisely 
Having a visual element to your email newsletter is always great. Images and videos can help your email newsletter shine, and you should use them. However, do not go overboard with the images and videos. You should use the images wisely and add alternative tags to know what they are about, even if their email browser cannot show them previews of the images.  
Top examples of email newsletter design
Bold email design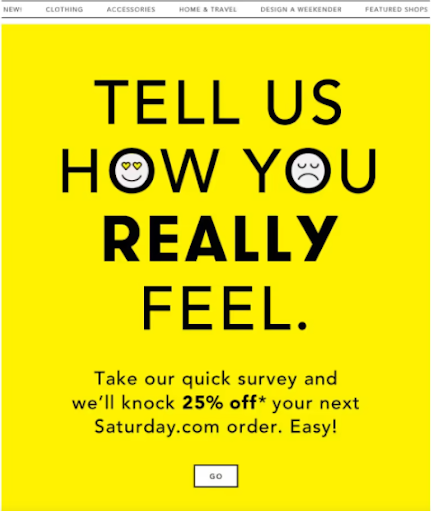 This email design catches your attention with bold colors and font. It makes the viewer interested in the message, and the placement of the CTA is also excellent. 
Color gradient email design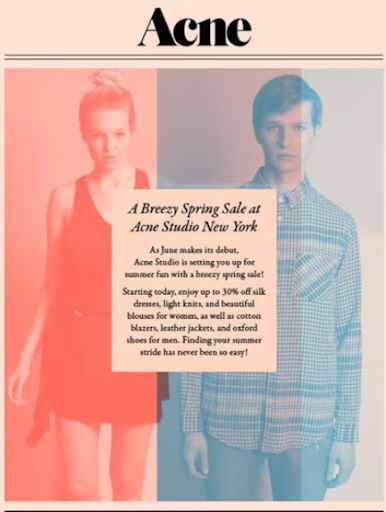 The color gradient of this email design helps it stand out. It creates a stylish look, and it is bound to catch your interest as you look at it in your inbox. 
Simple email design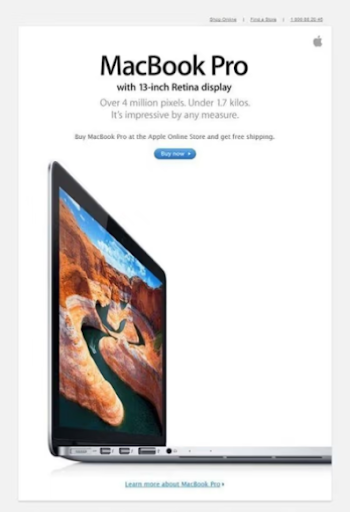 When it comes to sleek design, no one does it like Apple. This email design shows you how to keep it simple and still catch your attention. The focus is on the new product, generating curiosity around it. 
Minimal email design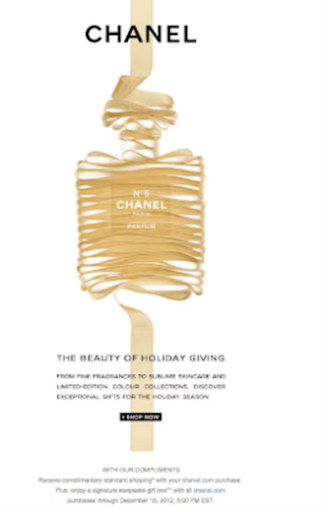 Minimalist email design is taken to the next level by Chanel. It uses the brand name and elements and grabs everyone's attention. There is a balance of text and images in the email design. Although there is not much going on, it still looks elegant and pretty. 
CTA-focused email design 

Talk about doing CTA right!
This email design by J.Crew makes you want to click on the link right away. It draws attention to the link, and it is perfect for any company looking to generate organic traffic for their website. 
Review and finalize your newsletter designs with GoVisually!
An email newsletter can help you reach your existing and potential customers. You should have excellent email design and content to ensure that your newsletter is appealing to most people and the unsubscription rates stay as low as possible.
However, ensuring that would require a lot of internal reviewing. And that can become no less than recurring stress if you don't do it right.
This is where you can use GoVisually to simply the review process for you and your team. Upload as many design templates as you want and get feedback in real-time.
Your email newsletter design should be memorable, and proofing with GoVisually helps ensure that!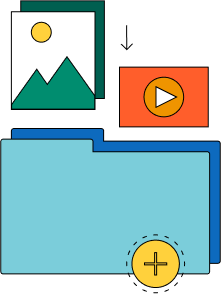 Need a quick way to share large files and creative assets?
With GoVisually Share, it's absolutely free! Try today.