The bigger the enterprise, the more content and collateral it'll have to manage. And that is why you need efficient enterprise content management software for your business.
It's no news that businesses are now relying on content for brand growth and recognition. The content a company creates has become its foundation in many ways.
It's also because content can be of various types and used for countless purposes. And with the new AI tools taking rounds in the creative industry, the content creation process has become easier and more efficient.
However, reviewing and organizing content can be a massive challenge for any company. You need to keep track of everything in progress and the content that must be completed in the future.
And that is where enterprise content management software can help businesses keep their documents, images, videos, and all content in check.  
This guide will explore what is enterprise content management system, how does enterprise content management works, and the top 8 software you can use.
Let's start!
What is an enterprise content management system?
Content management is an extensive job. As a content manager, you must cover various processes like developing ideas, creating content, organizing, storing, and distributing it. 
As companies create more and more digital content, managing it is becoming more challenging. Companies need to ensure that the workflow is as smooth as possible and that all team members contributing to the content are productive. 
And that is what an enterprise content management system provides; a single platform to store, categorize, manage, and share content.
Cut design & video review time in half
GoVisually is the #1 online proofing software to get visual feedback on Designs, PDFs & Video content.
Try GoVisually free today!
Enterprise content management software enables you to organize, store, and retrieve content at an enterprise level. Some of the best enterprise management software allows a company to keep its documents secure on a cloud-based platform and share files seamlessly.  
With the help of enterprise content management software, companies can store their files systematically and categorize them into folders. It is also easy for managers to decide who has access to the folders and who does not.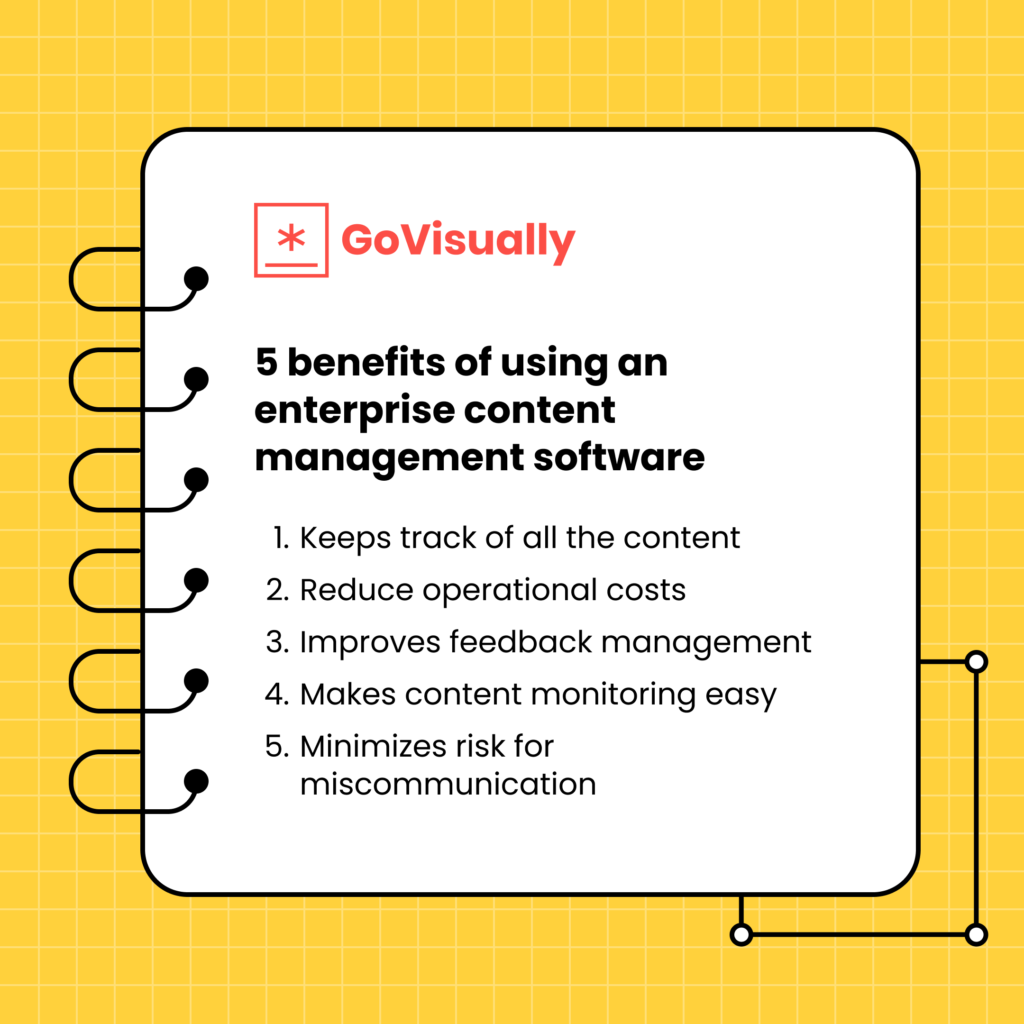 7 features of an efficient enterprise content management software 
The primary purpose of ECM software is to streamline and simplify all the processes involved in content management and automate the workflow. By using one centralized platform, all team members can use any device to upload, search, access, review, and edit content at any time.
ECM software makes it more efficient for different company teams to collaborate on a project.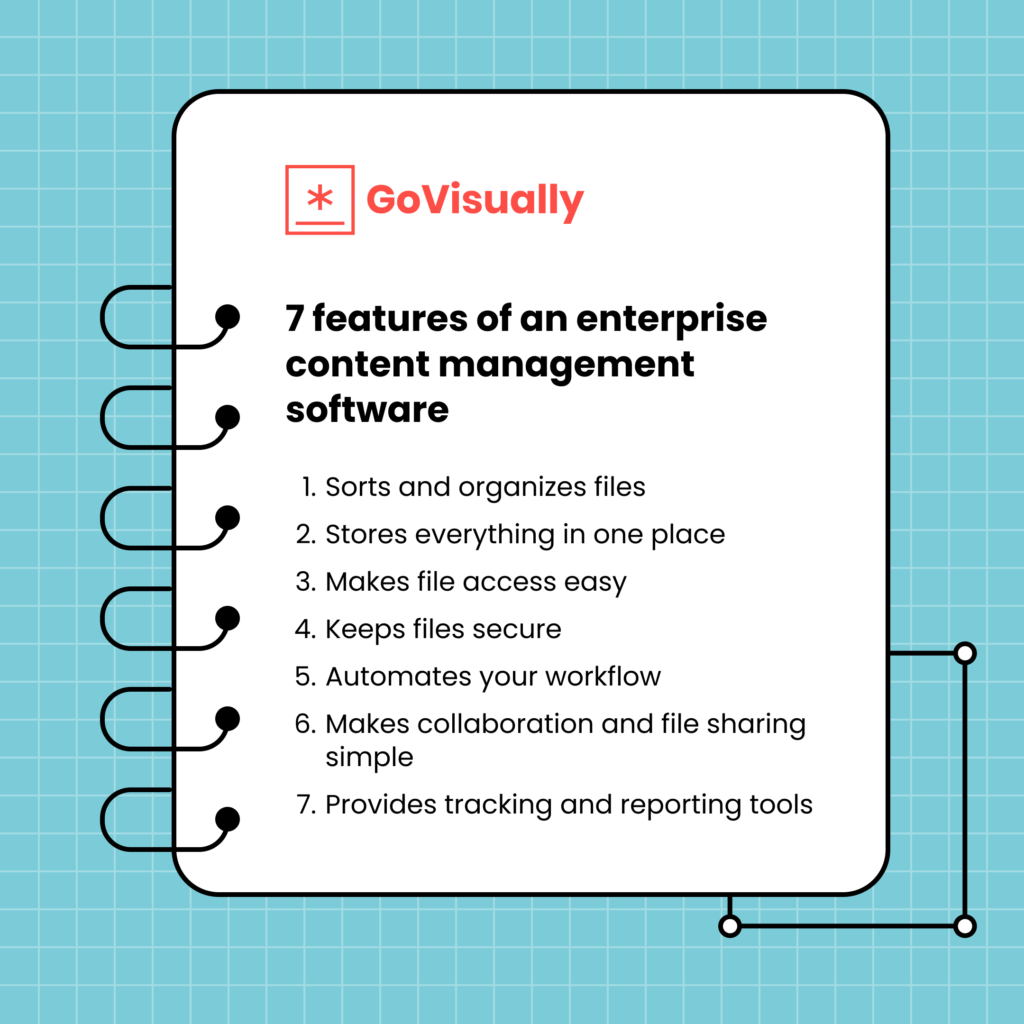 1. Sorts and organizes files
ECM software enables the systematic distribution and arrangement of information and data. It helps ensure the precise distribution of the data. With the help of ECM software, all your files are sorted into the allocated folders with specific tags, which makes it easier for everyone to find the data and files. 
2. Stores everything in one place
The enterprise content management software will store all your content in one place, making it easier for everyone on the team to access it anytime. You can scan all your company's paper files and documents and store them digitally in the secure ECM cloud-based platform.  
3. Makes files access easy
Anyone authorized to view the files can use any device to access them whenever they want. This feature is a bonus for remote teams. Even if you work from an office, you do not have to be physically present and use your computer to access a file to make any urgent edits. 
4. Keeps files secure
Enterprise content management software lets you keep all your data and files secure. You can choose who in your team has access to the files and who does not. You can easily restrict files from public view and maintain security. The best enterprise management software has role-based access and keeps all your company's digital assets safe and secure. 
5. Automates your workflow 
All the various departments of a company need to be coordinated for the workflow to be seamless and smooth. Enterprise content management software ensures you carry out all processes as efficiently as possible. You can use the software to automate tasks and keep things running smoothly. When any content is created, it has to go through numerous departments and team members before it is approved, and ECM software makes this process quick.  
6. Makes collaboration and file sharing simple
Different company departments must work together to give the best possible output and review and approve content. The best enterprise content management software ensures this collaboration process is as smooth and straightforward as possible. The sharing and collaborative features enable all departments to share files and feedback and stay coordinated.  
7. Provides tracking and reporting tools
Enterprise content management software has reporting features and provides you with analytics regarding all your projects and content creation. You can track all the activities taking place. ECM software also reports to you if there is any unusual activity or an unauthorized person has tried to access the files. The enhanced reporting features check all the activities and report them to you, ensuring the security of your files.  
8 best enterprise content management software  
GoVisually is an excellent enterprise content management software for businesses. It provides a platform to upload, manage, review, and edit your content. GoVisually makes it easier for you to proof the files.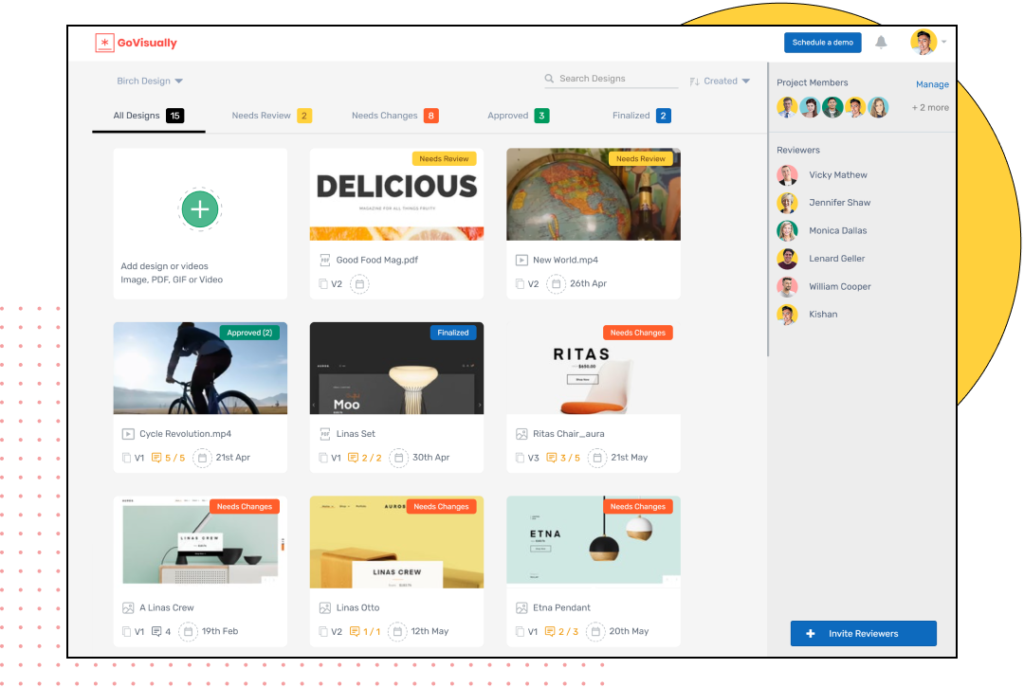 You can upload all types of files. From images and videos to PDFs and much more, GoVisually makes the approval process much more seamless. With GoVisually, you can get feedback on the content you upload and make edits simultaneously. 
It eliminates the hassle of sending emails back and forth between the team members. You can use GoVisually to speed up the approval process and streamline your company's content management. It helps the team stay on the same page and makes the workflow more efficient.  
GoVisually provides you with an activity dashboard to manage all the tasks. It also enables you to access particular people and share files with them. You can upload and store the content your team creates on the platform and organize them so the files are more accessible.  
Microsoft has created a safe and secure platform for companies to upload and share files with MS SharePoint. It is an intelligent enterprise content management software that can help you organize all the content for your company and business. 

If you want software that will enable you to manage all your documents efficiently, MS SharePoint can help you with that. This enterprise content management software combines Microsoft 365 and Microsoft Office, and it is the best choice for content writing companies. 
MS SharePoint enables you to co-author content, and team members can easily collaborate on various projects. The platform tracks all the actions a user makes. It also allows you to save a file's original and edited version on the platform.  
3.

Onbase
by Hyland
If you are looking for enterprise content management software that will enable you to create and store your files in one place, Onbase by Hyland is a fantastic option. It is a technology-assisted tool designed by Hyland to meet the needs of organizations and enterprises.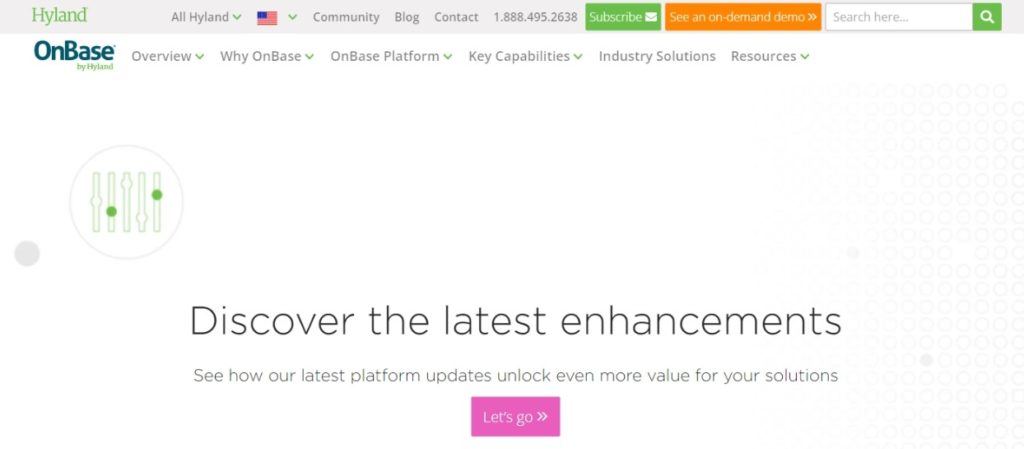 You can access the content and files on Onbase from anywhere worldwide, making this tool one of the top choices for remote teams. You can also use any device to view your files. The cloud-based server makes it easy for anyone to find all the files in one place. 
With Onbase, you have control over who can access the files. It also allows you to share content with automated sharing options. You can get automated notifications for significant processes and scan files through barcodes.  
It is a dynamic platform for content management. You can use this enterprise content management software at every step of your content creation process. Box can develop the content, store the file, share, edit, retain, and use every other possible process. 

Box is one of the top choices for companies that need a content management tool for collaborative projects. You can use this tool to work with various departments and create content with different teams involved. 
This enterprise content management software seamlessly enables you to collaborate between in-house and external parties. With the help of Box, you can organize all your files with unlimited storage space. It also tags files through an automated machine learning technology. 
If anyone is looking for an enterprise content management software with all the latest, most innovative features, M-Files is the right choice. It is documentation software for the next generation and can provide you with the solutions you are looking for. 

You can integrate other documents and make it easy for all the employees to search and find files. M-Files enables you to use all the files you have uploaded more efficiently. If you want to upload your paper-based documents on a secure platform, you can use M-Files.
This enterprise content management software is also an excellent option for small to medium-sized businesses. M-Files lets you save your files automatically and co-author them.
Nuxeo is one of the best enterprise management software. You can use this tool for content creation as well as content management. If you are a financial company like a bank or investment agency, Nuxeo is well-suited for all your needs.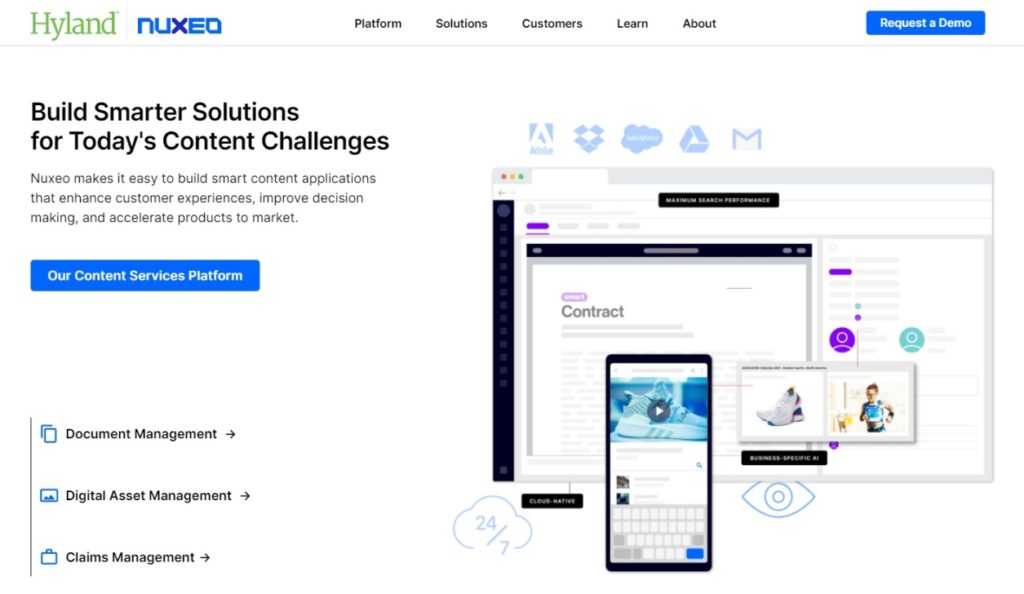 Nuxeo enables you to create an exceptional customer experience and makes decision-making much easier. With Nuxeo's content creation process, you can promote your business through the latest products and trends in the industry. 
This enterprise content management software is one of the most useful for boosting sales and revenue. You can use Nuxeo to automate the workflow, making all the processes more efficient and productive. It enables team members to conduct advanced searches and receive in-depth content analytics.  
With the help of Power DMS, you can manage procedures and policies while updating them constantly. It is an enterprise content management software that offers a cloud-based storage platform. When using Power DMS, you get a directional portal.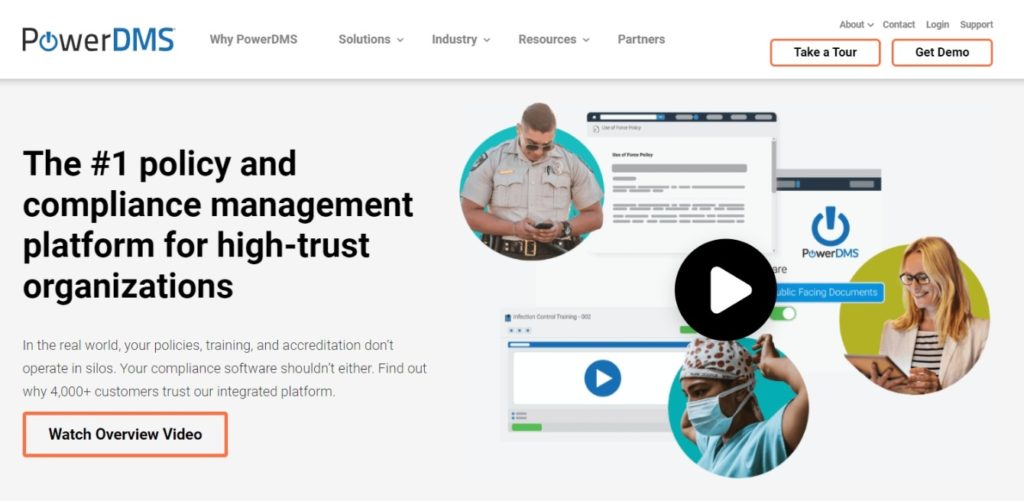 Power DNS enables users to learn techniques before starting, making the learning curve much easier. Even if you don't have much technological knowledge, you can still use the platform and navigate it easily. One major plus point for Power DNS is its customer care facility which can help resolve any issues.  
A prominent feature of Power DNS is that it provides users with constant content analytics, which you can use to improve your performance.
Laserfiche is one of the oldest enterprise content management software, making it easier for companies and businesses to go paperless. It provides a cloud-based storage system, enabling you to manage documents intelligently.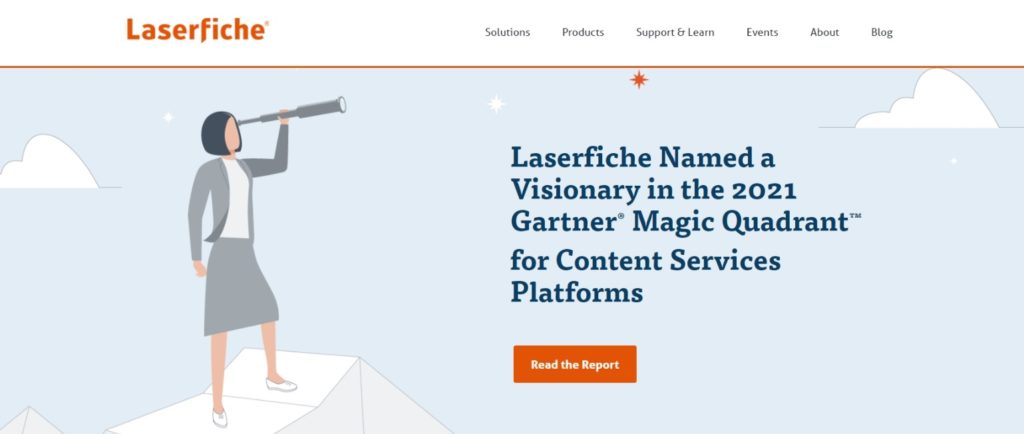 Laserfiche provides an automated enterprise process, making the workflow more efficient. Using this tool automatically creates repetitive content; you can save time. The artificial intelligence and machine learning technology incorporated in Laserfiche enables you to have an innovative experience. 
Laserfiche's most prominent features allow you to correct images on documents. You can use this enterprise content management software to collaborate on various projects efficiently. Laserfiche provides you with the means to manage the entire lifecycle of your documents and records.  
Review your enterprise's collateral with GoVisually!
Content creation has become a must for all companies and brands. A leading enterprise content management software like GoVisually can help you track the progress of all your tasks and activities.
But more importantly, it can automate your review and approval process, saving you hours of manual trouble.
If you want to discover how GoVisually can help 5x your review process, sign up for a demo today.