Have you ever met graphic designers who don't like Pinterest?
My guess is that you haven't. Let's be real: who wouldn't like Pinterest? It is perhaps the safest, most peaceful social media platform out there. There's no drama, no pressure, no competition – just heaps upon heaps of aesthetics, creativity, and positive vibes. 
Since Pinterest is mainly concerned with visuals, it is a great place for graphic designers to find inspiration and showcase their work. Even if you are not a graphic designer, just having access to amazing art on Pinterest can act as your daily dose of serotonin.
Here's a list of 15 graphic designers on Pinterest – and you need to follow them today.
What is Pinterest?
But before we look at these incredible designers, let's ask the most important question: what is Pinterest?
Although Pinterest is very similar to other programs because it can be accessed by both the website and the app, that's about it! Essentially, Pinterest is a unique platform that provides the creative space to produce wonderful, aesthetic stuff. It is mainly a source of inspiration, new ideas, new interests, and hobbies. 
This is how it works: Pinterest comprises photos that are called "pins." These pins are saved on folders called the "boards" and can be shared and viewed by anyone. This kind of model is beneficial as it enables people to leverage their creativity and art actively collaboratively. 
#1: From Up North
The first one up on our list is Daniel Nelson, who goes by "From Up North" on Pinterest.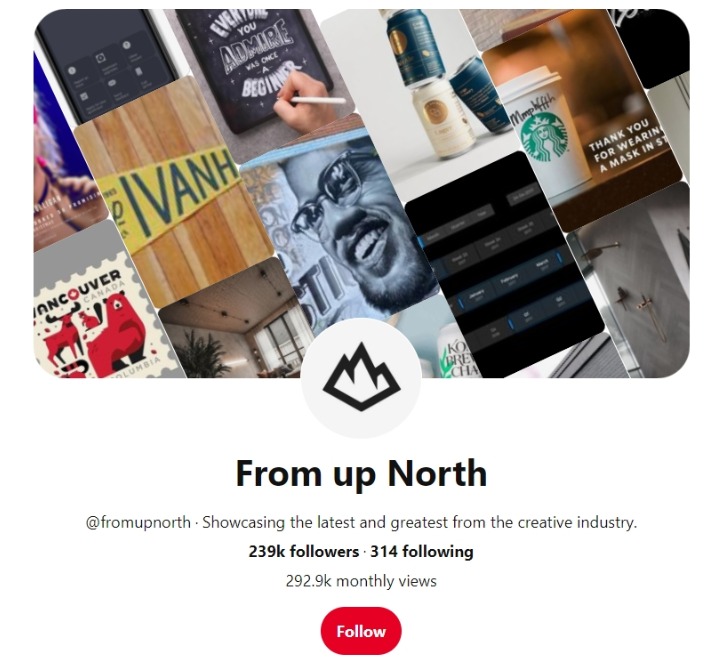 He is a Swedish graphic designer and developer without over 225,000 followers on the app. His huge audience results from carefully curated pins that include everything from gig posters to street posters. The most popular pins on From Up North include Web Design, Lettering and Calligraphy, Movie Posters, and Graphic Design. 
#2: Mike Dew
On Pinterest, this graphic designer goes by Mike D and has a following of over 3.5 million people!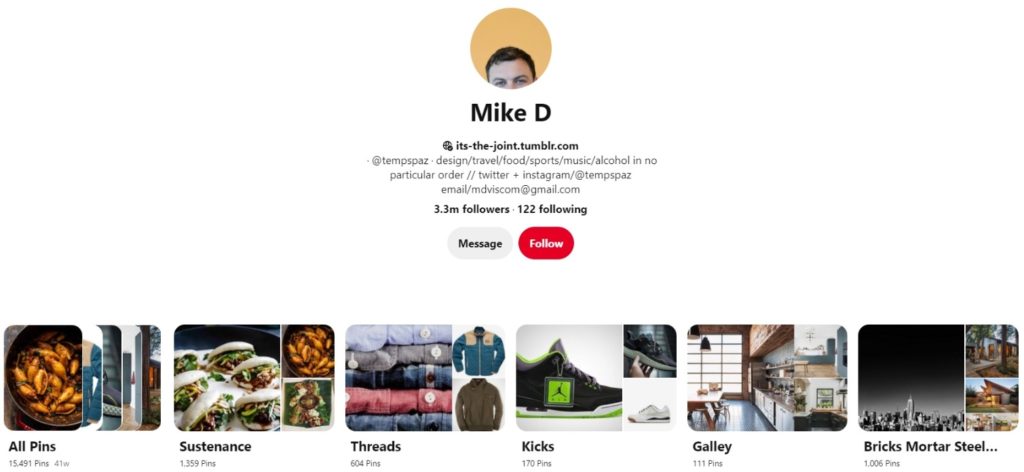 His page is a great source for graphic designers, but we can assure you that anyone who chooses to visit his page is likely to fall in love with his collections. Our personal favorites are the Sustenance collection, which showcases loads of scrumptious food, and the Badography collection with hundreds of inspiring typography pins. All in all, Mike D is a hotspot of contemporary design and creativity. 
#3: Mr. Cup
The Mr. Cup & Walter Magazine on Pinterest is an effort by Fabien Barral, a French graphic designer. His page shows that he is passionate about his work, and finds inspiration in aesthetically pleasing, innovative designs.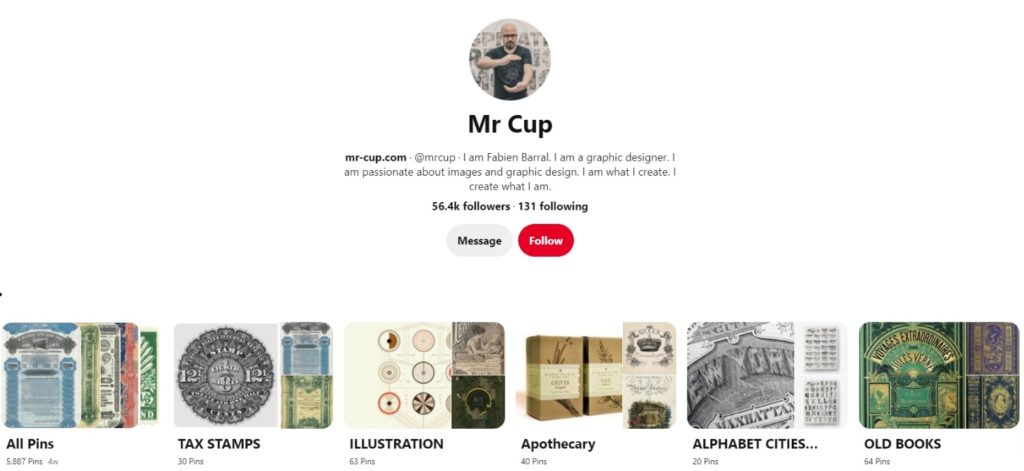 So, whether it is letterpress or vintage Pinterest design, there is a little something for everyone that has a feel for Pinterest design!
#4 Jessica Hische
Jessica Hische is a pretty big thing on almost all social media platforms, but the Pinterest account is entirely something else (read: something better).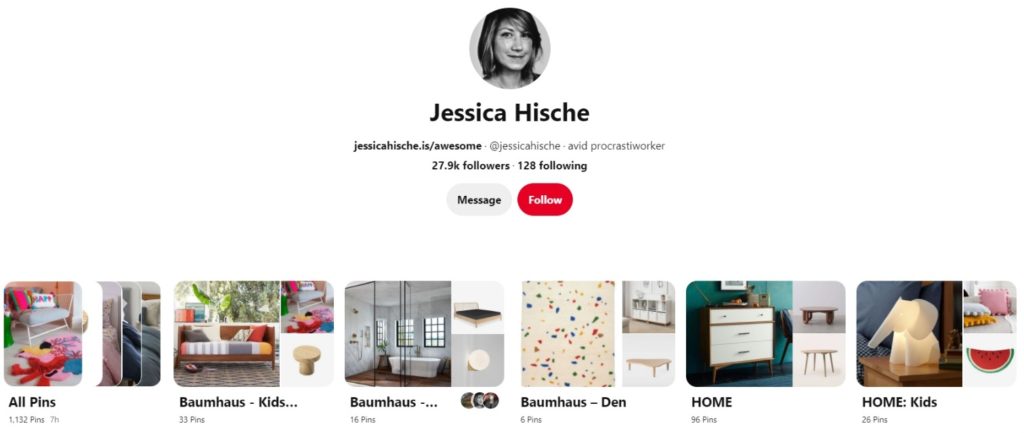 Not only does it act as a portfolio for her own stuff, but it also gives thousands of people access to inspiration from other designers and creatives. Personally, we find that her lettering collections are the most awe-inspiring and can help any budding artist with typography. 
#5 Tad Carpenter
With over 80k followers on Pinterest, Tad Carpenter from Carpenter Collective has a lot to offer on his page.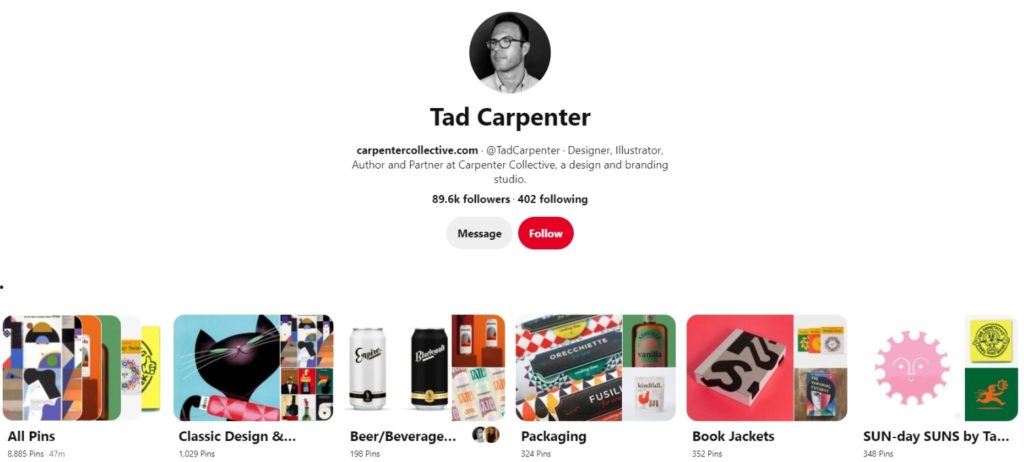 He provides an expansive variety of boards based on interesting themes such as logos, retro designs, and classic pop themes. For anybody even remotely interested in art, design, and creativity – Tad's page can act as a great source of inspiration. 
#6 Richard Baird
If you are an enthusiast of Pinterest design pins, you have probably heard of Richard Baird.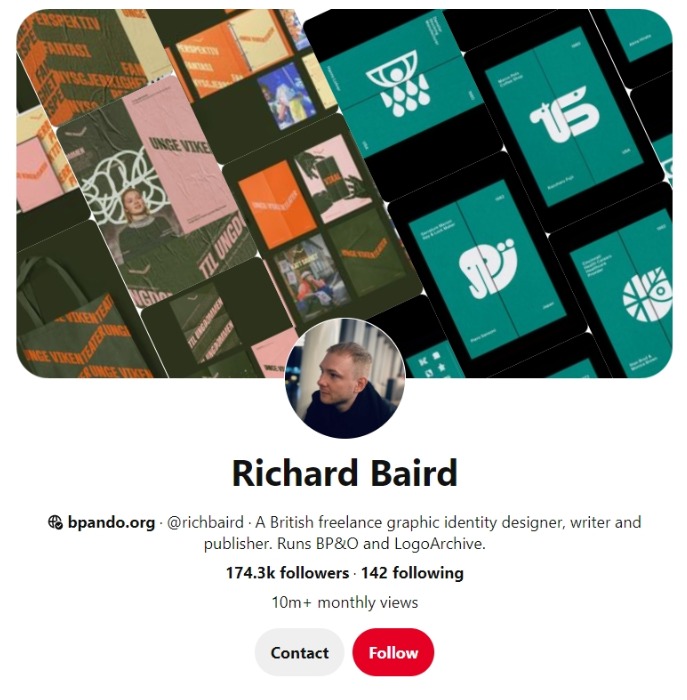 Richard's work is mainly concerned with branding and brand identity design, and just a glance on his page on Pinterest can show that he loves what he does. The pins you will find on his account will teach you more about branding and give you a more comprehensive grasp on how to align your business with the design aspect. 
#7 Rusty Cook
Another Pinterest account that can act as your portal to the world of contemporary art and design is Rusty Cook's page. Rusty Cook is a Chicago-based illustrator, and she uses her account on Pinterest to show her love for everything design.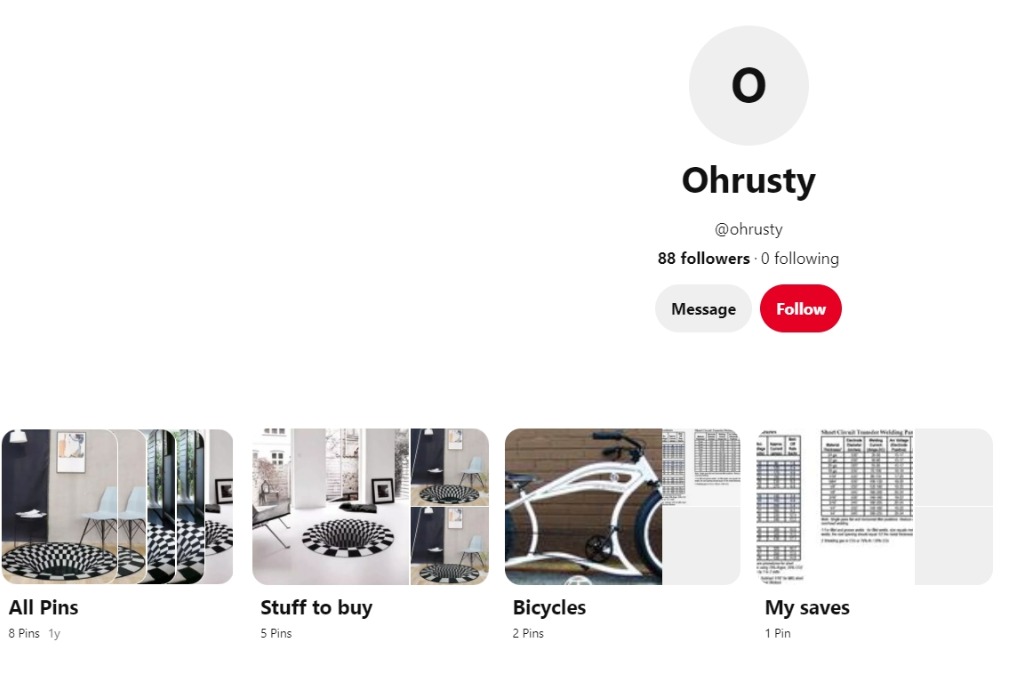 On her page, you will find everything from posters to iconography and illustrations. So, if all these things (and more) are up to your alley, then this designer is definitely going to resonate with you! Also, what better way to learn how to make Pinterest pins? 
#8 Jeff Andrews
Jeff Andrews, an Oregon-based designer, has a Pinterest page that will definitely call out to logo design enthusiasts.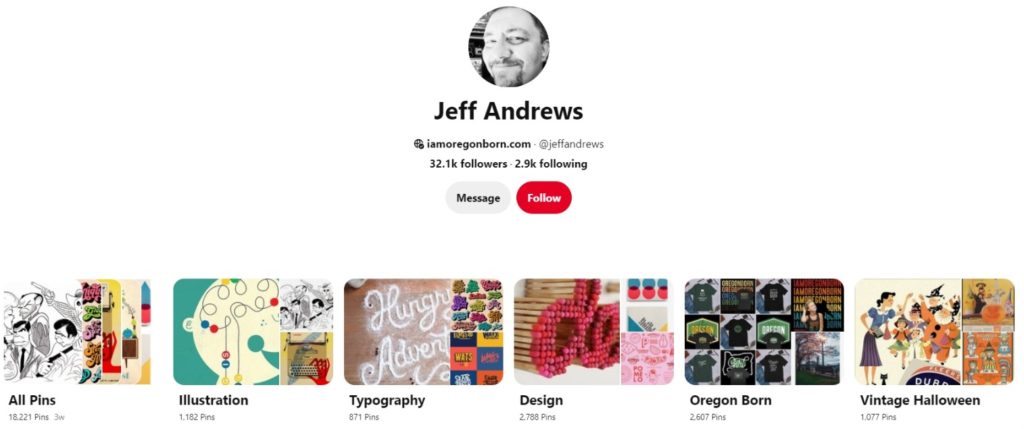 But there is a lot more than logo inspiration that can be found on Jeff's Pinterest design boards. So, you should definitely check his account out and see if something leverages your creativity. 
#9 Jenna Chambers 
Jenna Chambers is yet another graphic designer who is making the most out of her Pinterest account.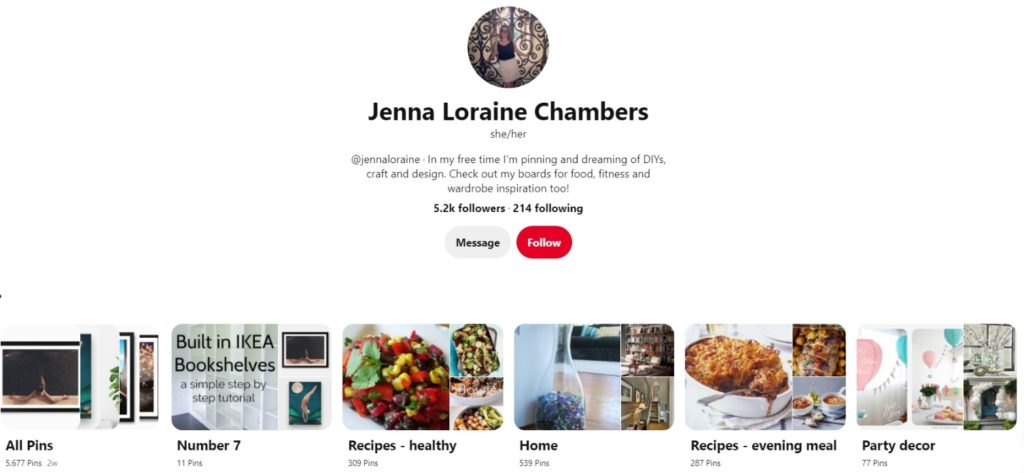 On her page, you will find everything from stylish CVs to ideas on web designs, print ads, and even menus! If you are new to graphic designing, her boards are something you should definitely keep an eye on! 
#10 Terri Holtze
Another graphic designer that you must keep on your radar is Terri Holtze.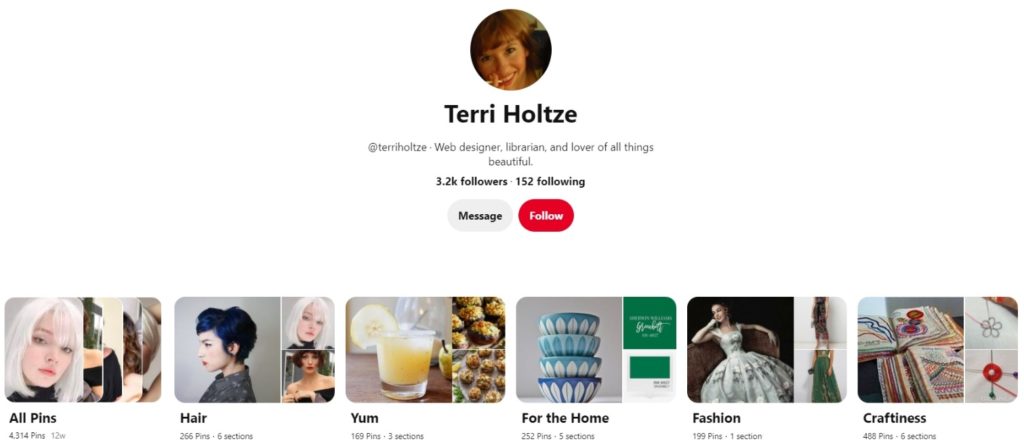 Her account has all sorts of visual inspiration that one may need for leveraging their creative juices. One thing about her work that strikes out, at least to us, is that it is focused on responsive design. Responsive design, despise being an important part of any online design, is a theme that is not much discussed anywhere.
For this reason, finding pins addressing it on Terr's account feels like a breath of fresh air.
#11 Adam Smith
Like the other designers on this list, Adam Smith also offers amazing design and modern art inspiration. However, he also focuses on sustainability – which is an aspect that makes him stand out and make his work even more valuable.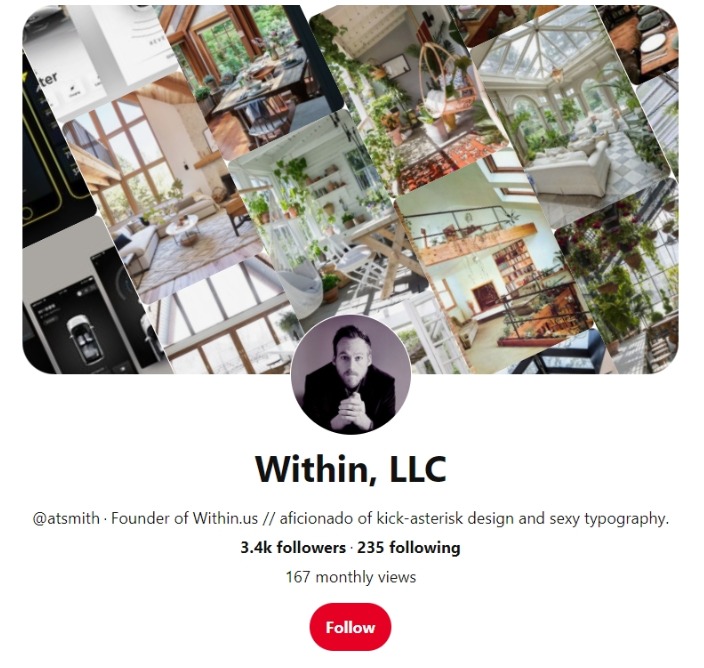 So, if you consider sustainability to be an important aspect and would also like a source of creativity to be ever accessible on Pinterest design, you must follow Adam Smith. In fact, you can learn how how to make Pinterest pins by going through this account.
#12 Oen Hammonds
Oen Hammonds is another design genius on Pinterest who is a regular provider of some cool, artsy inspiration to all his followers.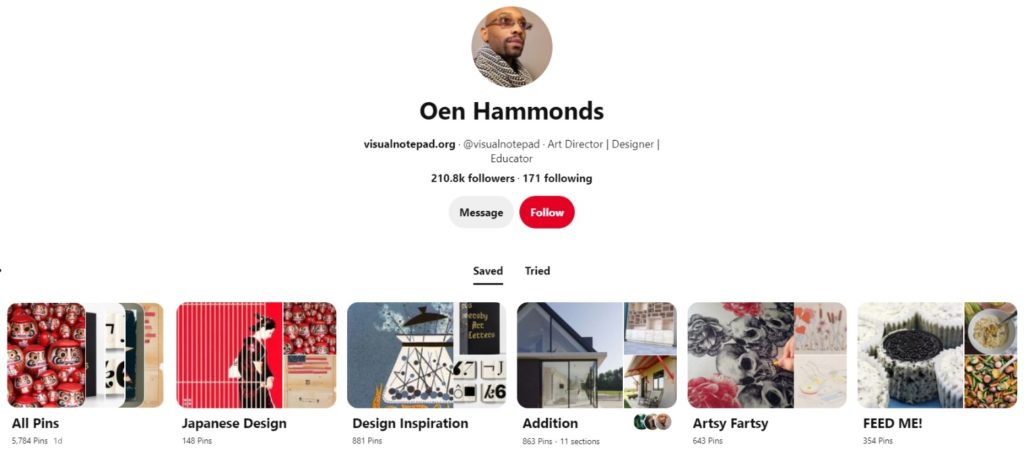 He posts a lot about web design and covers themes like design, branding, fashion, and photography. Not only that, but he also has many pins dedicated to manga! How cool is that? 
#13 Derek Kimball
Are you a fan of clean yet unique and impactful designs? Then Derek Kimball is your man!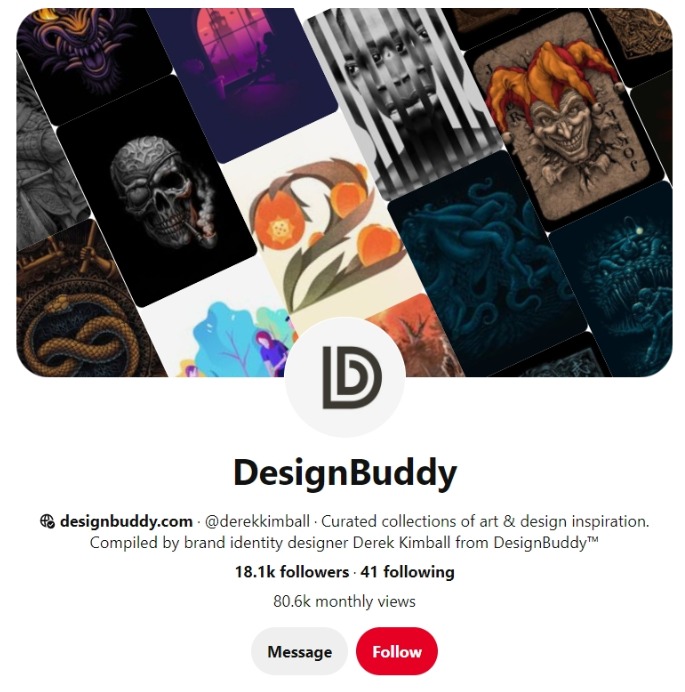 He has an impressive graphic design portfolio, where he posts everything from gig posters to color palettes to inspire ideas for workspaces! If you are seeking guidance for any of these categories, then Derek is your man!
#14: Malin Otmalm
Malin Otmalm is another graphic designer who presents an extremely aesthetic portfolio and some very influential ideas for graphic design, typography, and lifestyle decoration. One thing that is very interesting about Malin's work is that her whole page is color-coded in hues of grey!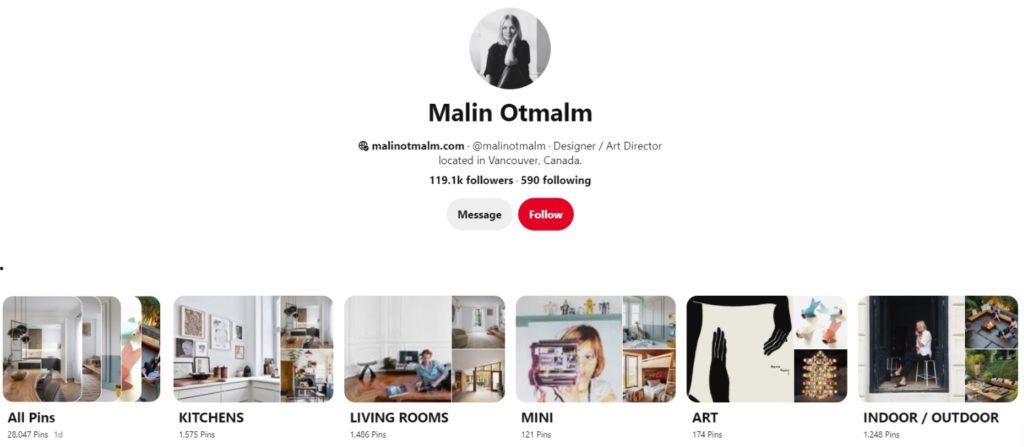 Not only is this different than most of the other graphic designers you will come across on Instagram, but it is also a little something for people with a monochrome obsession. But that's not even the best part! The best part is the board she has for pins related to chalk art – which always has something that can make one swoon. 
#15 Maria Grønlund
And the last on this list is Maria Grønlund. Her work is amazing and what makes it even better makes it even better is the fact that she focuses on colors!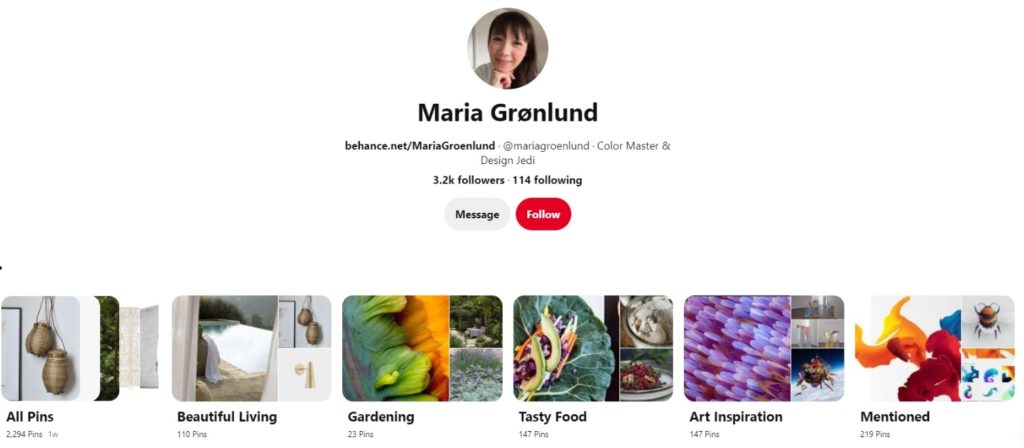 So, whether her pins board is for brand design, architecture, or something lifestyle-related like gardening – colors play an important part in all of it. If you are very concerned with color placement and pallets, then Maria's Pinterest account will definitely act as a source of inspiration for you. 
Final Words
So, this was our list of the best graphic designers on Pinterest! Just bookmark this article so that when you are looking for inspiration for your next big design project, you can log onto Pinterest and find it right there.