When you work at a particular organization, you become a part of the organization's objective with team alignment. It will help if you put in the effort to reach every milestone your team members are focusing on. Otherwise, your team is going to fall apart. 
However, if your team lacks an alignment, you can use some tips to get the team on board with alignment. Also, this way, your team becomes collaborative and productive, which will boost the effectiveness of delivering each task. 
Cut design & video review time in half
GoVisually is the #1 online proofing software to get visual feedback on Designs, PDFs & Video content.
Try GoVisually free today!
What is team alignment?
Team alignment is when teams coordinate to achieve a similar objective collectively. This tactic ensures that the people working in your organization have the same purpose and are focused on achieving it successfully. To achieve this milestone, all your team members need to be on the same page and be as enthusiastic to reach the goal as you are.
Team alignment increases your organization's productivity since all the team members will be working by putting in extra or enough effort to help your organization thrive. 
What makes the team aligned?
An aligned team is when your team members connect with the goal and consider it their own. Or you can put it this way:
Team with a single vision.

With a single language.

And with the same pathway. 
When your team has a single vision, it is highly aligned and speaks the same language of "making it work collectively." As a result, the team will have the same pathway, eliminating the chances of falling apart. 
How can you maintain team alignment?
Maintaining team alignment may sound simple, but it can be like walking on glass when managing it and keeping everyone on the same track. However, to help you with team alignment, here are some tips that you can use as a daily process in your organization.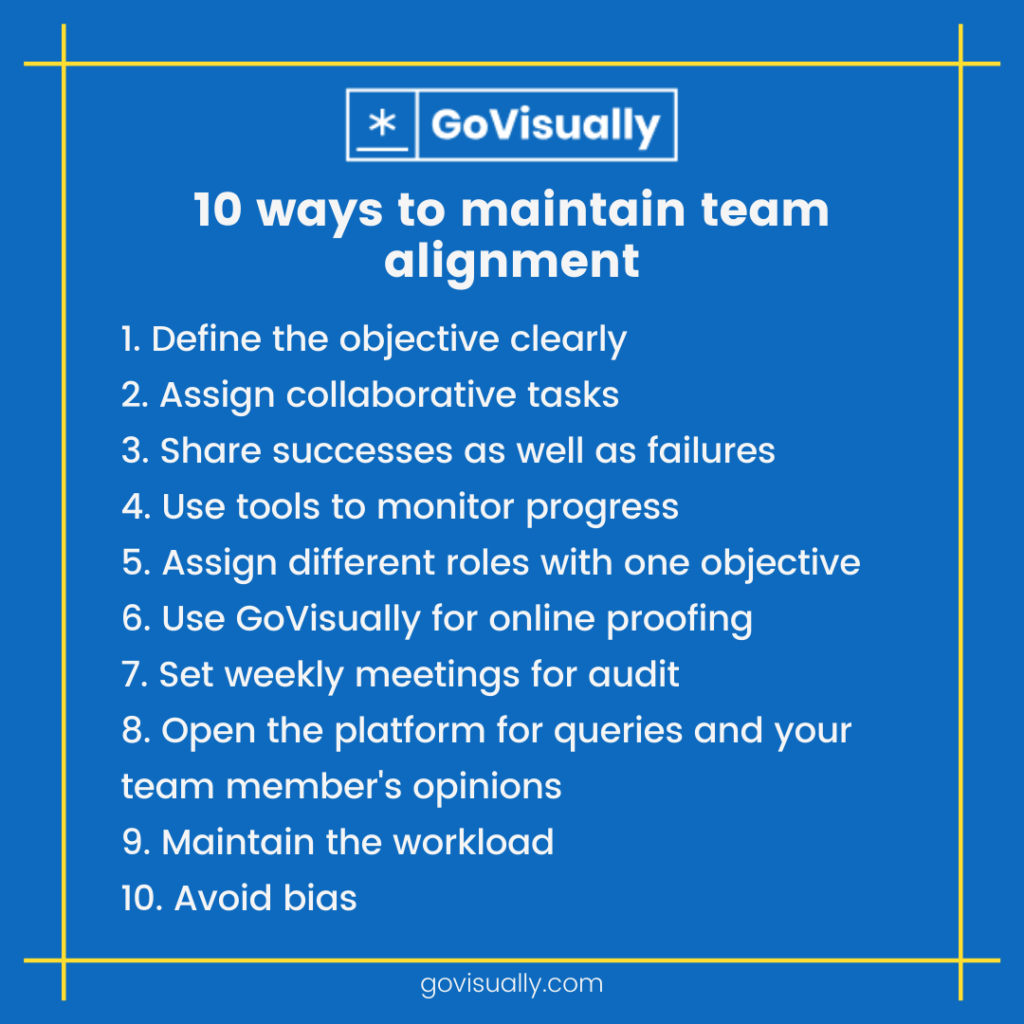 1. Define the objective clearly
When you want all your team members aligned and onboard, the first thing to do is define your objective clearly to the recruits. You should conduct an orientation for the recruits and define your vision, mission, and strategy.
And to make them understand how important it is to take the objective as their own, test out their skills. If their skills are useful enough to make your goal more achievable, only then finalize them as team members. It would help if you did this occasionally with the existing team members to remind them of the ultimate objective. 
2. Assign collaborative tasks
Next, it's time to increase productivity when you have a clear ultimate goal to achieve.
For example, a monthly word limit or monthly sales limit, the best thing you can do is divide tall orders and assign the different parts to different team members. This is a smart way to keep them connected and productive. Your team members will communicate, follow up, be focused, and compete to be ahead of one another but indirectly benefit your vision. 
3. Communicate and share successes as well as failures
Another spectrum to boost productivity and team alignment is to have a consistent word with your team member. When you communicate, the ambiguity in operation eliminates. Even if a mishap occurs, you can sort it out with communication.
Moreover, when you are assigned collaborative tasks, communication becomes a central point in delivering the assignments effectively. When the communication is pace, all the other things can work out simultaneously. Like Slack, you can leverage several online communication tools to keep the communication alive. 
We often forget that celebrating success keeps everyone aligned and recognized, but sharing failures strengthen team alignment. This wrecks the alignment whenever you blame a single team member for anything unaccomplished tasks.
That's why the best thing to keep the alignment alive and maintained is to share the failures and don't start the blame game. The best thing to stay productive and on the path is to cut the loss and move on with other tasks. 
4. Use tools to monitor progress
All professional organizations use several software tools to effectively monitor, organize, and deliver tasks. The digital advancement has benefitted team management and alignment to the extent that even remote teams are becoming more successful. 
It would help if you also got a suitable tool, specifically a project management tool, to help your team stay connected. It will become easier for you to monitor the progress of each team member. These software tools eliminate vagueness, and you don't need to check on the team members with follow-ups after every minute since the tools will keep you updated. So, you can utilize tools like Trello and Govisually to keep everything aligned. 
Use gamification for recognition
Organizations have adapted to using a fun yet professional technology for employee recognition called gamification. And this advancement has been successfully utilized by renowned organizations like Microsoft, Samsung, Google, and more to manage their team alignment and increase employee involvement.
This effective training program can also help your organization's productivity and team alignment. 
5. Assign different roles with one objective
Although you have an option to break down tall orders and assign tasks, always make sure it's for a single objective. However, breaking down projects into parts can include developing milestones. You can get different team members on board to achieve various milestones and then compile them together, leading to the ultimate goal.
For example, a design team with a website designing project can assign different team members responsible for various tasks. 
One team member can be responsible for copywriting, and the others would oversee the process to design UX/UI and the cross-platform technique. And lastly, another team member will finalize the look and compile everything together.
So, with this process and strategy, you can check out a single tall order from your ultimate checklist. 
6. Use online proofing software to keep your team aligned
As mentioned before, compiling the work together can also be done with various individuals on board. When every milestone is sorted out and completed, the final team members can review and edit the last piece to give it a thumbs up.
So to ensure that all your review and approval processes are streamlined, use Govisually – the #1 online proofing tool for corporate teams.
7. Set weekly meetings for audit
Although coercive and pressurizing tactics will make your team fall apart, you need to take strict measures while auditing. Your organization's vision is at stake, and you need to make sure that every team member is dedicated to completing their duties.
So, running a weekly audit is better than monthly since you can sort out any productivity before the month ends. This way, you will not be out of track to complete the monthly objectives. 
8. Open the platform for queries and your team member's opinions
An open platform where every team member's queries are answered is the best way of managing and keeping the team members aligned. Whenever you deal with workplace politics or feel discriminatory behavior in the appraisal process, you should clearly state it to the upper management. This will eliminate any mishap and chances of turnover that can disrupt your operation. 
One more strategy to keep your organization's team alignment alive and maintained is to make each team member feel like an integral pillar of your organization by considering their opinions.
Your team member will have autonomy in the organization, which is the most important part of team alignment. You can conduct weekly or monthly meetings and workshops to listen to your team members' ideas and suggestions to make the processes more easily and more achievable in a better way. This tactic will make them more focused on maintaining their productivity and consider the organization's vision as their own deliberately. 
9. Maintain the workload
When you start an organization with team members on board, the first thing you should include in your strategy is to assign the workload according to a team member's experience, skill, and value. Or increase the workload gradually with the appraisal of each team member after months.
Also, mention and stand by the policy of not disclosing the salary in your organization. That's because revealing confidential information can create rivalry among your team members. Your team members will not feel overworking with the unfair wage.
10. Avoid bias
Showing biases in your organization will put every good effort down the drain. When you deliberately show bias among your team members, it will loosen the ends. All your team members will only be working for their benefit without caring about the quality of work. In this case, your organization's productivity will disrupt, and eventually, your vision and mission will be affected.
So, you should wipe bias out of your organization and stand by a fair and integral policy that will keep every team member on the same page instead of dividing them and triggering rivalry through discriminatory behavior towards a particular team member.
Final word
Team alignment is essential for bringing your team members together for a single objective. However, managing your team to stay collaborative and aligned can be tough initially, but you can handle your organizational process with the tips we have mentioned
So, use these tactics to leverage the team productivity and capability to the fullest extent for making your ultimate goal more achievable.
Let us know how it works for you. We'd love to know!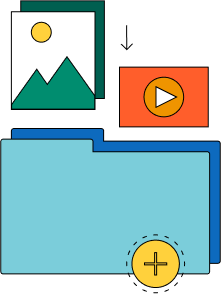 Need a quick way to share large files and creative assets?
With GoVisually Share, it's absolutely free! Try today.