With things progressing towards remote collaboration, the option to annotate helps transform your smart devices into more of a collaboration and assessment tool. This allows for speedier feedback and lesser delays in getting digital assets approved.
But for those of you who are still wondering or are new to the digital world, what is an annotation?
Annotate is an HTML, cloud-based web app that allows you to completely transform your smart devices like Chromebook, iPad, or any smartphone device into a tool that allows assessment, engagement, and even participation.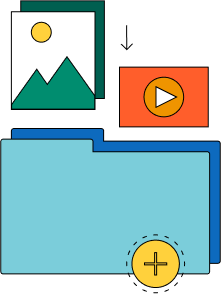 Need a quick way to share large files and creative assets?
With GoVisually Share, it's absolutely free! Try today.
How can I annotate on screen? 
You can now annotate on-screen with ease, with the help of Microsoft Whiteboard, and collaborate on different designs and presentations while you are sharing your screen during a meeting on Teams. Annotation goes through multiple upgrades with time and is an ideal resource for team collaboration.
You can draw on the screen, add text, add different shapes and sticky notes, and zoom into your screen if you share it while presenting to help your co-workers understand your ideas better.
If you're using annotation to give feedback and review an asset online, you can also use online proofing software.
How does the annotate system work on a device?
 The process is in four simple steps:
If you have a computer, the annotated mirror reflects the device's screen on the projector. What it does is that the device screen is projected on the projector screen, creating a mobile interactive whiteboard. This enhances the overall collaborative experience between team members.

It offers a great alternative to an in-person team meeting, as it is untethered and allows you to

collaborate

. You can interact with your device similar to an interactive whiteboard. You can use

different tools to

guide remote staff

through complex tasks.

Annotate screenshots to

reduce the number of callbacks, lowering training costs. 

The annotation or draw-on-screen tool requires Wi-Fi or cellular connectivity for the team members to take part and respond when needed. It would help if you also had a smartphone or a smart device to participate and conduct a meeting when required.

You can easily track a project's progress and

align changes according to the feedback

. Design annotations allow you to communicate design changes and error cases to keep the entire design and development team on the same page. 
How to annotate on-screen while sharing screen on Teams?
For the desktop version, annotation while sharing the screen on Teams, you can follow the steps mentioned below. Still, in the case of the mobile version, the meeting participant can annotate from the mobile-only if the presenter is sharing the screen from their desktop.
You can share your full screen in an ongoing meeting and select the start annotation option on the meeting control tab.
Once the current red line turns blue, can the meeting participants see the Microsoft Whiteboard toolset on the shared screen? This allows all the participants to start annotating with the default pen tool.
The next step involves deciding on the tool to use from your options in the Whiteboard toolset. For example, you can opt for any colored sticky note and start adding notes and pointers on it, and even draw where needed.
Pro Tip: A pro tip to keep in mind is to take a screenshot to reference it back to the main context. The online proofing option is available on Windows but is a work in progress for Macbook users.
How to annotate on screen while using Zoom?
Zoom has an in-built option, which allows you to annotate on your screen during a video call. This has been widely used during the Covid-19 online collaborative tool. This draw-on-screen app allows remote teams to collaborate and brainstorm. The participants can add annotations while sharing the screen and sharing a whiteboard.
Here are the requirements for an on-screen annotation tool in online meetings:
First of all, make sure that annotation is enabled

Secondly, have a zoom desktop client for macOS, Windows, and Linux

Have a mobile app for Zoom on either Android or iOS
How to annotate on-screen – changing annotation settings
The collaborative curser is a default setting that shows the names of all the meeting participants. Anyone who wants to turn them off can do so with the following steps:
Go to

settings

Slide the toggle next to the

Collaborative cursor
How to annotate on-screen
– turning off annotation
You can turn off annotation for all the participants if you are the presenter. In the meeting controls, select Stop annotation, which will be turned off for everyone.
Troubleshooting
Can't see the option to annotate in a meeting? Follow the following steps to fix it:
In the top right corner of Teams, select the

Settings and More

option, which will take you to

Settings

and then down to

General.

Uncheck the box labeled

Disable GPU hardware acceleration

under

Application.
How to annotate on screen
using GoVisually – the #1 online collaboration tool
GoVisually is the online proofing platform where you can find all the best annotation features to make your PDF annotation and proofing easy and portable. The software supports various file types, including images, PSDs, and videos.
You can sign up online, upload assets and invite reviewers to annotate online.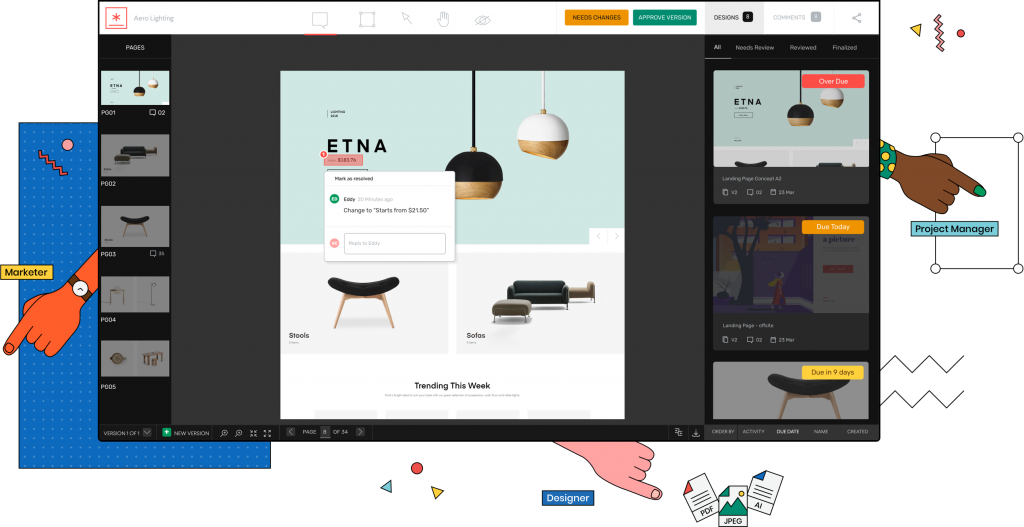 It's that easy!
You can use arrows, squares, or boxes to tag, highlight and comment on the PDFs. Book a free demo today if you want to see how you can annotate and leave feedback using GoVisually.
Annotation tools for brainstorming and collaboration purposes
Windows | Linux | macOS
Once you share your whiteboard or screen, the annotation control tools will automatically appear. If they don't automatically appear if you are sharing your screen, then click on Annotate or Whiteboard.
Multiple tools appear on the shared screen once you share the screen or your whiteboard. These include mouse (to navigate), select (to select text or anything you add on the board), text (to insert text), draw shapes, add stamps (predefined icons including star or check mark), spotlight (to point out important parts on the whiteboard or screen), erase (any part of annotation), format (color, font, lines, etc.), redo (annotations that you undid), undo (the latest annotation), clear (any mistakes or annotations), save (the annotation on PDF or PNG format).
iOS
You cannot annotate when on an iOS device, then you share your entire screen. It is only possible if you share a part of your screen.
 First, share your screen.

 Secondly, tap the pencil icon on your screen, which will open the annotation tools.

 Lastly, to close the annotation tools, tap on the pencil icon once again
Even with the iOS format, the annotation tools may vary for both an iPhone and an iPad.
Android
Similar to iOS, the annotation tools for shared screen or whiteboard are as follows:
Start with sharing your screen

Tap on the on-screen pencil icon, which will open annotation tools

To close the annotation tools, tap on the pencil icon again
The annotation tools are available according to the smart device that you are using for it. While most of the features are the same for all devices, the process for using annotation tools on different platforms varies greatly.
Why is there a need to annotate?
The shift to annotation allows enhanced collaboration, understanding, and improved team engagement. The idea is to kick the mainstream collaborative process and shift to more enhanced and engaging forms.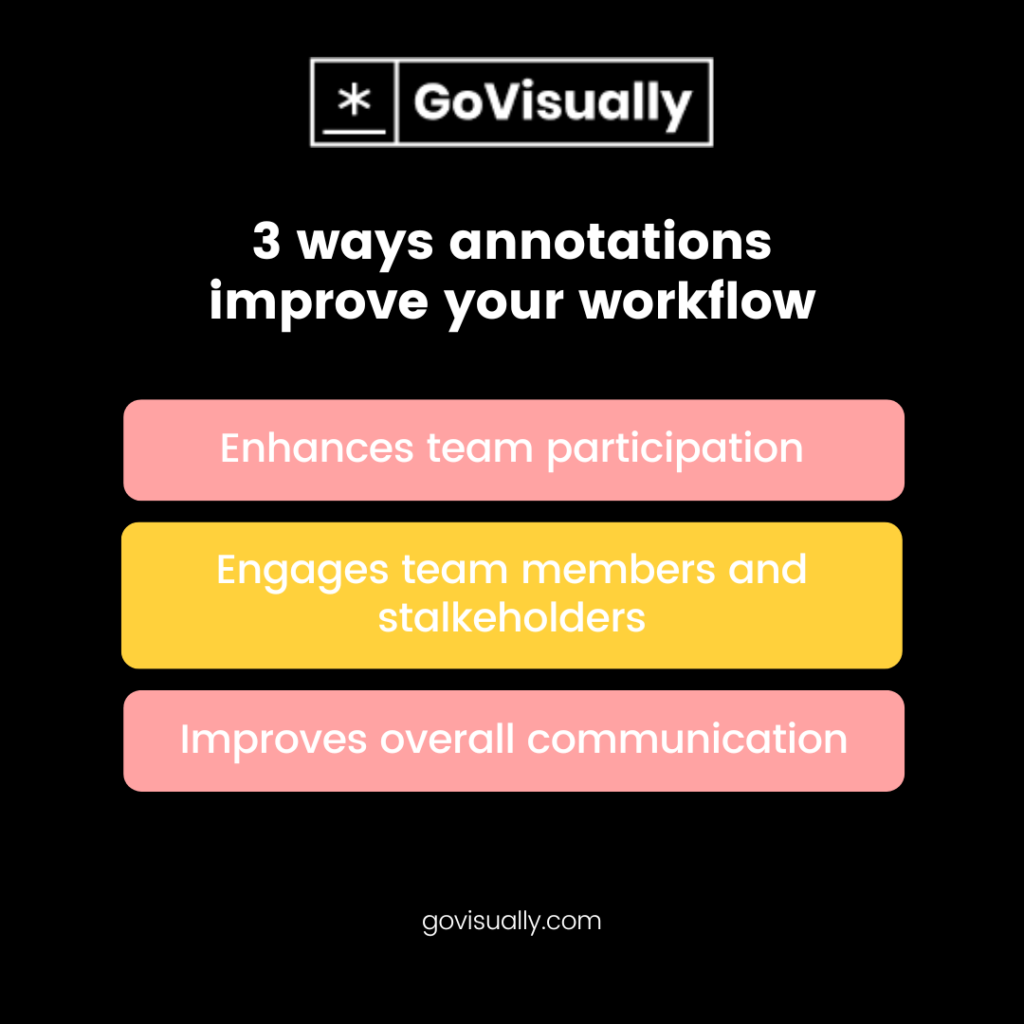 1. Enhances team participation
In in-person team meetings, it is common for employees to shy away and not ask questions or participate in any form of discussion. With annotation, you can ensure all team members have access to the notes, and every member participates and respond. 
Moreover, you can set up different activities to make participants more comfortable in the collaborative environment. They can share their screens and present to the audience from the comfort of their own space, ask queries and discuss things throughout the session through messenger without disturbing the ongoing session.
2. Engages team members and stakeholders
On-screen annotation is a great way to communicate and engage the entire team during design and development. Online meetings have proven to be a great alternative to in-person meetings. The available on-screen annotation tools have made collaborating on projects easier by offering tools to streamline the feedback process. 
3. Improves overall communication
You have the option to use the video capture tool and real-time response system to help you with providing immediate feedback and even modify instructions when and where needed off the bat. Designers can be more intentional in their design specs by adding useful annotations wherever necessary. Annotations are very useful when it comes to design projects. 
They answer various questions about the design, which saves time and make the entire process a lot more proactive and productive. 
How to annotate on-screen
– annotation shortcuts
Windows:
Undo: Ctrl + Z
Redo: Ctrl + Y
Mouse mode: Right-click anywhere
Mac:
Undo: Command + Z
Redo: Command + Shift + Z
Mouse mode: Right-click anywhere
Key takeaway
You can now annotate on-screen and improve collaboration with your colleagues while diving into different learning experiences and automating your work and daily tasks. It will make your work more effective and efficient without hindering your progress. As mentioned earlier, it is easy to annotate on-screen even if you are a beginner with the help of this guide.
Cut design & video review time in half
GoVisually is the #1 online proofing software to get visual feedback on Designs, PDFs & Video content.
Try GoVisually free today!