People working in the creative field are always on a strict timeline, trying to pull through and deliver creative assets for the campaign. This creative production process is not easy and requires focus and a more sustainable approach.
So while scaling up content, time often becomes a restriction, and quality is a top priority, making it difficult for creative marketers to meet the demand. However, with the automation of the creative process itself, you can unleash the truly creative power.
In this article, we're going to discuss how to automate creative production, especially for remote teams!
Let's dive right in.
What is creative automation?
Creative automation simplifies the creative work process and makes content production, review, and approval easy. It allows you to create bulk content which is consistent, of top quality, and follows the brand guidelines. That's because it involves using technology to create and deliver creative assets without compromising on quality.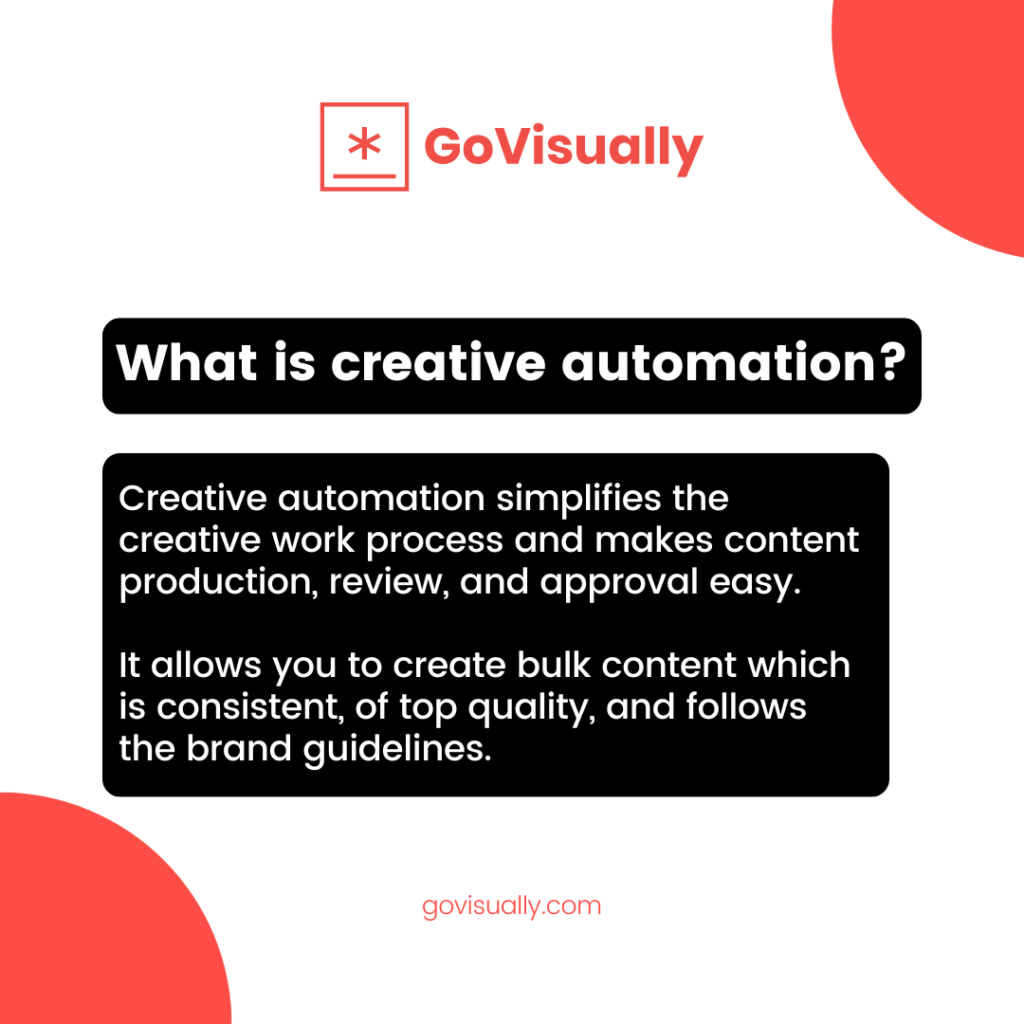 It discards repetitive ideas and minimizes a creator's workload during production. It does not automate the entire creative process but helps scale up a campaign allowing you and your team to focus on the creative side of production while the rest is managed by advanced technology. This helps create trendy and creative content while you stay on brand guidelines.
Automating creative production in a remote setting
Working remotely is on the rise now. In fact, Netherland has approved work from home as a legal right. And many more will be inspired to follow through with this.
So given that the world is adapting to newer ways of work, automating creative production for remote settings has become essential too. Luckily for you, there are a lot of tools and software that you can leverage to ease the work process for everyone.
The trick is to use accurate tools to automate the creative process.
How to automate creative production in a remote setting?
Here are the 7 most important ways you can automate creative production in a remote setting.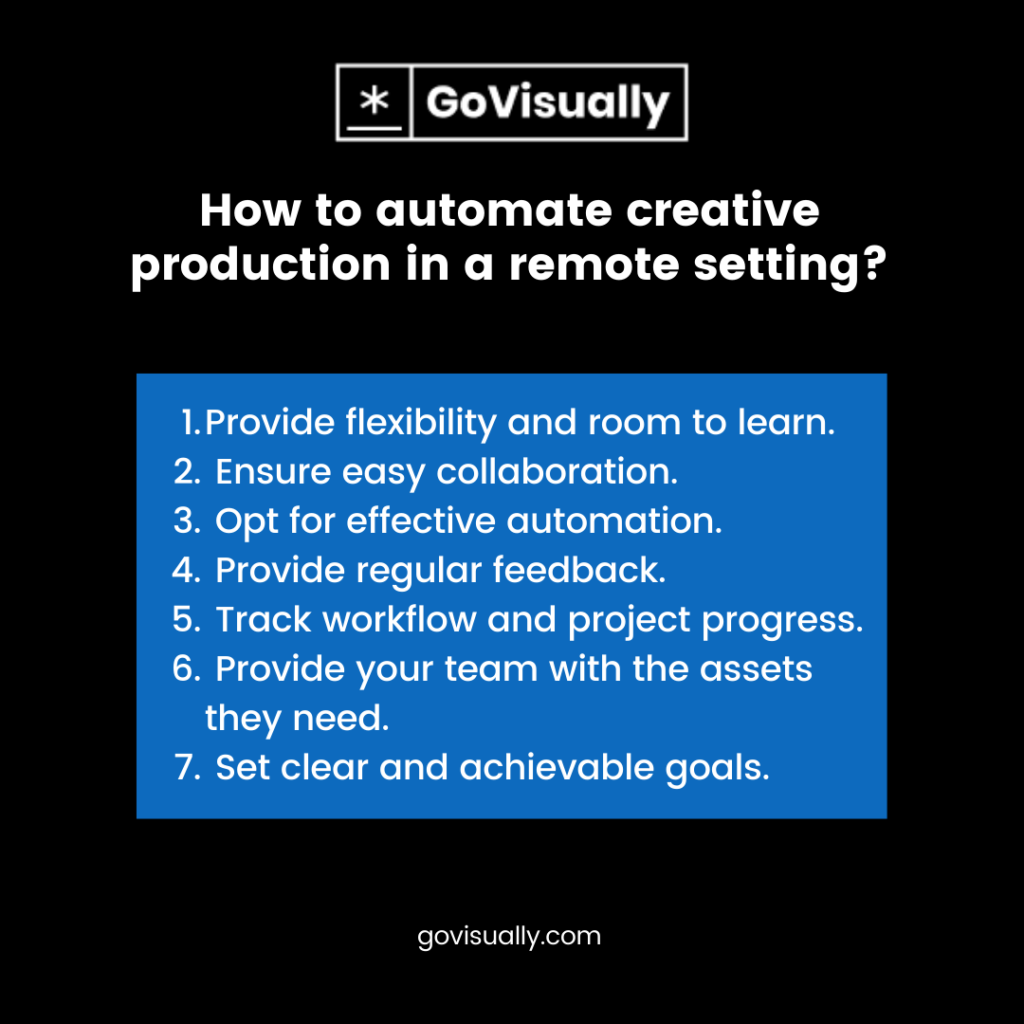 1. Provide flexibility and room to learn
Giving your team the flexibility and access to different tools to work their way through the task helps build on your existing relationship and empowers them to work their way through it. You don't need to micromanage your employees, but trust them to manage their work and deliver it on a given timeline. It's best to avoid tracking them every step, as it will only add more hours to the entire process. 
2. Ensure easy collaboration
Working remotely differs for each individual. While this is the case, the main challenge is the chance for colleagues to sit together and discuss their queries and concerns. There need to be customizable tools that allow colleagues to give reviews, leave comments and provide feedback. This works well for small and large-scale collaborative projects.
3. Opt for effective automation
While some different platforms and tools help you make the automation process effective, the idea is to use platforms that increase productivity while streamlining the processes. Tools like Pyxis CoCreate offer you customization and help you automate a lot of your work. With one basic template, you can create multiple variations with the help of this tool, which benefits the creator.   
4. Provide regular feedback
Constant feedback plays a major role in enhancing and improving the productivity of teams working remotely. It helps employees understand where to make necessary changes within time without sending off incomplete work. The feedback must be more constructive and part of their regular annual reviews.
5. Track workflow and project p
rogress
Your employee might be working on different projects simultaneously, and you need to keep track of all without overwhelming them and putting them in a box. Creative tools like GoVisually simplify each task's process cycle and prevent overlaps, daily updates, and progress for separate projects. This minimizes errors and concerns in different tasks with daily to-do lists.
6. Provide your team with the assets they need
Every company has a brand guideline, but these guidelines may vary if you work for different brands and are a marketing agency. Ensuring that these guidelines are followed, and all the different criteria are met, you must provide team members with open access to these guidelines and brand requirements. It makes it easy for them to go back and forth when needed without delaying their work. 
7. Set clear and achievable goals
One of the most important things to do while working on automating creative content in a remote setting is ensuring that you have small milestones and long-term goals set for each task. When the pandemic hit the world, it was difficult for people to work on different tasks simultaneously, making it hard to keep them from overlapping. Setting weekly and monthly goals gives your employees a clear picture of what, when, and how.
Working remotely is being promoted worldwide in different organizations, giving employees the flexibility to work at their own pace. The idea is to provide employees with tools that help them with the process flow and don't hinder their creative process. Provide them access to tools, assets, and insights into their work and leverage AI to streamline different processes for timely delivery.  
It is important to understand that automation does not eliminate the human effort and the creative process. It reduces their overall workload and aligns them on different tasks, discarding repetition. This gives colleagues time to work on the ideation process and initial design stages. It's a more proactive approach to doing things smartly and not just faster and better. 
8 benefits of automating creative production
Automating creative production benefits companies. It can help the marketing teams achieve their goals faster. The design phase of marketing requires maximum creativity and the entire team to be on the same page. Brands need to combine creativity and innovation.
When it comes to the production stage, this might not be easy to implement. That's where automating creative production helps. It boosts the process of creative production in a variety of ways.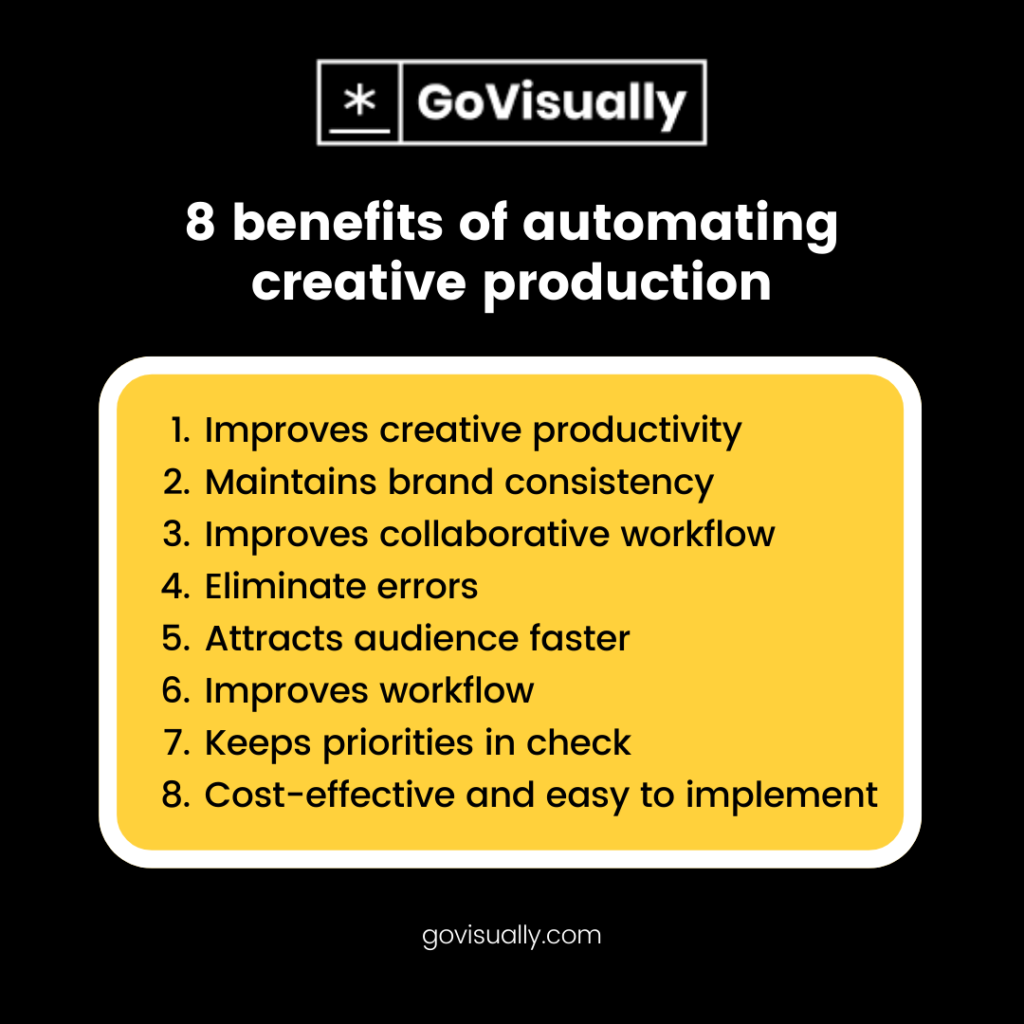 1. Improves creative productivity
Due to high demands, marketing teams always have a workload. This workload can put the team under pressure, resulting in delays and poor quality. But now, the team can quickly scale their production process without being under pressure, thanks to creative production.
Even with great motivation, a human's capacity is well known to be limited. However, this problem can be addressed with creative production because the time saved by creative automation tools allows the team to remain productive and develop more innovative ideas to work on.
Because creative automation tools can automate the most mundane tasks, which can be of great assistance to innovative professionals in scaling content production even with limited time and resources, ultimately increasing marketing team productivity
2. Maintains brand consistency
Consistency in design across all marketing materials is essential for raising brand awareness. Even with the best imagery, a campaign will fail if it does not speak of your brand.
The most difficult aspect of maintaining brand consistency is adapting a single campaign design for multiple markets and platforms. Because it is difficult to create countless visual assets manually and consistently, creative automation enables you to apply the same branding to your campaigns with innovative and unique ideas while maintaining brand consistency.
3. Improves collaborative workflow
Thanks to creative production in remote setting tools that include collaboration features, real-time remote collaborations are now possible. You can discuss plans, solve problems in real-time, and tweak designs. This increases team productivity, even when time and location differences exist.
4. Eliminate errors
Human errors are unavoidable under time constraints and with limited resources. Campaigns will look flawless every time online proofing is used. The team only needs to concentrate on customizing the tools to eliminate manual adjustments, and accuracy will be maintained by creative production.
5. Attracts audience faster
Shorter production cycles will result from automated creative production, resulting in a faster time-to-market. This allows brands to stay ahead of their competitors and serve their audience ahead of schedule. For example, social media automation will allow your brand to capitalize on current trends. This would increase your brand's relevance and affect an audience waiting to see what you will offer next.
6. Improves workflow
With the time saved by automated creative production, it is easier to identify and fix the mistakes in your marketing team's new campaign. With an automated production process, you can use the time saved to improve your campaign to the point where it has the greatest impact on your target audience.
7. Keeps priorities in check
Dealing with a single design and producing everything manually will undoubtedly create a sense of exhaustion in the marketing team. But creative production can allow the team to relax and focus on high-priority matters rather than being stuck at the production stage.
The best time-saving tool for the marketing team is creative automation, and the team can use the saved time to lay back, think about more innovative ideas, and do something more productive.
8. Cost-effective and easy to implement
In terms of costs, it would benefit your brand to use creative automation tools that handle everything from production tasks to team collaboration features. Your team can easily select a specific solution to work on a campaign. This will make managing assets, saving money, multiplying profits, and completing tasks easier.
Creative production tools are extremely user-friendly, requiring little effort from the user. The user interfaces are simple. This enables everyone on the team to use them effectively, avoiding errors and ensuring accuracy.
Key takeaway 
Personalized and micro-targeted digital content has become the norm. And manual production cannot meet the demand for creating required content with consistent results. This is why brands increasingly require automated creative production. And with software like GoVisually, you can reduce the effort and time that goes into menial tasks associated with digital content creation and creative production.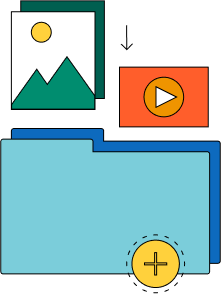 Need a quick way to share large files and creative assets?
With GoVisually Share, it's absolutely free! Try today.