In the digital age of 2021, video marketing is a game-changer for brands. Video content done right can be transformative for your brand's success. However, the video production workflow can be chaotic.
There are many things to check off and many aspects to keep in mind throughout the production process from start to finish. And everything from the filming to the editing to the review has to be seamless. But how do you ensure that? 
Before we get into how you can ensure a smooth video production, let's talk about what video production workflow entails.
Cut design & video review time in half
GoVisually is the #1 online proofing software to get visual feedback on Designs, PDFs & Video content.
Try GoVisually free today!
What is a video production workflow? 
A video production workflow is a clearly defined, sequential process planned out before the project begins. It's everything a team or multiple teams need to accomplish, from the tiniest detail to the more significant tasks. You might be asking, "why"? 
Why does your business need a video production workflow?
Everything from content creation to reviewal and feedback requires careful attention. And team collaboration, while excellent, can be a recipe for a production disaster. And if it's bad enough, it can be pretty expensive to fix. 
Miscommunication and confusion are inevitable if everything is not clearly defined before the project begins. Ideally, a project should only start when all the details are laid out, eliminating the possibility of mishaps. 
This is especially important during the review and feedback process. Videos go through countless iterations; every single frame is deliberated over and edited. With that many cuts and edits, you need frameworks to keep track of what's happening. 
Keep in mind that the marketing world is considerably fast-paced; brands constantly need to churn out high-quality campaigns, including video content. So everything needs to be done quickly, and everything needs to be done right! 
Big-scale projects that involve many teams and stakeholders require an organized approach to minimize bumps along the road. Video production workflows give structure to your project, making sure everything and everyone stays on track and goes as planned. 
There's no need to panic; we've got you covered!
How to create a seamless video production workflow in 5 simple steps
Follow these steps to create a smooth video production workflow for your team!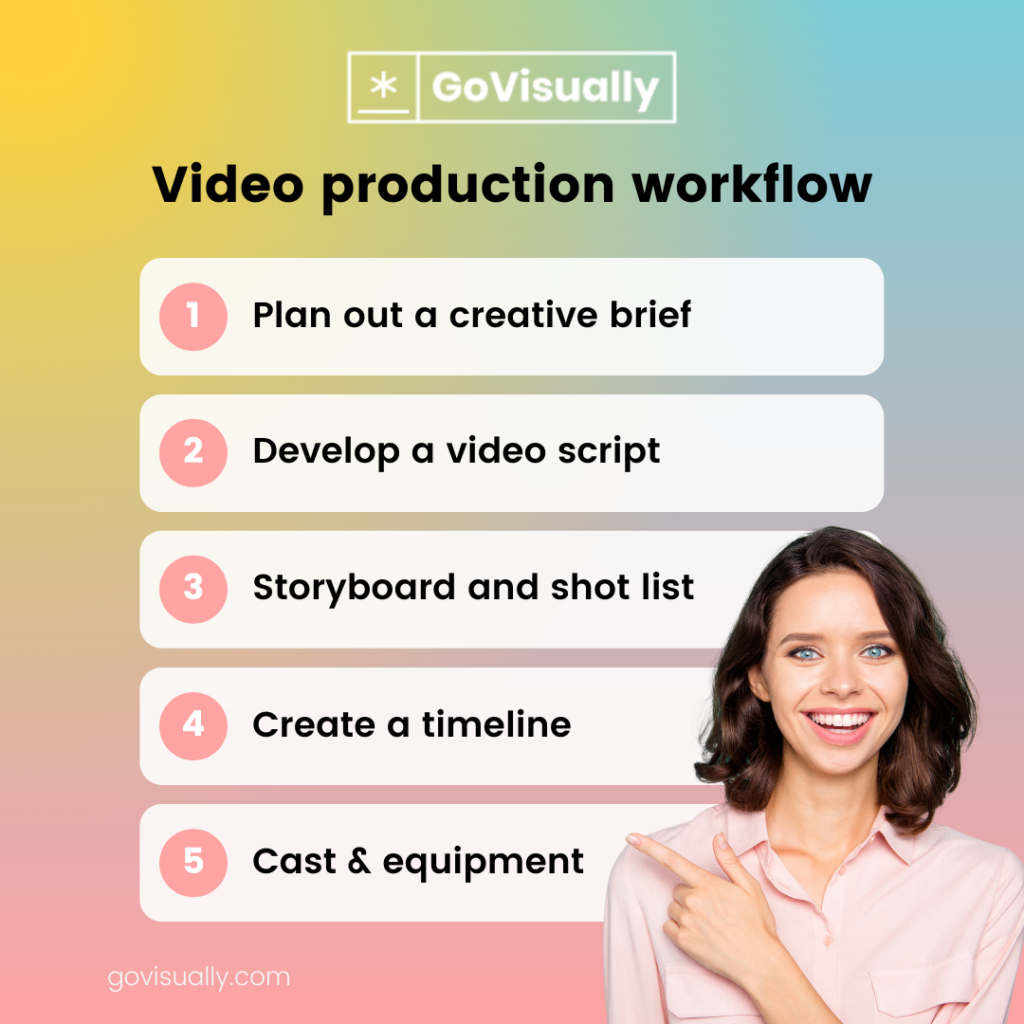 1. Creative brief 
Your priority is the creative brief. The creative brief outlines what the client wants and what they hope to accomplish with the project. If it's an in-house production, you'll need to map out your own goals and visualization for the video. 
Your creative brief needs to contain two primary aspects of the upcoming project; narrative and objectives. This means the content of the video and what big-picture goals it will be leading to. For example, your goals could be lead generation, boosting conversions, or simply building brand awareness. 
Whatever they may be, they need to be outlined, and your video content needs to align with and bring you closer to these goals. It also helps set smaller goals like a 5-10% increase in online engagement, etc. 
You also need to create a rough timeline, when it will begin, and the completion deadline. This helps keep everyone involved on track, with a time limit in mind. 
2. Develop a script
The next thing you need to start working on is the video script. This may take a long or short time, depending on the length of the video you're creating. People often assume that video content is all about appealing visuals. 
While that may be true, a good script carries your visuals! Take your time developing an engaging, actionable video script. When the initial draft is ready, it's time for the script to make the rounds among collaborators and stakeholders. 
For smooth reviewal processes, we recommend GoVisually. 
GoVisually is an online proofing tool created to streamline collaborations and facilitate teams through reviewal processes. You can use GoVisually throughout the video approval process, allowing everyone involved to get instant access to any updates and changes being made to the files. 
Team members and stakeholders can leave comments on specific timestamps of your video projects, keeping everyone in the loop about the feedback. This will save you and your team valuable time and effort you wouldn't have been able to save if you went back and forth via email or simple cloud-sharing software. Head over to GoVisually to learn more about the impressive range of features packed into one online proofing tool.
3. Shot list and storyboard
Step three is creating a storyboard and shot list! Use your script to start mapping out visuals for your video. Your script might have to go through another round of revisions to better align with your visuals. 
A storyboard lets you put ideas together in the physical (or digital) form to see how they work together. That includes color schemes, set designs, costumes, and anything else you need to bring your video together aesthetically. 
Similarly, you'll need a shot list. This makes your filming process more organized, giving the crew clearly defined frameworks to work with for both A and B roll. 
4. Create a timeline 
Before you move on to casting and sourcing equipment, you need to create a well-defined project timeline. This will be built on the rough timeline you created initially, except it'll be considerably more detailed. 
You can also use this time to assign roles to your team; clearly defined roles eliminate overlapping tasks. You'll all save considerable time during the project when everyone knows what they need to do. 
We recommend using project management software for this. A project management software like Trello will ensure transparency from your team and help managers oversee and track workflows throughout the project. 
5. Equipment and cast 
This is the last step(s) you need to take before beginning video production. If your video has characters, you need to have a cast. Create a list of the cast you need and have it approved by everyone that needs to approve. 
Similarly, you'll need video equipment. Make a checklist of all the equipment you'll need. This will be especially helpful if you're renting it. This helps ensure no piece of equipment gets missed out when filming begins. 
If you're unsure about what kind of equipment you'll need, here's a list. You can add or take out whatever you like depending on your team's needs. 
Here's a list of the video equipment you'll need:
Headphones

Lights

Lenses

Cameras

Tripod

Light reflectors 

Microphones

Props

Cables

Batteries

Hard drives

Memory cards 
Final Takeaway 
Any collaborative process has the potential to get very messy very quickly. It's human nature to make mistakes and get tangled up in miscommunication. No matter how many preventative steps you take, some glitches are inevitable.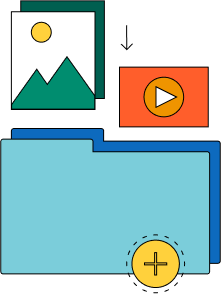 Need a quick way to share large files and creative assets?
With GoVisually Share, it's absolutely free! Try today.
However, you and your team can do your best to make sure those glitches are minimal and don't sabotage the entire project. 
To make sure the feedback and review process goes as smoothly as your team deserves, use GoVisually!