Think about these images for a few seconds.
An abstract image of an athlete in the middle of a jump with legs spread apart and the ball in the left hand.
An apple with a bite taken out of it.
A circle with the red top half and blue bottom half with a white wavy line running through the center. 
With these descriptions, you know what we are talking about – the biggest brands dominating the marketing world.
You might even have pictured the iconic brands behind them. When you look into their websites or check their latest products, you already know what it will be about.
This is what we call brand compliance in the world of marketing. 
Cut design & video review time in half
GoVisually is the #1 online proofing software to get visual feedback on Designs, PDFs & Video content.
Try GoVisually free today!
Brand compliance is what your company is about, what story you want to tell your customers, and what you stand up for. 
In simpler terms, brand compliance ensures that your brand's message remains consistent, no matter how many channels or partners enter it. However, it should be kept in mind that brand compliance definition includes more than consistency and predictability of a brand. 
So, in this guide, we will look at the brand compliance checklist, starting with the definition of brand compliance. We will then discuss why brand reputation through compliance is important, and lastly, we will look at the core components of how to improve compliance in a company.
By the end, you'll have a strong grip on these;
What is brand compliance? 

The importance of brand compliance 

How do ensure brand compliance?
So let's start!
What is brand compliance? 
Brand compliance includes several strategies that ensure that all the brand components are aligned according to a company's identity, values, and standards.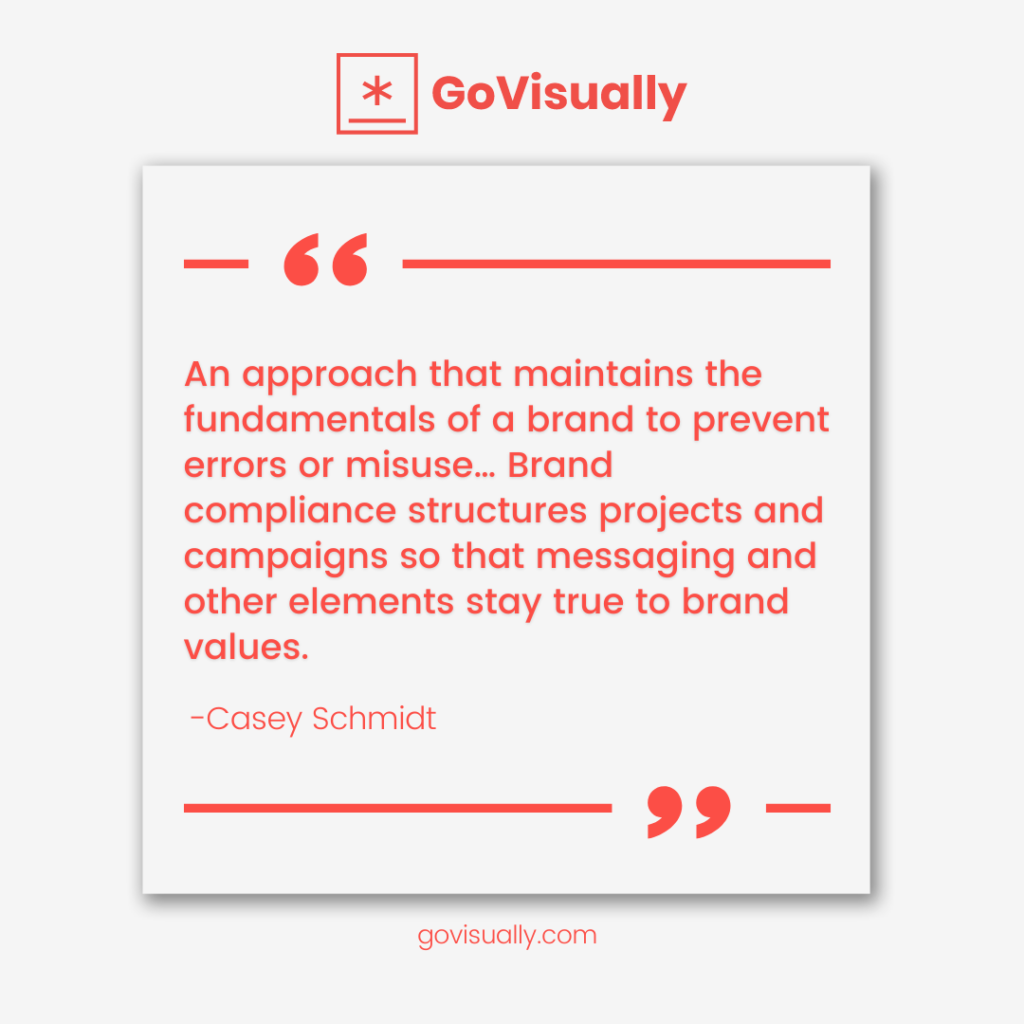 Furthermore, a brand compliance checklist ensures that all the brand components should:
Make sure your brand feels and looks similar across all the platforms.

The tone and voice should be consistent with maintaining a district brand personality.

Include the correct design brand elements, e.g., similar color scheme, same font, and graphics.

Speak up the brand's voice and revolve around its personality no matter its represented platform. 

Communicating with a consistent message across all mediums. 
Although it seems like the strategy is only focusing on consistency. However, it is not the case; while consistency is the part, brand compliance is much more profound. Brand reputation through compliance ensures that you have control over all the aspects of your brand, including: 
Your brand's identity

Brands narrative

Your brand perception in the market. 
Having this control prevents you from making a mistake when marketing your brand, which can be a significant backlash to your brand.
The importance of brand compliance 
Now that we have discussed the question, what is brand compliance? Let's directly jump to why brand reputation through compliance is essential.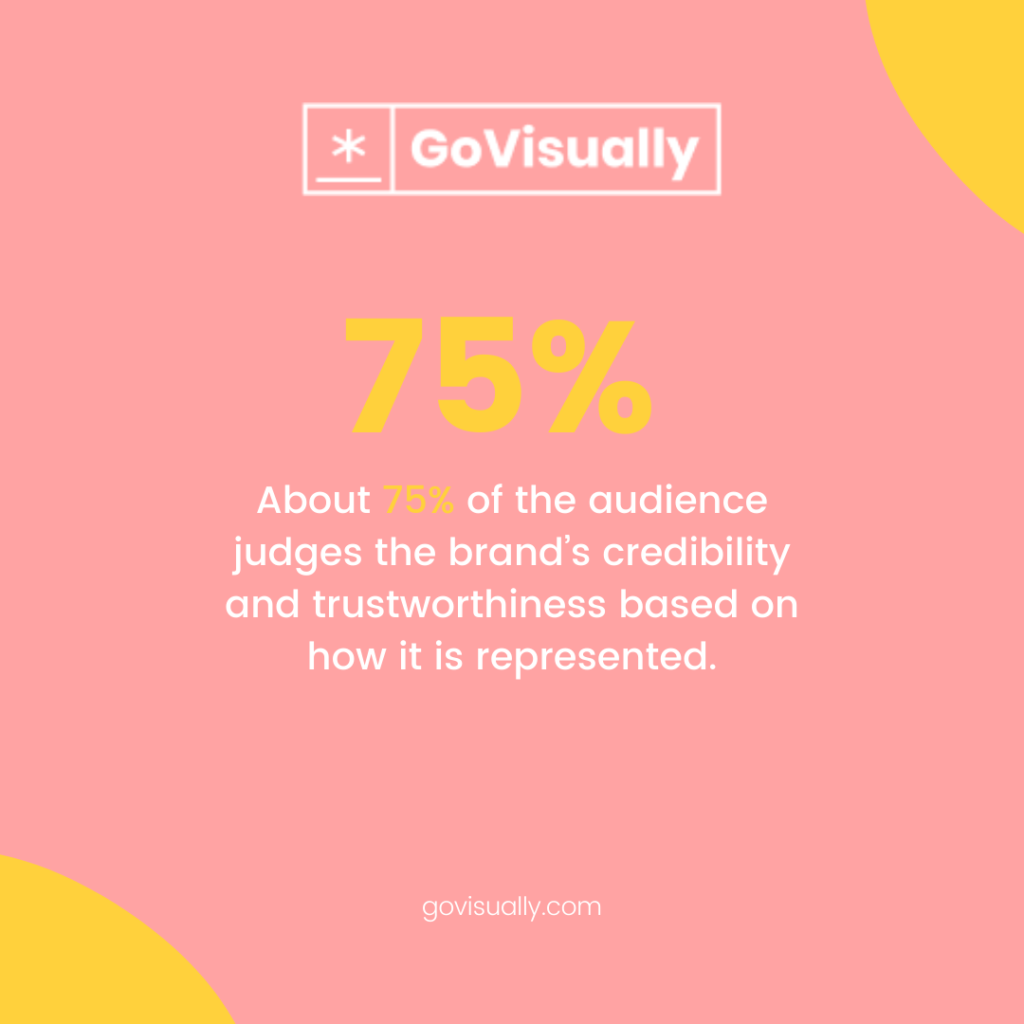 Having brand compliance ensures that the company creates content that aligns with the brand's voice, feelings, and values. All the brand communications, marketing processes, and brand assets should follow a fixed set of standards.
And if a brand fails to do so, it can significantly damage its reputation and cause the consumer to lose their trust.
Below we have highlighted strategies that show how a brand compliance checklist can save your company from falling down the ladder.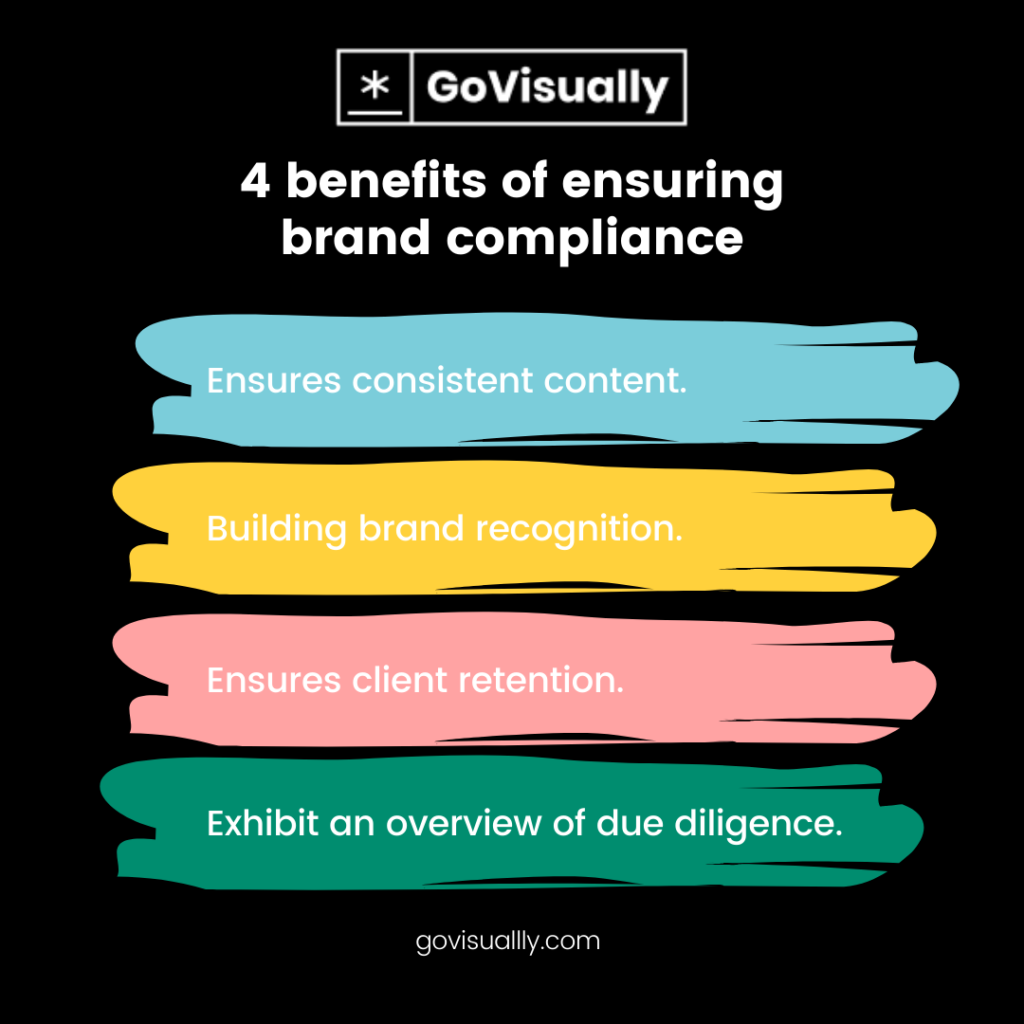 Ensures consistent content
Like our fingerprints are different, a brand's core values set them apart from other organizations. Having a unique identity across all digital platforms makes it easier for consumers to recognize a brand's content and messages.
Having this unique identity can also save you from false claims and advertisements. It can also be as simple as a marketing assistant misunderstanding the brand's message, meaning having two contradicting statements on different platforms. 
You might have a gist about this coca-cola inconsistency in the product's branding. Here is what went down: Coke's leading competitor, Pepsi, gained popularity through their highly publicized ad campaign where they made people blindly test the taste of both colas head-to-head. However, due to a sweeter taste, Pepsi remained a consistent winner.
The brand vs. branding inconsistency acted as a mishap. The Coca-Cola company adjusted its original drink and branded it as 'New Coke.' By changing the flavor, the company targeted its flagship value. After this incident, the original formula came back as 'Coca-cola Classic.'
Even big brands like Coca-Cola can make mistakes.
However, you can avoid or minimize these errors by keeping all your business activities on the same page with online proofing software. It keeps all the team members on board and even allows external stakeholders to provide feedback easily.
This is where GoVisually can help by bringing all stakeholders on a centralized platform for the review and approval process.
Building brand recognition 
Brand compliance can help a brand build up its identity by maintaining the copyrights and avoiding any trademarks infringements, which can help a company avoid several legal risks. A brand operating with an outdated license or selling an unapproved asset can cause the company's downfall. 
However, you ensure that all the legal issues are sorted by building up your brand recognition.
It helps you ensure that all the licensing requirements are met. 

It also means that you continuously monitor and manage the legal activities, e.g., property usage and content access. 

Moreover, it ensures that all the social media platform policies are met and carried out similarly throughout the company. 
The core example of this could be the challenges faced by the CPG (consumer packaged goods) industry. This company manages several catalogs that require the packaging of products and the printing of disclaimers according to the company's regulations. This means that the company has to ensure that all packaging and ingredients content sheets must align with the company's requirements. 
This is a complicated task and can cause legal issues in many cases. However, brand vs. branding compliance can ensure that the marketers create content across various platforms and channels while meeting the legal requirements of the brand. 
Ensures client retention
To keep lifelong customers, it is essential to deliver consistent content, whether a product, a service, or a message. This can easily be achieved by transparency for consumers. MostMost organizations gain customer loyalty by having reasonable prices, better quality products,s or by carrying out the task of openness. Organizations gain customer loyalty by having reasonable prices, better quality products,s or by carrying out the task of openness. 
Brand transparency has proved to increase ance plays a major role in brand transparency. Without having a set of rules and regulations, there is no guarantee that your customer will receive a consistent experience with your brand across all the platforms. This lack of consistency within the brand can make customers lose their trust.
Online creative software can help companies manage their workflows and the guidelines over all the platforms. Govisually is one software that helps companies manage their internal processes by keeping the entire team on board which can help them deliver a consistent message to their clients. 
Exhibit an overview of internal due diligence
The marketing team usually carries out the method of brand compliance as they are responsible for coming up with the digital content. However, a company needs to understand that even though the marketing team is responsible for branding tasks, the process of brand compliance needs to be respected by the whole company. 
A company needs to educate the entire team that brand compliance is its number one priority. All the activities representing the company should respect its values no matter what platform it is. 
It is the job of executive team members to ensure that the compliance activity is being carried out consistently and keep track of how it impacts the overall strategy. 
The decision-making team can ensure that brand vs. branding is consistent and the company goals are met. This also means that a company needs to have access to all the data and movements made by the brand. For this, a company needs a tool that can help them keep a complete record of comments and approval processes. 
The team needs to make real-time amendments and refine the brand strategies, whether launching a new product or uploading a new blog post. This ensures that the data remains consistent on all platforms.
This activity is made more accessible with GoVisually, which helps you keep track of all the decisions and actions that are being carried out. Each member on board can provide an opinion and make recommendations for future activities while ensuring the message remains consistent. 
How to ensure brand compliance in 5 simple ways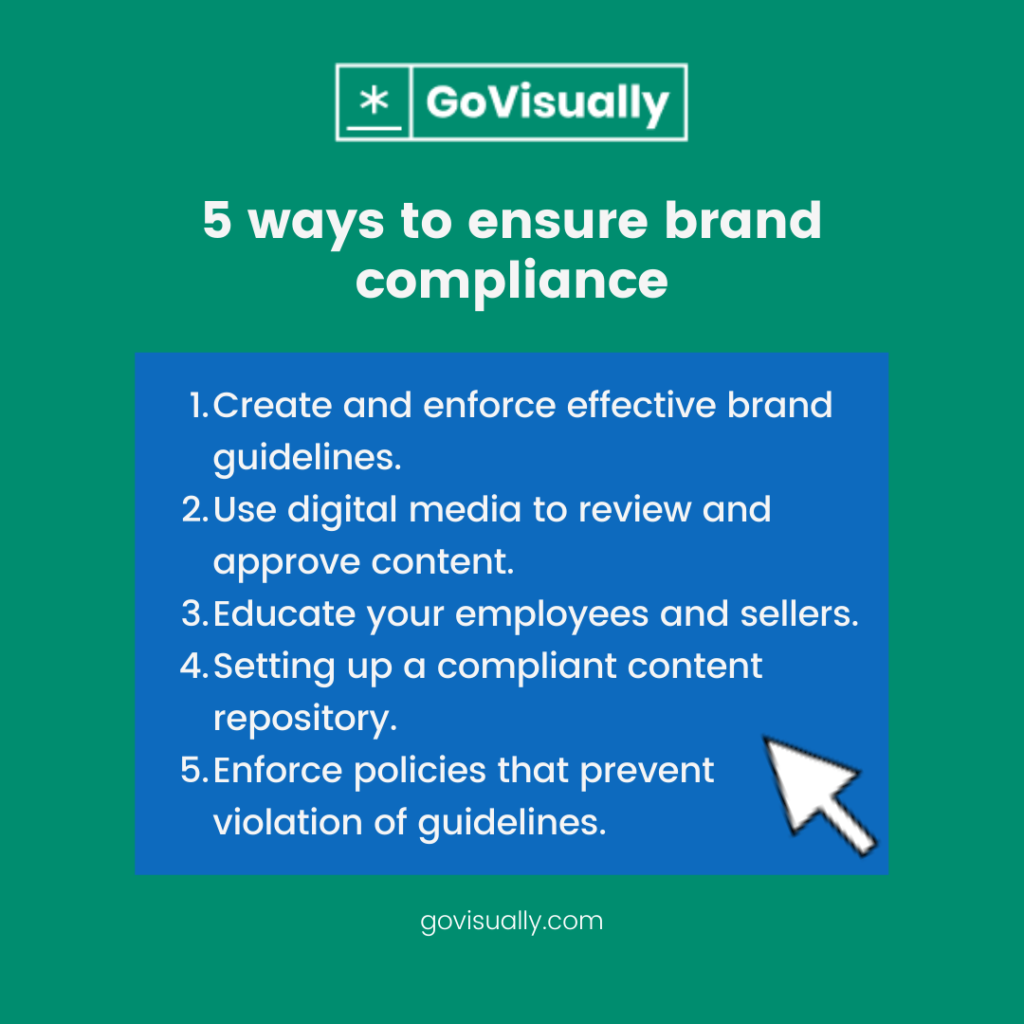 1. Create and enforce effective brand guidelines – Image (How to create effective brand guidelines)
A significant role in ensuring brand compliance is carried out by forming several rules and regulations and staying consistent. These concrete rules define the criteria for all the brand's actions. It includes the color scheme, the type of imagery, typography, and the brand's overall look.
These guidelines help you maintain a consistent brand story and avoid the risk of delivering conflicting messages.
Below we have presented a step-by-step guide on defining the set of guidelines.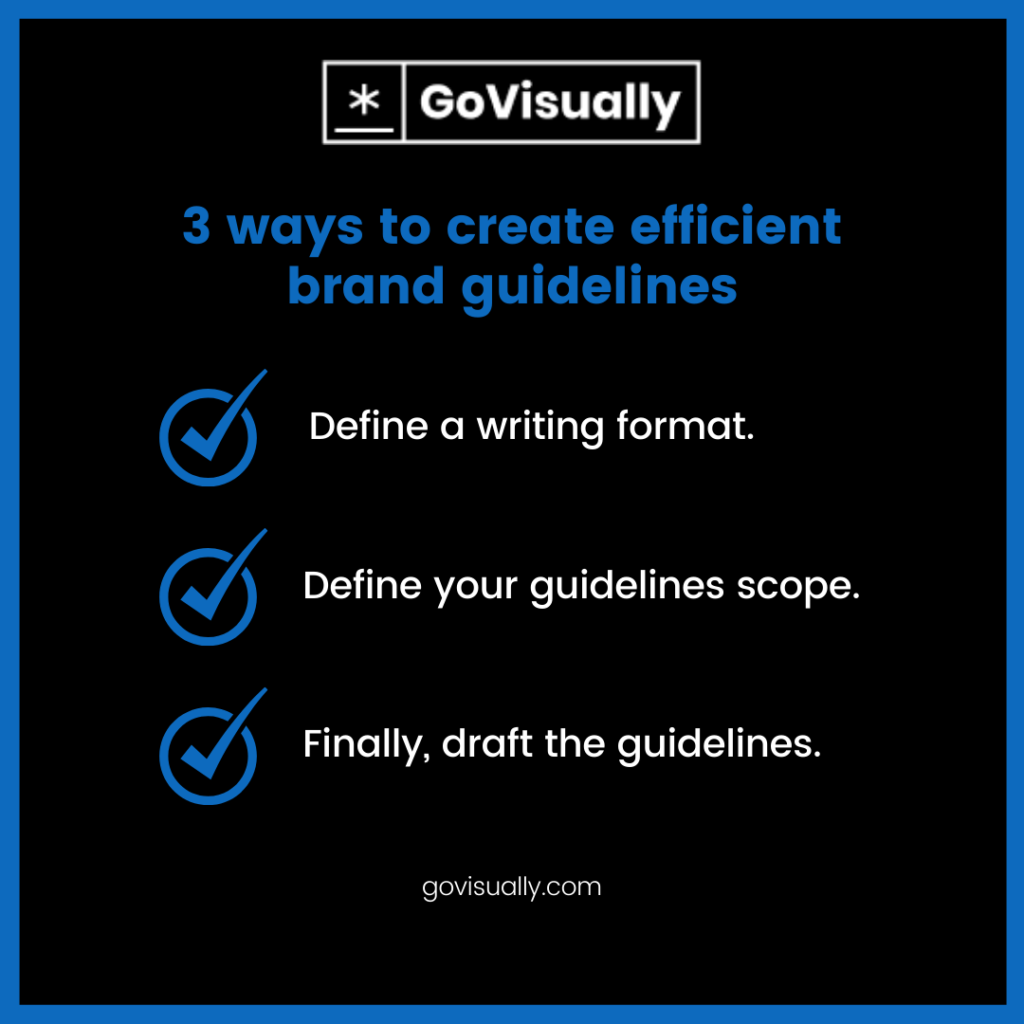 Define a writing format
The first step is to decide on a format for your brand, whether PDF, Google Doc, or Word doc. It must be kept in mind that your brand format is easy to read and is accessible on digital media. This means that physical copies may not be a wise choice.
The next thing is to ensure that your guidelines are easily accessible by all the creative writers of the team and are in an organized pattern. GoVisually is the best platform for keeping your creative content in place and making it easier for you to circulate the team. 
Define your guidelines scope
To make sure that the information your brand is delivering is similar on all platforms, it is necessary to define the scope of the guidelines. These might include
The purpose of the brand

The company's history and major milestones

The tone and personality

The key values and components of the brands

Your brand's visual identity includes color, typography, and graphic content.
Finally, draft the guidelines
After defining everything for your brand guidelines, it is time to write them down. Your policies should include actionable content and be versatile for all digital platforms. Below are a few aspects to mention in your guidelines
The placement of your logo (for emails or posters)

Typography

Color scheme

Visual graphic styles

Guidelines to include imagery 
It might seem like having definite guidelines is limiting the team's creativity, but in reality, they work to improve the work quality of your team by helping them be more self-dependent. 
2. Use digital media to review and approve content
The next best way to improve brand compliance of a company is by approving all the content using a digital platform. Marinating consistent brand compliance is a no child's play—even big names like Coca-Cola struggle with delivering consistent content.
Any issue or disturbance has the whole time running trying to control any content that goes against the company's values. There is a long list of hurdles that a company can face when dealing with brand compliance.
These can include issues like:
Digital content that goes against the policies of the company

Slowing down of workflow as the content approval process according to compliance takes a long time

Difficulty in ensuring the brand guidelines

The company does not have access to all the content material
Issues like these require a permanent solution, and one of the best ways to do it is by using a digital platform to keep the entire team on board and the content organized. These platforms enable all the team members to act as brand protectors by being more involved in brand activities. 
An online proofing software can be a great tool to help you achieve all this on a single platform. Tools like GoVisually ensure that the team can easily share content, comment, make real-time amendments, and collaborate with outside parties. 
3. Setting Up A Compliant Content Repository
Moving on to the next step of how to improve compliance in a company is by centralizing all the data on one platform. Adding in the rough draft can confuse, affecting your brand compliance.
However, your brand needs a permanent solution on how to bring all the digital content, including the feedback and collaborative team information, into one digital platform.
The good thing is that we now have platforms like GoVisually that allow access of the official team to the digital format. It has allowed users to access the media in their native language, which can help your team avoid any miscommunication.
Moreover, they can make real-time amendments to the media and grant them access to view the history and the entire approval process, which helps them navigate the original content. 
4. Educate your employees and sellers
As we have already mentioned above, it is necessary to train your employees and the sellers about brand compliance and why it is essential for the overall ranking of your brand. To maintain consistent brand identity, it is necessary to train all your employees.
It helps you develop a healthy culture around your team, which can help you build employee loyalty. Moreover, it ensures that the creative process by your team is by your company guidelines. 
Your employees and sellers also play a significant role in your brand compliance. It is necessary to educate them about the pricing and keep it consistent. It would help if you defined a constant sale value for all your selling points.
If your product costs $10 in one region but costs $20 in the order can majorly affect your brand compliance and result in customers losing trust in your brand. 
5. Enforce policies that prevent violation of guidelines
Last but not least, the primary tip to ensure consistent brand compliance is to set up certain procedures that your company and employees must adhere to, and anyone who fails would have to face violation warnings. This might seem cruel, but a company needs to develop serious policies to keep on track.
This way, all your internal and external parties will understand the importance of maintaining consistent brand compliance and not deviating from the company's core values. 
The bottom line
Brand compliance helps maintain a consistent image and ensures similar interaction over all the digital platforms. To ensure brand compliance, it is necessary to set specific guidelines, stream and approve the content with your team, and allow your team members to provide feedback.
And remember – the most important part is to ensure that all brand assets are aligned with your overall brand values.
So to make the review and approval process efficient, leverage GoVisually – the #1 online proofing software.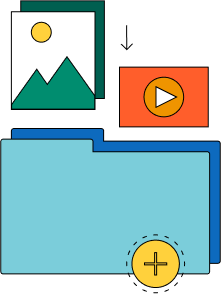 Need a quick way to share large files and creative assets?
With GoVisually Share, it's absolutely free! Try today.