Business cards are often the first impression of your brand. 
They are an essential part of any professional's arsenal. But sticking to the same old, traditional business card designs in the digital age of AI is no help to your business.
That's why we've compiled a  detailed guide on business card designs. In this guide for designers and creatives, we'll discuss the following:
The importance of business cards

9 easy things to keep in mind while designing a business card

4 things to do that'll make your business card stand out from the rest

6 free tools to create business cards online

A list of 5 stunning business card trends that will help you create the perfect business card.

And how to give feedback on business cards online with quick access and ease
Let's begin!
Why are business cards important?
Wondering why business cards are still relevant in today's digital age? 
Business cards are very versatile. They can be utilized anywhere, including:
Networking events,

Trade exhibits,

Conferences,

Workshops

Casual interactions.
That's why they're efficient in spreading the word about your company and brand. Plus, it helps in establishing long-term relationships with potential clients or partners.
Moreover, business cards add a personal touch to an increasingly digital environment. A handshake and business card exchange has a significantly greater impact than any digital communication. Therefore, having a business card conveys your professionalism and readiness for business.
So, business cards are still useful because they're cost-effective, high-value marketing tools that can help you network, forge relationships, and ultimately expand your business.
How to design a good business card? 
Do you know how to create a business card that would attract people to your business? 
Business cards are quite crucial for all types of business. But it's not quite easy to design a good business. It requires careful consideration of several elements, including the color scheme, fonts, and kind of paper or finishes.
Here are 9 tips to help you design smart business cards that will leave a lasting impression.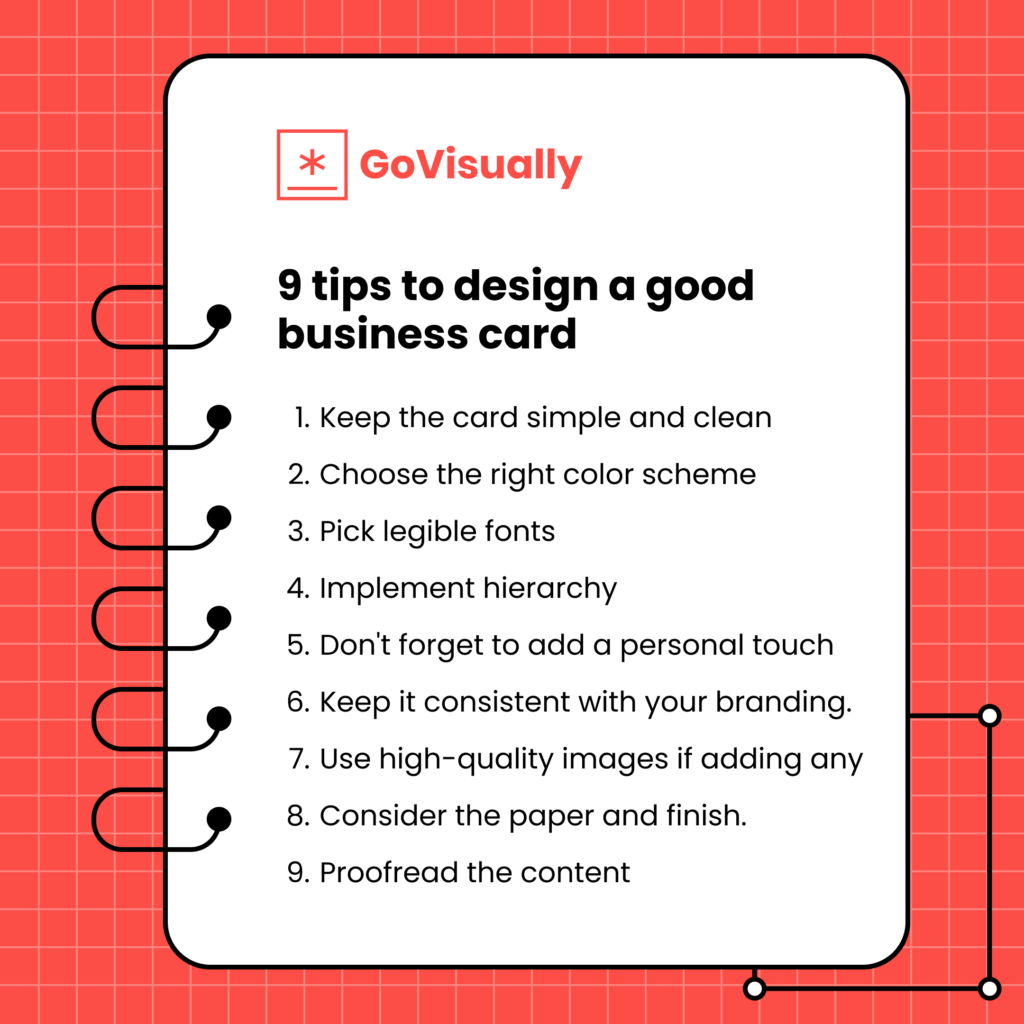 1. Keep the card simple and clean
A business card must be simple, attractive, and easy to read. The card should be free of excessive information, images, and color. 
Your business card should only contain the necessities, including your name, job title, company name, and contact details (phone, email, and website). 
2. Choose the right color scheme
The color palette is one of the most important aspects of your business card design. Pick colors that define the personality and identity of your brand. Avoid using too many colors, which can distract from the central message. Stick to only two or three colors that work together.
3. Pick legible fonts
Select readable fonts, even in small sizes. Sans-serif fonts are a well-liked option for business cards since they are neat, modern, and easy to read. Serif typefaces can also be used, but avoid anything too fancy or complicated, as it may be difficult to read.
4. Implement a  hierarchy
Hierarchy is the arrangement of elements in a design, from the most important to the least. 
Use hierarchy to your advantage by emphasizing the most crucial information. Your name, work title, company name, and contact information should all be displayed prominently on the card.
5. Don't forget to add a personal touch
Your business card will make a stronger impression if you add a personal touch. Consider incorporating special elements that reflect your brand identity. It might be a handwritten note on the back of the card, a hand-drawn illustration, a personal logo, or a tagline.
6. Keep it consistent with your branding.
Your business card should reflect your brand's identity, values, and personality. Use the same fonts, graphics, and color scheme as your other marketing tactics. Your brand will become more recognizable and remembered if you maintain consistency.
7. Use high-quality images if adding any
If you choose to include photographs on your business card, ensure they are clear and eye-catching. Avoid using generic or stock photos that don't represent your brand's individuality. If you want to make it more personalized, hire a graphic designer or professional photographer.
8. Consider the paper and finish.
You can add a rich and tactile touch to your business card design using special finishes like foil stamping, embossing, and spot UV coating. 
While these options may be more expensive, they can effectively distinguish your card from the competition and make a lasting impression on potential clients or customers.
Use special finishes intelligently to avoid making your card appear cluttered and messy.
9. Proofread, proofread, proofread!
Finally, check each business card component before sending the design to the printer.
You can also give feedback on business cards to ensure everything aligns with the brief.
Double-check your spelling, grammar, and contact details to ensure everything is accurate and current. This is because even a minor inaccuracy on your business card can significantly affect potential consumers or clients.
4 things that can make your business card stand out
The secret to designing a great business card is to make it memorable and reflect your brand. With these additional tips, you can take your business card design to the next level!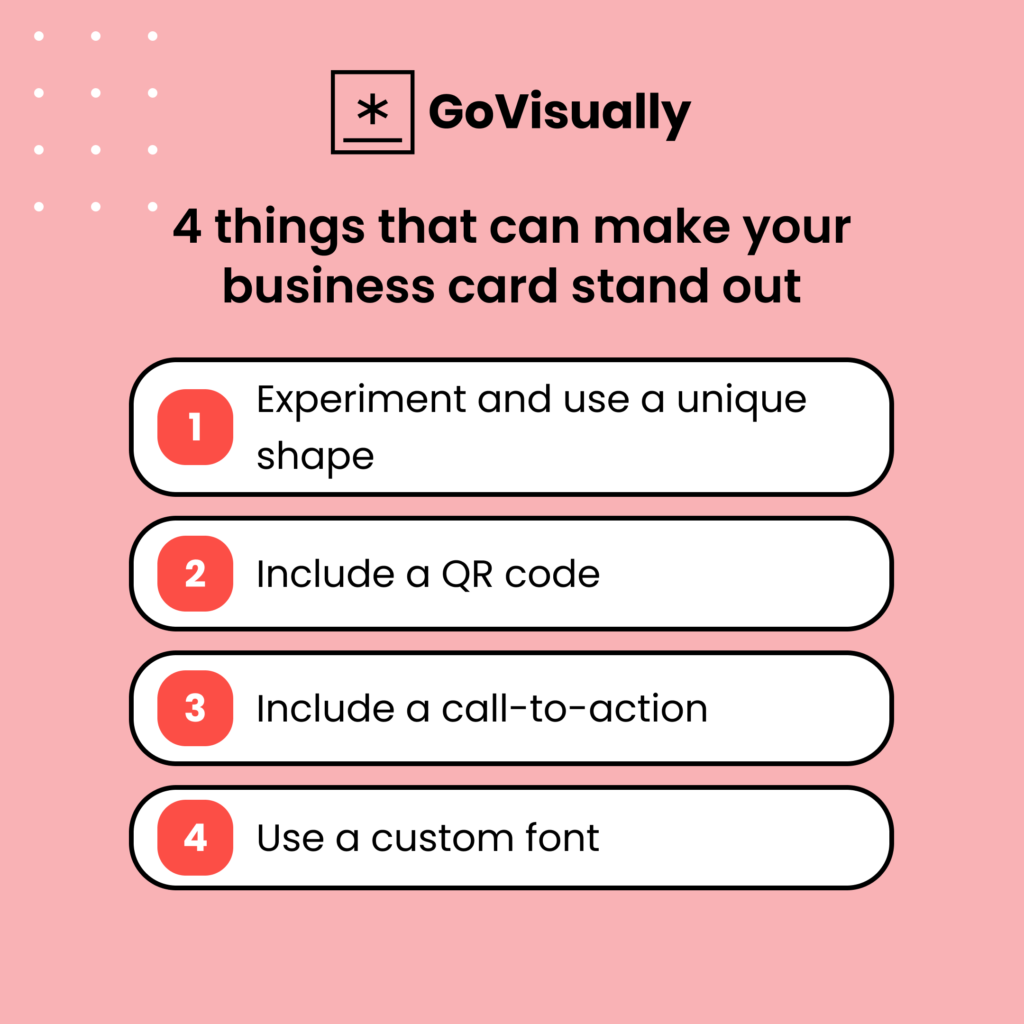 1. Experiment and use a unique shape 
Instead of using the conventional rectangular design for your business card, think about using a distinctive shape. This is an excellent way to make your card more interesting and memorable. For instance, you can try a square, circular, or unique die-cut shape representing your brand.
2. Include a QR code
QR code is a modern technology that is used practically everywhere. 
With a smartphone camera, users can instantly access information or content by scanning a QR code. By including a QR code, you can make your business card more modern and interactive and give potential customers a quick method to find out more about your company or contact you on social media.
3. Include a call-to-action
Call-to-action is an effective way to motivate your audience to take a certain action. This might be as simple as requesting them to contact you for a free consultation, a personalized quote, or following your social media accounts.
4. Use a custom font
The font can significantly influence the design of your business card. While many excellent free fonts are available, spending a few bucks on a custom font can make your card more personalized and unique. Just be sure to pick a readable font that complements your overall design scheme.
6 free tools to design business cards online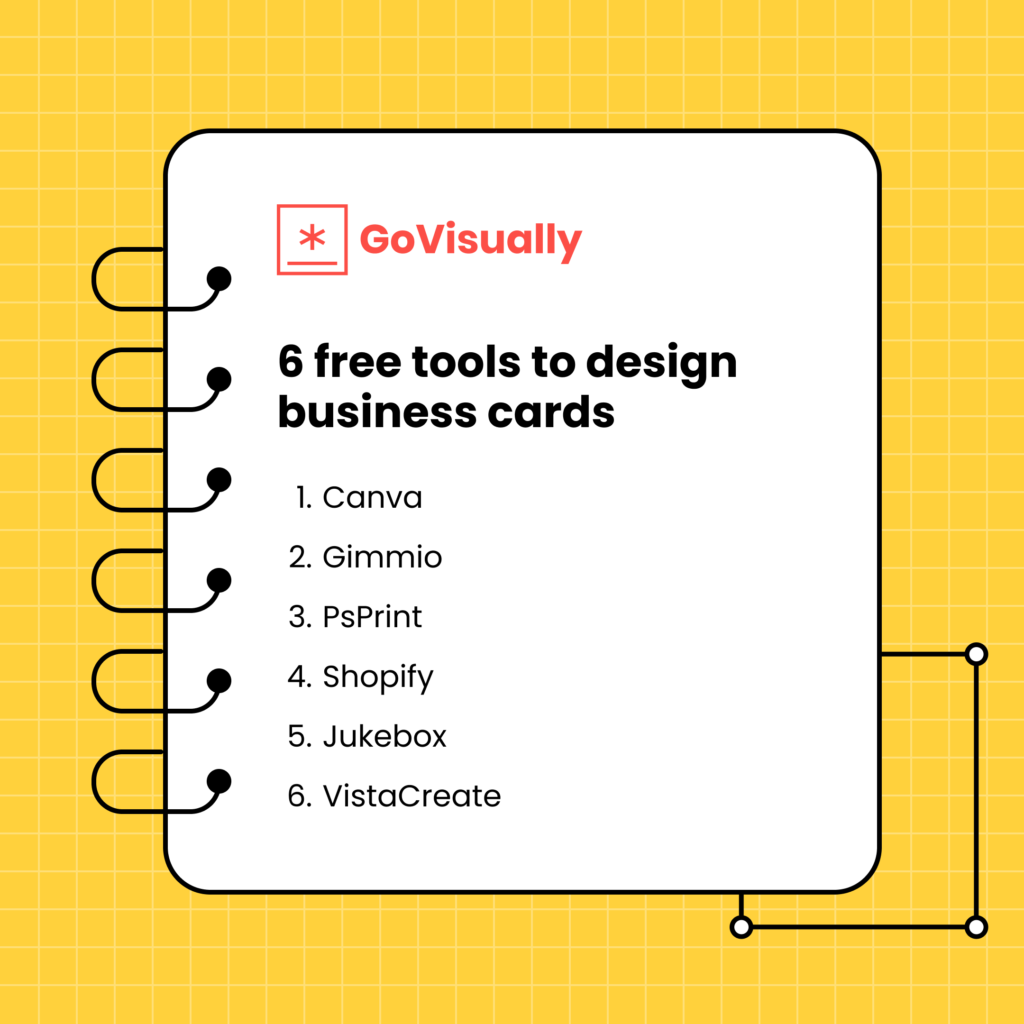 1. Canva
Canva is one of the most popular graphic design applications that you can use to create visually stunning business card designs. 
This popular free graphic design tool is perfect for amateurs and experts due to its simplicity and user-friendly interface. The good news is that Canva has many business card templates you can personalize with your brand's colors, graphics, and fonts.
Pros
Regardless of your level of creative expertise, Canva is incredibly simple to use.

With so many themes on the platform, you'll easily find one that matches your taste. 

You can upload your photos and logo to the editor.

The tool is free, but premium elements can also be used with the paid version. 
Cons
The free version of Canva includes fewer features than its paid plans, which may be a drawback for users who prefer more customizability.

Some users may find it aggravating as Canva only has a limited number of fonts.
2. Gimmio
If you want a simple and hassle-free solution, check out Gimmio. While it's a less well-known business card designer, the application provides several pre-designed templates that you may edit to include your text and logo. Gimmio offers many customization choices, including text sizes, colors, and styles.
Pros
Gimmio has a very user-friendly user interface. 

The platform's vast library contains many templates that meet your demands.

While the tool is free, you'll find several more advanced features in the paid plans.
Cons
Compared to other business card makers, Gimmio's library of templates is fairly constrained.

The tool's customization possibilities are quite limited compared to other tools, which can be a drawback for individuals who desire greater control over their designs.

When working on complex designs, Gimmio can occasionally be slow.
3. PsPrint
PsPrint is a popular online printing company that provides various printing services, including business card printing. Plus, they offer a free business card creation tool that enables users to edit pre-made designs or start from scratch with their own.
PsPrint is a good option to consider if you're looking for a free business card designer with professional quality. Here are some of its pros and cons:
Pros
PsPrint offers several templates you can customize to represent your brand.

The application gives you creative freedom by allowing you to add images, borders, and other design components to your card.

The cards can be printed on premium paper stocks with top-notch soy-based inks to give them a polished look and feel.

Customers have testified to the product's high quality, color accuracy, and affordable pricing.
Cons
PsPrint has a lot of design possibilities, but it might not be as user-friendly for beginners. 

The customization capability is limited, which can prevent you from creating a design that is reflective of your brand.
4. Shopify
Shopify is a well-known e-commerce platform enabling companies to build online stores. The good news is that Shopify offers free business card creation tools that allow users to quickly and easily generate business cards with a professional appearance. 
Plus, you don't need the assistance of a designer to create a business card. Here are some of its pros and cons: 
Pros
The business card creation tool is user-friendly, making it an excellent choice for beginners. 

You can easily add your name, email, website, logo, and address can all be added to your card. 

Once you've finished designing your card, Shopify will give you the final product, which you can immediately download and print.

Anyone on a tight budget will find the tool a perfect solution because it is free to use.
Cons
While Shopify's tool is great for creating simple business cards, it may not offer the same level of customization as some other tools on this list.

Some users have reported that the quality of the cards can be hit-or-miss, so you can order a small batch first to see how they turn out.
5. Jukebox 
Jukebox is an online free tool online that offers free business card design templates. The tool gives you a variety of customization options. This way, you can design unique, professional-looking business cards that meet your requirements.
Pros
With so many pre-built templates, you can save time and work instead of creating your business card from scratch.

You can add your text, graphics, and logos.

You can select the printing solution from the range of choices the application offers, including paper stocks and finishes.
Cons
While Jukebox offers free design templates, printing and shipping costs are not included in the package. These depend on the order size and shipping destination.

Some of the more advanced and creative design options may require technical knowledge. This can be quite challenging for beginners,
6. VistaCreate
With VistaCreate, users can quickly and easily create amazing visuals for various purposes, such as social media posts, marketing materials, presentations, and business cards.
VistaCreate users can access a vast library of templates, images, fonts, and other design elements that may be tailored to meet their unique requirements. The platform offers a variety of design tools and features that can help you make professional business cards. 
Pros
VistaCreate user-friendly drag-and-drop interface makes it easy to generate professional-looking business cards.

It offers customizable templates to create business cards, providing users various options. 

VistaCreate templates can be edited to match your brand. You can change the colors, fonts, photos, and other design aspects.

It offers free and premium plans, with the free version giving users access to the most basic functions and aesthetic elements.
Cons
VistaCreate free edition is perfect for simple designs but has a limited selection of templates and design elements.

If you upgrade to the paid version of VistaCreate, you can eliminate the watermark added to your designs in the free version.

Only JPG or PNG-format designs may be downloaded from VistaCreate free edition, which may not be suitable for printing on professional-grade equipment.
5 business card trends for 2023
Here's a list of business card design trends for 2023: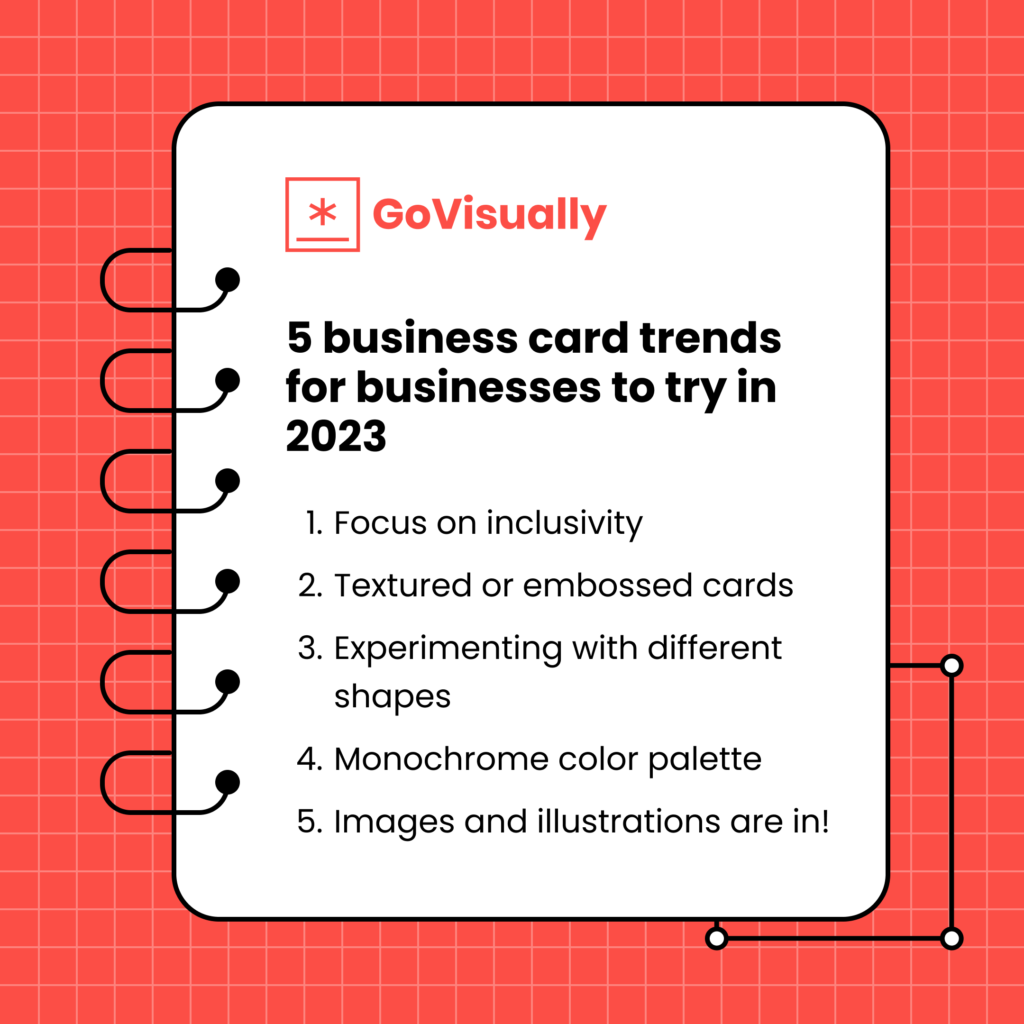 1. Focus on inclusivity
Designing business cards with accessibility and inclusivity in mind means creating friendly, readable, and user-friendly designs for everyone. This includes individuals with visual impairments, dyslexia, or other cognitive or physical disabilities. 
Choosing high-contrast colors for your business card design can significantly affect its accessibility. High-contrast colors make it easier for individuals with visual impairments or color blindness to read and understand the information on the card.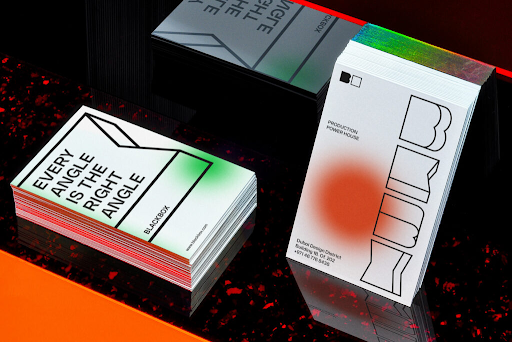 Aim for a color combination that provides enough contrast to make the text stand out clearly. You can also use texture or patterns to enhance the contrast and make the card more tactile.
Go for braille or tactile features.
For individuals with visual impairments, adding Braille or tactile features to your business card can make it more accessible. You can include Braille text alongside the printed text or use raised letters or symbols to create a tactile experience. Adding these features can show that your brand is committed to inclusivity and accessibility for all individuals.
2. Textured or embossed
While many design options exist, embossed, textured, or raised business card designs offer a unique experience that can set your brand apart. 
These design techniques can help your business card stand out in a sea of flat, one-dimensional cards. The added dimension creates an experience that can leave a lasting impression on potential clients or partners. Plus, using materials like recycled paper or linen can convey a sense of environmental responsibility or luxury, depending on the design.
3. Different shapes
Most people think of the standard rectangular shape for business card designs. You may choose from various forms and sizes to make your business card stand out and make a positive impression on your clients and customers.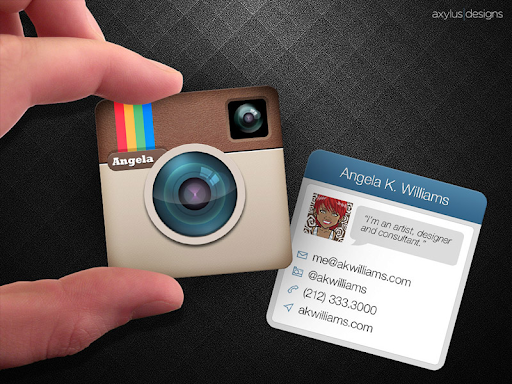 For instance, 
Die-cut cards are cut into custom shapes using a die. These shapes range from a basic circle or oval to a more sophisticated design. Die-cut cards are ideal for creative brands since they let you show off your artistic side.

Square cards are a good option as they stand out from the crowd while still being convenient to carry in a wallet. This design gives something a little different without losing functionality.
4. Monochrome color palette
Monochrome color schemes are a common design choice, creating a classy and professional appearance.
These business cards generally use a single color or different tones of the same color. Due to the simplicity yet classiness of the design, your card can stand out and leave a lasting impression on your clients and customers.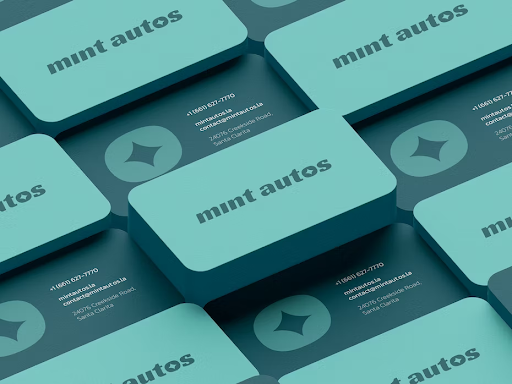 With monochromatic colors, your business card can have a traditional and timeless design. This is because the monochrome designs have proven to withstand the test of time and remain relevant for years, unlike current trends that might soon become out of style.
5. Images and illustrations are in!
If you want to level up the creativity of your business card design, add an image, graphics, or hand-drawn illustrations. These graphic elements can leave a lasting impression and convey important details about your company.
It's crucial to pick visual elements that complement your brand and messaging when choosing photographs, graphics, or illustrations for your business card. Think about the color, style, or subject matter most effectively representing your company and brand.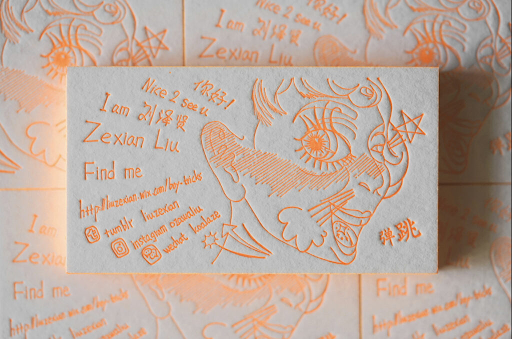 For instance, while a minimalist, classy design could be more acceptable for a high-end fashion boutique, a bright, lively design might be appropriate for a children's toy store.
How to give feedback on business cards?
Giving feedback on business cards can be tricky, especially regarding design elements. However, giving clear and constructive feedback can help ensure that the final product meets everyone's expectations. 
Instead of simply pointing out what you don't like, offer suggestions for improving it.
For example, "I think using a larger font size would make it easier to read" or "What if we tried a different color scheme that better aligns with our brand?"
You must also remember who the business cards are intended for when giving feedback. If they are aimed at a specific target audience, ensure that you build a strong creative workflow, leading to the design elements that appeal to that demographic. 
This task might seem challenging, but tools like GoVisually can be helpful when giving feedback on business cards. GoVisually allows you to give feedback on business cards and review business cards online. With GoVisually, you can annotate directly on designs and leave comments, making giving clear and specific feedback easier.
How to use GoVisually to provide feedback on business cards?
Here are 7 GoVisually features that can greatly improve the feedback process for business card design: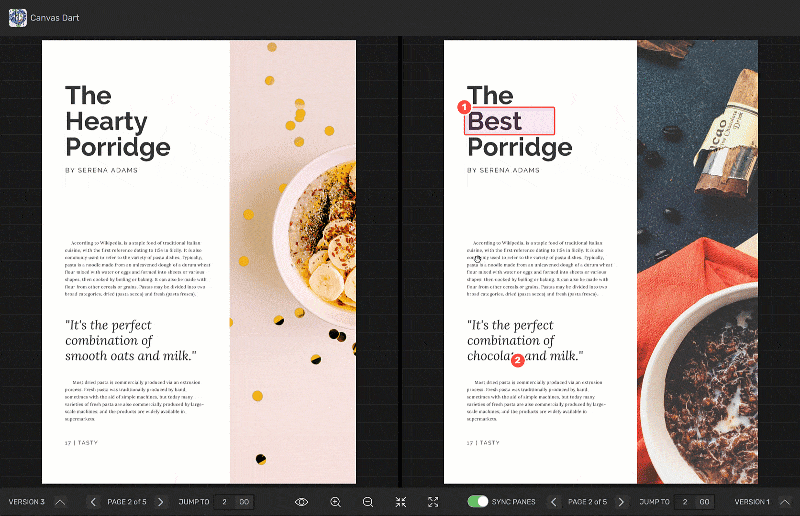 Easy collaboration:

With GoVisually, you can invite team members or clients to review and give feedback on business card designs in one place, making it easy to stay organized and on track.

Annotate and mark up designs:

Instead of vague or confusing feedback, use GoVisually's annotation and markup tools to point out specific changes or areas of improvement on the business card design.

Version control:

Keep track of changes and revisions using GoVisually's version control feature. This helps to avoid confusion and ensures everyone is on the same page.

Real-time commenting:

No need to dive into long-chain emails or meetings. With GoVisually's real-time commenting feature, feedback can be given and received instantly.

Mobile app

: Access GoVisually on the go with our mobile app. You can easily view and provide feedback on business card designs from your smartphone or tablet.

Secure sharing:

Share business card designs securely with clients and team members. You can control access to each design; all data is encrypted for maximum security.

Integration with popular tools:

GoVisually integrates with tools like Adobe Creative Cloud and Slack, making it easy to share designs and collaborate seamlessly.
Final thoughts 
Giving feedback on business cards is an excellent way to help your colleagues or clients create the perfect design to represent their brand. In this article, I've also discussed tips to spice up your business card designs and the popular business card design trends in 2023.
Giving feedback on business cards can be smooth and effective by following simple guidelines and utilizing tools like GoVisually.
GoVisually offers a range of features to streamline the feedback process, including version control, annotations, and real-time collaboration.
So sign up for a free trial today and unlock the power of visual collaboration!