Everyone is familiar with video ads as one of the most effective ways to garner results in the realm of video marketing. It is a powerful tool to attract new audiences far and wide, but the process involving its creation is still a difficult task. 
These days, many project managers lack the experience to coordinate the complex projects involved in video production. Managing an effective video production workflow is vital to get the best results. 
But before we get into it, let's first find out what a video production workflow is and how it helps create the most stellar video ads.
What is a video production workflow?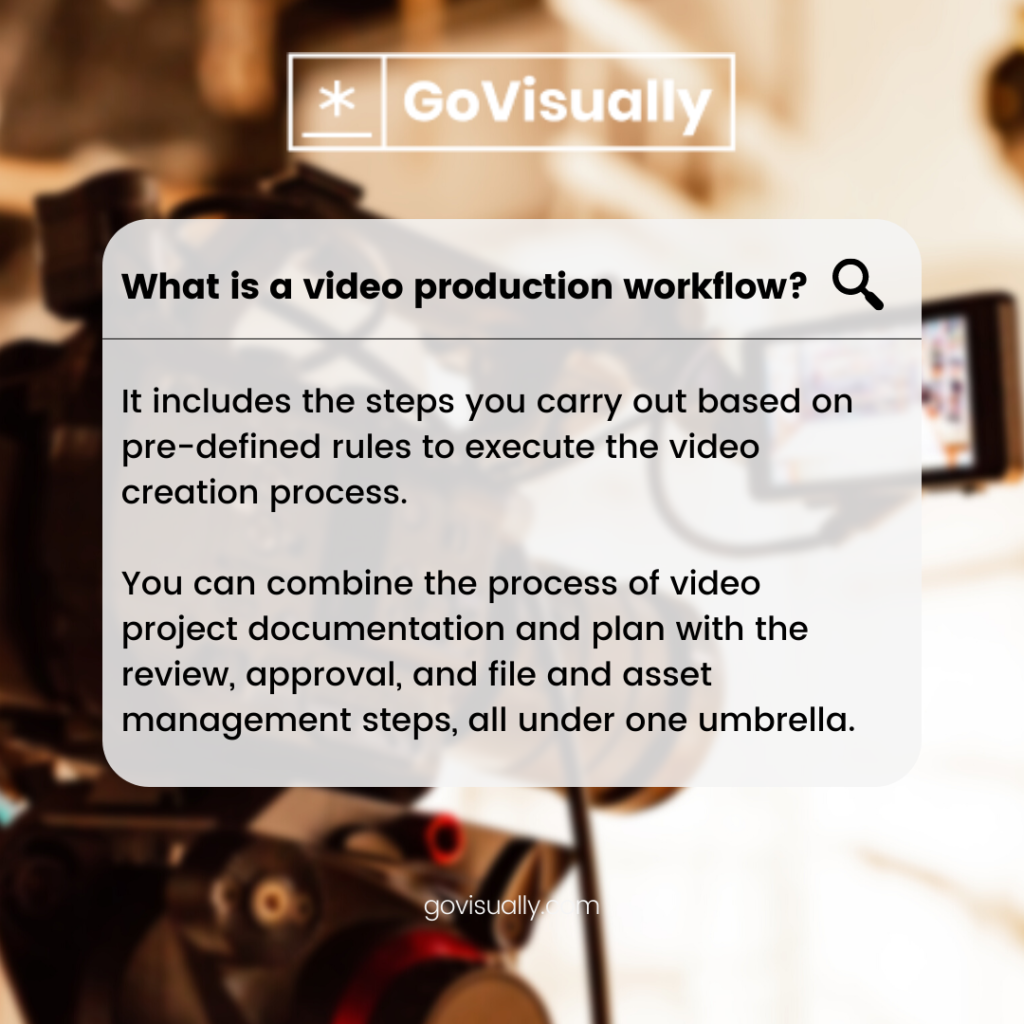 To put it simply, a video production workflow is the various steps you carry out based on pre-defined rules or conditions to execute a video creation process.
With a video production workflow, you can combine the process of video project documentation and plan with the review, approval, and file and asset management steps, all under one umbrella. 
This makes the production process optimized so that nothing is done in the wrong order, and all the information and the timeline of the work are accessible from one place for everyone involved.  
Why is defining a video production workflow to create video ads essential?
Imagine every time you need feedback for the video ads you're working on, there's just straight-up chaos, with clients sending you reviews from all over. And in the process of scrambling to get to each one, you miss out on half the edits you need to make because they got lost in the mess of it all. 
Video projects can get complicated if not handled properly because they involve many complicated parts. From video script approval to shoot and design and mapping it all out – there's a plethora of room for hiccups. And usually, multiple revisions are required before you get anywhere near the final result. 
Video ads nowadays require tight video production timelines because the demand calls for rapid distribution across social media and other on-demand content platforms. This is nothing short of a challenge for your team, and what they'll need is a workflow that manages resources and keeps everything on track seamlessly to get the job done.
So this is why it becomes almost a necessity to have your review process streamlined and in place.
Wondering how that might be possible?
Enters GoVisually – the #1 video proofing software.
You can upload as many projects as you want and invite reviewers to leave feedback in real-time. In fact, you can use it for both internal and external review processes. And once the video is finalized, download it or share it online.
Designing the ideal video production workflow for video ads
87% of marketers use video as a marketing tool, especially video ads. But to get to that end product, you have to go through video production, and for that, you need to design a workflow that will take you to the finishing line.
Here are the three important steps to take when designing the ideal video creation workflow for your marketing campaigns.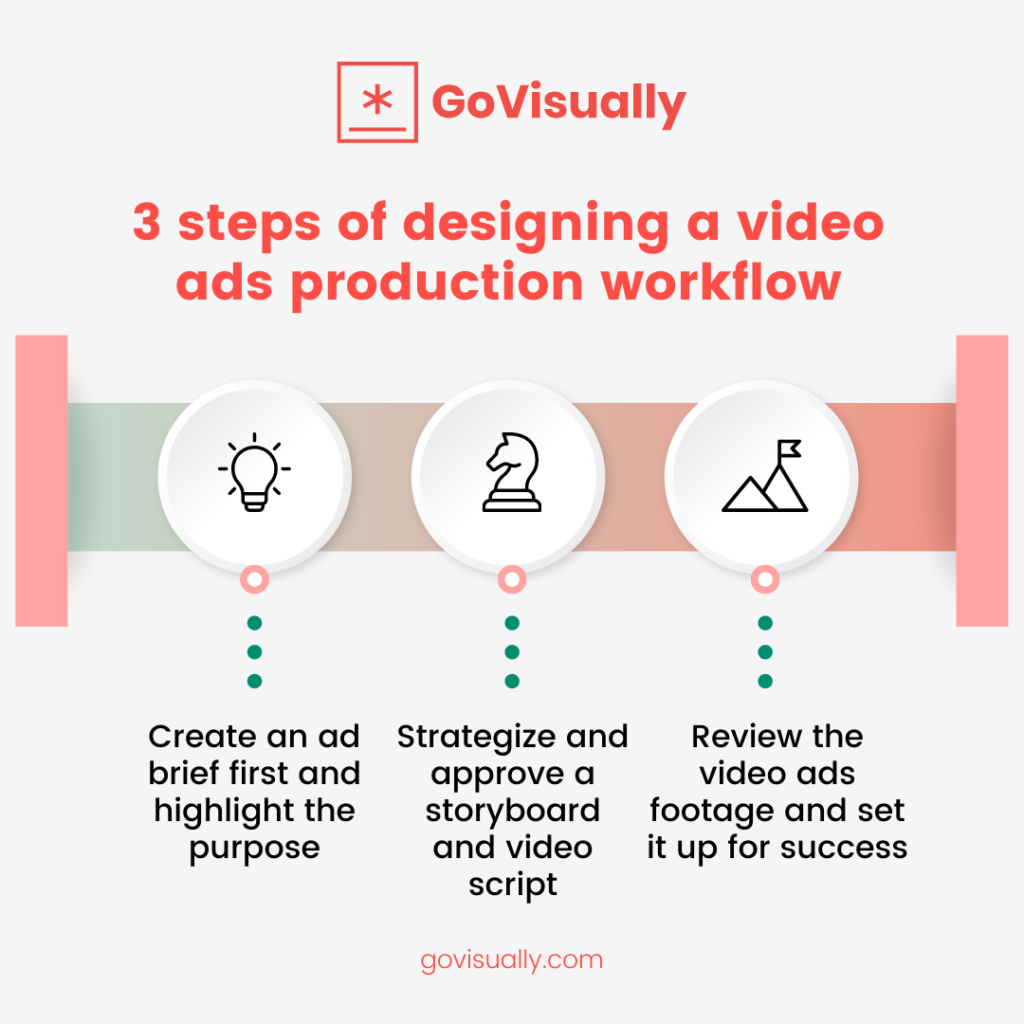 1. Create an ad brief
First things first, you have to figure out the pre-production stage. This is where you set up the foundation for the video ad you want to create, and you'll start with establishing the reference point, so it keeps everyone on track. 
And you can do this by creating and approving a brief. 
This will include the goal for the project and an outline of its narrative. So ask yourself the core objective and how this video ad will help you achieve it. You will also have to include the budget and timeline of the project. 
The timeline will include information on things like when you will finalize the script, when the shooting will start, at what point post-production operations will begin, and the target completion date you've set for the project. 
The brief should also clearly define all the roles and responsibilities of everyone involved in the production and editing process. This would include writers, animators, graphic designers, actors, directors, sound engineers, video editors, etc. 
It would also be beneficial to identify the stakeholders and reviewers involved in everything that has to do with the marketing, brand, legal, and accounting side of things. Your team should be clear on who will have the final say when it comes to approving content at different production points. 
2. Approve a storyboard and video script 
For any video ad, you're going to need a storyboard that outlines the critical plot points in its narrative. Although it will only be a rough outline, it will give stakeholders a more solid sense of what direction the project will take and what they can expect it to look like in the end. 
This is an excellent time to get a copywriter on board to put together the initial draft. Keep in mind that this draft will have to be approved by your key decision-makers before going ahead with production. 
You can share the draft file easily with unlimited reviewers by using proofing software. All you're going to need is a link to share with everyone, and once the process starts, you can organize multiple revisions of the script in different labeled categories to avoid any mixups. 
Don't forget about your shot list as well. This list will have two sections called A-Roll and B-Roll, where the former will have all the primary footage while the latter will have the supplementary footage you can cut away to.
3. Review the video ads footage
This stage is all about getting the raw footage to refine and edit post-production.
You'll probably begin by setting up lighting, filming, getting b-roll and voiceovers, and then generating the rough cut and behind-the-scene promo content. 
Uploading and maintaining all these related assets onto one proofing platform like GoVisually will allow your production, media, and marketing teams to store what's important and make edits along the way as they see fit. 
You will probably come up with an average of 2-3 versions of the video ads before getting to the final cut, which will make the process pretty time-consuming just reaching that point. 
You can save time and optimize your video creation workflow by making sure you keep an orderly timeline, keep autosaving in case of crashes, and use technology to transcribe the audio instead of doing it manually. 
Remember, when you take shortcuts, make sure you're taking the right ones and not just those out of laziness that's only making your work longer.
Cut design & video review time in half
GoVisually is the #1 online proofing software to get visual feedback on Designs, PDFs & Video content.
Try GoVisually free today!
Wrapping up
Optimizing your video production workflow with online proofing goes a long way, especially when creating video ads. That's because it involves revising scripts multiple times, getting approval from all stakeholders, and getting the correct branding elements in order.
All of which involve a collaborative effort from the different teams involved. However, if you follow through the 3 strategic steps of video ads production and use GoVisually for the video proofing process, you'll be good to go!
So say goodbye to messy emails and say hello to fast feedback and approvals; starting today.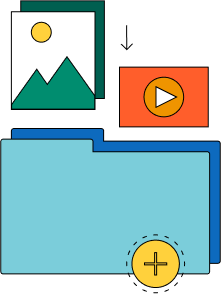 Need a quick way to share large files and creative assets?
With GoVisually Share, it's absolutely free! Try today.