As creatives and project managers, we're all aware of the lure of a simplistic spreadsheet storing all your data seamlessly! But imagine what would happen if the same spreadsheet was powerful enough to act as a digital database with asset reviews? Enters Airtable.
Today, we will discuss how creative teams, print shops, and businesses can use Airtable for the creative review process. We'll also talk about the latest GoVisually and Airyable integration through Zapier and how that can quadruple your efficiency.
So let's start!
What Is Airtable?
Airtable is a spreadsheet database to store your data and optimize it for improved efficiency.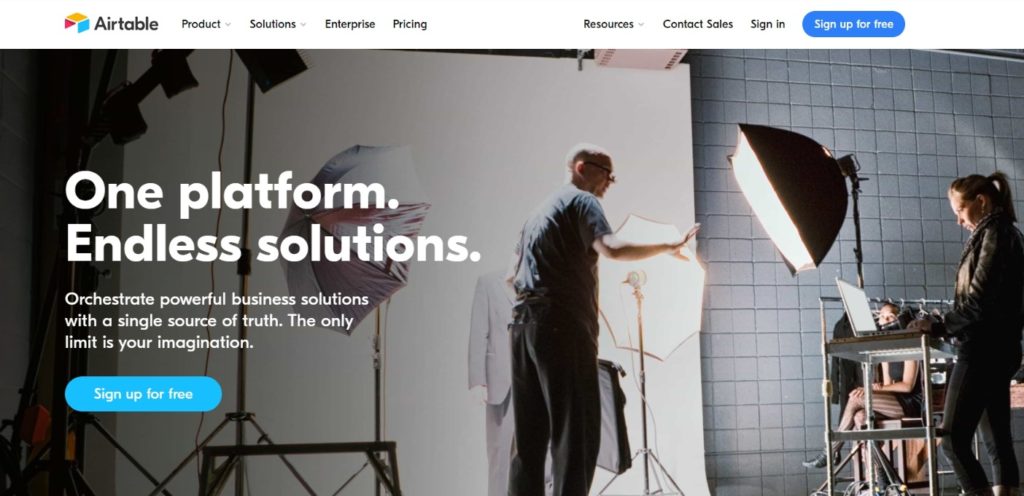 Basically, it is the spreadsheet modernized, integrating features of a database within a spreadsheet. That means you'll get the clean and organized look of a spreadsheet combined with the versatility and functionality of a modern database system. Airtable fields are like the cells in a spreadsheet and have types such as 'phone number', 'checkbox', and 'drop-down list'.
What's more, it lets users reference file attachments such as images within sheets.
In a nutshell, you can create a database, set up column types, add records, link tables to one another, collaborate, sort records, and publish views to external websites. The software lets you save data in a spreadsheet that's visually appealing and easy to use.
And at the same time, it's powerful enough to act as a database for things such as task management, customer-relationship management (CRM), project planning, and tracking inventory.
Airtable x GoVisually – An Even Better Way To Automate Work!
Thanks to the software integration tool Zapier, you can now connect Airtable to GoVisually (an online feedback and review software) so that you're always one step ahead of client reviews and regular feedback. 
You can integrate GoVisually and automate all data within a single application. There's no need to move back and forth on tabs and waste time on so much manual effort. With this integration, you can send links to each new feedback, comment, and revision directly to Airtable. You can even deliver finalized assets for download from Airtable all the while reviewing and collecting feedback through GoVisually.
This way, your team stays streamlined while minimizing manual effort.
Airtable also introduced an asset review feature last year, which essentially enables you to give clear, specific feedback to your team about individual tasks. As a result, you can convey what elements a reviewer may want to see updated and where (and when) specifically they should make those changes.
So, let's take a look at how you can use Airtable to simplify your review process.
Import a Spreadsheet or Start From Scratch
A great feature of Airtable is that you can import a spreadsheet or start from scratch. But what's even more remarkable is the feature that enables users to link and create "relationships" between tables. Those relationships are already built with a template, so all that's needed is data input.
Data Organization
As the Airtable documents look and feel just like standard spreadsheets, you may add and customize fields as you please. But moreover, here are some bonus features:
You may add photos to cells, put them in checkboxes, and add star ratings.

You can add or change a record the same way you may do in Excel or Google Sheets — all you'll have to do is click into it and do what you need to do.
View Information From Different Tables
Airtable allows you to link separate tables together, which means that all your data will appear in a coherent and connected manner. For example, if you were organizing a bookshelf, clicking on an author in the books table would open up a pop-up window with information from the author's table. As a result, you could manage your entire feedback and review process from one platform. 
Speed Up the Review Process and Stay High Quality
Without organized feedback, working through multiple rounds of revisions and updates to a single asset might take days or even weeks. It can slow down your entire content creation pipeline – delaying publishing dates, campaign launches, and more.
But with asset review, your team can quickly give feedback in the same space as content plans. As a result, you won't waste any of your time switching to and fro between various tools, and you'll even have a record of all your feedback in one place. 
That aside, asset review also ensures that the added feedback is specific by allowing reviewers to comment directly on an image or video area. That way, the creative team is clear about what each statement means. It'll also be easy to understand what the reviewer might be referring to in their feedback. 
Overall, using Airtable, your team can move through feedback and get to a final version faster while still keeping the quality bar high.
Using the Asset Review Feature in Airtable
Since Asset review builds on existing Airtable functionality, it won't be too hard to use if your team is already familiar with similar software. First, you can start at the base, where you can work through your creative assets. And while doing this, remember to add an attachment field so you can easily upload images or videos later and associate them with the correct records in your base.
Then, once you have an asset ready for feedback, you can upload the attachment to the corresponding record in your base. Once uploaded, let your team know that you are prepared for the next-stage feedback by mentioning a @name in a comment. On the other hand, if it's the same people reviewing the work, you automate the entire process! The app will automatically send a Slack message or an email notification every time an attachment is added and should be reviewed.
Finally, reviewers may then open that attachment and leave whatever feedback they want directly on any part of the image or video. These comments show up as annotations on the image, and team members can "spread" them to get the full view of the feedback. As your team works through the feedback, they can also ask questions by directly replying to comments. And because this conversation takes place in a thread, it can help revisions stay focused.
What Can You Use Airtable For?
So, now that we know how Airtable works let's talk a bit about where you can put its features to good use!
For starters, as mentioned before, you can use asset review to leave feedback or even add attachments. You can even use pre-made Airtable templates to get your review process up and running in a few minutes. But here are some specific places you can use the software:
Asset tracker

Marketing campaign tracking

Marketing asset management

Content calendar

Digital asset management

Design project pipeline
Key Takeaway
Overall, Airtable can help change your creative review process and make it a lot more effective, efficient, and smooth!
The power of a database combined with asset reviews has now become a necessity in the design world. And the best part is that you can leverage all these features with the #1 proofing software – GoVisually!