Checklists are an absolute banger if you love organizing tasks. But how to use checklists for a fast review process?
Understand that effective collaboration and streamlined workflows are crucial for businesses to succeed in today's fast-paced digital world. And to do that, you need to have a seamless review and approval process for creative projects like design, marketing campaigns, or content creation.
GoVisually, the #1 online proofing tool, has recently introduced a game-changing feature: approval checklists.
So in this article, I'll be covering the following:
Top challenges with a traditional review process
Benefits of using checklists for review and approval
GoVisually's approval checklist feature and its winning advantages
I'll also discuss how checklists can revolutionize your review process, enhance collaboration, improve efficiency, and boost productivity.
Let's dive in!
3 challenges of the traditional review process
Let's first understand the common challenges faced during the traditional review process. These can help you understand how checklists help eliminate all these anomalies.
The top challenges include: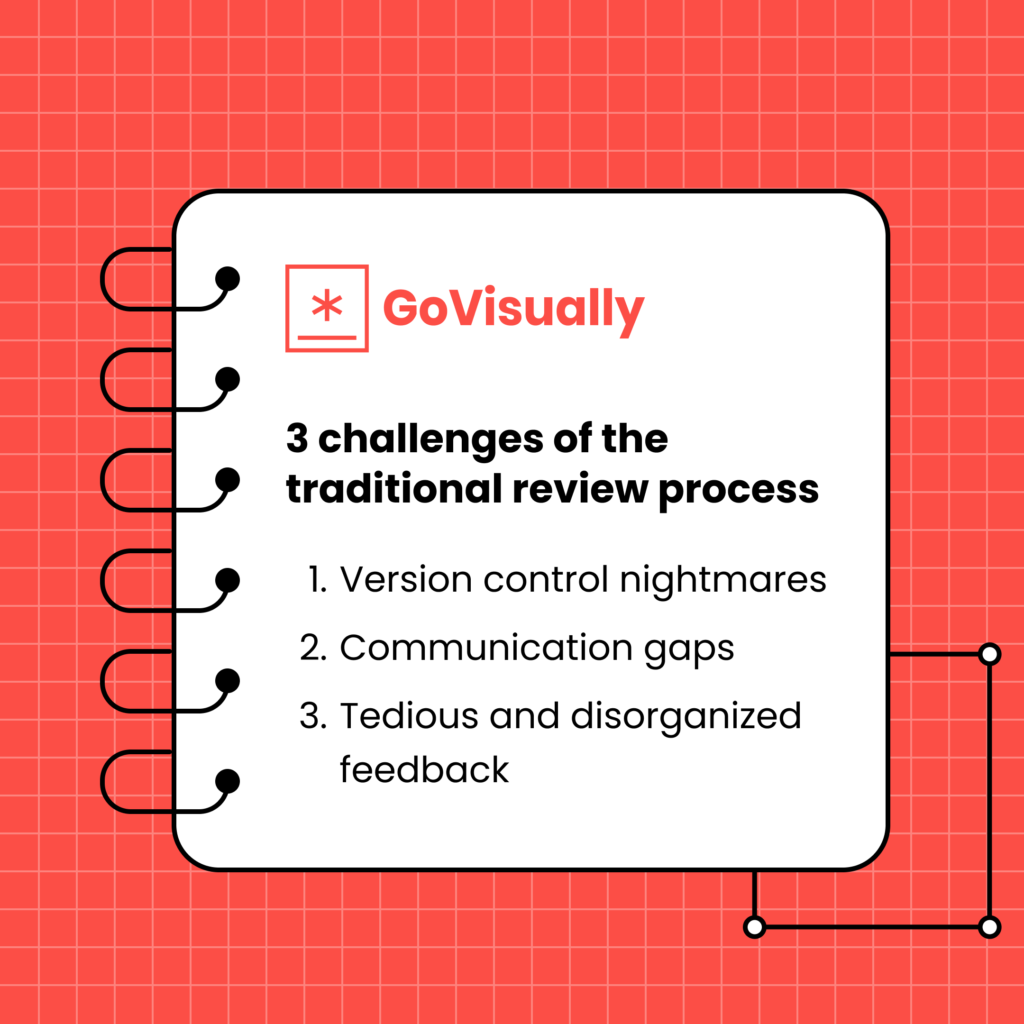 1. Version control nightmares
Keeping track of multiple versions of a project can be a daunting task. In a traditional review process, it becomes more of a hassle as there is no automation to track and control version history.
So, without a streamlined system, it's easy for feedback to get lost or for team members to work on outdated versions.
2. Communication gaps
Ineffective communication leads to delays, misinterpretations, and a lack of clarity in feedback. Communication gaps are likely to occur without a centralized and automated review process. This can hinder the progress of a project and impact the final quality.
3. Tedious and disorganized feedback
Providing feedback through long email threads or scattered comments can be confusing and time-consuming. This inefficiency hampers the overall review and approval process.
Introducing GoVisually Approval Checklists!
At GoVisually, we work with a simple motto, do what great looks like!
We recognized the need for a more efficient review process and have responded with a powerful new feature: approval checklists.
With our approval checklists, teams can enhance collaboration and streamline their workflow by creating custom, task-specific checklists that stakeholders must review and mark before approving.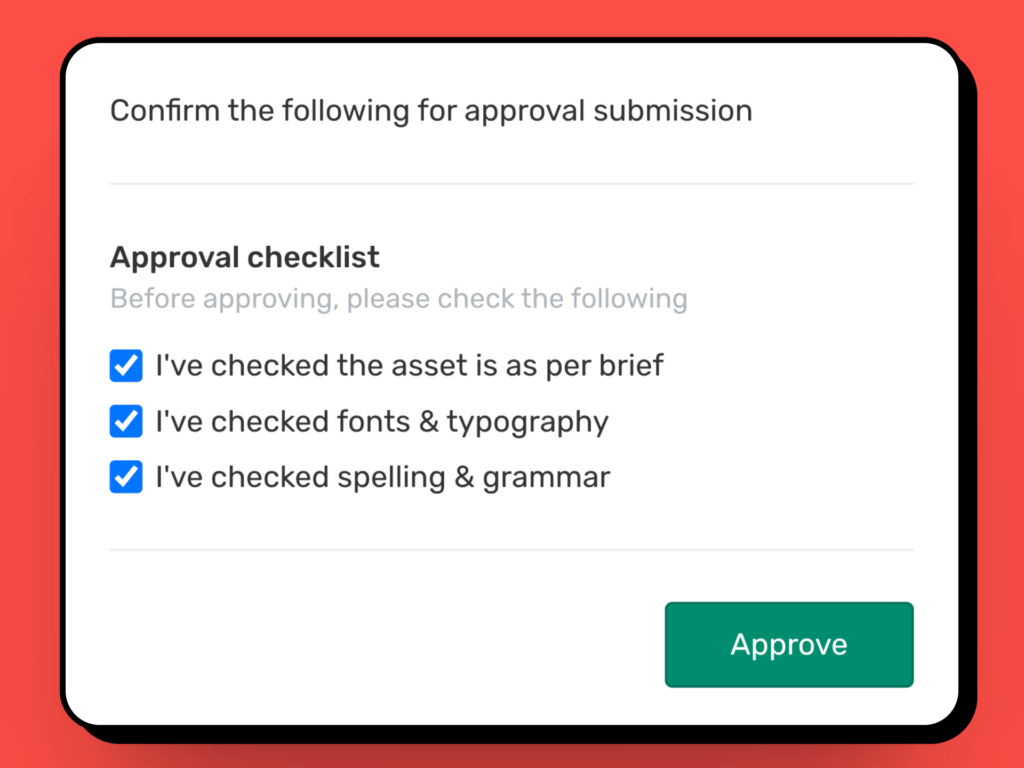 Let's explore how this feature addresses the challenges faced in the traditional review process.
1. Version control made easy
Using checklists, GoVisually simplifies version control by allowing users to organize and track revisions easily.
Each checklist item corresponds to a specific change or revision, ensuring that feedback is clear, concise, and actionable. This eliminates confusion and ensures everyone works on the project's latest version.
Imagine you're a graphic designer working on a website redesign project. With GoVisually's checklists, you can create checklist items for each element that needs revision, such as the logo, color scheme, and navigation menu. This allows the stakeholders to provide feedback on each item, ensuring the revisions are implemented accurately.
2. Enhanced collaboration and communication
GoVisually's checklists enable seamless communication among team members, eliminating the need for lengthy email threads or confusing comment chains.
With checklists, stakeholders can provide feedback directly on specific checklist items, ensuring that all feedback is consolidated in one place. This real-time collaboration fosters clear communication and accelerates the review process.
The approval checklist feature can significantly reduce errors across your marketing approval workflow.
Let's say you're a marketing manager reviewing a social media campaign proposal. With GoVisually's checklists, you can provide feedback on each checklist item, such as the campaign objective, target audience, and messaging. The creative team can address each item individually, ensuring that all feedback is addressed systematically.
3. Streamlined feedback and approval
Checklists make the feedback process more organized and efficient.
With the ability to break down feedback into individual items, reviewers can provide specific, granular feedback that is easier for the creative team to implement. As items get checked off the checklist, it visually represents progress and completion, making the approval process more streamlined and transparent.
Consider a content creation project where multiple stakeholders must review and approve blog posts. GoVisually's checklists allow reviewers to provide feedback on each paragraph, heading, or image within the blog post. This granularity enables the content creators to address each item systematically, resulting in faster approvals and a smoother workflow.
4. Customizations and personalizations
Our approval checklists make the feedback process more customized and personalized to your brand needs.
Using the feature, you can create personalized to-do lists tailored to the unique requirements of each project. This helps you define the tasks and items stakeholders must review for your creative work.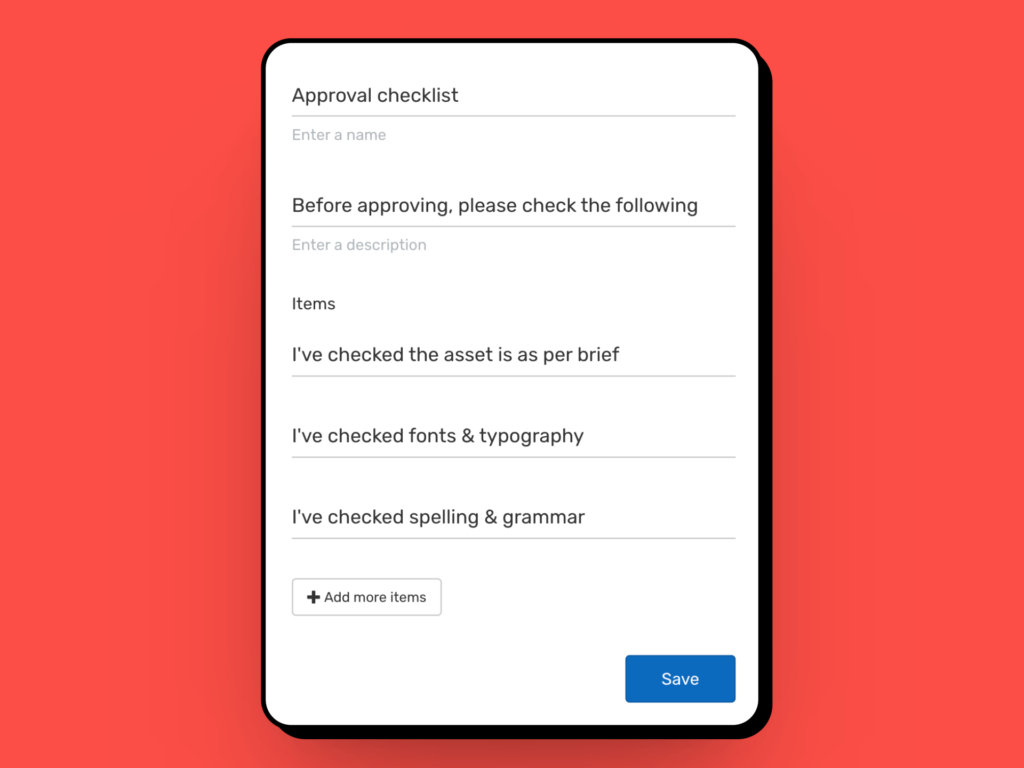 5. Multiple checklists for rocket fast review
Although this is a pro plan feature, it's the one I love the most!
The need for this stems from the difference in each approval process. We understand that different groups of stakeholders may have distinct approval criteria. That's why our feature allows you to display specific checklists to other sections of people.
With multiple checklists, you can ensure fewer mistakes and increased efficiency.
3 instant benefits of using approval checklists for your review process
Let's explore the 3 key benefits this feature brings to your workflow: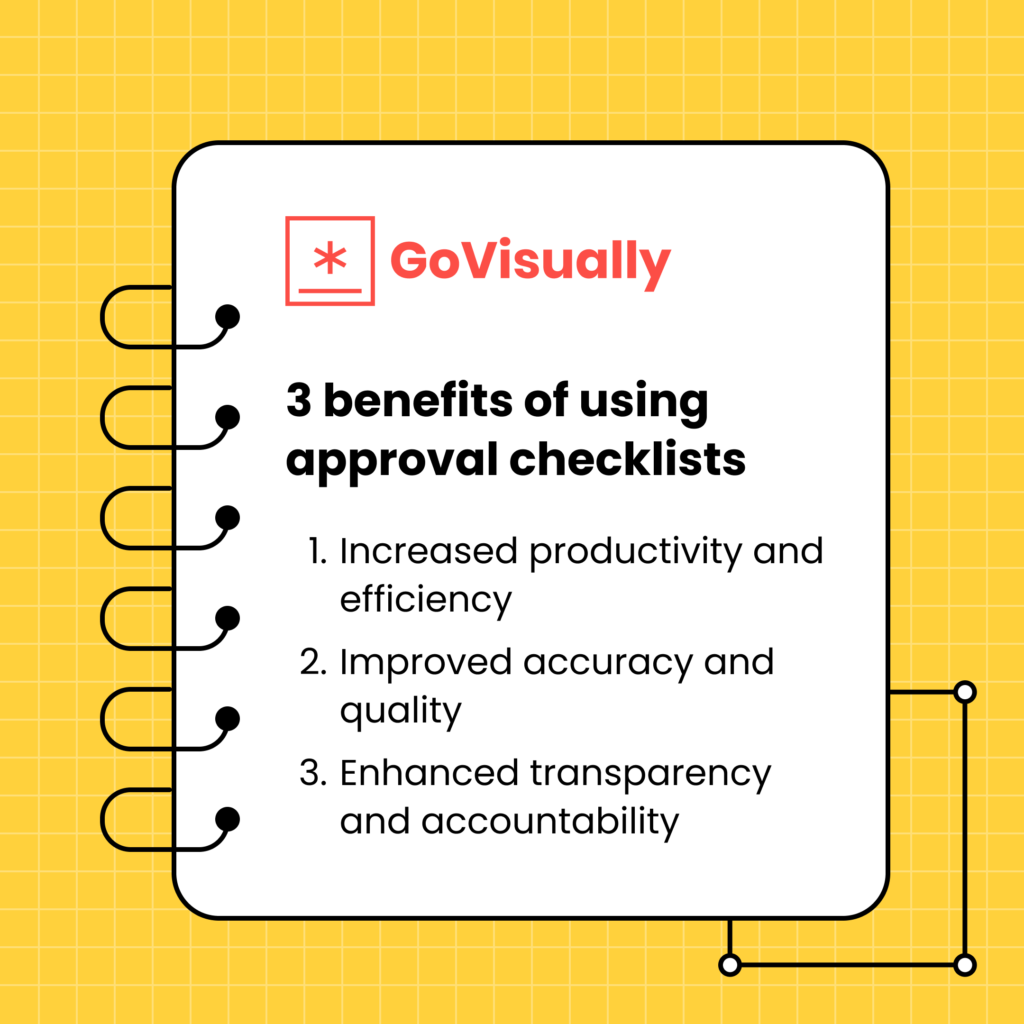 1. Increased productivity and efficiency
According to McKinsey, improving collaboration and streamlining workflows can increase productivity by up to 25%.
And using checklists can save valuable time by eliminating back-and-forth communication and reducing the number of revisions. This efficiency boost allows your team to focus on delivering high-quality work within shorter timeframes.
2. Improved accuracy and quality
With checklists, reviewers can provide specific and detailed feedback, ensuring that revisions are precise and accurate.
This helps your creative and approval team understand the required changes by addressing each checklist item, resulting in a higher-quality output. And it effectively reduces the chances of misinterpretations and rework, ultimately saving time and resources.
3. Enhanced transparency and accountability
Checklists provide a transparent view of the review process, enabling stakeholders to track progress and identify any bottlenecks.
The visual representation of completed checklist items gives a sense of accomplishment and motivates team members to meet deadlines. Additionally, the accountability factor ensures that everyone stays on track and takes ownership of their assigned tasks.
Embrace the power of checklists with GoVisually!
Convinced yet?
Our approval checklists feature is a winner; you must try it today.
By leveraging the feature, you can unlock a new level of collaboration, quality, and success in your creative projects. So, embrace the future of review and approval processes with GoVisually's approval checklists.
Sign up for GoVisually today and experience the power of approval checklists in streamlining your review and approval process.