As more and more people shift towards using project management tools, we'll discuss the relevance of one of the most prominent ones today. In this quick article, we'll explain how to use ClickUp for creative project management. So let's start!
We know how challenging the project management process can be. Especially when starting on a new creative project. It would be best if you had an organized and neat collection of resources, deadlines, contacts, and everything else you may need. In other words, having them in one place can save you a lot of hassle later, and that's why a platform like ClickUp can be incredibly beneficial.
For those of you still wondering what ClickUp is, let's do a quick recap.
What Is ClickUp?
Basically, ClickUp is digital database software that can help you organize your projects. Its features include customizable workspace templates, the ability to import data from other apps, and other organizational tools to make your work easier.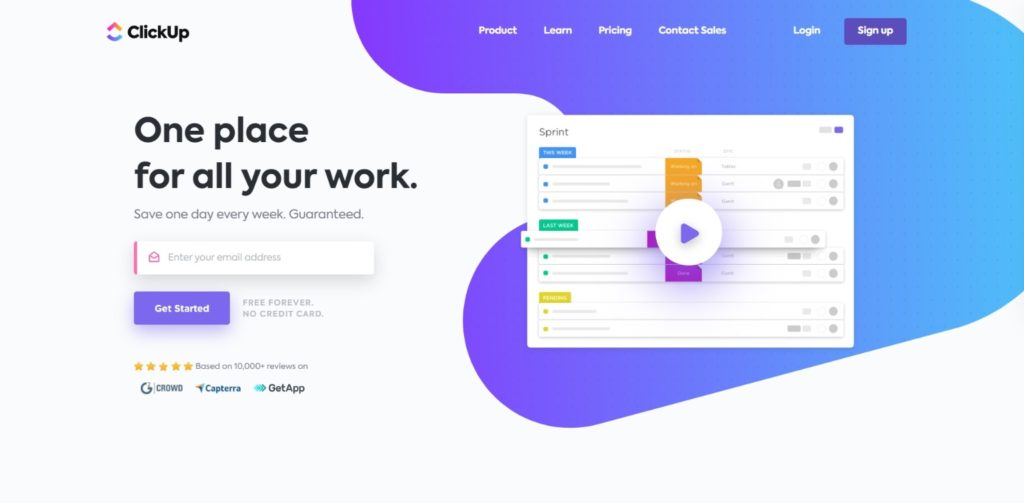 ClickUp Is Free Forever
If you were wondering whether there's a cost catch to all this talk of brilliant project management, you're about to be surprised. 
ClickUp with all its essential features is completely free! Of course, you may upgrade to more features at a specific price any time you may want, but the basics are covered. That means you get to use all the customization tools and various app features with no strings attached.
What's more, integrating this application into your workflow will quadruple your efficiency both as a project manager and team. So, let's talk about the "how" of it.
Designing Your Workspace
The one limiting factor of many data integration and spreadsheet softwares is that there's only one format to it. In other words, you can't change the way that the digital space essentially appears. All you can do is try to fit your needs inside it to the best of your abilities. 
Now, doesn't that sound old?
With ClickUp, you'll no longer have these restrictions!
The software offers various exciting templates for you to choose from and design your workspace view how it suits you and your team. Whether that's a 'Box' or 'Board' view or perhaps' Mind Maps', you have a lot of leeway with the structure and flow of your workspace.
You may track your entire project with beautiful view screens from start to finish and have a digital workspace that perfectly fits your current team, project, or business.
World-Class Features
Talking about the user interface, Clickup allows you to create tasks for anything. You can also alter your project details using world-class feature customization. Whether you want to color-code everything down to the tee or create several lists on the same white space, it's all there!
And of course, documents, spreadsheets, and emails are all integrated into the software. So when we say it's all in one place, we mean it. What's more, with the feature of timelines, calendars, and reminders, there's about no way you could not be managing your time right.
ClickUp ensures to give users multiple ways to design schedules and track all progress. In turn, that allows you to stay on top of your project for the entirety of its run and ensure everything is laid out concisely in front of you.
The Best ClickUp Integration
Currently, ClickUp boasts 1000+ integrations to enable users to easily import and sync items from other softwares so that you can manage your project(s) all in one space. The application is designed keeping in mind teams of 10 to 10,000, so there's no limit to what you can do with the workspace.
Whether you're a small or large business, it'll offer you the perfect way to organize all your data in one place.
However, if one ClickUp integration stands out, the rest is the newest one – GoVisually's integration through Zapier. This is especially helpful for creative teams managing projects through ClickUp and needs revisions on creative assets. This can include getting approval on designs, videos, and creative ad copies.
We all know how daunting feedback collection can become. This is also true for freelancers working with different companies. Getting the right feedback and making changes can become Achille's heel for many. So to fix this, you can now integrate ClickUp with GoVisually and get instant approvals in a single app.
You don't have to have multiple tabs open and make changes everywhere. Control and track feedback with either app and the other one would be updated automatically. Thus, making your workflow more automated and efficient.
ClickUp Saves Time & Increases Efficiency
When it comes to projects, we all know that time is always short. And if you add the hassle of multiple-channel feedback or scattered resources to that, it'll end up wasting even more of your time. But with ClickUp and GoVisually's integration, that can change.
For starters, you can move team ideas into action a lot faster when using the software. You can collaborate and build complete project alignment by adding comments (or feedback) to any document or task. You can also assign action items with your comments, ensuring that you clarify the next step to be taken right alongside.
Moreover, the 'Dashboards' feature enables users to see everything at a glance! You can add visual widgets for team members, documents, tasks, time tracking, statuses, embeds, and anything else you can imagine. And you can even chat in real-time with your team and share attachments on the go. 
Lastly, ClickUp also integrates time tracking insights within the app alongside a global timer that can work from mobile, desktop, or Chrome. So essentially, you can set clear project deadlines with proper time estimates and also consistently monitor the time spent on individual tasks.
Key Takeaway
ClickUp is a database that comes to life with its high-end features, sleek user interface, and various software integrations. Digital spaces should never feel restricted – especially for creative teams – and that's precisely why GoVisually's integration will help.