Approved. 
The immense joy this one word brings to every creator is tremendous.
After those tens of hours of relentless creation, coming up with new ideas, and efforts to achieve the desired results come to an end, we all wait for the eventual approval request to get through.
With great anticipation and a tad bit of apprehension.
To save you time and worry, here's a guide (with samples) for writing and submitting that one request for approval, which even the most demanding superior would find difficult to refuse. 
So let's begin!
Cut design & video review time in half
GoVisually is the #1 online proofing software to get visual feedback on Designs, PDFs & Video content.
Try GoVisually free today!
What is a request for approval?
Suppose you came up with an amazing plan to target a certain service or prospect for your organization but don't know how to convey it, or you want to ask for a deadline extension politely, or you're done with your project. Still, you don't know how to declare it to your contractors in an impressive way.
These scenarios are common for every business, and you're probably already aware of this never-ending cycle of seeking approval on your project timeline. Whenever you seek approval from a manager or a client, you will have to craft a request for an approval letter. 
You might have to send it before an agreement begins, during the project for each milestone you achieve, and again at the end for the conclusion. Anything from asking for more resources to finalizing a task requires a lengthy process of sending requests for approval. 
Why is it necessary to have a process for approval?
Internal procedures need to be streamlined for efficient and timely task completion and high-quality output.
Having a clear process for approval and sending requests for approval before taking any major steps in a project is important for several reasons, like: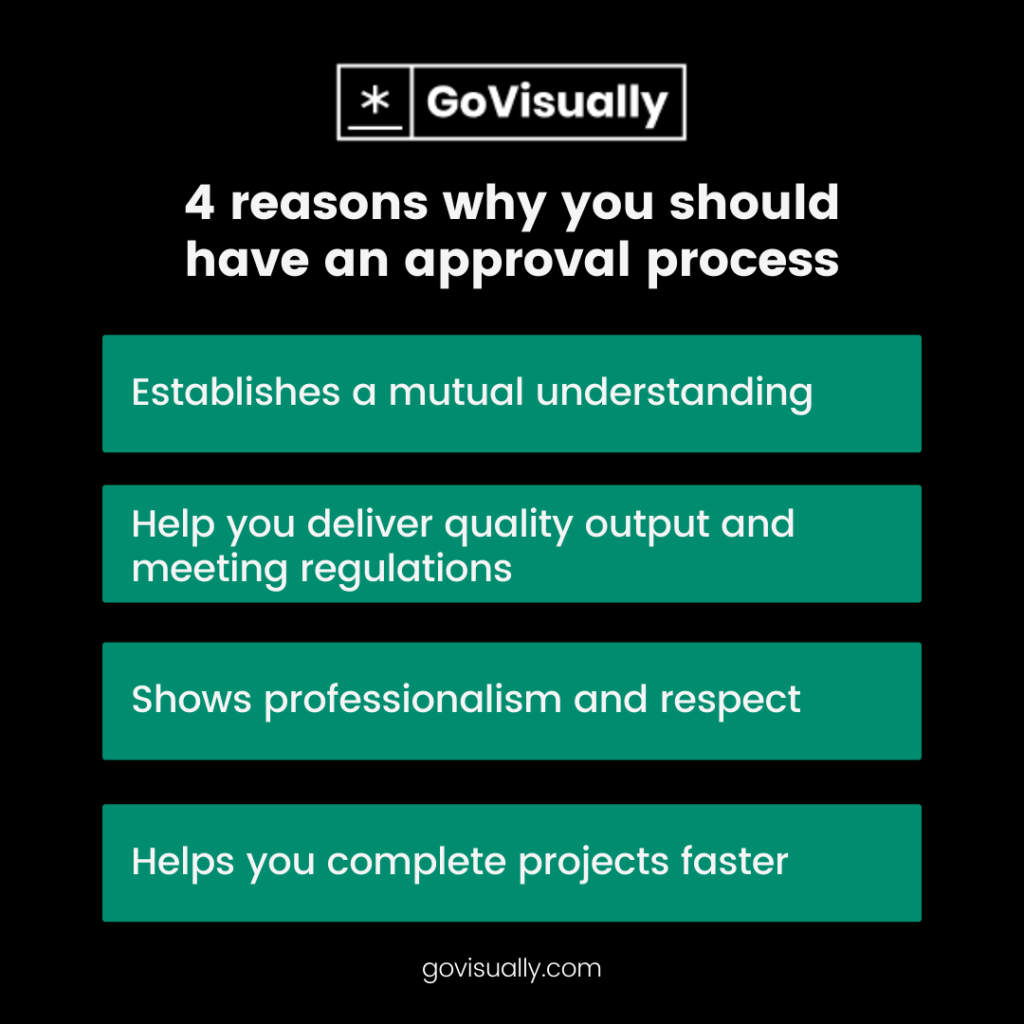 Creating a mutual understanding

– when you're writing a request for approval, you provide the person in question with the necessary insight for commencing, continuing, or concluding a project. It helps keep everyone on the same page and maintain clear objectives.
Delivering quality output and meeting regulations

– to ensure that your creative project meets the quality standards and

brand compliance

and is in line with the organization's regulations, topic experts need to give it a structured and standardized review before moving ahead. So that critical mistakes can be avoided.
Showing professionalism and respect

– when you're sending in a request for approval, it showcases your professionalism and ability to support the proposal confidently. Especially when it's well-written and persuasive, it's also a matter of respect when you acknowledge the receiver's contribution and authority. 
 

Completing projects faster

– a set procedure is convenient to follow and keep tabs on. While everyone is dealing with their ends of the tasks, an approval process makes it easier to sort them and later combine them while following a schedule. 
In the case of efficient project management, long threads of emails prove to be extremely unproductive and time-consuming. A better action model is to use a faster online review and approval software GoVisually. You can easily categorize your projects and leave feedback in real-time for better and smoother collaboration.
What would you call an effective approval request?
An effective approval process significantly decreases the hassle creators usually go through for every creative project. Similarly, an effective approval request is clear and concise with its structure and explanation of the proposal.
A successful request for approval will contain the following.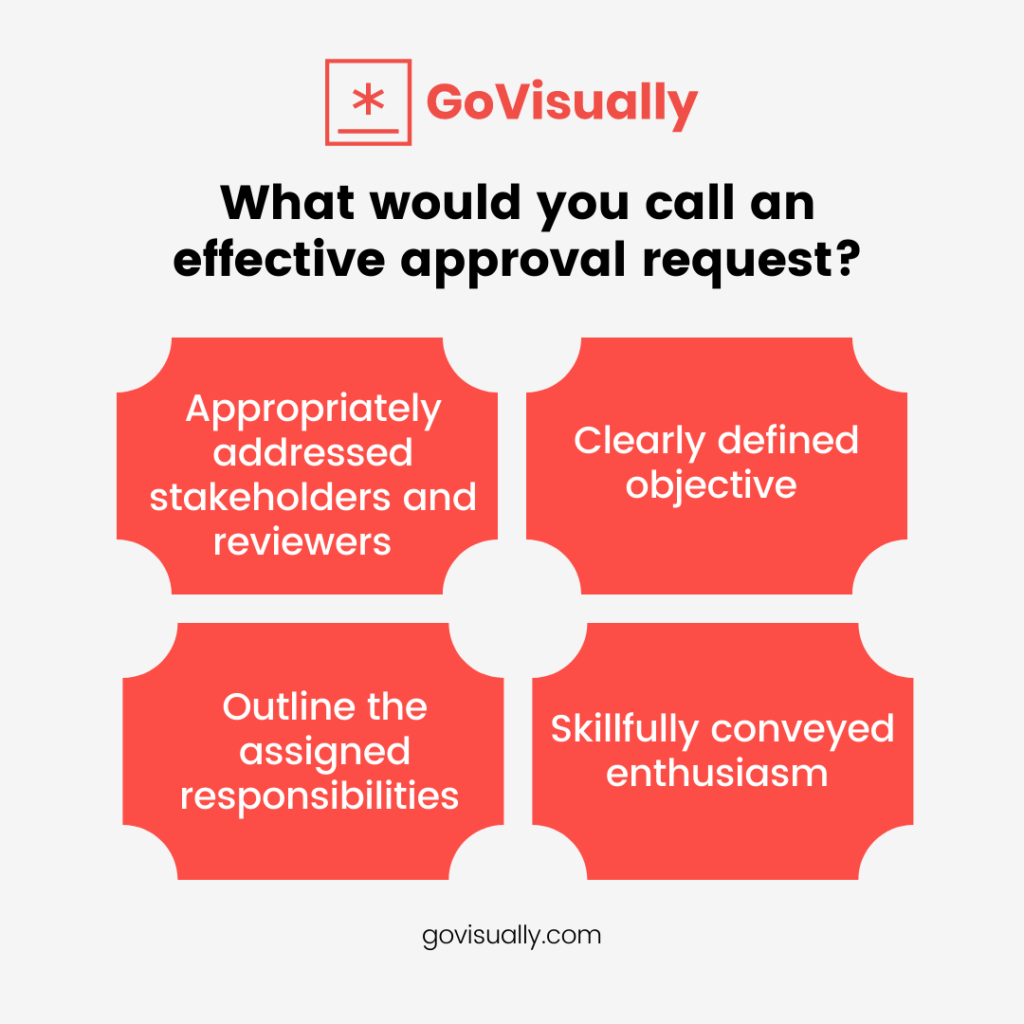 Appropriately addressed stakeholders and reviewers 
You won't be sending an approval request for design to the finance manager for obvious reasons. Additionally, all businesses have important stakeholders that need to be addressed clearly in your letter because they will also be involved in the proposal. Make sure you're referring to the right people in your approval request.
Clearly defined objective
Don't beat around the bush and use flowery terms. Write your letter in a formal, clear, and authoritative tone.
Define your purpose for the request right at the beginning and give a detailed description of the why and how of what you'll be doing. It would be better to describe your proposal using steps and attach the relevant information your managers would while considering it.
Outline the assigned responsibilities 
It's always a great idea to add a brief explanation on who contributed where and how the defined goal was or would be achieved. It will accelerate the approval process and give the managers a clear understanding of the context. 
Skillfully conveyed enthusiasm 
Although it's a formal letter, you should not hold back from conveying your enthusiasm and anticipation.
Using strategic emotive language would make your sound sincere and help you gain your stakeholders' interest and trust. It will help you become more persuasive because the greatest appeal in human nature is the appeal to emotions.
Types of requests for an approval letter
So far, we have considered the approval letter writing process.
However, there's a range of different situations that you can encounter. The steps above to make your approval request an effective one apply to most types of approval letters you'll find yourself writing.
A list of which may contain:
Approval for a project proposal

Increase the budget and resources for a project approval

Get an approval to extend/adjust a deadline 

Approval to hire a project-specific expert 

Request for feedback 

Final approval for a creative project (e.g. content, graphics, video)

Approval to redefine a project's goal

Approval to proceed  after completing a project milestone 
Writing a request for approval – an outline
An overarching outline for any request for an approval, great to use as a starting point, would follow these steps.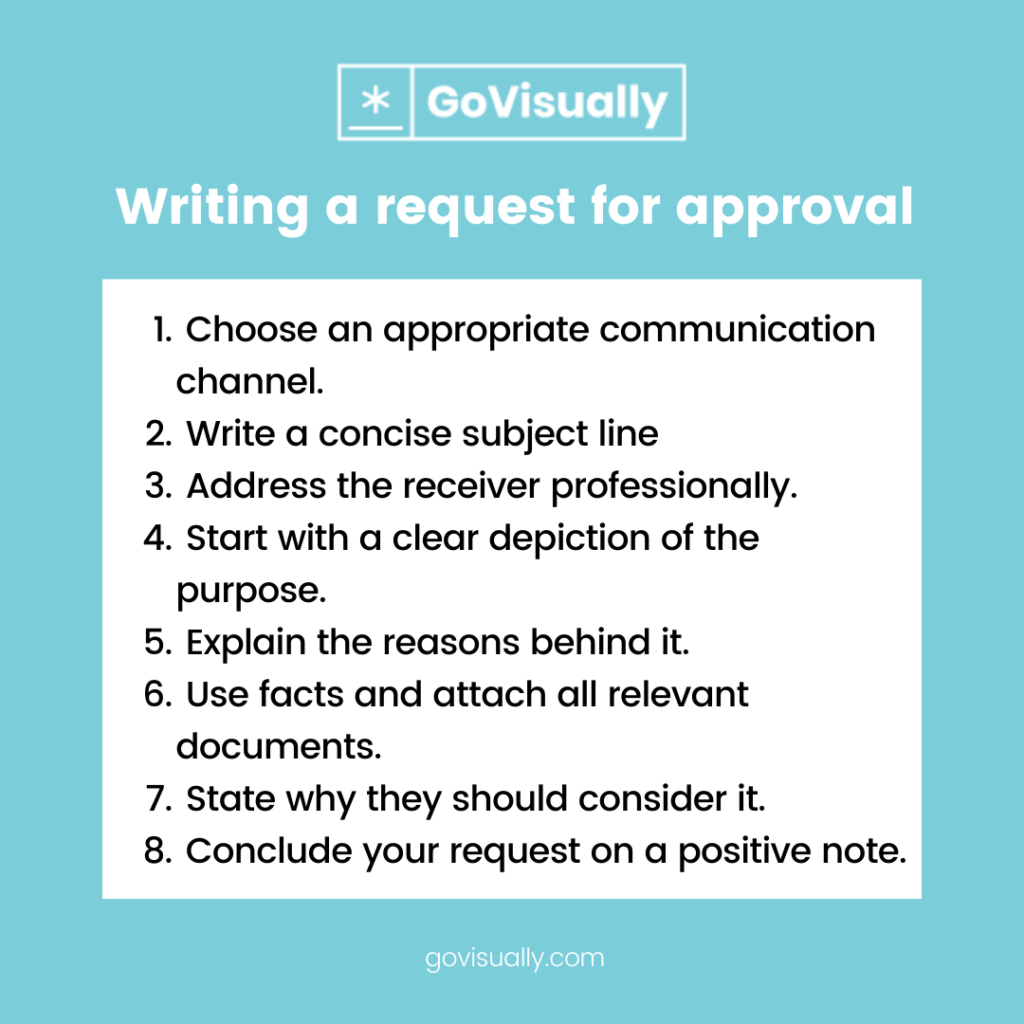 Choose an appropriate communication channel.
If you're thinking about sending a text message saying, "Hey, I got a request to approve ASAP." Stop thinking. Now think again about how to pursue your manager, stakeholder, or client from a professional channel, most often through but not limited to an email.
Write a concise subject line
Make your purpose clear by writing a crisp, on-point subject line to convey the purpose of your email. It will catch the receiver's attention from the very beginning.
Address the receiver professionally 
In line with addressing the stakeholders and reviewers appropriately, also do it professionally. See if it's a person or a group of people you're referring to, and if you know them by their first names use that to make it clear whose approval you're looking for.
Start with a clear description of the purpose 
As stated before, defining your objective is the most crucial part of this whole tandem. So get it right at all costs.
Explain the reasons behind it 
There has to be a reason if you're going through all these lengths. Name it, highlight it and explain it thoroughly, so it doesn't get overlooked.
Use facts and attach all relevant documents 
If you're writing a proposal for a new project or asking for feedback on an ongoing one, make sure the request for approval isn't just a jumble of words. Add the necessary data, link to relevant pieces of information, and attach all supporting documents that have to be reviewed.
State why they should consider it 
With a brief statement, state the benefits your stakeholders or organization will procure by completing this project as a bottom line.
Conclude your request on a positive note 
After telling them the benefits this approval holds, convey how you look forward to making an effort and achieving the said goals with the project for the better. 
Request for approval letter samples 
You have probably understood the assignment by now and surely can craft a great request for an approval letter on your own. But if you're still unsure where to start, here are some common, practical examples of a request for approval email.
Subject #1: Request to readjust a deadline
Dear [First name/ relevant department manager]
I want to communicate the current progression of the [project name] project. Everything is proceeding as planned, and the outlook seems great, as was discussed and presented in the last check-in. However, we have encountered some issues which will make it difficult for me/us/the team to complete the remaining tasks on time. [List reasons]. We are currently doing our best to overcome this as soon as possible and get back on track. [State countermeasures being taken].
With consideration of the project's initial timeline, I've re-adjusted the milestones in [Project Management Tool]. I would request the final delivery date for the task completion to be moved to [date].
I sincerely apologize for any negative consequences that may occur as a result, although such issues were to be expected as a possible scenario. Additionally, I'd like to discuss how we can minimize the impact of any issues due to the change. Please schedule a meeting soon [Link to Online Booking Calendar].
Best regards,
[Your sign off]
Subject #2: Request for project proposal approval from [project] manager
Dear [First name/ relevant department manager]
I am sending this request to seek your approval regarding the recent project proposal I mentioned earlier at the meeting.
The team and I have put together a detailed plan that can be found attached to this email [link to a presentation or document]. After receiving your approval we will commence with the project immediately. You will find this plan beneficial for several reasons [the reasons]. 
The project will be embedded with the following milestones [list] with the main aim being towards achieving [goals]. I anticipate this project to succeed and effectively bring our aims to reality. The whole team looks forward to working together on this task.
Sincerely,
[Your sign off]
Subject #3: Final request for approval for the completed project
Dear [First name/ relevant department manager]
I am delighted to tell you that we have completed the final task for this milestone. The progress so far has been substantial, and this [name of creative project] turned out to be great. 
I have attached the file/ [link to a project management software] for you to review and suggest any final changes you would like to make so we can proceed with the next steps. 
The task was set out to achieve [goals] and we have incorporated certain measures to ensure they were achieved [state the action taken]. Following up on the last review these edits were also made [list]. 
I look forward to completing this project and eventually witnessing the journey to its success. 
Best,
[Your sign off]
Key takeaway
We hope these tips and samples helped you create your very first or the very best of your request for approval. Let us know if this article helped you get the approval you are looking forward to, and stay tuned for more helpful guides in the future.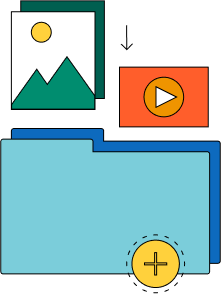 Need a quick way to share large files and creative assets?
With GoVisually Share, it's absolutely free! Try today.